Kanda (Tokyo, Japan)
Nihonryori Kanda
Calm Motoazabu 1F, 3-6-34 Motoazabu, Minato-ku, Tokyo 106-0046
03.5786.0150
www.nihonryori-kanda.com/english
Mon 10/28/2019, 09:00p-12:20a

After enjoying delicious presentations of
yakitori
and
tempura
the two previous evenings, I went for something fancier tonight and opted for my first kaiseki-ish meal of this trip. The venue of choice was Hiroyuki Kanda's eponymous Kanda, which is situated in a sleepy residential neighborhood (I believe the Chef actually lives in the same apartment building as the restaurant) a stone's throw away from the tony Roppongi Hills development. In fact, I was checking out the view from Mori Tower right before dinner.
About the Chef
: Kanda Hiroyuki was born on July 1st, 1963 in Tokushima City, the eldest son of a restaurant-owning family. He began working at his parents' place when he was eight, and they taught him the essentials of cooking. After graduating from Jonan High School, he began his formal training at Shoroku Kigawa in Osaka, where he spent four-and-a-half years. In 1986, at age 23, Kanda moved to France and headed up the kitchen at Tomo, a Japanese eatery in Paris. His cooking there was well-regarded, but he ended up returning to Japan in 1991. Now back home, he found employment at Hirohisa Koyama's longstanding Kokin Aoyagi in Tokushima, and the following year, started a ten year period of teaching at Heisei Culinary School, which was also founded by Koyama. By 1995, Kanda was second-in-command at Aoyagi, and in 1999, he was tasked with opening Basara in Tokyo's Akasaka district for Koyama.
He ended up leaving that post at the end of January 2004, and, instead of taking over the family business (which eventually closed in 2012), decided to go his own way, debuting Kanda on May 11th that year. The restaurant was well-received, and in 2007, even received three stars in Michelin's inaugural Tokyo guide, a rating that it's retained through the latest 2020 edition. In 2008, Kanda and five of his chef friends founded FUUDO, a food-focused non-profit that's still active today. He published a cookbook entitled
Nihonryori no Zeitaku
("
The Luxury of Japanese Cuisine
") in September 2010, and in January the following year, launched Sushi Academy London, a spot offering classes in Japanese cookery located at Islington's Highbury Studios (the place shuttered after the 2011 Tohoku earthquake).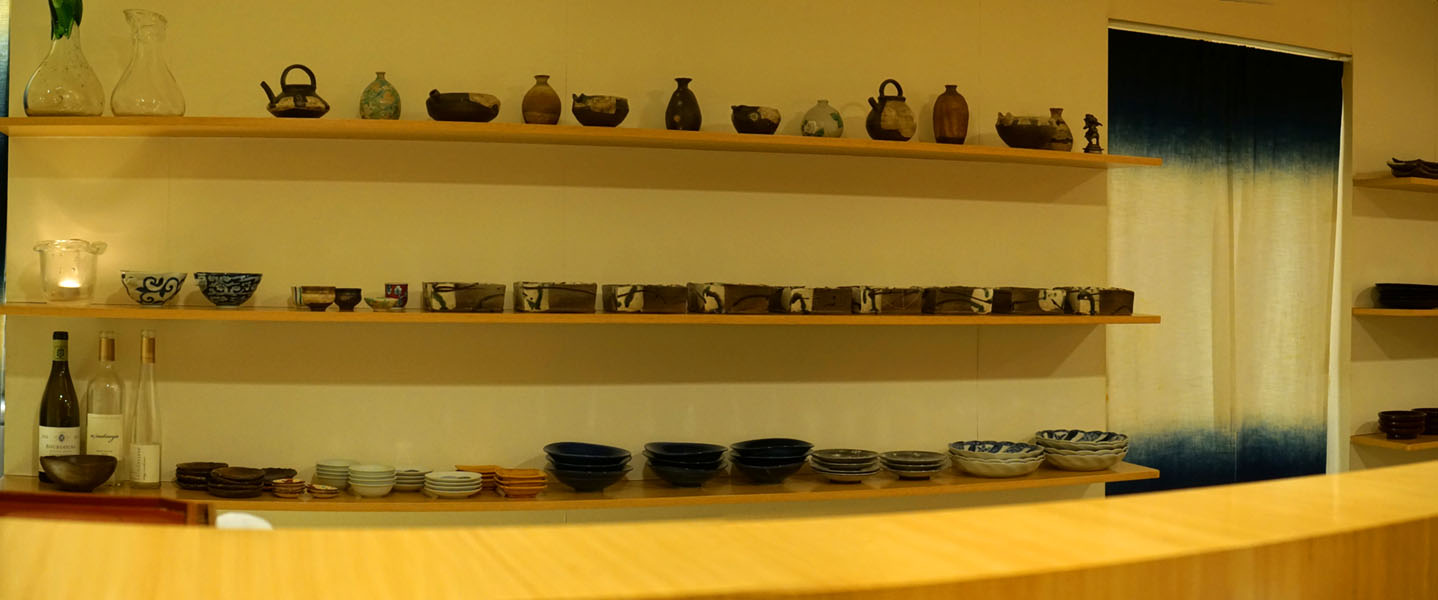 Above we see my view from leftmost portion of the counter, which seats eight diners in total. There's also a private dining room off to the side.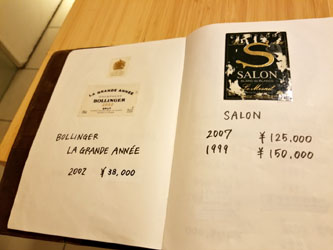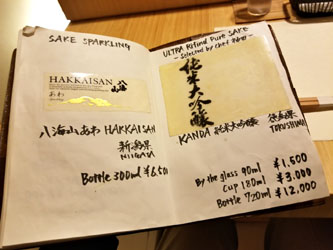 The wine list is one of the most unique I've seen, mostly due to how it's laid out. It's completely hand-written, and features one selection per page, replete with the actual label from the bottle--I've never seen anything quite like it before. Given that, I couldn't photograph the entire book, but examples are shown above. As for a printed food menu, there simply isn't one. We enjoyed a 14-course degustation priced at ¥42,350 ($388.64) a head, which is inclusive of a 10% service fee as well as a 10% sales tax. Click for larger versions.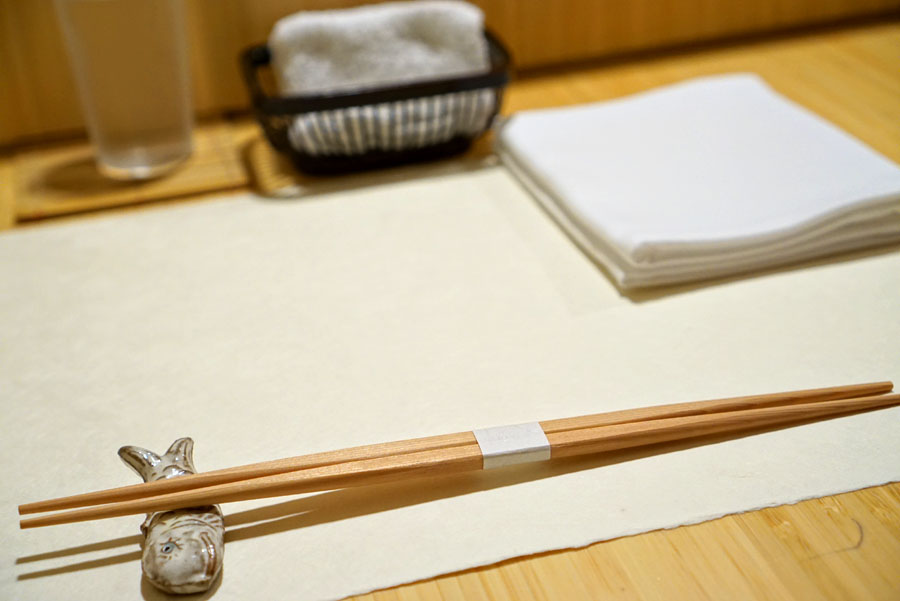 The place setting was pretty straightforward. Note the fish-shaped
hashioki
(chopsticks holder).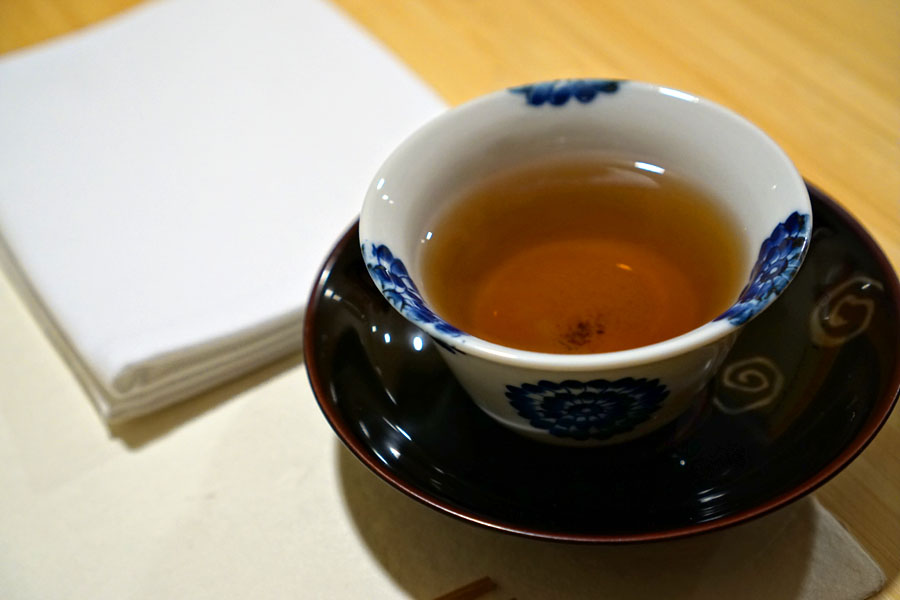 Upon being seated, we were quickly poured a cup of nutty, smoky
hojicha
, which was refilled constantly throughout the night.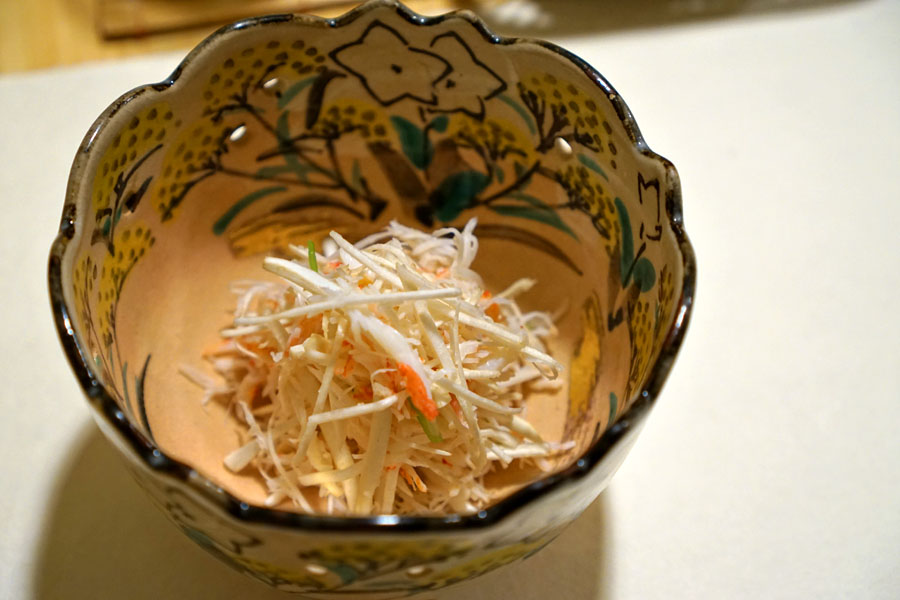 1: Benizuwaigani to Matsutake
Our starting
sakizuke
course was composed of shreds of both red snow crab and matsutake. Thanks to the way the intrinsic sweetness of the crab combined with the funk of the mushroom, the dish managed to be both austere and luxurious at the same time, which I found pretty neat.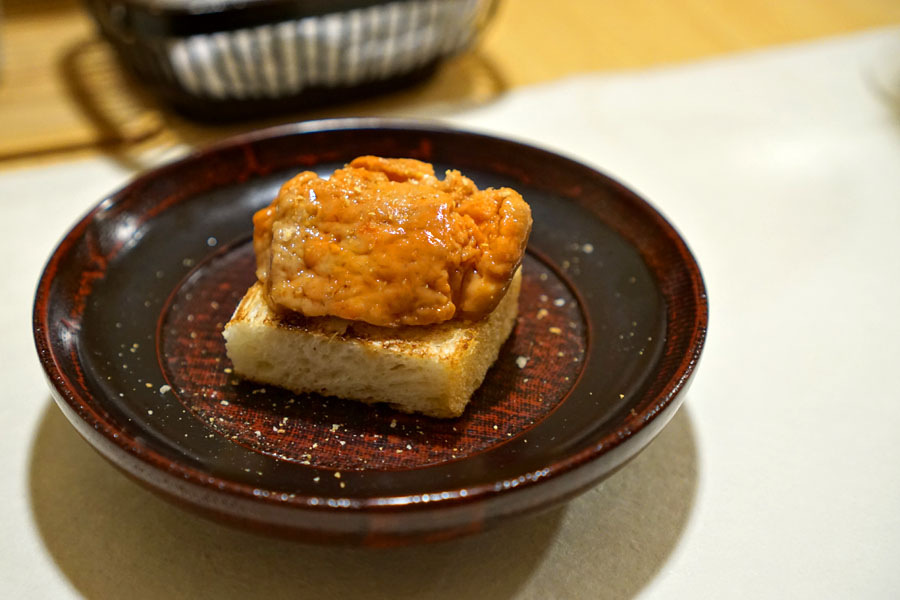 2: Ankimo Toast
Next up was some "finger food" according to the Chef. The monkfish liver was unbelievably subtle at first, so what was interesting was how its earthiness and brine just grew and grew until it was evened out by that soft, sweet bread. Very cool, and no doubt one of the most memorable preparations of ankimo I've had.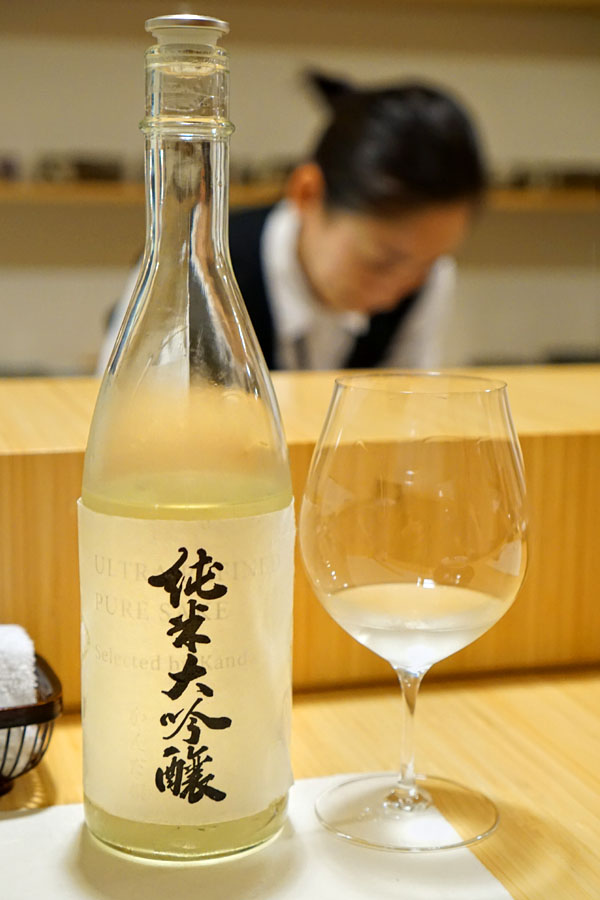 To drink, I ordered a bottle of the restaurant's private label, Tokushima-sourced
Kanda Junmai Daiginjo [¥12,000 ($110.12)]
, which just felt like the right thing to do, since I doubt it's available anywhere else. In any case, the sake smelled pretty amazing due to its bountiful amounts of sugary melon on the nose. Its palate, meanwhile, was eminently balanced, with more of that saccharine fruit counterbalanced by fragrant rice and a smidgen of alcoholic heat. Delish.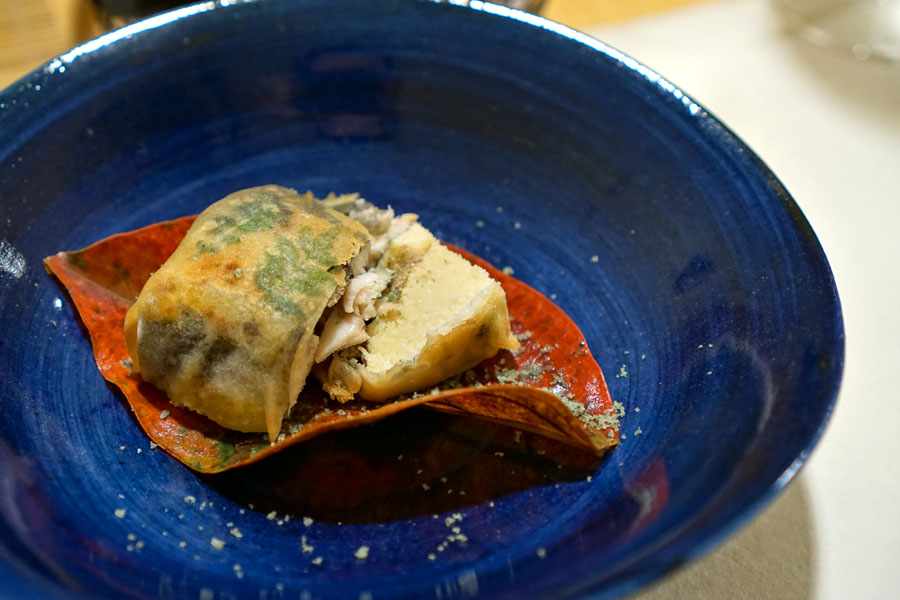 3: Ayu no Harumaki
We were coming up on the tail end of sweetfish season, so it was great to see this dish, which was
ayu
, replete with its roe, encased in a fried spring roll wrapper. What made this really work for me was the interaction between the brine of the fish and the overarching herbal, medicinal notes in the dish, while the inclusion of roe added a sandy, gritty textural component. Be sure to make use of included
matcha shio
(green tea salt) as well, since its bitterness served as a perfect accent to the fish. A standout for me, and probably the best (and most unique)
ayu
I've ever had.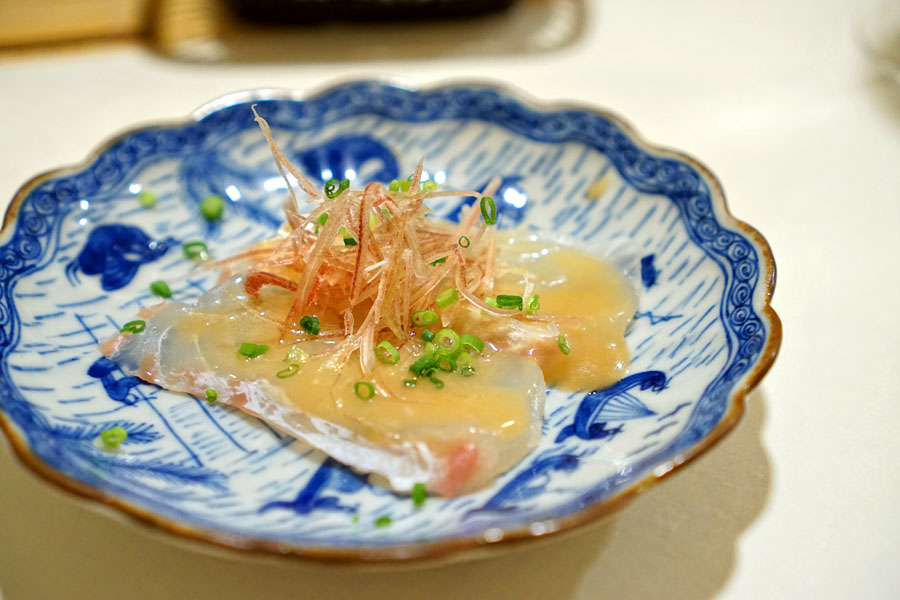 4: Hirame no Otsukuri
Next came what was probably my favorite presentation of Japanese halibut sashimi ever. The flounder had a satisfyingly soft-yet-chewy consistency that I enjoyed, but the key here was how it married with the dish's
ume
-based dressing. That balance between sweet-n-sour, brine, and the zing of the shallots really appealed to me.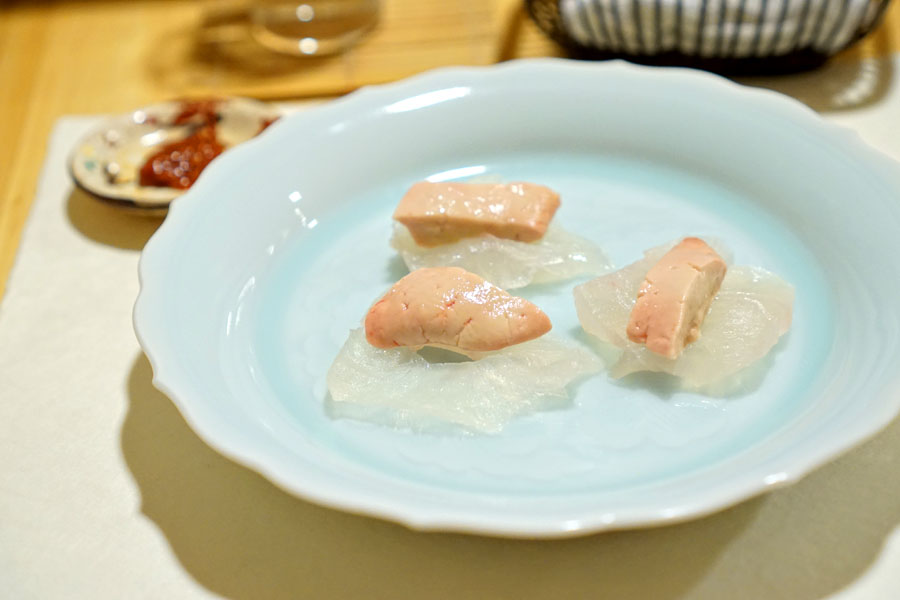 5: Kawahagi to Kimo Sashimi
Here we had an astonishingly simple-looking plate of sashimi, comprising the flesh and liver of thread-sail filefish (also known as "leather jacket"), which was just coming into season. I first tried the fish alone, and found the meat on the firm, mild side, while the liver was super delicate. Strangely enough, most of the flavor really came
after
I swallowed. The crux of this course really was the little saucer of
kanzuri
chili paste on the side. It had a wondrous combination of sweetness and spice that really lifted the dish, transforming something that could be viewed as stark into something altogether different, staggering even.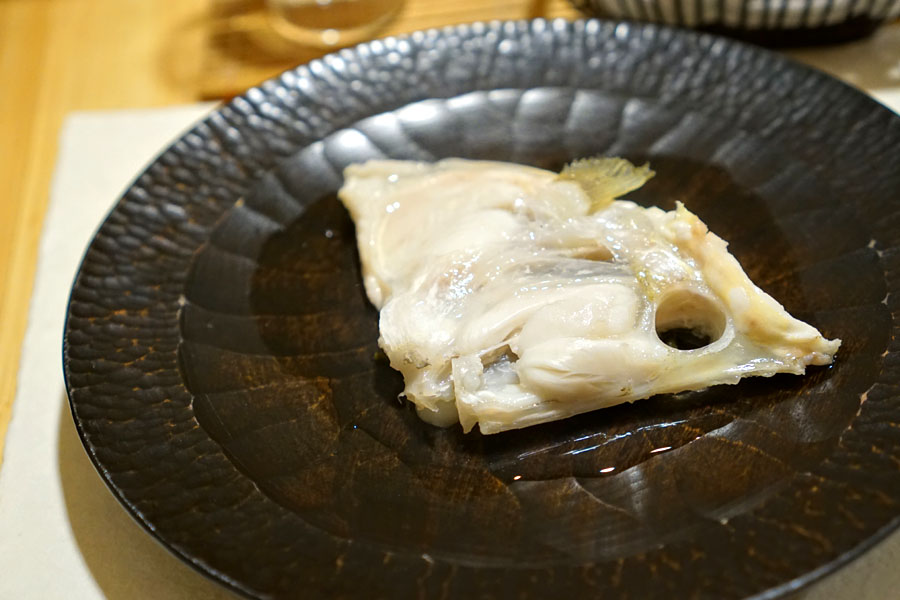 6: Kawahagi no Atama
We were then presented with the head of the
kawahagi
above, steamed with sake and kombu. Texturally the fish was tender and succulent, while flavors were subtle and contemplative, with a significant contribution from the kelp.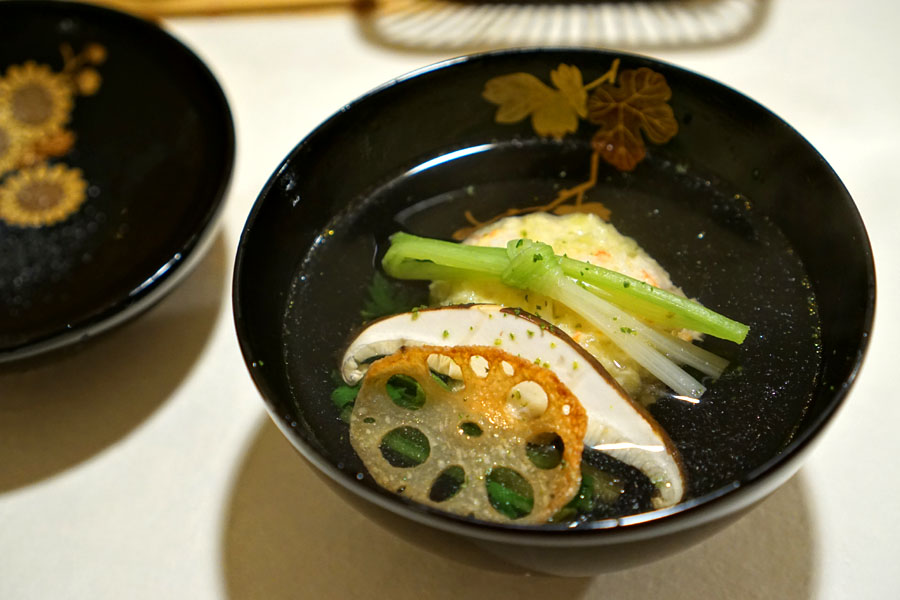 7: Ebi to Ginnan Manju no Owan
Kanda-san is somewhat known for his seasonal soups, and this particular example featured a shrimp and ginkgo dumpling alongside matsutake and
mitsuba
. What really struck me here was how well the sort of astringent nature of the
ginnan
meshed with the inherent sweetness of the shrimp; it was pretty tremendous. At the same time, the mushroom imparted an additional woodsy complexity, and I was a fan of the honewort's zestiness, too.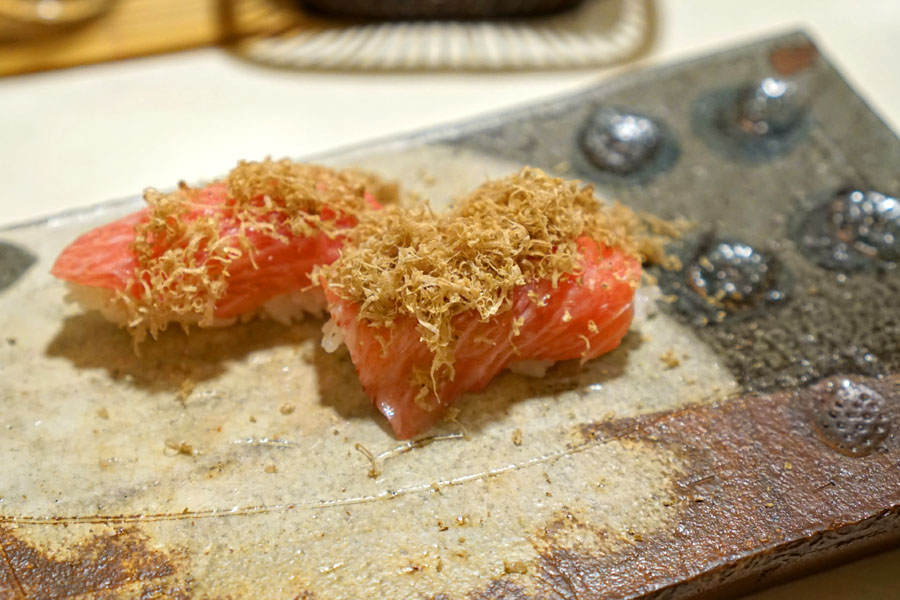 8: Toro Sushi no Toryufu
Two well-marbled pieces of
nigiri
appeared before me. I was about to dig in, but then the Chef--with a wide smile on his face--busted out a white truffle and started shaving (and I didn't tell him to stop!). I was actually a bit afraid that the truffle would mask the tuna, but it didn't. Instead, its penetrating musk had a superb back-and-forth with the sheer fattiness of the fish, all while the
shari
worked an effective contrast to both ingredients. This combo of power-on-power, rich-on-rich really did work.
9: Yaki Ibodai
Japanese butterfish showed off a flawless union of fat, char, savor, and sweetness, while the fried
ginnan
were delightfully acrid. The star of the show, though, was actually the chestnut, which I found wonderfully sweet, and with a fantastically crunchy exterior to boot.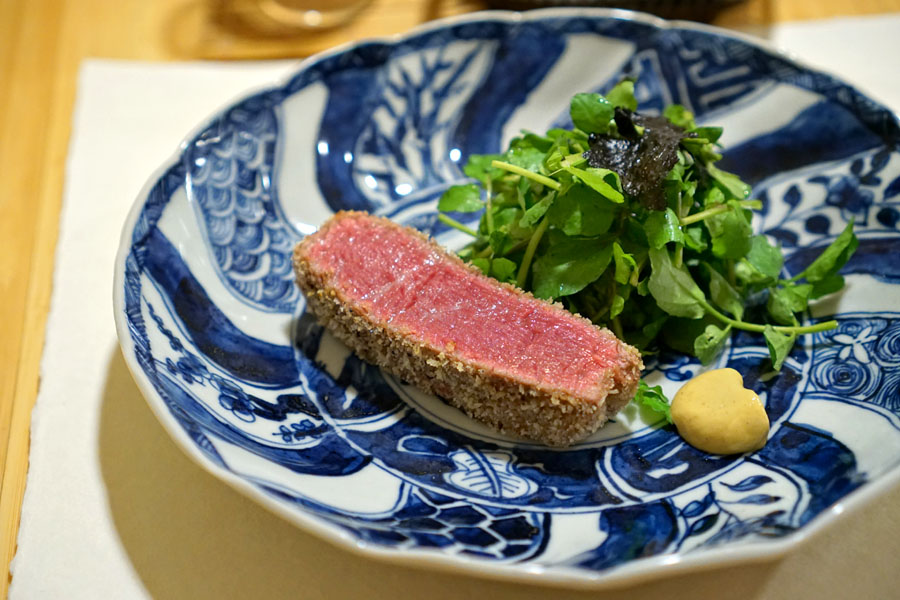 10: Miyazaki Ushi Katsuretsu
There was no knife provided with the Miyazaki filet, and I quickly understood why. The meat was ridiculously tender, perhaps the most tender cut of steak I've had; in fact, texturally it almost didn't seem like beef. The breading on the cutlet worked to add further interest to the meat, and I liked the brightness of the greens on the side, too. However, what made this really deliver for me was the mustard, which had a slow burn to it that really heightened the wagyu.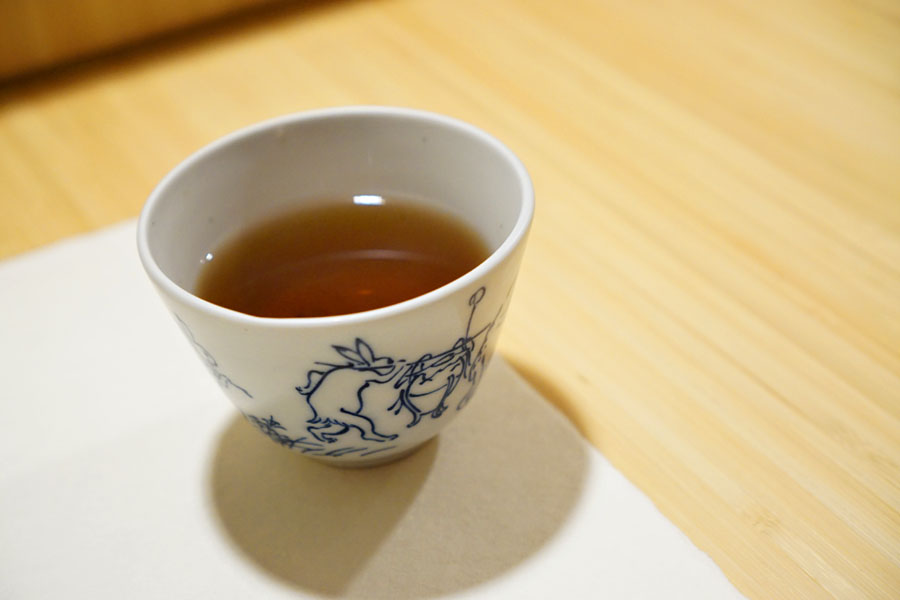 My tea cup was swapped for a smaller one at this point, but I believe we were still being served
hojicha
.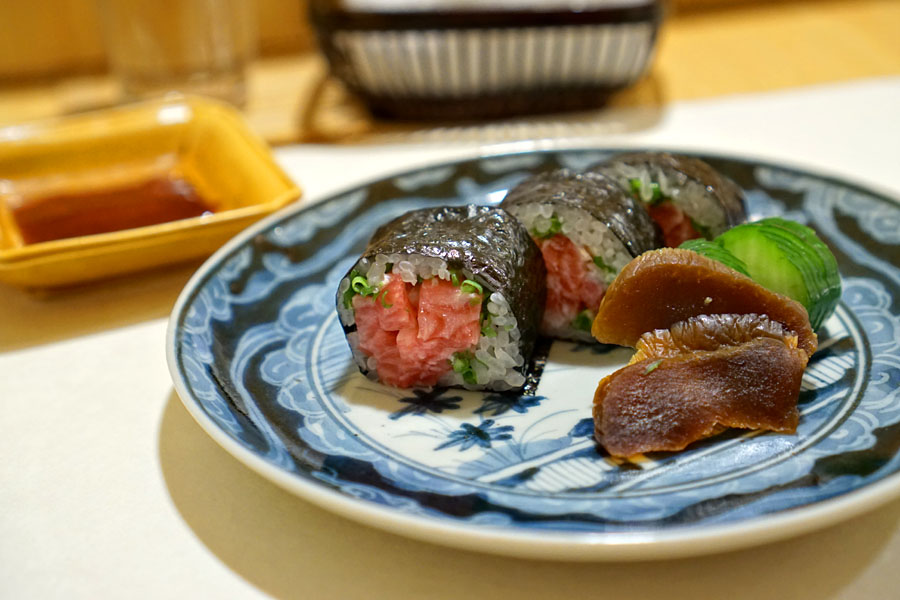 11: Negitoro Maki
Here was definitely one of the most intense versions of
negitoro
I've had, due to the extra fatty, sinewy nature of the tuna and the uncommonly fresh nature of the onion--it was a great combination, especially with a dab of soy sauce. Along with the roll came two types of
konomono
(pickles): refreshing, finely-cut cucumber and intensely pungent, boozy
narazuke
made from
uri
(cucumber melon gourd).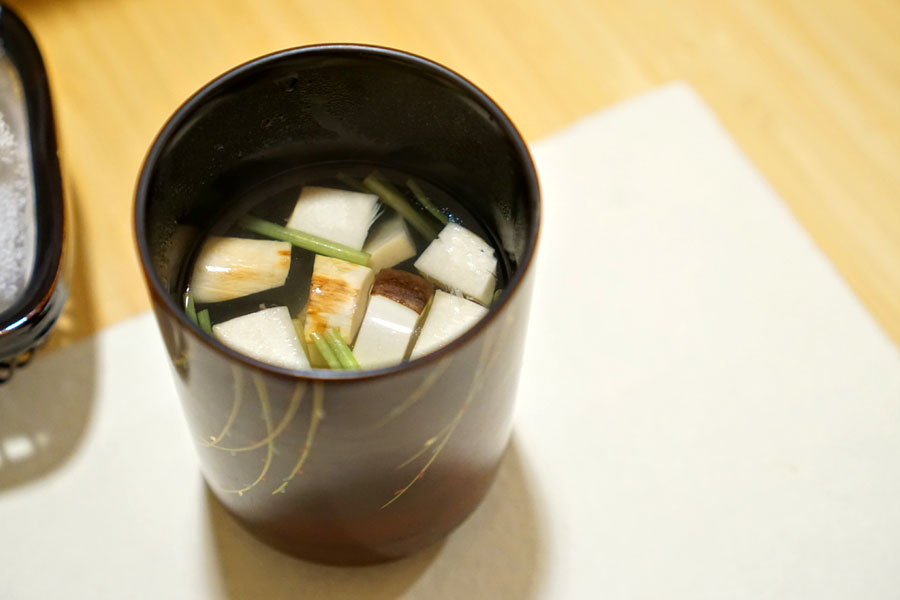 12: Matsutake Suimono
The course above was quickly followed by a small cup of soup, one featuring heady shards of matsutake, bright twigs of
mitsuba
, and ultra creamy blocks of sesame tofu.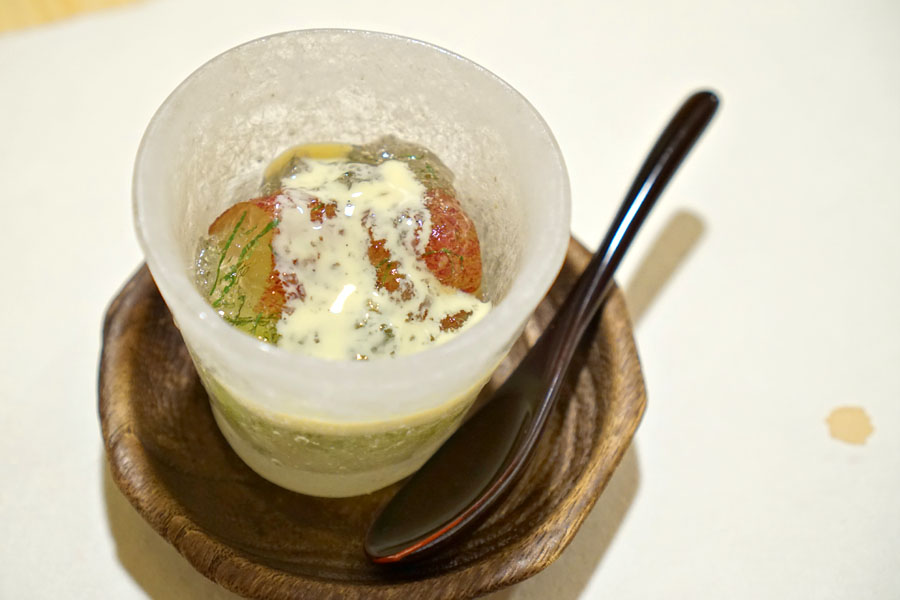 13: Budo no Zeri
We were in the midst of grape season, so here was a refreshing palate cleanser of sorts featuring the fruit, along with jelly and minty slivers of shiso.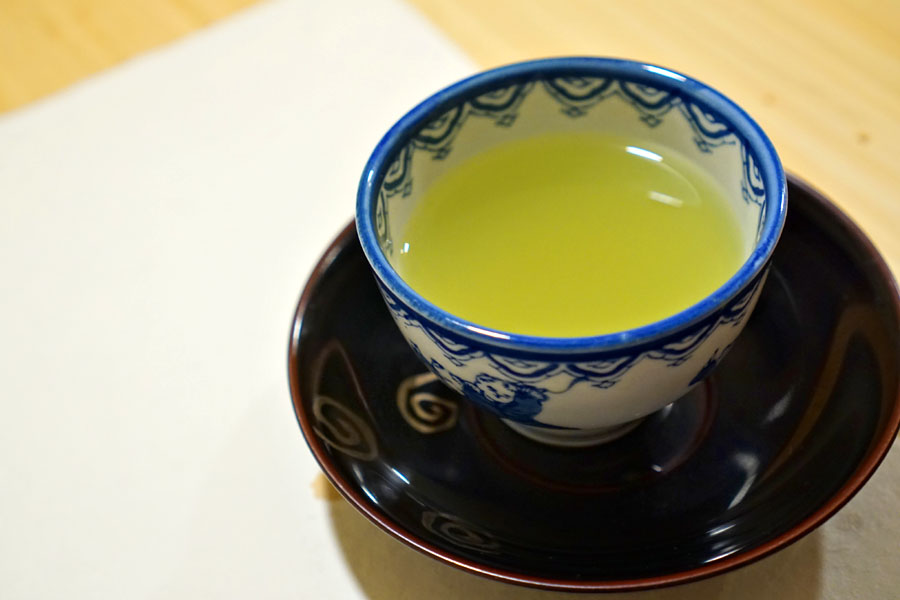 Along with dessert came a cup of
genmaicha
(i.e. green tea with toasted brown rice), which had a lovely roastiness to it along with a drying bitterness on the back end.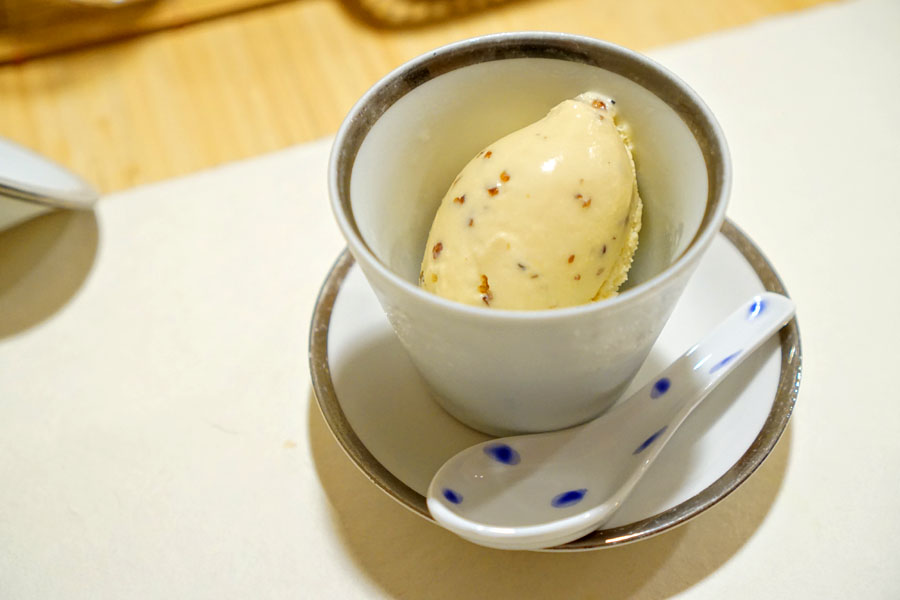 14: Soba Cha Aisukurimu
We ended with an ice cream made with roasted buckwheat, which was simply the best ice cream I'd had in a long while. I loved its familiar savory, nutty flavors, as well as its creamy-yet-gritty consistency. I could've easily eaten a pint of the stuff.
This was a thoroughly enjoyable, yet also somewhat unexpected meal. What really surprised me was the apparent simplicity of Kanda-san's contemporary, kaiseki-inspired cooking. Some of what I witnessed was nearly jarring in that regard, which is sort of the beauty of it. There's a definite directness, a definite clarity, a definite elegance to the cuisine, and it's this amalgamation of straightforwardness, precision, and originality that makes Kanda's style his own.