Oniku Karyu (Tokyo, Japan)
Oniku Karyu Beef Restaurant
K Building 1F, 11-11 Nihonbashi Kobunacho, Chuo-ku, Tokyo 103-0024
03.3249.7776
www.karyu-tokyo.com
Tue 10/29/2019, 09:00p-11:45p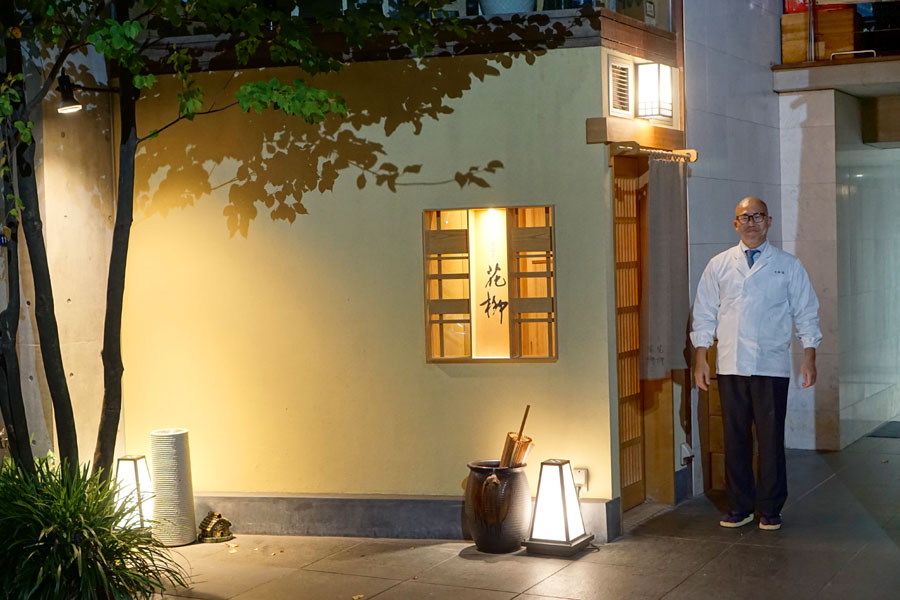 Following a pretty stellar lunch at
Narisawa
, we opted for something heartier for dinner and ended up at Haruka Katayanagi's Oniku Karyu. The restaurant adheres to the ethos and form of
kaiseki
, but with the twist that nearly every dish incorporates Japanese beef.
About the Chef
: Katayanagi Haruka was born in 1978 in Okayama Prefecture, though he was raised in Tokyo, and had his first beef experience as a child when his father made a butter- and soy sauce-seasoned sirloin steak for him. He eventually developed an interest in music, and later left college to pursue employment as an orchestral percussionist. However, he was sidelined by an injury, and thus decided to get back into food. In 1998, Katayanagi began working at a major hotel in Tokyo, and stayed there for nearly six years learning the ins and outs of Western cookery before continuing his training at three beef-focused spots in the City.
He then decided to strike out on his own, and subsequently opened Wagyu Meisai Zen on February 14th, 2006 (at the site of the current restaurant). Zen was more of a straight yakiniku joint at the start, with overhead vents and all, but gradually became fancier and fancier as time went on. In fact, it was even awarded a Michelin star in 2015 (for the 2016 guide). However, Katayanagi wanted to challenge himself further, and thus shuttered the business. He then completely remodeled the space, reducing seating to a mere 16 (four at the counter and the rest in two private dining rooms), and re-opened in October 2016 as Oniku Karyu. The new spot garnered a Michelin star in the 2017 edition of the Tokyo book, which it has kept through the 2020 guide.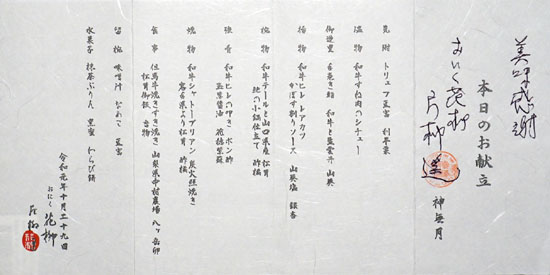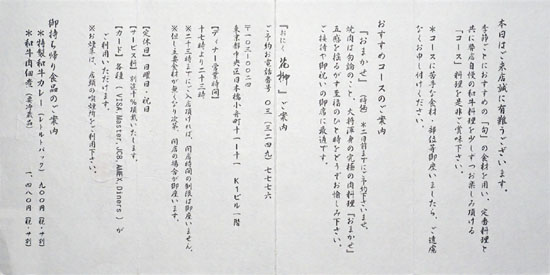 We enjoyed an omakase menu this evening that featured matsutake mushrooms in addition to the wagyu beef. The cost was ¥27,000 ($248.01) a head, plus 10% service and 10% tax. As you can see above, the menu's only available in Japanese, but do note the Chef's signature and
hanko
seal on it. Click for larger versions.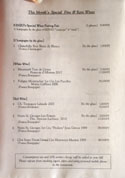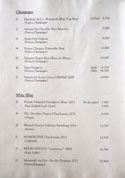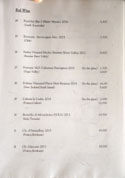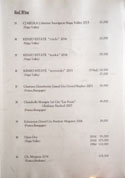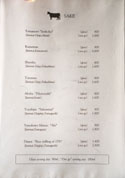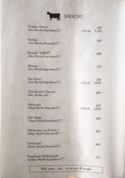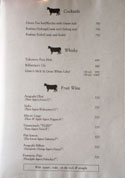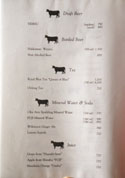 Drink-wise, there's a pretty decent wine list, and also available are sakes, shochus, beers, and various other alcoholic beverages. Corkage is ¥4,000 ($36.74) a bottle. Click for larger versions.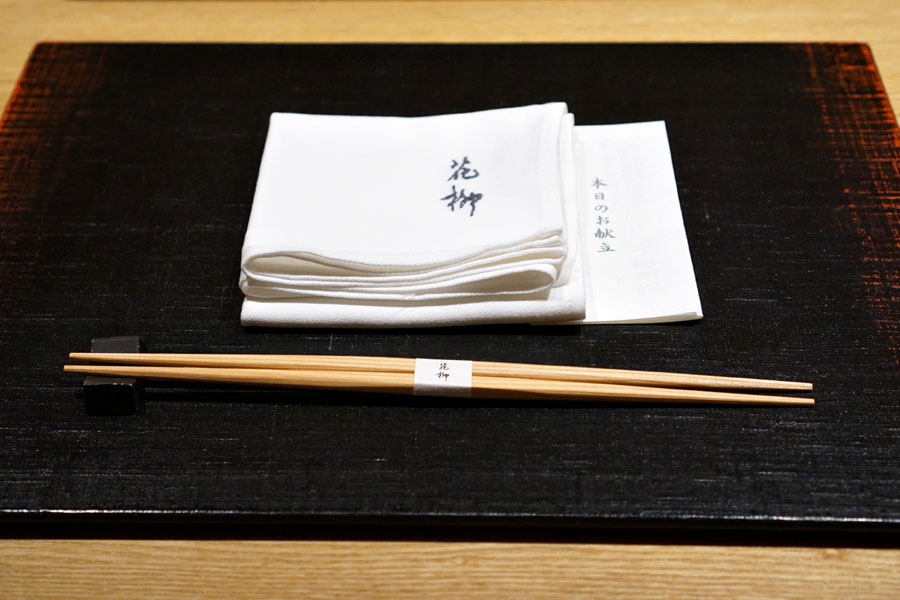 The restaurant's place setting was on the simpler side, but did include the menu pictured above, which was much appreciated.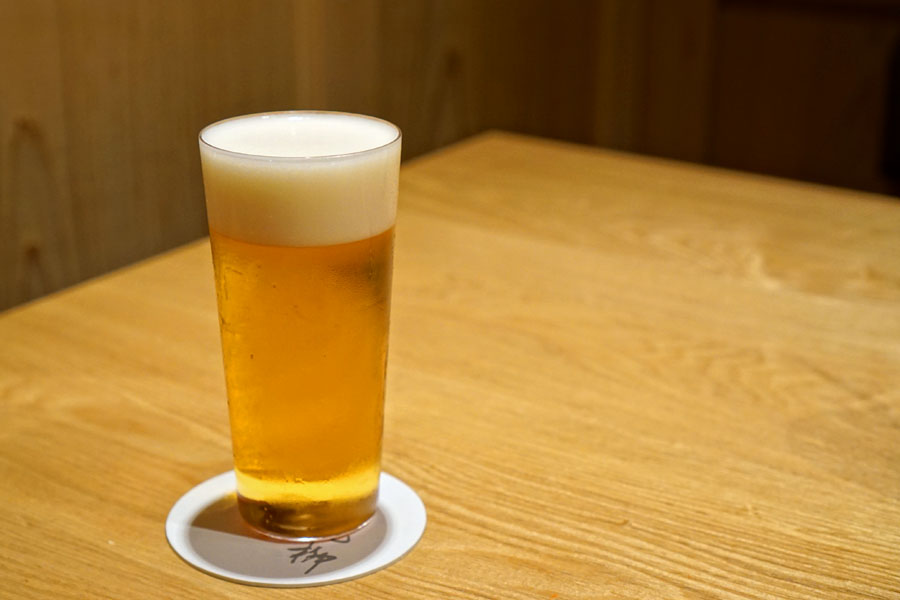 To drink, I began with the
namachu
, a.k.a. a medium-sized glass of
Yebisu [¥790 ($7.26)]
, on draught. It was about what you'd expect: sweet and malty and lightly hoppy, with a nice fluffy head to boot.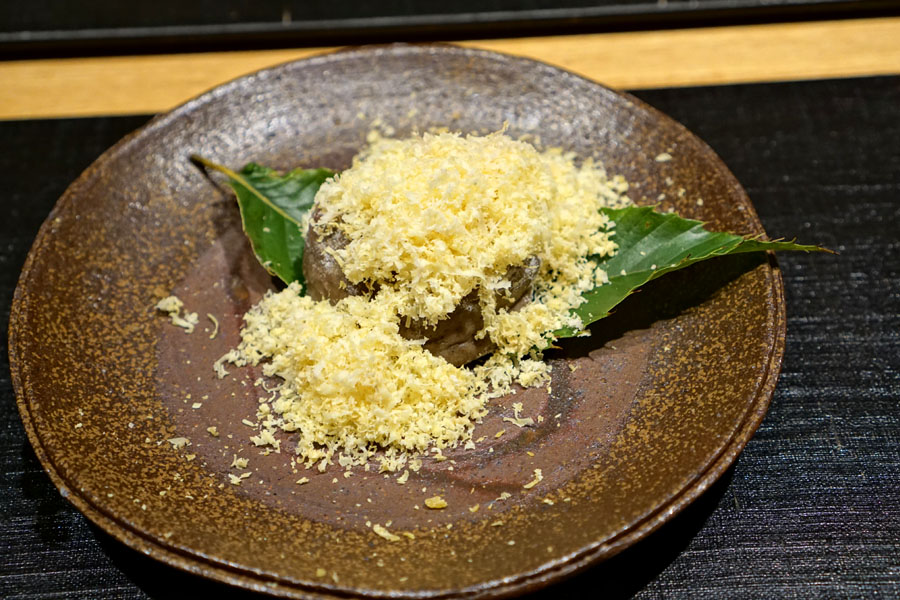 1: Sakizuke
Our seasonal appetizer course was a hot, gooey mass of nutty, smoky
toryufu tofu
(made with sesame I believe), topped off with a healthy amount of sweet Rihei chestnut shavings. Really intriguing--I don't think I'd ever had anything quite like this before.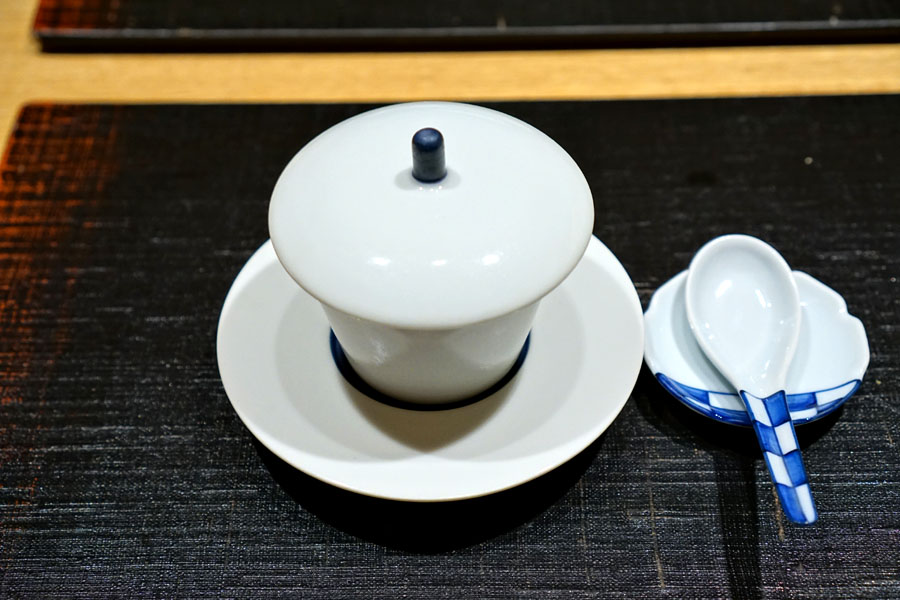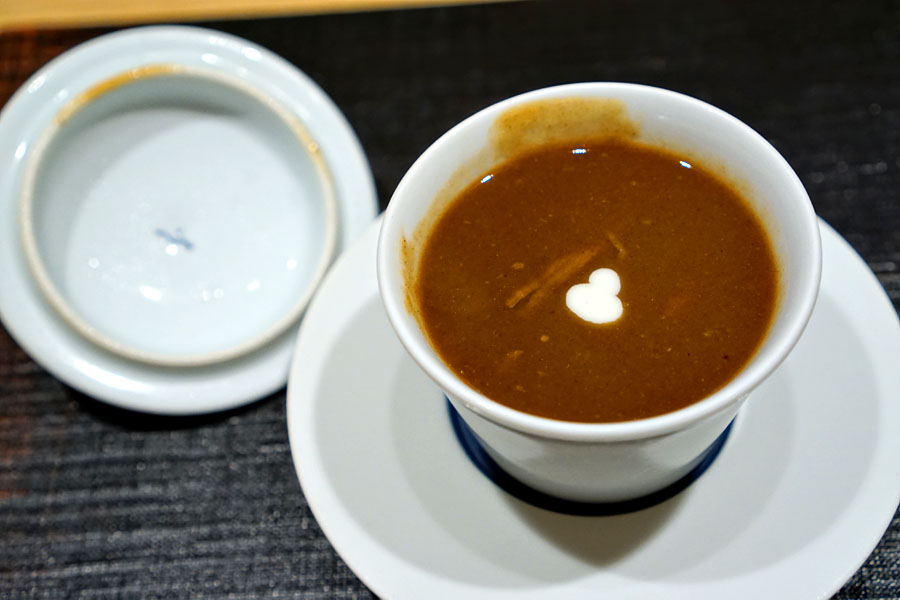 2: Yutaka-mono
A cup of
wagyu sune niku no shichu
(beef shank stew) was super comforting. It smelled sort of like chili, and showed off some utterly deep, savory, homey flavors, along with a touch of sweetness from what I believe was carrot.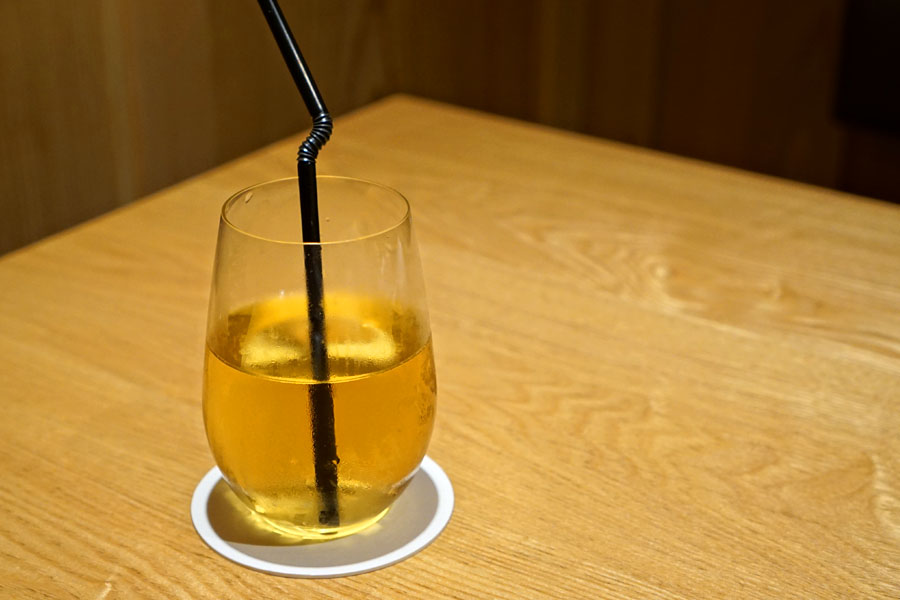 The
Oolong Tea [¥720 ($6.61)]
hit the spot, and was especially floral this evening.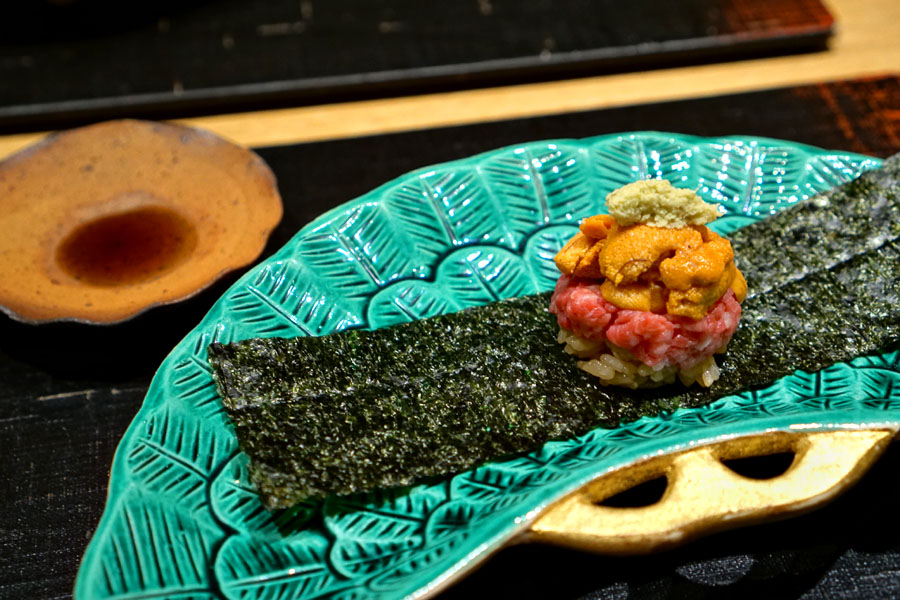 3: Otsukuri
Next was a
temakizushi
-style hand roll with wagyu and
ki-uni
, along with a small saucer of soy sauce. The sea urchin melded beautifully with the beef, while the wasabi applied a heat that really helped bring everything together. My favorite part, though, just might've been the fantastic crunchiness and umami from the seaweed. Superb.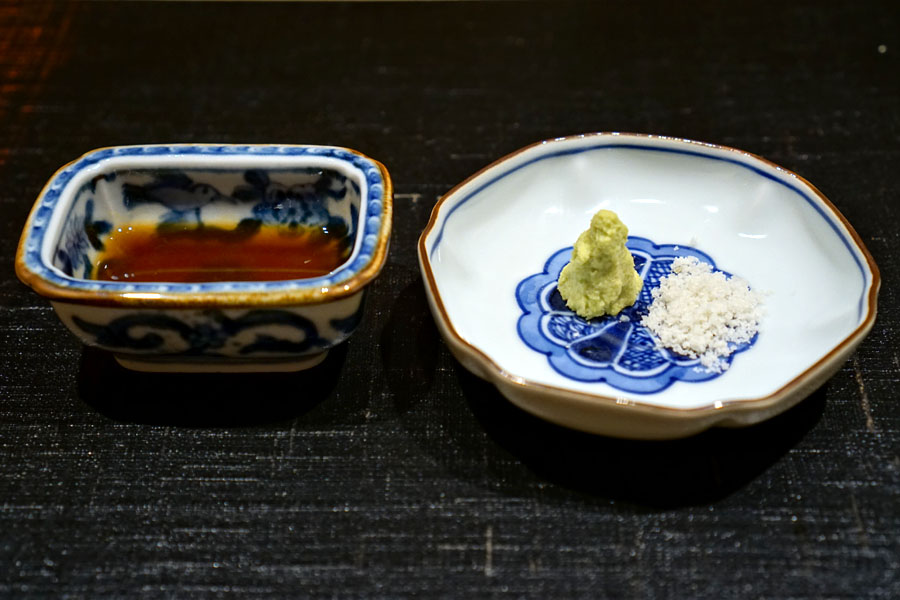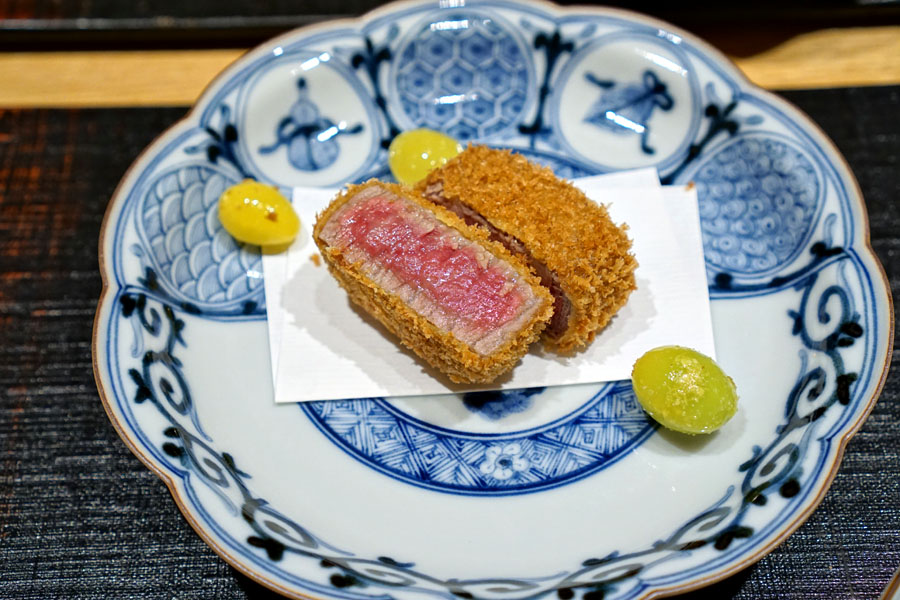 4: Agemono
This was one of the most gorgeous cuts of beef I've seen, a
wagyu hire reakatsu
(wagyu fillet rare cutlet). What was great here was the back-and-forth between the super tender meat and the crispy panko(?) breading. I found it particularly tasty when eaten with the included
kabosu-wari sosu
, while the heat of the wasabi was seemingly tempered by the beef. The
ginnan
, meanwhile, imparted a nice bitterness to the mix.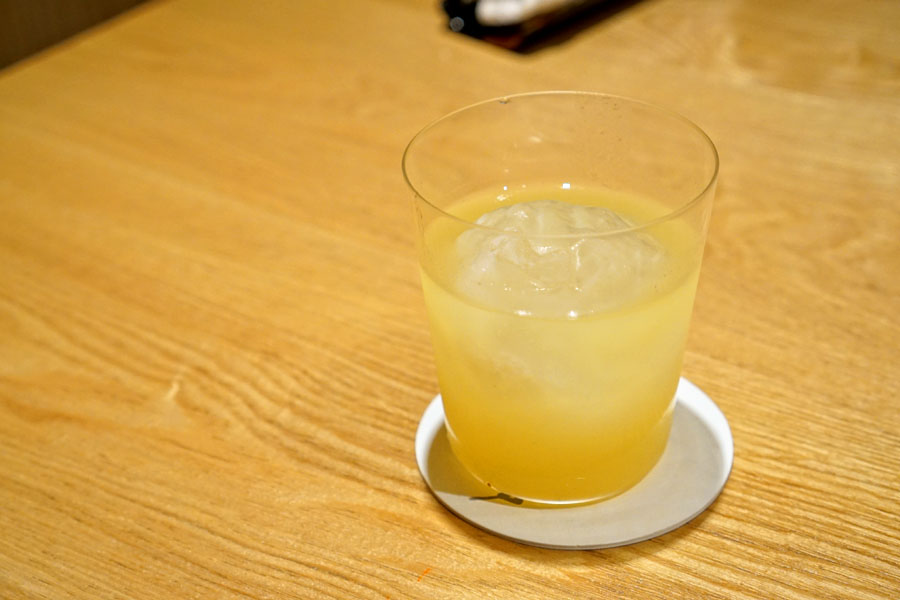 My next beverage was the
Fuwatoro Pain [¥720 ($6.61)]
, a pineapple liquor from Fukuoka, served on the rocks. Thanks to its sweetness, it pretty much tasted like pineapple juice, with just barely a hint of booze.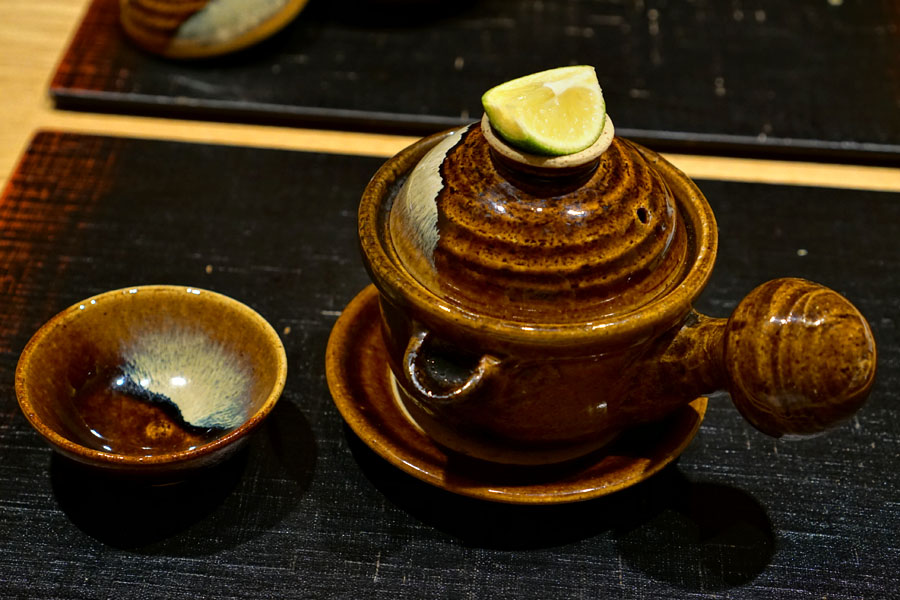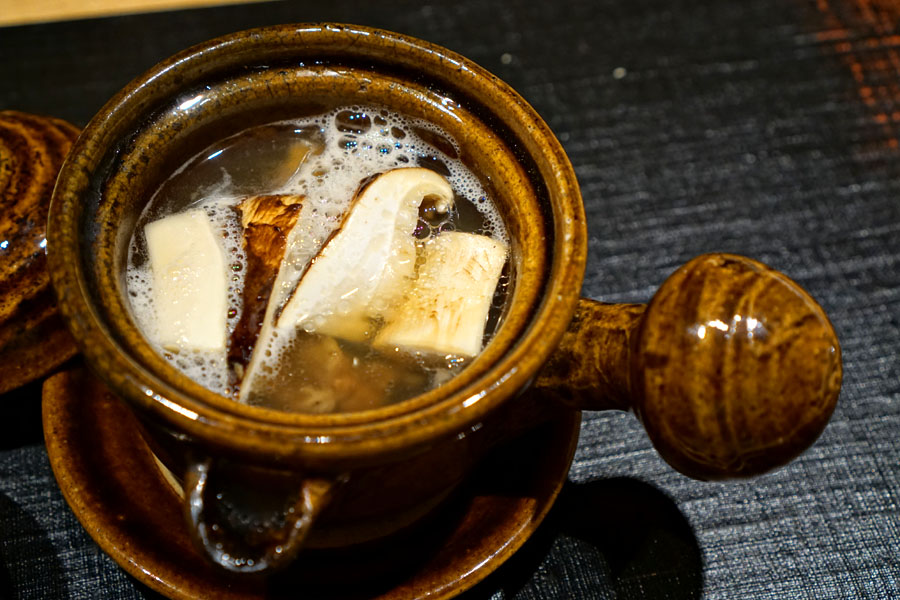 5: Wanmono
Here was perhaps the most unusual
dobin mushi
I've had, one featuring wagyu tail meat, matsutake from Yamaguchi Prefecture, and a small portion of abalone. The oxtail itself ate as tender and as savory as you'd want, and was contrasted against the bitterness of those well-textured mushrooms. At the same time, the
awabi
was springy and chewy, but what stood out the most to me was the sheer richness and oiliness of the broth (which really called for a squirt of
sudachi
).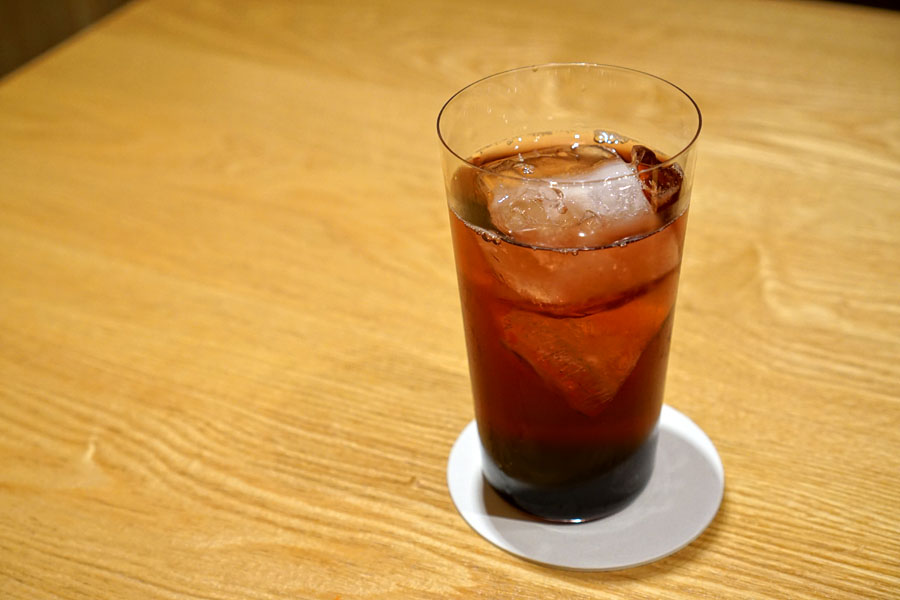 A glass of
Cassis Oolong [¥750 ($6.89)]
displayed fruity flavors up front that led to unmistakable notes of tea on the back end.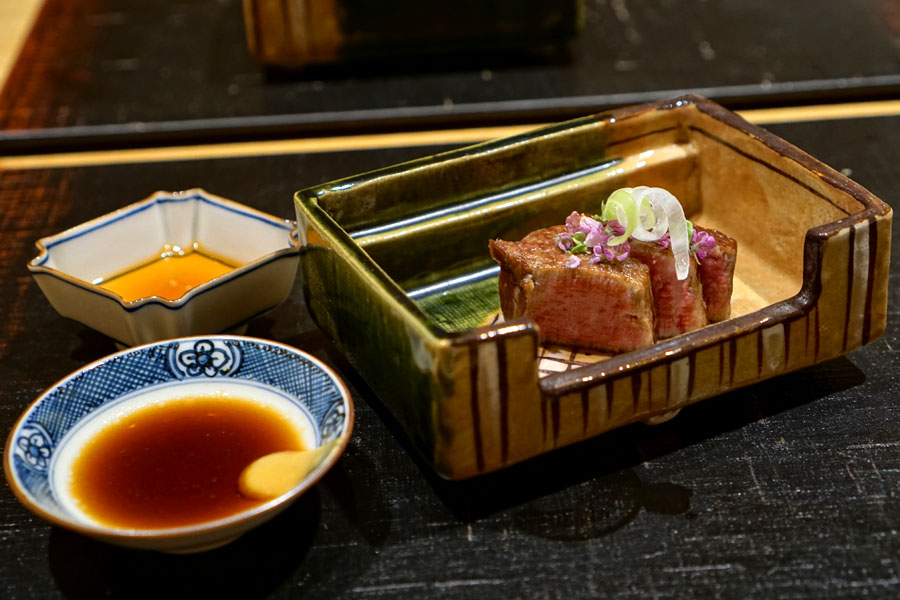 6: Shiizakana
A beautiful
wagyu hire no tataki
was surprisingly delicate and fine-spun, and married well with its bright, herby topping of
hana hojiso
(shiso flower). Accompaniments included a delightfully tangy ponzu sauce as well as
tamanegi shoyu
with a piquant dollop of
karashi
mustard.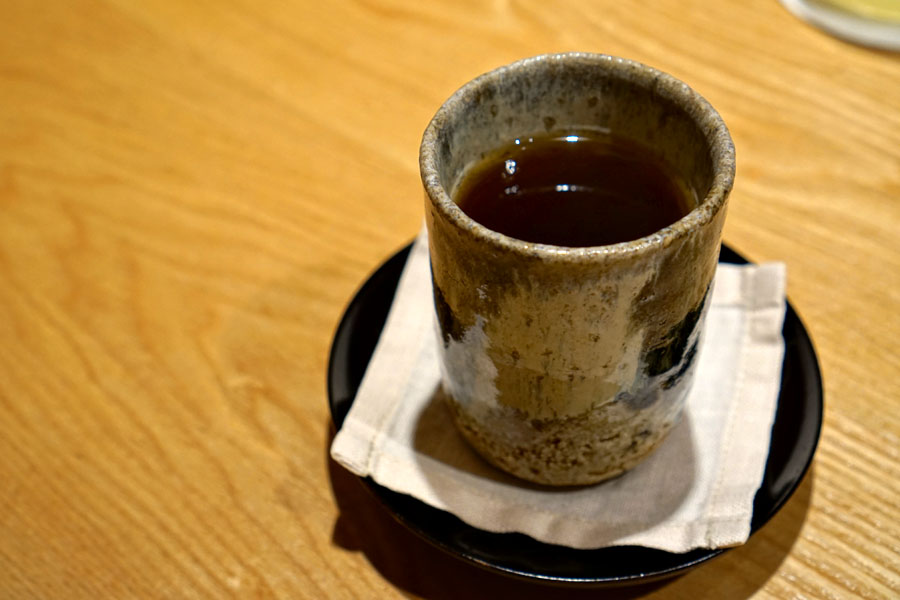 The
hojicha
was seemingly darker-toned than usual, which wasn't necessarily a bad thing.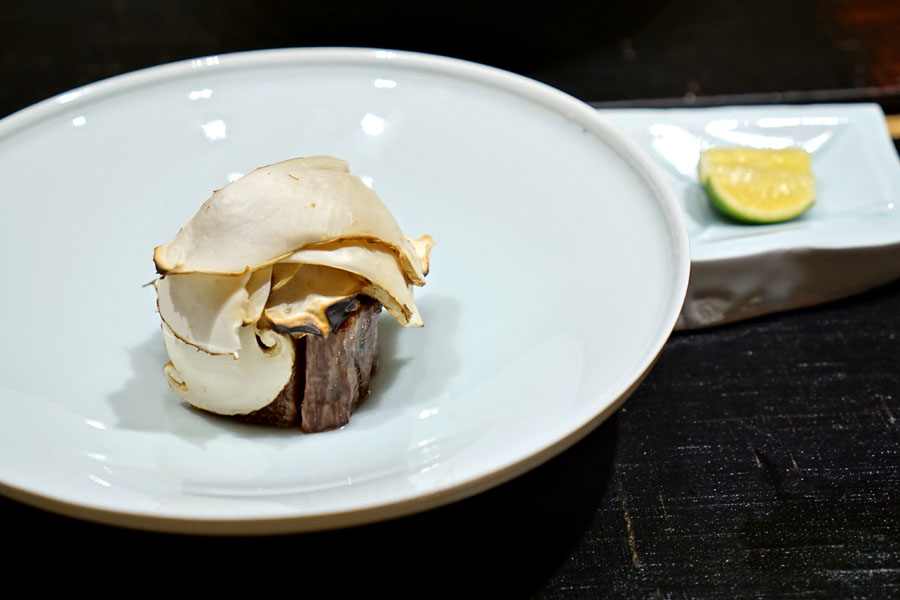 7: Yakimono
A cut of wagyu Chateaubriand looked awfully tasty, and it was, giving up a long-lingering richness matched by a smidge of sweetness from its
sumibi teriyaki
charcoal grilling. Concurrently, the matsutakes (sourced from Iwate Prefecture) contributed a medicinal tinge to the dish, and seemed to draw out the inherent sweetness of the beef. I didn't mind a squirt from the included
sudachi
, either.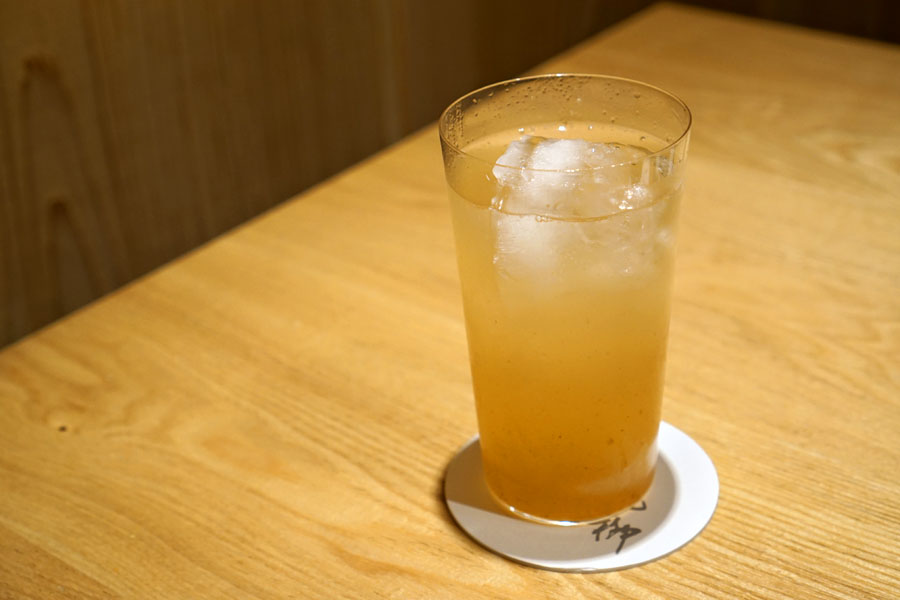 The
Aragoshi Obai [¥720 ($6.61)]
was a plum liquor from Nara, and came mixed with water. I found it pretty restrained in terms of actual fruit, as well as ever so slightly astringent.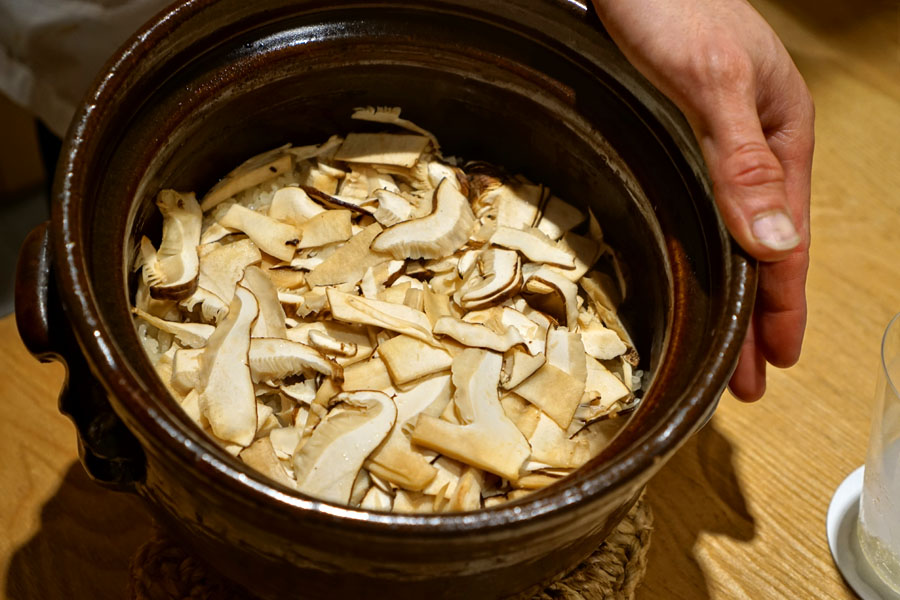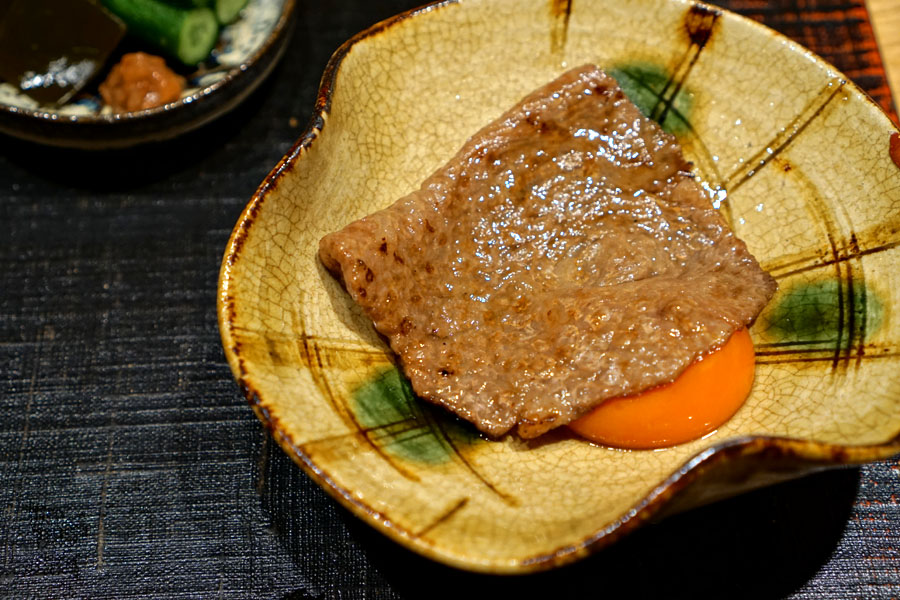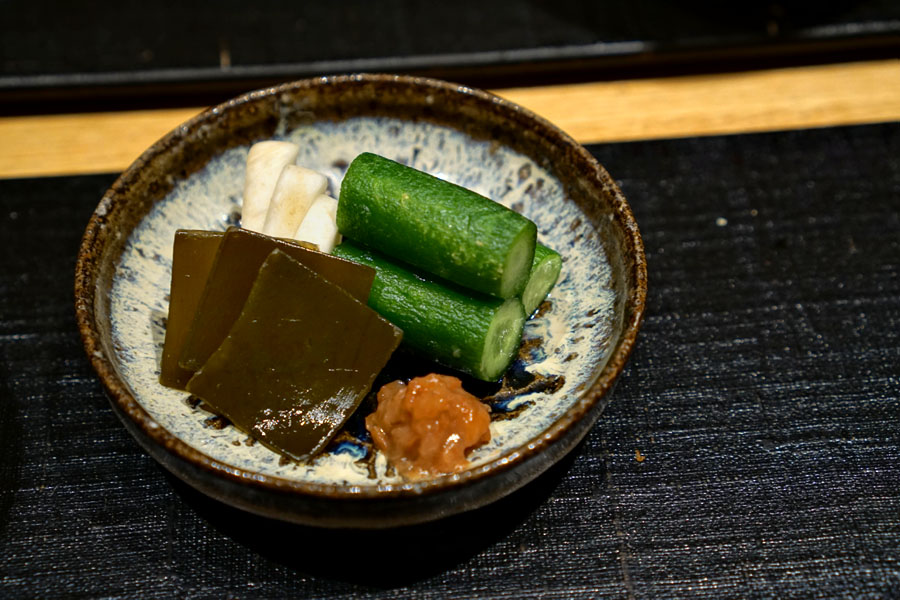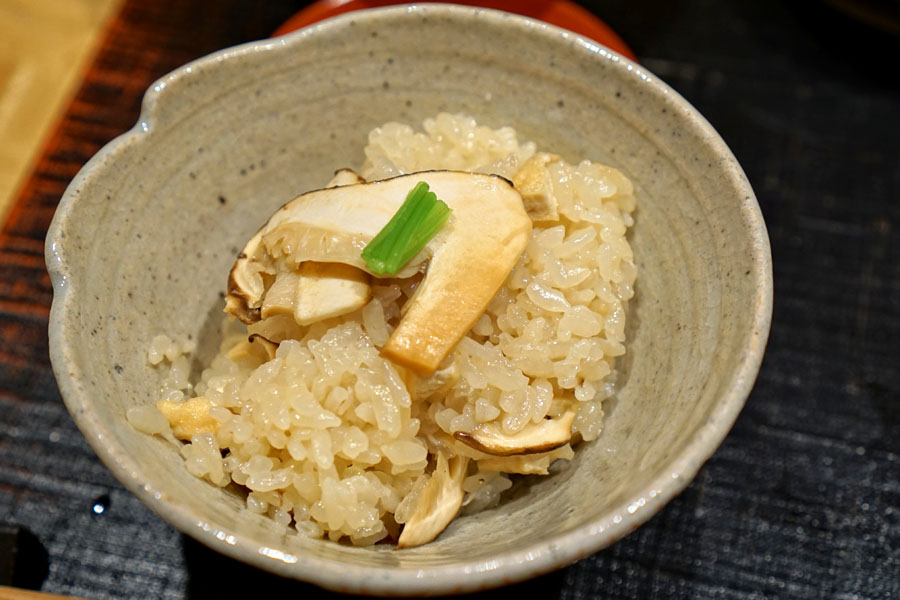 8: Shokuji
Tajimagyu sukiyaki
conveyed a deft blend of sweetness and char, while its dip of ultra-rare Yatsugatake egg yolk (sourced from Yamanashi Prefecture's Nakamura Farm) contributed a near ridiculous amount of creaminess and luxury. If that wasn't enough, we also had a hearty
matsutake gohan
, which featured rice that was deeply imbued with the earthiness of the 'shrooms, while completing the course was a selection of
konomono
(seasonal pickles).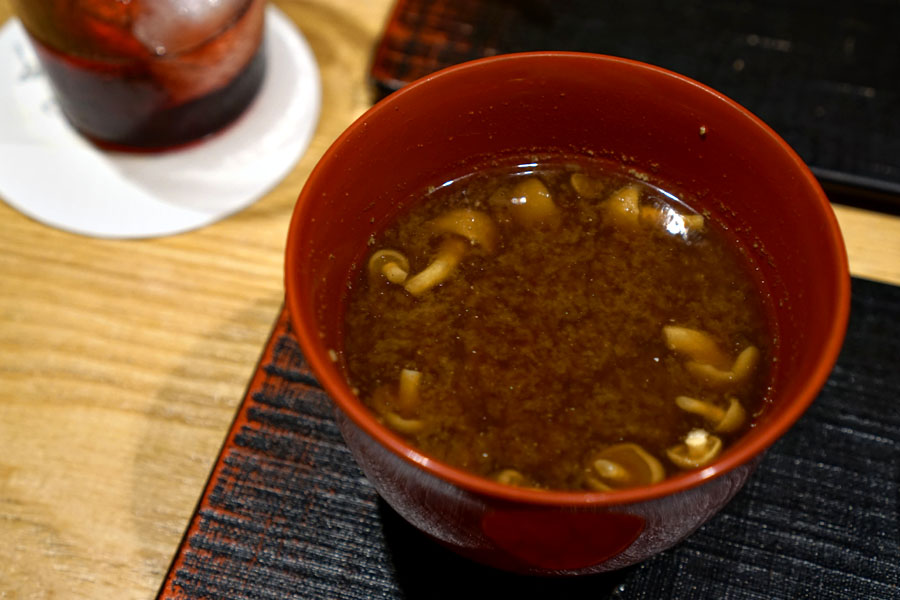 9: Tome-wan
Along with the items above came a cup of miso soup. Due to the incorporation of yet more beef, it was far richer and more potent than usual. It also contained gelatinous
nameko
mushrooms, as well as tofu, which helped even out the strong flavors present.
Green tea was a perfect pairing with the dessert to follow.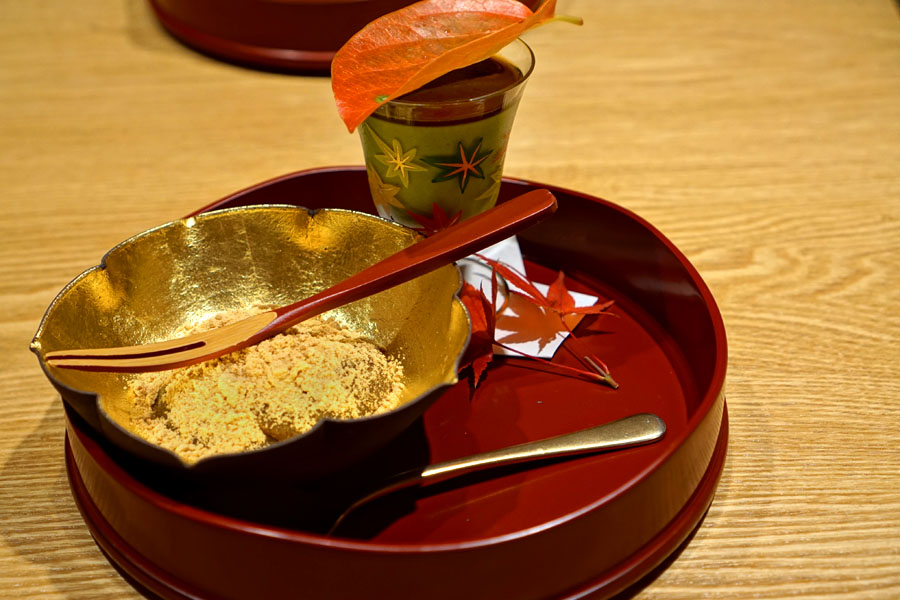 10: Mizugashi
Our dessert course was composed of two items. The first was a
matcha purin
, a smooth, wonderfully bittersweet green tea pudding layered with sugary
kuromitsu
(black honey). Even better, though, was the
warabi mochi
, which was super soft and jiggly, with a fantastic sweet nuttiness to it courtesy of the
kinako
(roasted soybean powder)--it was seriously some of the best mochi I've ever had.
Over the years I've had my share of
kaiseki
-inspired meals, but never one that was this utterly beef-centric. It was a welcomed change-up, and I took pleasure in seeing various the facets of wagyu presented. Katayanagi-san was able to showcase different textures, temperatures, and tastes, while also varying how much the meat was at the forefront, especially vis-à-vis the matsutake. You may want to consider this place if you're looking for something a bit more off the beaten path.