Toriki (Tokyo, Japan)
Toriki Kinshicho
Kosaka Building 1F, 1-8-13 Kinshi, Sumida-ku, Tokyo 130-0013
03.3622.6202
Sat 10/26/2019, 09:00p-12:10a

I recently found myself in Japan for the first time in over a decade, and after landing at Haneda, the first thing I did was get on the Tokyo Monorail and make my way to dinner. Yakitori seemed like a good option, and I had a reservation at Yasuhito Sakai's Toriki, one of the top spots in the city (note: don't confuse this place with the identically-named restaurant in Shinagawa, which Anthony Bourdain visited in 2008).
About the Chef
: Sakai Yasuhito was born in 1969, and wanted to be a chef ever since he was a child. After finishing school, he dabbled in software engineering before deciding that he wanted to pursue a culinary career. Thus, at age 21, he began working as a dishwasher at a yakitori joint, and was able to begin cooking when he was 29. After gaining a dozen years' experience in the business, he was able to open Toriki in 2001. The restaurant soon began making a name for itself, and even earned a Michelin star in the 2010 guide, which it's retained through 2019 (it seems to have been dropped from the 2020 guide however). Meanwhile, a branch of Toriki opened in Taipei in April 2017, and apparently the Chef travels regularly to Taiwan to oversee the spot.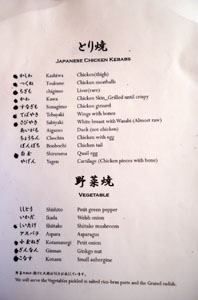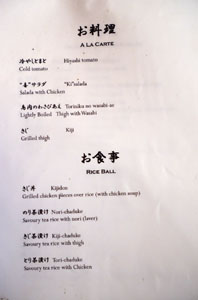 Toriki features a set menu priced at ¥5,800 ($53.38) a head (not including 10% sales tax), and includes a dozen or so skewers (ostensibly made with "Akatori" birds sourced from Kagoshima) as well as a number of other small plates. À la carte is allowed following your course meal. Click for larger versions.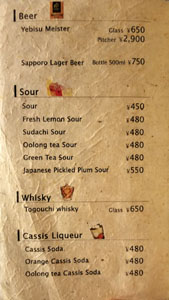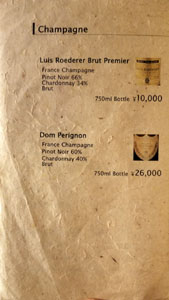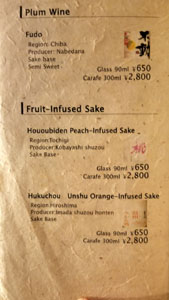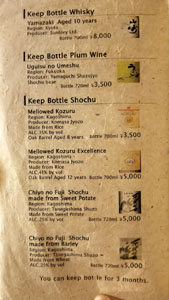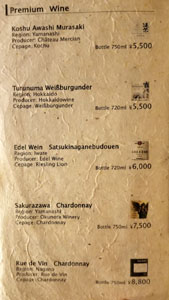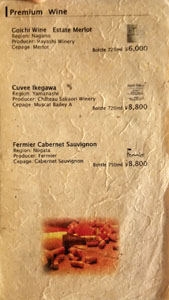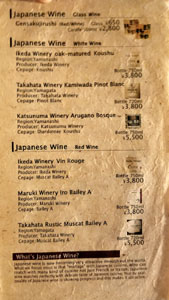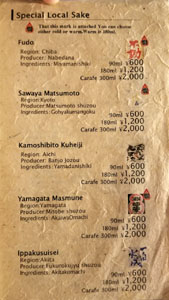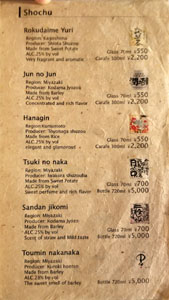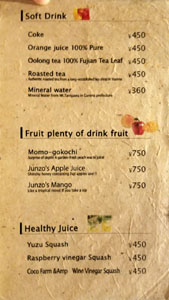 The beverage selection is actually pretty varied, with your choice of beer, cocktails, wine, shochu, sake, and sundry soft drinks. Do note that this was the English drink menu, so there may be slight differences in the Japanese version. Click for larger versions.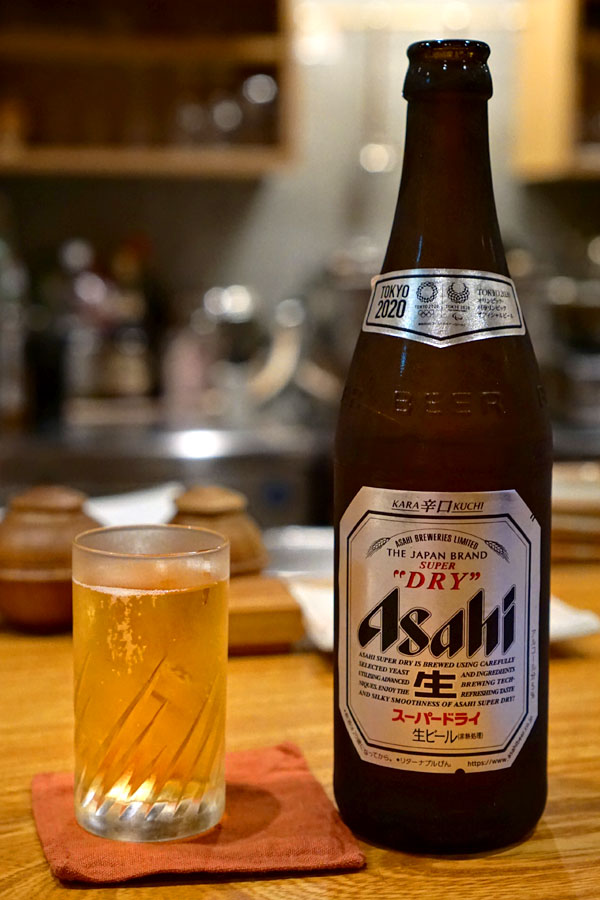 Beverage-wise, it felt appropriate to start with a bottle of
Asahi Lager Beer [¥750 ($6.90)]
, which was pretty much exactly what you'd expect.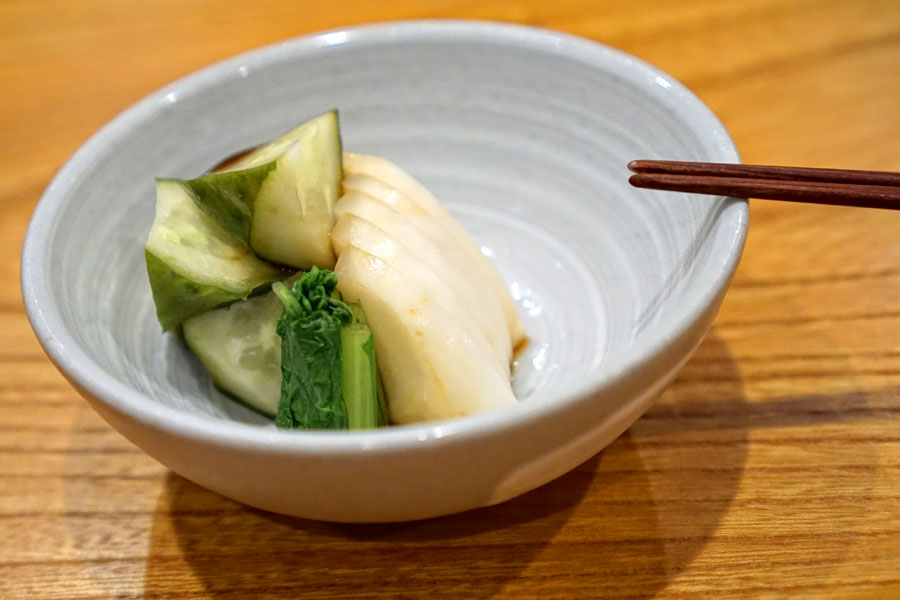 1: Oshinko
I was quickly provided a plate of vegetables pickled in salted rice bran paste,
nukazuke
-style. Coming out bitter and crunchy, the veggies were actually relatively lightly pickled, and I was especially a fan of those greens.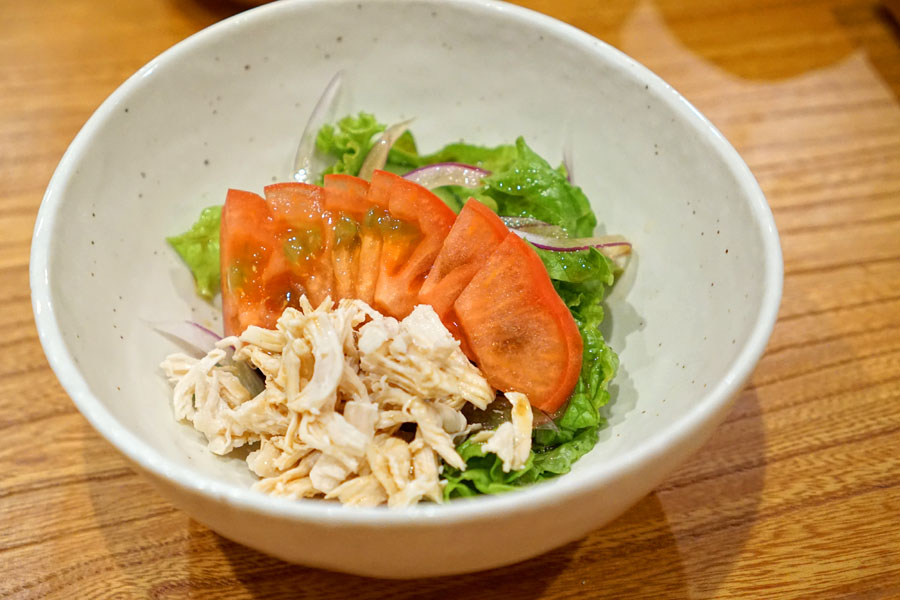 2: Chicken Salad
My salad featured savory, almost nutty shards of what I believe was chicken breast. Veggies worked well for contrast, especially that zesty red onion. Nice.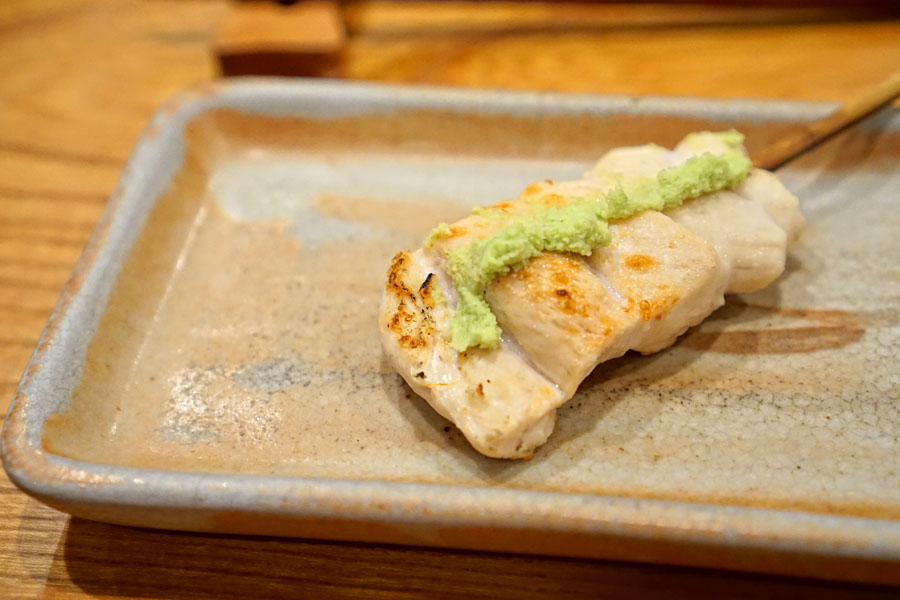 3: Sabiyaki
The evening's first skewer brought soft, slightly rare, delicately charred cuts of
sasami
(breast meat) that paired swimmingly with the intense burn of wasabi.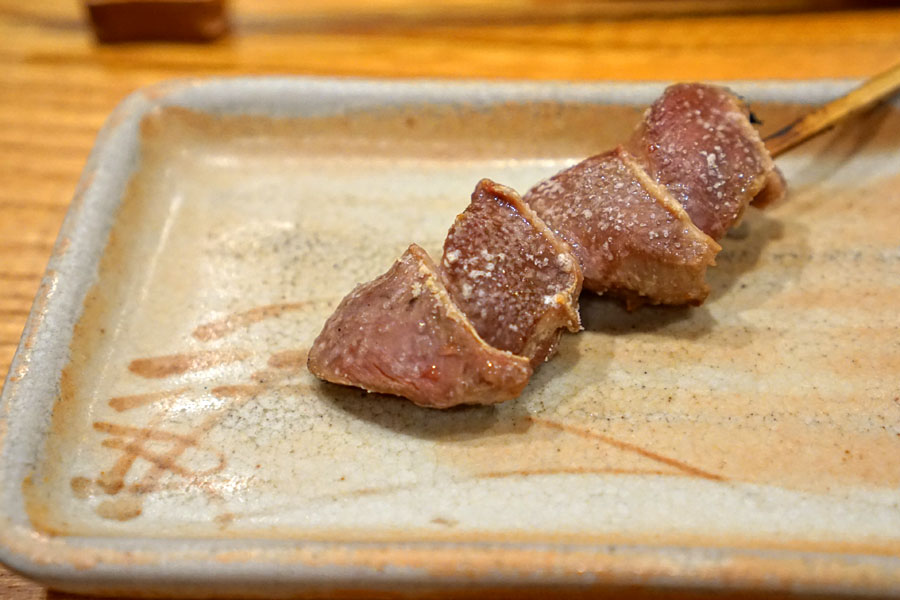 4: Sunagimo
Gizzard arrived properly crunchy, while flavors were much richer than usual, almost liver-y in fact. Great pops of salt here as well.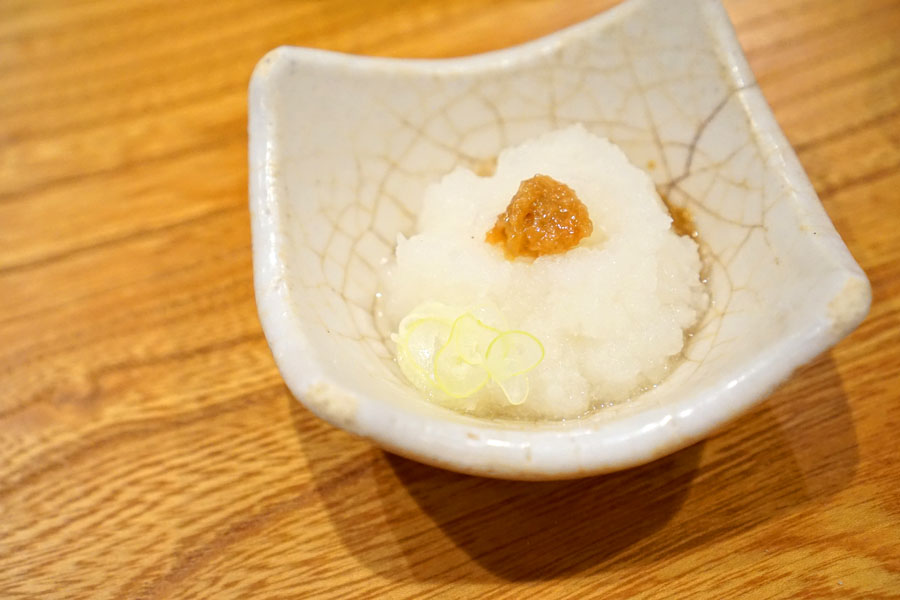 5: Daikon Oroshi
A juicy mound of grated daikon radish served as a palate cleanser of sorts.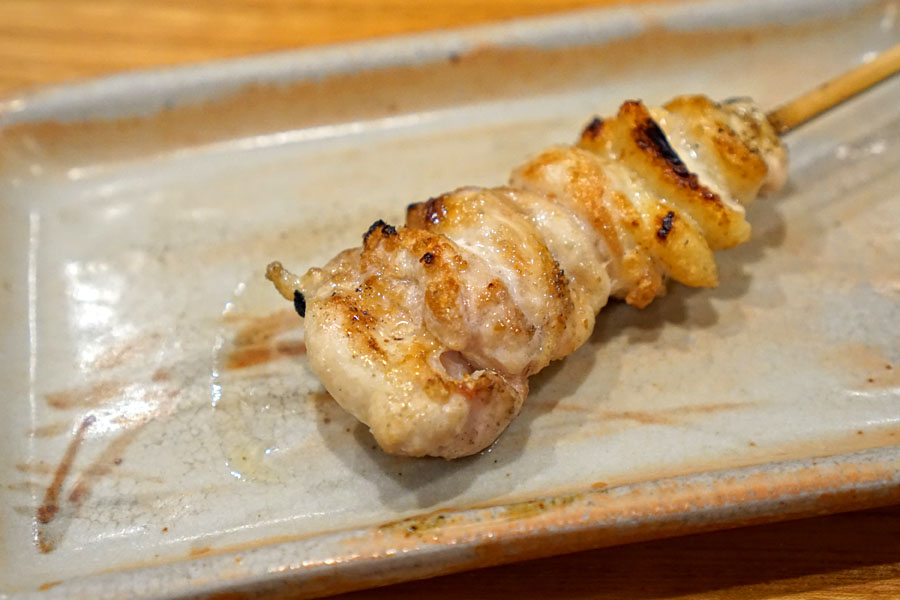 6: Kata
Next was a cut that I don't think I'd ever encountered before. Taken from the shoulder of the chicken, the meat ate chewy, dense, and firm, while flavors blended a perfect amount of salt, savor, and sear. Superb--a favorite of mine. I wish more
yakitori-ya
would serve this.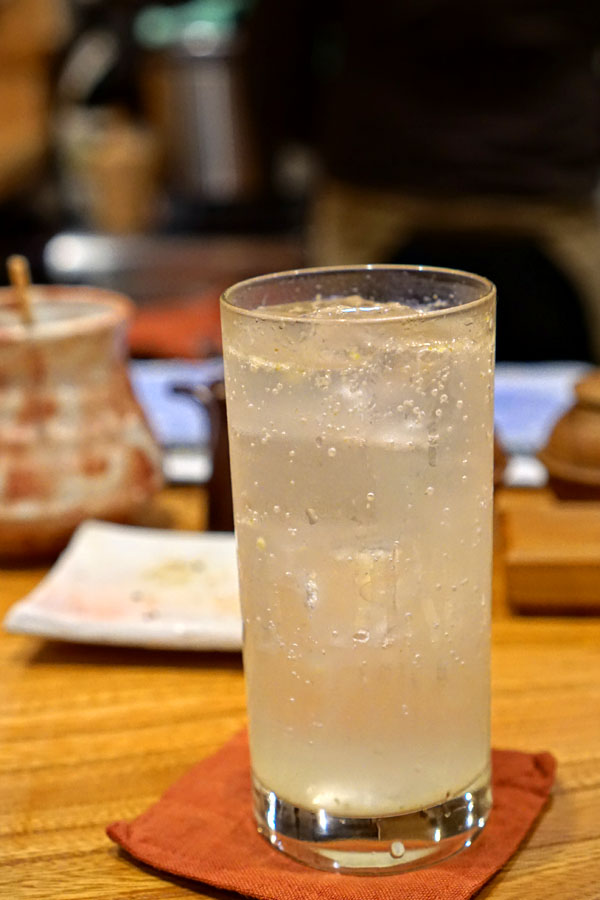 With the beer dispensed with, I opted for a
Sudachi Sour [¥480 ($4.42)]
. A type of
chuhai
made with shochu, this
sudachi hai
was certainly fizzy and refreshing, though somewhat lacking in the advertised citrus.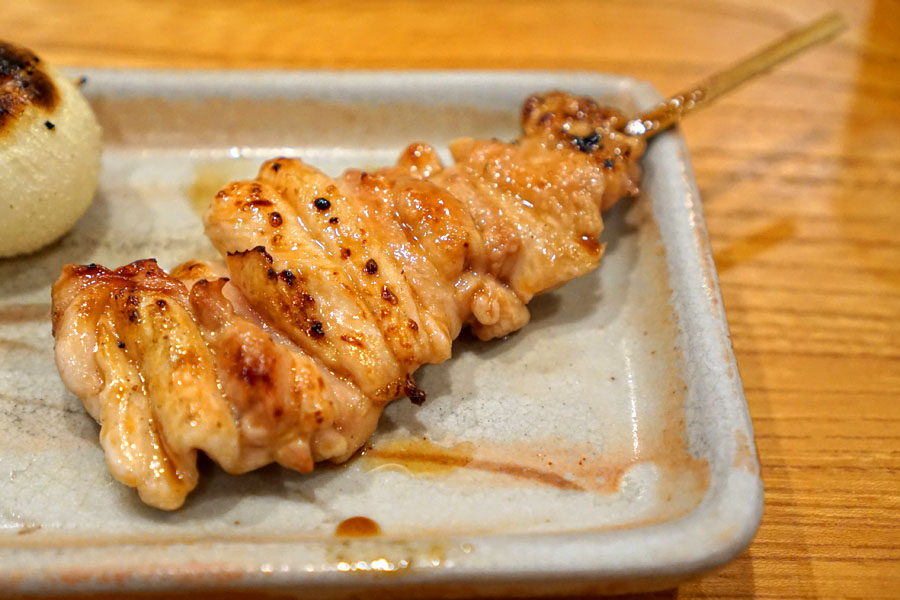 7: Kashiwa
Thigh was super soft and super juicy, with a slight sweetness to it. It's not exactly clear to me how this differs from your usual
momo
.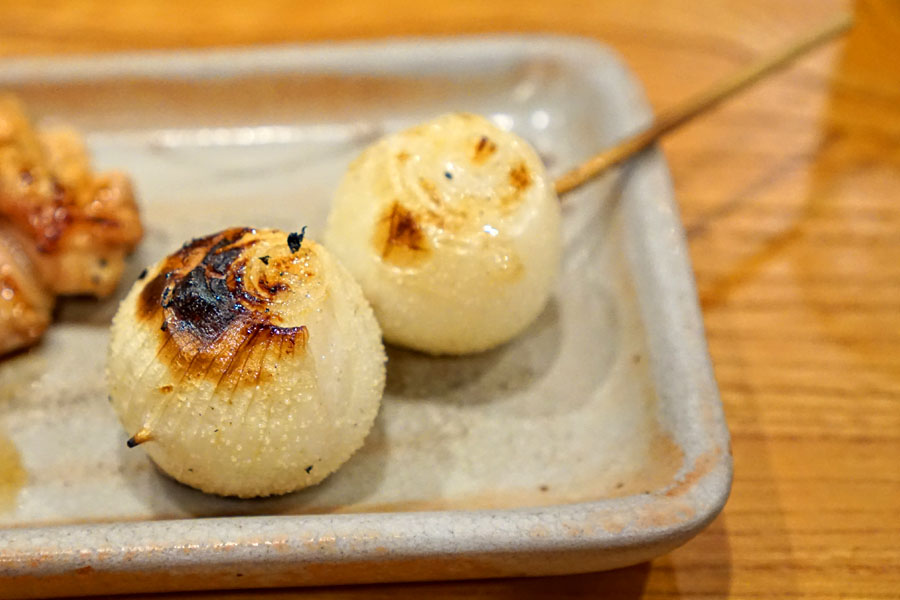 8: Kotamanegi
The "petit onion" was another standout. I loved its wonderfully crisp, multilayered texture, while its char and pops of salt worked effortlessly with the veggie's intrinsic bittersweetness. I'd never seen
kotamanegi
used in yakitori before tonight, which is a damn shame given how great it was.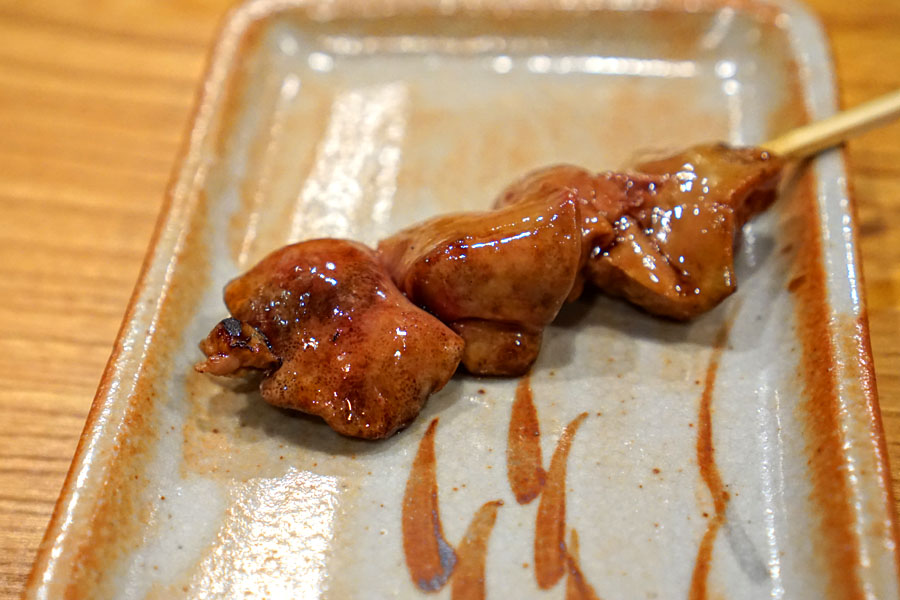 9: Chigimo
In another first for me, chicken liver was served rare, which completely changed the nature of the offal. The
reba
had a supple, almost pudding-like consistency, while flavors were expectedly earthy, but also markedly more delicate than usual. Again, I'm not sure why more places don't serve liver this way.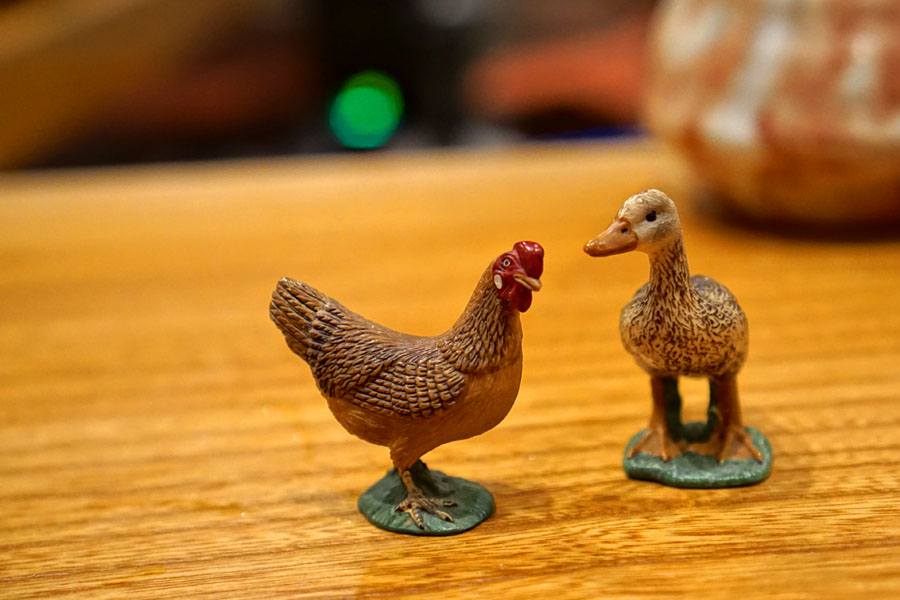 Random fowl figurines livened up the counter area.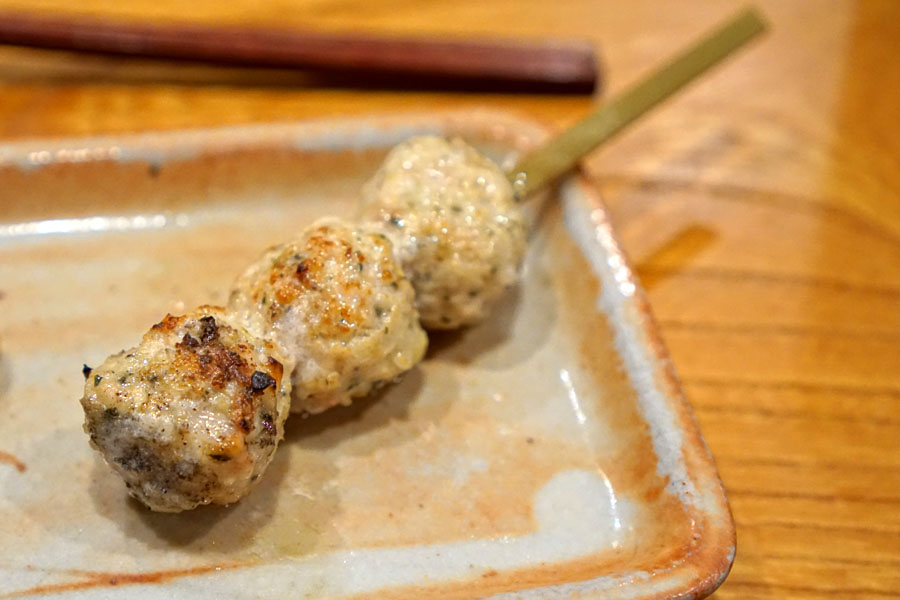 10: Tsukune
Meatballs had a wonderfully gritty, rustic texture due to the incorporation of what I believe was cartilage, while the green onion mixed in gave the dish a nice zippiness.
My next beverage was the
Cassis Soda [¥480 ($4.42)]
, which the restaurant actually forgot to charge me for. Made with crème de cassis, the drink had a subdued fruitiness to it that actually stood up well to all the yakitori.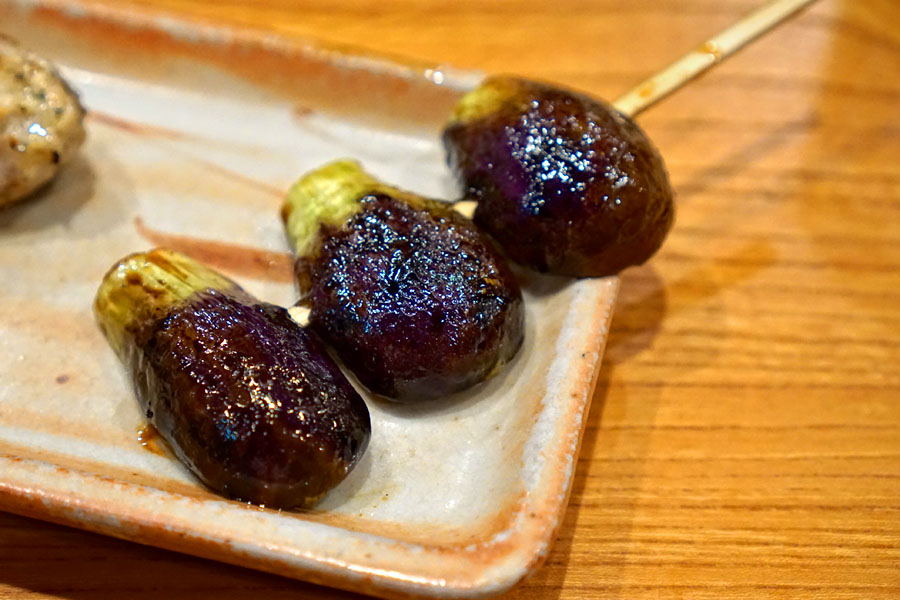 11: Konasu
Miniature eggplants were a treat thanks to their firm, satisfying texture and marriage of sweet and smoky flavors. Again, I'd like to see this served at more places.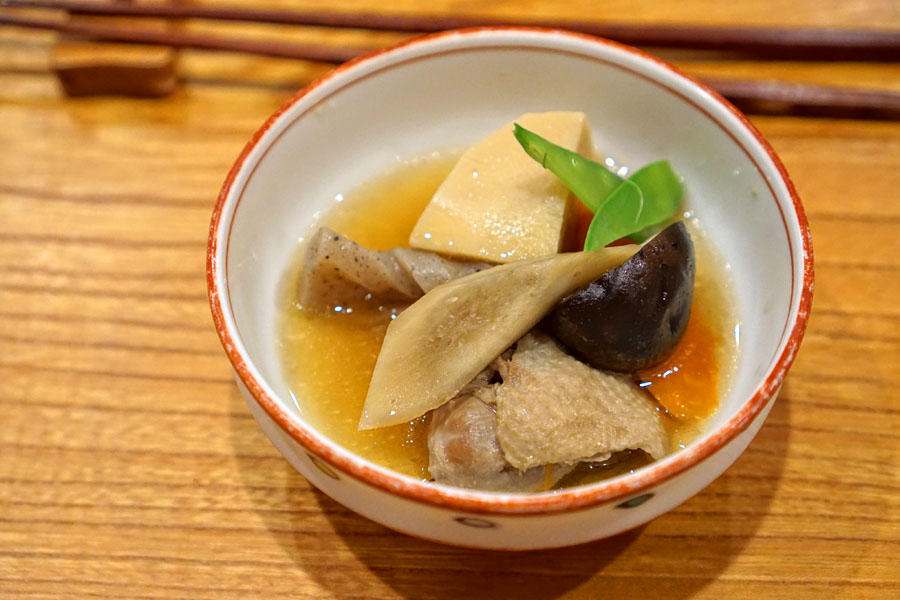 12: Chikinshichu
Here was a homey stew of sorts, one featuring savory-sweet cuts of chicken along with crunchy bamboo, shiitake, and slippery
konnyaku
.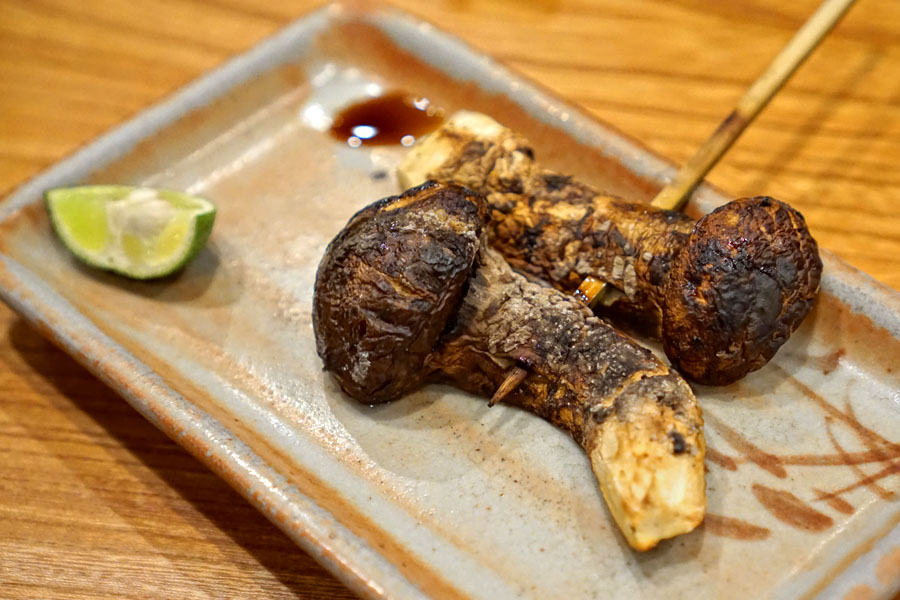 13: Matsutake
My visit happened to coincide with matsutake season, and so I was happy to see the mushroom presented tonight. The well-charred 'shrooms had a fibrous, spongy, yet firm consistency, while flavors were intense, savory, almost briny in fact. Great with a squirt of
sudachi
.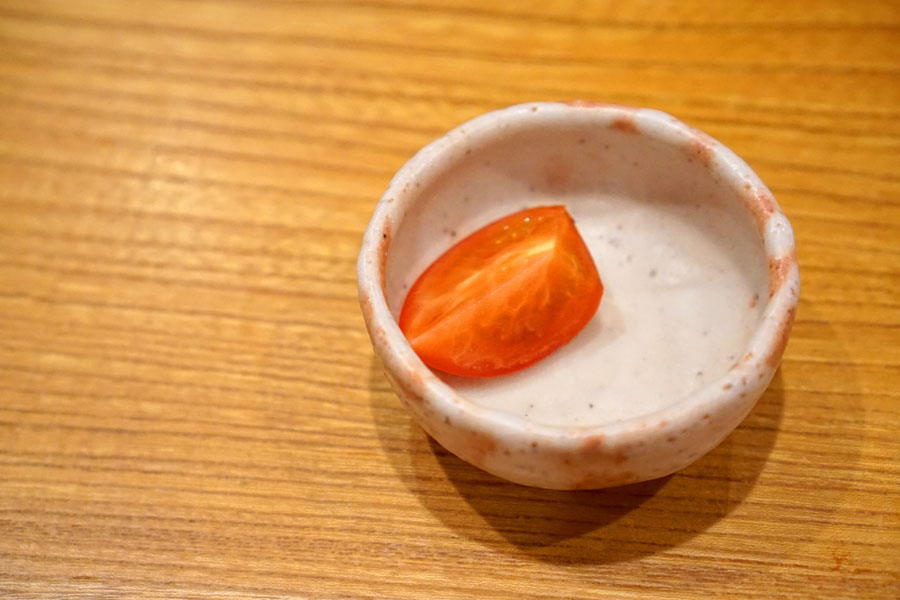 14: Hiyashi Tomato
A single slice of tomato was seemingly extra tart, and functioned as a bit of a palate cleanser after the sheer headiness of the matsutake above.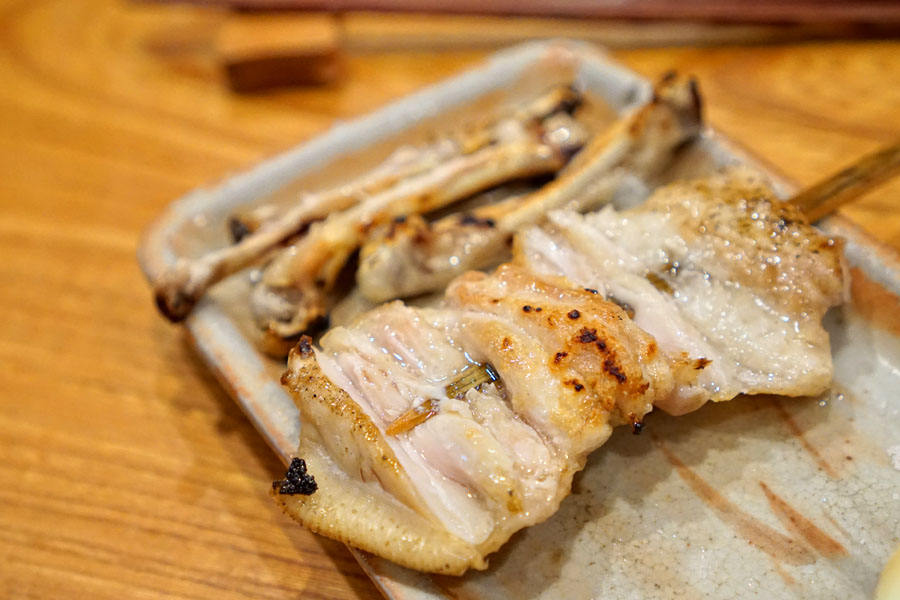 15: Tebayaki
Tebasaki
showed off a spot on combination of textures that I loved. Meanwhile, flavors were very, very robust, an explosion of salt and savor that utterly satisfied. Do note that the bones were actually removed for me by the staff.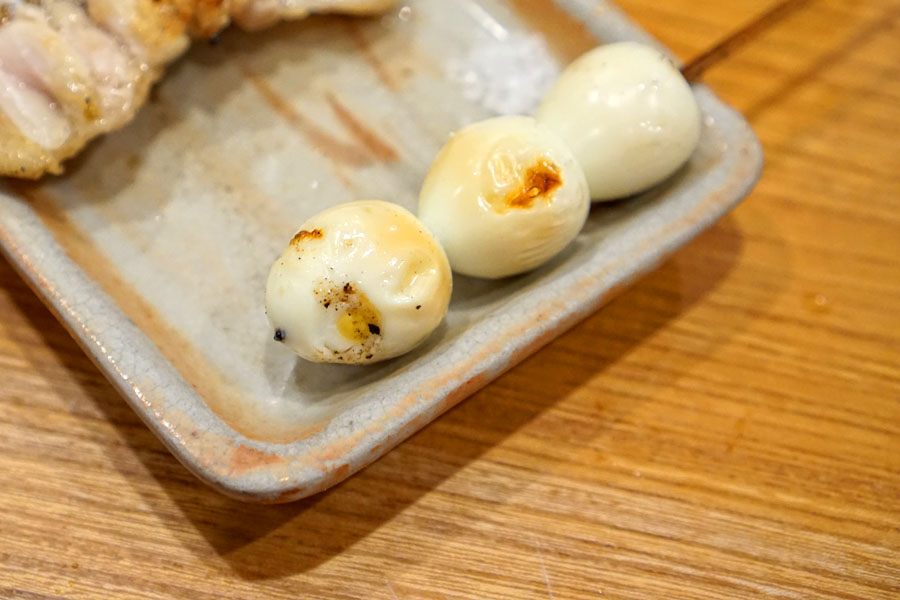 16: Shiratama
The
uzura
(quail egg) featured a snappy outer layer and classic, cozy flavors that really opened up with a pinch of salt.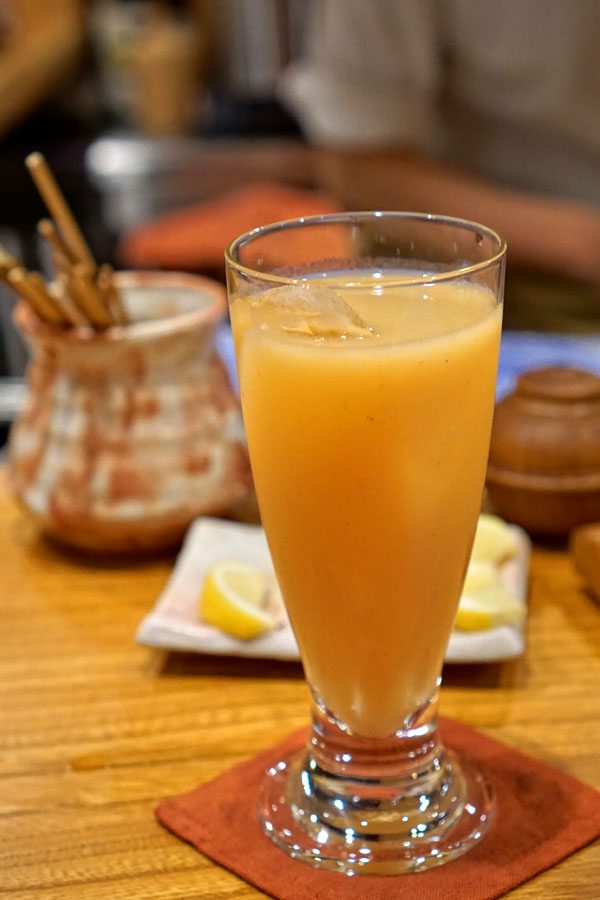 My final beverage was the
Momo-Gokochi [¥750 ($6.90)]
, a thick, viscous juice that really showed off the true-to-life flavors of peach--delish.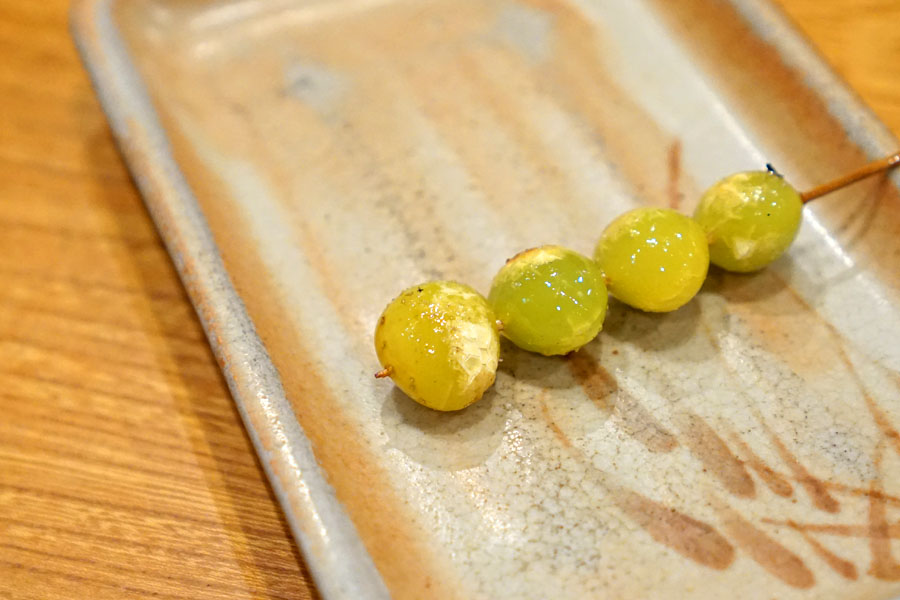 17: Ginnan
Ginkgo nuts (which were in season) had a gratifyingly chewy texture to 'em, while flavors were on the bitter side.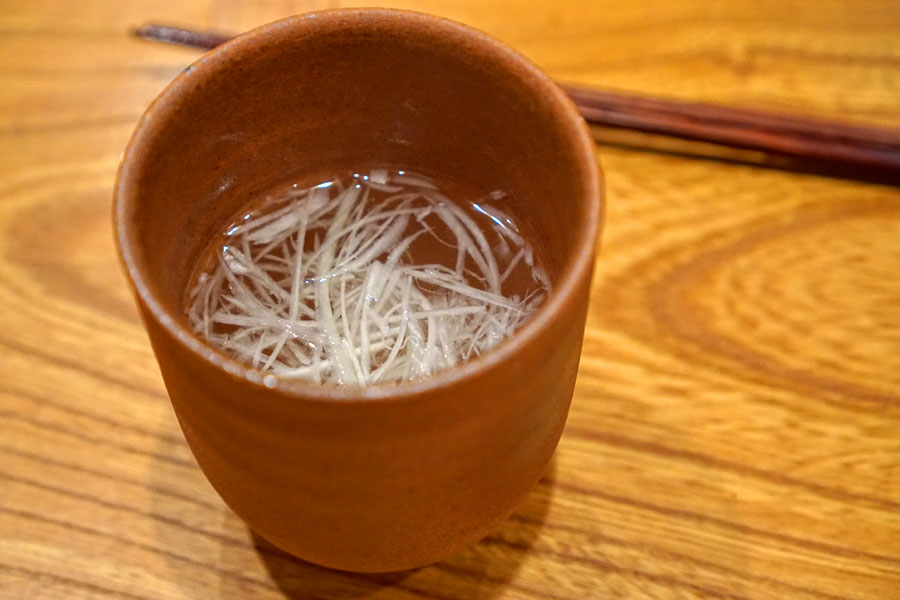 18: Tamanegi Supu
The final course of the set menu was this light, bright onion soup that I enjoyed much more than I thought I would.
Hatsu [¥???]
At this point I was offered the opportunity to order additional items, and immediately requested the tail (called
bonbochi
here), which unfortunately the Chef had run out of. However, he instead directed me to the off-menu chicken heart, and I quickly obliged. What surprised me was how it was served rare, which totally changed the nature of the organ meat (as with the liver above). I found it supple and almost jiggly in terms of texture, while flavors blended the funk of the cut with healthy doses of salt and sear. Another first for me.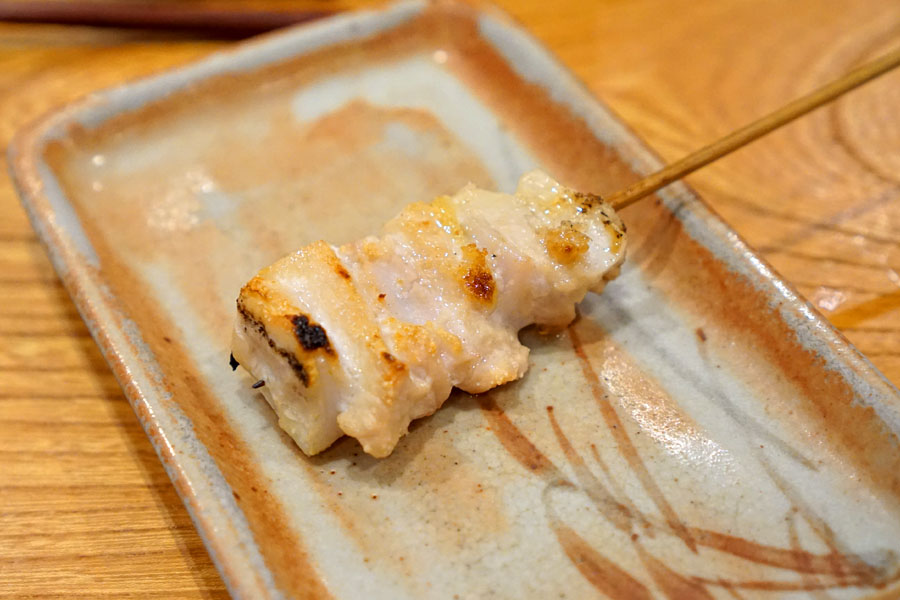 Yagen [¥???]
The
yagen nankotsu
represented a great back-and-forth between crunchy cartilage and delectable morsels of the bird. If you're wondering about the "¥???" listed for these last three courses, the reason is that I was charged ¥1,200 ($11.04) for them, but wasn't provided a cost breakdown on the bill.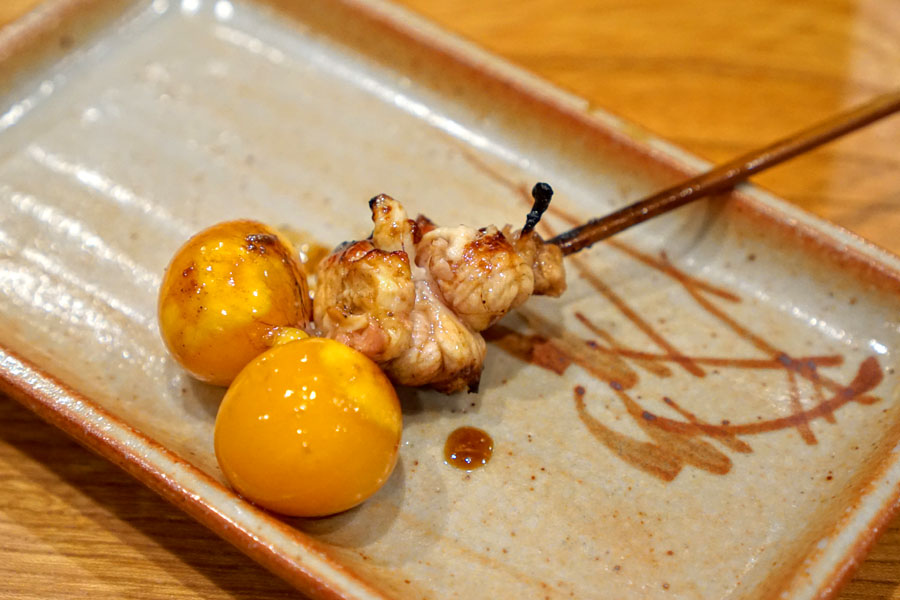 Chochin [¥???]
I ended with the
chochin
("lantern"), which comprised chicken uterus with two undeveloped yolks attached. I was instructed to eat it all in one bite, and it was a real treat, with the lush, runny nature of the egg working hand-in-hand with the charred, chewy meat. Yet another first for me.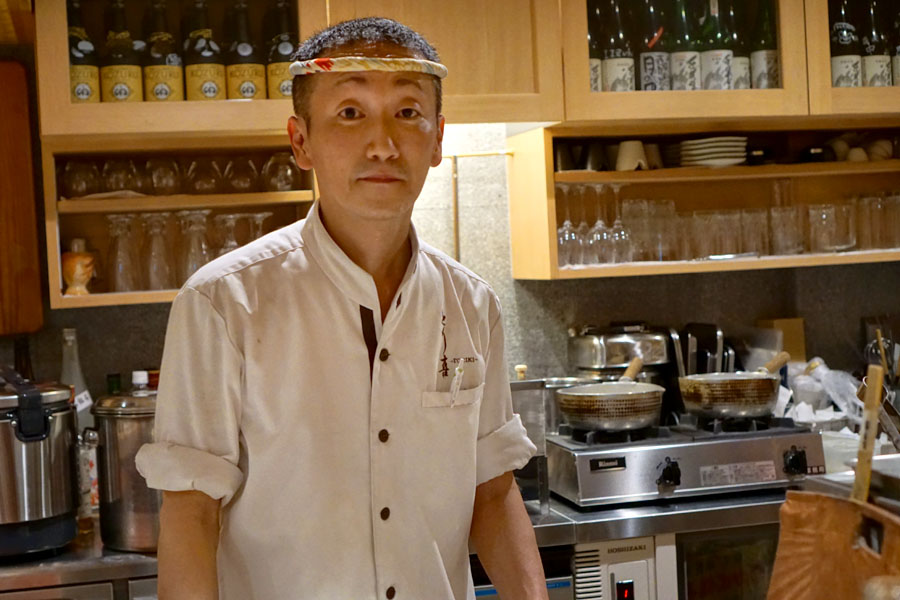 Chef/Owner Sakai Yasuhito was an affable host.
Toriki served me a superb dinner, and also served as a great welcome back to Japan. This was very likely the best yakitori meal I've had, and I was especially appreciative of how many new things I was able to experience. What really struck me, though, was the relative subtlety of Sakai-san's cookery. I'd say that it's less smoke/charcoal-focused than most, tending to highlight more of the intrinsic nature of the bird, which is apparently a result of his higher heat cooking methods. In any case, Toriki is certainly worthy of consideration if you're seeking out yakitori in the Tokyo area.