Birdie G's (Santa Monica, CA)
Birdie G's Restaurant
2421 Michigan Ave, Santa Monica, CA 90404
310.310.3616
www.birdiegsla.com
Sun 10/06/2019, 06:30p-09:15p

I last reported on Jeremy Fox back in August 2015, shortly after the opening of
Esters
, and he's been fairly busy since then; I'll catch you up. In March 2016, he was nominated for the "Best Chef: West" award by James Beard, and the same happened the following March. In April 2017, it was announced that Fox would be teaming up with the folks behind Rustic Canyon (Josh Loeb, Zoe Nathan, Colby Goff) to launch Tallula's, a Mexican-ish spot in the old Marix Tex Mex space. This was followed quickly by the release of his first cookbook,
On Vegetables: Modern Recipes for the Home Kitchen
, replete with a foreword by
David Chang
. Tallula's, meanwhile, ended up debuting on May 9th that year, with the day-to-day run by Mario Alberto Orellana, an alum of Ysabel, Laurel Hardware,
Freddy Smalls
, Chimu,
Lazy Ox Canteen
, the O.G.
Mo-Chica
, and
Gjelina
. However, the place got off to a rocky start, and still to this day hasn't fully recovered.
In October 2017, Fox and friends signed the lease for Birdie G's, the Chef's most personal restaurant to date and one named after both his daughter Birdie and grandmother Gladys. Another "Best Chef: West" nod from Beard came in March 2018, and yet another just this past March (still no wins yet!). In May, he handed over control of the
Rustic Canyon
kitchen to new EC Andy Doubrava (Salt & Fat, The Spotted Pig, Reynard), and Birdie G's officially opened on June 21st. The restaurant has seemingly caused some consternation among diners, since the cuisine here is difficult to define. It's certainly an obvious departure from Fox's previous efforts at RC and elsewhere. Initially, the food was described as Midwestern American, speaking to the area where the Chef grew up, but in reality, the cooking has proved to be much more than that, as we'll see below.
Confusion aside, second-in-command here is Chef de Cuisine Brittany Cassidy. A San Diego native, she grew up surrounded by home cooking, but decided to pursue a career in dance. However, she eventually wandered back into food, and later enrolled at the Hollywood outpost of Le Cordon Bleu on Sunset. Following graduation in 2008, she went to work under mentor Matt Carpenter at Josie LeBalch's eponymous Josie, then followed him to open
Momed
in Beverly Hills. In 2011, she worked at both Public Kitchen & Bar (at the Hollywood Roosevelt Hotel) and at Michael Voltaggio's
ink
. Cassidy joined the team at Rustic Canyon in 2013 as a line cook, and she later worked her way up to the position of exec sous before becoming CdC there in 2015.
Meanwhile, assisting Cassidy and Fox are Sous Chefs Jeremiah Lacsamana (former chef de partie at Rustic Canyon), Matthew Schaler (
Michael's
,
Fishing with Dynamite
), and Joel Spadafore (a former line cook at Rustic Canyon and personal chef). The front-of-the-house, finally, is run by General Manager Charity Sanchez (
Picca
, Zoës Kitchen).


Birdie G's takes over the former home of the Santa Monica Museum of Art, which was apparently originally built as a train depot. Designed by local firm
Montalba Architects
(
Cassia
, Nobu Malibu,
Milo + Olive
, Huckleberry), the space spans roughly 5,000 square-feet and features a semi-industrial vibe that's to be expected. Note the 12-seater counter peering into the open kitchen, as well as the blue-and-white Nathan Van Hook mural along one wall.

Behind that Van Hook mural is the bar/lounge area, also known as The Bird's Nest, which accommodates around 30 or so patrons with its bar stools and trio of booths.

In the back is the 50-seat private dining room, named Al's Workshop after Fox's grandfather. Do also keep in mind that there's additional seating for another 50 or so out front in the patio/breezeway.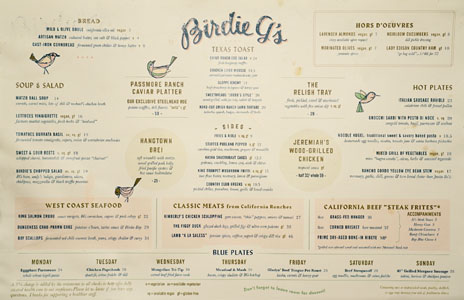 Above we see Birdie G's' menu, which is one of the physically largest I've encountered in a long while (think placemat). It lists a hodgepodge of dishes drawing from the South, the Midwest, California, classic Americana, Italian-Americana, and good ol' Ashkenazi Jewish fare. Click for a larger version.



















The restaurant's rather lengthy beverage menu starts out with a listing of cocktails from Bar Manager Stephanie Reading (The Rose Venice,
Otium
) before getting into a page of beers and one of the most curiously-organized wine lists I've ever seen. Said wine list apparently features over 250 choices, and is the work of Rustic Canyon Family Wine Director Kathryn Coker and Birdie G's Wine Director Aaron Day (Nobu Malibu, Picca,
Fifty Seven
,
L'Espalier
and Picco in Boston). Click for larger versions.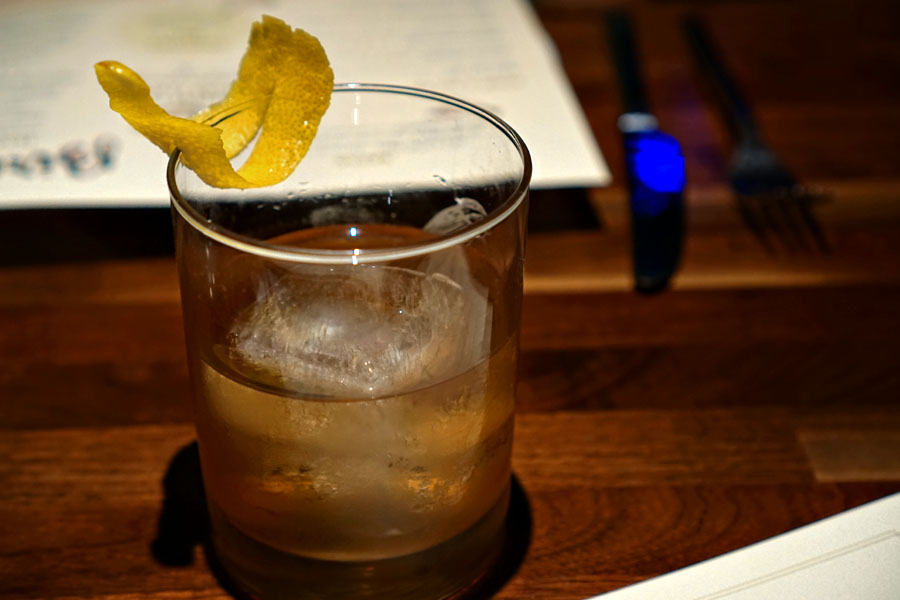 Mums an Old Fashioned Gal [$16.00]
| chrysanthemum, cane sugar, sazerac rye, barrel aged bitters, lemon twist
We drank exclusively cocktails tonight, and first up was this take on the most classic of them all. It was fairly true to the original, giving up loads of bitterness and spice, undergirded by a persistent sweetness while the citrus added an airy layer on top. I actually didn't get all that much from the advertised chrysanthemum though.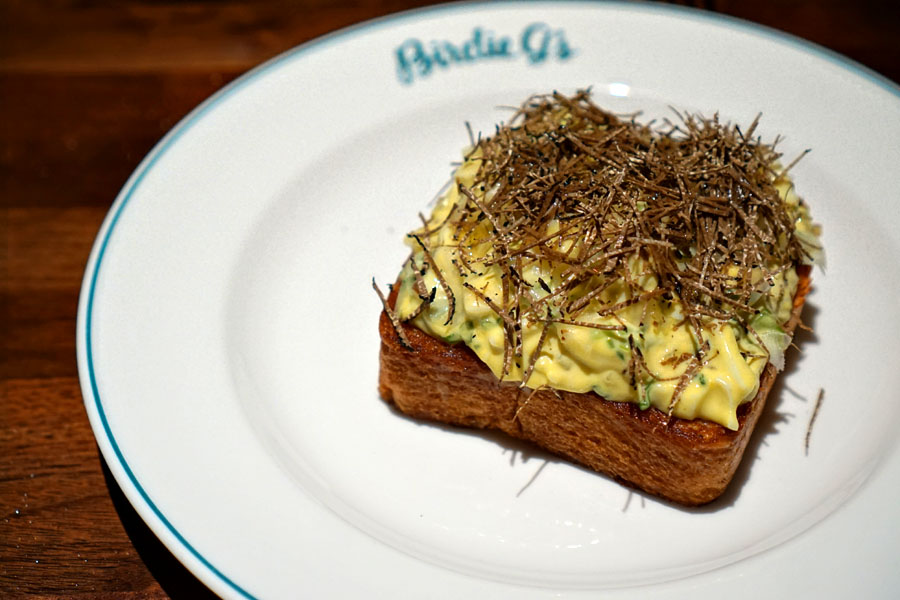 Chino Ranch Egg Salad Texas Toast [$24.00]
| fresh burgundy truffles
It's hard to go too wrong by pairing egg and truffle, and indeed, this was a standout course. In fact, it was one of the best egg salads I've had (perhaps
the
best), thanks in part to all those zesty greens mixed in, and if that wasn't enough, the truffles added an enveloping musk to the dish that worked as the perfect finishing touch.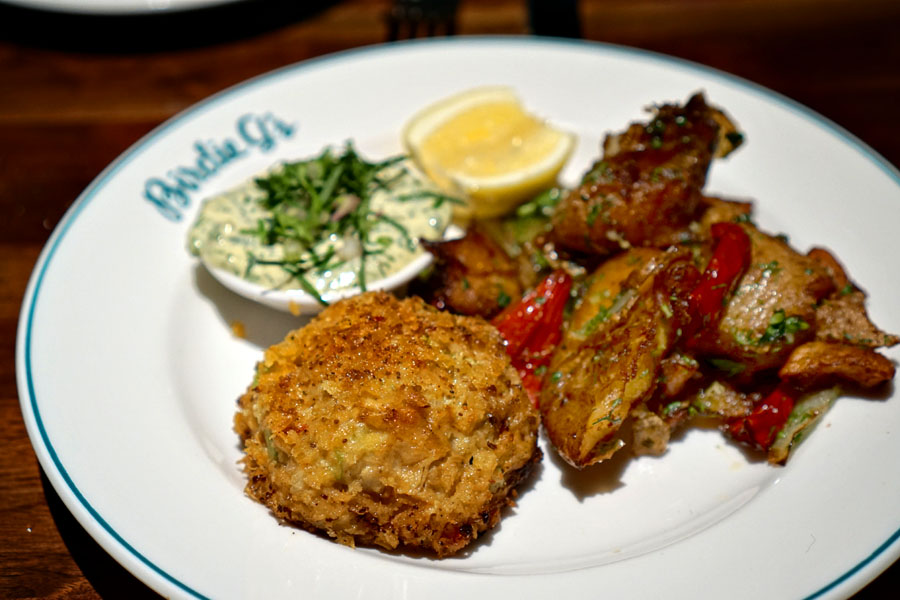 Dungeness Crab-Prawn Cake [$29.00]
| potatoes o'brien, tartar sauce & Birdie Bay
Crab-prawn cake was well-textured, and I really appreciated how the celery was incorporated, which added a lightness to the mix. However, though the brine of the seafood was nicely conveyed, it was lacking in that sweetness you find in crab; I think this would've been better had the prawn been left out. As for the potatoes, think hearty, breakfast-y, and oh-so satisfying in a homey sort of way.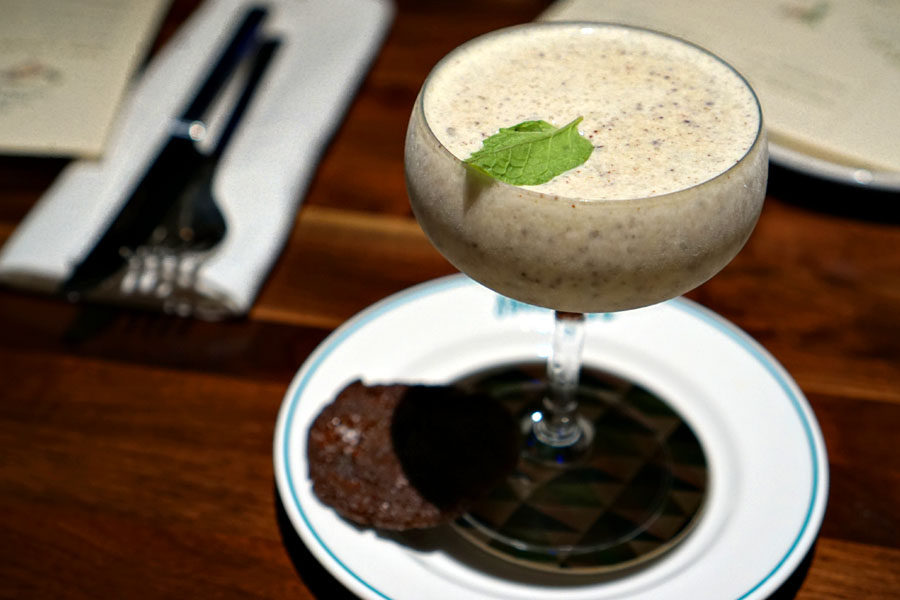 Not Your Grandma's Grasshopper [$16.00]
| crème de menthe, crème de cacao, fernet mentha, vodka, Sweet Rose Creamery fresh mint chip ice cream, cookie
One of my dining companions decided to buck convention and order a dessert cocktail to start, and when I say dessert, I really mean it with this one. A devilishly thick concoction with nary a hint of booze, it was pretty much like drinking a mint-chocolate chip ice cream shake, and I mean that in the best way possible.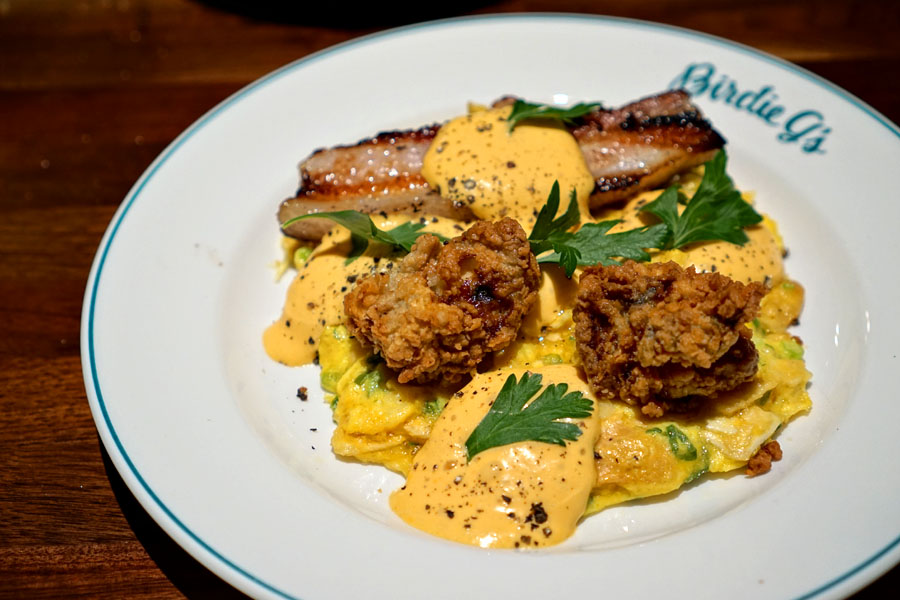 Hangtown Brei [$25.00]
| soft scramble with matzo, wood-grilled pork belly, fried pacific oysters & hot sauce hollandaise
Naturally, we had to order what's become Birdie G's' signature dish: this over-the-top mash-up of a Hangtown fry (a sort of bacon-oyster omelette) and a matzah brei (fried matzo and eggs). What really worked here was how the matza added weight and texture to the soft, schmaltz-cooked eggs, all while the greens imparted a much-needed brightness. I was also a fan of the subtle, creamy heat in the dish, while the pork made for even further contrast. The oysters, though, were tougher and harsher than I would've liked.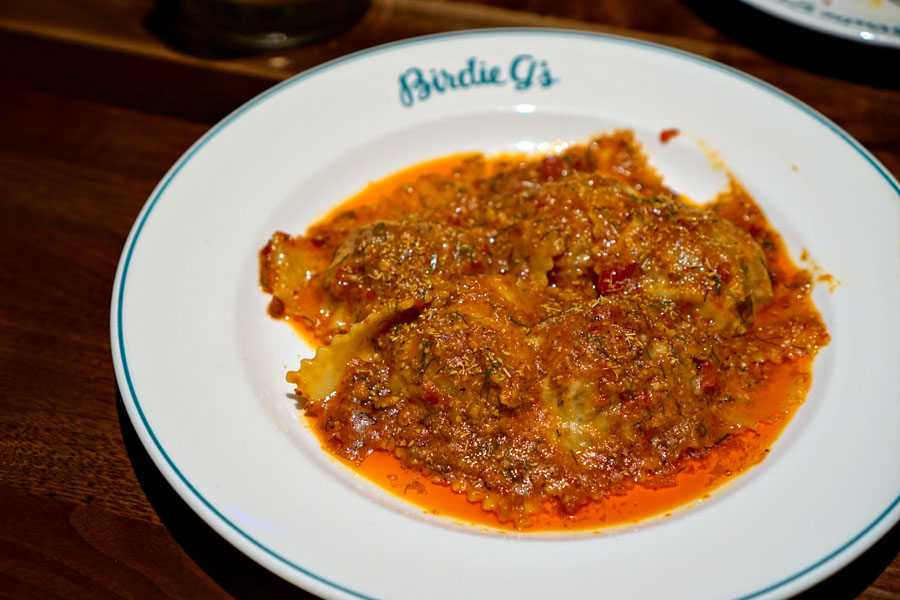 Italian Sausage Ravioli [$23.00]
| calabrian chili & fennel pollen
This revamped red sauce staple was super comforting. I was definitely into the downright meatiness and herbiness of the sausage, and how that married with the assertive spice of the chili oil-boosted
sugo
.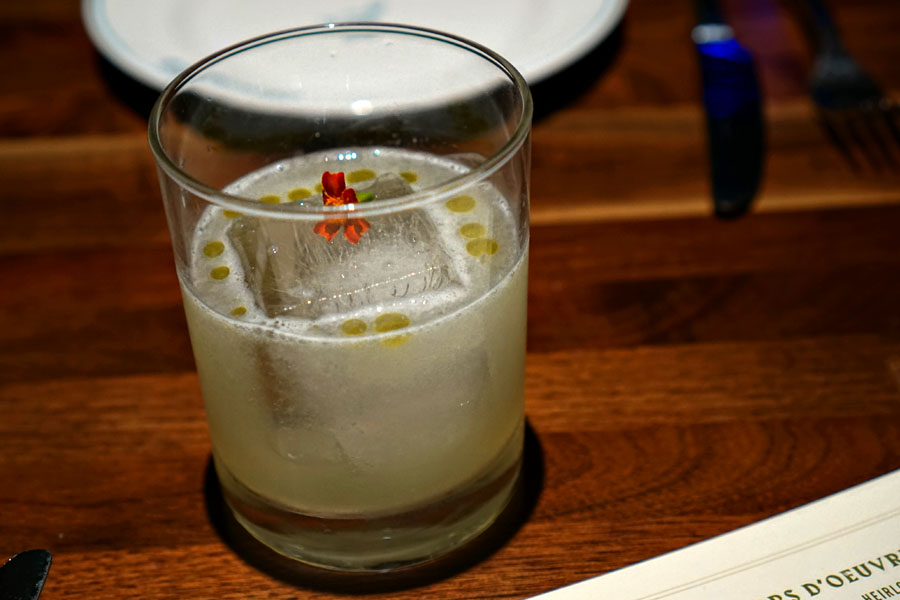 The Golden Rule [$16.00]
| lemon, agave, prickly pear brandy, tequila, marigold oil
Next came probably the most fascinating cocktail we tried. The nose here was sugary and citrusy, and conveyed a light smoke to boot. As for the palate, I found it tart and pickle-y, with vegetal notes leading to a savory element on the back end.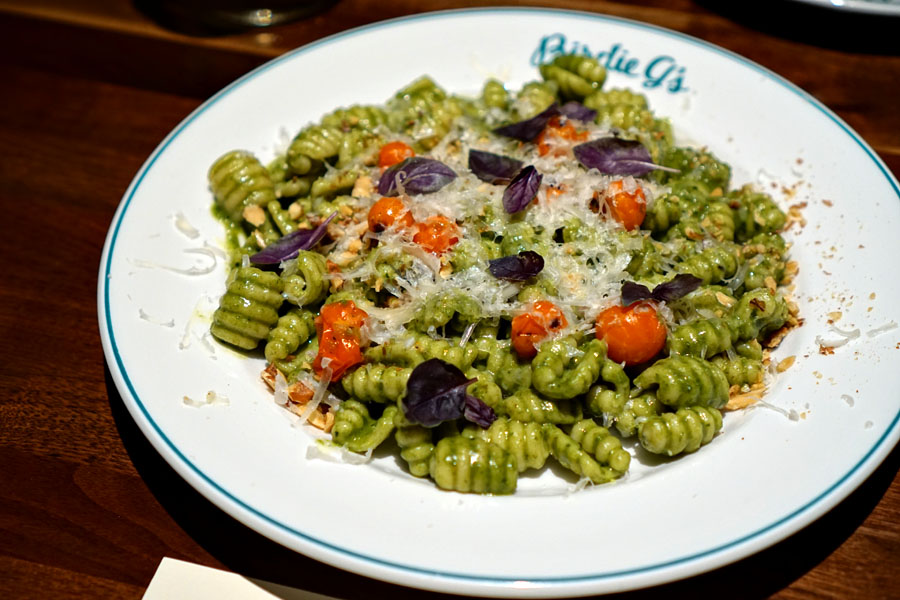 Gnocchi Sardi with Pesto di Noce [$20.00]
| sungold tomato, basil, parmesan & walnut
This was a treat. Gnocchi were beautifully textured, and I was quite smitten by the vibrancy of that pesto, as well as how well it incorporated the walnut. Tomatoes and basil, meanwhile, added a tad of levity that completed the experience.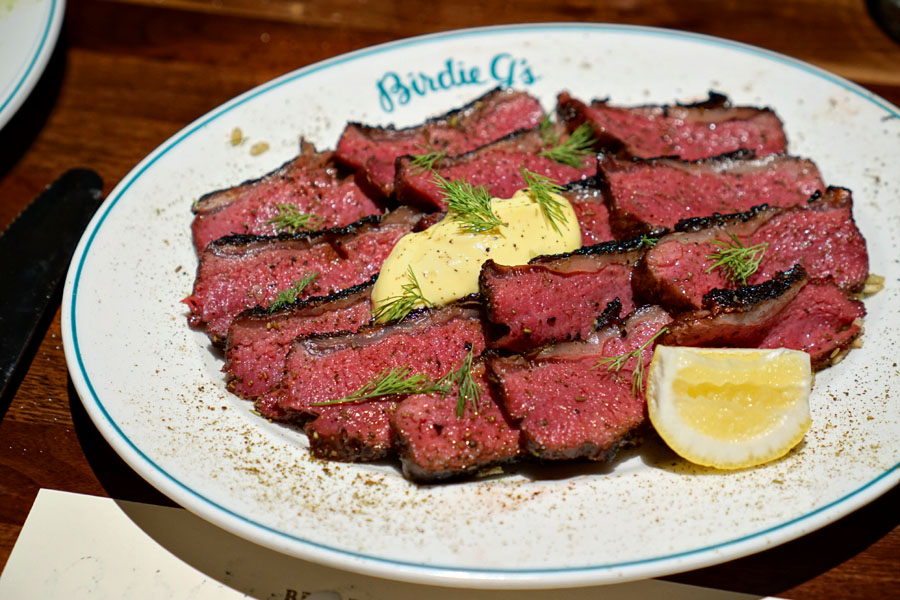 Lamb "a la Saless" [$46.00]
| persian spices, saffron yogurt & crispy dill rice
Next came these gorgeous cuts of lamb, which were imbued with a heady sweetness, as well as the unmistakably bitter, spicy smack of dill. The yogurt offered a respite from the strong flavors at play, while the
tahdig
-inspired crispy rice contributed plenty of crunch.
Sweet Tea & Summer Dreams [$17.00]
| egg white, lemon, orgeat, muddled strawberry, xocalate mole bitters, black tea milk washed bourbon, vanilla
This next cocktail was also an interesting one, but in a good way. Aromas here were on the sugary side, and almost recalled an orange Creamsicle. As for the taste, I found the drink soft and sweet, with a touch of tartness and a finish that reminded me of the sweet-spicy notes from a scented candle.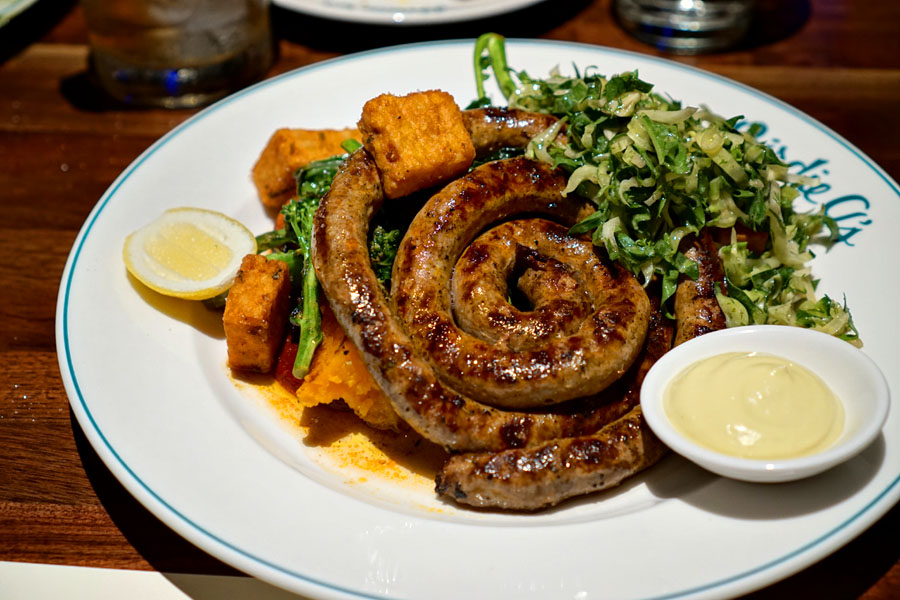 40" Grilled Merguez Sausage [$28.00]
| tahini, harissa & chickpea panisse
To be frank, we ordered this mostly for the sheer length of the sausage, which was impressive, though it wasn't as girthy as we were expecting. In any case, the Merguez had a pleasantly rustic consistency, while the spice level was fairly subdued. I was partial to the heartiness of the chickpea cakes here, as well as the zinginess from the salad, though the sweet potato was superfluous.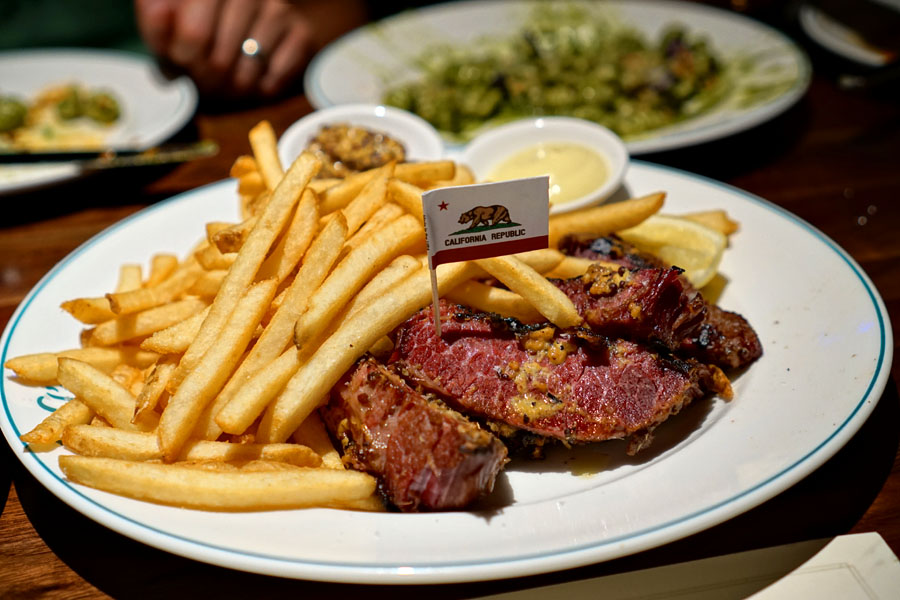 8oz Corned Brisket "Steak Frites" [$32.00]
| beer mustard
In our final savory course, brisket arrived soft and flaky, the beef playing well with its Montreal-style seasoning as well as the superb sweet piquancy of the included mustard. As for the fries, they were excellent, sort of like a thicker, better, less-salty version of McDonald's'.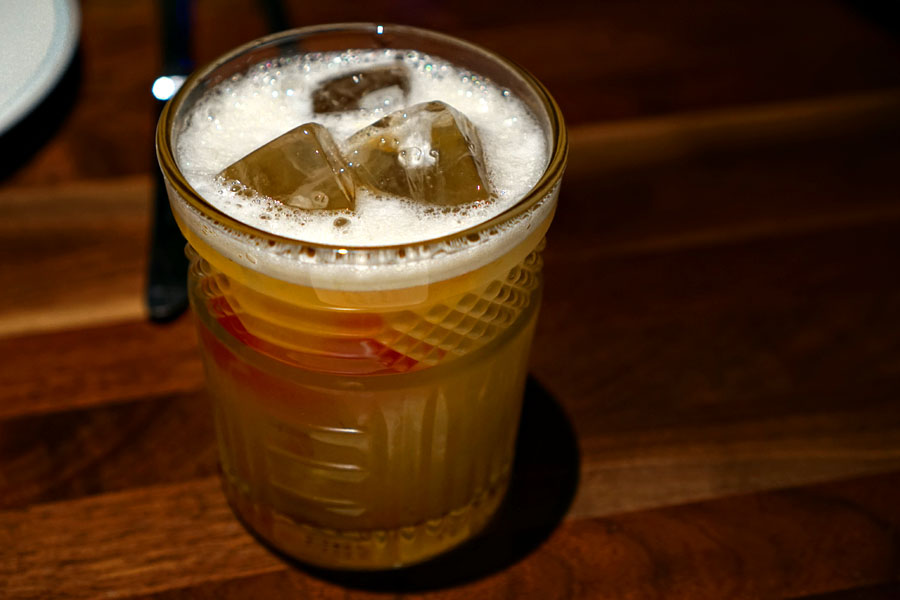 Liberty Bell Libations [$16.00]
| cracked black pepper, red & orange bell pepper, lemon, honey, aviation american gin
Here was perhaps the most polarizing cocktail of the night. It was a pretty intense one, giving up loads of vegetal, sweet-peppery flavors evened out by the presence of booze and botanicals. According to one of my dining companions, it tasted "like a salad."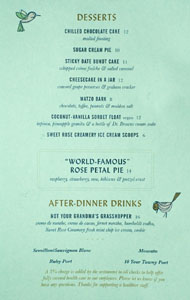 Above we see the dessert menu, which comes to us from Consulting Pastry Chef Deanie Hickox. Interestingly, she was once known as Deanie Fox, Jeremy's wife. The two met while they were working at the late Rubicon in San Francisco, and moved together to both
Manresa
and
Ubuntu
. However, they left the restaurant in early 2010 amidst a divorce, and Hickox eventually landed back at Manresa. From there, she moved over to Daniel Patterson's
Coi
, and then to his Plum in Oakland, and then to Covina in New York. Click for a larger version.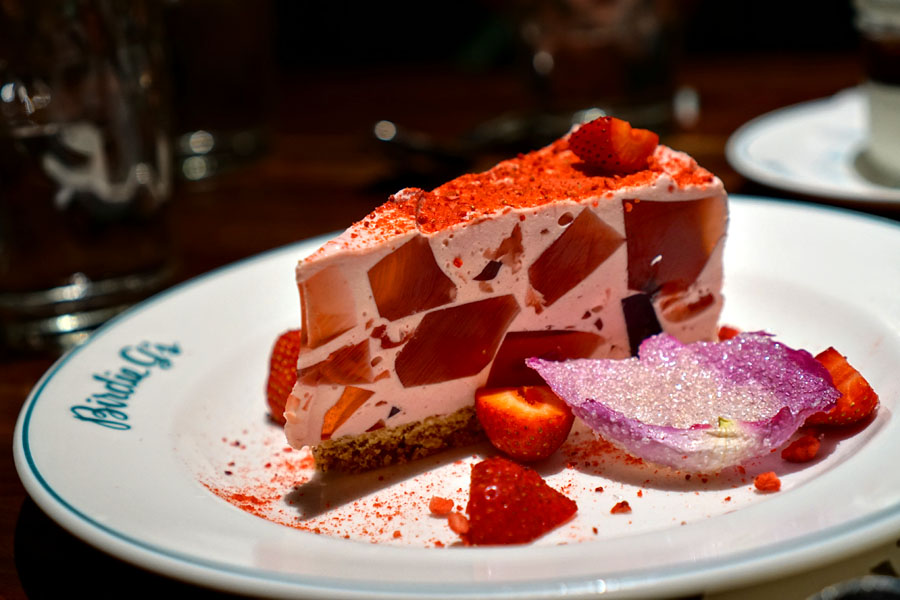 "World Famous" Rose Petal Pie [$14.00]
| raspberry, strawberry, rose, hibiscus & pretzel crust
It was now time for the sweet stuff, and we started with Birdie G's' rather striking signature dessert. Featuring shards of hibiscus/rose/strawberry gelatin set in a raspberry mousse, it represented a delightful mish-mash of sweet, creamy, fruity, and floral, all contrasted against a wonderfully nutty, salty, gritty pretzel crust. A must try by my estimation.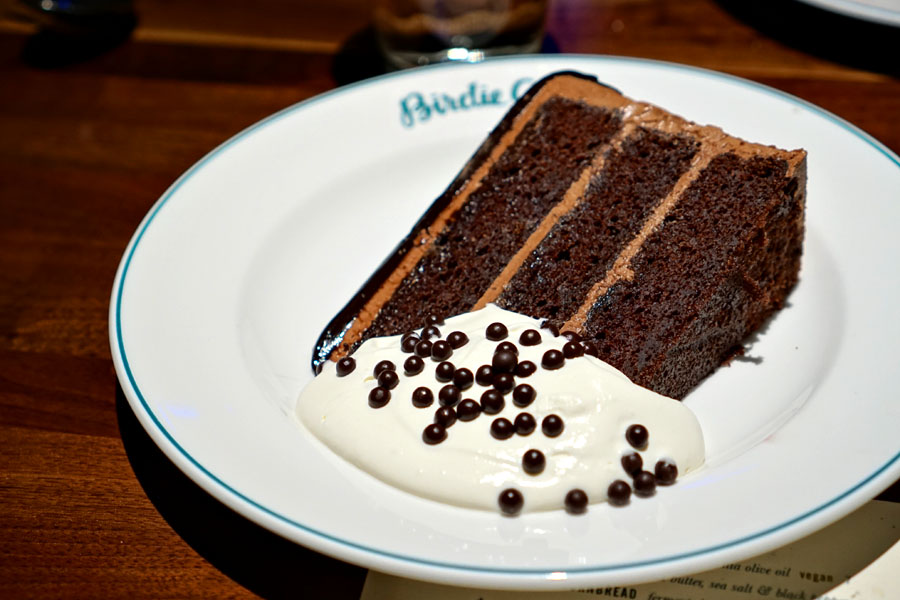 Chilled Chocolate Cake [$12.00]
| malted frosting
The chocolate cake was as rich as it looked, but underneath all that decadence was a layer of fruitiness, and almost booziness that made this more interesting than I expected. And the whipped cream on the side? Absolutely necessary.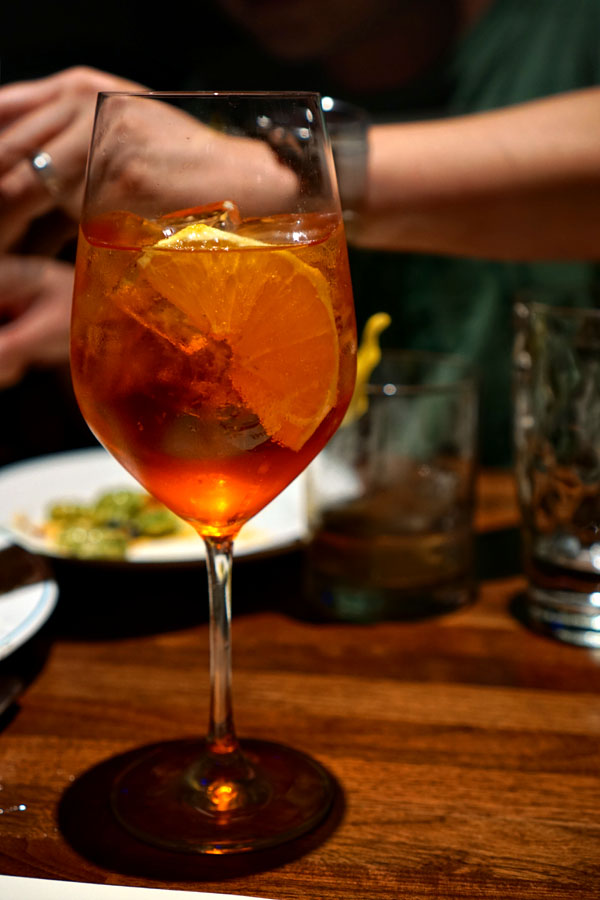 Aperol Spritz [$15.00]
| aperol, brute cava, soda, orange
Another dining companion ordered an Aperol Spritz, which from what I understand is having a bit of a moment now. It was a pretty faithful rendition of the easy-breezy cocktail, its classic bittersweet flavor profile satisfying in a familiar fashion.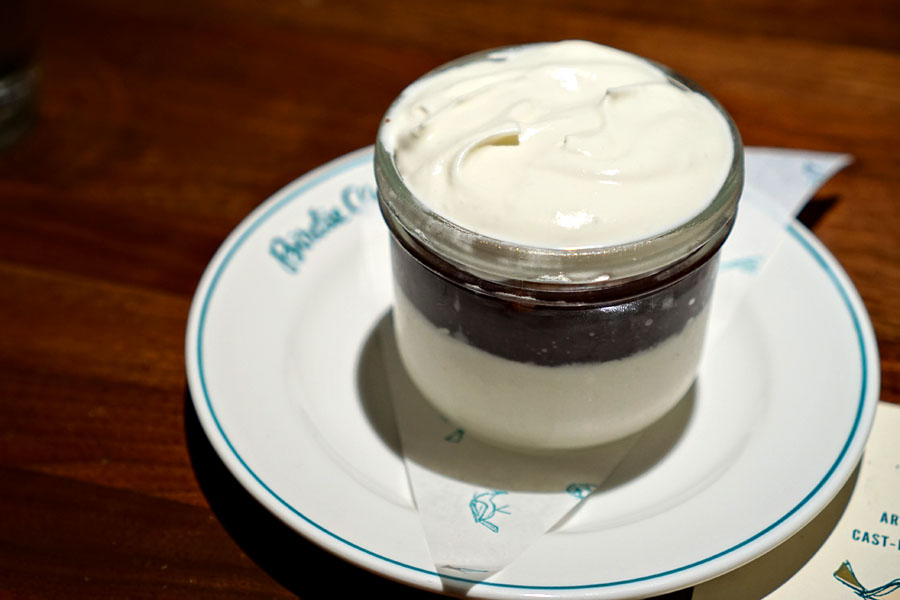 Cheesecake in a Jar [$12.00]
| concord grape preserves & graham cracker
Our jarred cheesecake definitely highlighted the lactic nature of the actual cheese utilized, while the preserves offered up just the right amount of fruity tang. My favorite part? That salty, crumbly crust of course.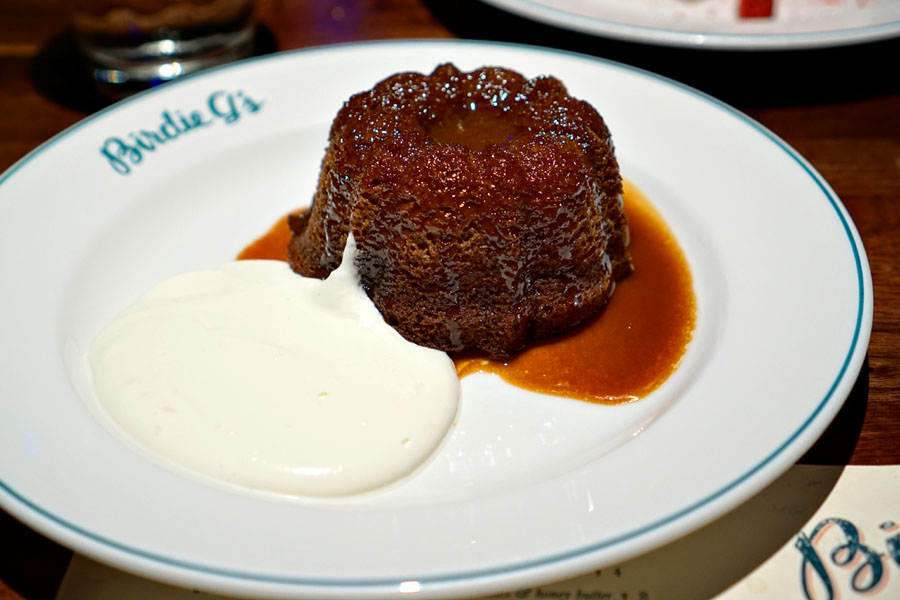 Sticky Date Bundt Cake [$11.00]
| whipped crème fraîche & salted caramel
This was a table favorite due to the cake's unabashedly rich flavors of dark, sugary fruit and caramel, all set against the much needed lightness of crème fraîche. Delish, and one of the best versions of sticky toffee pudding I've had.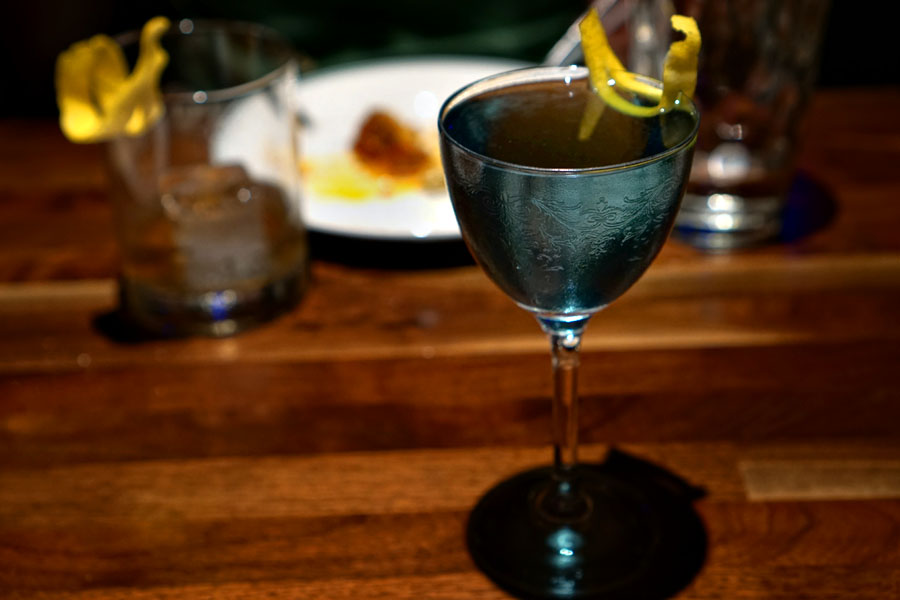 Sky's the Limit [$16.00]
| maraschino, crème de violette, dry vermouth, lavender bitters, aviation american gin, lavender
The final cocktail of the evening was this blue-tinted take on the classic Aviation. Due to the use of lavender, the drink had an almost "soapy" sort of flavor profile that wasn't to everyone's liking, though the booziness and bitterness present did offer a modicum of relief.
I wasn't quite sure what to expect from here, but walked out of the place feeling pretty content. While it's true that the menu is a bit all over the place, I guess that's actually the whole point of it. I get the feeling that the place is meant to be seen through an autobiographical lens; it's an "American restaurant" by Fox's own estimation, the culmination of his experiences, his roots, and just plain what he likes. Though Birdie G's may not neatly fit into a category, I will say that it does feel pretty pertinent for Los Angeles in this day and age.