Gion Suetomo (Kyoto, Japan)
Gion Suetomo Restaurant
4-151-73 Komatsucho, Higashiyama-ku, Kyoto 605-0811
75.496.8799
gionsuetomo.kyoto
Wed 10/30/2019, 06:00p-08:00p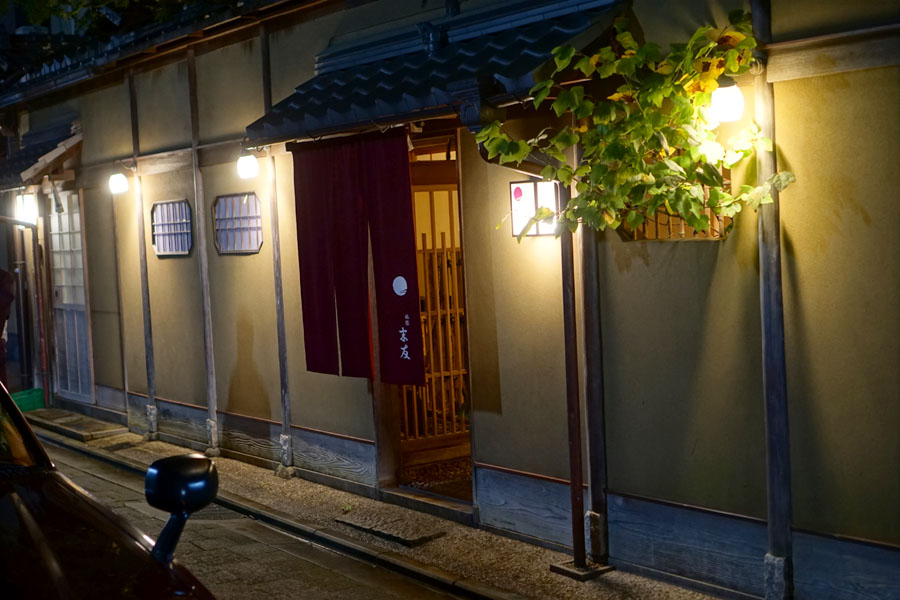 Though most of my time in Japan was spent in Tokyo on this visit, I did take the Shinkansen down to Kyoto for a day trip. After exploring the City for a few hours, we ended up having an early dinner at Hisashi Suetomo's eponymous Gion Suetomo, situated right across the street from the historic Kennin-ji temple. It's a traditional Kyoto-style
kaiseki
restaurant, which just felt appropriate given where we were.
About the Chef
: Suetomo Hisashi was born ca. 1973 in Kyoto, and grew up in a family involved in the fishmonger business. He started cooking at an early age, and by the end of elementary school, already knew that he wanted to become a chef. He was able to get into college on the strength of his basketball skills, but ended up choosing culinary school instead. After graduation, Suetomo was able to find his way into the kitchen of Gion Maruyama (located just on other side of Kennin-ji), where he trained for eight years under Chef/Owner Yoshio Maruyama. Following, he cooked at the now-shuttered Gion Hanakasumi before striking out on his own in 2008.
Following a bit of searching, he found a
sukiya-zukuri
-style building suitable for his solo project, apparently chosen due to its ability to handle the construction of a well (the area's known for the quality of its groundwater). The Chef thus opened Gion Suetomo on February 11th, 2009, at the age of 35. The restaurant quickly scored a Michelin star in the inaugural 2010 Kyoto/Osaka guide, and was promoted to two stars the following year, a rating that it retained for the 2012 printing. However, the place was reduced to a single star in 2013, and was seemingly left out of the 2018 edition.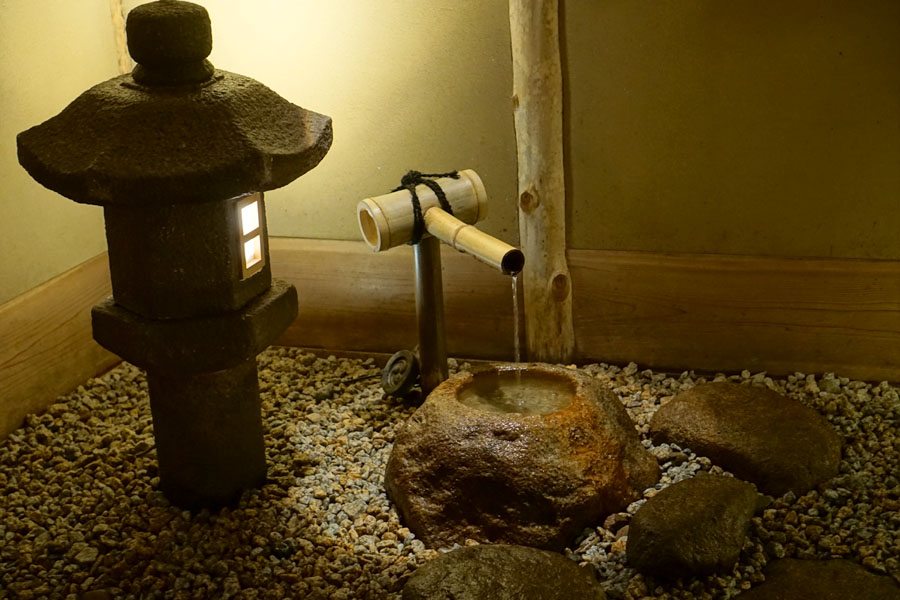 After making our way inside, we were seated in a small waiting area (replete with the water feature above) for a few minutes before being led to the main dining area and its eight-seater kitchen counter.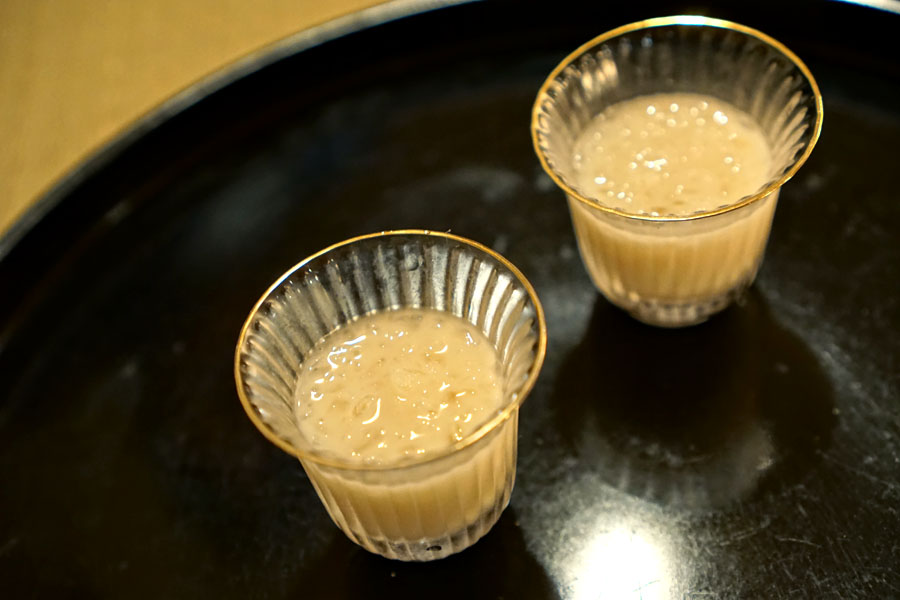 While waiting, we were provided a sweet 'n' spicy beverage composed of milk and ginger, which functioned as a surprisingly effective apéritif.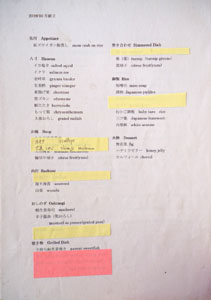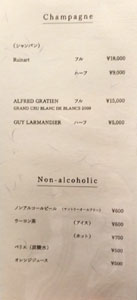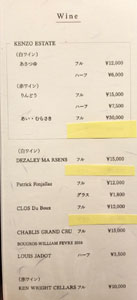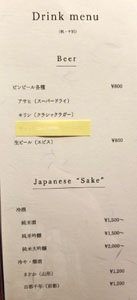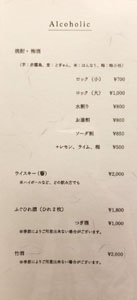 Our
kaiseki-ryori
menu was priced at ¥29,500 ($271.09) per person, inclusive of tax and service, though there are even pricier options available, not to mention supplemental courses (such as matsutake mushrooms and what I believe was spiny lobster this evening). As far as drinks go, you get a small selection of wine, as well as beer, sake, and shochu. Click for larger versions.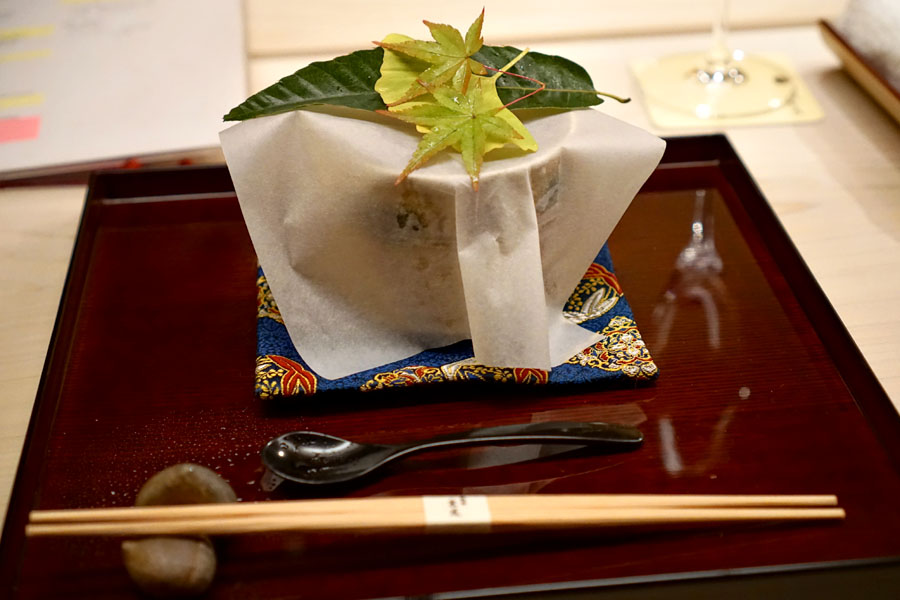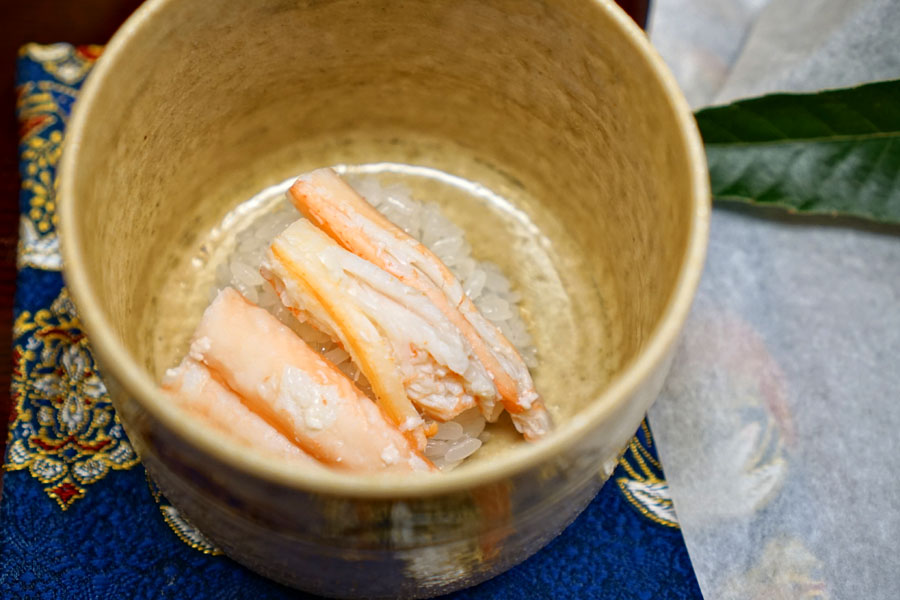 1: Sakizuke
Our appetizer course brought wonderfully soft, sweet, ultra refined-tasting morsels of
zuwai-gani
(snow crab), all set over big, sticky grains of rice. A seemingly simple, but very satisfying combination, and a lovely start to the meal.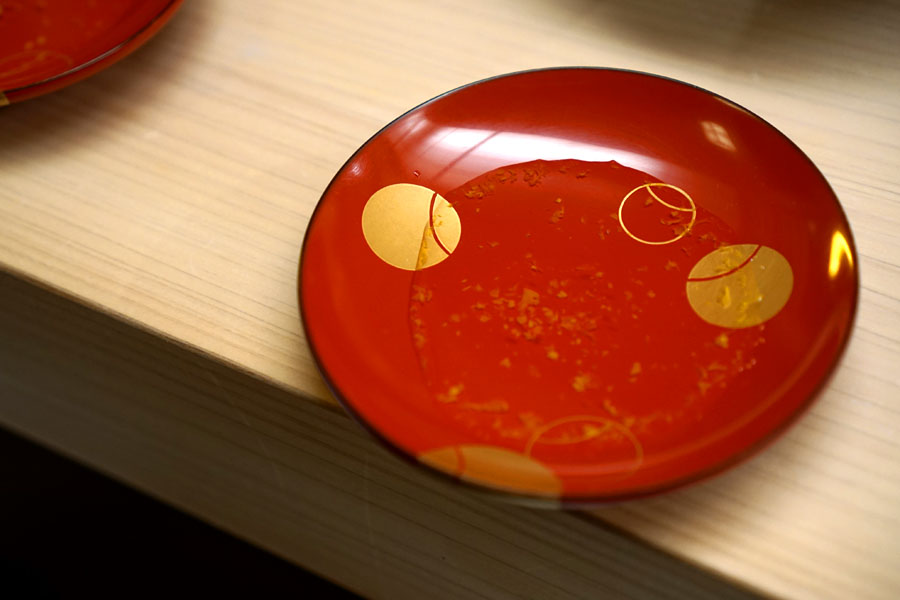 We then enjoyed a complimentary welcome drink of robustly sweet, boozy sake, served in a traditional
sakazuki
saucer.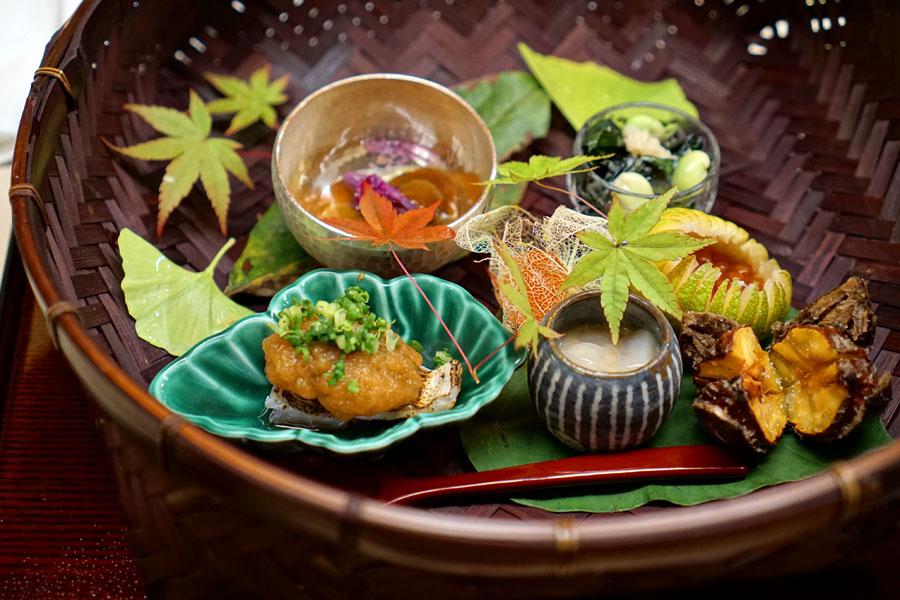 2: Hassun
The most visually striking of our courses, the
hassun
comprised a selection of small seasonal dishes:
I began with the ika shiokara (salted squid), which I found intensely saline, slippery, and firm to the bite.
Contained in some sort of citrus fruit (kabosu?), the salmon roe was pretty much just what you'd want and expect.
Edamame were spot on, and paired beautifully with the bitterness of suizenjina greens and the zestiness of ginger vinegar.
The kuri (chestnut) was perhaps the best I've had thanks to its wonderful sprinkling of salt and meaty, gratifying consistency.
A kamasu tataki (seared barracuda) had a great smoke to it, and paired swimmingly with the brightness of daikon-oroshi (grated radish).
Nametake mushrooms were expectedly mucilaginous, while their subdued woodsiness made sense with the floral character of chrysanthemum.
Last up, and right in the middle of the plate: a singular sticky cured egg yolk.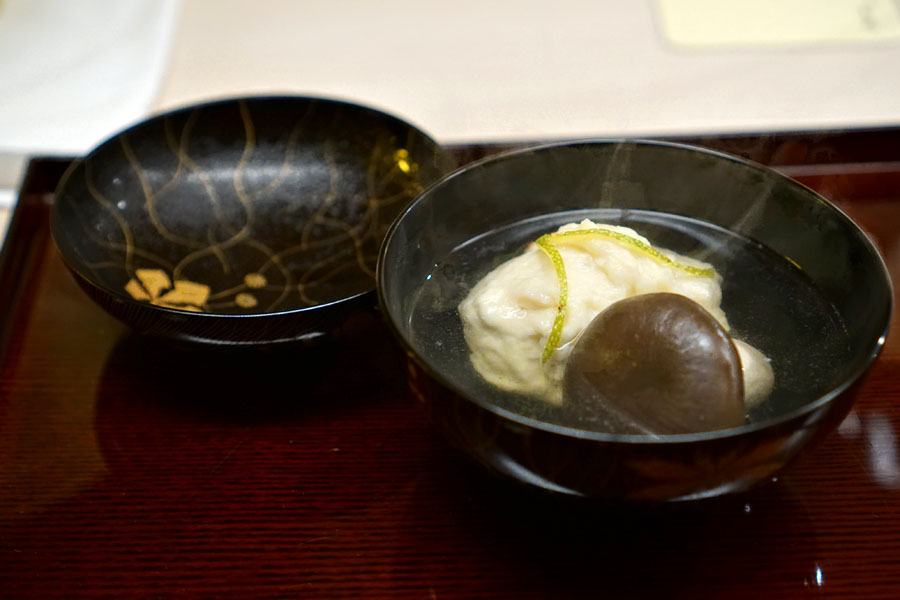 3: Owan
Our soup course featured an uncommonly large, impossibly "fluffy" scallop dumpling with a subtle sweetness and brine. A large shimeji mushroom, meanwhile, contributed a mild earthiness, while the yuzu worked as a contrasting element.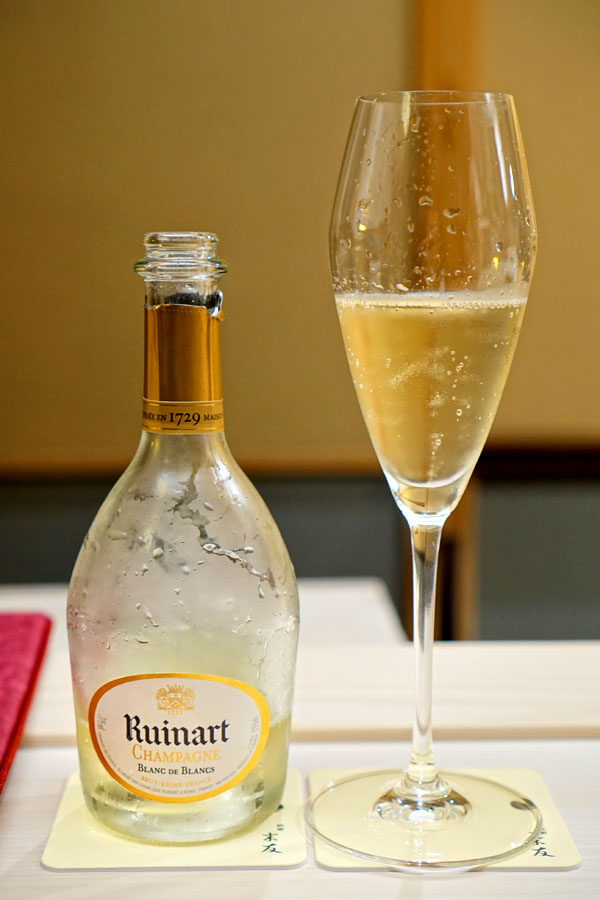 Drink-wise, things started with a half bottle of the
NV Ruinart Champagne Blanc de Blancs Brut [¥9,000 ($82.71)]
. The wine had a fairly luxurious nose showcasing sweet-tart apple alongside light toast and lemon. The palate brought more pome fruit, as well as backing notes of citrus, nuts, minerals, and a slight spice. Pretty nice.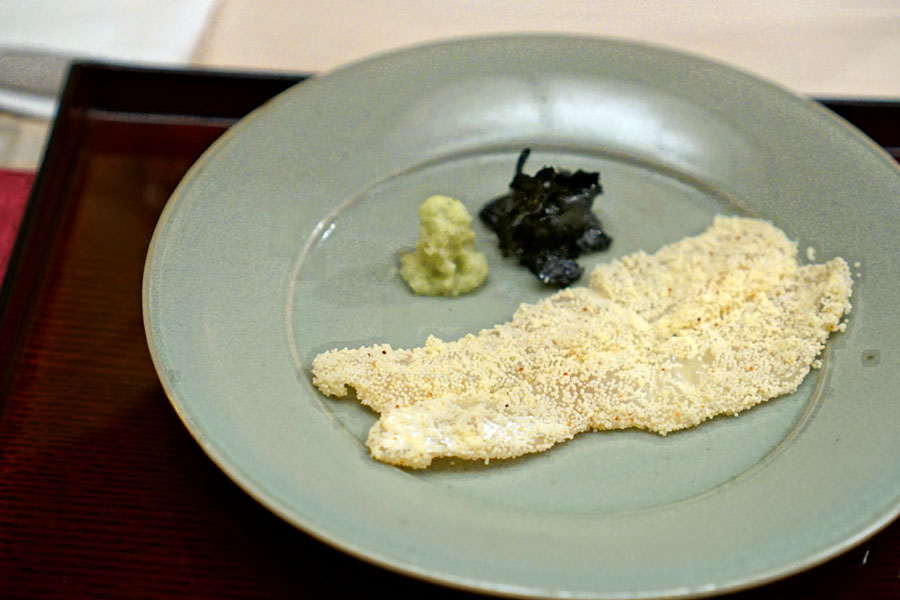 4: Mukozuke
The sashimi course was composed of cuts of tilefish, coated with its own roe, which added an intriguing textural element to the dish. The seaweed on the side had a definite funk to it, while the burn of that wasabi was absolutely key.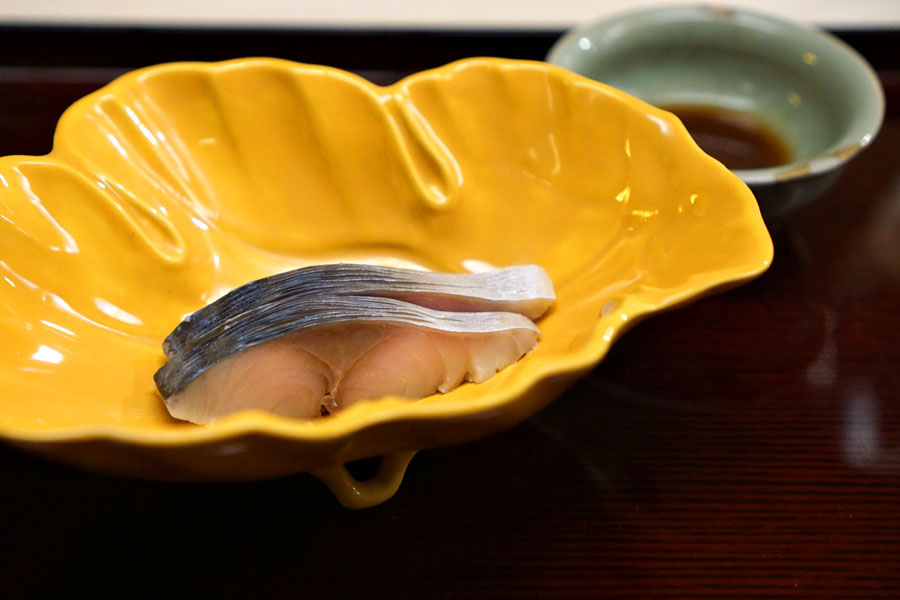 5: Oshinogi
Next came perhaps the cleanest cut of saba (mackerel) I'd ever had. It was pretty wonderful by itself, but was even better with a dip of the included
karashi shoyu
(mustard soy sauce), which also included a dollop of
nashi oroshi
, or grated pear.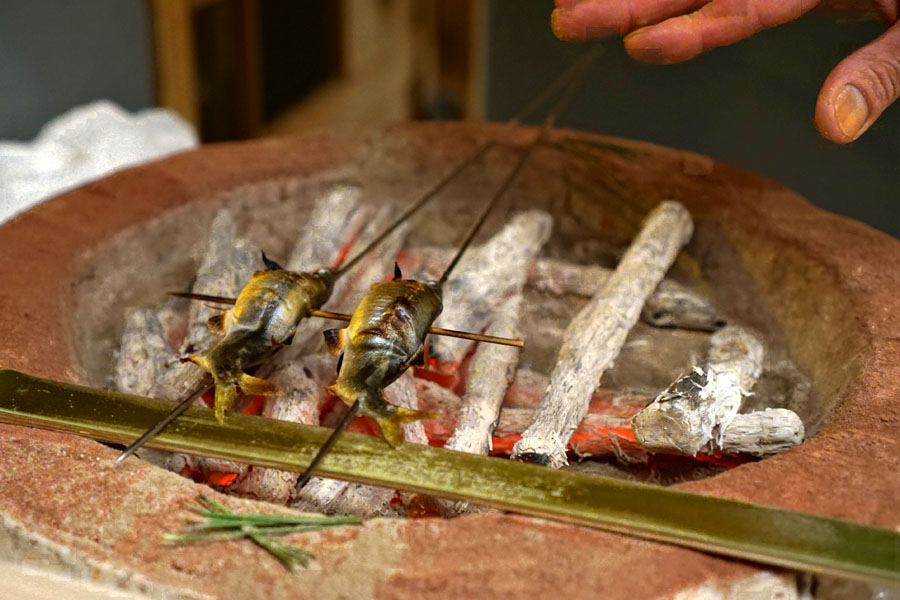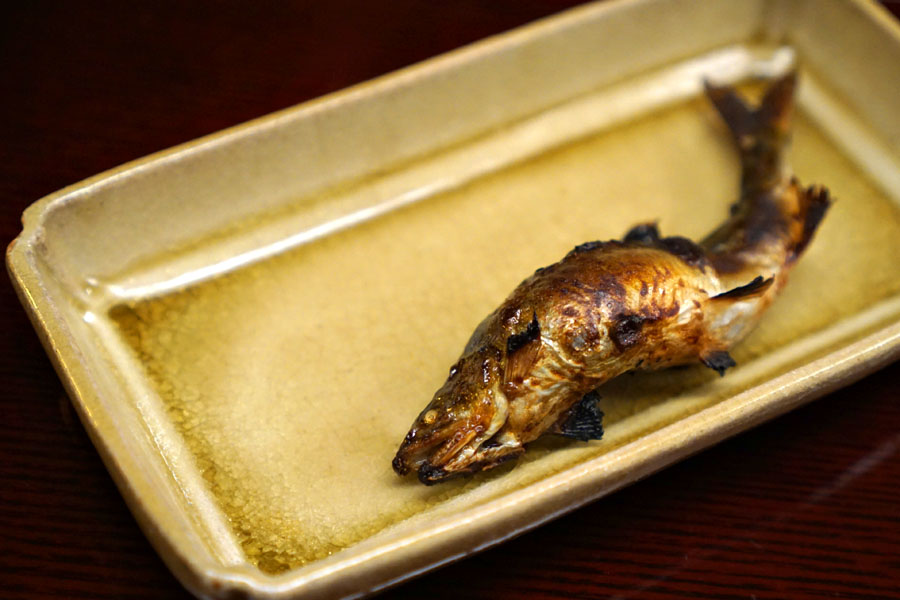 6: Yakimono
For our grill course, the Chef cooked
komochi ayu
right before our eyes. The "parent" sweetfish was excellent, showing off a great combination of char and brine, while the fish roe made things much more interesting texturally. Yum.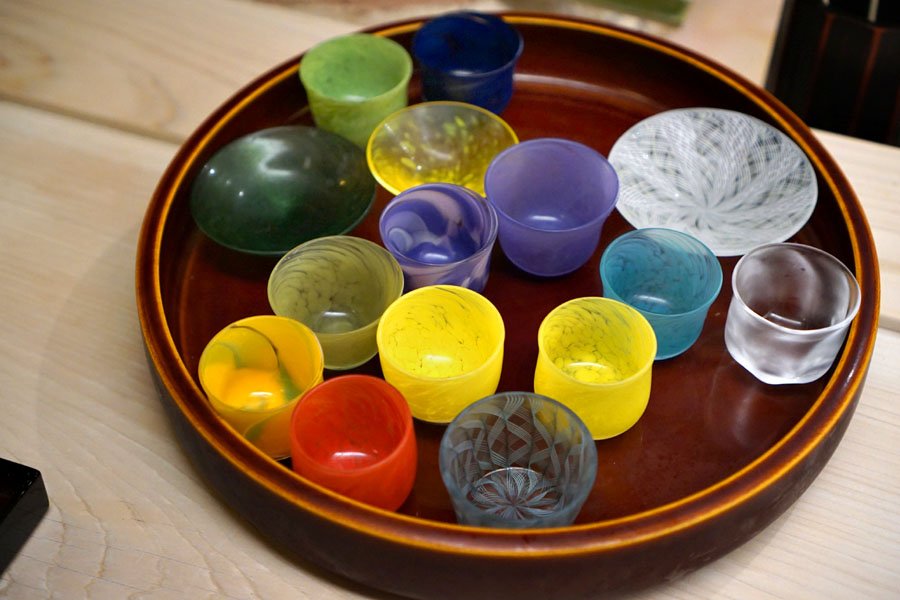 At this point we moved on to sake, and were thus presented with our choice of glass.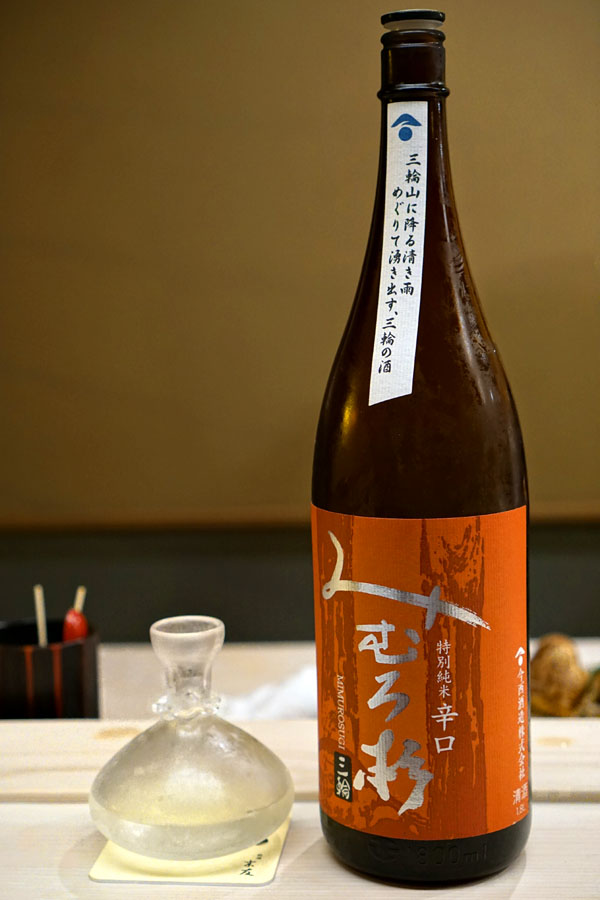 The first sake was the
Imanishi Shuzo Mimurosugi Tokubetsu Junmai [¥???]
from Nara Prefecture. Served cold, I found it light and balanced, with a generally dry disposition and a persistent acidity that made it work with the food. As for the question marks in the price, I actually don't know what the cost of this was. Nothing was broken out separately on the final bill, which amounted to only ¥15,350 ($141.06), as we'd pre-paid for the meal itself.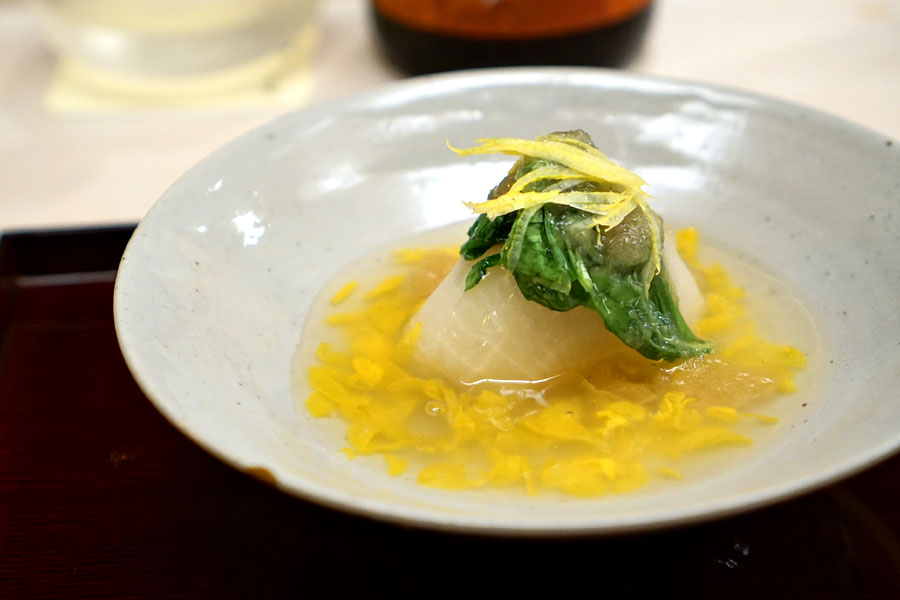 7: Takiawase
Here was a mildly bitter portion of simmered
kabura
(turnip), one that really made sense with the zestiness of the accompanying turnip greens. The dish's thick broth contributed a nuanced floral element due to its use of pickled chrysanthemum, while yuzu gave things a much-appreciated brightness.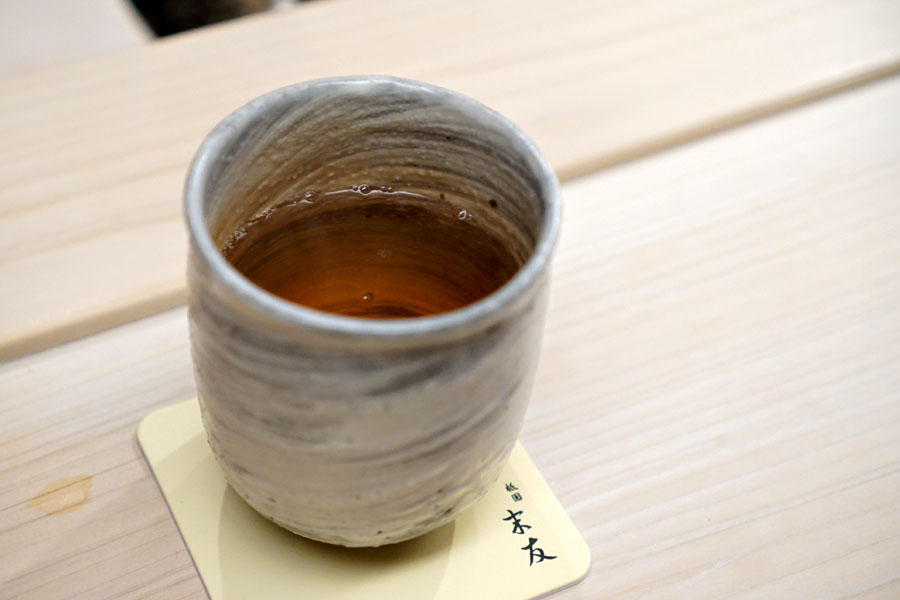 Roasty
hojicha
was provided to pair with the rice course.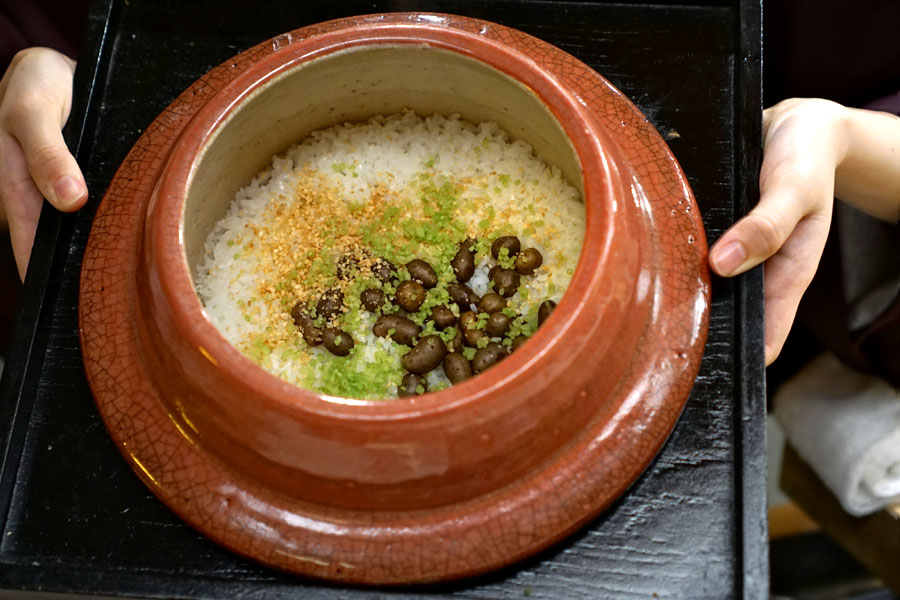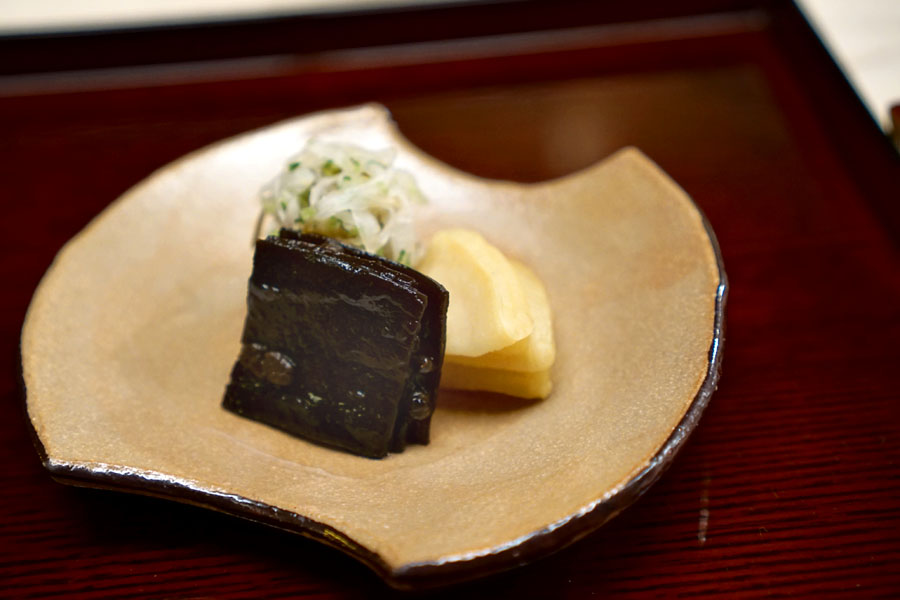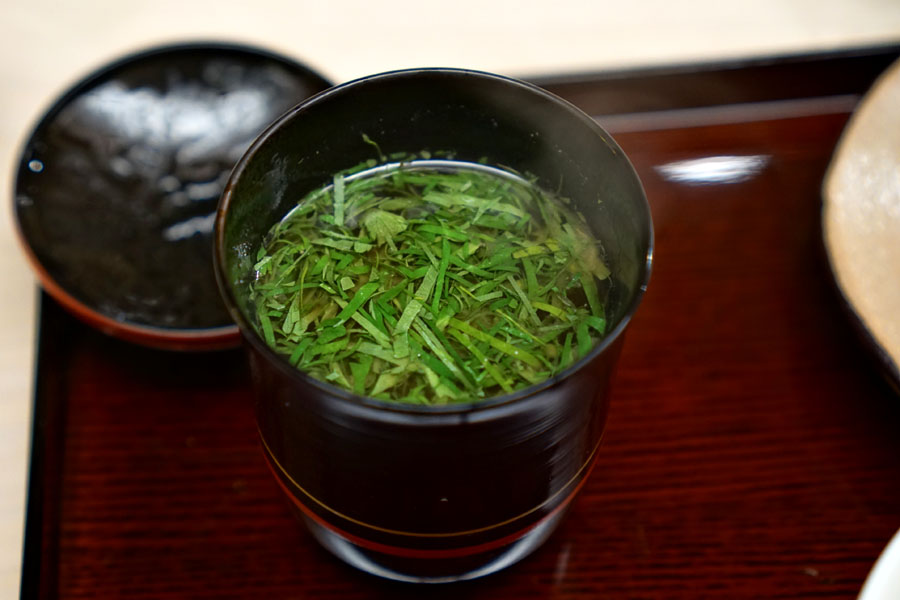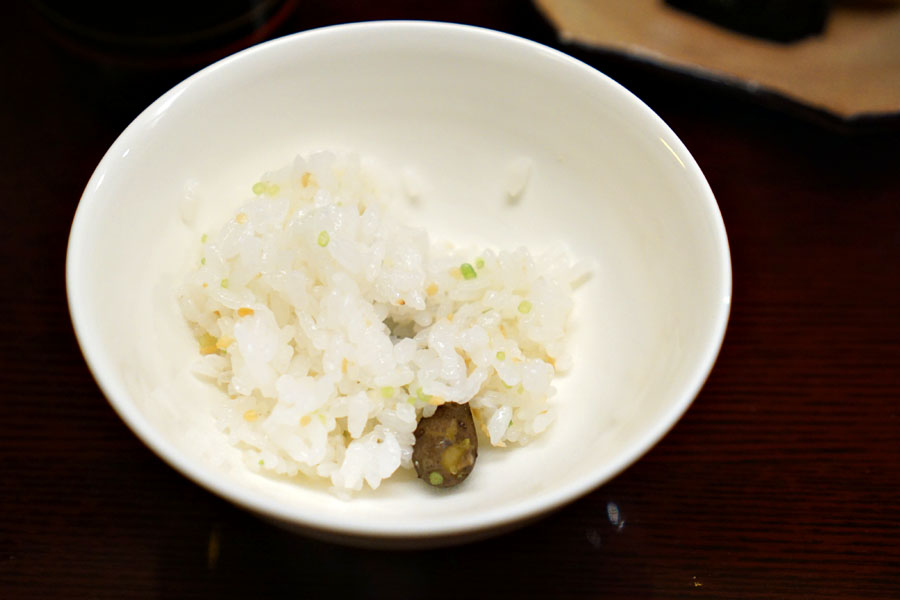 8: Gohan
The
mukago gohan
was on point. I loved how well-imbued it was with the zippiness of
mitsuba
, while those supple taro propagules offered up an elegant richness that linked up with the nuttiness of white sesame. Along with the rice came a sweet potato-enhanced miso soup as well as a plate of
konomono
pickles, replete with
kombu tsukudani
.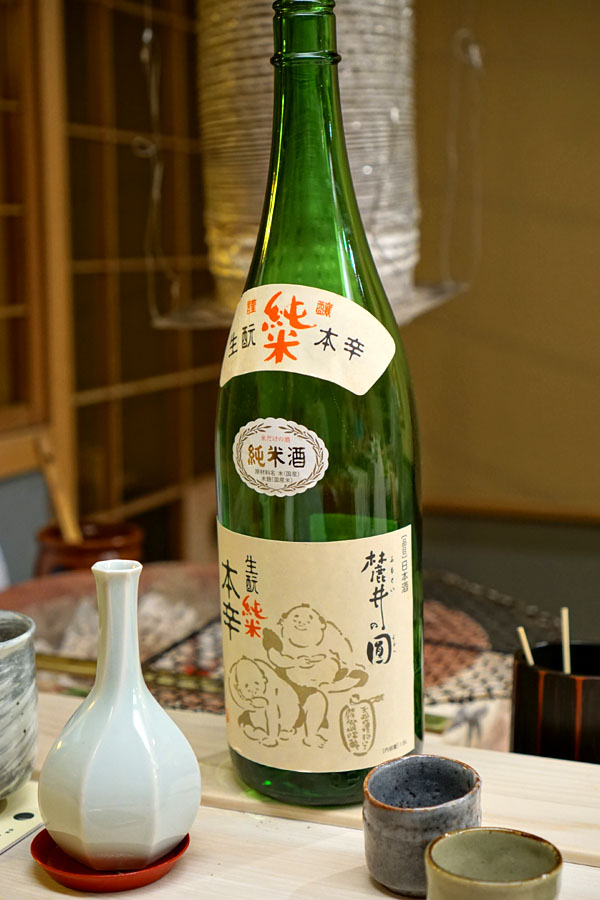 We also had a warm sake, the
Fumotoi Shuzo Madoka Kimoto Junmai Honkara [¥???]
from Yamagata Prefecture. It was definitely the more aggressive of the two sakes. I found it harsher, boozier, with a much stronger rice character that was almost nutty and even a bit spicy.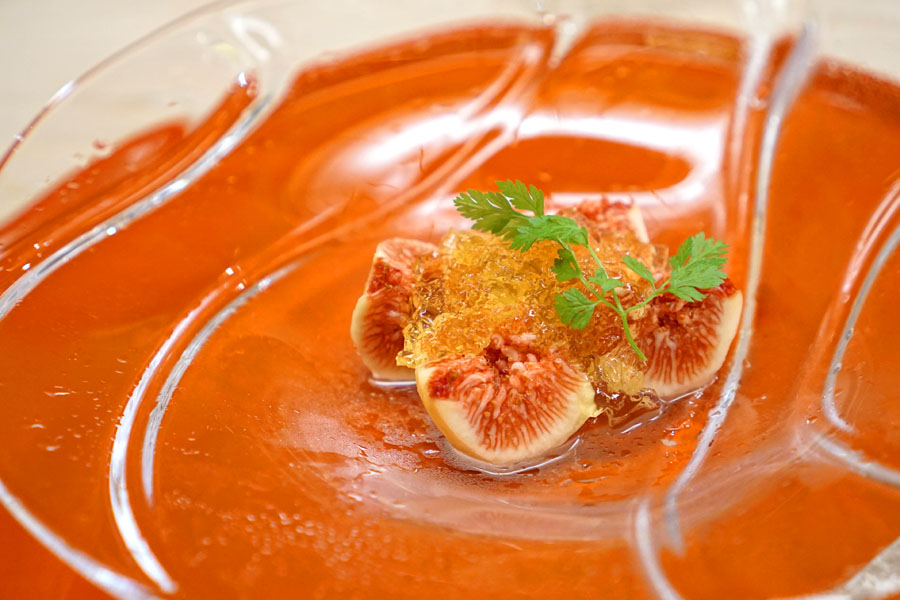 9: Mizumono
Dessert brought sweet-yet-vegetal figs topped with a sugary honey jelly and a sprig of delightfully minty, anise-y chervil. Fun and refreshing.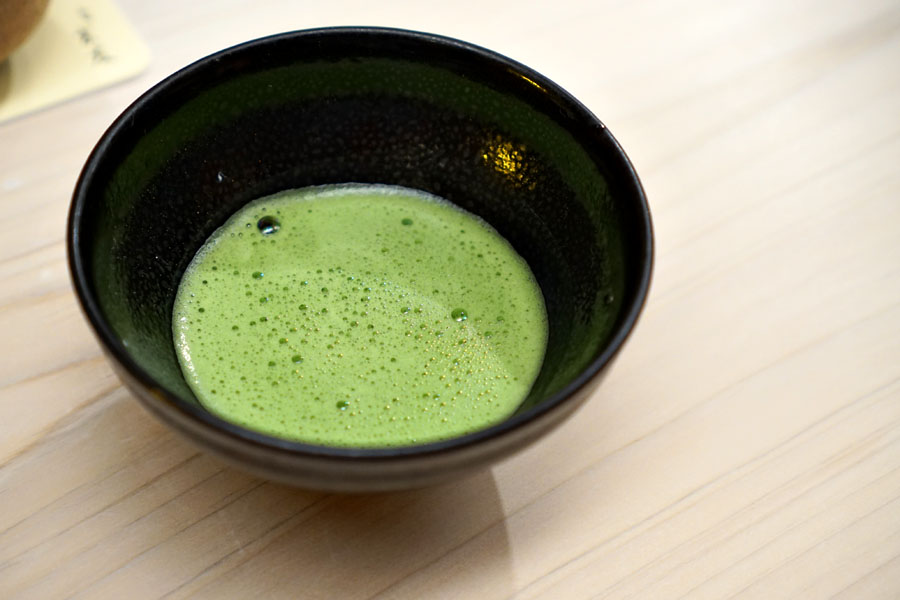 To close: a frothy, unabashedly astringent preparation of matcha green tea that really hit the spot.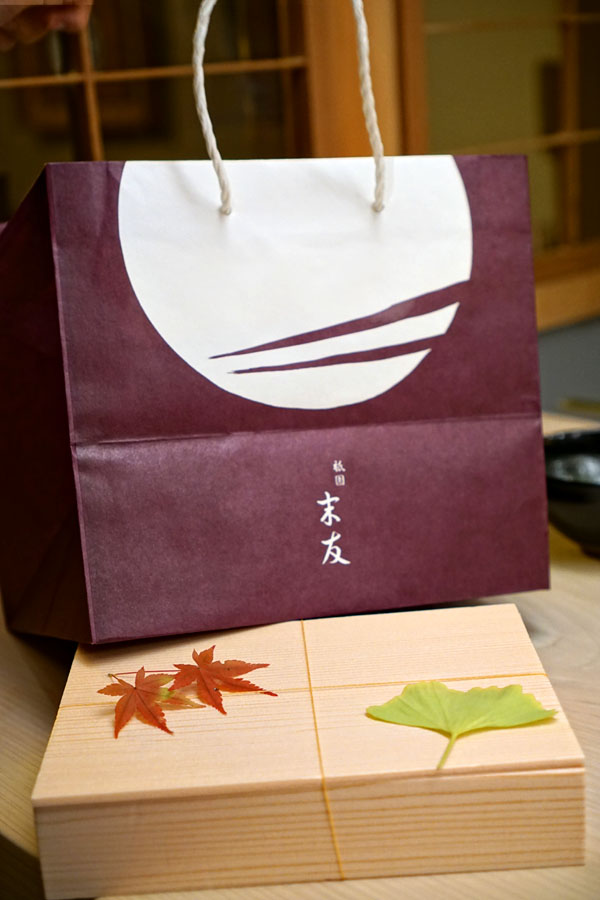 The extra rice was placed in a lovely wooden take-out box, which puts to shame anything I've seen at any restaurant in the States. The Japanese really are second to none when it comes to packaging.
I wish I could've lingered longer at the restaurant, perhaps having another drink or two, but I had a bullet train to catch, sadly, and the staff was kind enough to call for a taxi (which arrived very promptly). In any case, I have to say that my meal at Suetomo was pretty distinct compared to anything else I had on this visit. The cooking had a definite straightforwardness, a directness to it, qualities that lent a certain clarity to the way ingredients were conveyed. It all made for a worthy introduction to the ethos of Kyoto cuisine.