Kioicho Mitani (Tokyo, Japan)
Sushi Kioi-Cho Mitani
Kioi Terrace 3F, 1-2 Kioicho, Chiyoda-ku, Tokyo 102-0094
03.6256.9566
www.sushi-mitani.jp
Fri 11/01/2019, 12:40p-03:10p

I was able to fit in one last meal in Tokyo before flying out from Haneda, and opted for KioiCho Mitani, situated on the 3rd floor of the Tokyo Garden Terrace Kioicho development. Opened on July 27th, 2016, the restaurant is an offshoot of Yasuhiko Mitsuya's original Sushi Mitani in Yotsuya, which is ridiculously hard to get into from what I've read.
Helming the kitchen here is Chef Hiroyuki Takano, who, curiously enough, mentioned that he just turned 40 back in September. He wanted to be a sushi chef since he was a kid, and apparently got his start at a sushi joint in Gifu. He eventually made his way to Sushi Rosan in Shinjuku, which is where he first met Mitsuya. After Mitsuya opened his own restaurant in 2006, Takano joined him and worked his way up to second-in-command.
As for the menu here, I don't believe there's anything written/printed, but I was charged ¥31,000 ($286.49) for lunch. There was also an additional ¥13,000 ($120.14) for my beverage pairing, which is actually pretty reasonable. Both prices were inclusive of a 10% sales tax.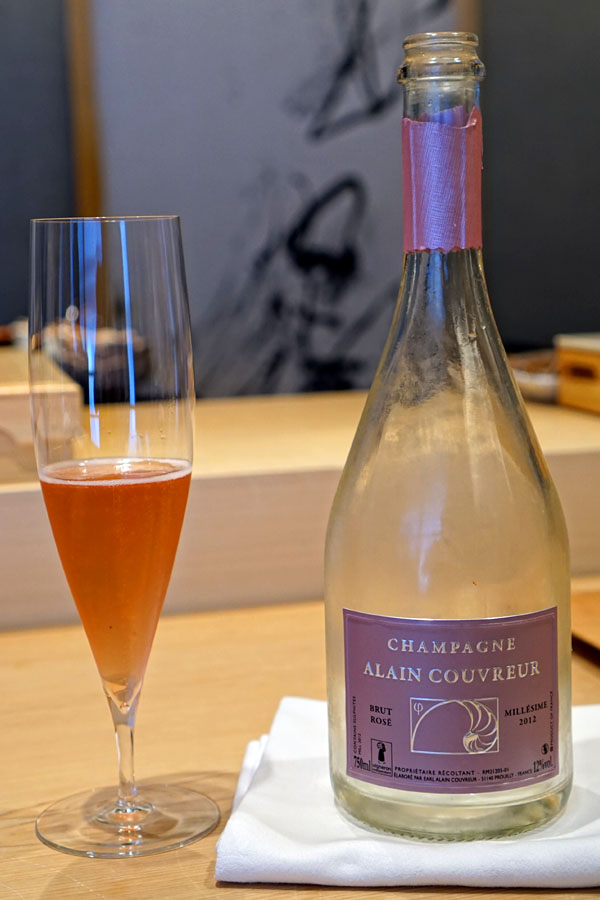 And speaking of that pairing, it began with a glass of the
2012 Alain Couvreur Champagne Rosé Brut
. The wine had a rich, robust nose filled with strawberry, some flowers, and just a trace of toast. The palate showed off more sweet fruit, but also tart, tannic notes, light spice, and an oxidative element. I'd actually never heard of this producer before, but this was a very solid sparkler.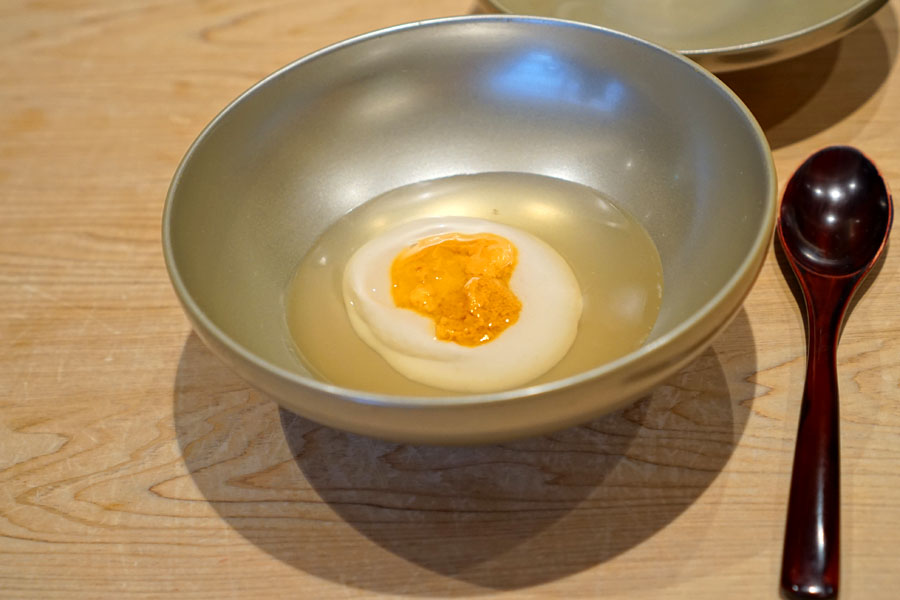 1: Shirako to Uni
The first course comprised pressed and filtered cod soft roe, as well as sea urchin, all set in dashi. Think eggy and saline, with a just a touch of sweetness from the uni, while the uncommonly thick dashi contributed a marked umami component.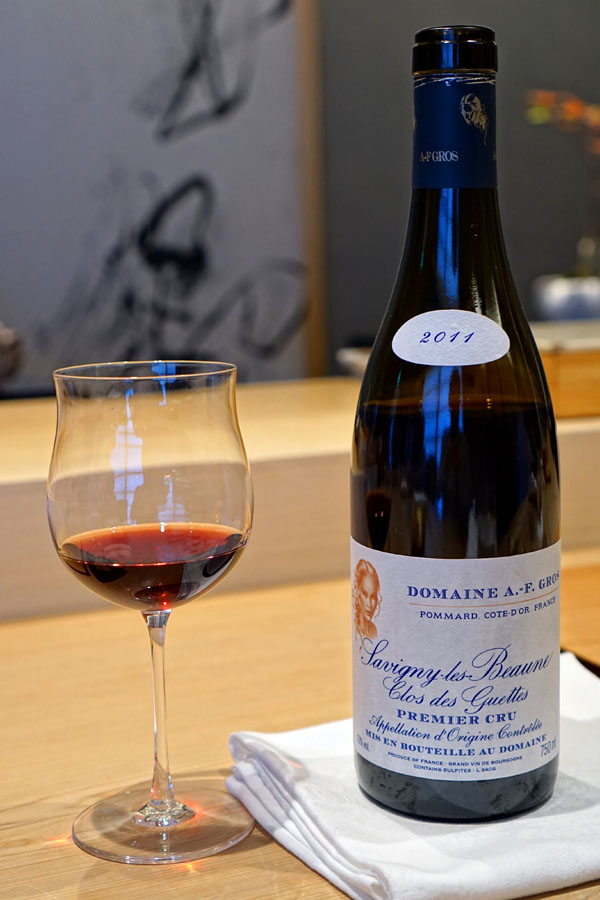 Next to drink was the
2011 Domaine A.-F. Gros Savigny-lès-Beaune 1er Cru Clos des Guettes
. The burgundy had a meaty, funky aroma laced with red fruit and light flowers. The palate I found smooth and soft and round, with more red fruit alongside some minerals, spice, and touches of smoke.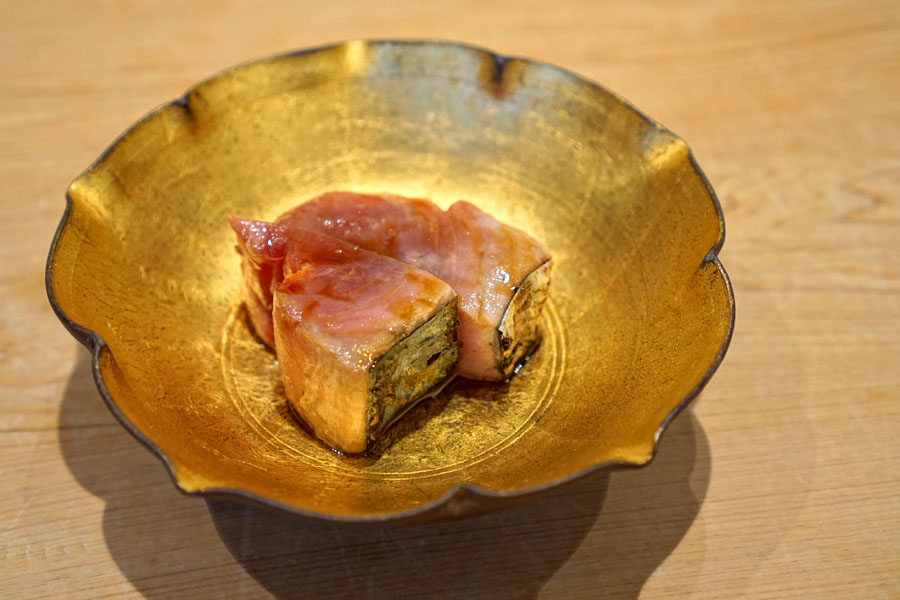 2: Yaki Katsuo
According to the Chef, it was prime time for skipjack tuna, and he served it grilled rare. It was definitely a favorite of mine, and perhaps the best version of the fish I've had. I loved the contrasts here in both temperature and texture, especially how the silkiness of the flesh linked up with the bonito's crispy, smoky skin. At the same time, there was this somewhat tannic, grape-y flavor that was unexpected, but not unwelcomed. In fact, I think it made the fish match extra smoothly with the fruity notes in the wine above--a beautiful pairing.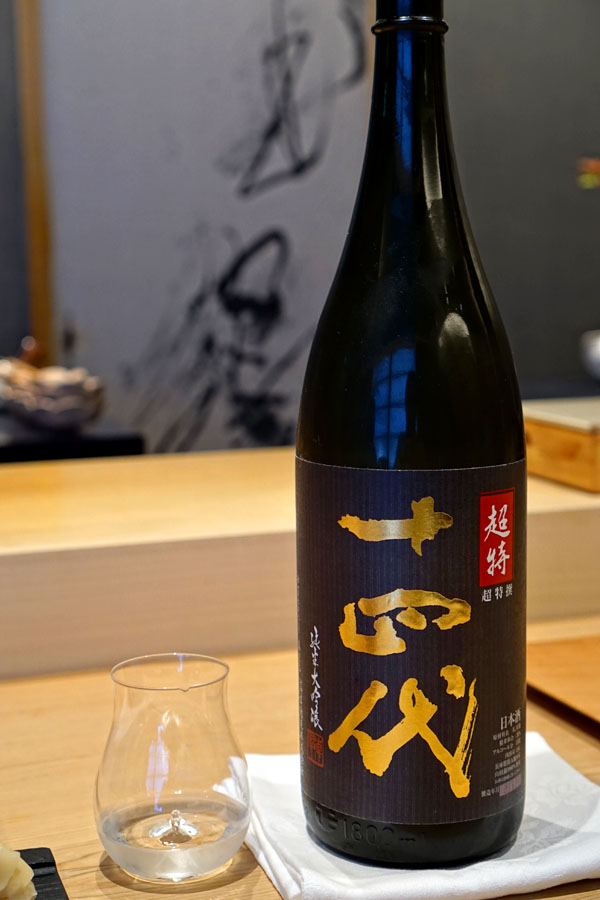 Our first sake was the vaunted
Takagi Shuzo Juyondai Cho Tokusen Junmai Daiginjo
, which, coincidentally, I was actually considering purchasing the previous night at
Ryugin
(glad I didn't!). In any case, it smelled amazing, giving up an absolutely huge amount of tropical, sugary pineapple--wow. The palate, meanwhile, was super, super thick, and came loaded with much more of that sweet tropical fruit, accented by just the slightest amount of alcoholic heat. This was delicious, and undoubtedly one of the most fruit-forward sakes I've had.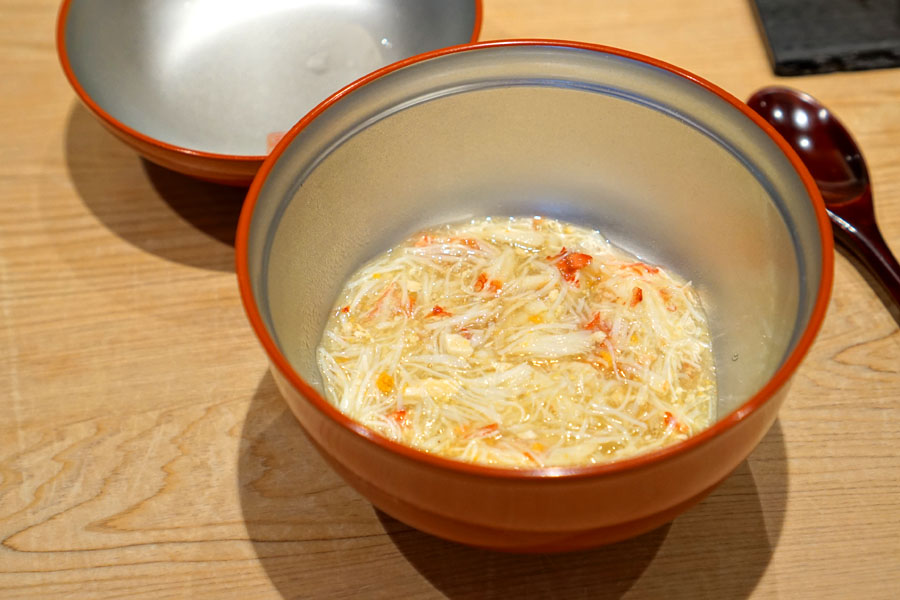 3: Kegani
Horsehair crab (together with roe I believe) was wonderfully sweet, with just a smidgen of tempering bitterness, and I was particularly enamored with how said sweetness was so effectively amplified by the Juyondai--another superb pairing. I will also note that apparently Takano-san changes the crab utilized in this dish seasonally, as he mentioned that he'd be going with
zuwaigani
(snow crab) starting later in November.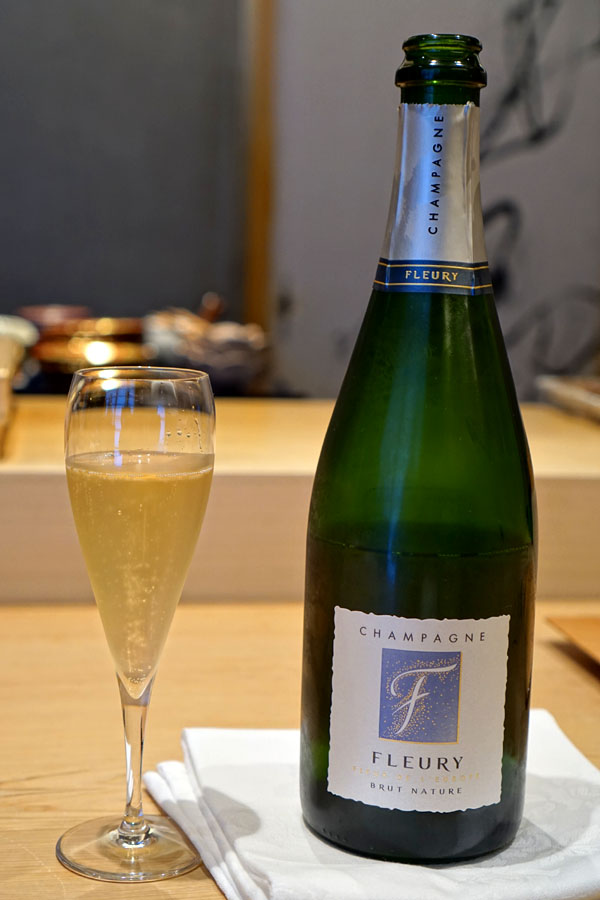 The second bottle of bubbly we enjoyed was the
2013 Fleury Pere & Fils Champagne Fleur de l'Europe Brut Nature
, a 85% Pinot Noir/15% Chardonnay blend that was bottled in July 2014 and disgorged in December 2017. The wine had an intense, fragrant bouquet rife with pineapple cake (think
fengli su
). Taste-wise, I got lots of rich stone fruit, some pome fruit, and a healthy dose of oxidation, while the finish showcased a lush, lingering sugariness.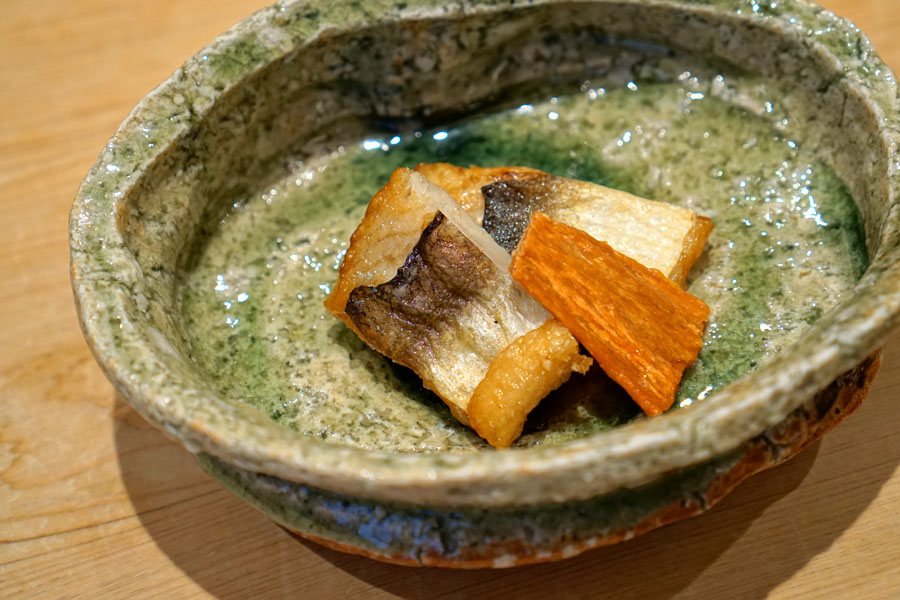 4: Age Kamasu
Barracuda featured a delightfully crisp, salty skin that meshed gorgeously with the fish's slightly rare flesh. At the same time, the sliver of deep-fried
bachiko
(dried sea cucumber ovary) imparted further brine to the fray, while the Champagne above worked to temper its considerable salinity.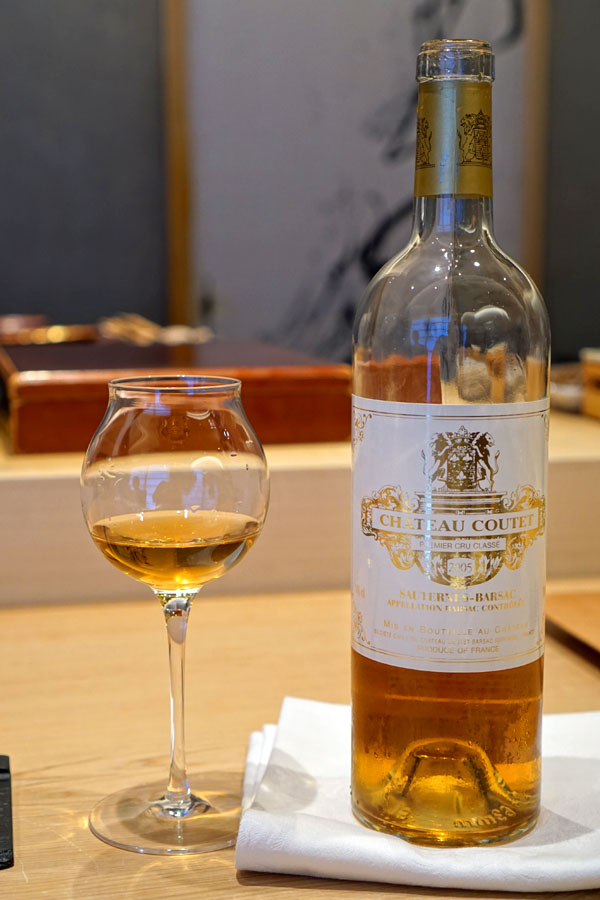 Somewhat surprisingly, the next wine in the pairing was a Sauternes, the
2005 Château Coutet
. It had aromas that were rubbery, botrytized, but also rife with honey and pineapple. The palate was so, so thick, and tasted of stone fruit and honey, with just a trace of spice and nuts for balance.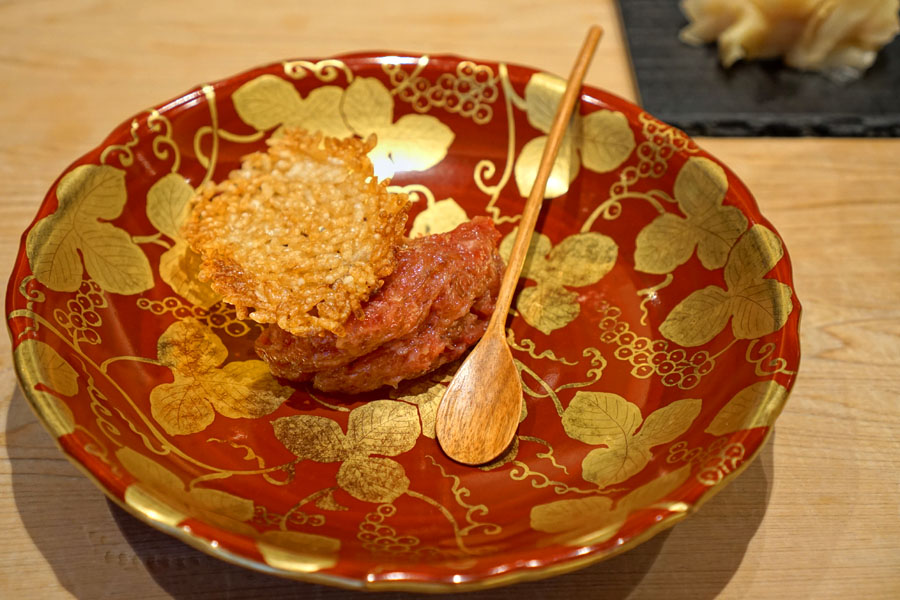 5: Negitoro to Fukahire
This was another standout course, and one of the most intriguing preparations of tuna I've had, as well as one of the best bites of this entire trip. What we had was a quenelle of finely chopped tuna, which itself ate super sweet. The crux here, though, was the incorporation of shark's fin, which added a fascinating textural element. The two ingredients melded much more intimately than I was anticipating, and I also loved the toasty crunch from the
shari
cracker. Meanwhile, the dessert wine really did stand up to the rich, oily, sweet flavors at play here--really, really smart.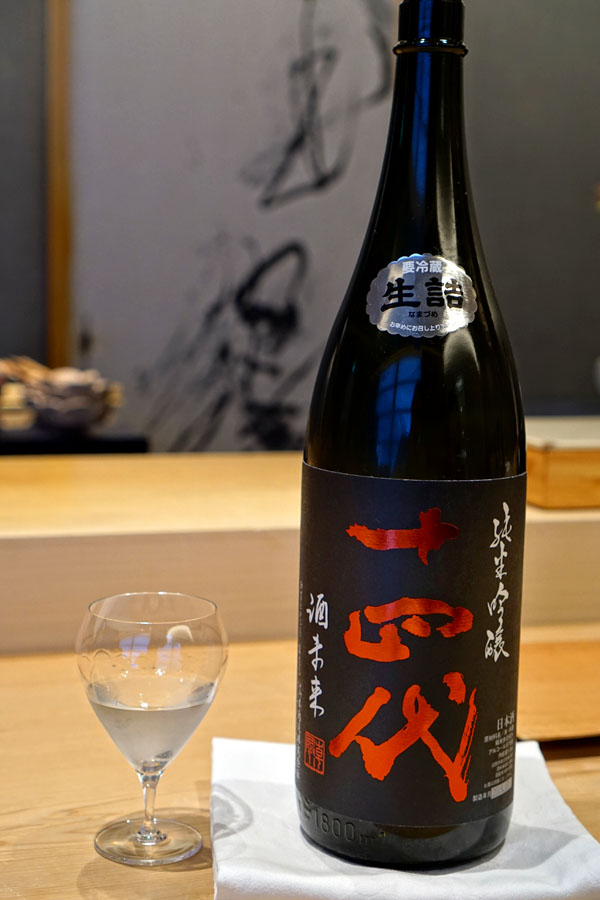 The
Takagi Shuzo Juyondai Sakemirai Junmai Daiginjo
was our second pairing from the cult sake producer, and very different than the one above. Apparently produced using a strain of
sakamai
developed in-house, it smelled of sweet grain, along with mint and cucumber. The palate was shorter and more austere, thus allowing the savory characteristics of the rice to come through more, though there was still a persistent, fruity sweetness.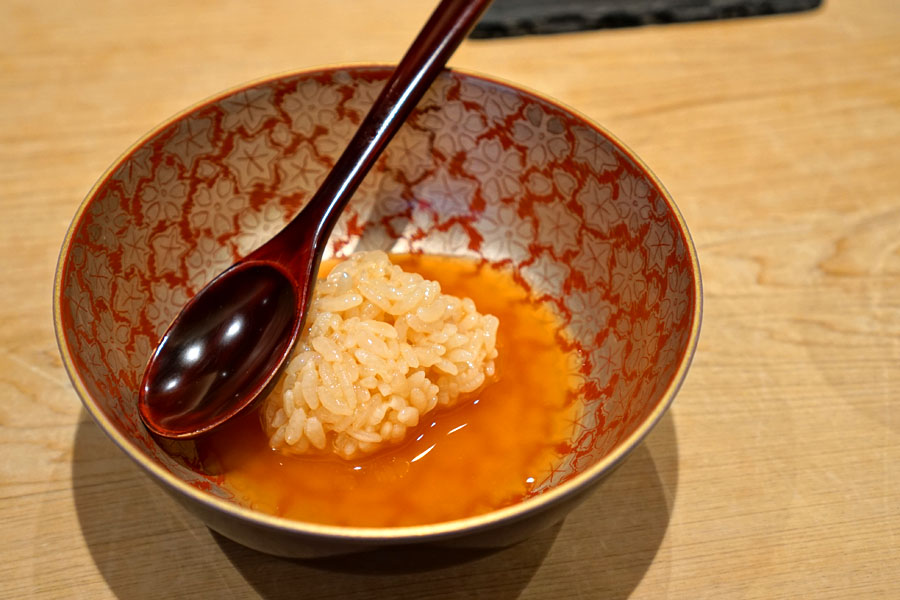 6: Tamago Kake Gohan
Tamago kake gohan
, a breakfast dish of rice with raw egg and soy sauce, served as the inspiration for this next course, but with the rice replaced by
shari
and the egg by pressed and filtered salmon roe. The end result was a mish-mash of sweet, sticky rice and the juicy brine of ikura, and interestingly enough, the Juyondai seemed to amplify and spread that sweetness all over the palate.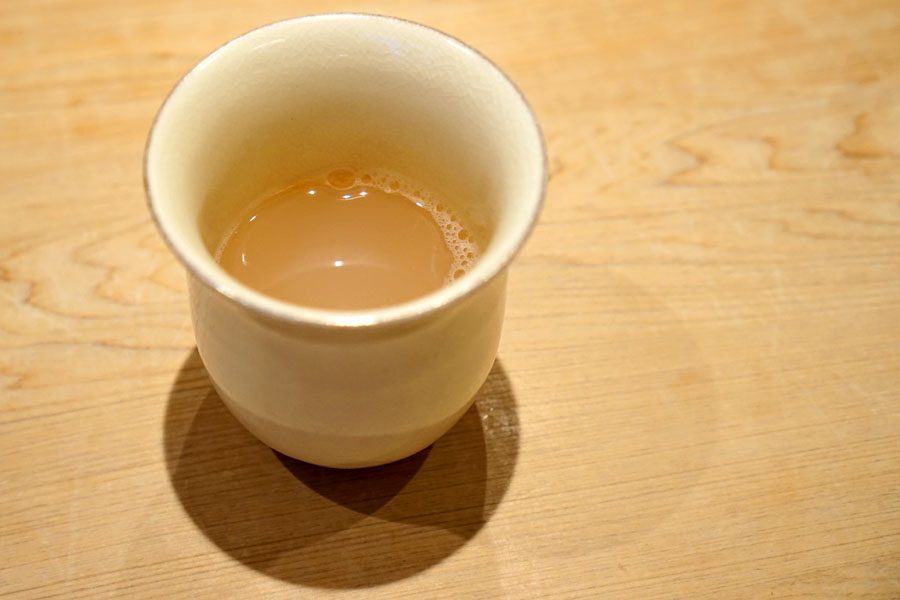 7: Hamaguri Shiru
We concluded our
otsumami
portion of the meal with a piping hot cup of
hamaguri
-enhanced dashi. I was pretty shocked at how sweet the clam was, finding it almost caramel-y in a way, but fortunately this was moderated by the large amounts of brine and umami present in the broth.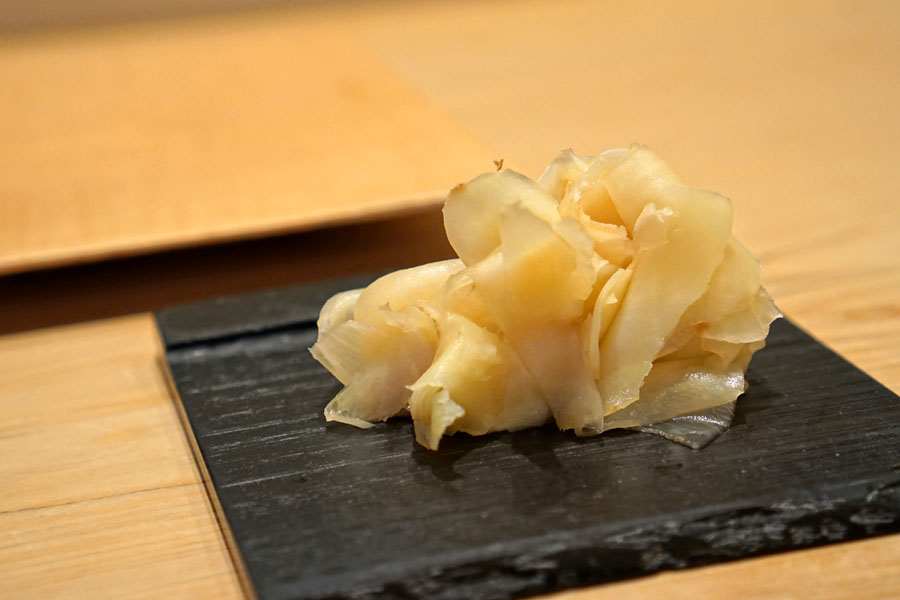 The arrival of pickled ginger signaled the start of sushi, and I have to say that Takano-san's
gari
was particularly spicy.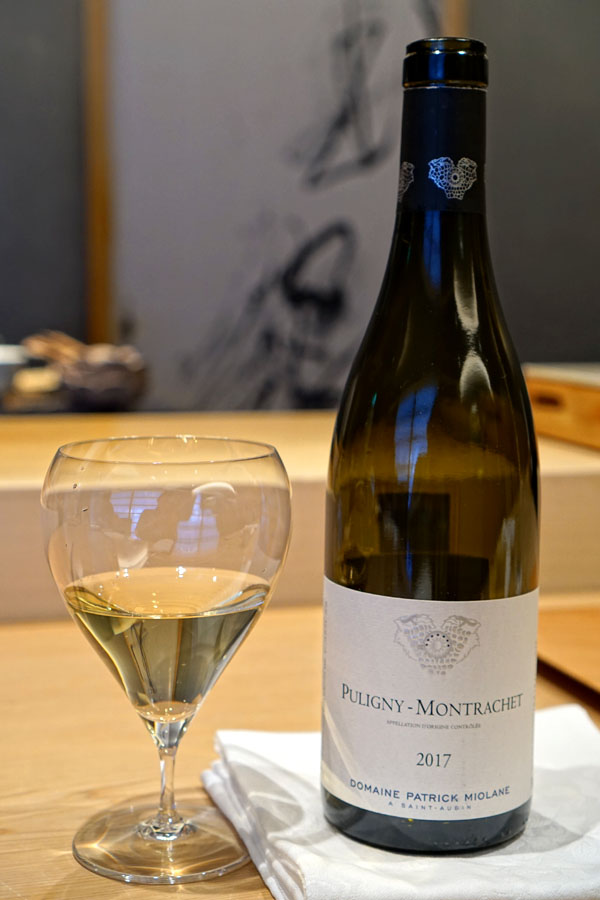 The
2017 Domaine Patrick Miolane Puligny-Montrachet
was meant to go with the lighter
nigiri
to follow. The white burgundy smelled of peach and peppery spice, with additional notes of tropical fruit, minerals, and mustiness. Its palate was soft and smooth, showing off more distinct spice elements and a tight acidity before transitioning to citrus fruit on the back end.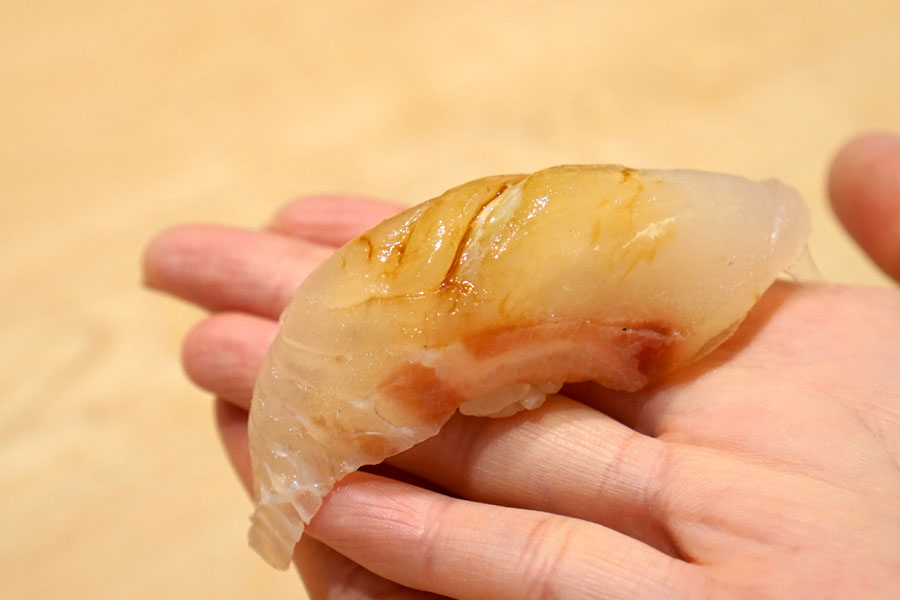 8: Madai
You might recall that I ate at
Kiyota
the previous day, and found it unusual that the Chef there placed sushi directly on the counter, foregoing the traditional
geta
. What may be even more unusual was the fact that Takano-san places his sushi
directly in diners' hands
, which I'd also never seen before. In any case, he started us off with the red sea bream, a super clean example perfectly accented by the delicate heat of wasabi. What stood out to me most, though, was the rice, which I found very neutral, yet somehow complex, and a great foil to the fish.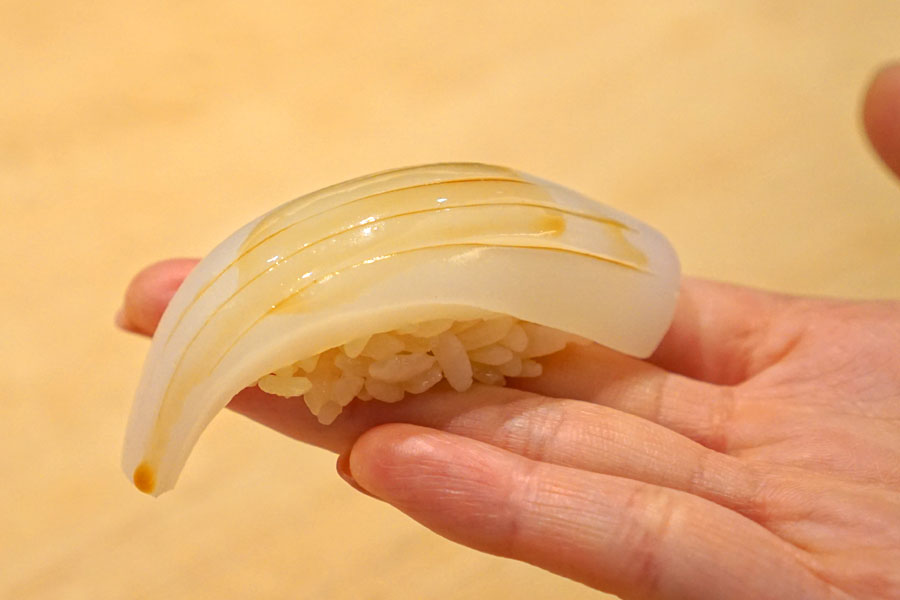 9: Ika
Squid arrived thick and sticky, with a firm bite and a subtle sweetness punctuated by robust pricks of wasabi-fueled heat. And again, I found the rice especially crucial here.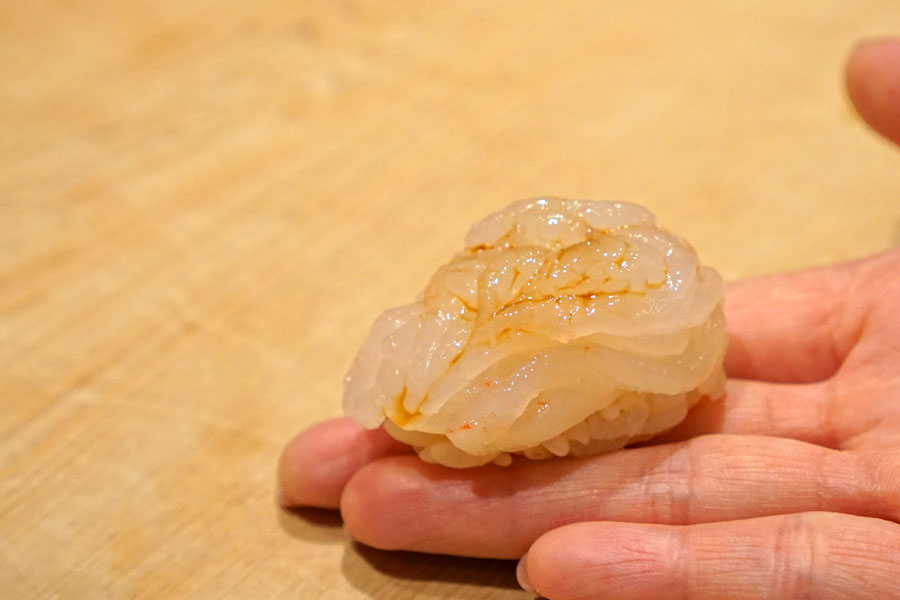 10: Shiro Ebi
A relatively uncommon sight, white shrimp were sourced, as expected, from Toyama Bay. They were cool and creamy, demonstrating a palpable sweetness that was matched by the potency of soy sauce.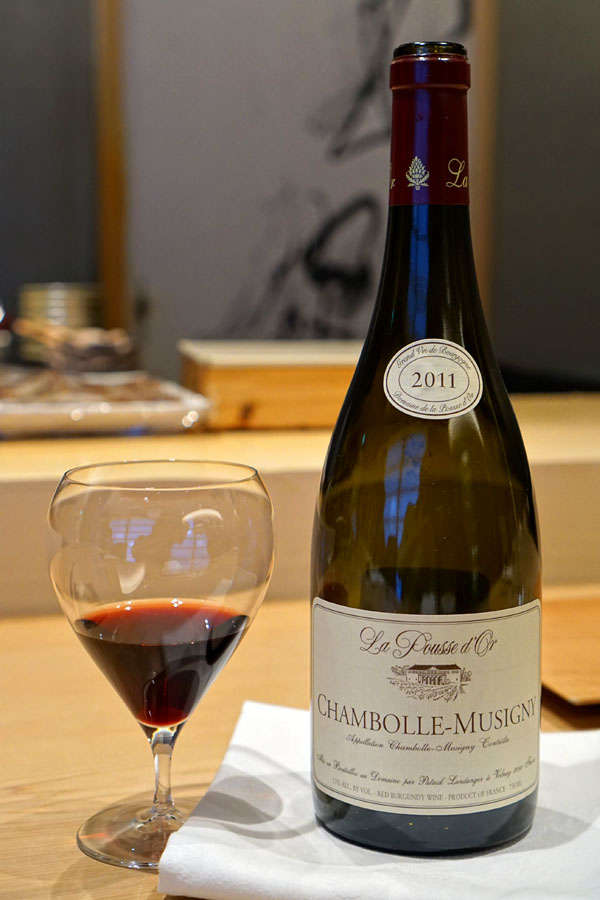 To pair with the more aggressive tuna cuts below, we were given the
2011 La Pousse d'Or Chambolle-Musigny
. The nose here was on the gamy, vegetal side, with a distinct pickle-y element and some spice. Tasting it, I got lots of dusty berry fruit, alongside persistent herbs, light smoke, and a finish that was unusually dry.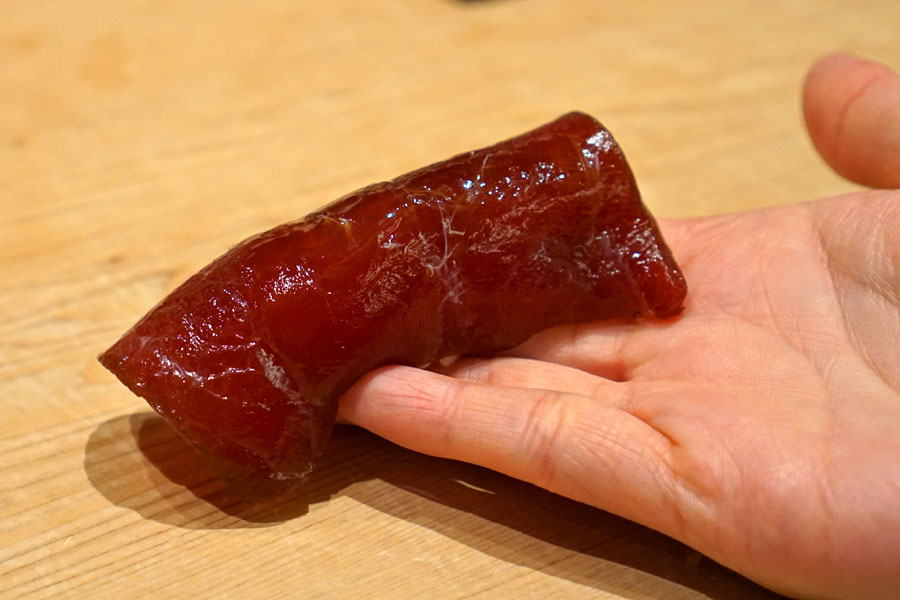 11: Maguro Zuke
Marinated tuna was smooth and sticky on the tongue, its savoriness countered by a pervasive wasabi heat that was absolutely key. At the same time, the wine definitely seemed to emphasize the soy sauce here, which I didn't mind.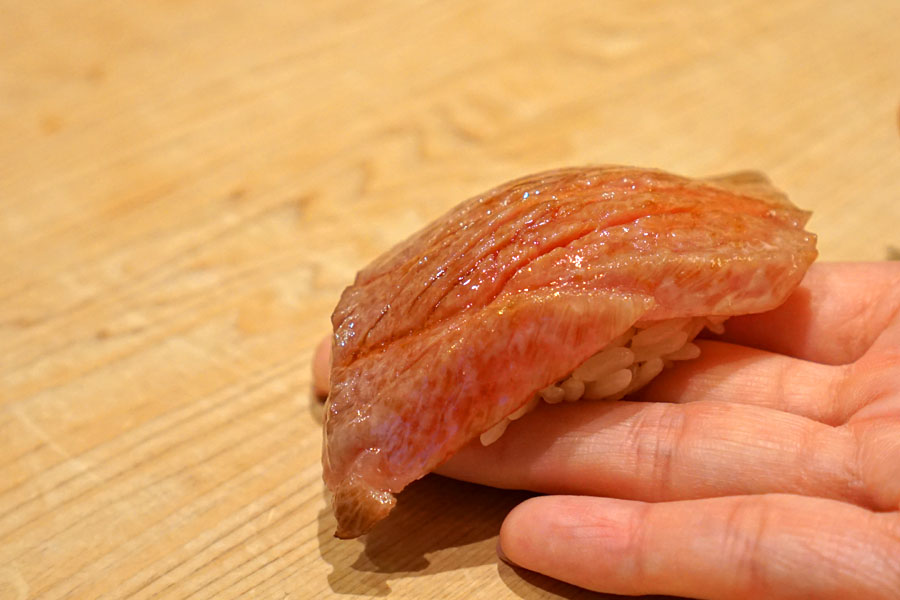 12: Toro Steak
Unsurprisingly, the tuna belly made for the most luscious bite of the night, its copious amounts of fat taking well to the fish's light sear. Given its heft, the wasabi was critical here, but even more important was the rice, which I especially appreciated. Delish.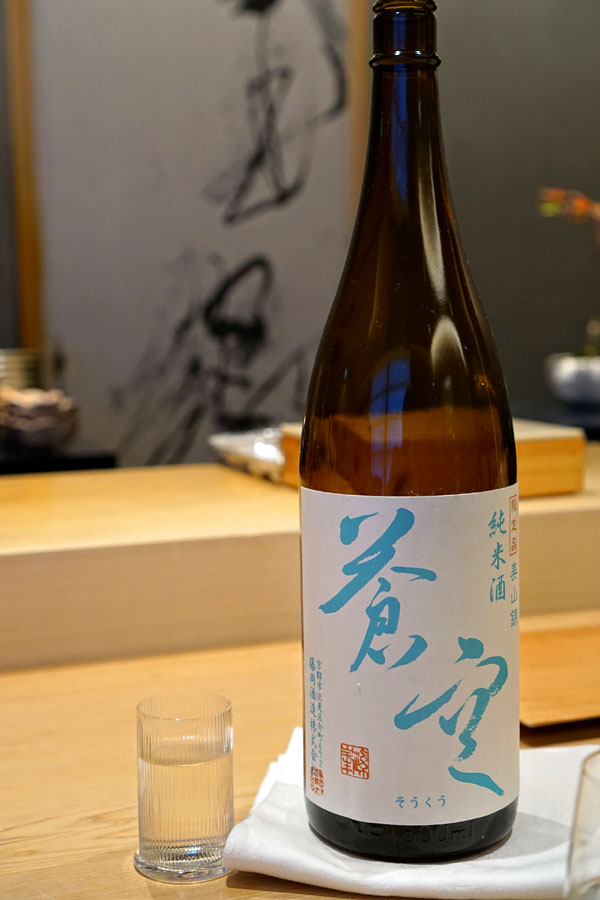 Our third sake hailed from Kyoto, the
Fujioka Shuzo Sookuu Miyama Nishiki Junmai
. The nose on this one was somewhat subdued, displaying mere wisps of melon fruit. In terms of taste, I got classically sweet, ricey flavors along with a persistent tartness and an undercurrent of boozy heat.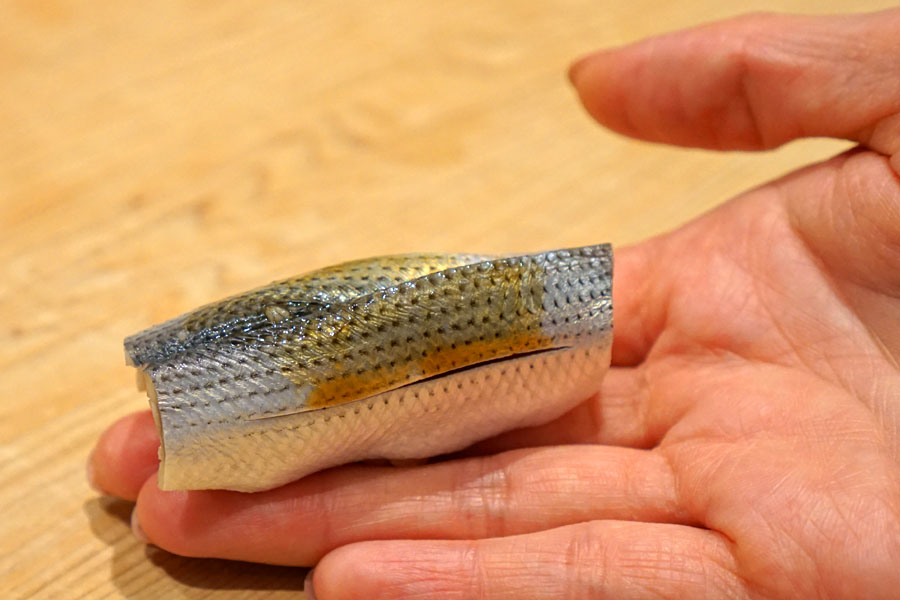 13: Kohada
A gleaming cut of gizzard shad was somewhat less saline than usual, and had its sweetness taking center stage.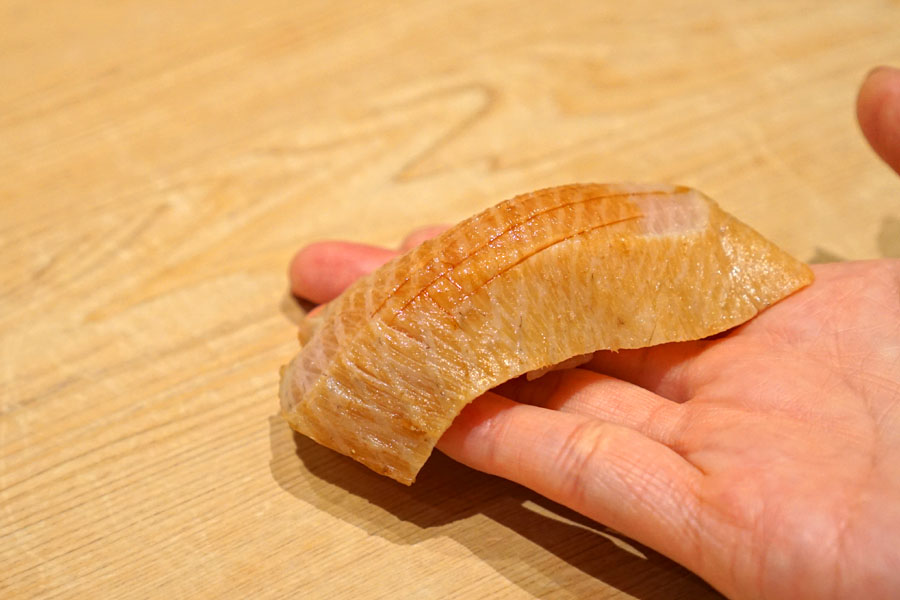 14: Buri
The autumn yellowtail was among the fattiest examples I've tasted, while I found it unusually cool temperature-wise.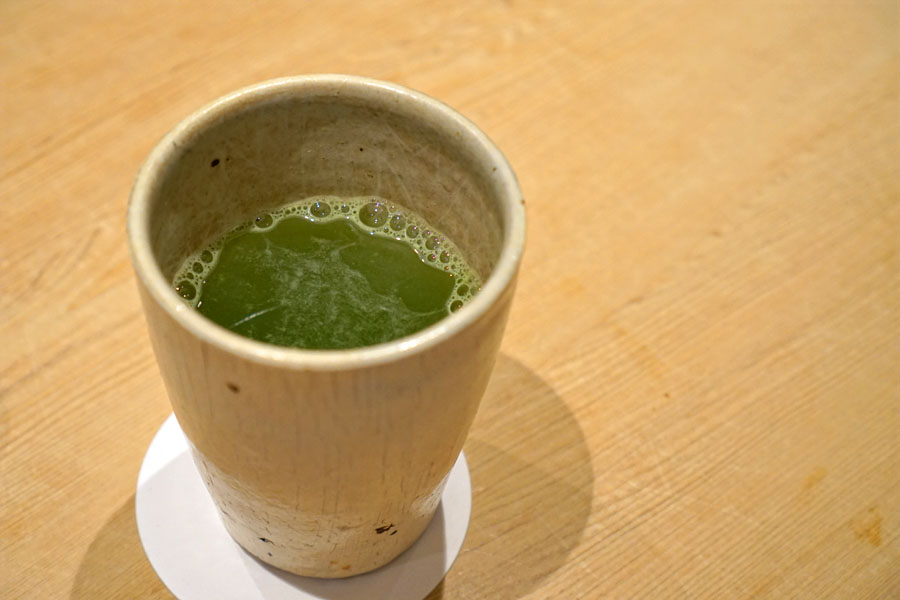 The green tea signaled that we were nearing the end of the meal.
15: Hamaguri
Clam was soft 'n' chewy, and had a pretty remarkable sweetness to it that was duly evened out by the presence of wasabi and rice.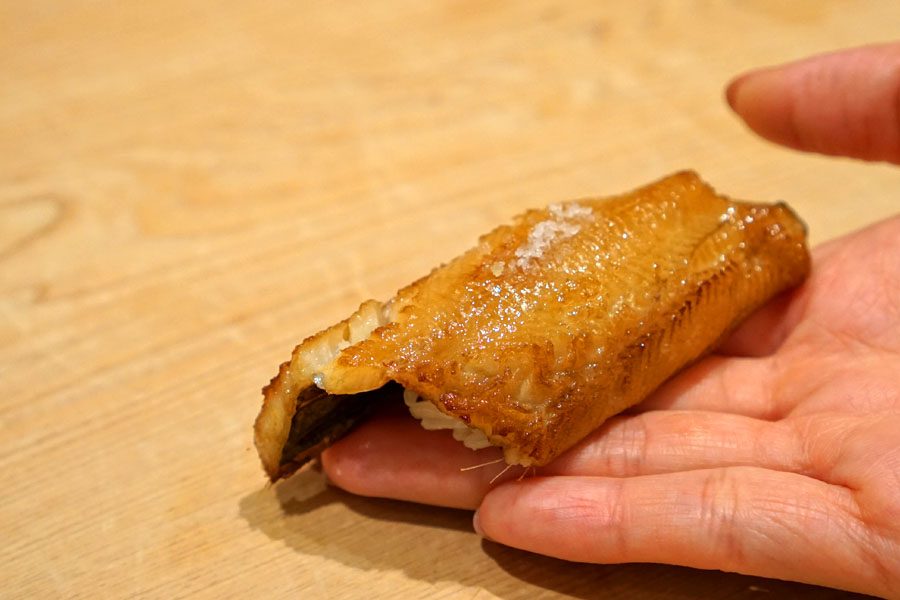 16: Anago
This was easily one of the best preparations of sea eel I've had thanks to its lightly crisp exterior and perfectly-placed hits of salt, contrasted against the fish's hot, creamy interior.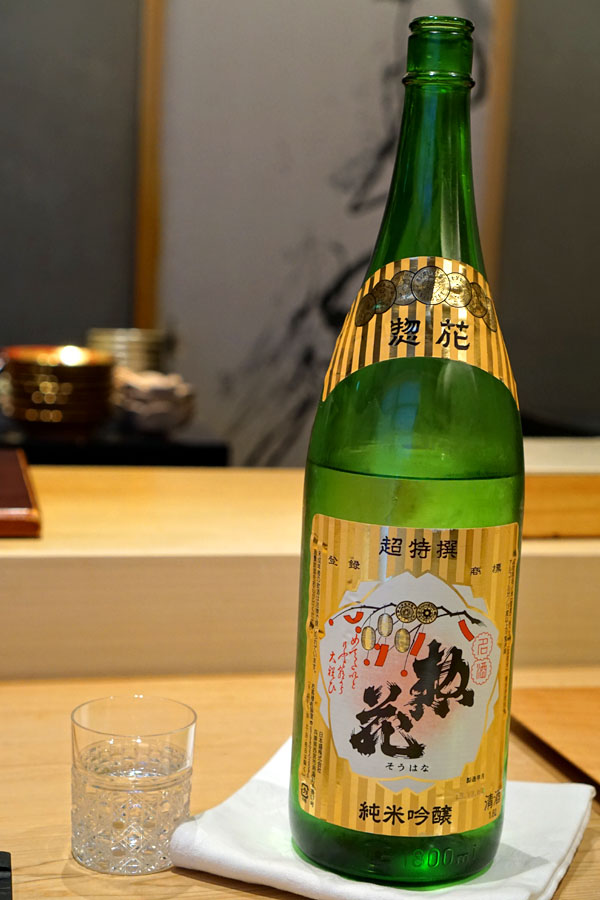 My final beverage was the
Nihonsakari Souhana Junmai Ginjo
. I found it sweet and ricey on the nose, with a bit of a pickle-y character, while its taste brought more of the same, but with a distinct herbaceousness.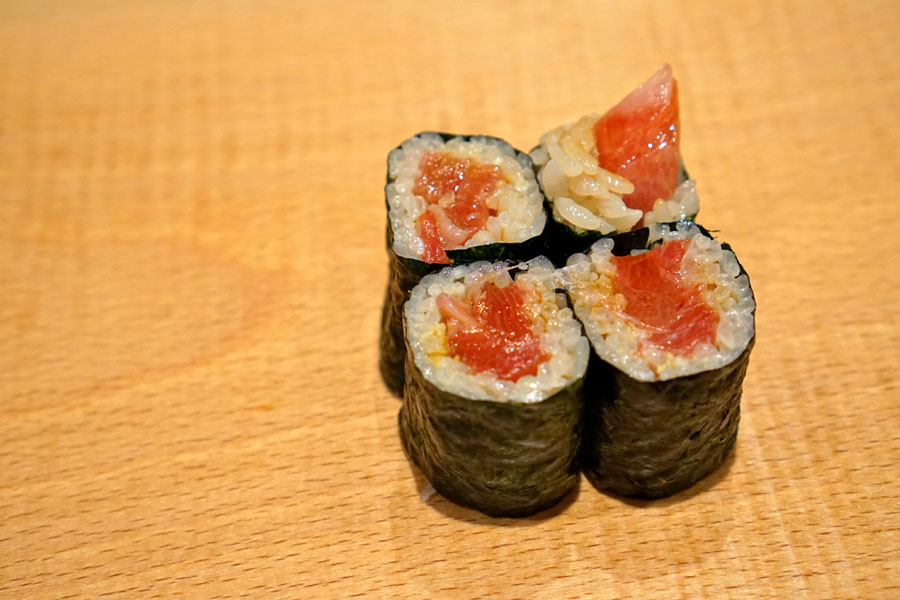 17: Toro Maki
The tuna roll featured chewy cuts of the fatty fish, perked up by a liberal dosing of wasabi.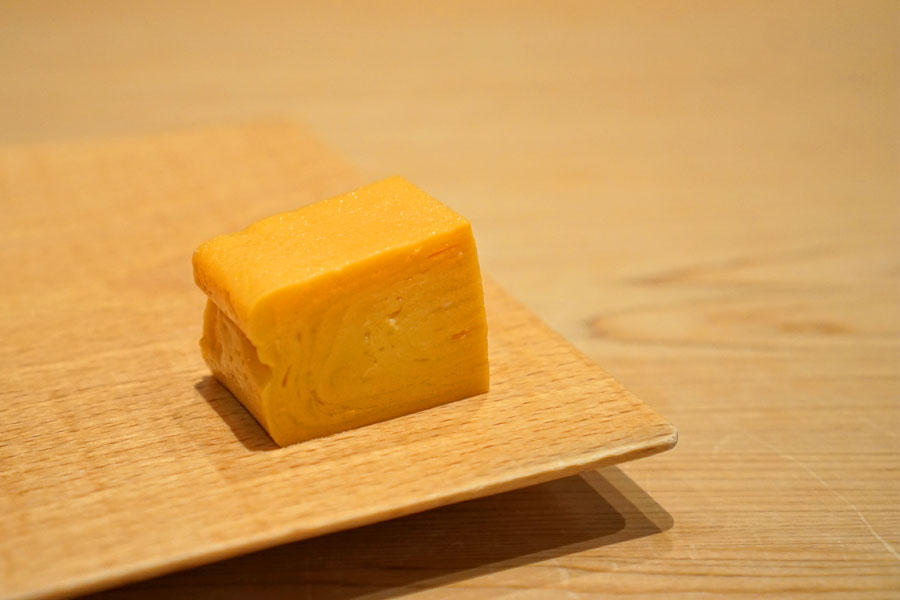 18: Tamago
The
gyoku
was on the sweeter side, its inherent egginess very apparent, while texturally I found it pretty light with its multilayered construction.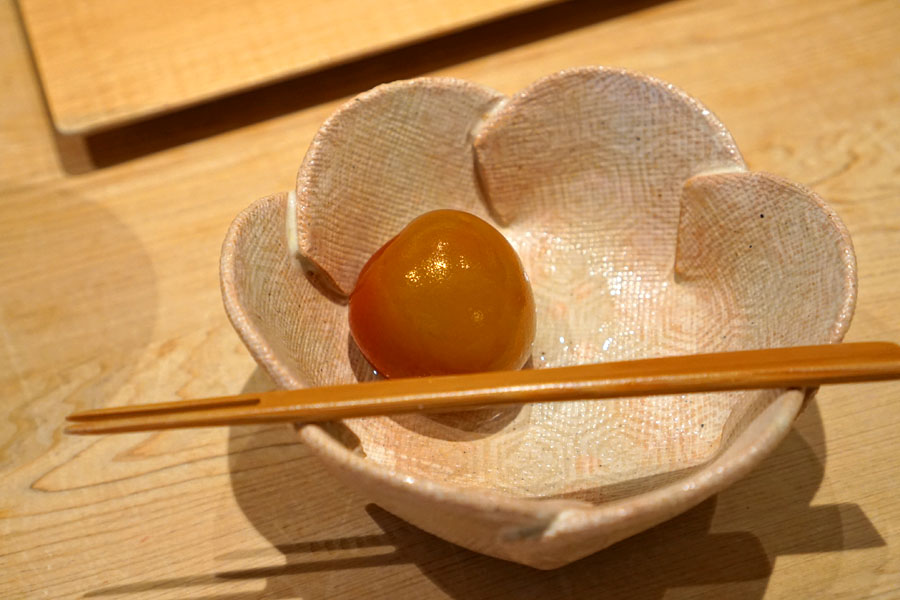 19: Ume
Dessert duties were handled by a lone Japanese apricot, which had an almost amaretto-like sweetness that I found thoroughly enjoyable.
Kioicho Mitani made for a fitting end to this latest visit to Japan. It was hard to find fault with the sushi, and the various
tsumami
made an extremely strong showing as well, while Takano-san served as a friendly host and guide. However, I think what I'll remember most about this place is the matching of sake and wine to the food. Not only was it the best pairing I've had with sushi, it was one of the best pairings I've had,
period
, and if that wasn't enough, I actually felt that it was a really good value to boot. Just a great showing overall.