n/naka (Los Angeles, CA) [4]
n/naka Restaurant
3455 Overland Ave, Los Angeles, CA 90034
310.836.6252
www.n-naka.com
Tue 06/09/2020, 05:45p-07:00p
It's been a while since I've posted about
n/naka
. In fact, the last time Niki Nakayama's California kaiseki spot appeared on my blog was all the way back at the end of 2014. I'd wanted to revisit the spot since then, but the sheer difficulty of securing a reservation here has basically kept me away. In fact, I'd venture to say that this is the toughest ressie in town, at least if we're talking about places that are open to the public. The turning point really came in April 2015 with the debut of Netflix's
Chef's Table
, created by David Gelb of
Jiro Dreams of Sushi
fame. The documentary series effectively introduced n/naka to a national and even international audience, and the place pretty much blew up after that.
2015 was also key because that's when Nakayama and her sous chef Carole Iida married in Hawaii. The two had met on OkCupid back in 2012, and she ended up joining Nakayama in the kitchen in August that year. Iida actually grew up in the restaurant biz, since her parents ran Mako Sushi in Arcadia and later Little Tokyo (both are still extant, though under different ownership now). Though she began her career in the media world, she later pivoted back to hospitality and operated Taisho in Monrovia (2003-2008) and then Haiku Kitchen in Pasadena (2009-2014).
Following the release of
Chef's Table
, n/naka continued to rack up the accolades. Nakayama was a James Beard "Best Chef: West" semifinalist in 2017, an accomplishment repeated in 2018, 2019, and 2020, while the restaurant achieved the same for "Outstanding Service" in 2018/2019. In June 2017, n/naka was revamped with handmade furnishings from
Mano Ya
, and just months later, Besha Rodell, in her final piece for
LA Weekly
, deemed it the "
Best Restaurant in Los Angeles
." The place later topped Zagat's list of "
The 50 Best Restaurants in LA
" for 2018.
In 2019, n/naka was featured in
The New Yorker
, and even landed its own
Wikipedia page
(that's how you know you've arrived). 2019 also saw Nakayama serve as culinary consultant for the film
Always Be My Maybe
, and more importantly, she achieved two stars in Michelin's first California guide. Last year ended with the inclusion of n/naka in
Food & Wine
's "
World's Best Restaurants
" directory (compiled by none other than Besha Rodell) and a #4 ranking on the
LA Times
' "
101 Best Restaurants
" list.
Given all this, it's not surprising that n/naka has been the most difficult restaurant for me to try in terms of coronavirus-induced takeout. Nakayama started doing bento boxes to-go back on March 23rd, and after trying to score a box every week, I
finally
managed to land one after what I think was my ninth attempt. The cost was a not unreasonable $38, plus 9.5% tax and an optional 20% tip.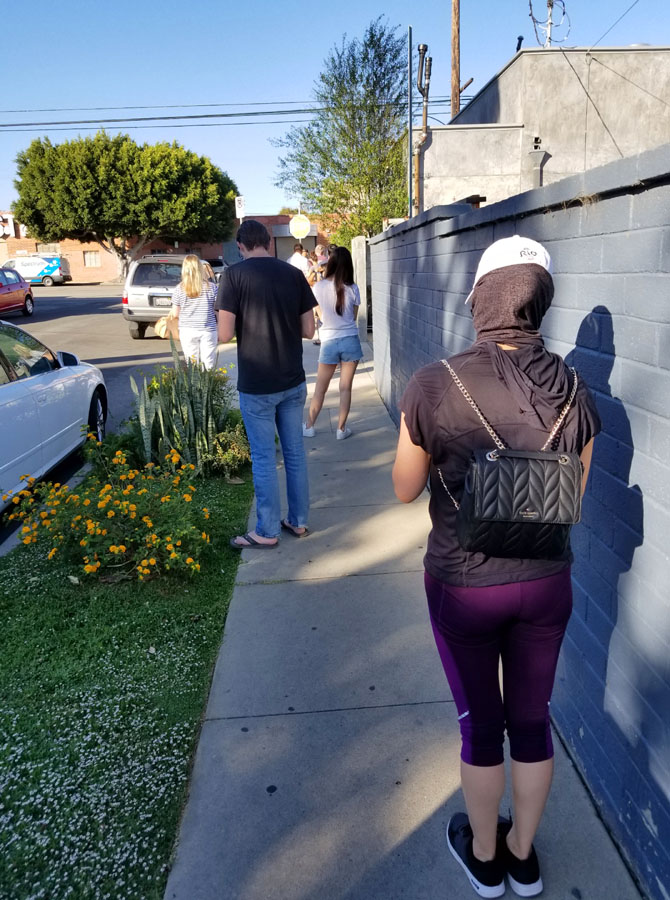 Surprisingly, there was actually quite a line outside the restaurant when I arrived, and as a result, I ended up receiving my food around 25 minutes after my assigned time.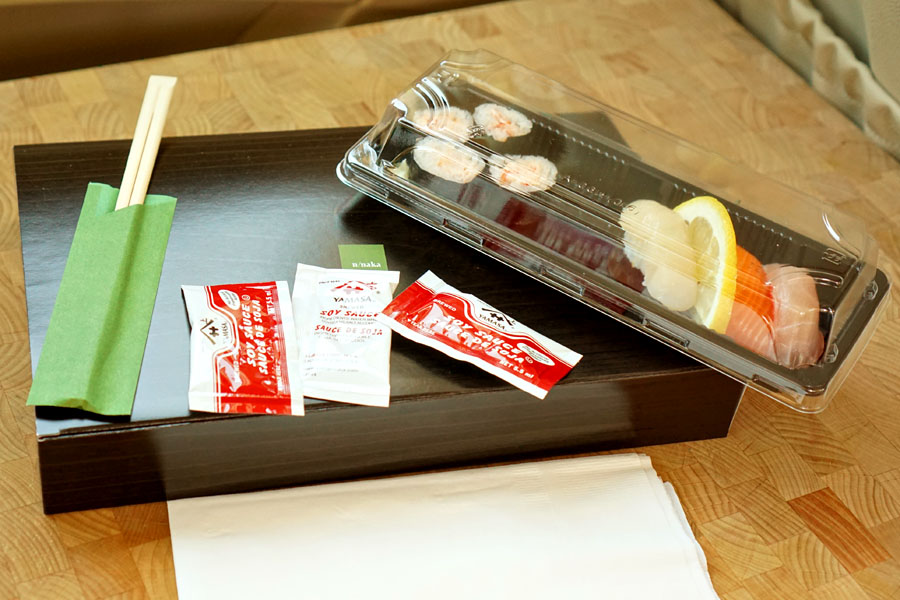 Above we see everything that's included in an order.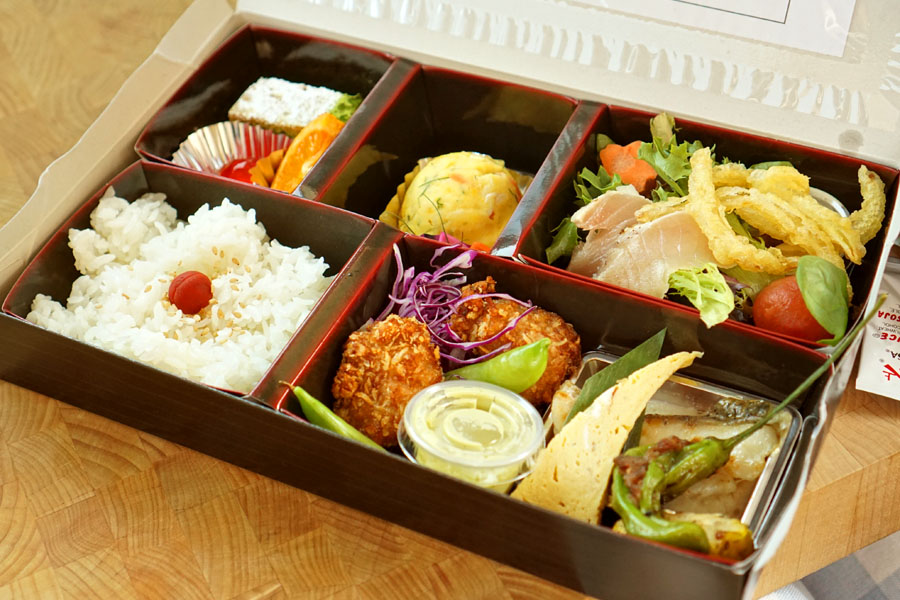 And here's the bento box uncovered.

The lid of the bento contained a menu detailing the contents of the various compartments (though not the sushi), which was much appreciated.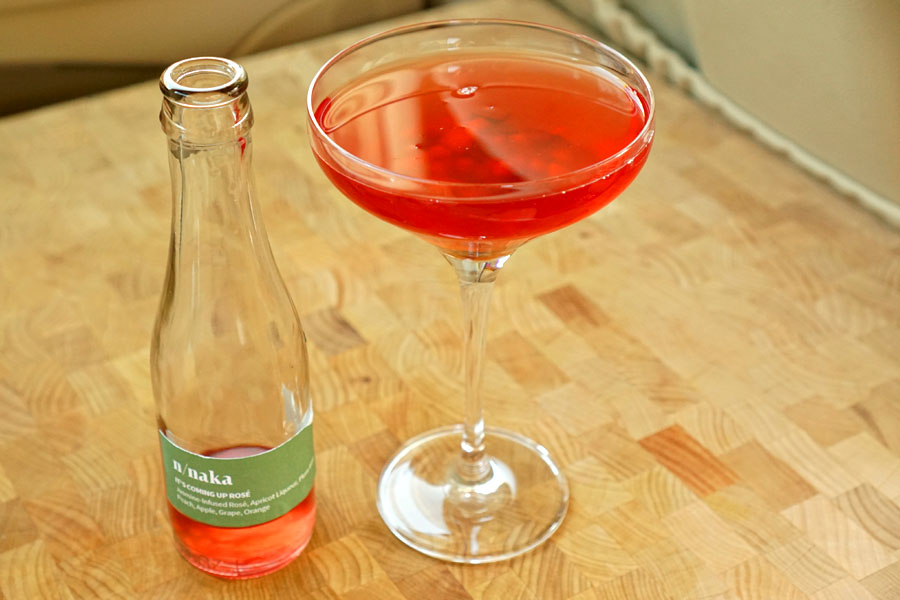 It's Coming Up Rosé
| Jasmine-Infused Rosé, Apricot Liqueur, Plum Wine, Peach, Apple, Grape, Orange
To drink, I purchased a set of two cocktails for $26. This first one displayed the classic character of rosé wine, but boosted by decidedly fruity, floral elements that really stuck around. Fun and summery.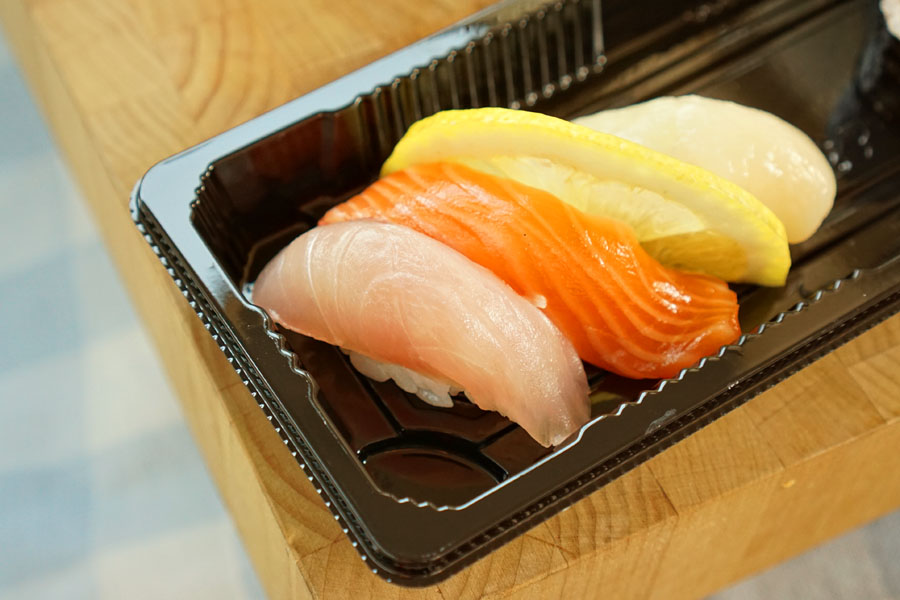 Japanese Snapper, Salmon, and Japanese Scallop Sushi
Here we see the day's trio of
nigiri
. I started with the sea bream, which I found meatier and fuller flavored than most; it was my favorite of the bunch. Salmon, meanwhile, ate luscious and fatty, so the rice was especially crucial for contrast. Last up was that oh-so supple scallop, its very apparent commixture of sweetness and brine taking well to a brushing of lemon.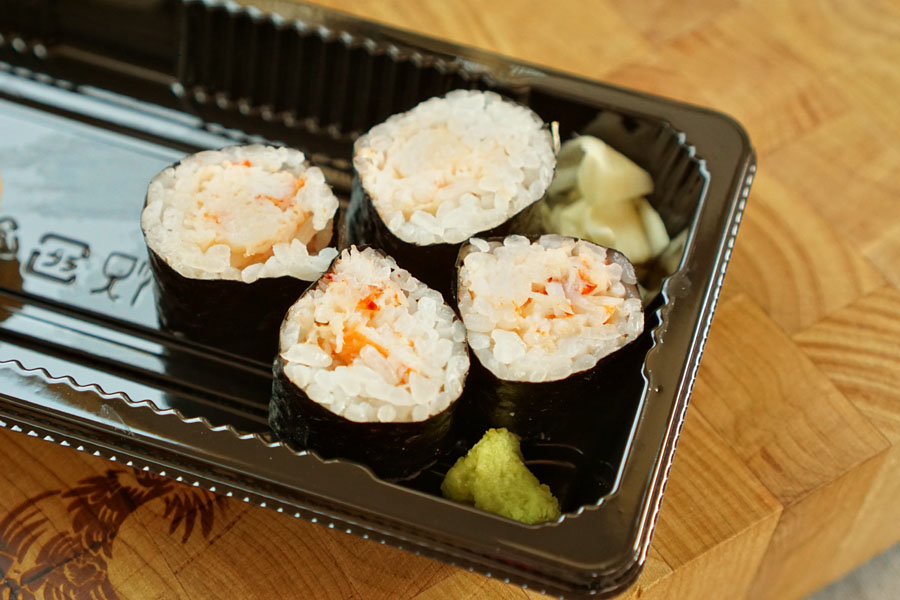 Lobster Cut Roll
My four pieces of
hosomaki
showed off the unmistakable sweet salinity of lobster, set against a backdrop of umami from the nori. Be sure to make use of the included wasabi.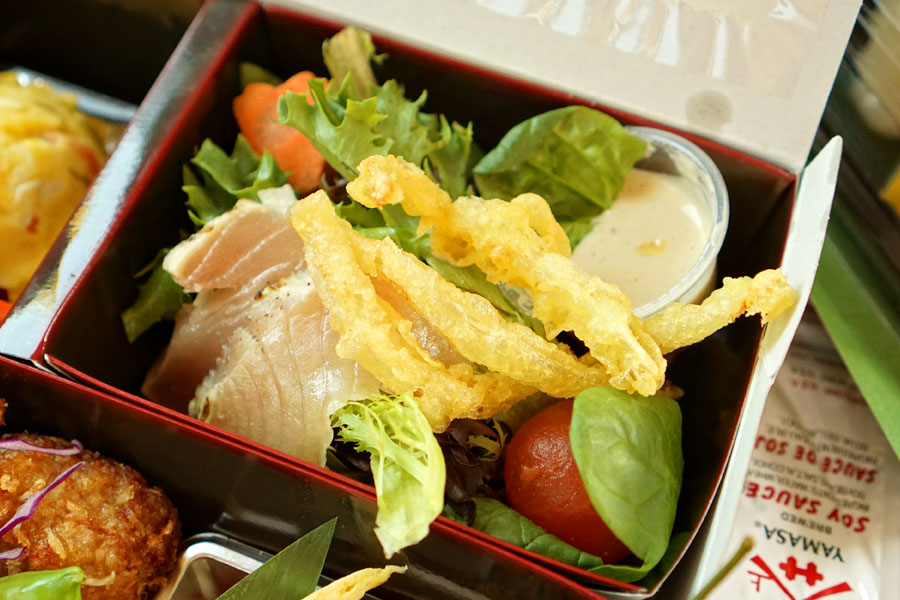 Albacore Sashimi Salad with Garlic Miso Dressing / Shio Koji-Marinated Tomato
Now let's get into the actual bento, starting in the upper-right compartment. The salad played assertively flavored cuts of tuna against bitter greens, the piquant dressing helping to bind the various pieces together. I was especially a fan of the crispy fried onions--which recalled Funyuns--and the salty depth of the marinated tomato fit the bill as well.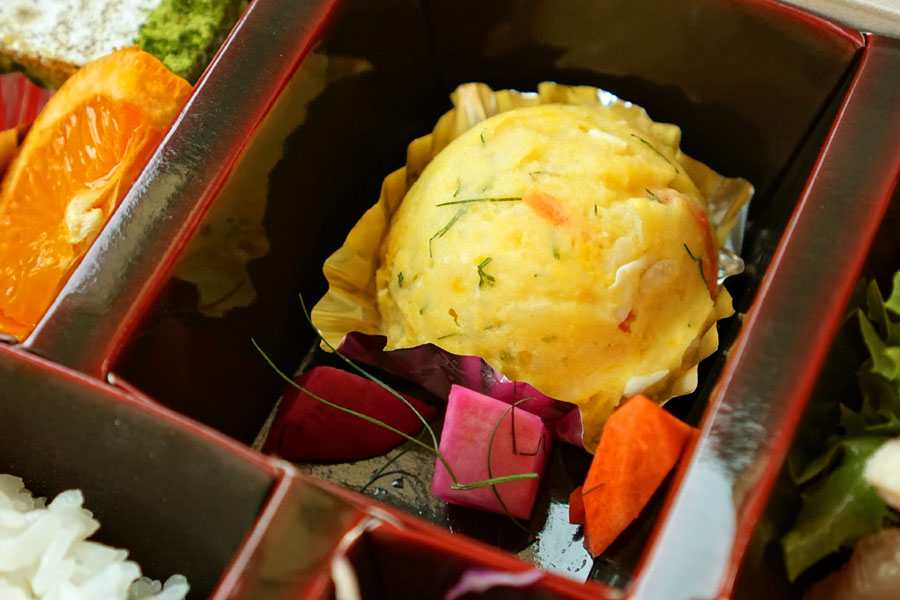 Kabocha Potato Salad / Chef's Garden Pickles
I'm a sucker for potato salad, and I'm happy to report that, despite the inclusion of kabocha, this wasn't nearly as sweet as I'd feared. In fact, it had a delightful herbaceousness to it, and was really pleasing texturally, too. As for the pickles, they offered up a crunchy, tart, bitter counterpoint, as expected.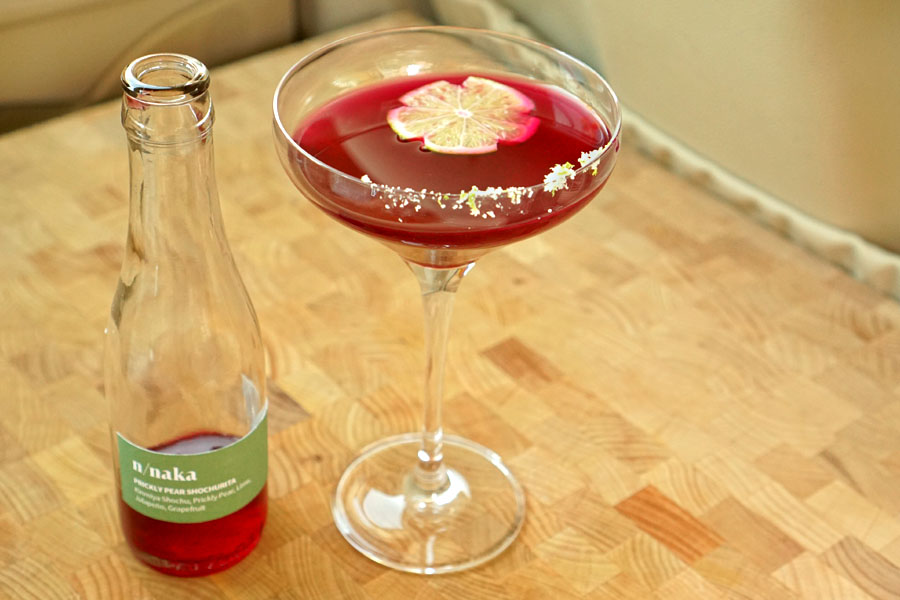 Prickly Pear Shochurita
| Kinmiya Shochu, Prickly Pear, Lime, Jalapeño, Grapefruit
This cardinal-colored cocktail conveyed a palpable heat, along with a surprisingly vegetal sort of sweetness, the whole thing perked up by lime.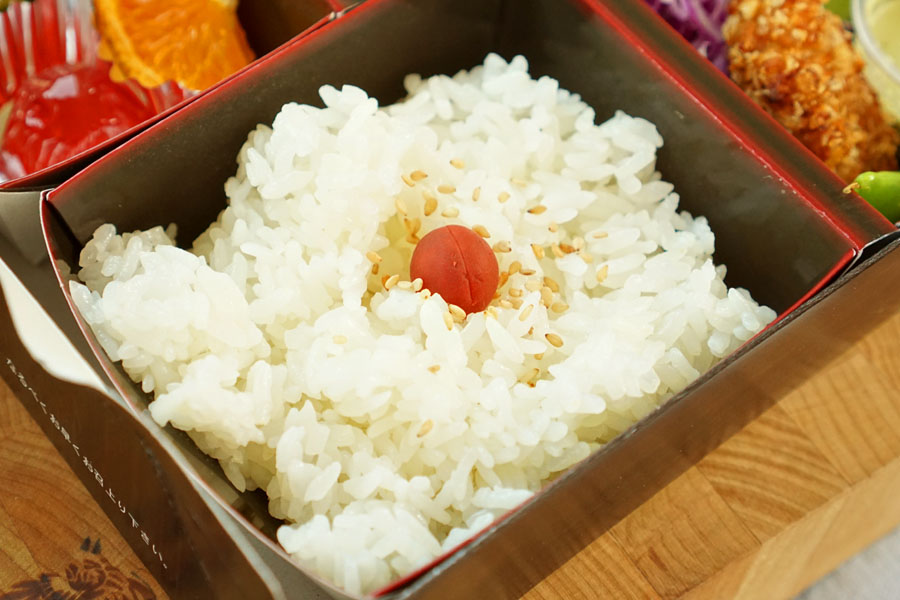 California & Japanese Rice / Pickled Ume
The requisite rice was fairly nondescript, though I did really appreciate the sprinkling of sesame here, while the pickled plum seemed especially tangy.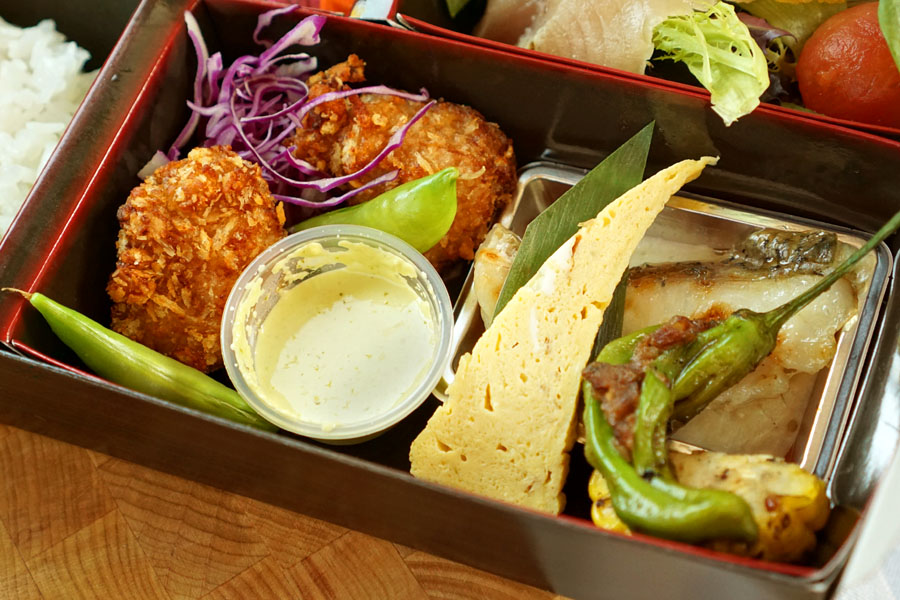 Miso-Marinated Sea Bass with Sunchoke Purée / Tuna Karaage with Coriander Lime Sauce / Wagyu-Stuffed Shishito / Shoyu Butter Corn / Tamagoyaki
In the main compartment I started with the shishito, which had its familiar heat moderated by the presence of the beef, then proceeded to the corn, which I found sweet and smoky. Next came the sea bass; the fish had a firm, substantial bite, its savoriness softened by both creamy sunchoke and the bright, crisp nature of those peas. My favorite item here was the tuna. Though the fritters could've been crunchier, they displayed an excellent depth of savor, and the accompanying sauce almost had a Latin flair to it. Taken all together with the red cabbage, the overall effect actually recalled a fish taco. Finally, I ended with the tamago, which ate cool and sweet
-ish
.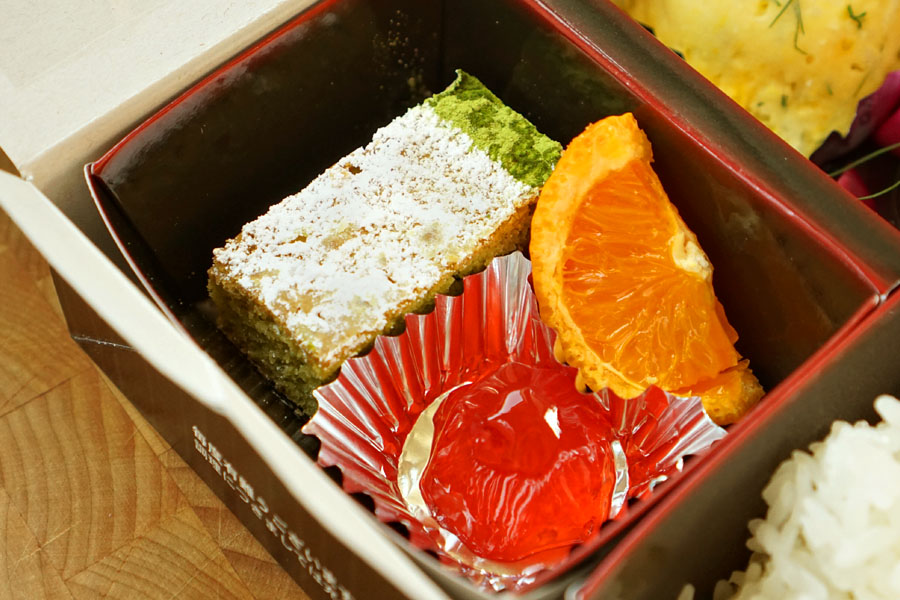 Matcha White Chocolate Cake / Strawberry Kanten / Fresh Fruit
Time for dessert. Up first was the cake, which really did a nice job showing off the restrained astringency of the green tea. It linked up nicely with the jiggly, jammy strawberry jelly, while the mandarin orange provided a refreshing acidity.
It took me a laughable amount of time to finally score one of the bentos here, but it was largely worth the wait. That being said, this is pretty far removed from what's typically served at n/naka, and I do really need to go back for a proper meal. In the meantime, I'm going continue to try for the restaurant's higher-end
kaiseki jubako
takeout option, which I imagine will be even more difficult to land.