La Azteca Tortilleria (Los Angeles, CA)
La Azteca Tortilleria
4538 East Cesar E Chavez Avenue, Los Angeles, CA 90022
323.262.5977
www.laaztecatortilleria.com
Sat 05/09/2020, 03:00p-05:00p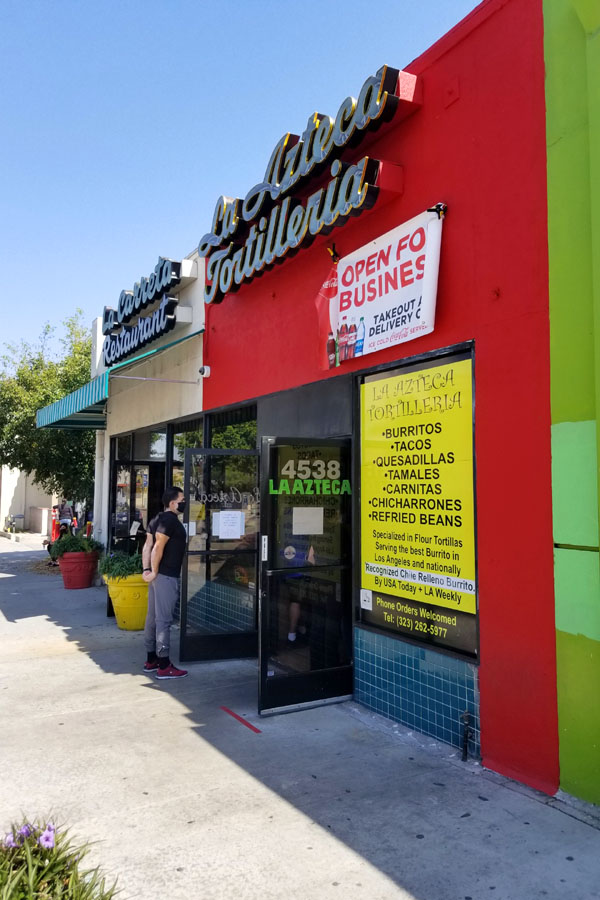 This free-flowing coronavirus traffic afforded me the opportunity to visit the vaunted La Azteca Tortilleria, an East LA institution that's only open during the day. I'd wanted to try this spot for a while, but it sort of fell off my radar until it was recently recommended to me by a friend.
A bit of background
: The history behind the place is cloudy and often contradictory, but as far as I can tell, the restaurant first opened its doors in 1945. It was originally located in a different building nearby, but had to move to its current address (well, an address on Brooklyn Ave, the predecessor to Avenida César Chávez) sometime before 1965 on account of the construction of Interstate 710.
La Azteca has gone through multiple generations of ownership, though the first I can find evidence of is the wife-and-husband team of Maria Estela Bernal and Alexander "Alex" Bernal (both deceased), who took over around 1977 and had Maria Rodriguez as the lead tortilla maker. The business was apparently sold to a Maria Gonzalez in 1992, while the current owners, Michoacán natives Candy and Juan Villa, took over in 2010. Their daughter Cynthia helps run the business, and son Chris is also involved.
Since the Villas began running the show, La Azteca has won numerous awards for its burritos, specifically the signature chile relleno variant. Some of these accolades include "Best Burrito" by
LA Weekly
in 2012, the #1 position on The Daily Meal's "The 35 Best Burritos in America" list in 2014, and a spot on "Jonathan Gold's 5 Best L.A. Burritos" ranking in 2015, among others.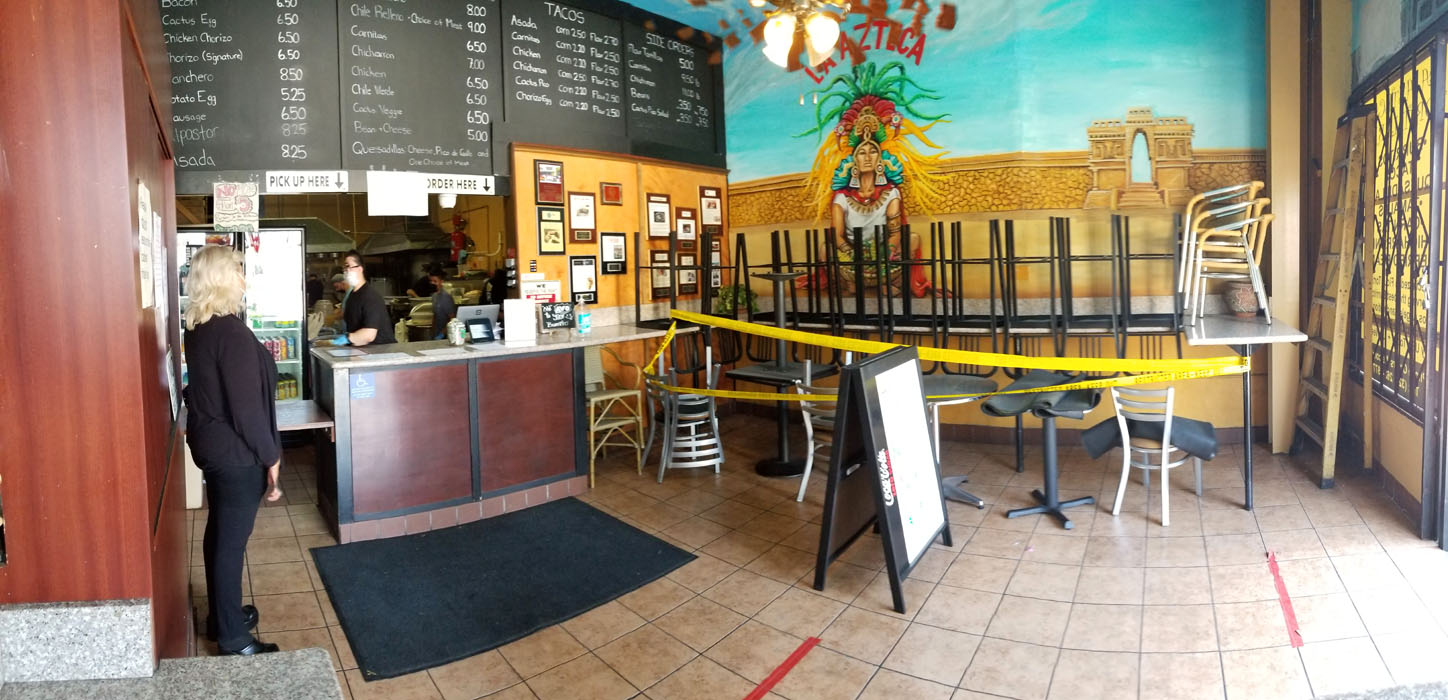 The dining room is quite tiny, and is most known for its colorful mural depicting an elaborately dressed Aztec woman.

La Azteca's menu features numerous burrito options, in addition to quesadillas and tacos, naturally.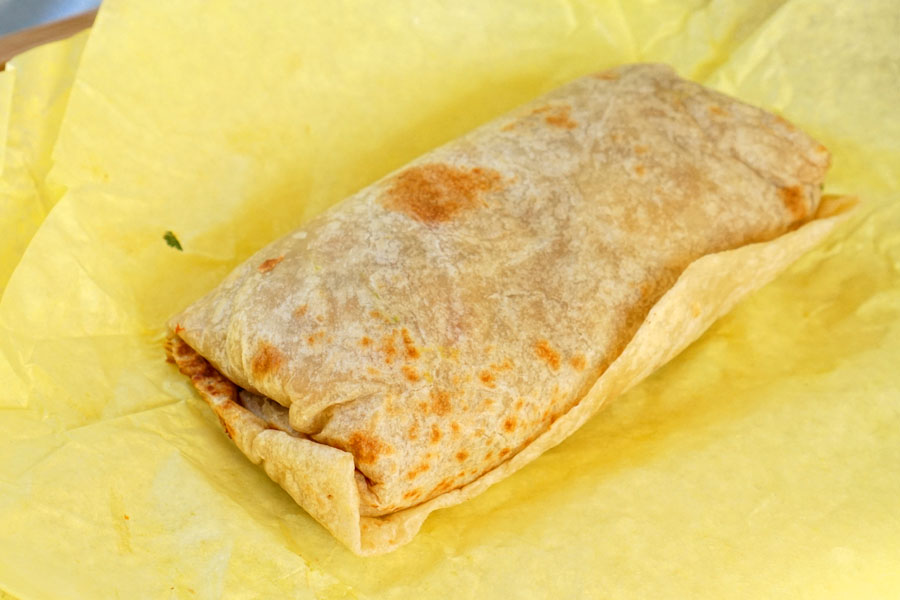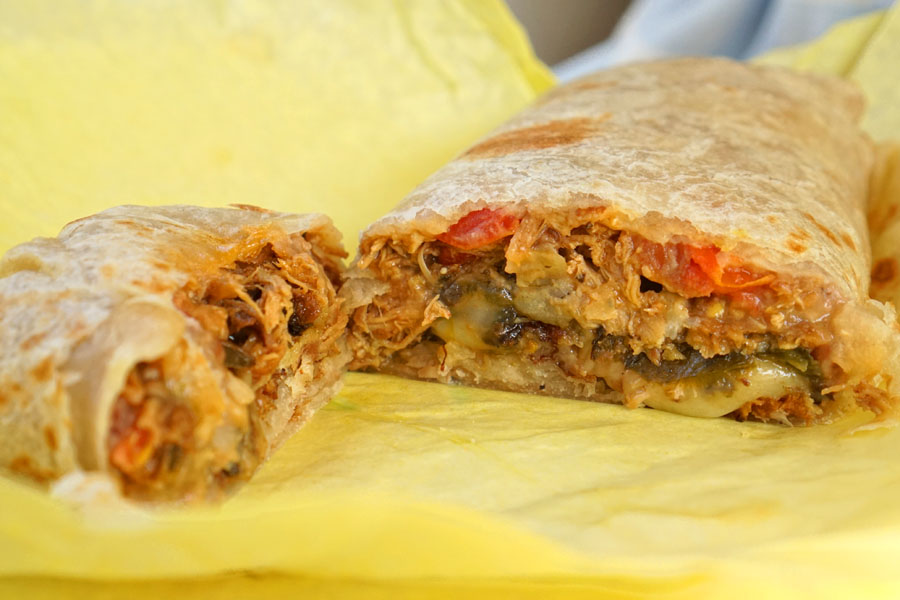 Chile Relleno Burrito + 1 Choice of Meat - Carnitas [$9.00]
| Chile Relleno con 1 carne de su gusto
Naturally, we have to begin with La Azteca's signature dish: a burrito featuring a cheese-filled poblano, supported by refried beans, tomato, onions, cilantro, and optionally the meat of your choice. As expected, the hero here was indeed that pepper, specifically how its sweet, vegetal flavors commingled with the lush, gooey nature of the cheese, while the slightly chewy pork came in later as a homey sort of counterpoint. Completing the package was the flaky housemade tortilla, which managed to be both substantial and supple at the same time. This is what people come from near and far for, and I get it.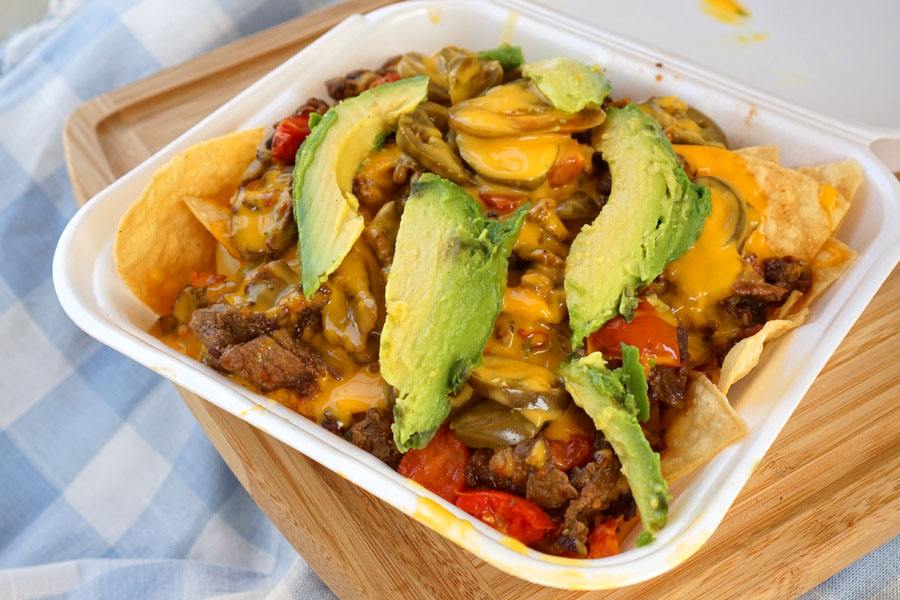 Asada Nachos [$8.00]
I opted for asada for my nachos, and found the beef surprisingly tender, with a slight sweetness to it. Juicy bits of tomato and relatively subdued slices of jalapeño worked for contrast, while just-trashy-enough melted cheese simply enveloped the dish. I also appreciated the addition of avocado, though I did feel that the chips could've been crunchier.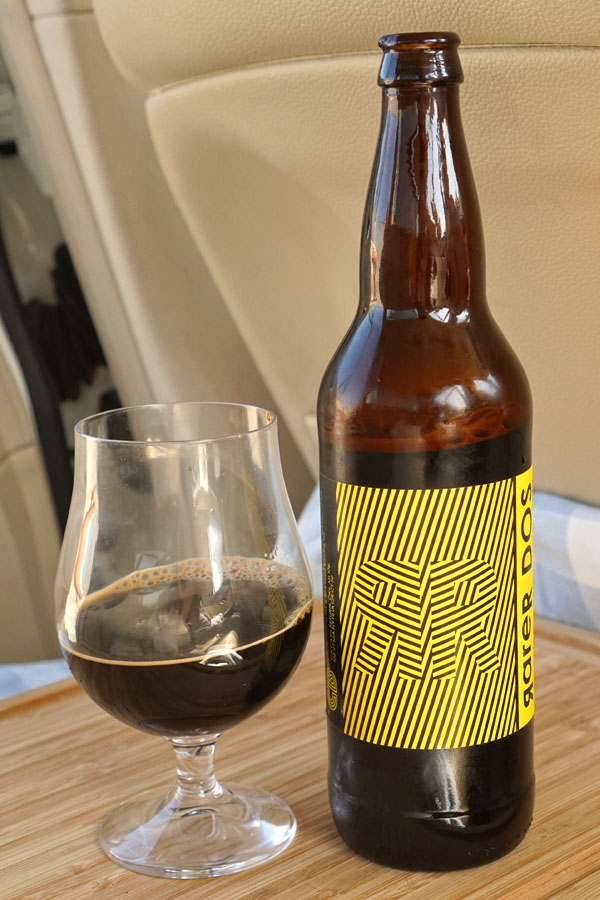 Beer duties were handled by the
2016 Cycle RareR DOS
, an imperial stout aged in Prichard's rum barrels. The aroma here showed off appealing notes of chocolate and caramel along with a strong fruity component that actually reminded me a bit of grape soda. Tasting it, I got more of those dark fruit flavors up front, joined by malty elements, oak, and cocoa powder while the back end veered slightly tangy. Surprisingly easy-going overall.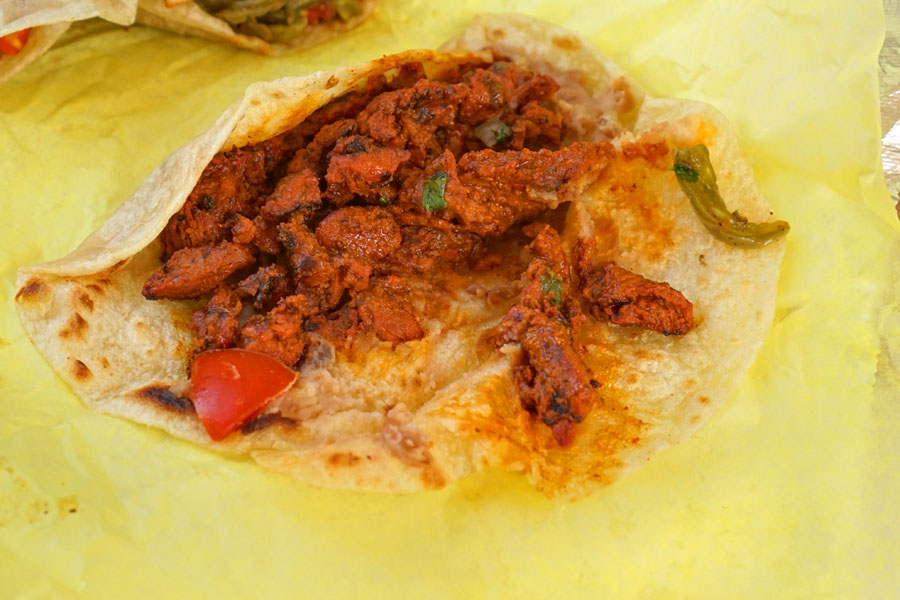 Al Pastor Taco - Flour [$2.50]
According to a sandwich board placed smack dab in middle of the restaurant, al pastor was a new option at La Azteca, and thus I felt compelled to give it a shot. The meat was rather tasty, mostly thanks to its aggressive seasoning that was a mix of lingering heat and sweet, as well as its tender consistency that nevertheless still offered up enough chew. The stretchy tortilla here was on point as well, and worked to moderate the considerable potency of the pork.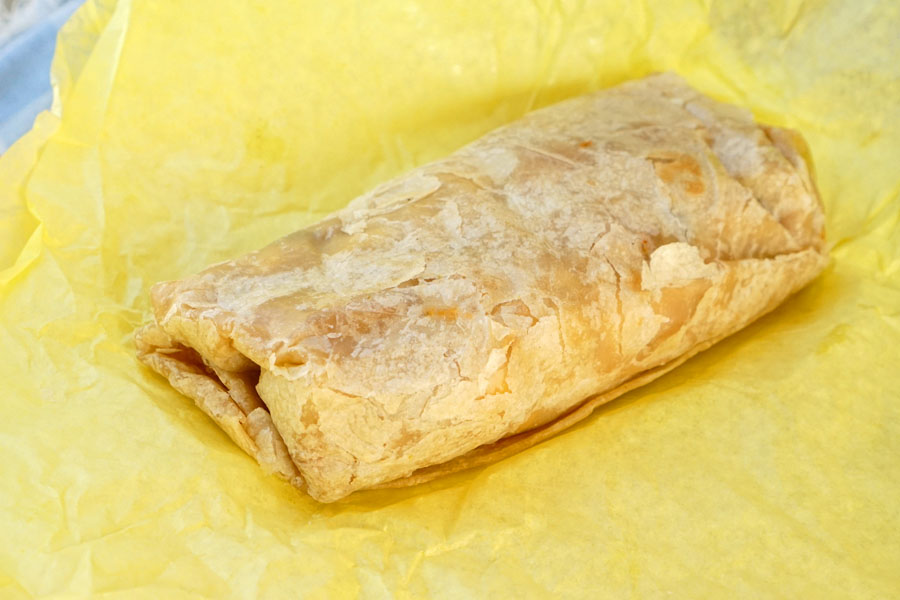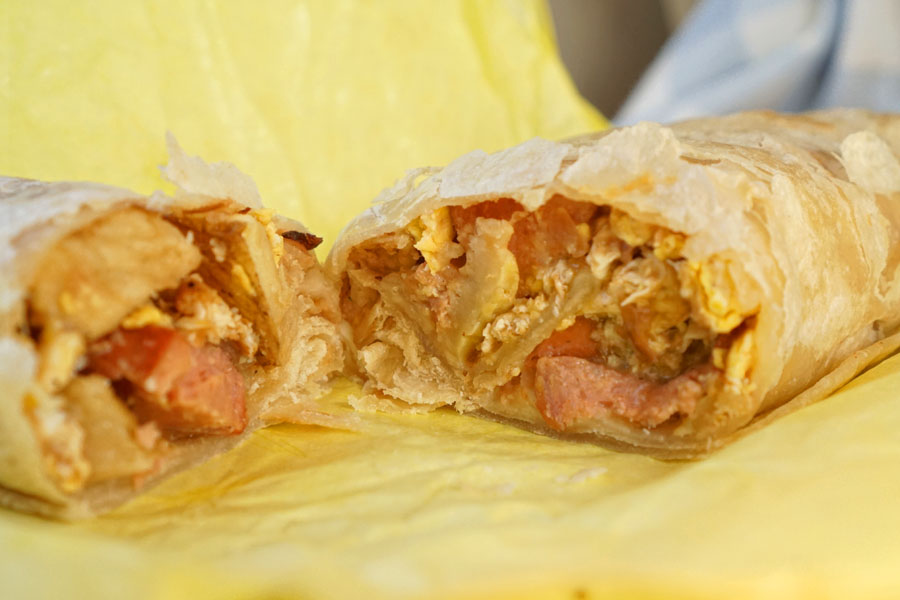 Sausage, Potato, and Egg Breakfast Burrito [$6.50]
| Salchicha con Papa y Huevo
La Azteca also presents a full slate of breakfast burritos, which deserves attention in its own right. I went with the sausage, and it didn't disappoint. The tubed meat had a wonderful snappiness to it, along with cozy, classic flavors that just made sense when combined with potato, all while the fluffy egg tempered that interaction. The burrito was even better with a splash of the salsa below, and once again, that homemade flour tortilla lent a much appreciated heft to the dish.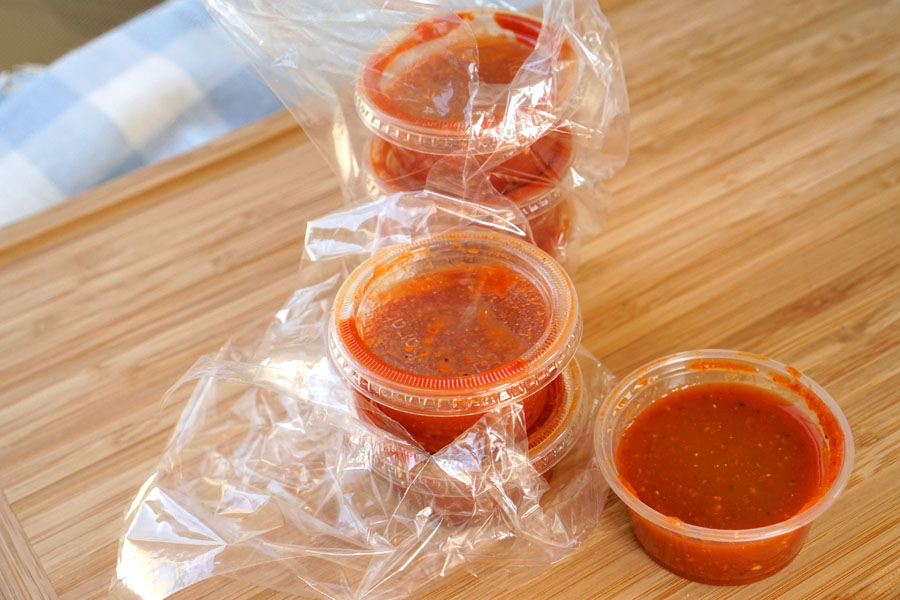 The included salsas were on the watery side, but packed a serious punch, one that'll stay with you, so don't go overboard.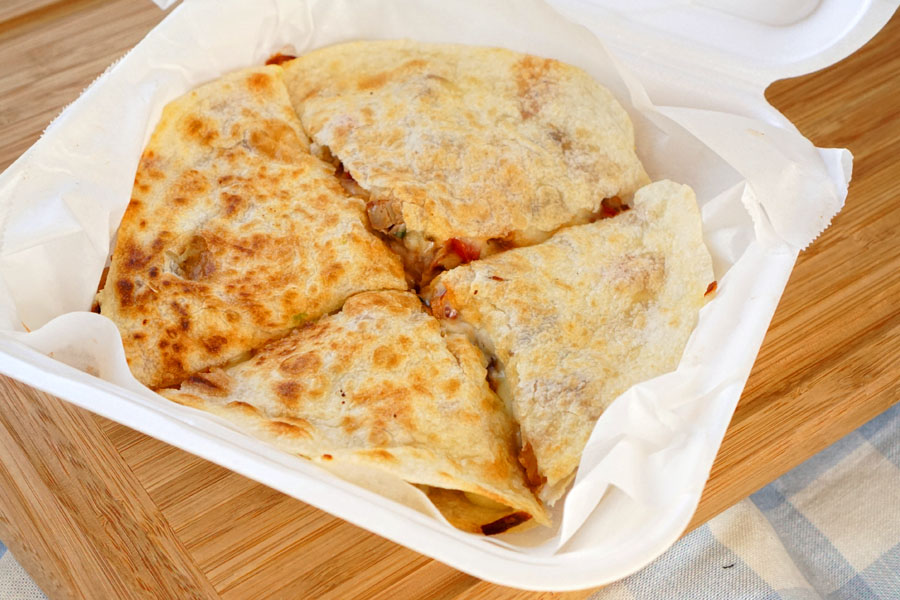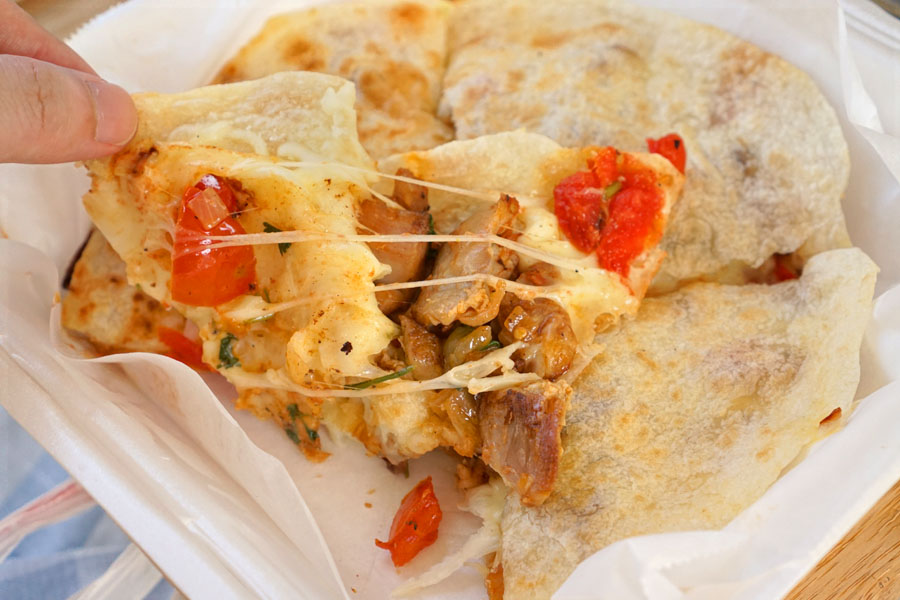 Chicken Quesadilla [$8.00]
| Pollo
This place isn't nearly as known for its quesadillas, which is a shame given that this was one of the better versions I've had in recent times. The chicken itself was well-seasoned, with a nice sear, and married well with all that stringy cheese that just pervaded the dish. Tomatoes and onions worked to lighten things up, while that griddled tortilla helped tie it all together.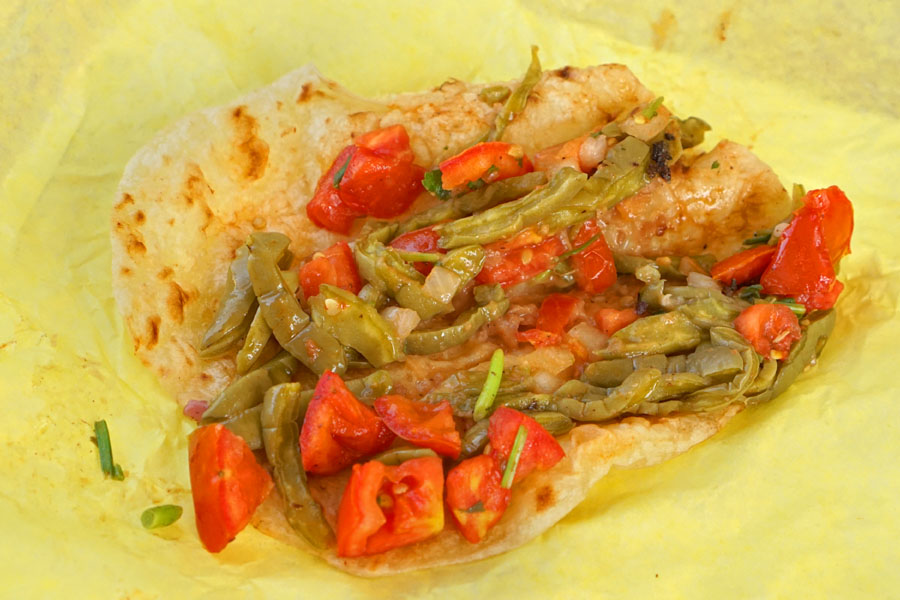 Cactus and Pico de Gallo Taco - Flour [$2.50]
| Nopales con Pico de Gallo
Nopales arrived juicy and well textured, and melded seamlessly with the onion and large chunks of tomato present, making for a light yet gratifying eating experience.
La Azteca is home to one of the most iconic burritos in LA, and thus the entire US. There's an understandable reason for that--it is damn good--but be sure to give the rest of the menu a go as well. It's too bad this place closes so early, or I'd probably be here more often.