Alimento (Los Angeles, CA) [2]
Alimento Restaurant
1710 Silver Lake Blvd, Los Angeles, CA 90026
323.928.2888
www.alimentola.com
Sun 05/24/2020, 08:30p-09:00p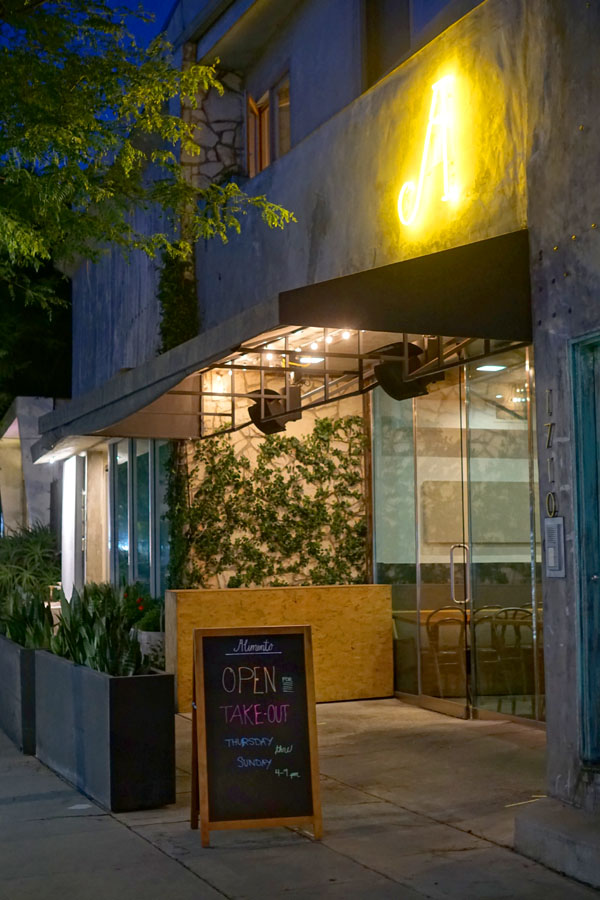 As you probably know if you've been keeping up with this blog, I've been ordering a lot of coronavirus-induced takeout over the past several weeks, and most of it has been quite good. However, one category of cuisine that's been surprisingly absent from my line-up has been Italian.
I'm really not sure why that's been the case. Nevertheless, I recently had the urge for some, and ended up at Silver Lake's
Alimento
, which just started offering food to-go on May 21st (the restaurant had previously closed completely on March 16th).
If you recall, Alimento is the work of Chef/Owner Zach Pollack, whom I last caught up with back in June 2017, shortly after he opened
Cosa Buona
in neighboring Echo Park. The place was positively reviewed by Besha Rodell not long after my visit, and things seemed to be going uneventfully for the Chef until the start of 2019.
That's when
Sotto
shuttered, supposedly due to legal reasons. If you recall, Sotto was opened back in 2011 by Pollack and his partner
Steve Samson
. However, Pollack had stepped away from day-to-day operations around the time when Alimento opened, though he still retained an ownership stake in the restaurant. In any case, Sotto was no doubt one of my favorite Italian spots in town, so I was quite saddened by the closure.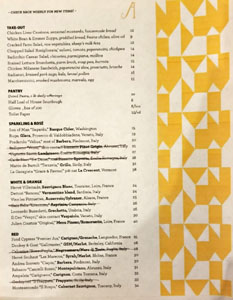 Above we see Alimento's take-out menu, which is basically like an abbreviated version of the place's usual offerings (with the addition of pantry items). Click for a larger version.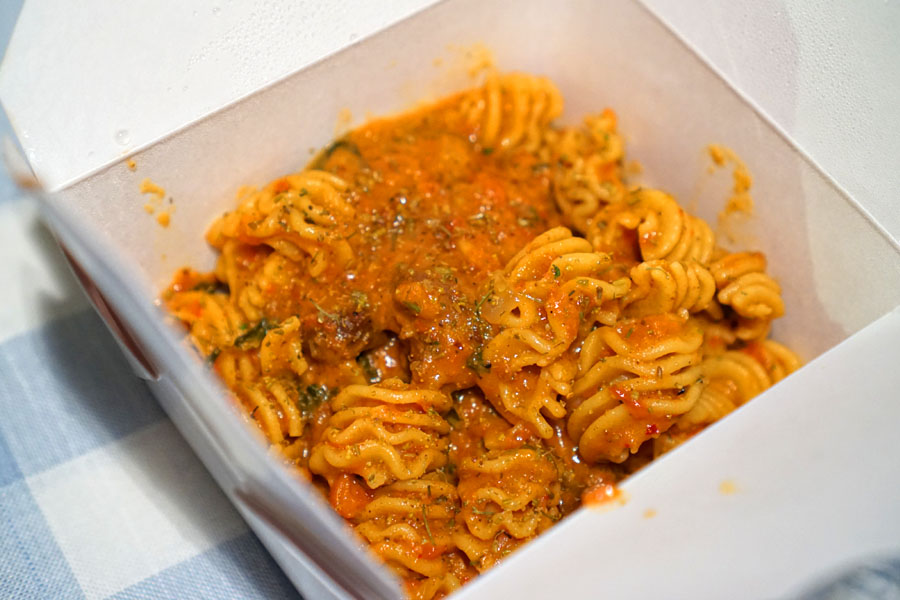 Radiatori [$16.00]
| braised pork sugo, kale, fennel pollen
Radiator-shaped pasta made for some interesting textural sensations while doing a nice job in soaking up all that sauce. I was certainly a fan of the sheer herbaceousness of the pork here, and how that played with the dish's tart, tomato-y flavors.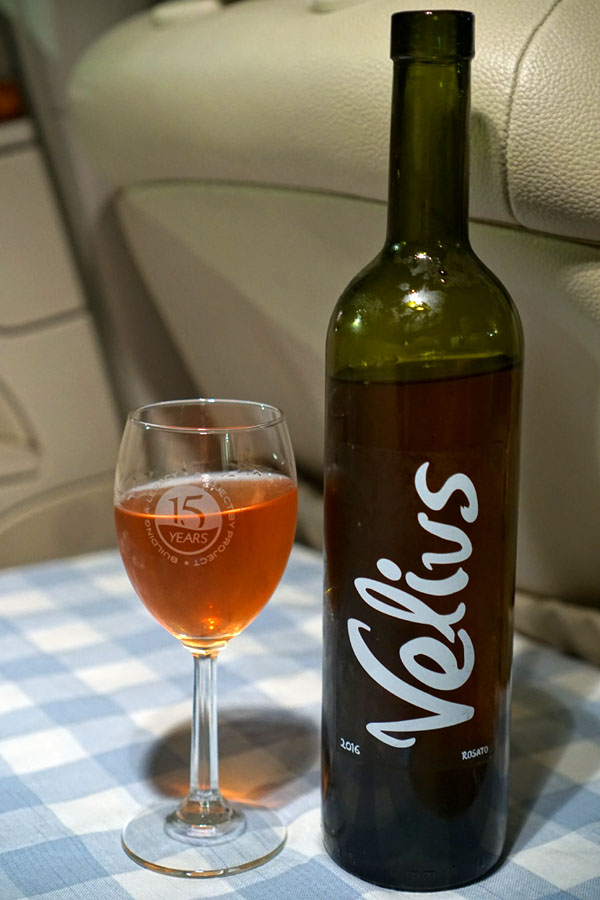 To drink, I tacked on a bottle of the
Pradarolo "Velius," rosé of Barbera, Piedmont, Italy [$20]
to my order. The bouquet here was of tart, juicy fruit with a touch of funkiness underneath. Tasting the wine, I got a light earthy character commingled with lush berries and subtle flowers, while a bit of heat, acid, and astringency appeared toward the rear. A fun one.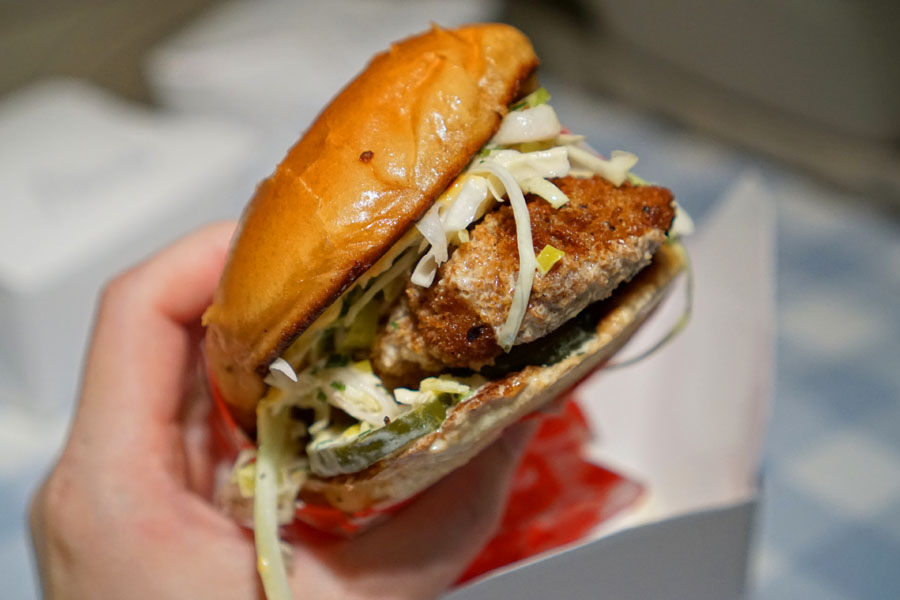 Chicken Milanese Sandwich [$14.00]
| peperoncini slaw, prosciutto, brioche
The sandwich was a winner as well. I was impressed with the bird's juiciness and the texture of its breading. The slaw functioned as a seamless contrast, and I liked the bursts of acidity from the pickles, too. A smart take on the chicken sando (which are all the rage these days).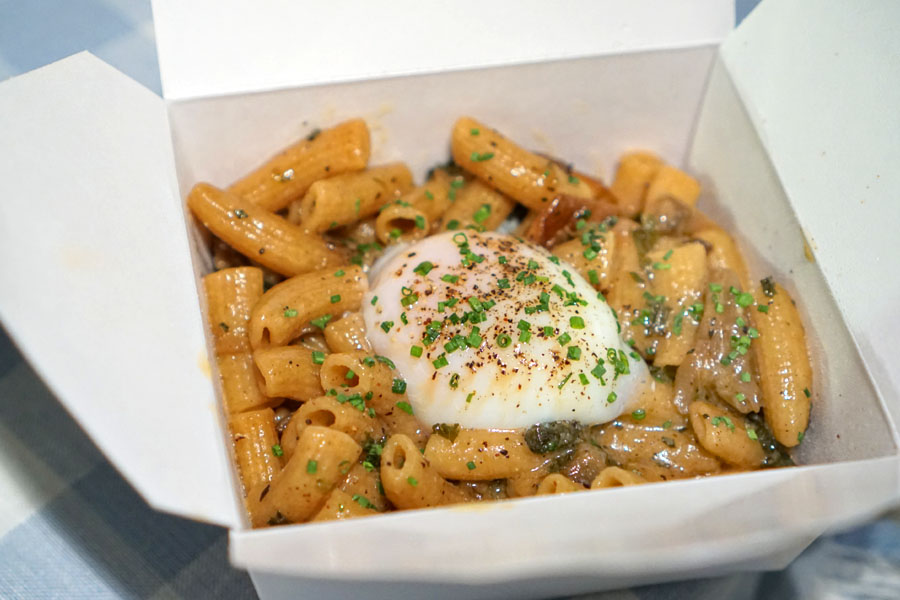 Maccheroncini [$15.00]
| smoked mushrooms, marsala, egg
Maccheroncini arrived well-textured, the pasta serving as a base for the intensely woodsy, smoky flavors present. The perfectly runny egg added an extra layer of lusciousness to the dish, but actually served to moderate the mushrooms.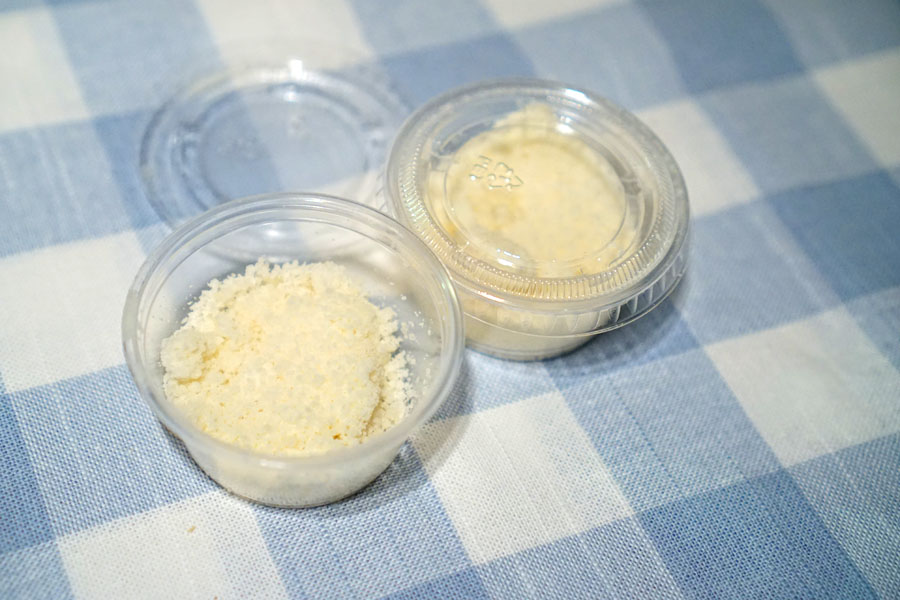 Two containers of grated parmesan came with my order. I ended up sprinkling the cheese on the pastas as well as the salad below.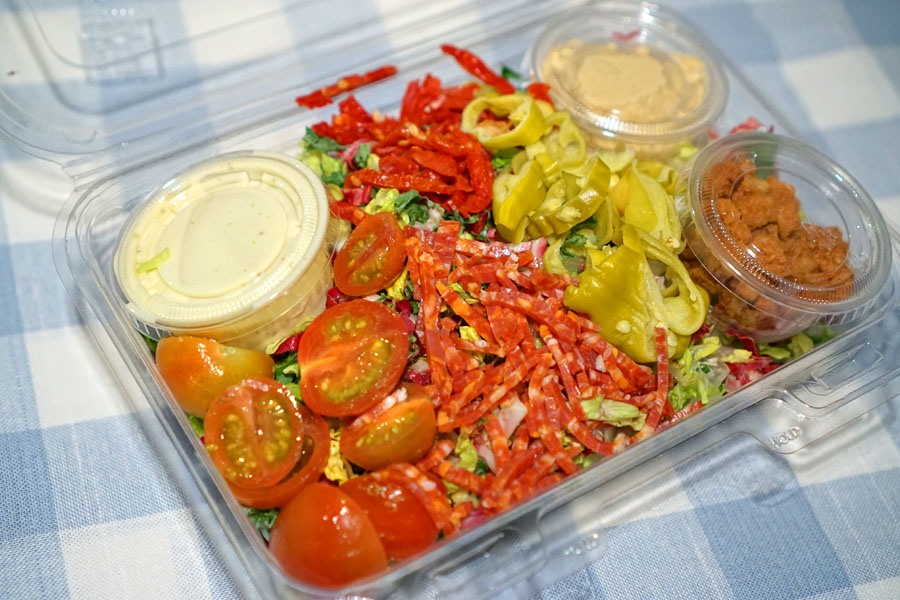 Chopped Salad 'Amigliorata' [$14.00]
| salami, tomato, peperoncini, chickpea
Pollack's take on the iconic chopped salad delivered. I appreciated the hodgepodge of sour, spicy, and savory elements here, all brought together by that creamy dressing. Also key was the crunch provided by those croutons, while the inclusion of the hummus-like chickpeas was an unexpected addition.
It was nice to be able to report back on Alimento after all these years, and I'm glad to see the place finally open again. On the whole, this was a commendable effort by Pollack and his team, and it certainly felt good to have Italian once more.