Tallula's (Santa Monica, CA)
Tallula's Restaurant
118 Entrada Dr, Santa Monica, CA 90402
310.526.0027
www.tallulasrestaurant.com
Wed 05/13/2020, 07:25p-09:15p

If you saw my last post, you'll know that I recently enjoyed
Kato
's new coronavirus takeout menu. It was a relatively light meal, so I figured that, since I was already in the area, I might as well try somewhere else nearby. My choice of venue turned out to be Tallula's, a neighborhood-y, nominally Mexican restaurant from Josh Loeb and Zoe Nathan (of
Rustic Canyon
fame), in concert with Chef
Jeremy Fox
. Named after Nathan and Loeb's daughter, Tallula's resides in the former home of Marix Tex Mex (and Teru Sushi prior), a place that the couple reportedly dined at with some frequency in their younger years (I believe it opened circa 1985, following the first location in WeHo). When the space became available, they jumped at the opportunity to take over the spot, apparently bringing on board Marix's co-founder Mary Sweeney in the process as well.
Tallula's thus grand-opened on May 9th, 2017 with its kitchen run by Mario Alberto Orellana, an alum of Ysabel, Laurel Hardware,
Freddy Smalls
, Chimu,
Lazy Ox Canteen
, the O.G.
Mo-Chica
, and
Gjelina
. The FOH, meanwhile, was the responsibility of GM Mary Thompson, who came over from The Line LA and
Saint Martha
before that (note: she left in June 2019). However, despite the strong team backing Tallula's, the restaurant was poorly received by the dining public. Perhaps because of that, Alberto was out the door after only a few months (he landed at Michael Cardenas' Mister O's in Studio City), replaced by a relative unknown by the name of Saw Naing, who was opening sous here.
A native of Rangoon, Myanmar of Burmese and Indian descent, Naing started cooking at a young age, and ended up coming to the US in 2007. He first got interested in Mexican cookery due to his Mexican stepfather, and prior to his tenure at Tallula's, worked as a sous chef at Ysabel. As CdC here, he's expanded service to brunch, but much more importantly, dramatically shifted the tone of the menu, revamping it from Mexican to a sort of Mexican-Burmese-Indian fusion. It was a change that I was not expecting.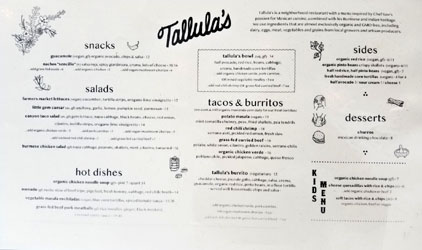 Tallula's take-out menu is pictured above. It features many of your typical casual Mexican favorites, but informed by elements from the Chef's cultural background. Click for a larger version.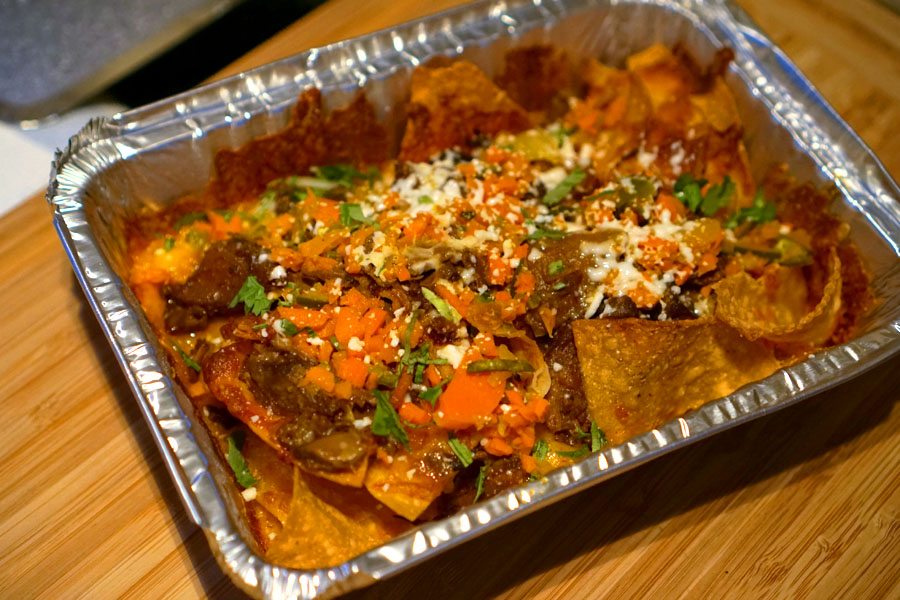 nachos "sencillo" + grass-fed curried beef [$10.00 + $6.00]
| salsa roja, spicy giardiniera, crema, lots of cheese
If I had to pick one thing that I've been eating more than any other during the COVID-19 lockdown, it'd be nachos, so I absolutely felt compelled to order it. Unfortunately, what I was presented with missed the mark. The beef was tender, near falling apart so in fact, and had a sweet-savoriness that was somewhat reminiscent of rendang. There wasn't anything inherently wrong with it, but combined with the giardiniera, it made for an overly sweet flavor profile that just didn't jibe. Where's the smoke, the char? And where's the cheese? The nachos lacked the sort of trashiness you expect, but the dish wasn't really elevated either.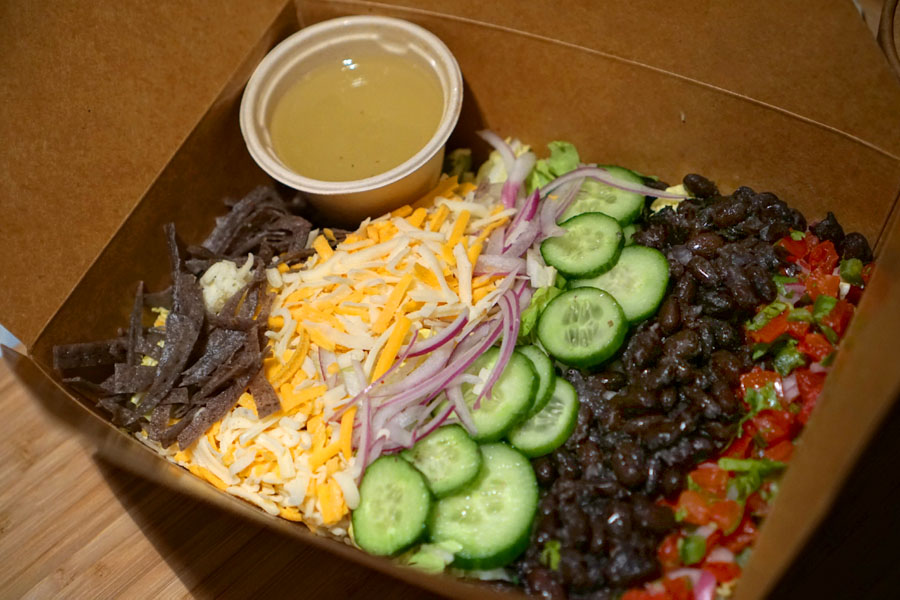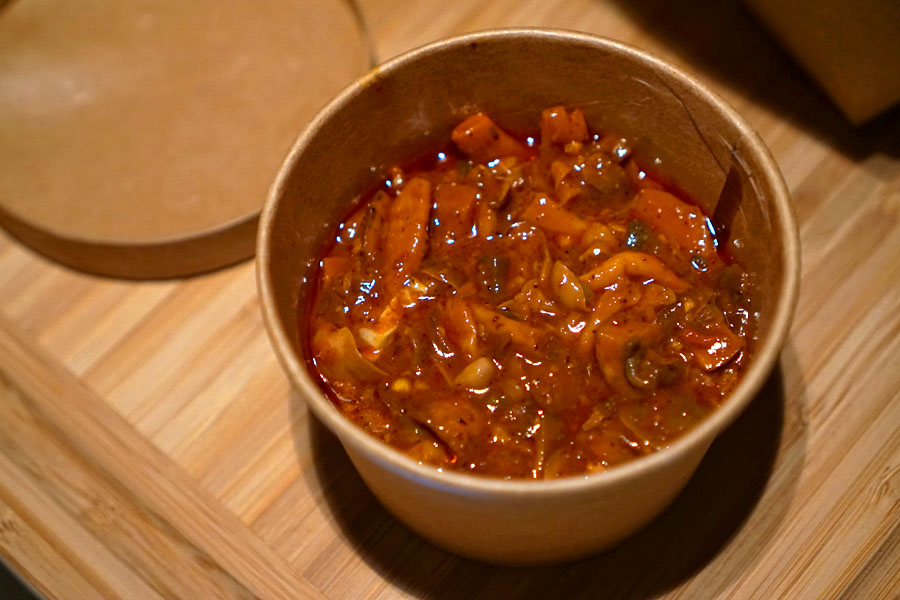 canyon taco salad + vegan mushroom chorizo [$14.00 + $5.00]
| gem lettuce, napa cabbage, black beans, cheese, red onion, cilantro, tortilla strips, oregano-lime vinaigrette
I'm a bit of a sucker for a taco salad, and this was a good taco salad. I especially appreciated how the cheese took a commanding presence throughout the dish, while the beans imparted a weightiness and the tangy vin really tied everything together. It was just the right amount of trashy (unlike the nachos above), and very enjoyable even without the faux chorizo. Now speaking of that chorizo, I found that the mushrooms effectively replicated the taste of the traditional sausage, but I wish that they'd also replicated the
texture
.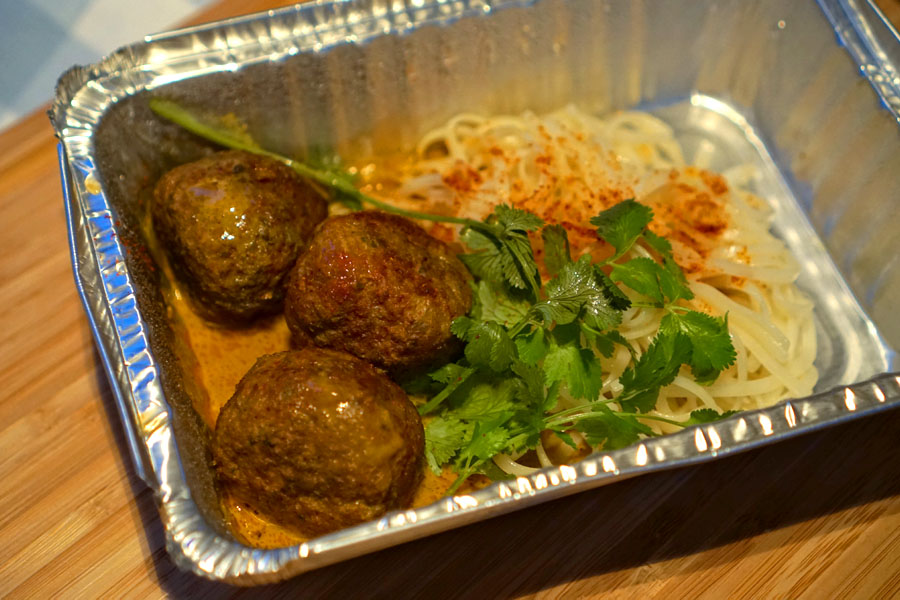 grass-fed beef-pork meatballs [$19.00]
| rice noodles, ginger, black mustard, coconut-curry sauce
I have a hard time avoiding meatballs on a menu, and tonight was no exception. Said balls were on the larger side, and quite dense, but also thoroughly juicy, with a lovely herbaceousness and a superb contribution from the black mustard. The noodles offered up a contrast in both taste and texture, and mixing everything together, the overall effect was not unlike that of a cozy
khow suey
.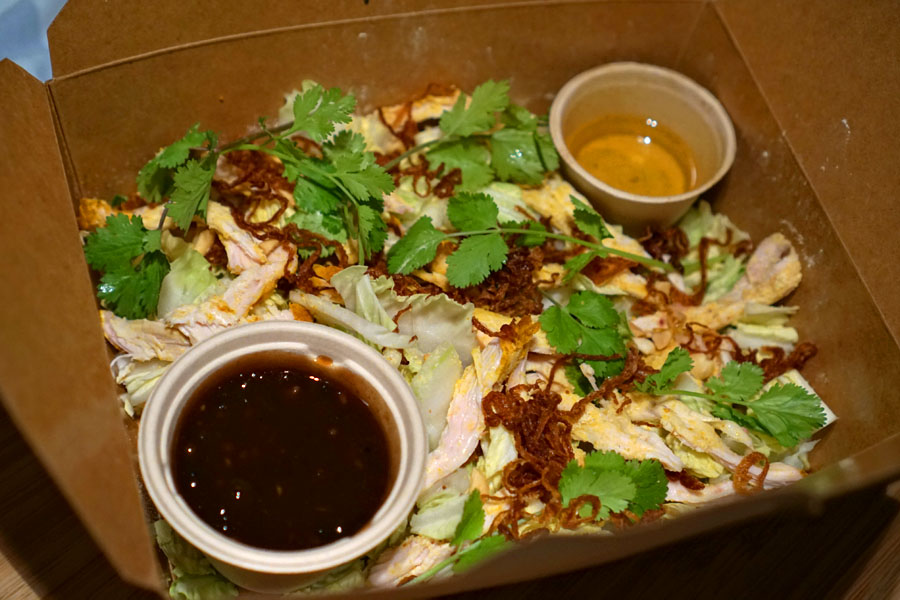 burmese chicken salad [$16.00]
| napa cabbage, peanuts, shallots, mint, cilantro, tamarind
Clearly, the most obviously Burmese thing here was the tamarind dressing, which, with its unabashedly sweet-piquant nature, was a bit too intense on its own, but worked well in the context of this salad. The veggies here were bright, crunchy, and bitter, just as I wanted, while fried shallots imparted a marked savoriness. The cilantro and peanuts were very welcomed additions too, and the chicken, ostensibly the star of the show, actually functioned as a moderating force.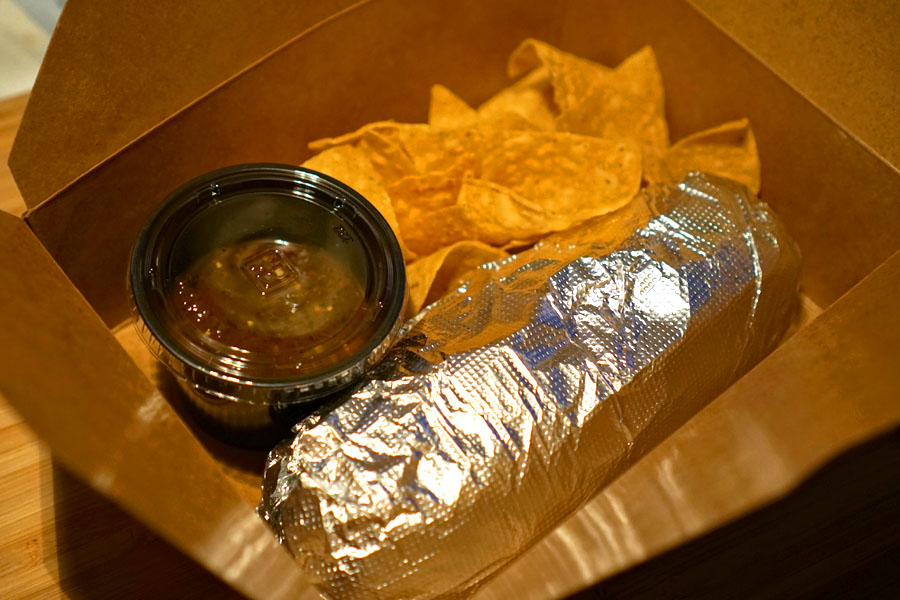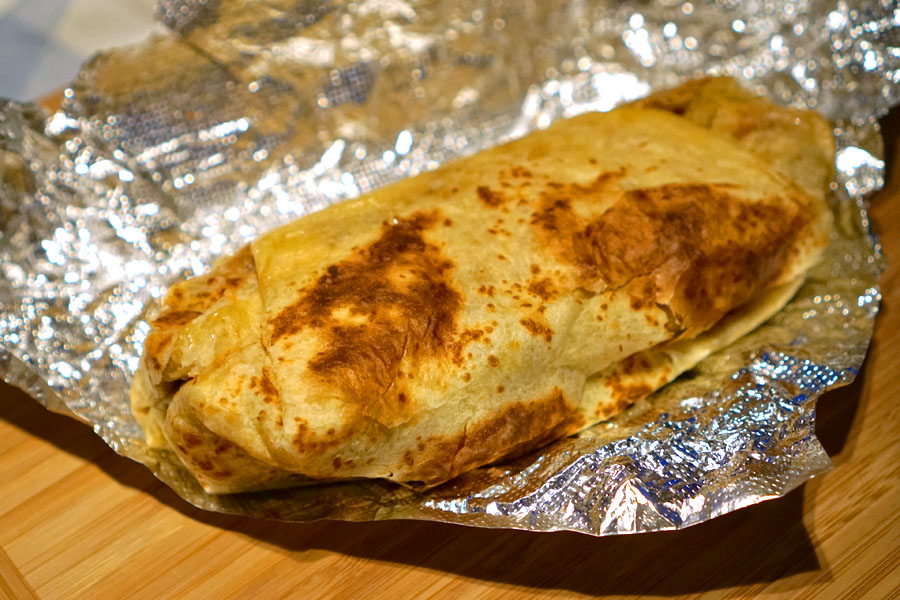 tallula's burrito + pork carnitas [$12.00 + $5.00]
| cheddar cheese, pico de gallo, cabbage, salsa, crema, guacamole, organic red rice, pinto beans, in a flour tortilla - served with housemade chips and salsa
The burrito took a maximalist approach to things, and the end result was unfortunately a bit muddled. The pico actually made itself known the most out of any ingredient here, and that includes the carnitas, which veered sweet for me. As for the included salsa, think thick in consistency, with a decidedly smoky-sweet bent.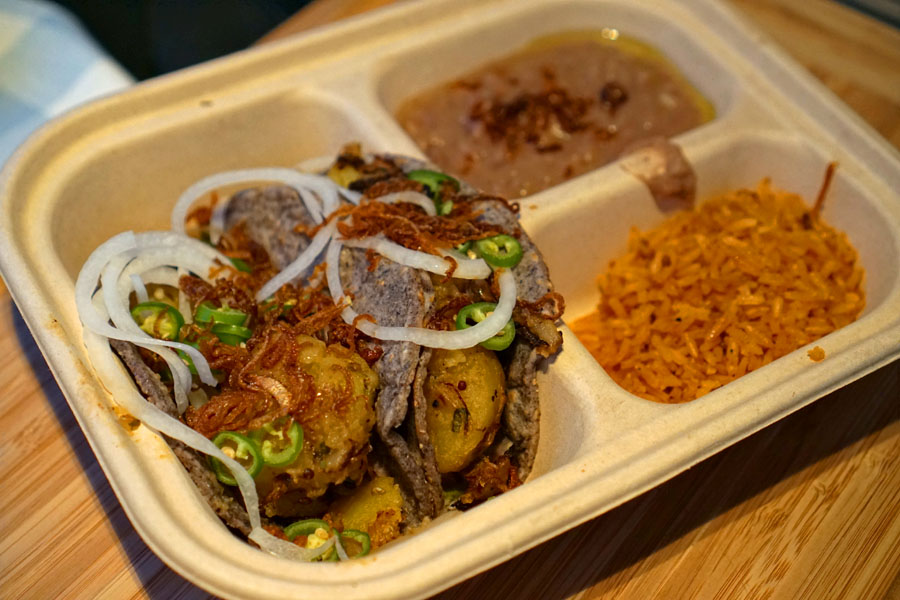 potato masala tacos [$15.00]
| mint-tomatilla chutney, peas, fried shallots, pea tendrils
And finally, it just wouldn't feel right to not get tacos, so here we are. This particular example featured hefty chunks of potato that effectively captured the spirit of Indian cookery, while jalapeño and onion functioned as welcomed counterpoints. The hearty tortillas, made in-house from Masienda corn, were crucial for balance. As for the sides, the red rice showed off classic Mexican flavors, but with a slightly different texture, while the pinto beans were made more interesting by a topping of crispy shallots. Pretty successful overall.
Tallula's is a bit of a head-scratcher. There were certainly a couple misses here, but at the same time, there are clearly things that deliver. And I don't think anyone else is attempting to fuse Indo-Burmese with Mexican, so I do applaud Naing for his pluck. The cooking does feel uniquely "LA" in how it tries to redefine a cuisine that's at the heart of the Angeleno palate; it might be interesting to see how this one evolves.