X'tiosu Kitchen (Los Angeles, CA)
Xtiosu Restaurant
923 Forest Ave, Los Angeles, CA 90033
323.526.8844
www.xtiosu.com / xtiosu-kitchen.business.site
Tue 05/05/2020, 05:55p-07:15p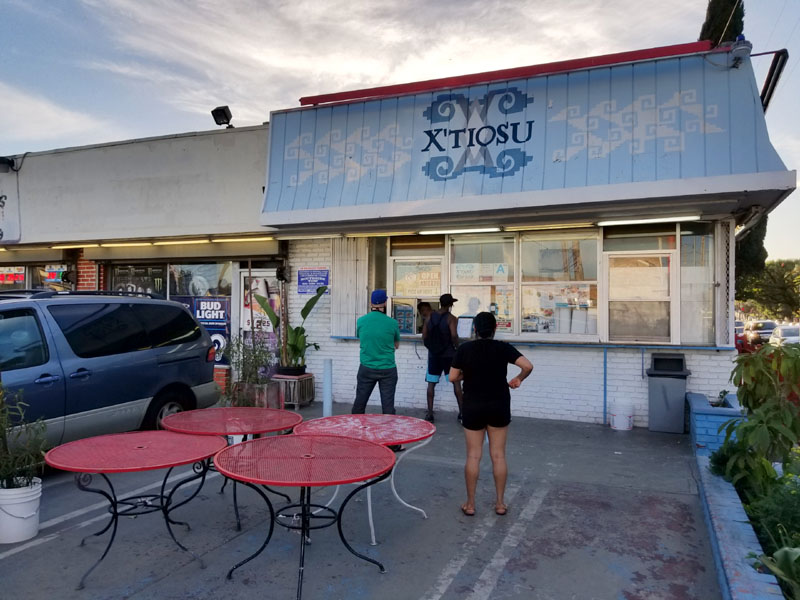 My search for coronavirus takeout brought me to X'tiosu Kitchen, an Arab-Mexican spot in Boyle Heights. The place was recommended to me by a friend, and its fusion of Lebanese and Oaxacan flavors immediately aroused my interest.
About the Chefs
: The story of X'tiosu begins in the village of San Felipe Guila, Tlacolula de Matamoros, Oaxaca with Felipe Santiago and his three-year younger brother Ignacio Santiago (who often goes by "Nacho"). The two grew up hunting and cooking out of necessity, and found it difficult to secure an education since they only spoke Zapotec (an indigenous language), and not Spanish. In order to hopefully secure a better future, Felipe came to the United States by himself when he was 14 (circa 2003). He was able to find employment as a dishwasher, and eventually was able to run the kitchen at The Auld Dubliner in Long Beach.
Ignacio ended up following in his brother's footsteps, moving to the US in 2009 and also becoming a cook. Life in the kitchen wasn't easy, especially since the two often worked multiple jobs, and had to learn Spanish, not to mention English. Nacho was able to land a position at Sunnin, a Lebanese spot in Santa Monica where he worked for eight years, and Felipe later joined him there. The younger brother pushed for them to open their own restaurant (he even considered selling food on the street), but Felipe was hesitant, as his plan was to save up money and return to Oaxaca.
However, he eventually relented, and the two, pushed by Ignacio, started catering. In due course, this led to the creation of X'tiosu ("thank you" in Zapotec), which was made possible with the support of Nacho's wife, Dr. Xochitl Flores-Marcial, an assistant professor at CSUN who studies Zapotec culture. The restaurant thus debuted on September 20, 2017, taking over the former home of Taqueria La Que Te Dije. The place stayed relatively under the radar until January 2019, when it was positively reviewed by Patricia Escárcega for the
LA Times
. That December, X'tiosu made an appearance on the newspaper's list of "
101 Best Restaurants
" (at spot #87), and just recently in March, it was featured on the second season of
Ugly Delicious
with
David Chang
.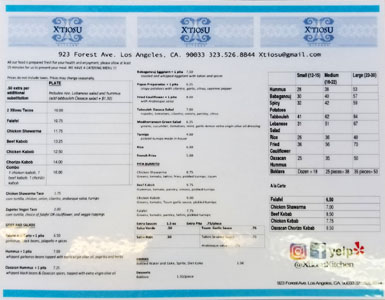 X'tiosu's "Oaxacan Arabesque" menu veers toward Mediterranean more so than Mexican I'd say. In fact, the tacos are clearly the most overtly Mexican items offered. Click for a larger version.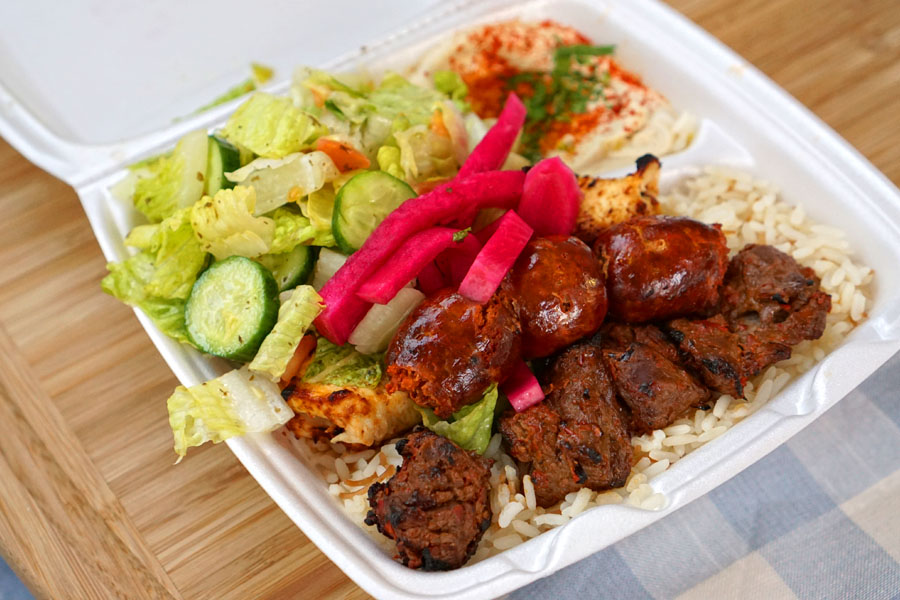 Combo Plate [$16.00]
| Includes rice, Lebanese salad and hummus
In order to get a taste of all three skewered meats, I opted for the combo plate to start. Up first was the chicken kabob, which I found well seasoned, though unfortunately a bit dry in spots, while the beef was more aggressively flavored, with a nice char element. The star of the show was that delightfully-spiced chorizo, which had a surprisingly depth to it, along with a pleasantly snappy casing to boot. As for the various accompaniments, the rice was absolutely spot on, while the hummus did a deft job showcasing the rustic nuttiness of chickpeas. Also appreciated was the Mediterranean salad and its zippy garlic-lemon-EVOO dressing and hint of mint.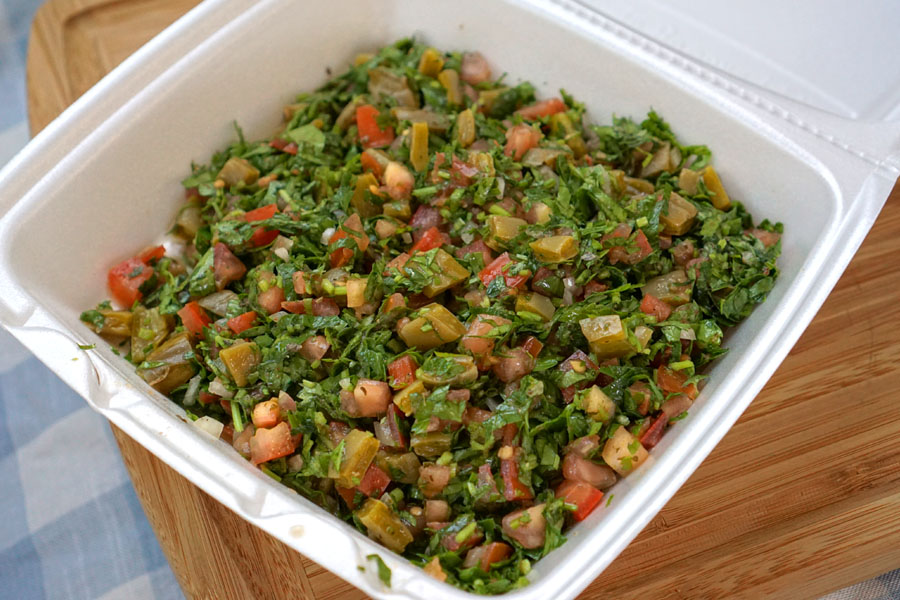 Tabouleh Oaxaca Salad [$7.00]
| nopales, tomatoes, cilantro, onions, parsley, citrus
The first of three mezze I tried was the tabbouleh, which was somewhat more substantial than usual thanks to the incorporation of nopal in place of bulgur. I quite liked the interaction between said cactus and the juiciness of the tomatoes, while the parsley imparted a grassiness that absolutely pervaded the entire dish.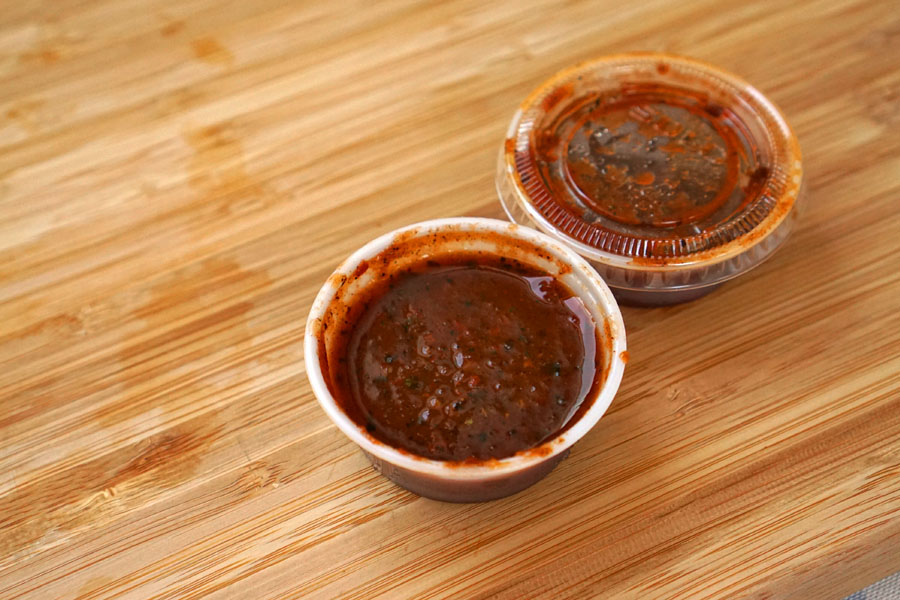 Included in the order was a salsa roja that really packed a punch with its potent, multifaceted heat.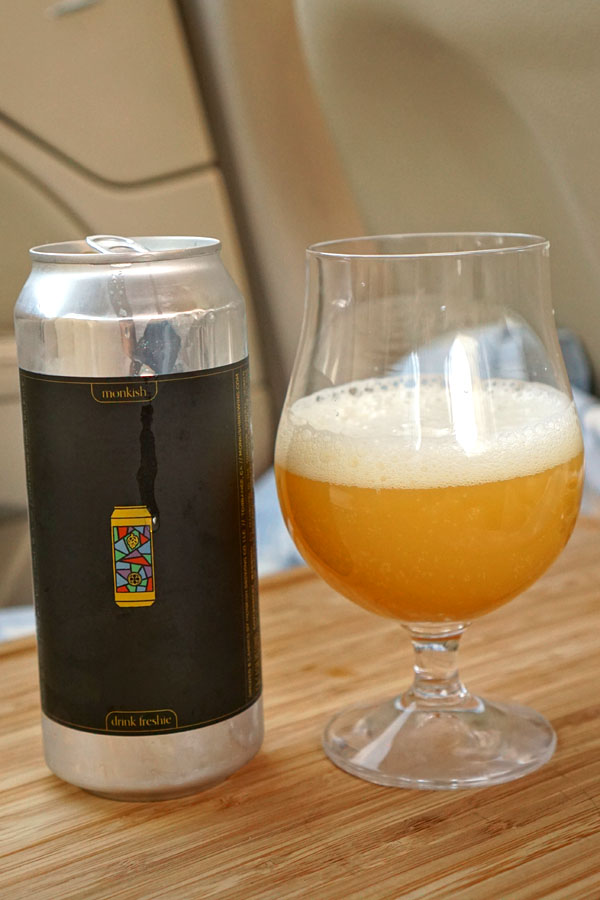 To drink, I first opened up a can of the
2020 Monkish Supreme Good
, a double dry-hopped double IPA with eight malts and eight hops (Citra, Galaxy, Mosaic, Nelson Sauvin, Motueka, Riwaka, Cashmere, Bru-1), created for the 8th anniversary of the brewery. Nose here was primarily juicy citrus, along with spicy hops and light tropical fruit, but interestingly, I got a bit of an Orange Julius-like quality in there. On the palate, the beer was soft and almost "fluffy," with flavors of the aforementioned citrus commixed with fruitier notes, subtle grain, and earthy hops.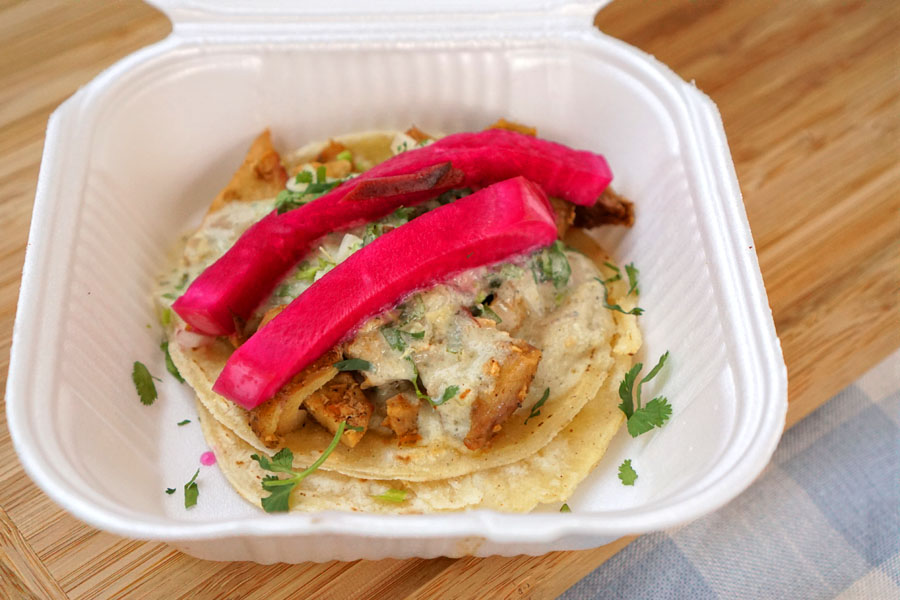 Chicken Shawarma Taco [$1.75]
| corn tortilla, chicken, onion, cilantro, arabesque salsa, turnips
This taco-fied version of chicken shawarma was certainly a highlight. The spit-roasted bird arrived perfectly spiced, and was delicious just by itself, but I also appreciated the creamy, herby nature of the "arabesque salsa" that helped complete the package. Meanwhile, classic accoutrements of onion and cilantro made themselves known just enough against the piquancy of pickled turnips.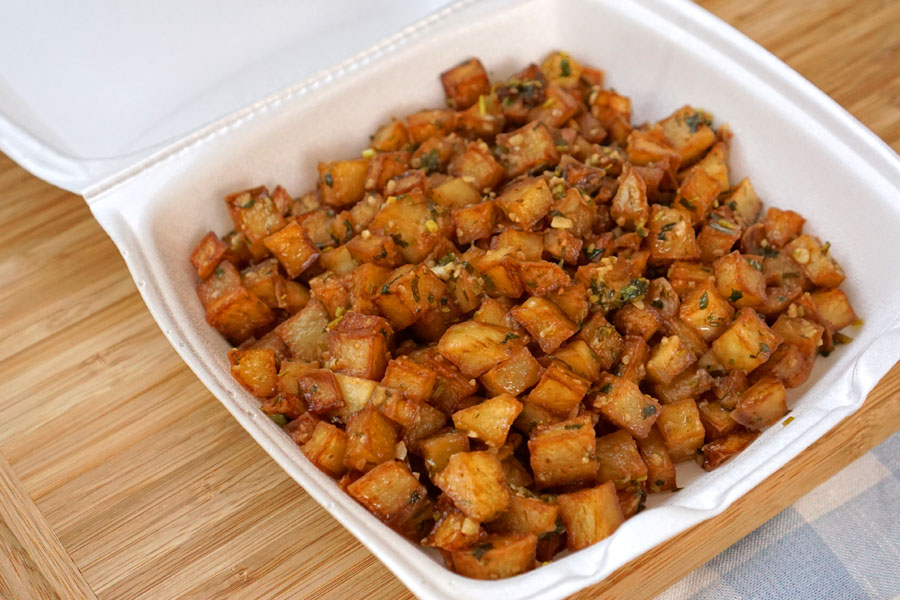 Papas Preparadas + 1 pita [$6.25]
| crispy potatoes with cilantro, garlic, citrus, cayenne pepper
Next came the brothers' take on
batata harra
, an easy-to-enjoy dish featuring a restrained heat level along with a very agreeable sourness that sort of stays with you.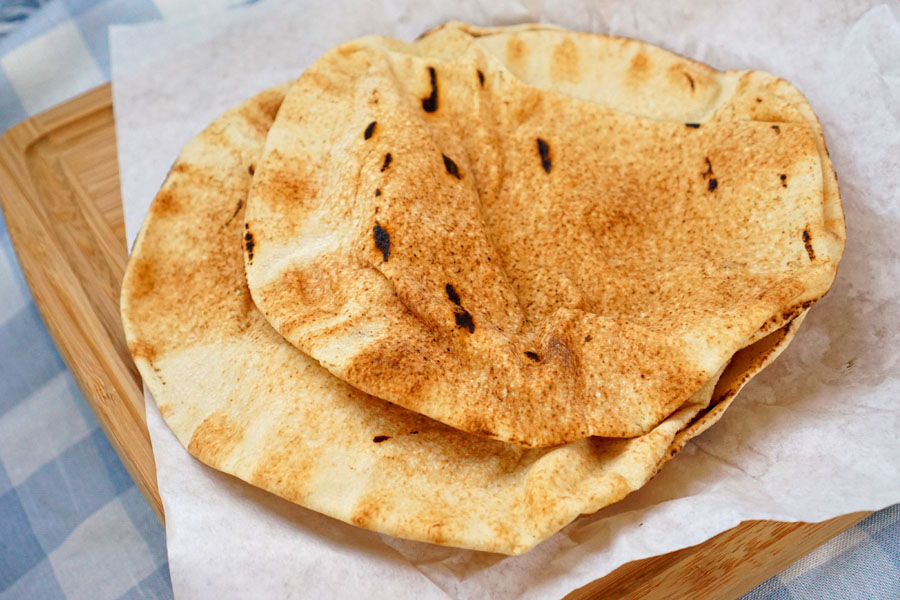 The pitas were pretty textbook, and not surprisingly, functioned well enough as an accompaniment to many of the dishes here.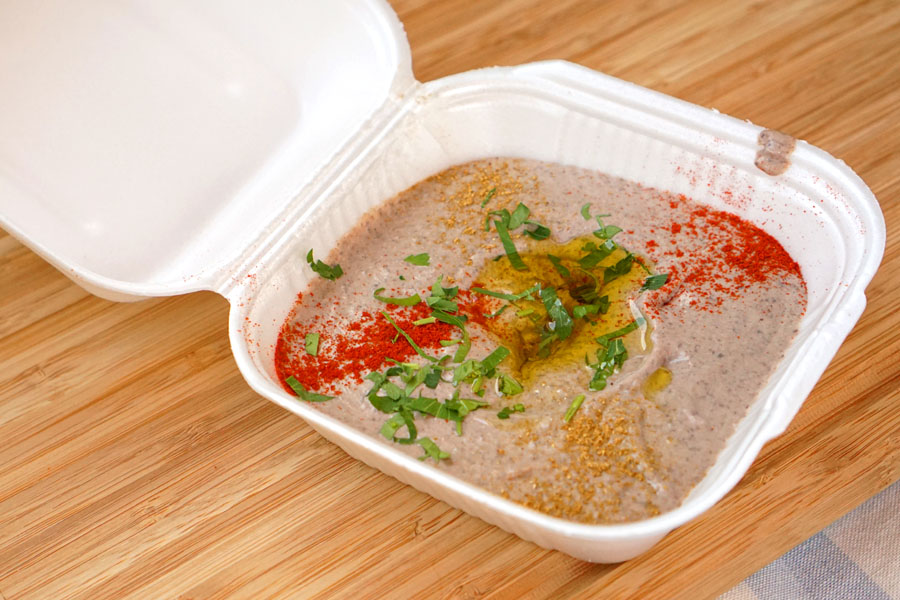 Oaxacan Hummus + 1 pita [$7.25]
| whipped black beans & Oaxacan spices, topped with extra virgin olive oil
This riff on traditional hummus incorporated black beans, resulting in a somewhat darker toned dish with more heat and umami than usual.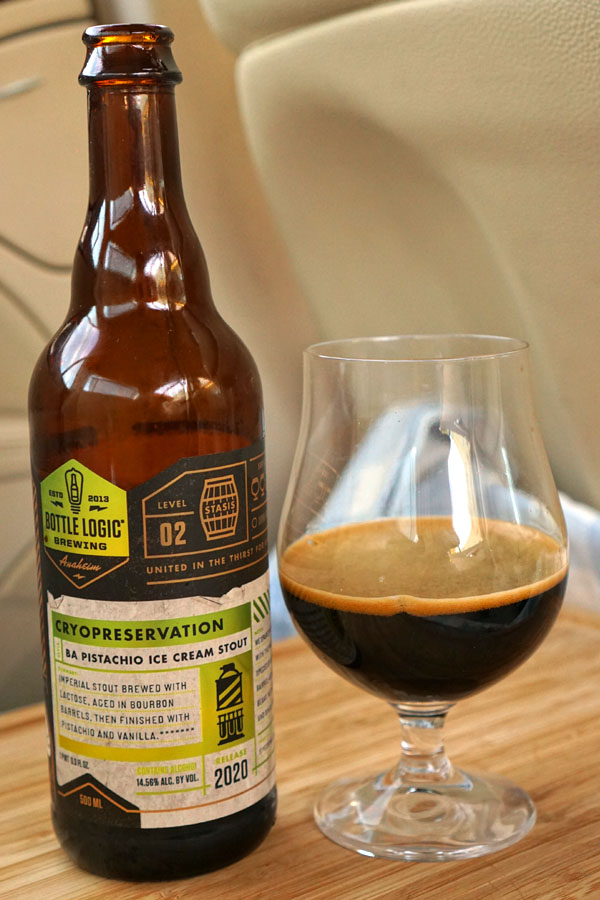 This evening's second beverage was the
2020 Bottle Logic Cryopreservation
, an imperial stout brewed with lactose, aged in bourbon barrels, and finished with fresh pistachio and Madagascar vanilla, created in collaboration with Aslin Beer Company. This one smelled decidedly sugary and nutty, giving up an almost amaretto-like sensation that I rather liked. Tasting it, I found more of that amaretto, which was quickly joined by large amounts of chocolate and light vanilla, while the finish displayed cherry-like nuances and a smidge of bitterness.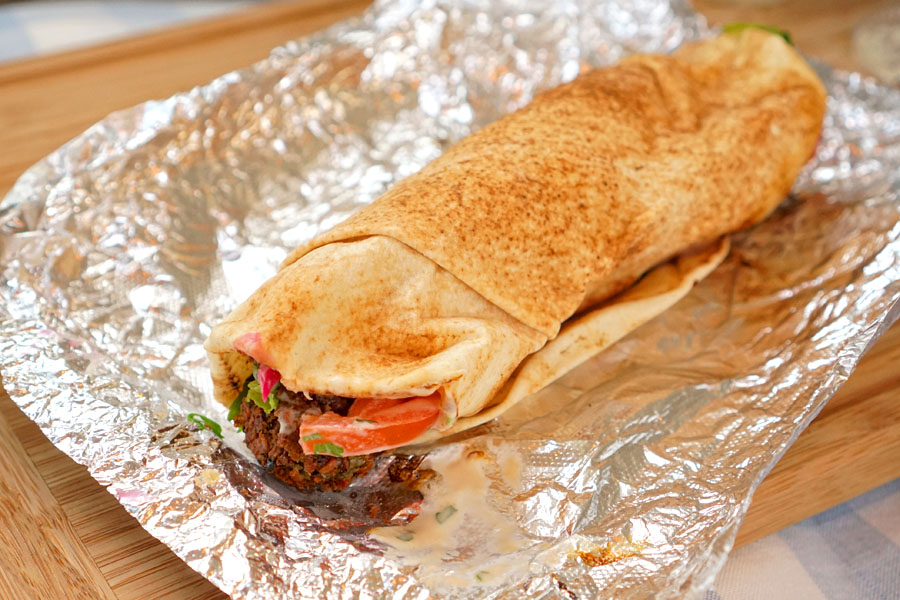 Falafel Pita Burrito [$7.75]
| Greens, tomato, parsley, tahini, pickled turnips
X'tiosu's falafel was on point, and had a seemingly greater depth to it thanks to the incorporation of black bean. The crisp, gritty patties were enjoyable alone, but worked swimmingly in "burrito" format. The veggies formed a natural complement to the falafel, while the tahini helped integrate all the flavors. Very well put together, and very gratifying.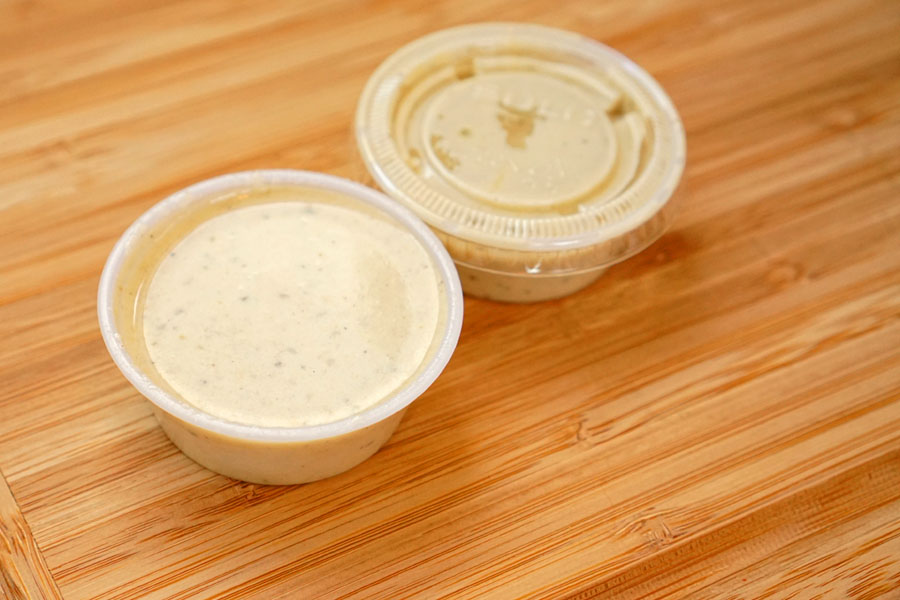 The previously mentioned Arabesque salsa is actually a blend of tahini and salsa verde, making for a nutty, pleasantly tangy condiment.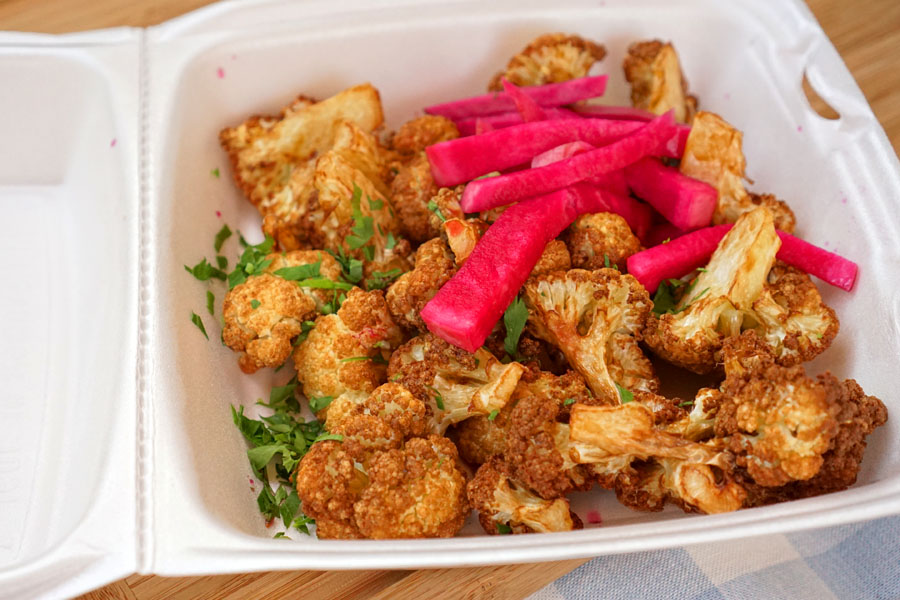 Fried Cauliflower + 1 pita [$8.00]
| with Arabesque salsa
Cauliflower was well spiced, and while tasty alone, just made sense with a dip into the salsa above, though the pink pickles were also a contender. I just wish that the florets were a tad crunchier.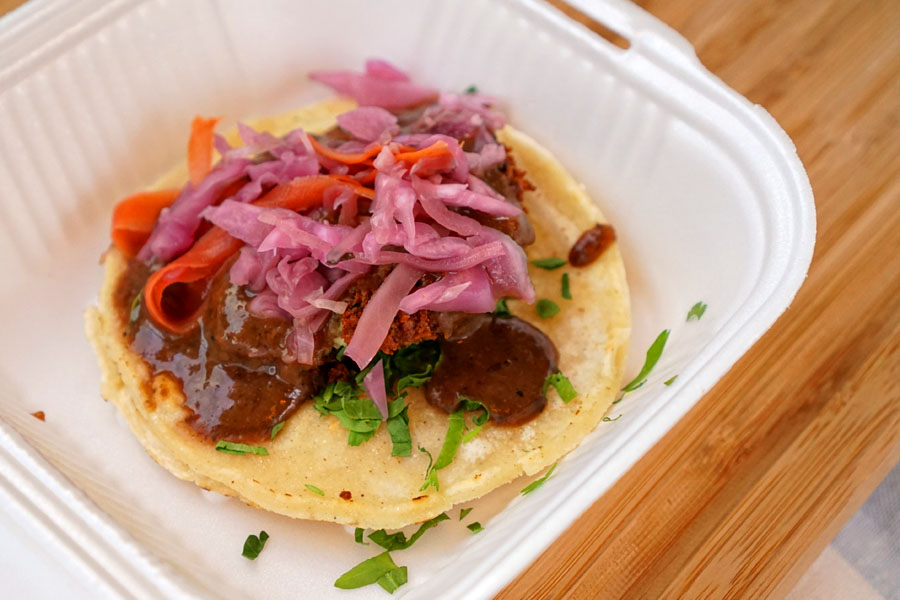 Zapotec Vegan Taco [$2.00]
| corn tortilla, choice of falafel OR cauliflower, and veggie toppings
Falafel was once again the star of the vegan taco, but here, it was shown off in a very different manner compared to the wrap above. There was a very palpable earthiness present, which was offset by the pickles and the surprisingly substantial tortillas. A good choice if you're vegan, and even if you're not.
The Santiagos appear to have a winner on their hands. I'd say that the cooking here skews more toward the Lebanese side of things, but the way in which the brothers were able to weave in their Oaxacan roots was pretty seamless. It makes for some food that's familiar at its core, but twisted just enough to keep things intriguing. If I were a Boyle Heights resident, I think this place would make it on my rotation of everyday take-out spots.