Interstellar (Santa Monica, CA)
Interstellar Cafe
109 Broadway, Santa Monica, CA 90401
310.310.8820
www.interstellarla.com
Fri 05/29/2020, 08:50p-09:50p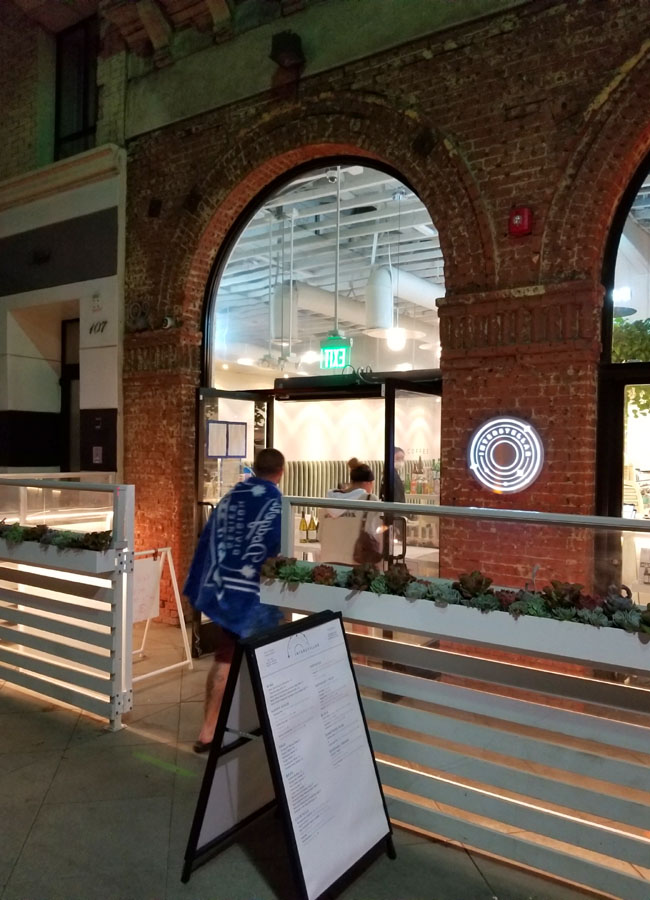 Interstellar is a new café-ish spot that had been on my radar for a few months. The place offers up a diverse menu that draws from a variety of culinary traditions, and is normally a daytime-only affair. However, due to the coronavirus and the subsequent move to delivery and takeout, the restaurant has since expanded to dinner service, at least on weekends.
Interstellar is the work of the wife-and-husband team of Chef Angie Kim and Hyun-jea "Daniel" Kim, who's in charge of the front-of-the-house. The former hails from Seattle, while the latter's from Busan, but moved to the San Diego area during his high school years. The two met while taking classes at Santa Monica College, though Angie eventually went off to UCI, and Daniel to UCLA. They ended up getting married in 2016. Angie boasts cooking experience in Italy, and was sous chef at Croft Alley in Beverly Grove. Meanwhile, Daniel has had significant exposure to the coffee scene, having worked at Coffee Code and The Assembly, as well as for home appliances producer Breville.
Following their union, the couple soon decided that they wanted to start a business together, and in late 2018, signed the lease for Interstellar, to be located in the former home of Air Food, SeaSide Grill, and Alexandria Cafe. Their goal was to debut in the middle of 2019, but due to ever-present construction delays, the build out ended up taking 16 months. This meant their grand-opening was pushed out to March 21st this year. Everything was ready to go, but then the Governor's shutdown order came, and the Kims had to let go of staff and retool. With a modified plan of action in place, Interstellar thus opened on April 7th.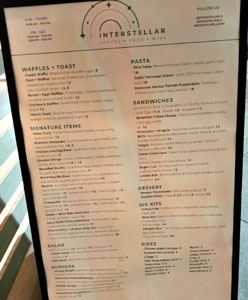 Above we see Interstellar's menu, which is fairly expansive. The fare is straightforward at its core, but is informed by a number of global influences, though oddly there's not much that's Korean on there. Click for a larger version.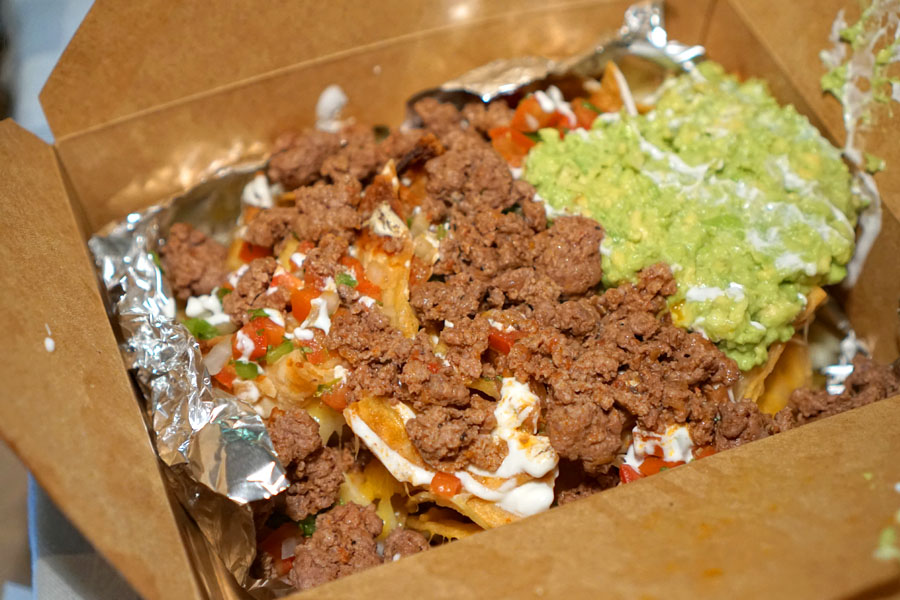 Nachos + ground beef [$10.00 + $5.00]
| Avo mash, sour cream, pico de gallo, tomatillo sauce, fontina, cheddar
I've actually been eating a lot of nachos during this lockdown, and thus couldn't resist trying it here. What stood out most to me was the beef, which had a sweetness to it that somewhat recalled bulgogi (this of course would make sense given the owners' background). The cheese, meanwhile, was omnipresent, yet almost elegant, and I much appreciated the lusciousness provided by the guac. Overall, a pretty good balance between trashy and classy.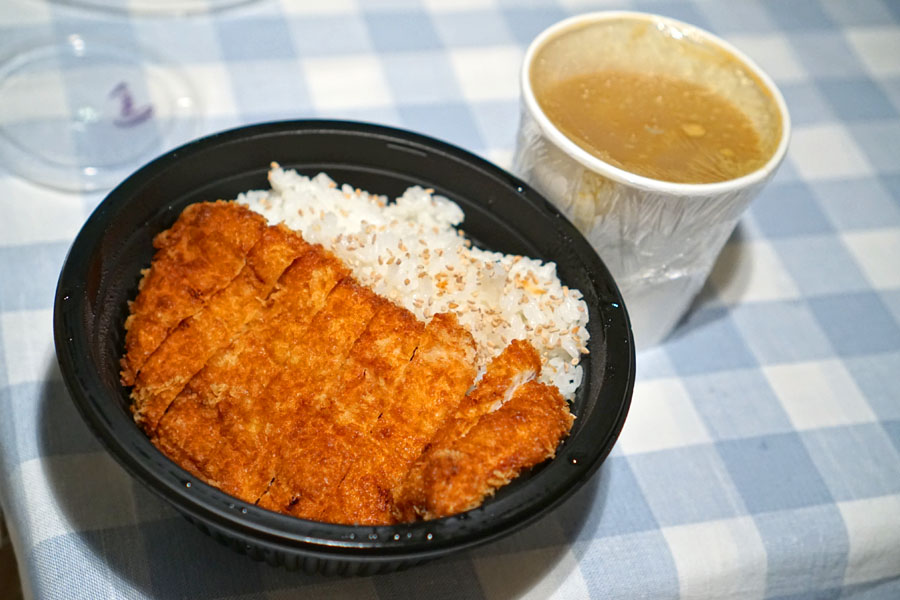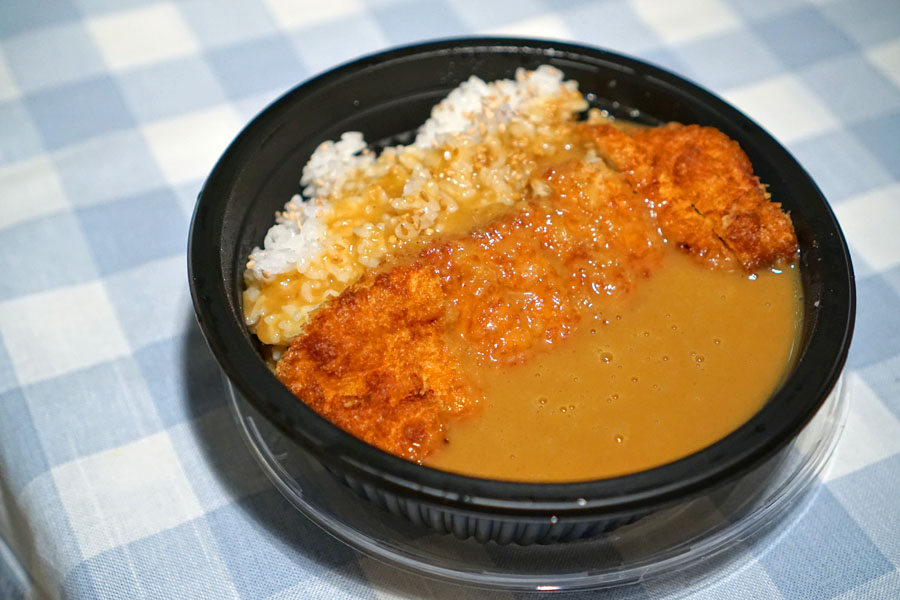 Katsu Curry [$12.00]
| Panko-fried chicken breast, house curry, steamed rice
Interstellar's take on
katsukare
featured perhaps the lightest curry sauce I'd ever encountered. Despite its delicacy, it offered potent curry flavors that satisfied in classic fashion, and matched effortlessly with that juicy, expertly fried chicken cutlet. At the same time, the soft, subtly sticky rice functioned just as you'd expect.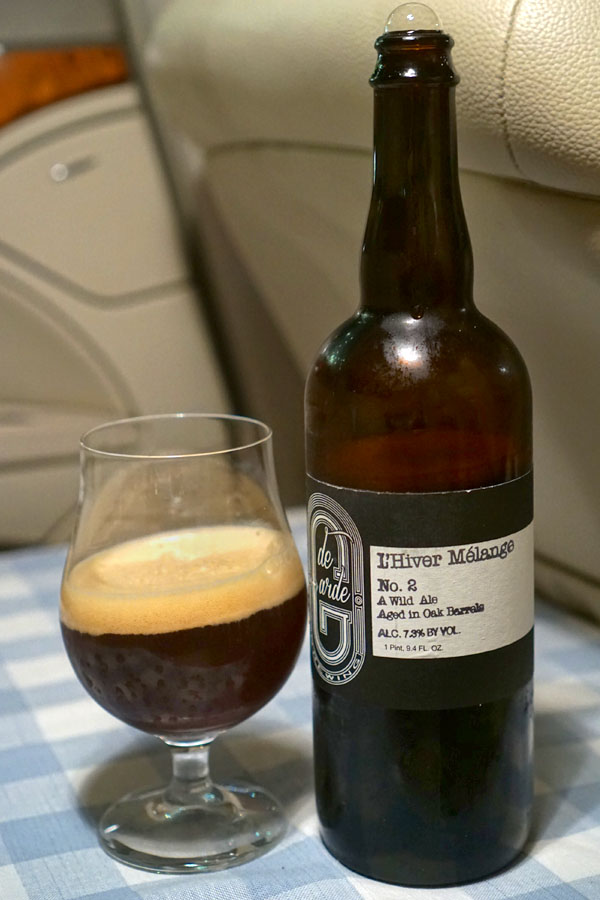 Beverage duties were taken care of by the
2015 de Garde L'Hiver Melange No. 2
, a blended wild ale aged in both rum and oak barrels. The beer smelled of acidic stewed berry mixed with chocolate. In terms of taste, I got cocoa powder up front, joined by more sour fruit and a touch of oak, while the finish seemed to actually mute some of the tartness and astringency present. This actually reminded me a bit of a Flanders red.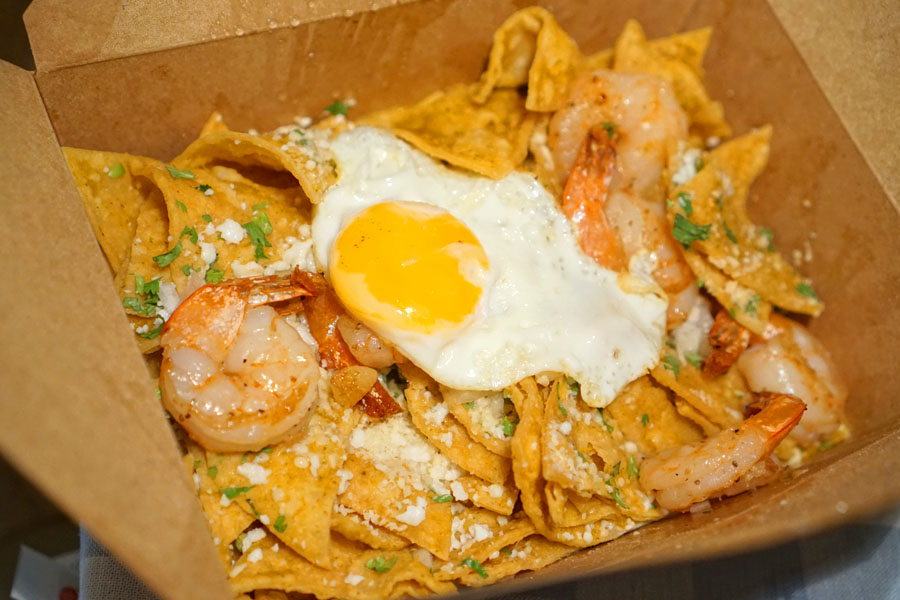 Chilaquiles + shrimp [$10.00 + $5.00]
| Red sauce, onions, cilantro, fried egg
The restaurant's version of chilaquiles was less saucy than I'm accustomed to, though still very satisfying. The chips were properly soft, and I quite enjoyed the lushness from the egg, but my favorite element here was actually the onion, which offered up a zestiness that really lifted the dish. As for the shrimp, they were well-textured and added a nice bit of contrast to the dish, though I do wish that they could've had a harder char on 'em.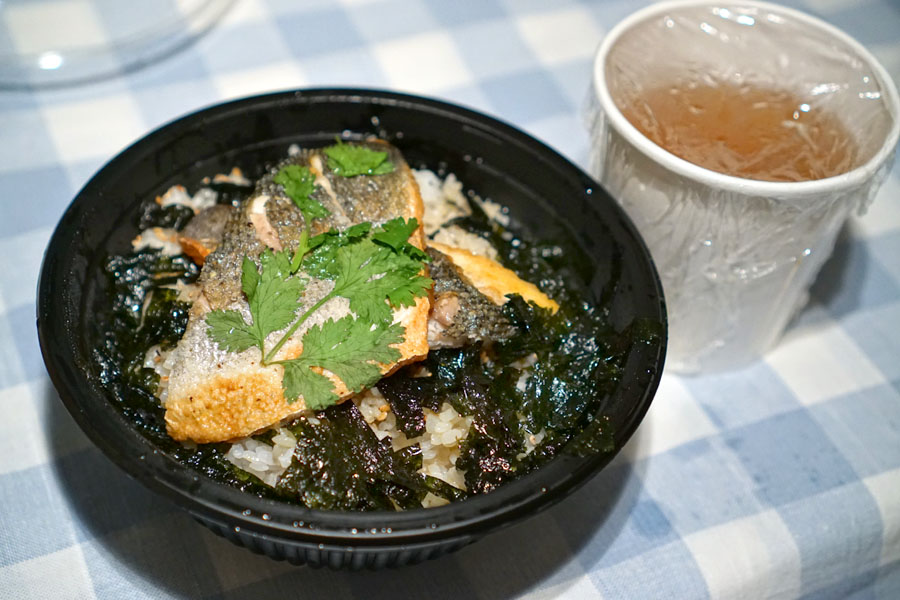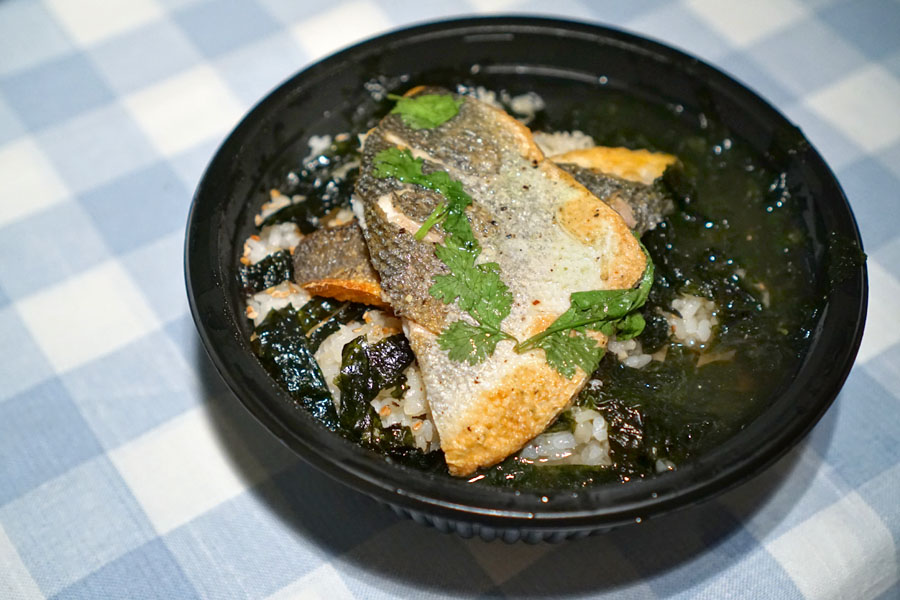 Branzino Ochazuke [$16.50]
| Seared branzino, dashi broth, soy sauce, sesame, rice
Branzino arrived gratifyingly flavored, with a delightfully salty skin and a great hit of zippiness from the cilantro. The fish paired like clockwork with the brothy rice, which seamlessly incorporated both the umami notes from the nori and the nuttiness of the sesame seeds. Quite lovely overall, and do I detect truffle in there?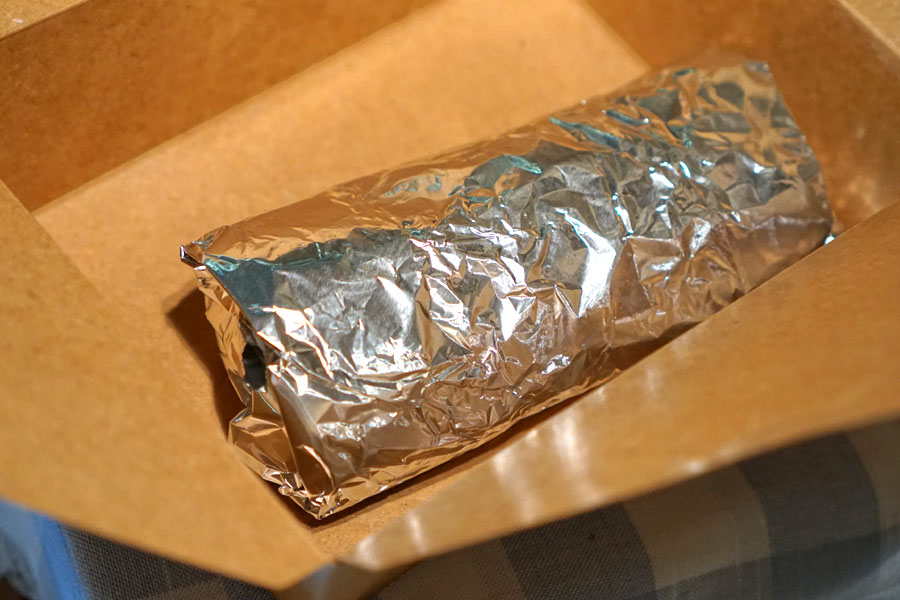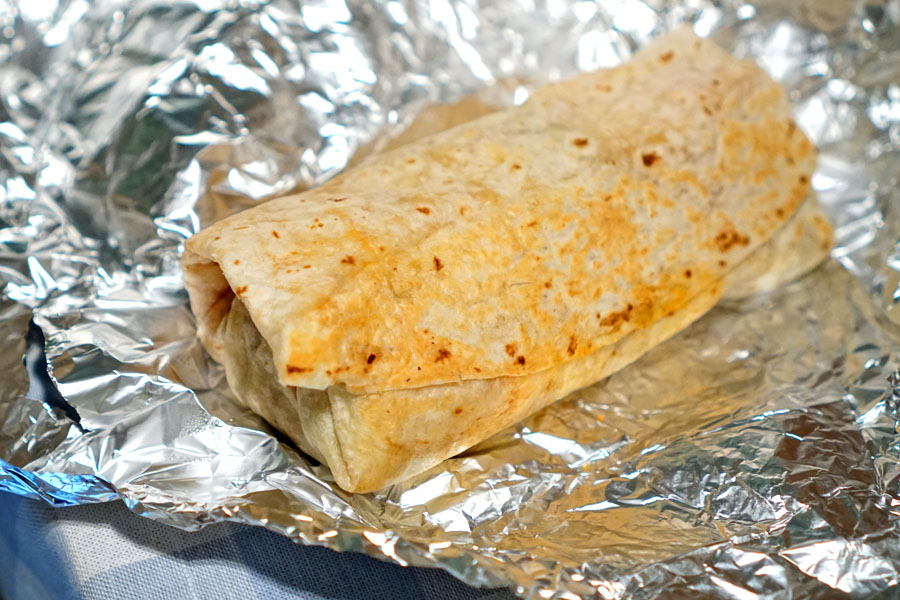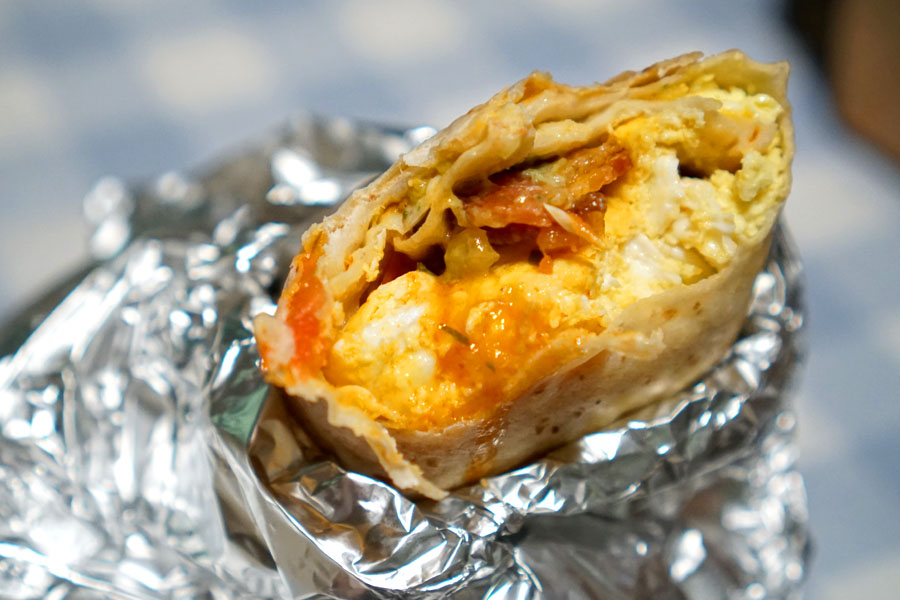 Breakfast Burrito [$11.00]
| Scrambled eggs, bacon, cheddar, pico de gallo, avo mash, guacamolito
This breakfast-y burrito was surprisingly fine-spun. The highlight here was the back-and-forth between that salty, thick-cut bacon and the juicy, sweet-tart salsa, with its slow-building heat. The fluffy eggs, meanwhile, did a great job moderating the interaction.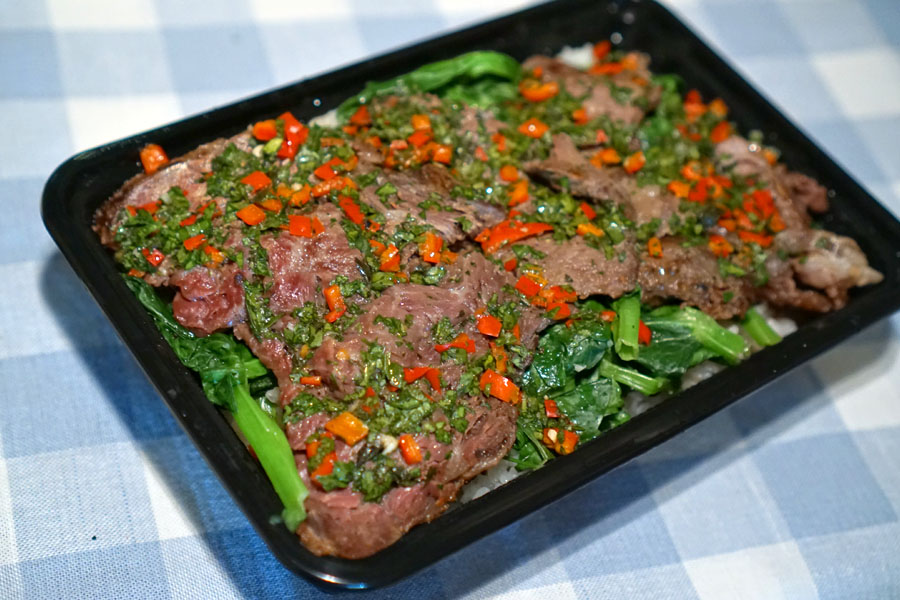 8oz Prime Rib Bowl [$25.00]
| Truffle Ponzu, rice, sauteed snow pea tendrils, sesame, garlic, fried shallots
My last savory reminded me a bit of beef 'n' broccoli, but in the best way possible. I was a fan of the interplay between the meat and the bright, bitter flavors from the pea sprouts, while the rice really set the stage. At the same time, there was this
mala
-esque tingling sensation going on that was a pleasant surprise.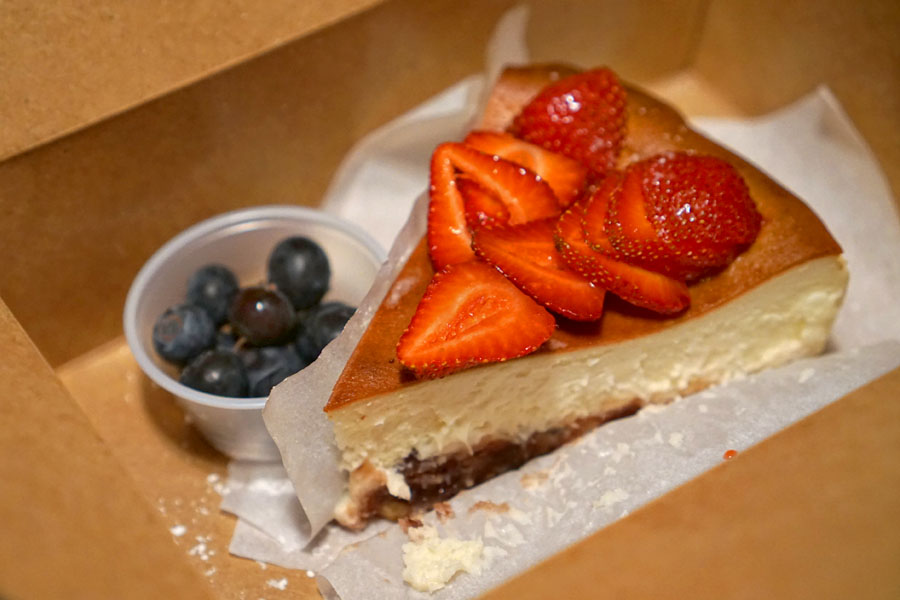 Basque Cheesecake [$7.00]
| Sweet redbean, strawberries, blueberries, powder sugar
As I mentioned before, Basque cheesecake is apparently a "thing" now, and I already had it three times during this lockdown: first at
Republique
, then
Dialogue
, then
Playground
. The example tonight, however, was quite different. I found it relatively light in terms of consistency, with less of a lactic character and less smoke. What made this special was the addition of red bean, which imparted a wonderfully sweet, earthy quality that made the cheesecake taste really familiar and comforting. Yum.
I was pleasantly surprised by this place. I appreciated the diversity going on, but even more than that, there was a casual elegance and grace to the cooking that resonated with me. After COVID-19 passes, I imagine the plan is to go back to being a daytime café, though I'm hoping that the Kims will keep dinner service, or perhaps even expand to a dedicated dinner spot somewhere down the line.