Hanu K-BBQ (Los Angeles, CA)
Hanu Korean BBQ
2999 W 6th St, Los Angeles, CA 90020
213.738.7370 / 213.565.1420
www.hanukbbq.com
Thu 09/21/2023, 08:20p-10:25p

A group of us were recently looking for a place to open up a trio of red wines from the generally strong 1978 vintage. This called for something meaty of course, and after looking at numerous options, we settled on Hanu (한우), a new-ish KBBQ spot in Koreatown that opened back at the start of 2022. The restaurant is actually located on the ground floor of the building that houses the longstanding Grand Spa, and in fact, the two businesses share a common owner: Grace Bae. Day-to-day management of Hanu is handled by her daughter Viviana Bae, and the family also operates Shrine
noraebang
, which is located in the basement.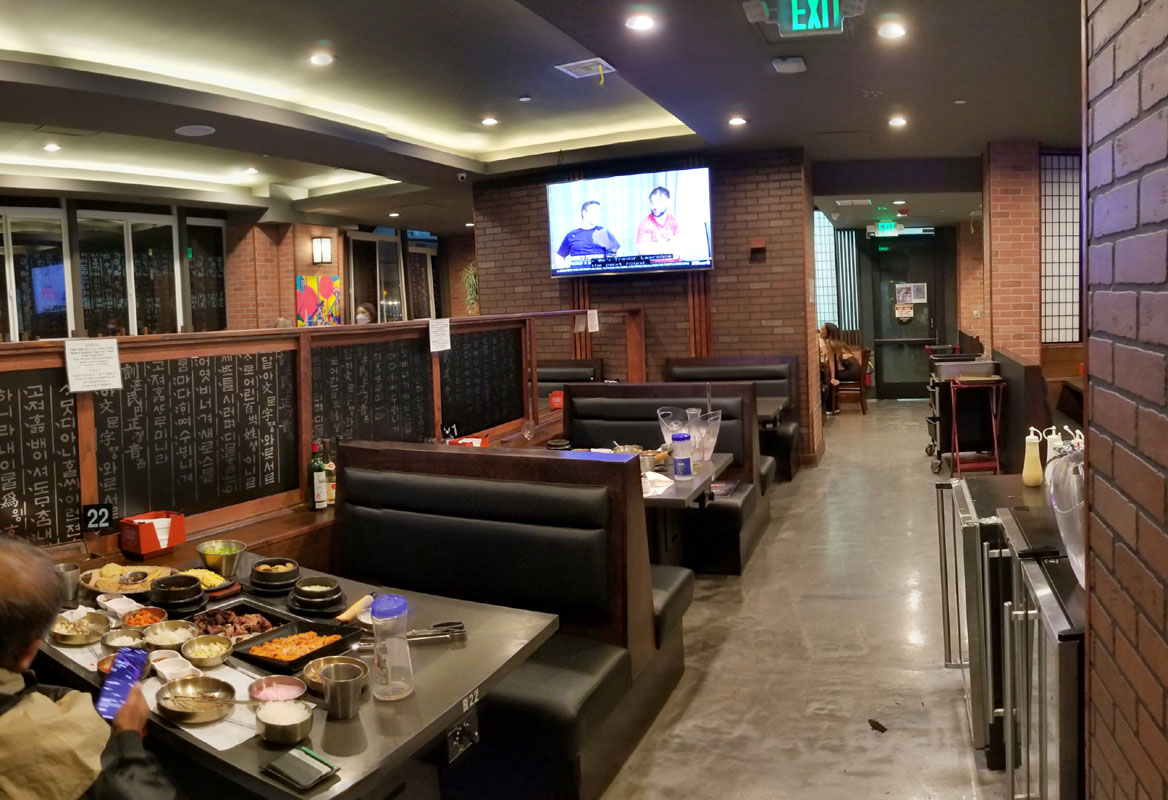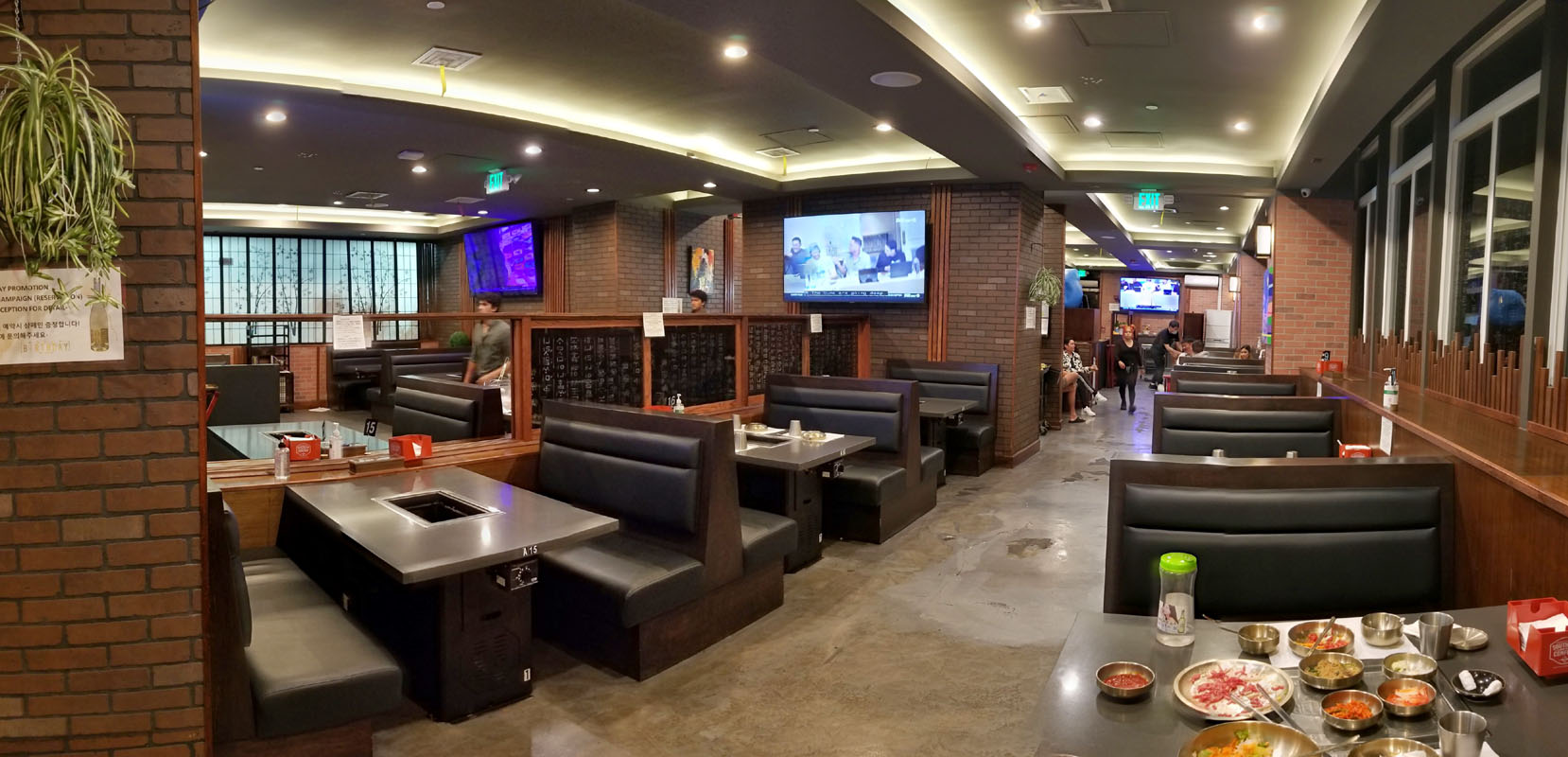 Hanu actually takes over a space that previously held Cheong Jin Ok (청진옥), and before that, Pharos Bar & Cafe. The decor is nice enough, and about what you'd expect for a higher-end
gogijib
.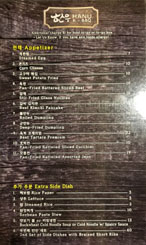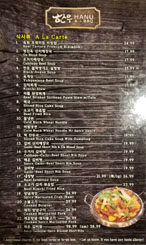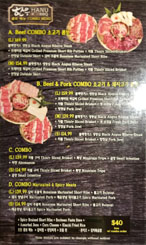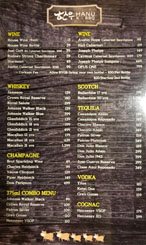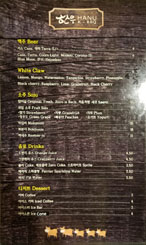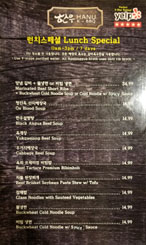 As for the menu, it's centered on an array of meats, available à la carte or in combos, joined by a selection of prototypical Korean dishes. Drink-wise, there's a small wine list, beers, spirits by the bottle, and sundry other beverages. Corkage was $30 a pop. Click for larger versions.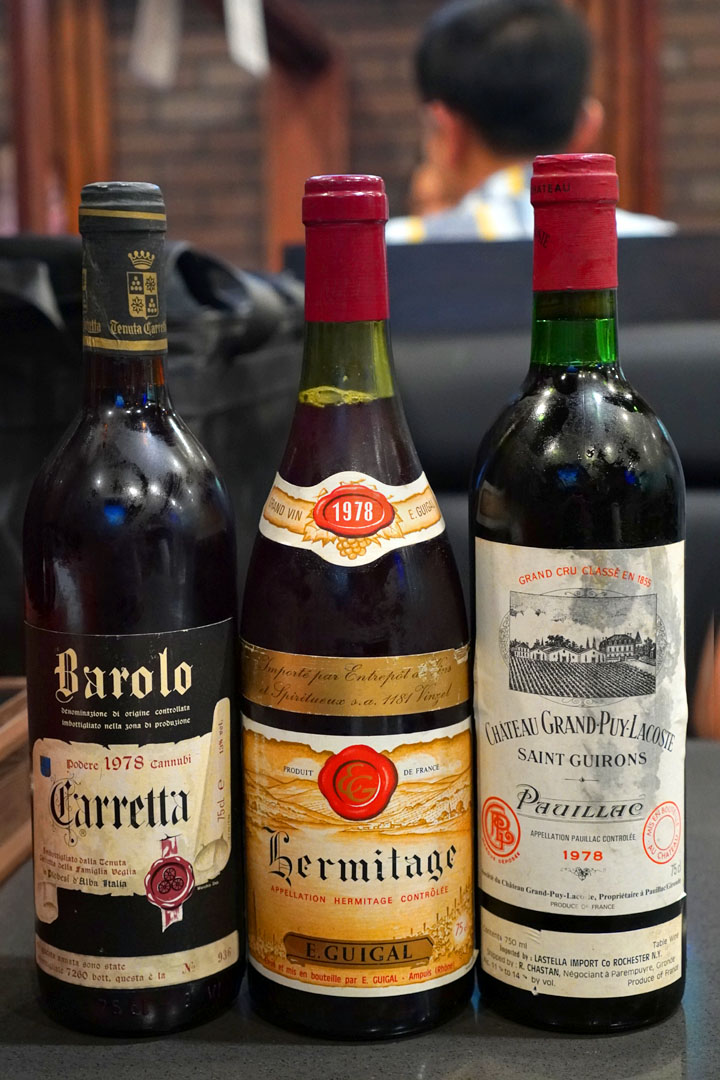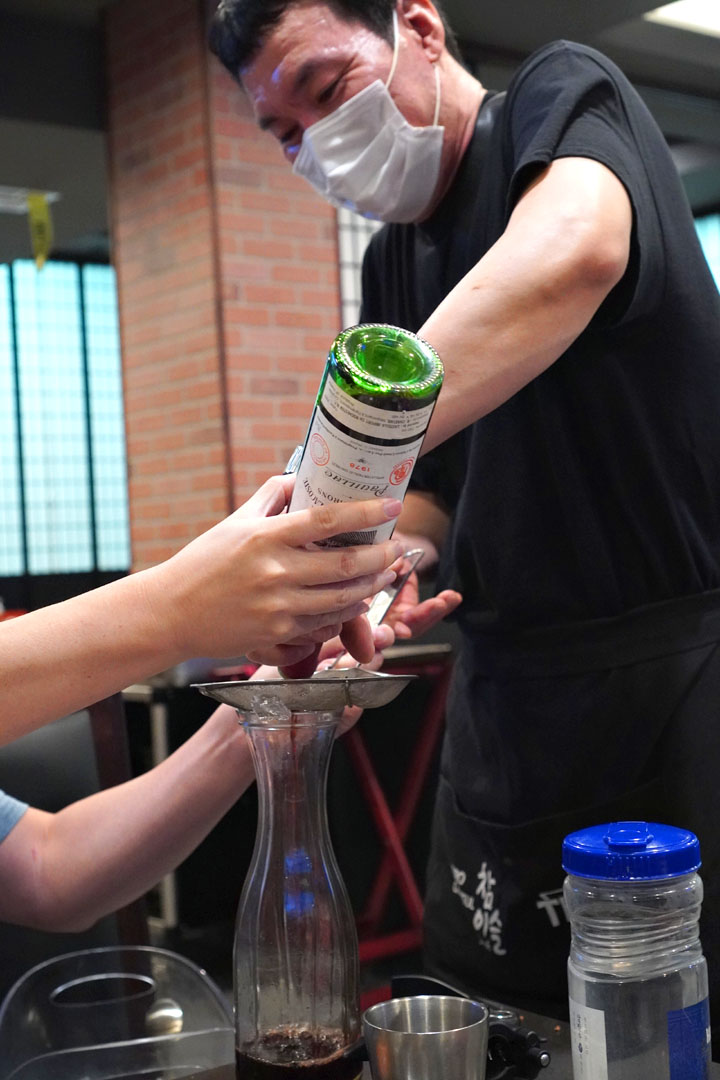 Speaking of corkage, I will warn you that the restaurant is not equipped to handle older bottles of wine, as the staff managed to break all three of our corks tonight. We wound up having to commandeer a sieve from the kitchen, which we then used to strain out all the bits of cork debris.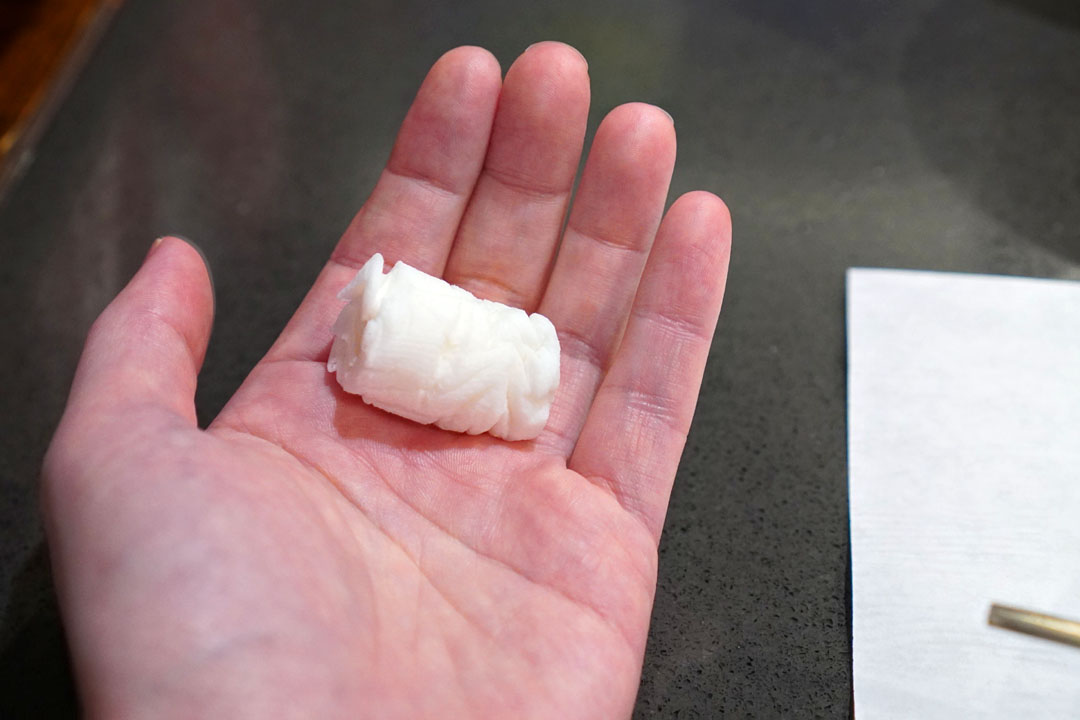 A moist napkin was provided at the start of the meal, which was a nice touch.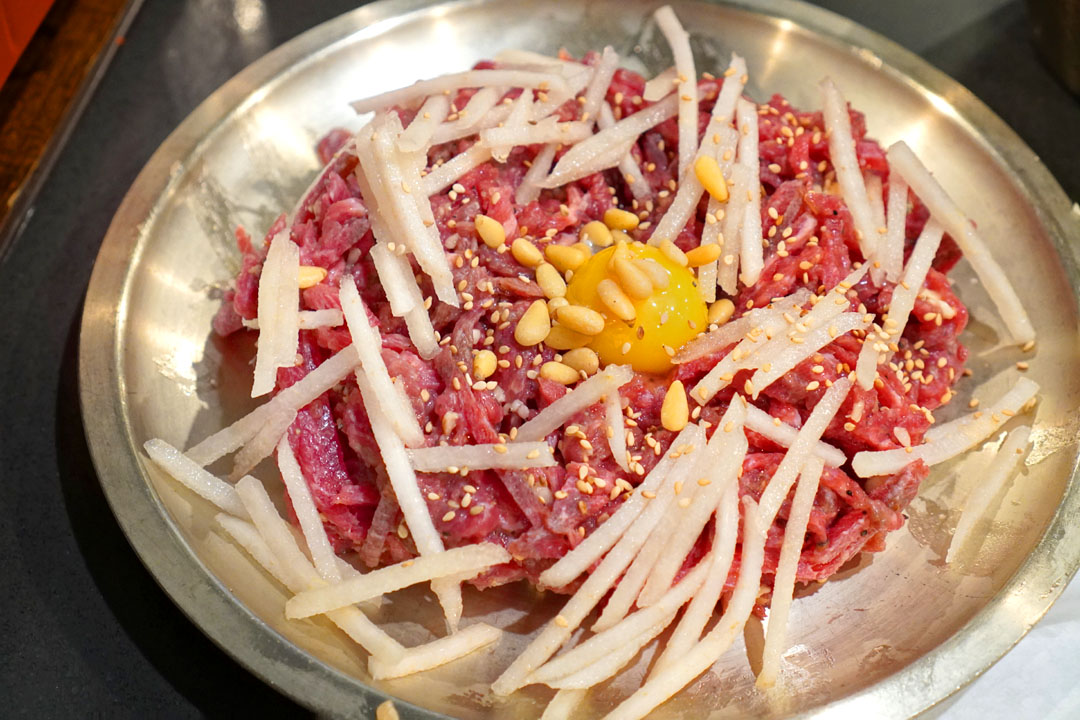 육회 프레미엄 Beef Tartare Premium [$32.00]
Up first was the
yukhoe
, which had all of those nutty, garlicky flavors I was looking for. My gripe was that the beef was still quite frozen when served, meaning that I was chewing on ice crystals until the meat could thaw.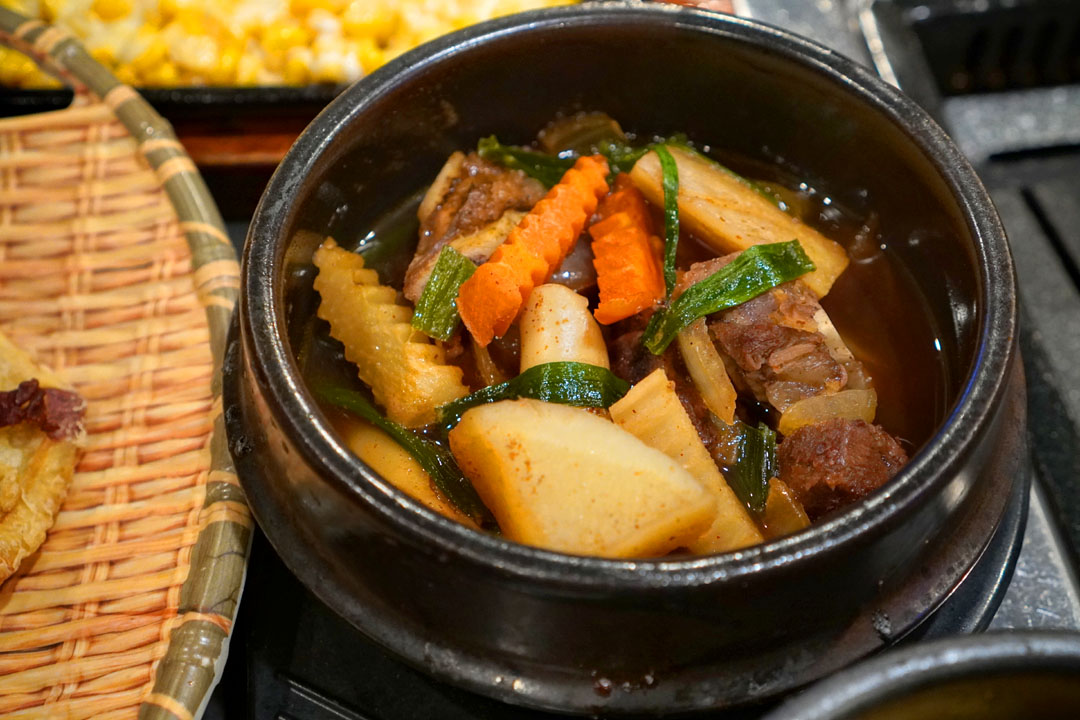 갈비찜 Spicy Braised Short Ribs
A small serving of
galbijjim
featured slick, tender, sweet-n-savory cuts of beef, supported by a cast of root veggies and rice cakes. In addition, the dish possessed noticeably more heat than usual, which I appreciated.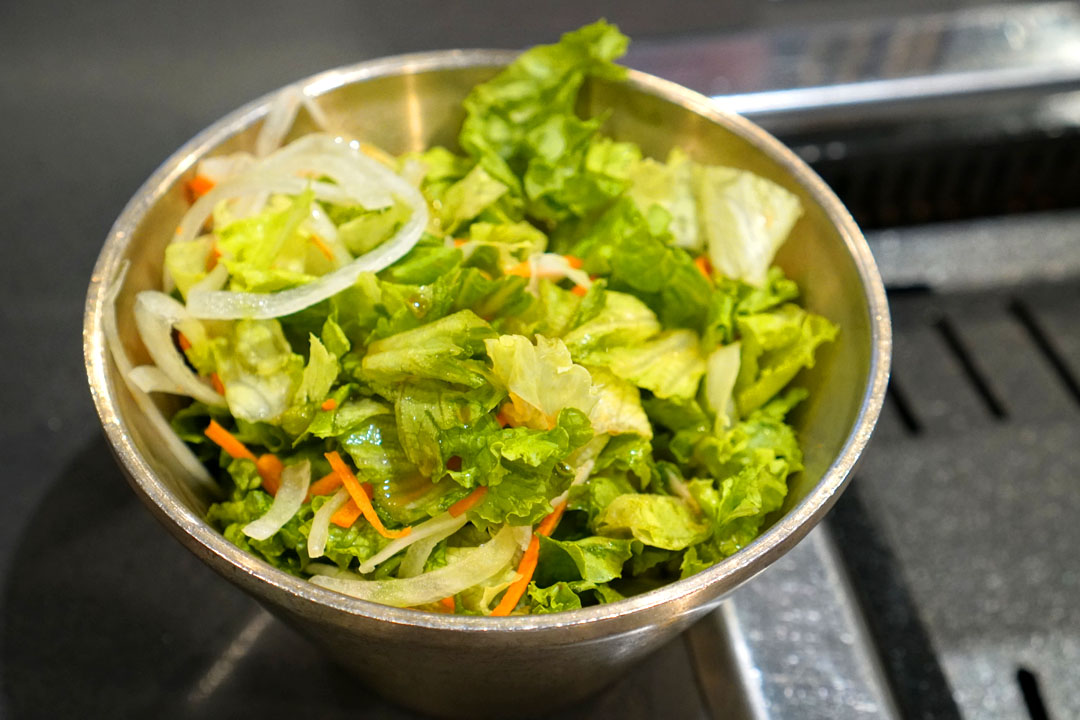 A lettuce salad ate bright and crisp, and had a surprisingly potent mustard-y tang.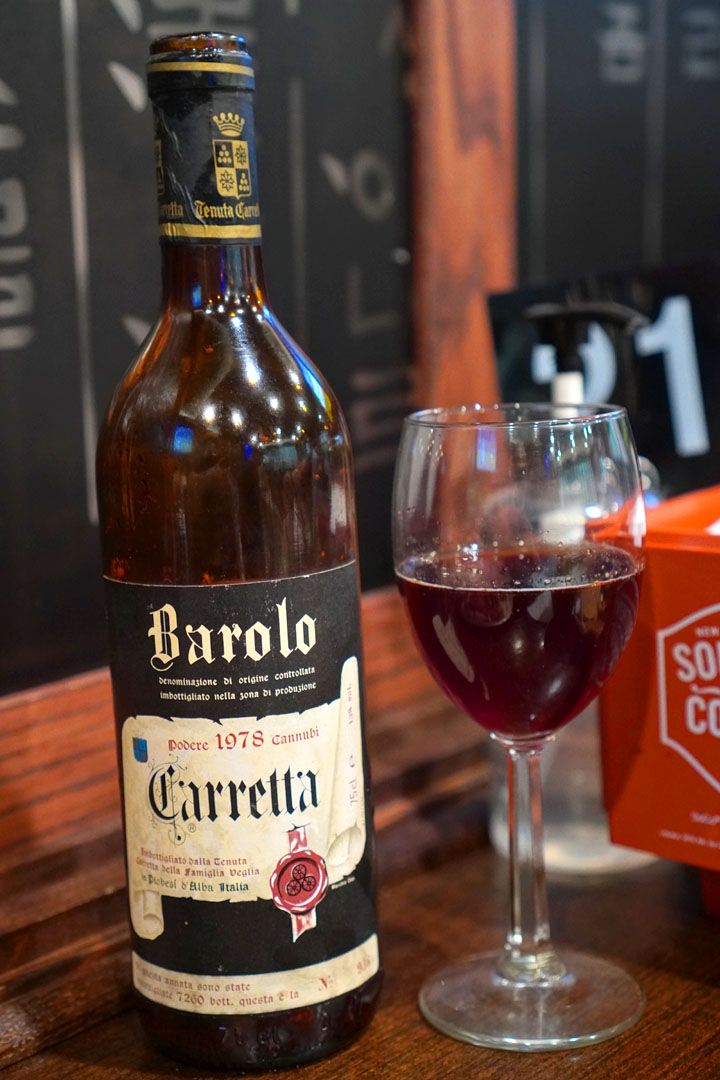 Tonight's first bottle was the
1978 Tenuta Carretta Barolo Cannubi
. This one smelled of candied, sometimes tropical fruits intertwined with barnyard and traces of mint--quite nice. Taking a sip, I found the wine smooth and silky, yet prickly somehow, with its dark-toned fruit joined by an almost bracing presentation of that mint. With more time, the Nebbiolo got noticeably jammier on the nose, while the palate became super herbaceous and nearly amaro-like. This one had aged quite well I have to say.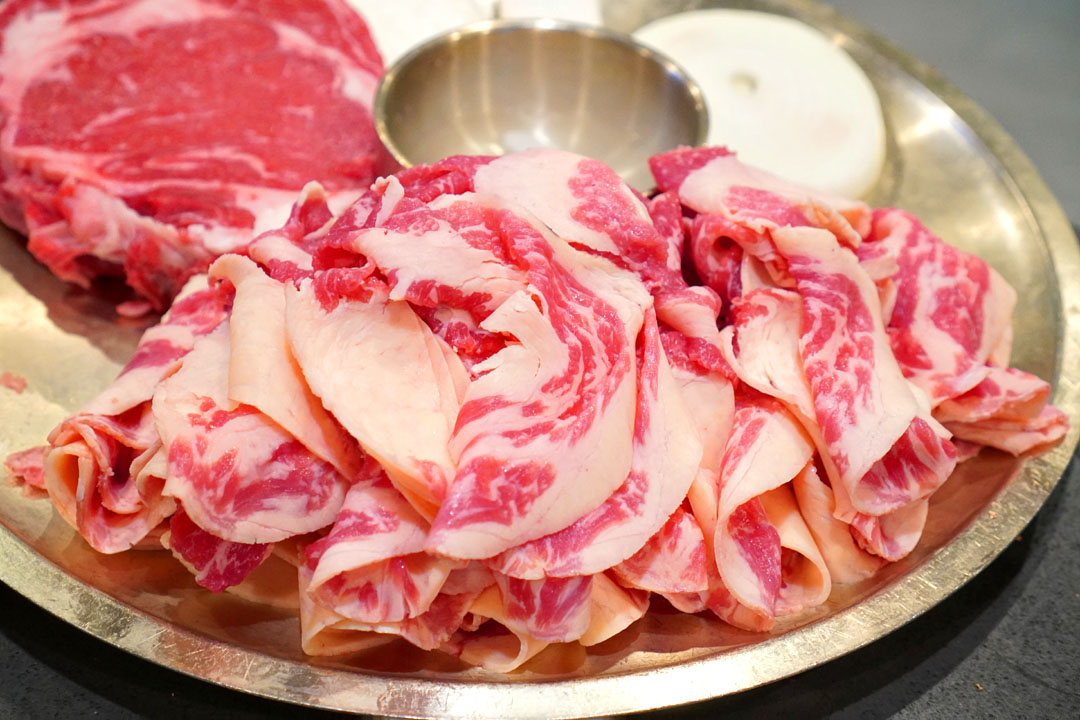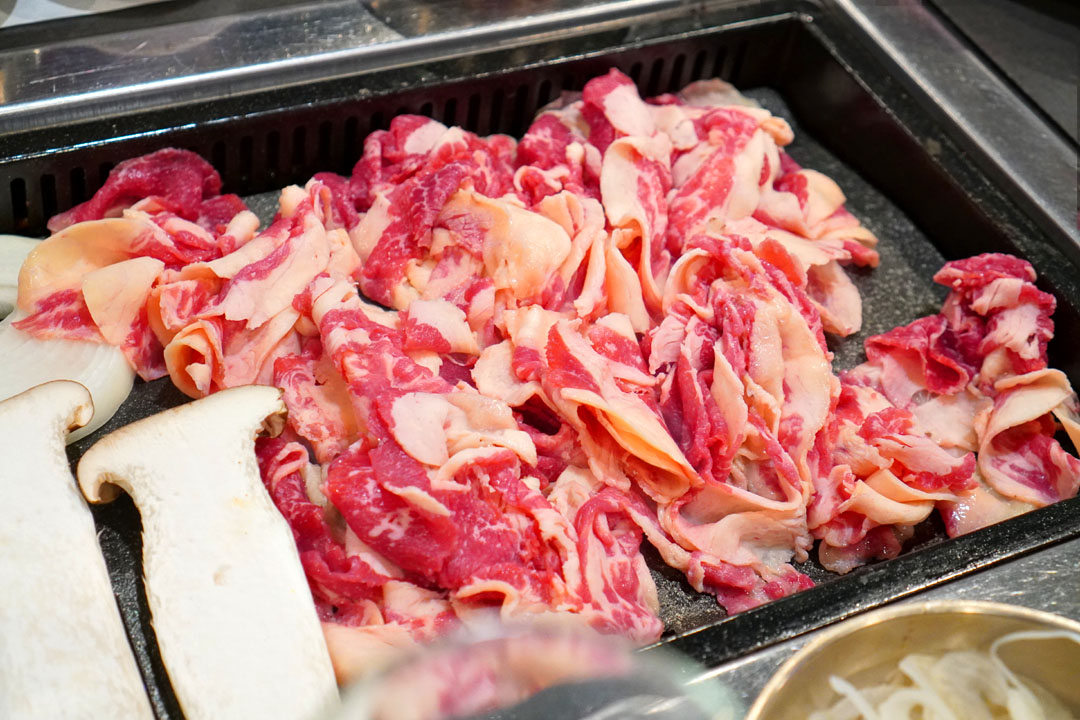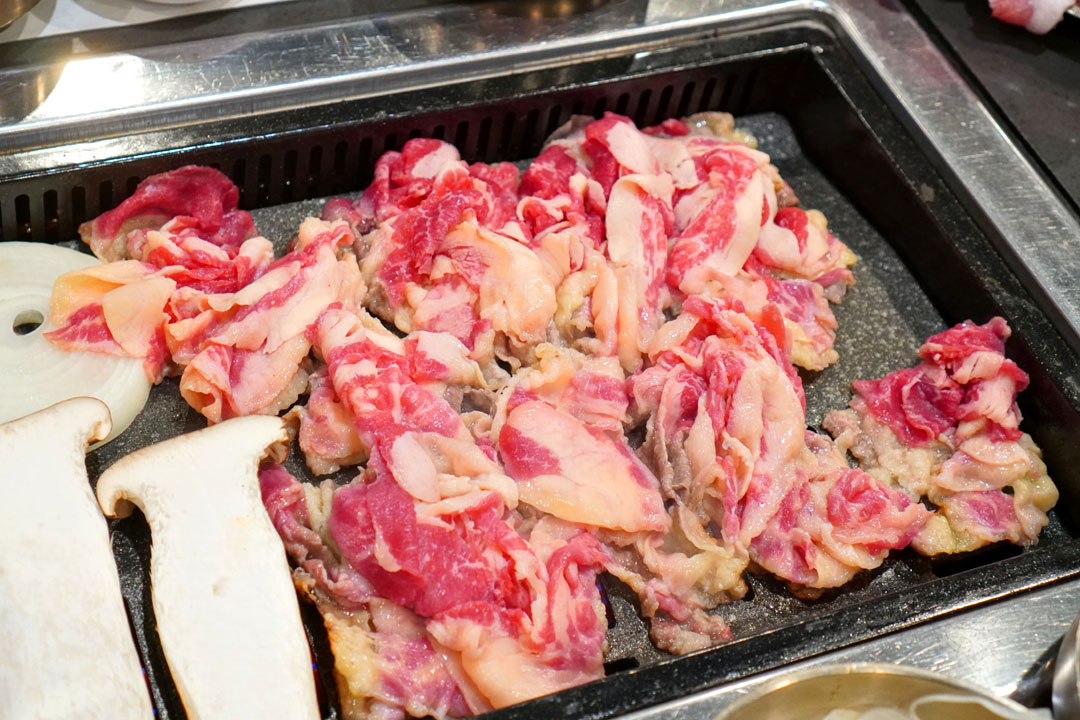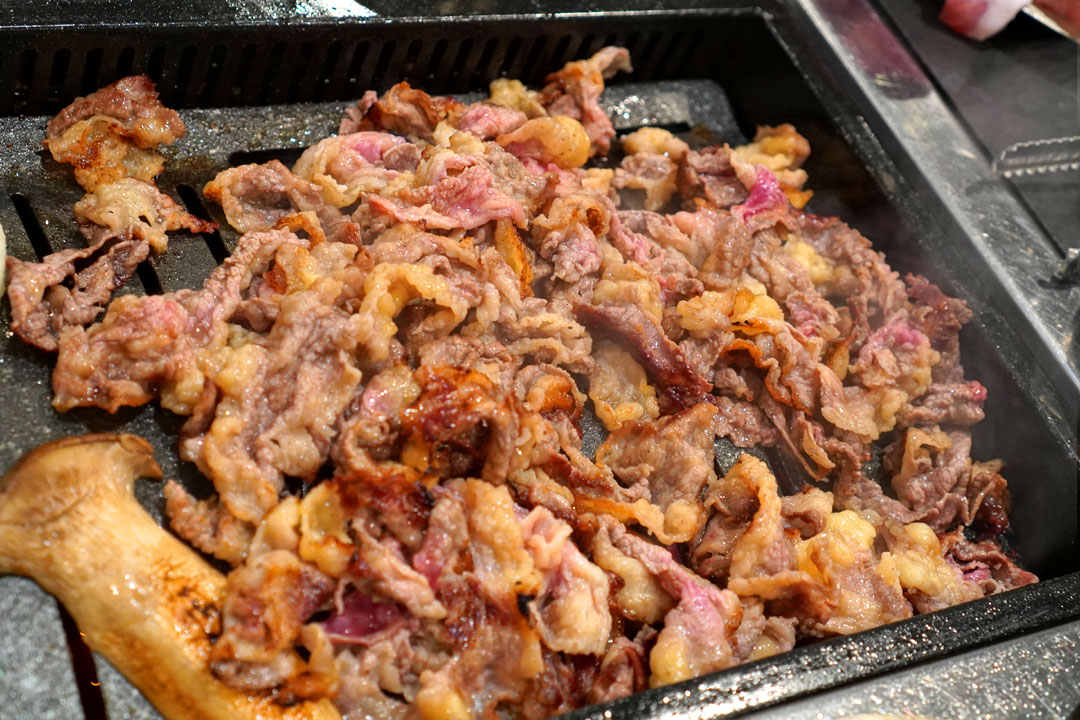 차돌구이 Black Angus Brisket [$39.99]
It just felt right to kick things off with some
chadol
, and the brisket didn't disappoint. The beef demonstrated a good balance between lean and fat, and did a commendable showing off its smoke and sear. A promising start.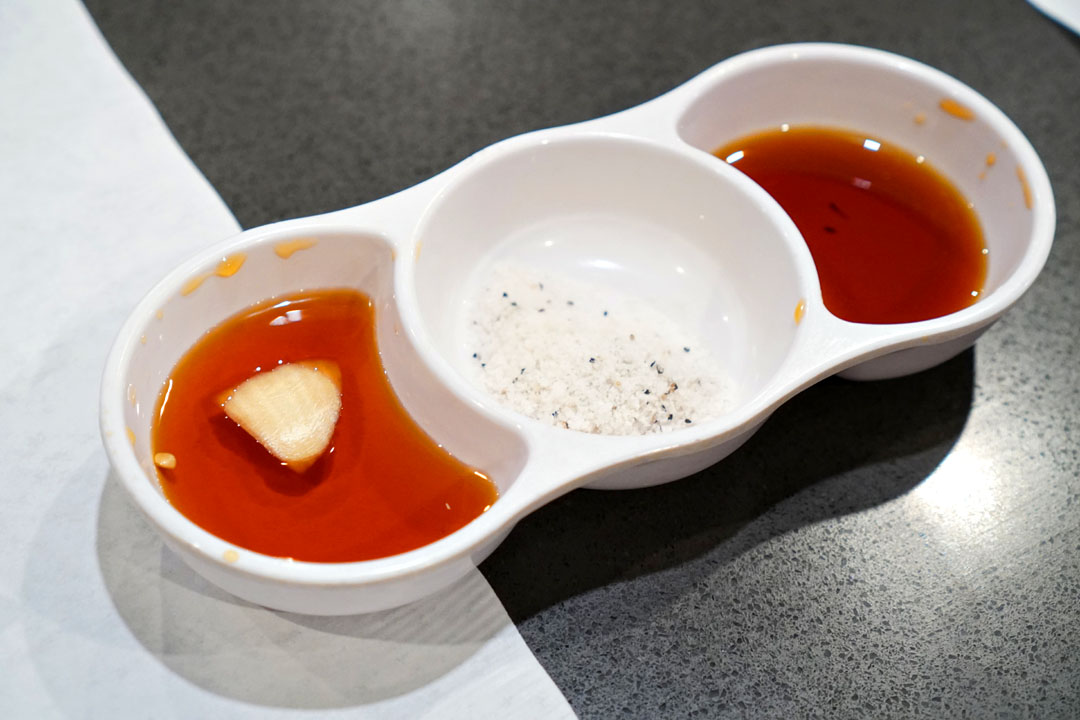 Our trio of condiments is shown above. Note that sesame oil was added to the salt/pepper later on in the meal to make
gireum jang
.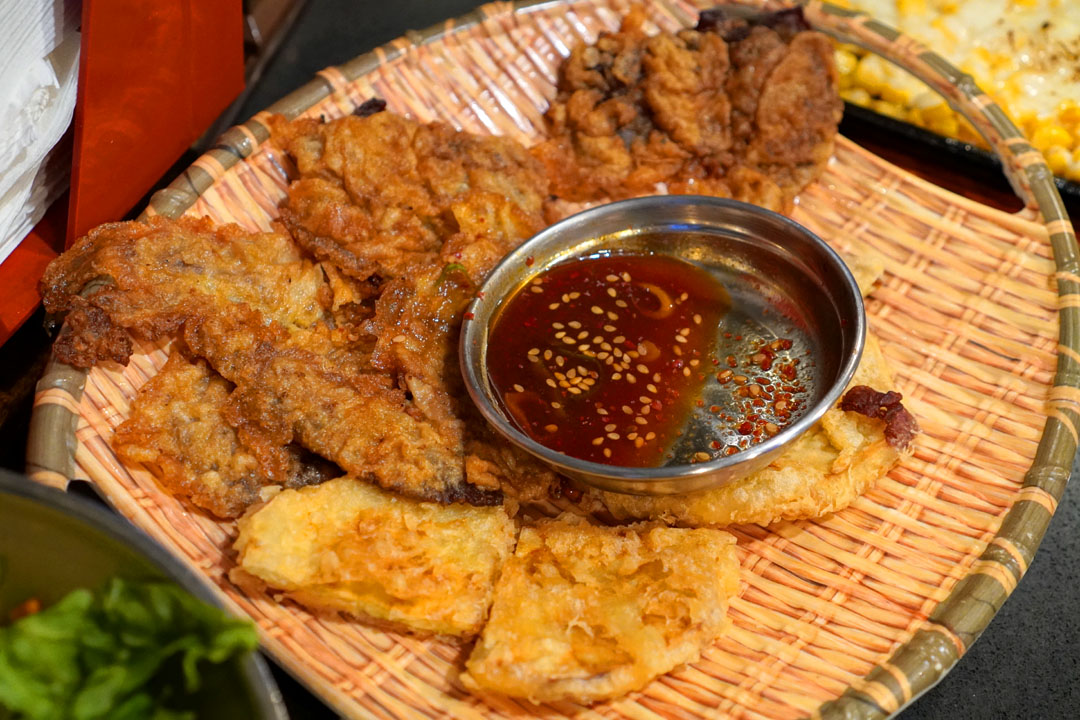 모듬전 Assorted Jeon
Our dinner also included two types of fritters, which I believe were
goguma
and a beef/tofu combo.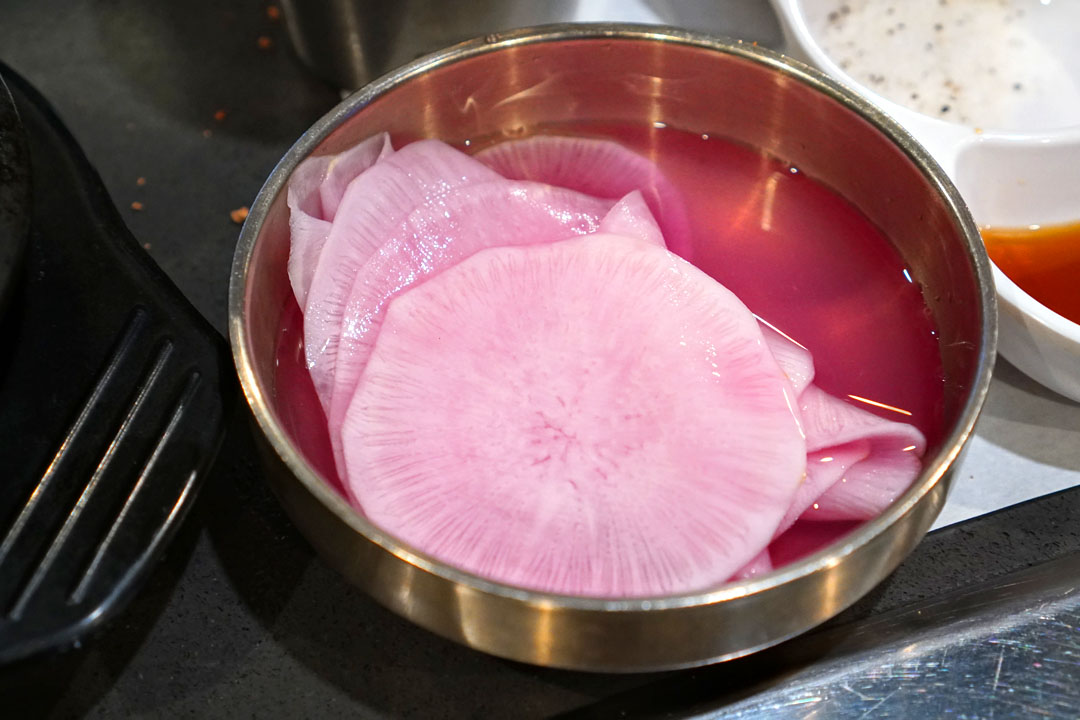 Ssam mu
provided a crisp, pickle-y tartness that helped offset the heft of the meat.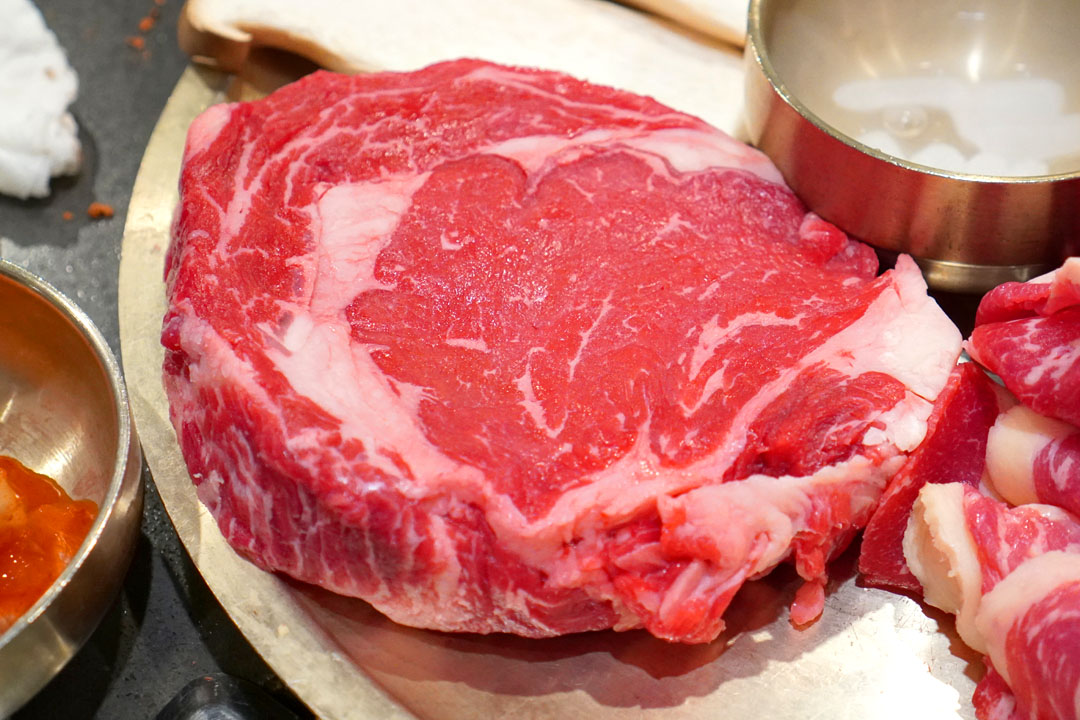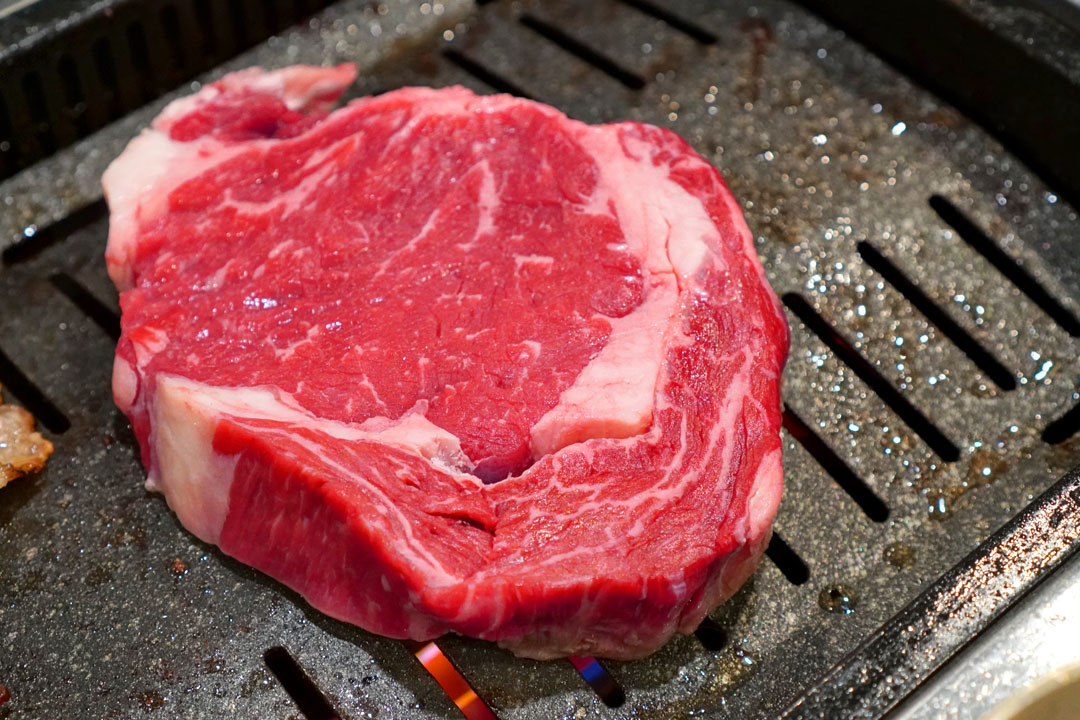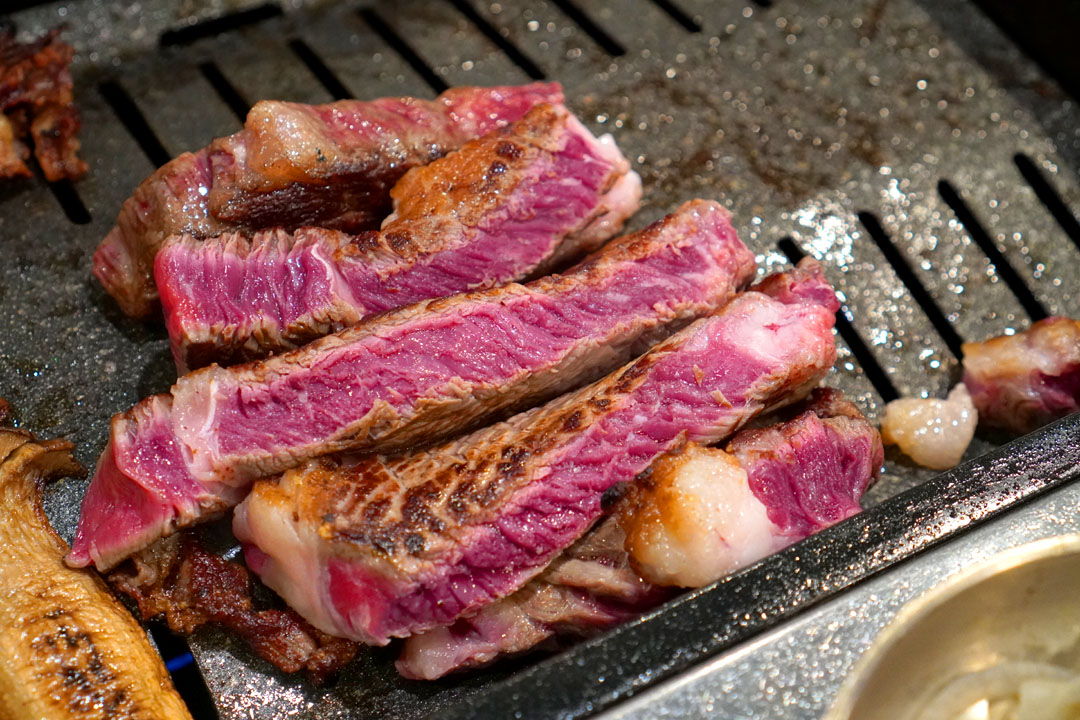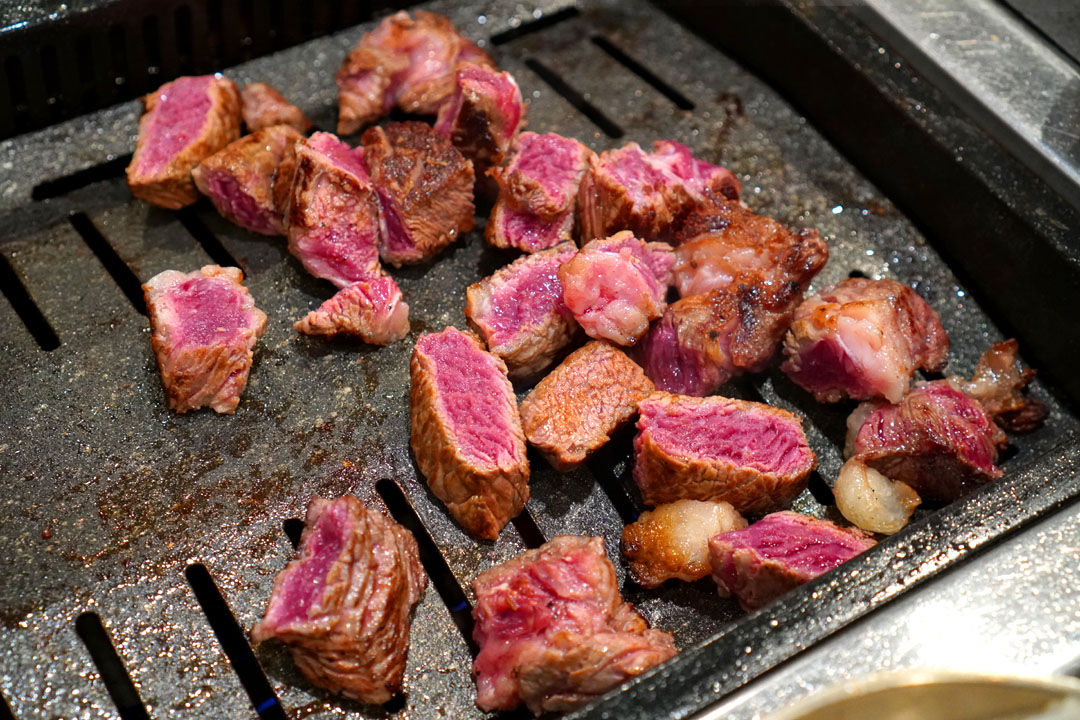 생꽃등심 Black Angus Ribeye [$64.99]
The
kkot deungsim
delivered a properly tender, juicy eating experience, and had some nice sear action going on as well.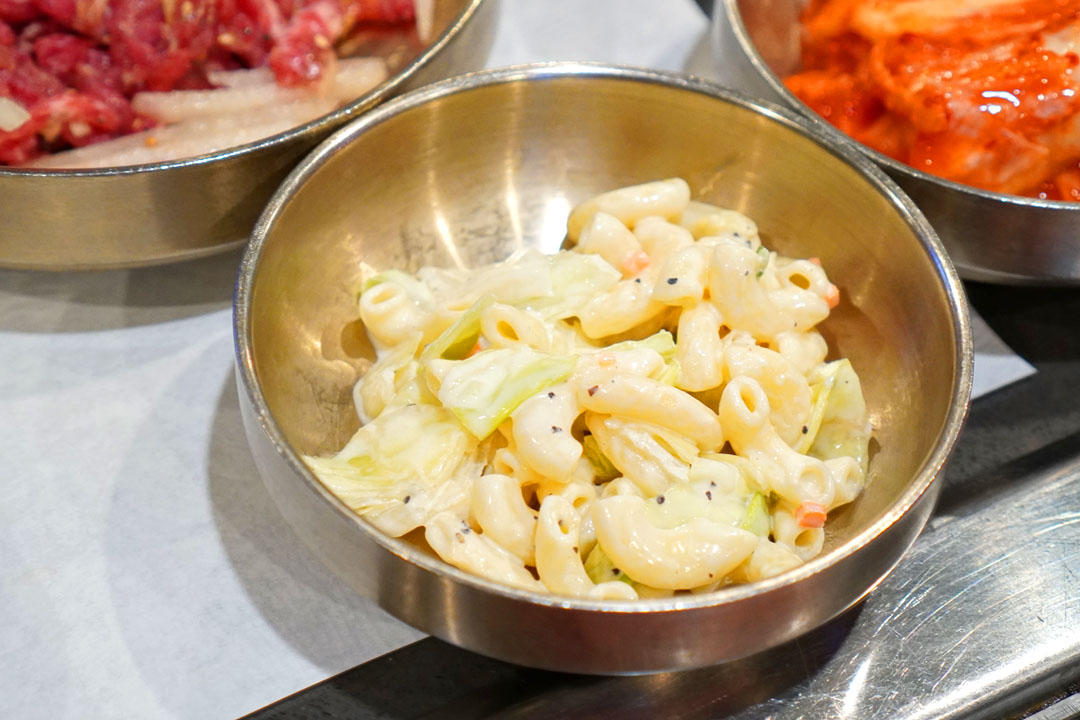 The macaroni salad was pretty spot-on, and was arguably my favorite of the banchan.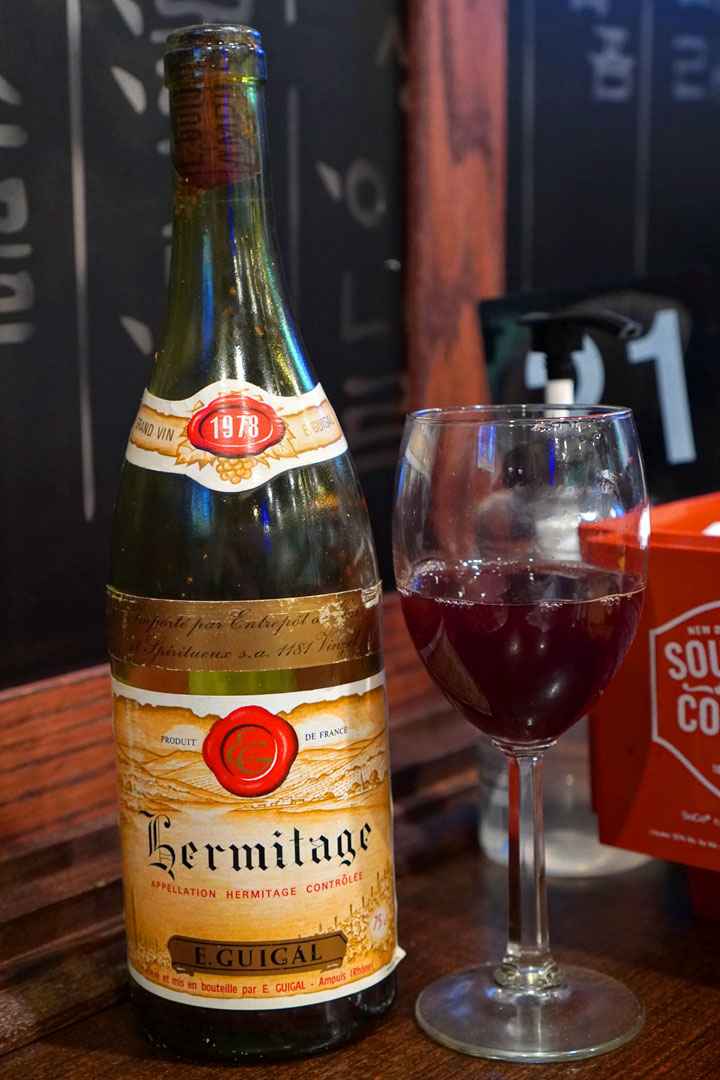 Next, we traveled to the Rhône and sampled the
1978 E. Guigal Hermitage
. The Syrah was lovely, with a bouquet filled with
suanmei
, red fruits, and rare meat, while the palate was soft and smooth, its red berry notes coalescing seamlessly with herbal and minty nuances. As the night progressed, the wine began smelling remarkably of blood-soaked rubber (but in the best way possible); those elements were also reflected in the taste, and the aforementioned herb/mint notes began recalling something like a digestif. Just lovely.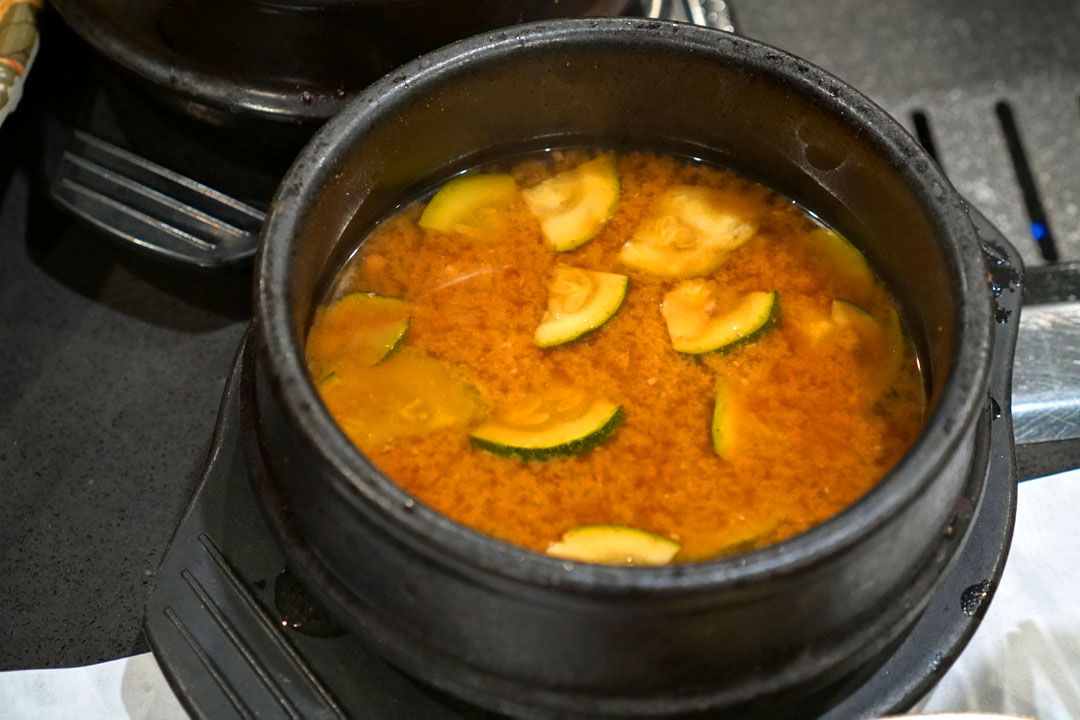 된장찌개 Soybean Paste Stew
A bowl of
doenjang jjigae
met the mark with its comforting earthy sweetness.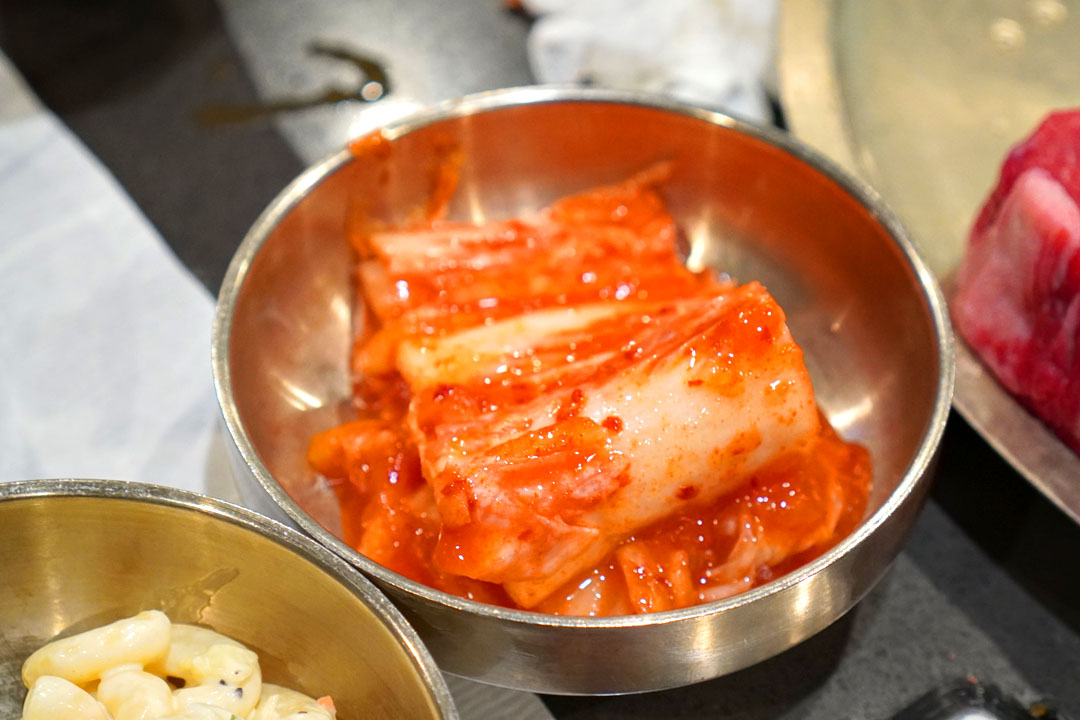 The requisite kimchi was just what I was looking for; no complaints here.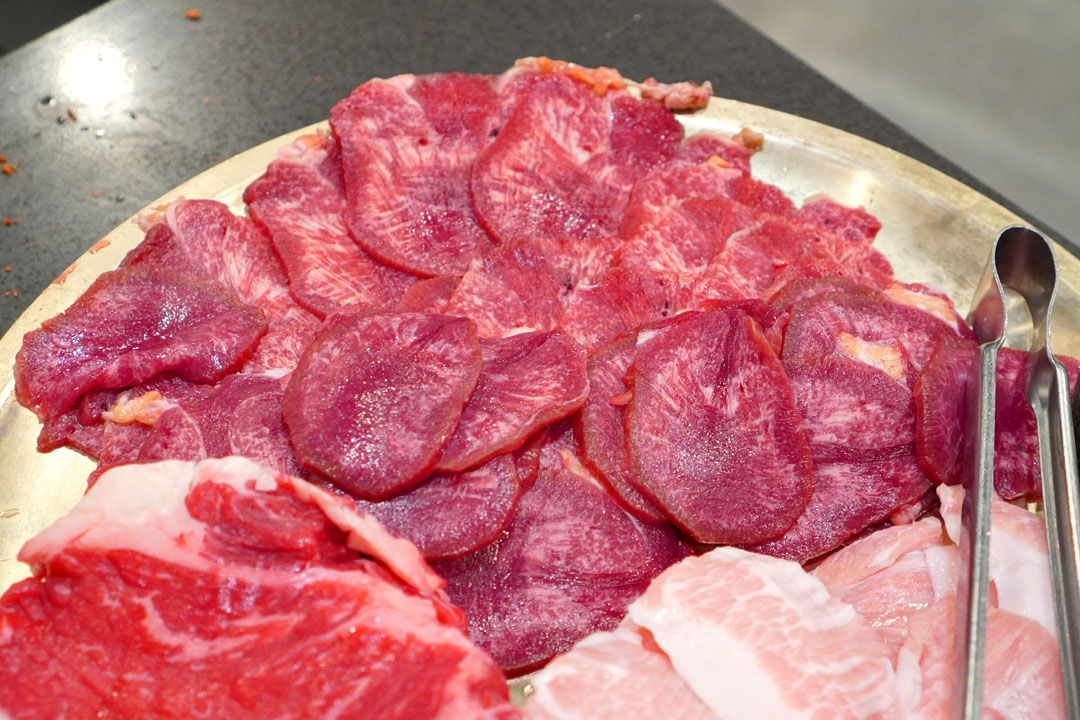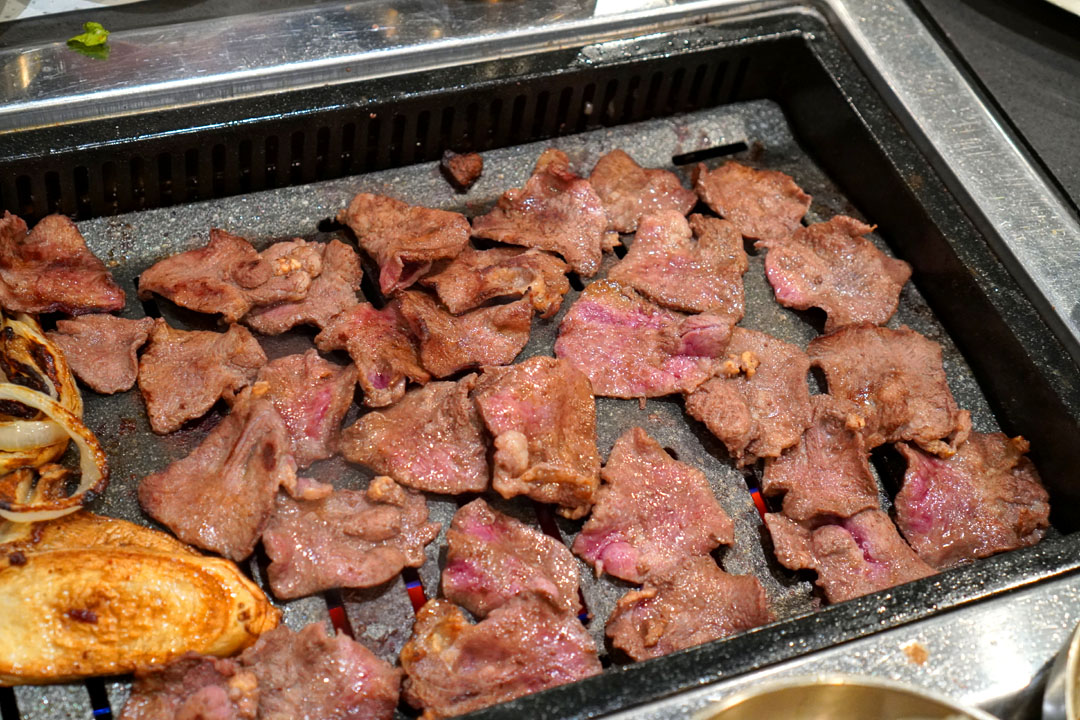 혀밑구이 Grilled Beef Tongue [$39.99]
Hyeomit gui
is generally one of my favorite cuts for KBBQ purposes, but was a disappointment tonight. Sadly, I just found the meat far too chewy and quite dry.
Supple sheets of
tteok ssam
helped soften all the strong flavors at play.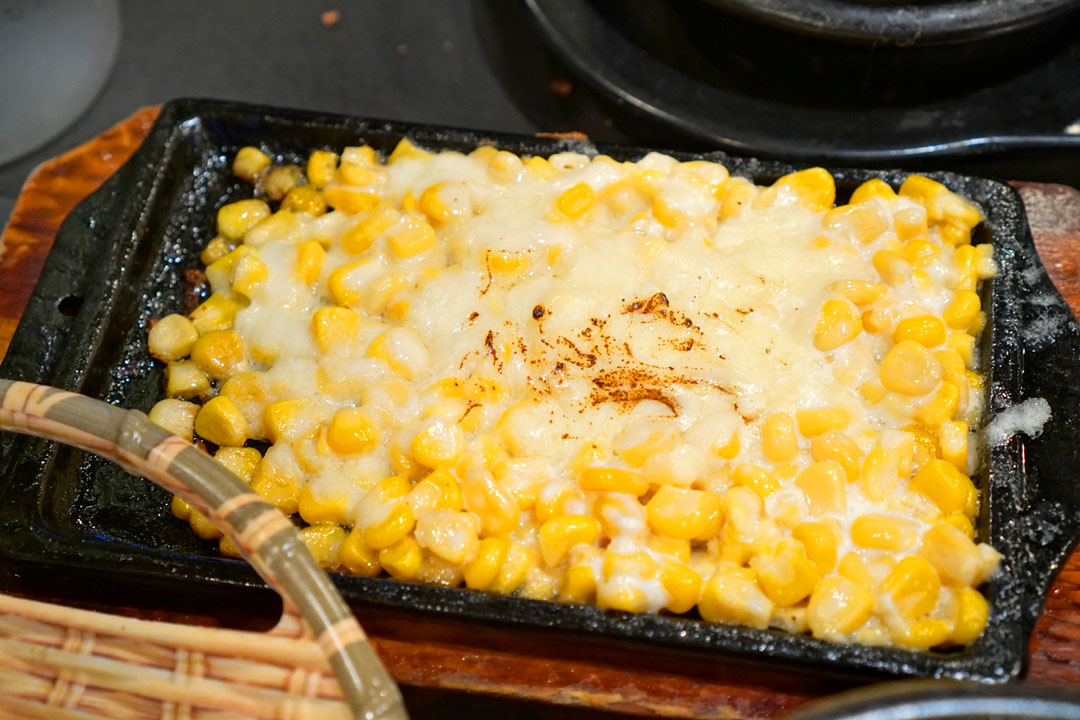 콘치즈 Corn Cheese
The
kon chijeu
was basically as expected.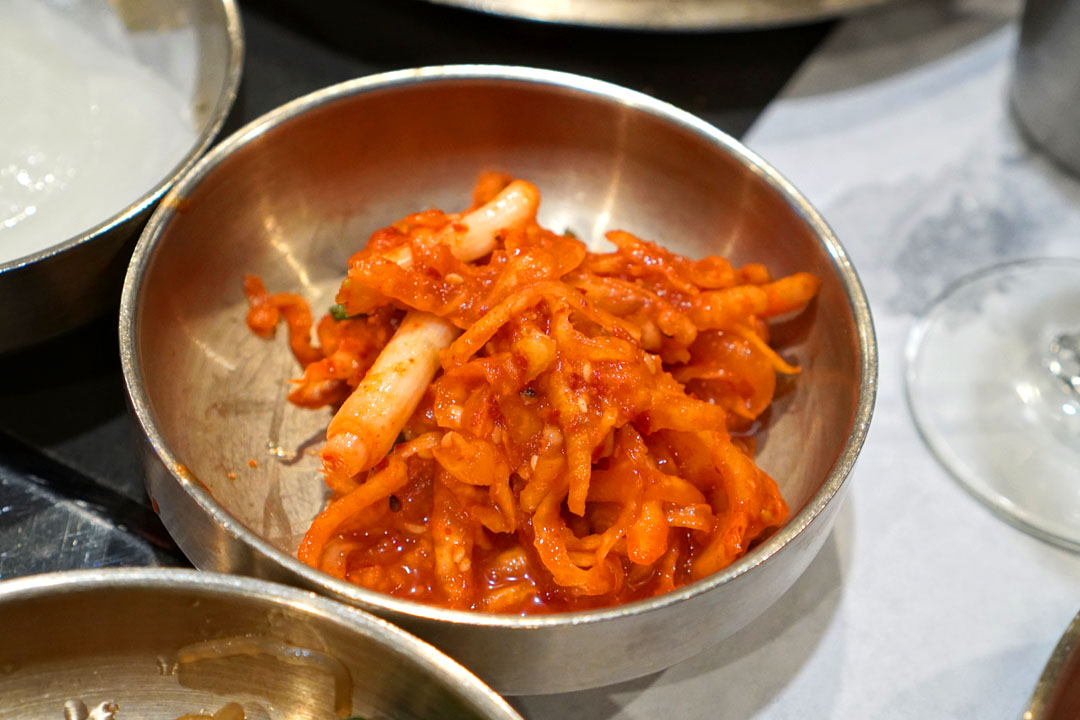 Musaengchae
showed off a tasty combination of sweet heat and funk.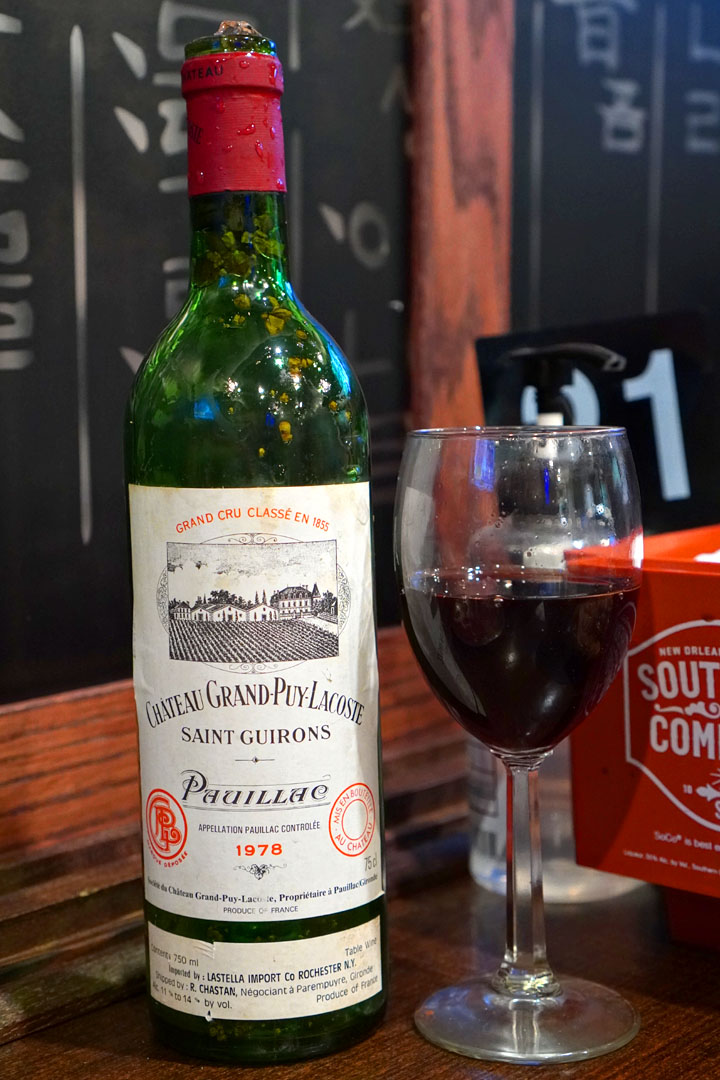 Our third and final wine was the
1978 Château Grand-Puy-Lacoste
. This one had a bouquet of wet soil and savory vegetables, while its palate was surprisingly thick, with dark fruits, herbs, and mint in harmony. With more time in the glass, the Bordeaux displayed quite a bit of cool fruit on the nose, and taste-wise, I found it somehow spicy, but still smooth and just sweet enough. Overall, the claret managed to present itself as younger than it actually is, which was great to see.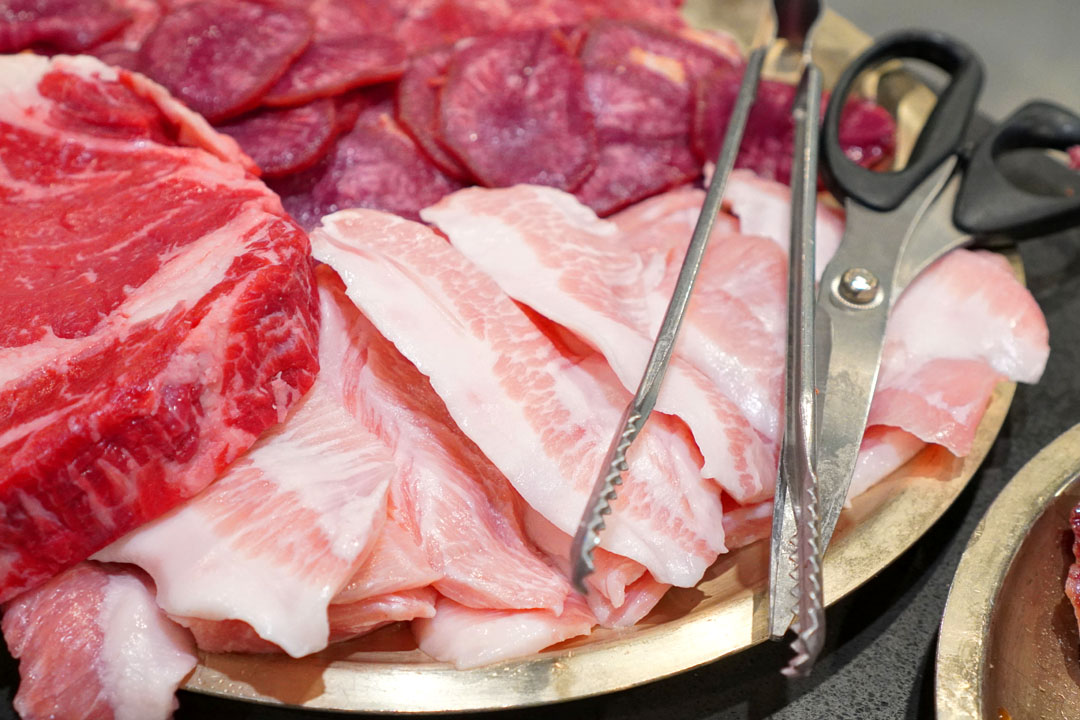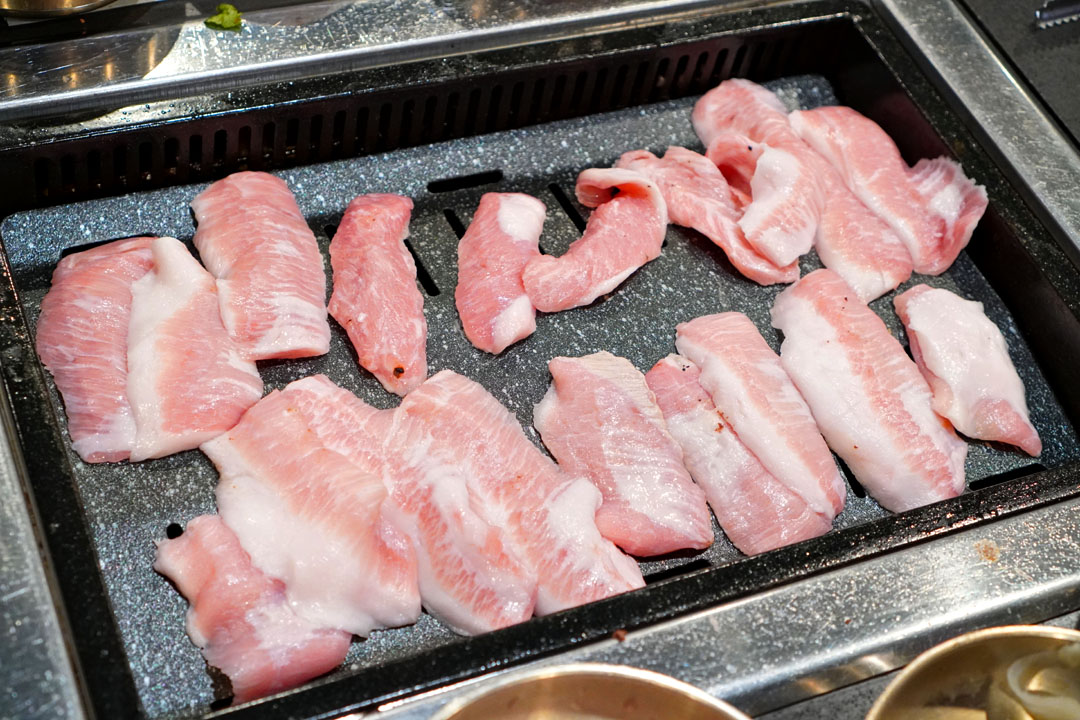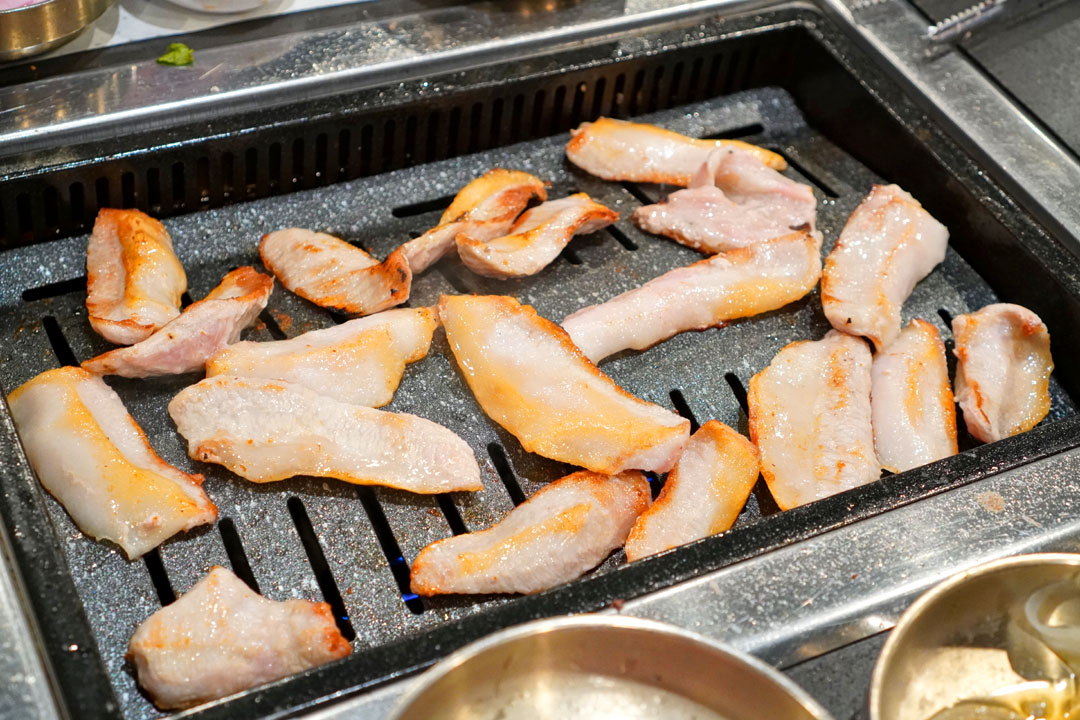 항정살 Pork Jowl [$36.99]
Hangjeongsal
is my preferred cut of pork for
gogigui
purposes, and it didn't let me down tonight. I was a big fan of its firm yet springy texture and spot-on commingling of fat and lean, while the meat's deeply porcine character meshed beautifully with a kiss of smoky char.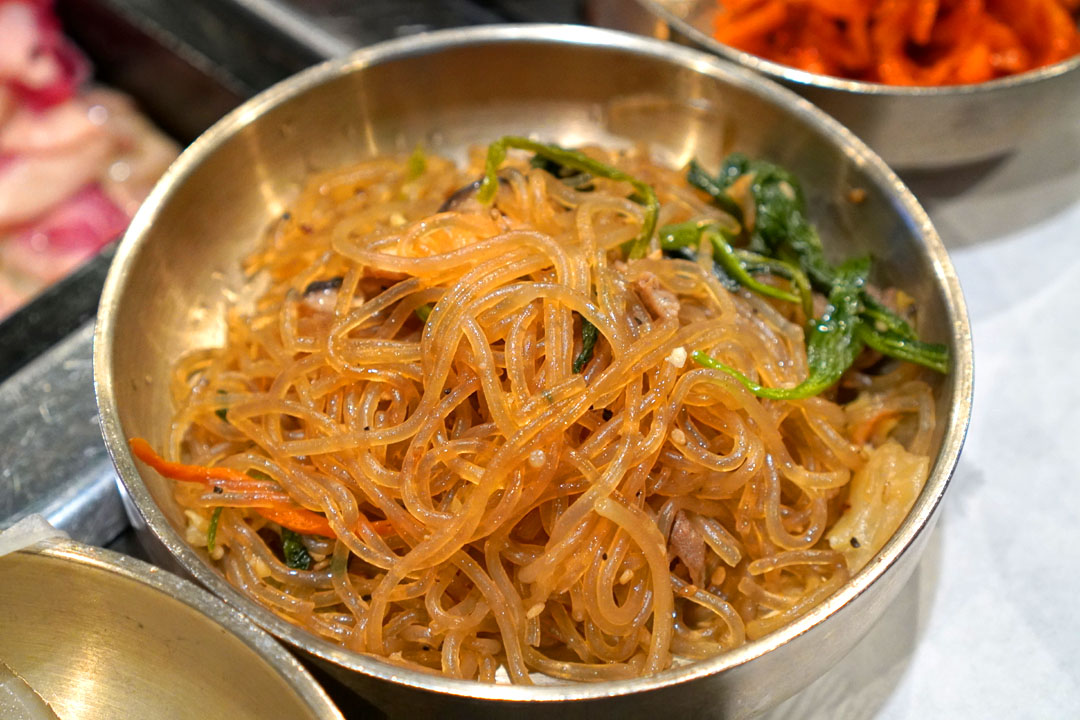 Japchae noodles ate slick and slippery, with classic soy-fueled flavors.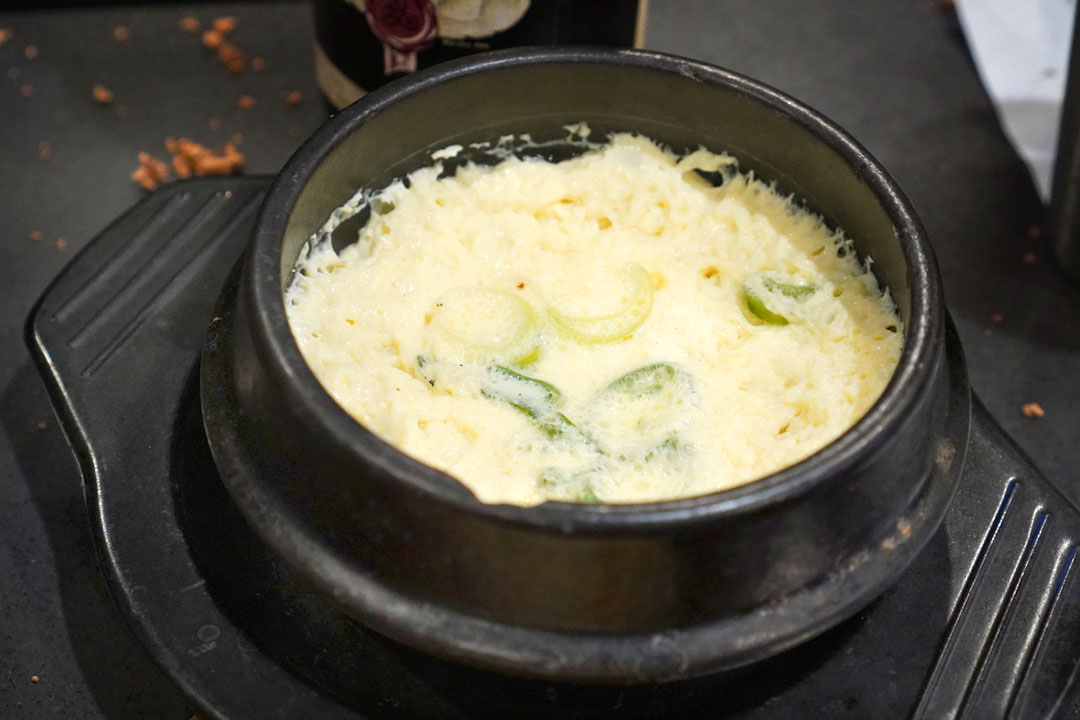 계란찜 Steamed Egg
I couldn't really fault the
gyeran jjim
either, thanks to its fluffy consistency and
saeujeot
-sourced brine.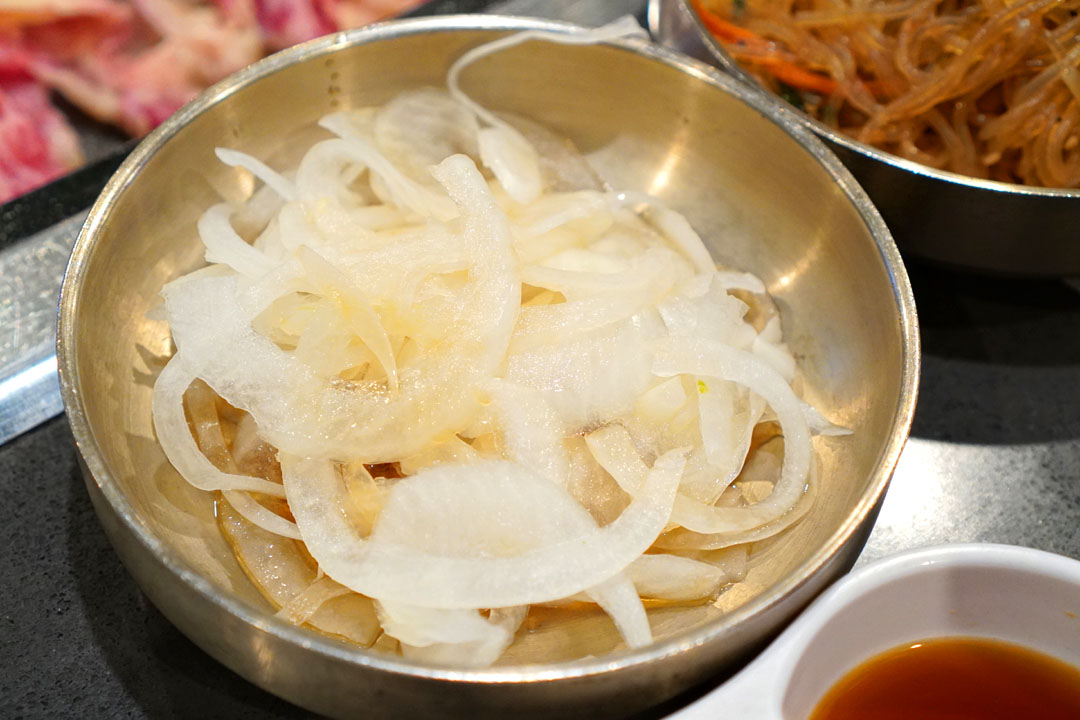 Marinated onions had a great zestiness that counteracted the richness of all the meat we were having.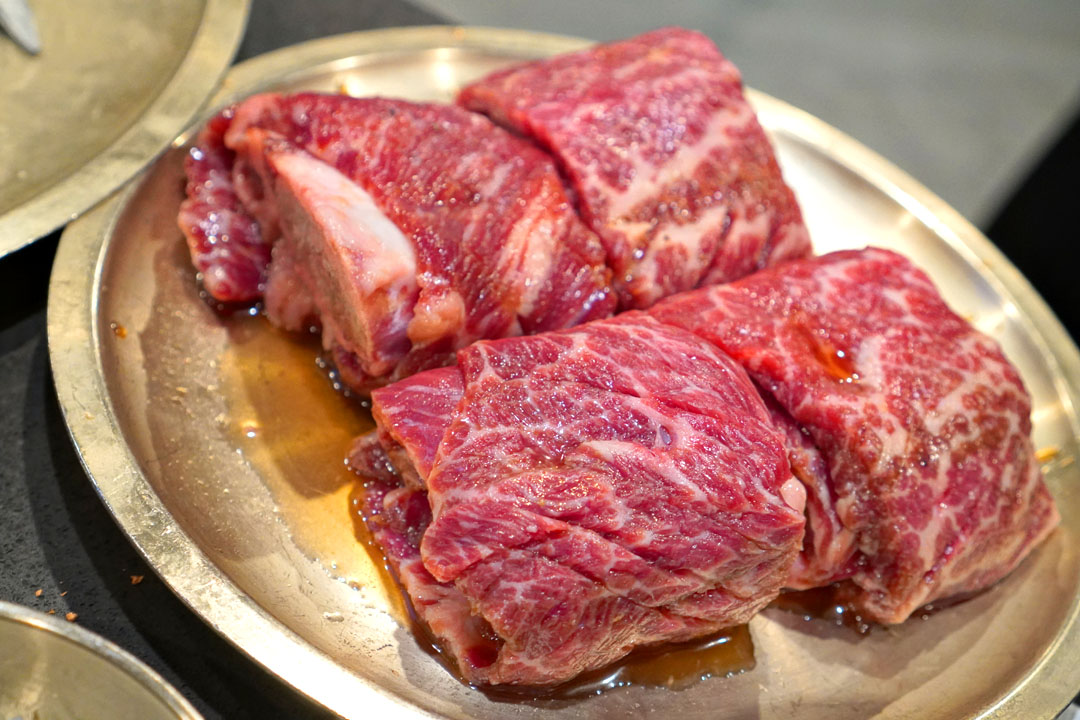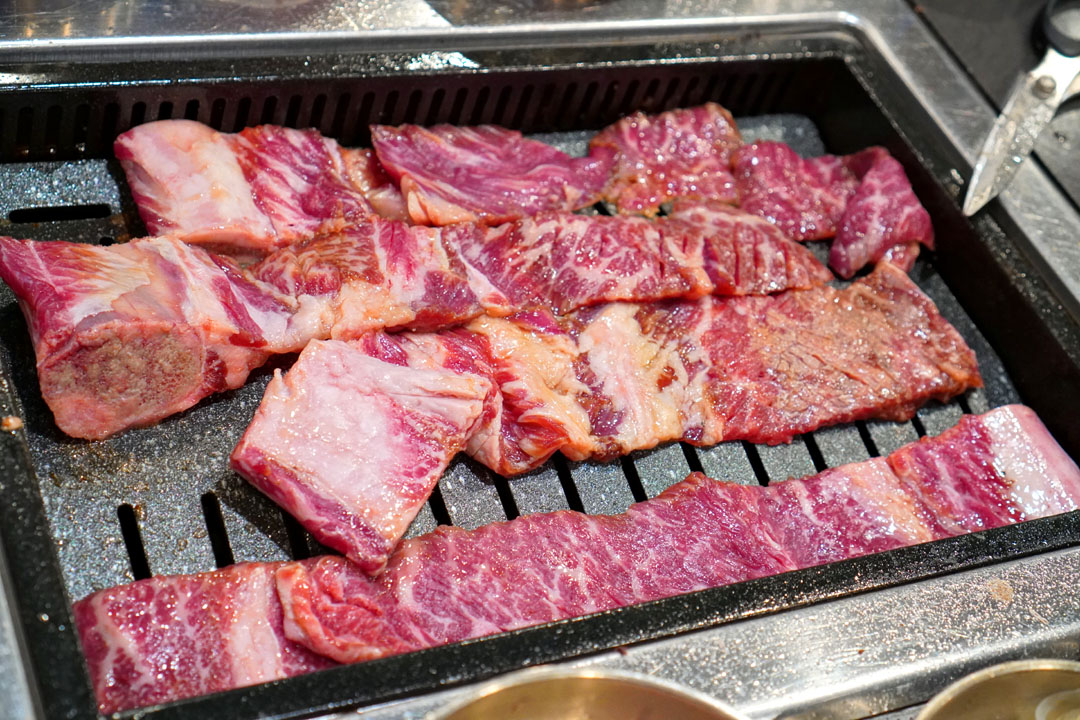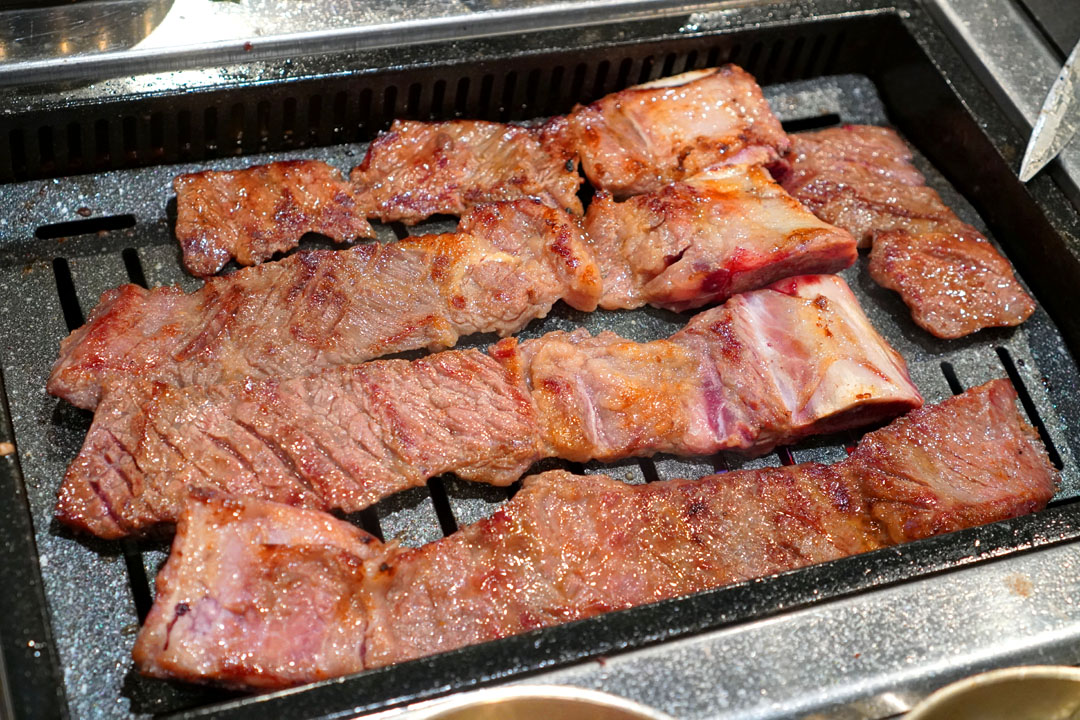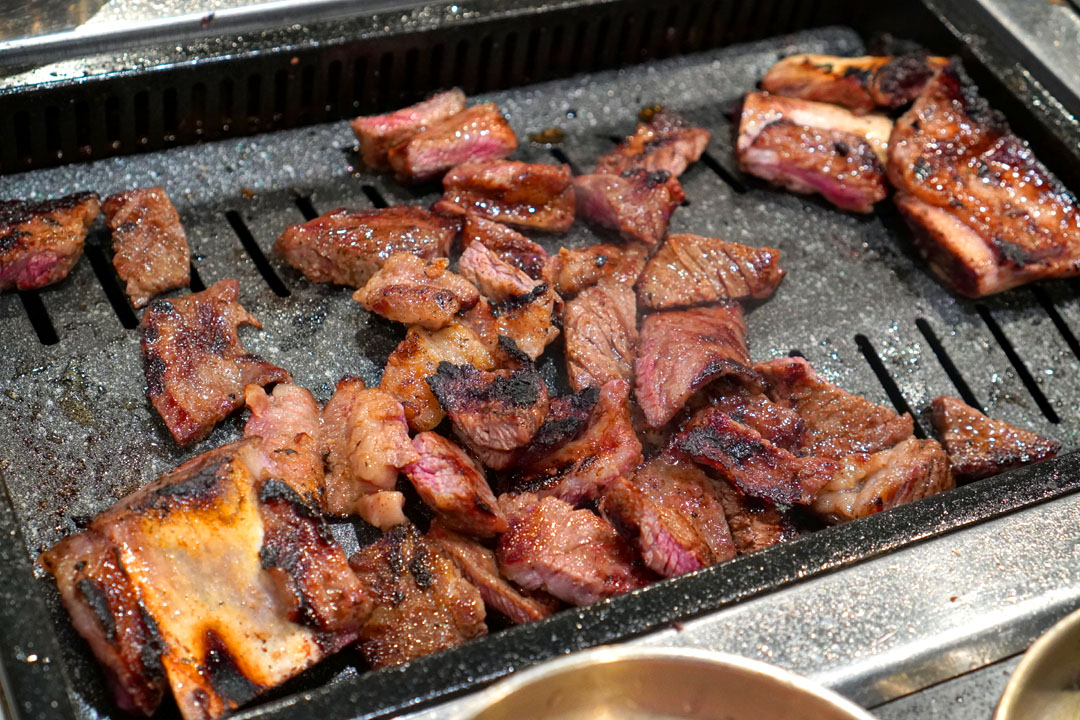 한우 폭탄 양념갈비 Bomb Galbi-Marinated Prime Beef Short Ribs [$69.99]
Appropriately, we ended with a marinated meat, the
pogtan yangnyeom galbi
. The beef had that supple chew I was looking for, and I certainly enjoyed its balance of sweet, savory, and smoky charred flavors. You can't go too wrong with this.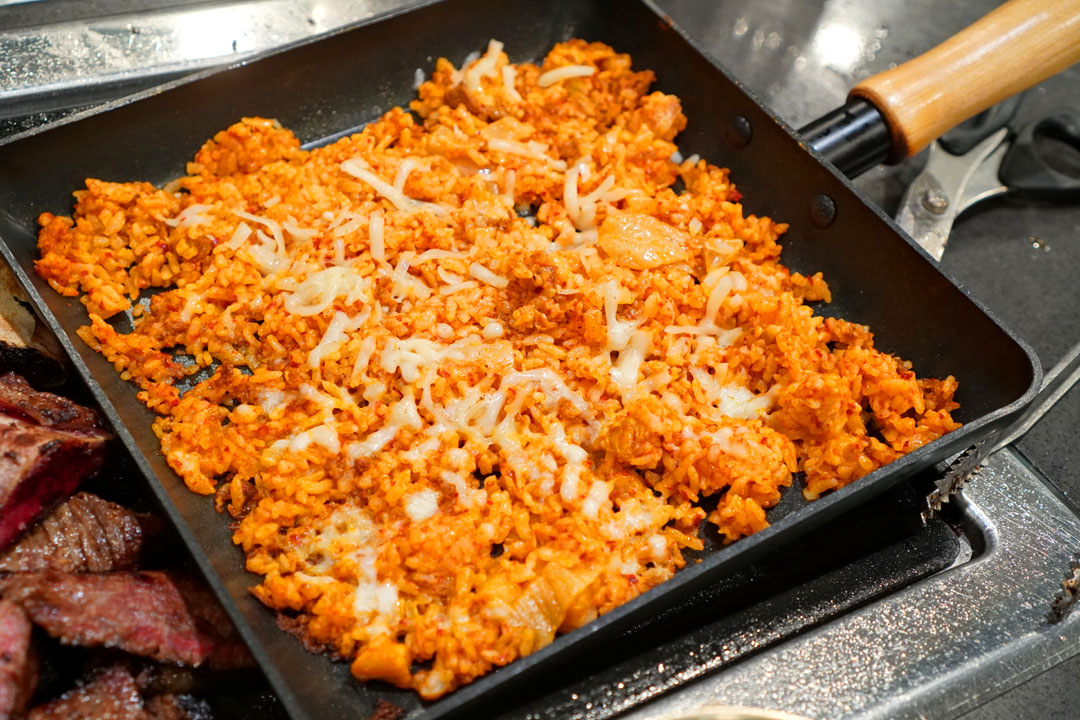 김치볶음밥 Kimchi Fried Rice
Last up was a complimentary preparation of
bokkeumbap
that was a bit light on the actual kimchi. Nevertheless, it made for a fitting close to the meal.
Our evening here didn't get off to a great start due to the flubbed handling of our wine, and I also felt that service in general was somewhat on the harried side, while the beef tongue was a real letdown as well. That being said, the restaurant did manage to largely redeem itself with the rest of the food, which was quite good overall. So in the end, Hanu was a bit of a mixed bag for us, and I do question if I'll return, but I can see why a lot of people like the place.