Jatak (Copenhagen, Denmark)
Jatak Restaurant
Rantzausgade 39, 2200 København, Denmark
+45 31 31 48 99
www.jatakcph.com
Sun 08/13/2023, 05:20p-08:15p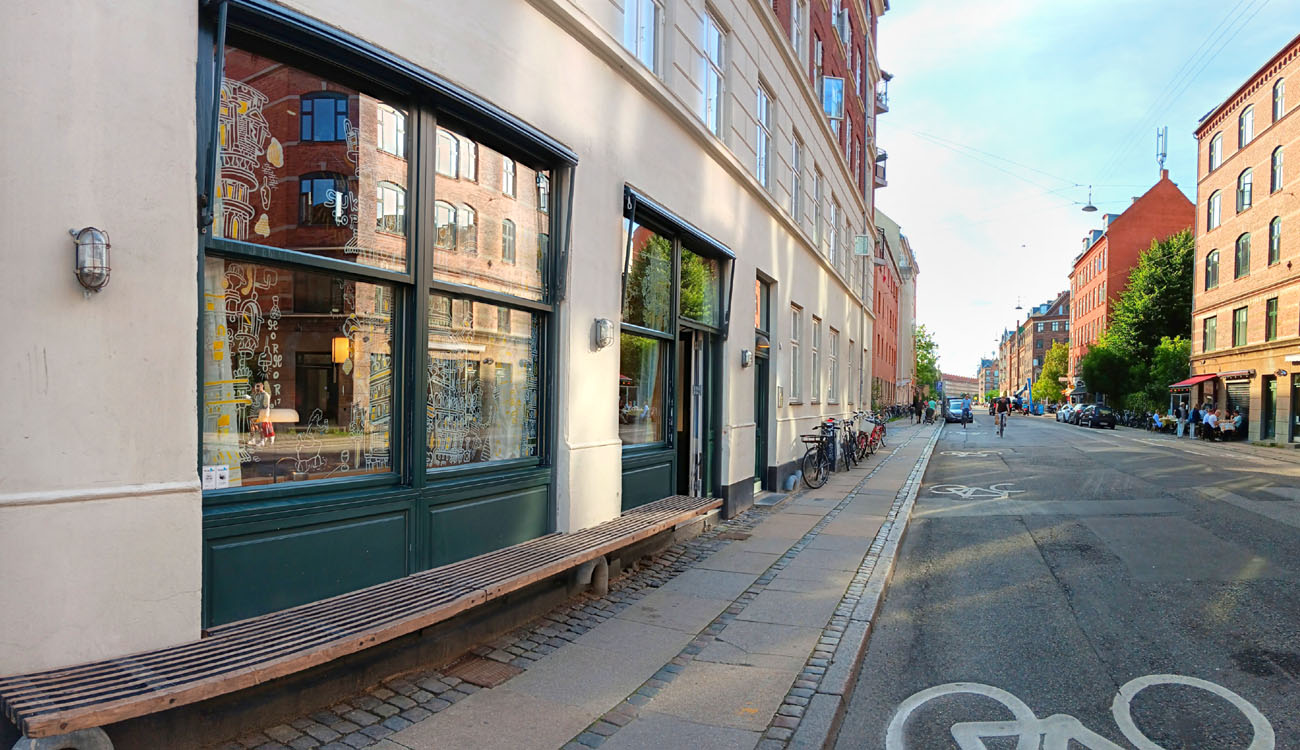 For my fourth meal in Copenhagen, I chose a newcomer to the dining scene: Jatak, which just opened last year. Named after a Danish phrase meaning "yes please," the restaurant is situated in the Nørrebro neighborhood and is the creation of Chef Jonathan Tam and Sarah Frilund (his partner in both business and life). The cuisine served is Asian-inspired, but rendered using Nordic ingredients, which sounded promising to me.
About the Chef
: Jonathan "Jon" Tam was born in 1986 and is a native of Edmonton, Canada. He comes from a Chinese-Vietnamese background, and first got interested in cooking after exploring cuisines other than the ones his parents made at home. He went to culinary school locally at NAIT (Northern Alberta Institute of Technology), and was able to secure an internship at
Noma
. Tam thus moved to Copenhagen in 2007 with the plan of later transitioning to El Bulli, but quickly fell in love Noma and its style of cuisine, eventually becoming a line cook there. It was during this period where he first met Frilund (they had a daughter together in 2012), as well as Christian Puglisi. When Puglisi left Noma to open the much-lauded Relæ in 2010, he followed, and in June 2016, Tam was made Head Chef at the restaurant after Puglisi's decision to step away from the kitchen to focus on farming.
By the start of 2020, Tam and Frilund were already looking at opening their own place together, a relatively casual spot in the former home of Gilt cocktail bar in Nørrebro. However, once the pandemic hit, they decided to take the time to turn the space into something that could support more ambitious cooking. Relae wound up shuttering in December 2020, while Jatak was announced not long after. At the end of June 2021, Tam started a month-long "residency" at Blue Hill at Stone Barns, where he tested out ideas for Jatak while also immersing himself in Dan Barber's world. Jatak soft-opened on January 14th last year to considerable anticipation, and was awarded a Michelin star in July 2022, just six months after its debut.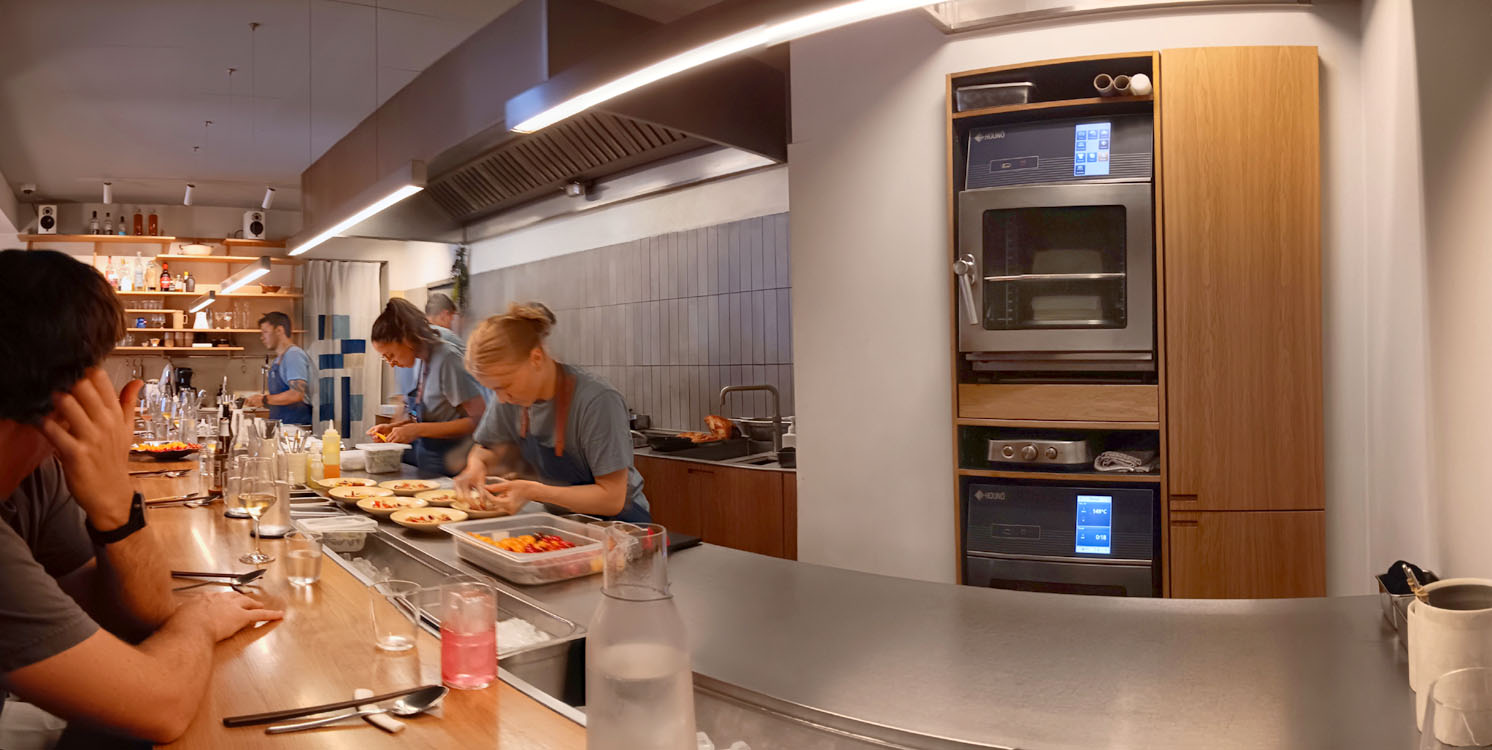 Here we see the view from the end of Jatak's eight-seater kitchen counter. The interior was penned by Frilund, a trained architect and a principal at
A-PLY Projects
, a design firm she co-founded with Tam.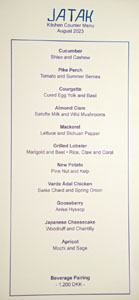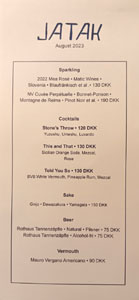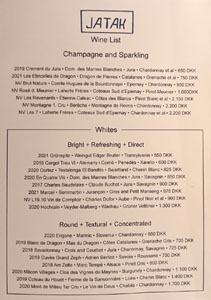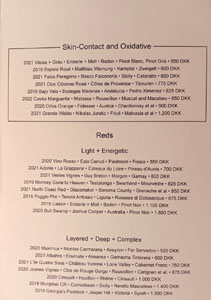 I went with Jatak's kitchen counter menu, which was priced at 1525 kr ($226.48) a head, with an optional beverage pairing at 1200 kr ($178.21). There's also a shorter menu served in the dining room, which costs 975 kr ($144.80). To drink, you get a relatively compact selection of beverages and a wine list managed by Wesley Conner. Corkage is 650 kr ($96.53), limit two, or 850 kr ($126.23) for a magnum, limit one. Click for larger versions.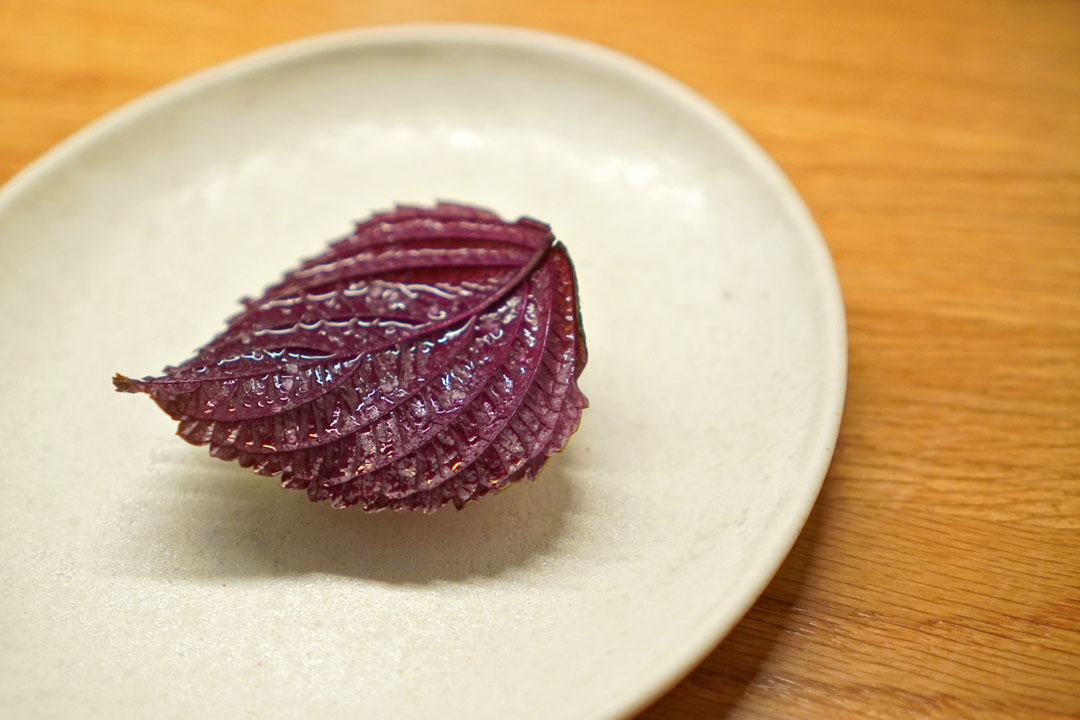 1: Cucumber
| Shiso and Cashew
The evening's visually spare first course served as an amuse bouche of sorts. Hiding underneath that shiso leaf was Crystal Apple cucumber, grilled red pepper, nasturtium
kosho
, and cashew cream. We were instructed to pinch the leaf and pick everything up, and what I really appreciated here was the back and forth between the fresh, minty shiso and the nuttiness from the cashew. A promising first bite.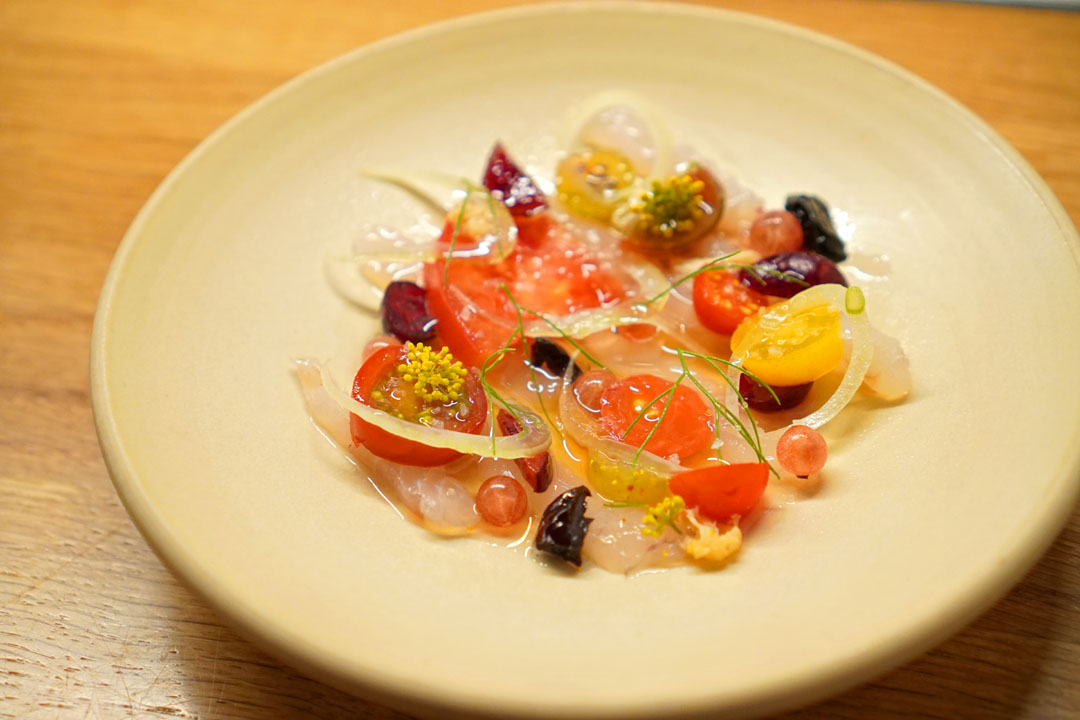 2: Pike Perch
| Tomato and Summer Berries
Lightly salted pikeperch was on point texturally, with a restrained taste profile that linked up easily with all the sweet, tangy notes in the dish. I especially enjoyed the contrast provided by those bits of dried fruit, and taken altogether, this tasted vibrantly of the summer.
To drink, I ordered a bottle of the
NV Rosé d. Meunier • Laherte Frères • Coteaux Sud d'Epernay • Pinot Meunier [1000 kr ($148.51)]
. The Champagne had a robust nose filled with flowers and red berries--very inviting. On the palate, think bright and acidic, the wine's nutty, mineral-driven elements coalescing with more raspberry-like fruit. A lovely pairing with the food this evening.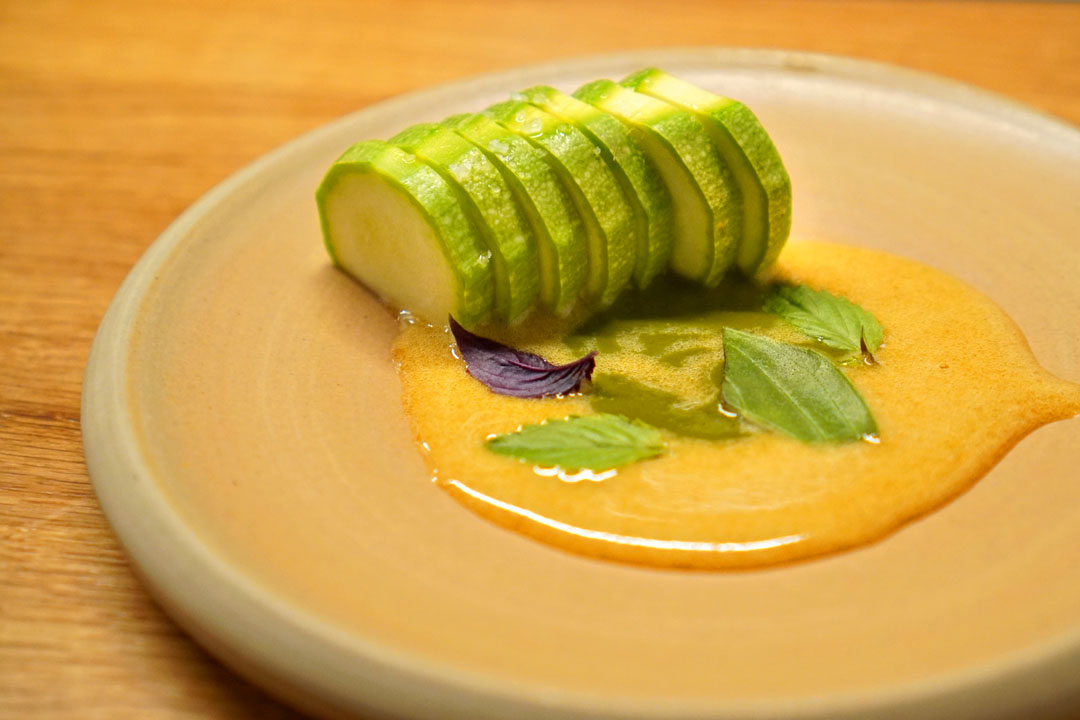 3: Courgette
| Cured Egg Yolk and Basil
Steamed zucchini was a joy texturally, its mild, fresh, subtly sweet qualities perked up by pricks of salt. However, the key here was to swipe the squash through that wonderfully aromatic green curry-cured yolk sauce, which was the perfect complement thanks to its fantastic blend of umami, herbaceous, and comforting flavors.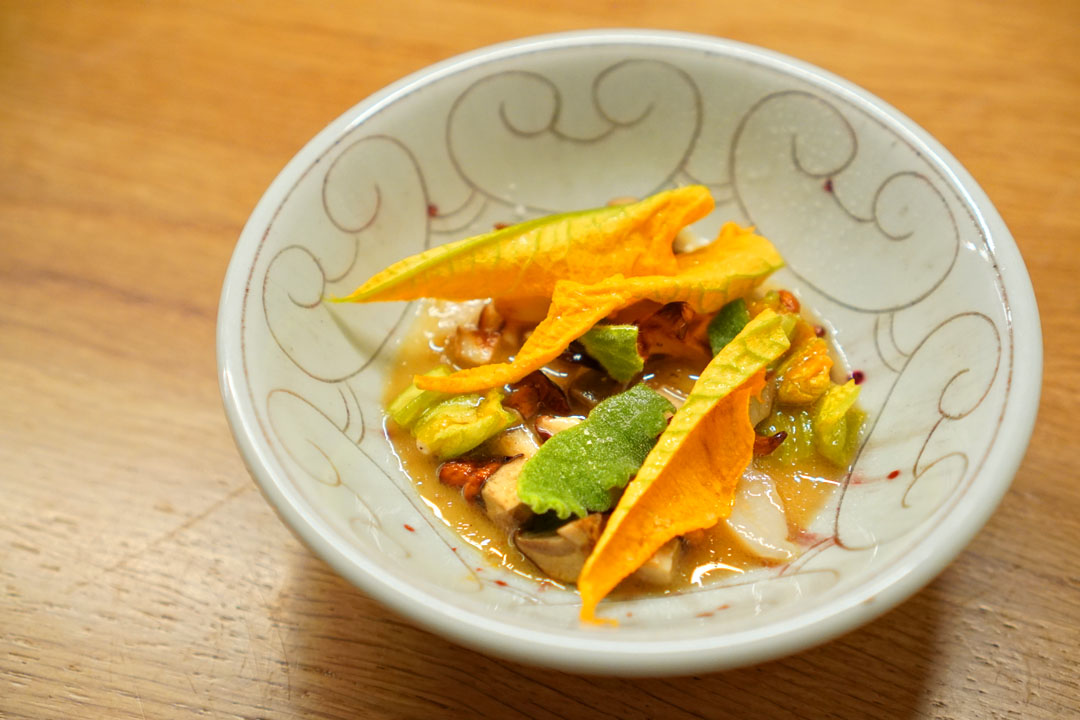 4: Almond Clam
| Søtofte Milk and Wild Mushrooms
Clams married beautifully with both the woodsy spice of chanterelles and the freshness of courgette flowers, all while the milk curd moderated all the flavors at play. Really well integrated.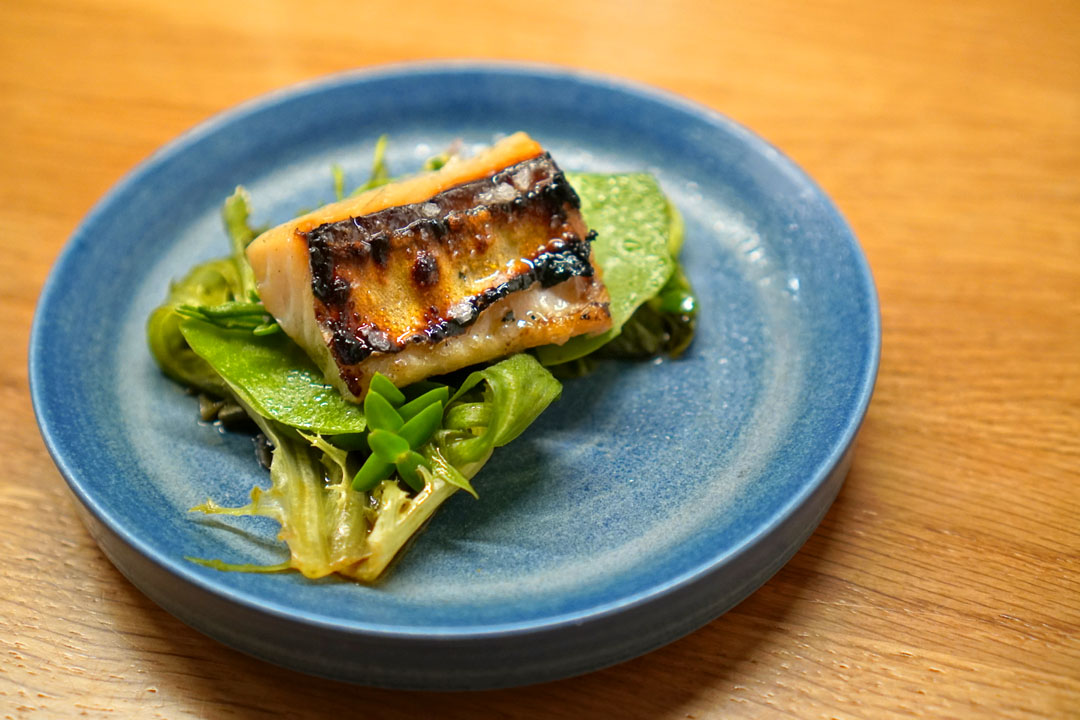 5: Mackerel
| Lettuce and Sichuan Pepper
Danish mackerel arrived lightly grilled, brushed with Sichuan pepper oil, and sitting atop poached baby lettuce. I loved the fish's assertive flavors, its salt and sear, as well as its crisp, smoky skin. The peppers added a touch of prickly
mala
to the mix that I really enjoyed, while the lettuce helped keep it all in check. A standout, and one of the best grilled mackerels I can remember having.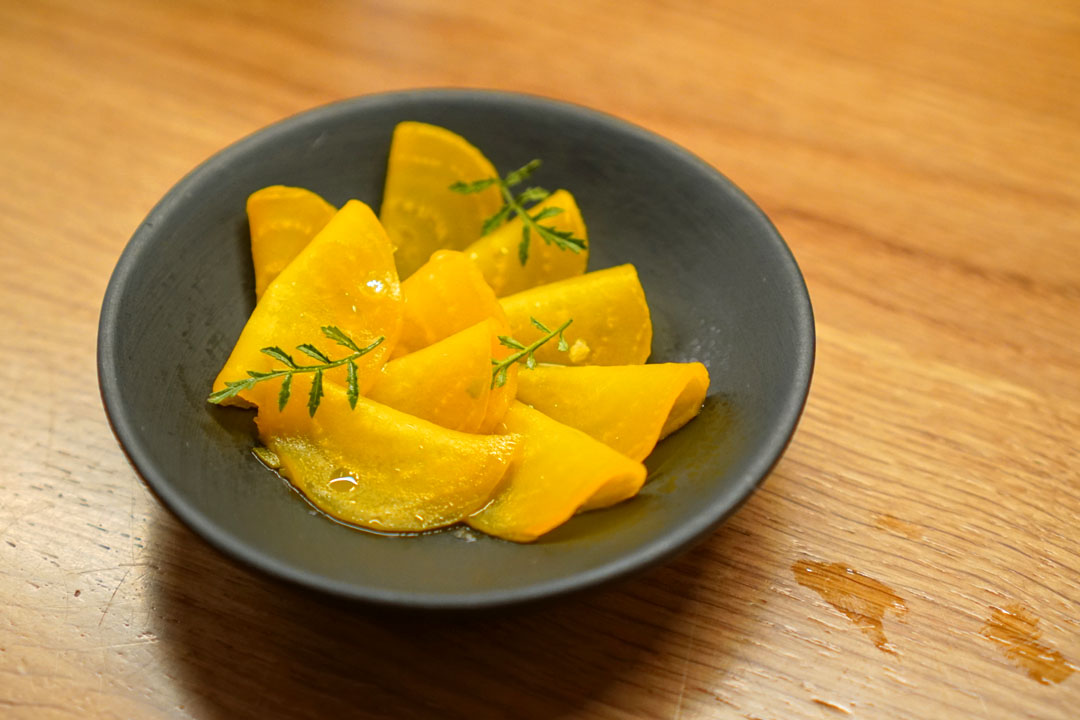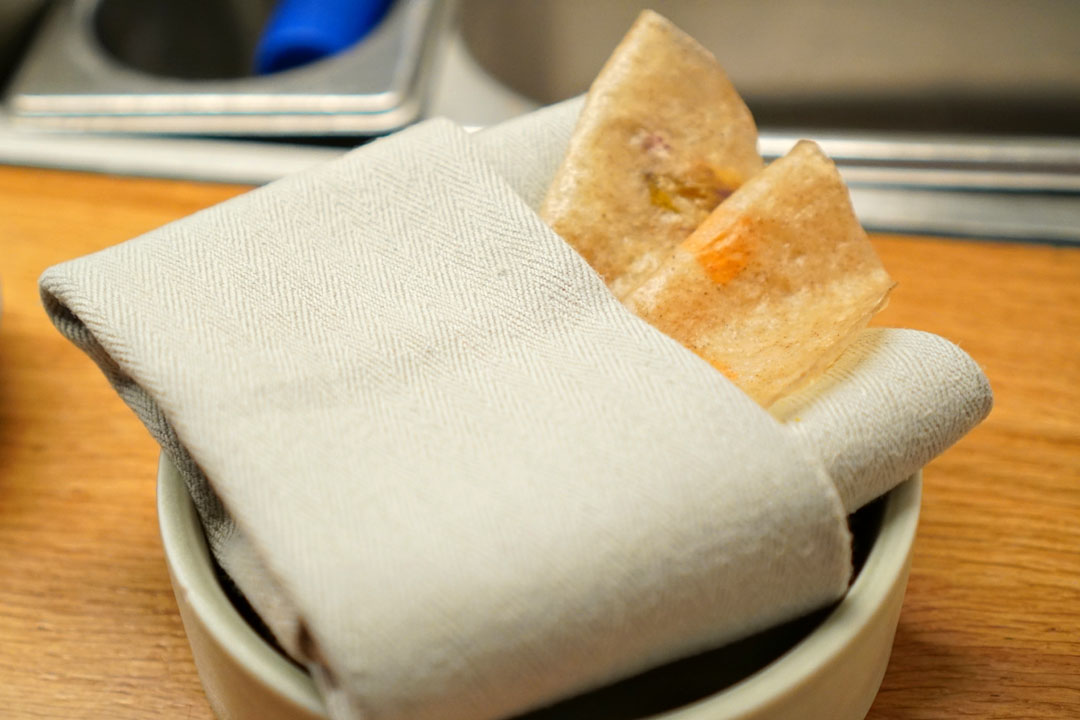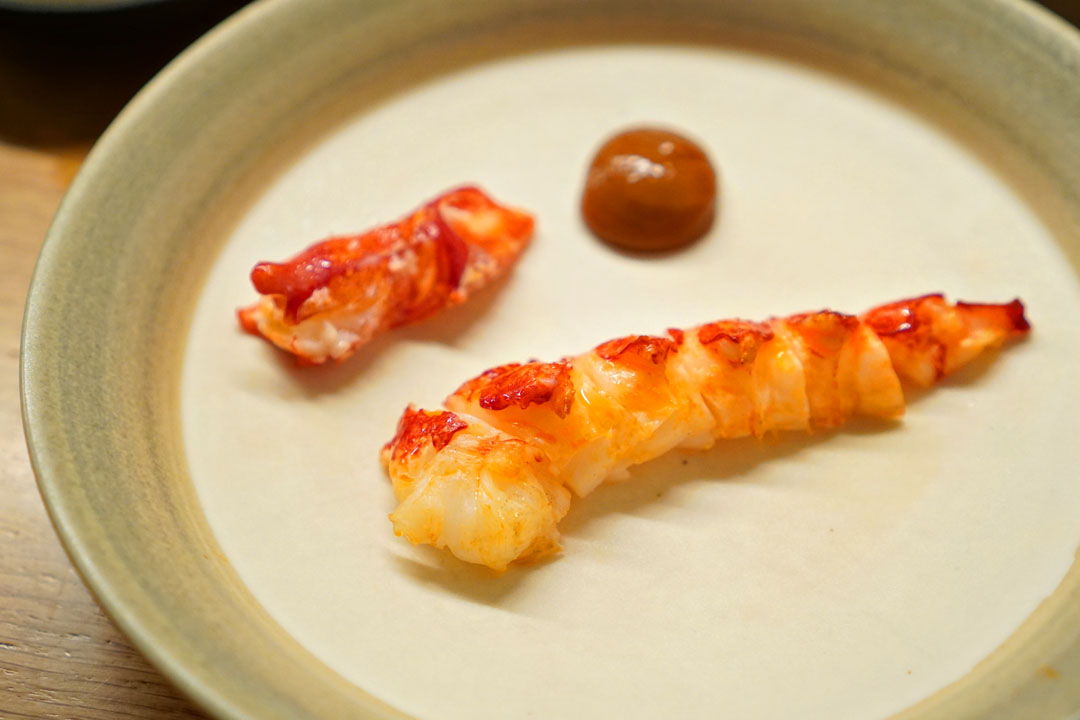 6: Grilled Lobster
| Marigold and Beet • Rice, Claw and Coral
Charcoal-grilled Danish blue lobster showed off a mouthwatering sweetness that was further boosted by the delightfully fruity depth and heat from that apricot sauce on the side. Stretchy, translucent pancakes were made from Danish wheat flour, and there was also a side of sweet, earthy yellow beets dressed in a marigold vinaigrette. The idea was to take a pancake and fill it with everything provided, and when I did that, the combined effect was pretty damn delicious.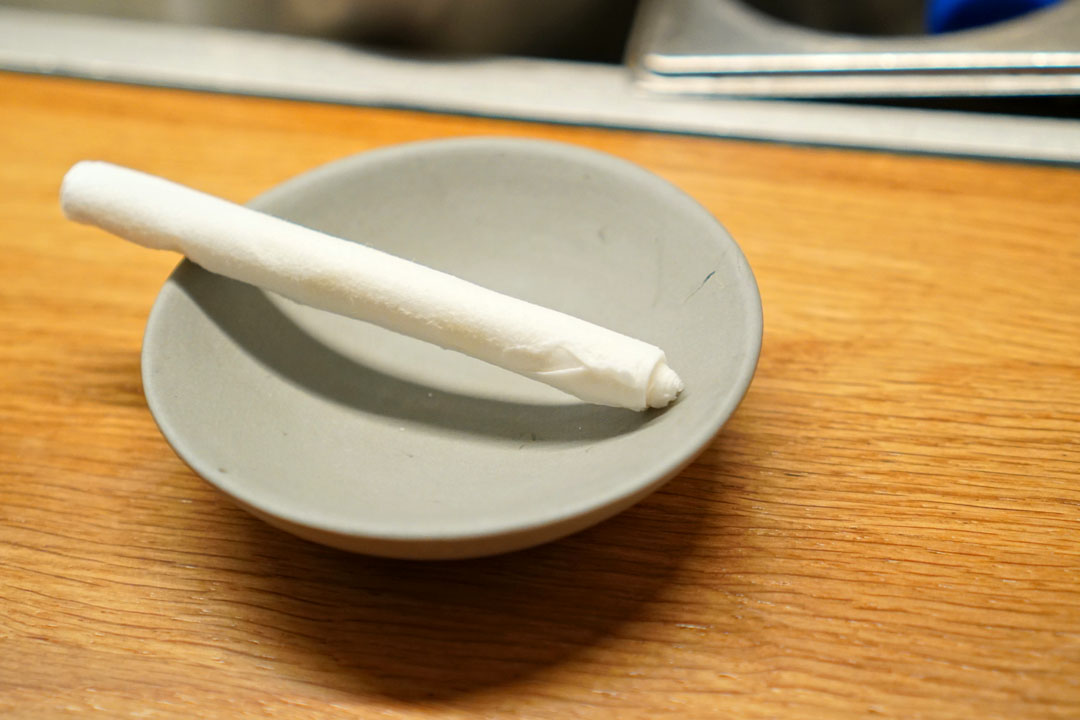 A tightly-rolled, cigarette-shaped napkin was provided along with the course above.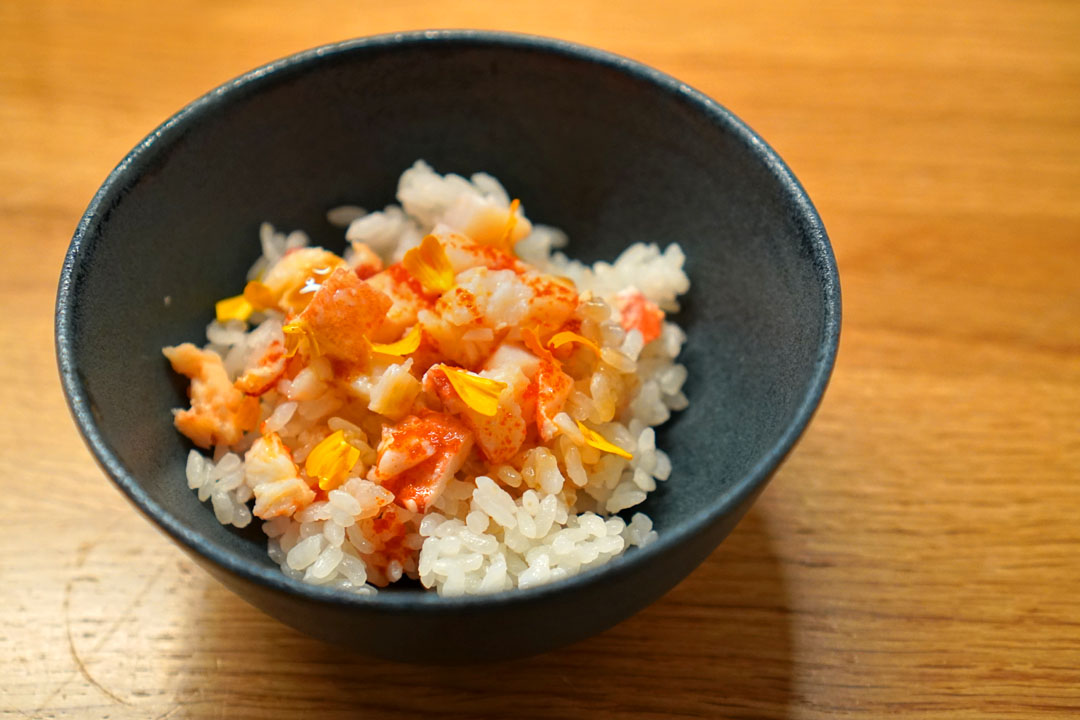 My second serving of lobster featured steam
Koshihikari
rice with lobster claw and a lobster reduction sauce. I was instructed to mix it all up, and the end result was deeply satisfying, a concentrated amalgam of umami and brine that truly conveyed the essence of the lobster, tempered just enough by the rice. I could've easily devoured a bigger bowl of the stuff.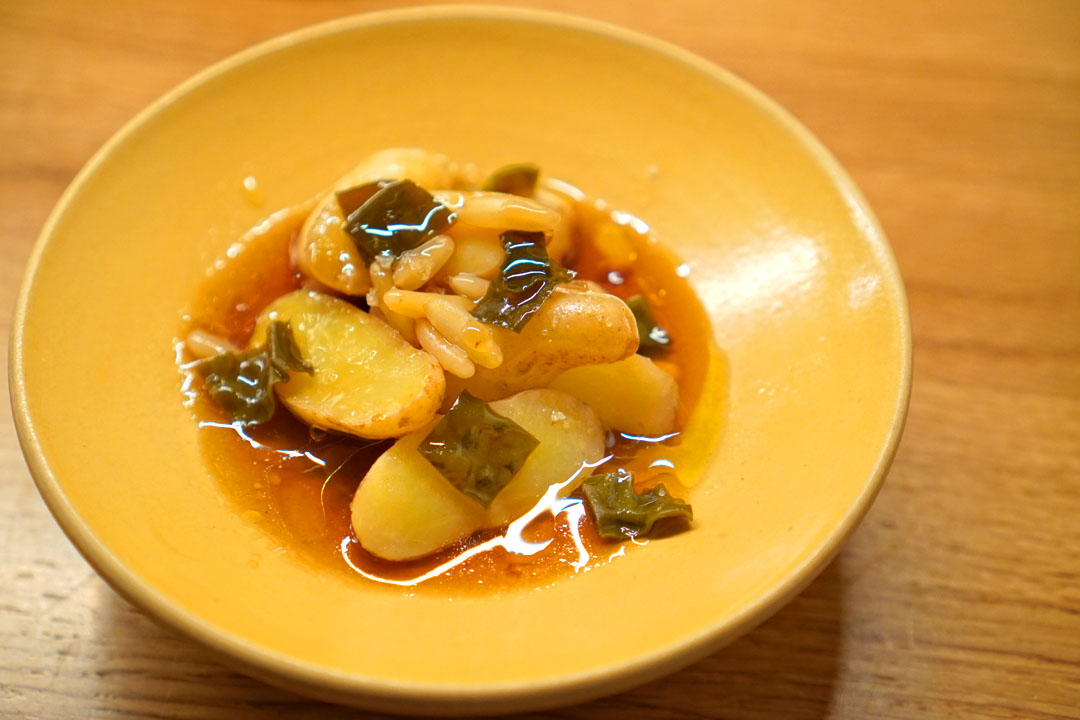 7: New Potato
| Pine Nut and Kelp
Up next was Bamberger Hörnchen, a type of German potato grown in Denmark, smoked with Earl Grey. I was a fan of its gratifyingly al dente consistency, as well as how it paired with the sweet-savory complexity of that kombu sauce, all while the pinoli offered up a nutty, crunchy accent.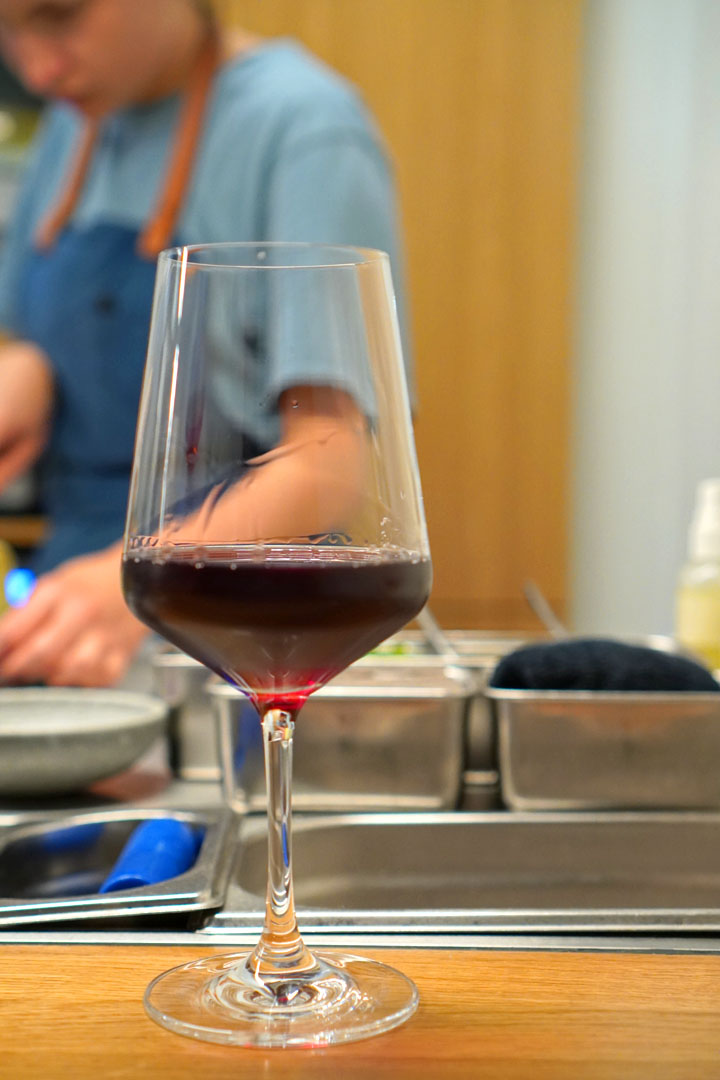 I requested a heftier beverage to go with the upcoming courses, and the Chef recommended a pour of the
2021 Cathedral • William Downie • Pinot Noir • Victoria [160 kr ($23.76)]
. The wine demonstrated an appealing aroma brimming with ripe, lush strawberries and flowers. Taking a sip, this definitely tasted young, but not in a bad way, and I enjoyed its cool, dark fruit flavors, countered by an undercurrent of spice and mineral.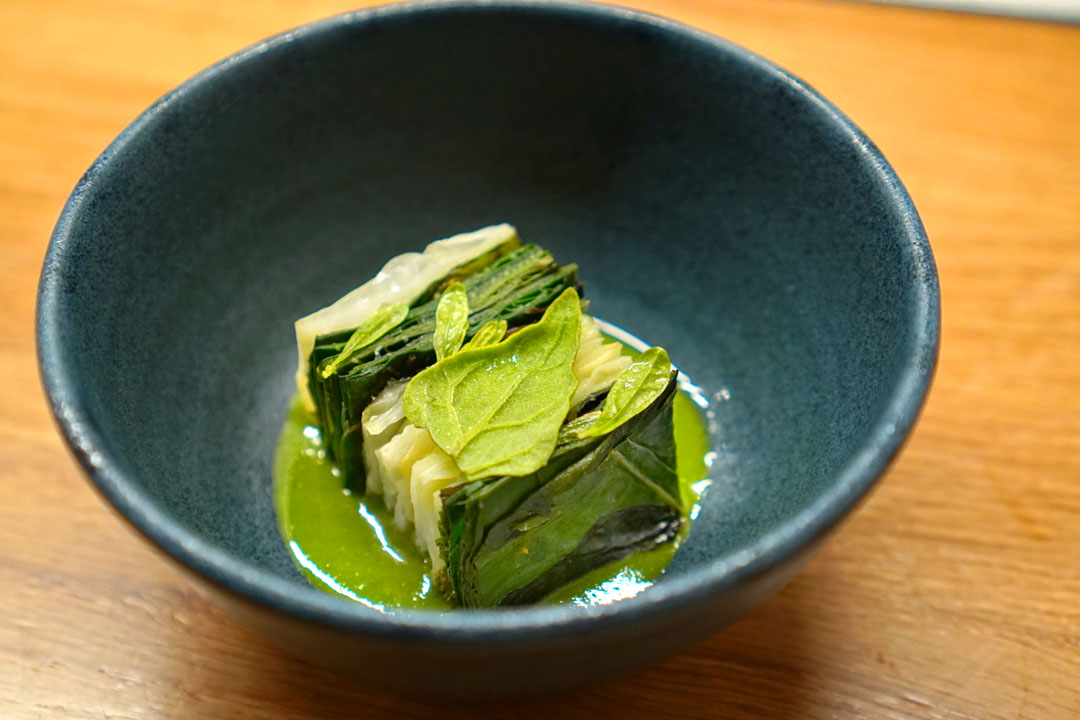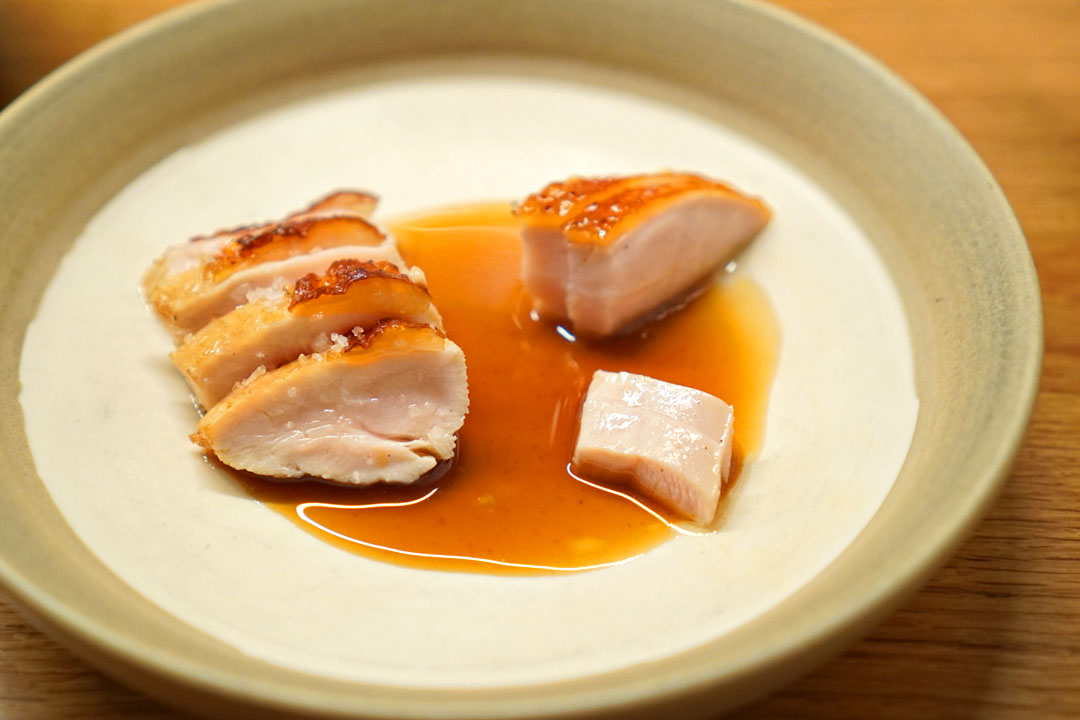 8: Varde Ådal Chicken
| Swiss Chard and Spring Onion
The breast isn't generally my preference when it comes to chicken, but I'm happy to say that this was one of the strongest preparations I've had. The bird was aged and marinated in maltose sauce and spices, giving it a surprising depth of flavor, and I loved how different parts of the breast were presented, providing a juxtaposition of textures. I can't not mention the crispy skin, either. On the side were various summer Brassicas pressed together and roasted, served with a green onion-based sauce. I was smitten by the bitter, vegetal, refreshing, multi-dimensioned nature of the greens, and how they played off the headier flavors of the chicken.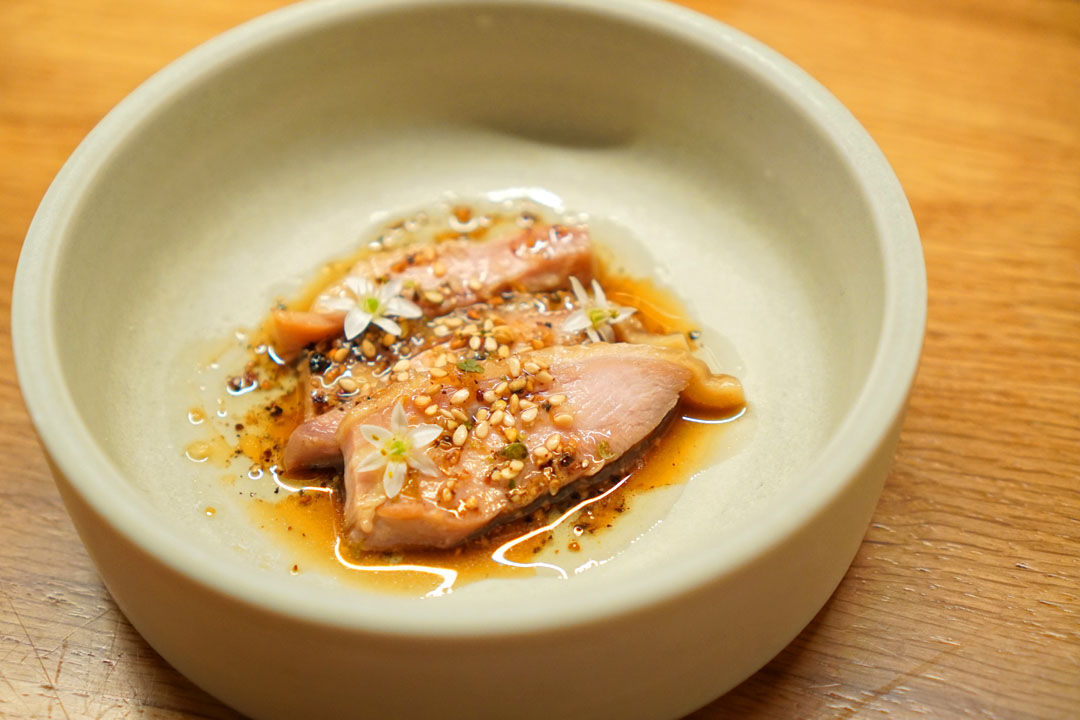 A second helping of chicken highlighted a perfect marriage of lingering black pepper spice and toasted sesame-fueled nuttiness. Superb.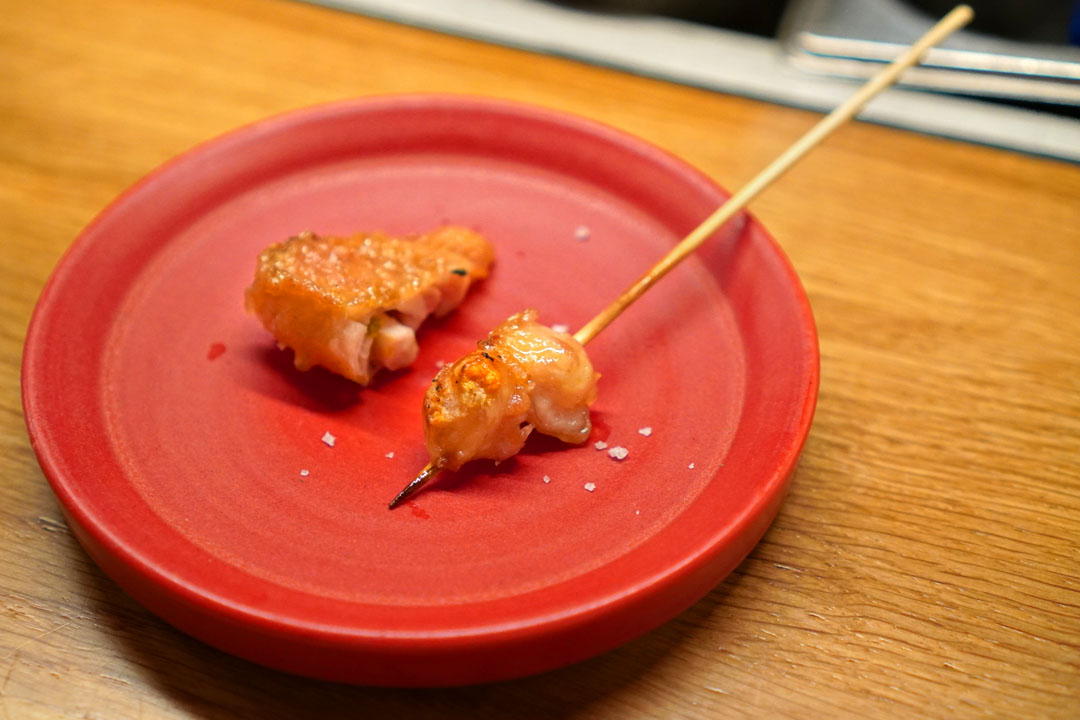 The tail of the bird (my favorite part for yakitori purposes) was the most aggressively "chicken-y" bite of the night, which was great. The wing, meanwhile, showcased a delectable savor and salt, though I would've preferred it served at a higher temperature.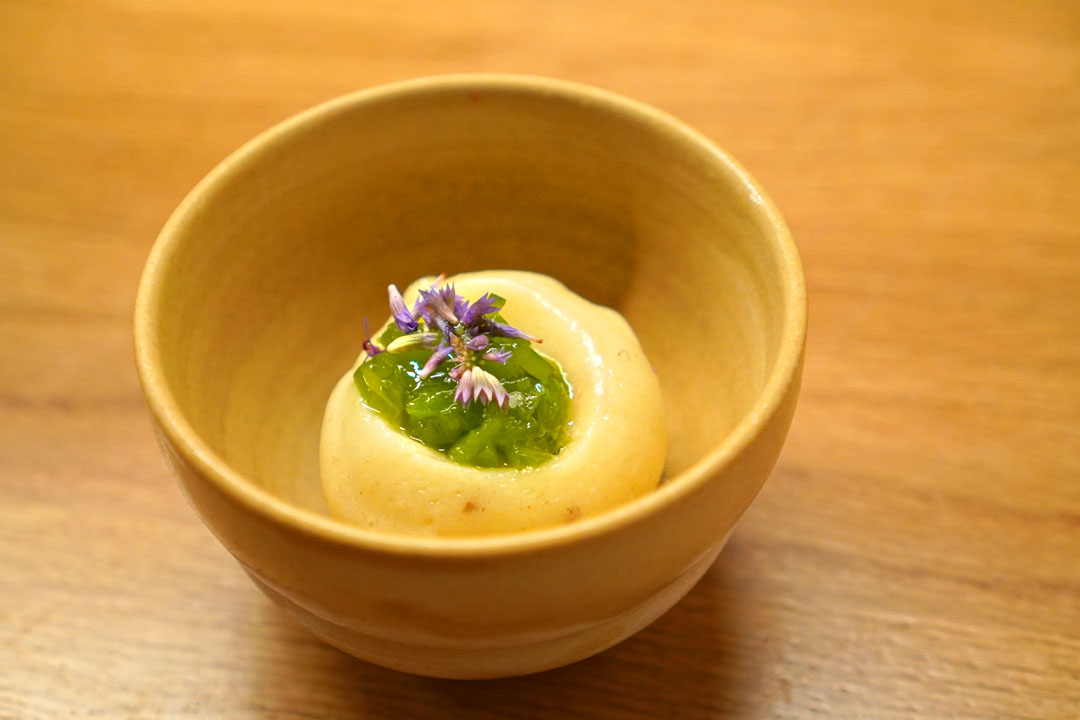 9: Gooseberry
| Anisse Hyssop
Time for dessert. A green gooseberry sorbet was boosted by both red and white gooseberries, and topped with anise hyssop jelly. The sweet, tangy nature of the fruit was well displayed, while just as important was the contrast provided by the refreshingly herbaceous notes from the anise hyssop.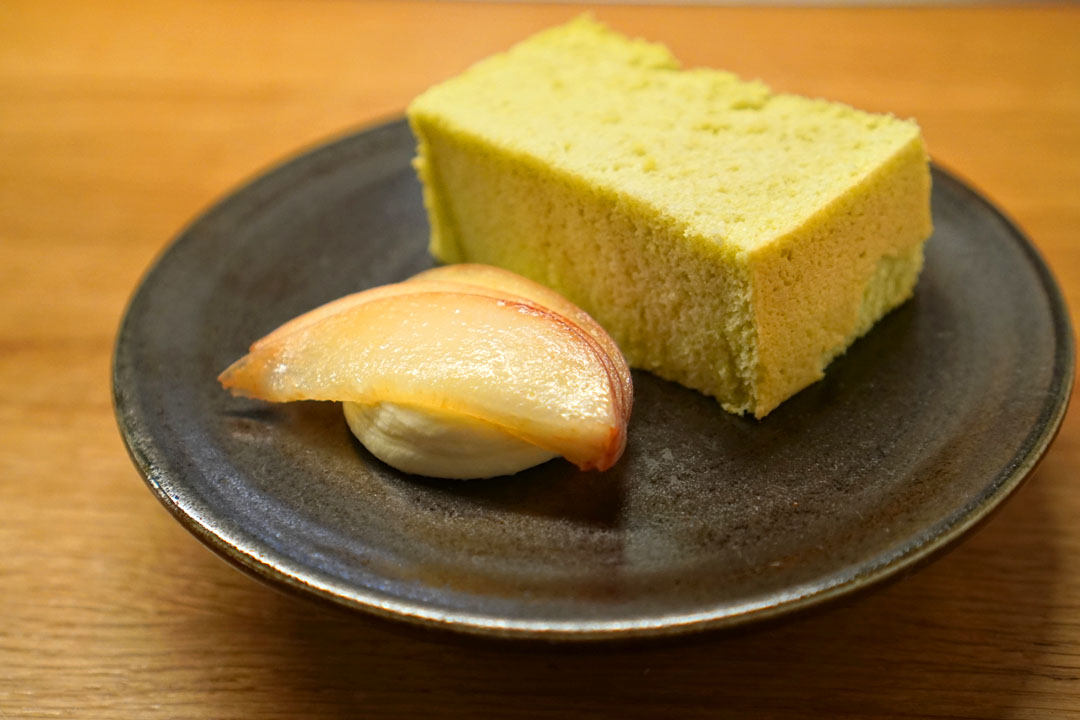 10: Japanese Cheesecake
| Woodruff and Chantilly
The Japanese-style cheesecake had that soft, light, fluffy consistency I was looking for, while the woodruff lent a sweet, herbal quality. At the same time, white peaches and Chantilly imparted a sort of "peaches and cream" character to the dessert that I quite enjoyed.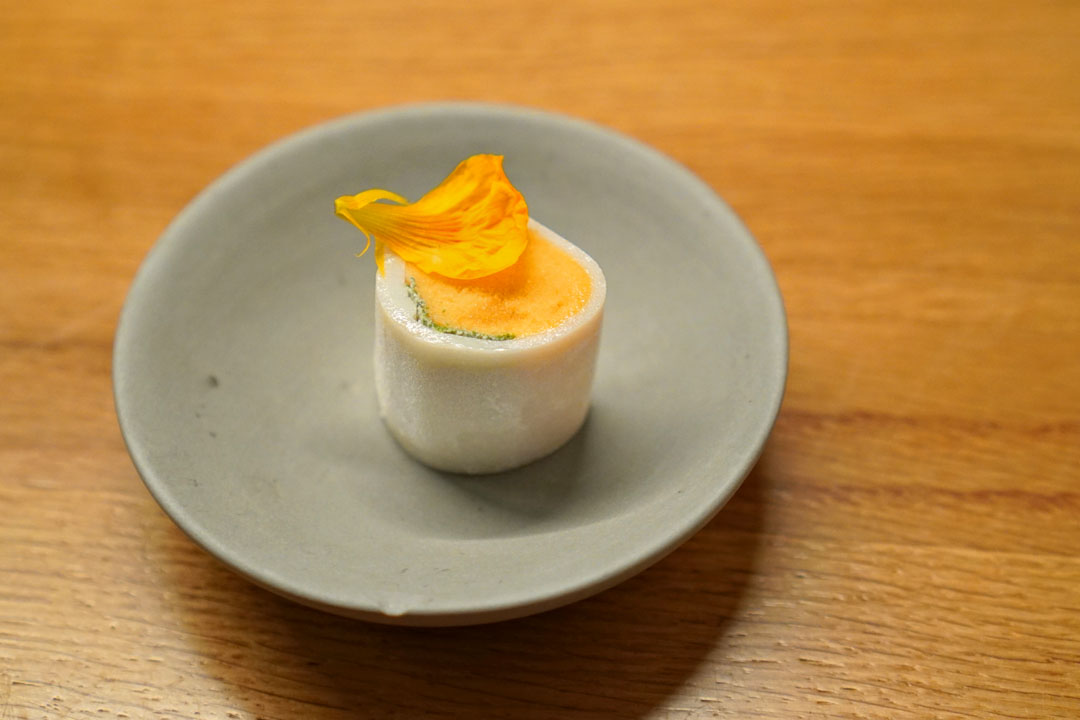 11: Apricot
| Mochi and Sage
Chinese-style rice cake came stuffed with frozen apricot mousse and sage. The outcome was a clever mash-up of fruity and assertively herbal flavors, set against the chewy, sticky mouthfeel of the mochi.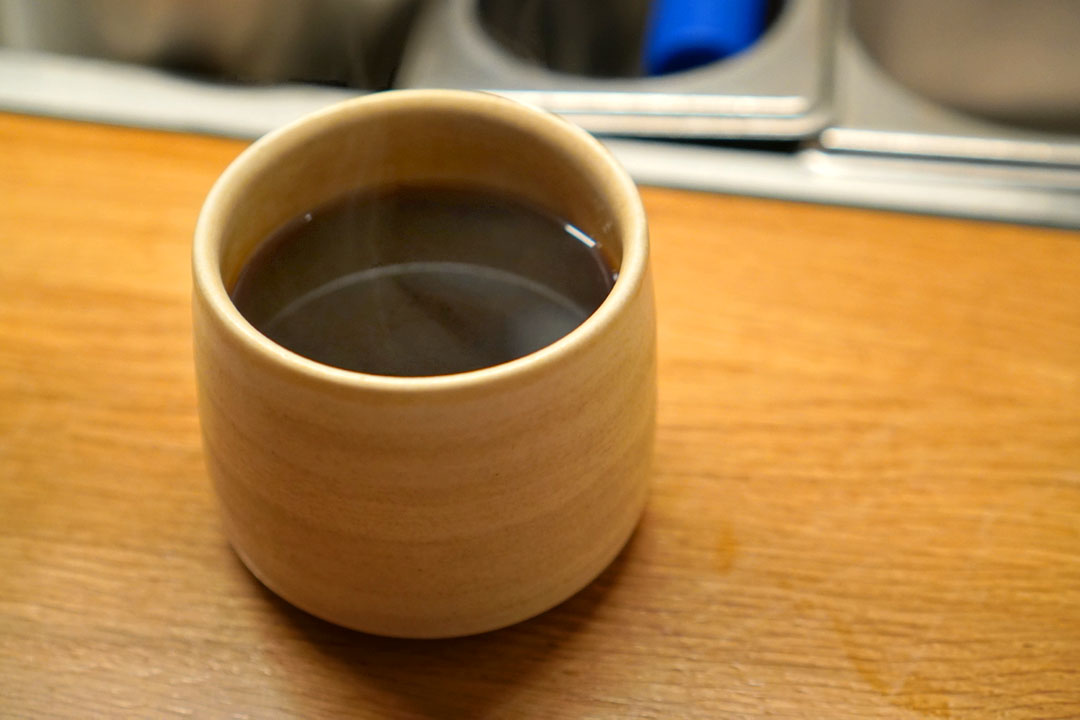 Closing out the meal was a roasty, yet unusually fruity cup of
coffee [50 kr ($7.43)]
.
I wasn't quite sure what to expect coming in here, but I'm really glad that I made it out to Jatak, since this was an impressive meal, with spot-on flavors. Tam had done a great job combining his Cantonese background with his extensive training in new Nordic cuisine, to delicious effect no doubt. The end product is some deeply personal cooking with a clarity, focus, and purity that really spoke to me. This place is one to watch.