Baroo (Los Angeles, CA) [2]
Baroo Restaurant
905 E 2nd St, Los Angeles, CA 90012
323.680.0852
www.baroolosangeles.com
Tue 09/05/2023, 08:15p-10:20p

Back in 2021, I reported on
Shiku
, a casual Korean spot at Grand Central Market opened by Chef Kwang Uh and Mina Park of
Baroo
(바루) fame. While I enjoyed the food there, I, like many others, was still yearning for the return of their nationally-acclaimed, fermentation-focused, neo-Korean eatery, which closed up shop in 2018. Well, our prayers were answered earlier this year when it was announced that Baroo 2.0 would be taking over the former home of Bao Hiroo in the Arts District's Garey Building. Following a week or so of friends and family service, the restaurant debuted on September 5th, and since I had nothing else planned that evening, I decided to pay the place a visit on opening night.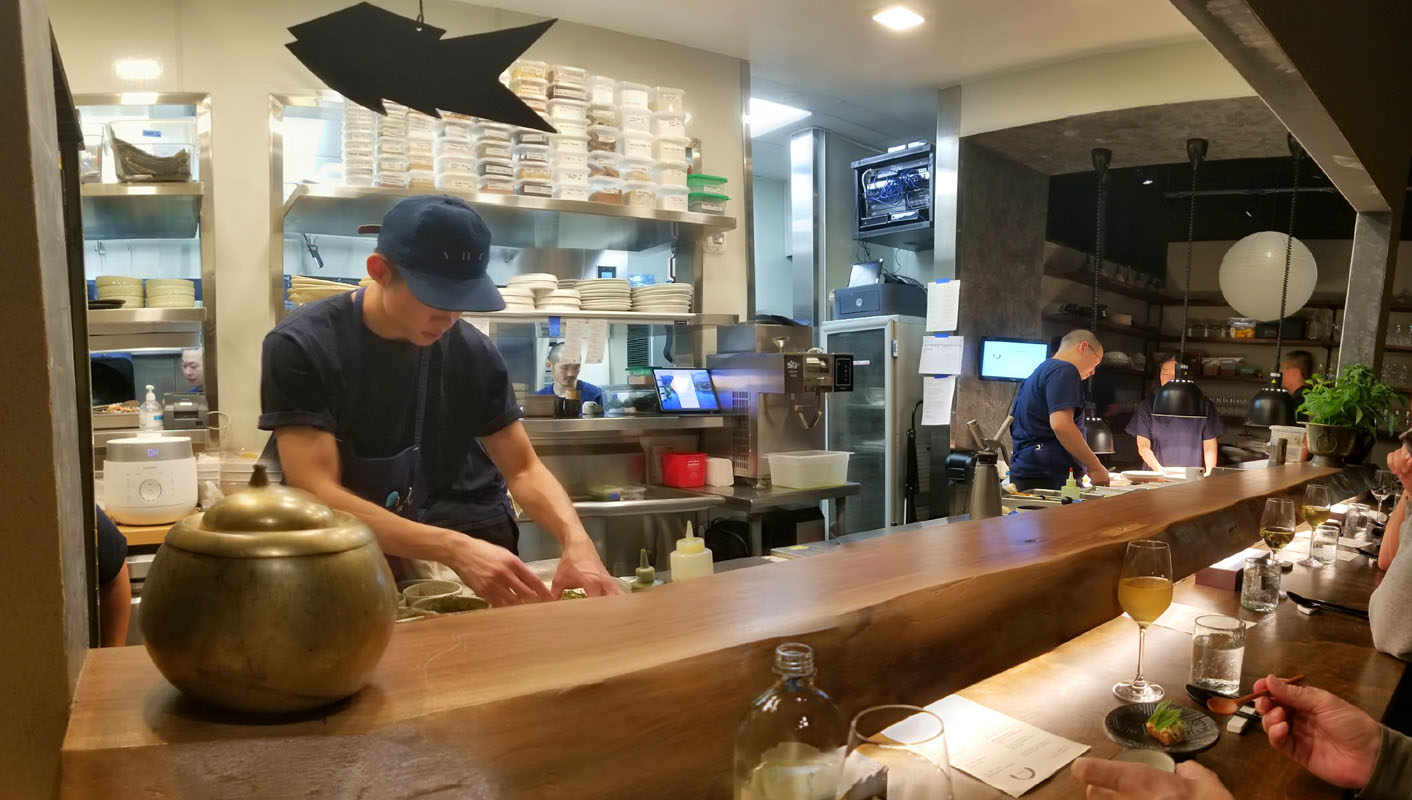 Shown above is the view from my seat at the end of the kitchen counter.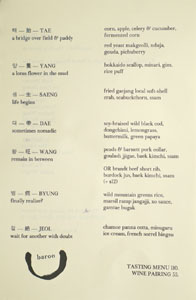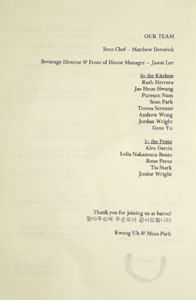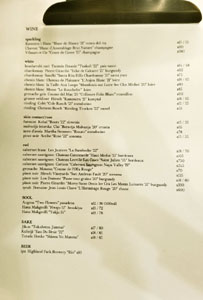 Priced at $110 a head (plus $55 for wine pairing), Baroo's menu is quite unique in that it's inspired by the various phases in a person's life, from pre-birth to re-birth. I've heard that they'll be offering a vegan/vegetarian menu in the future as well. Libation-wise, Beverage Director Jason Lee (
Pijja Palace
,
n/soto
,
Kali
) is in charge, and he's put together a compact selection of wines, along with a smattering of
sul
(술, a general term for Korean booze), sake, and curiously, only one beer. In addition, a cocktail program was launched on September 12th. Click for larger versions.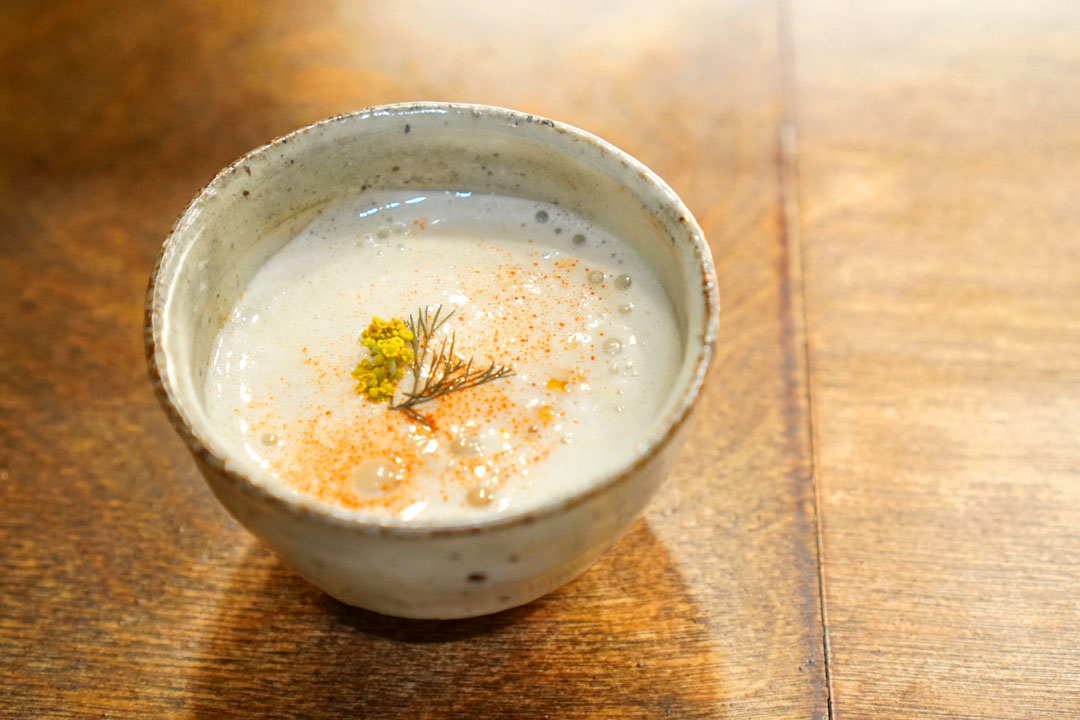 1a: 태 ― 胎 ― TAE / a bridge over field & paddy
| corn, apple, celery & cucumber, fermented corn
My dinner began with a rather unassuming dish that really delivered in the taste department. Initial nuances went in a refreshing, pickle-y, cucumber-y direction; the sweetness of summer corn arrived later, joined by savory bits, while the back end presented a long-lasting tang. Everything just harmonized beautifully here.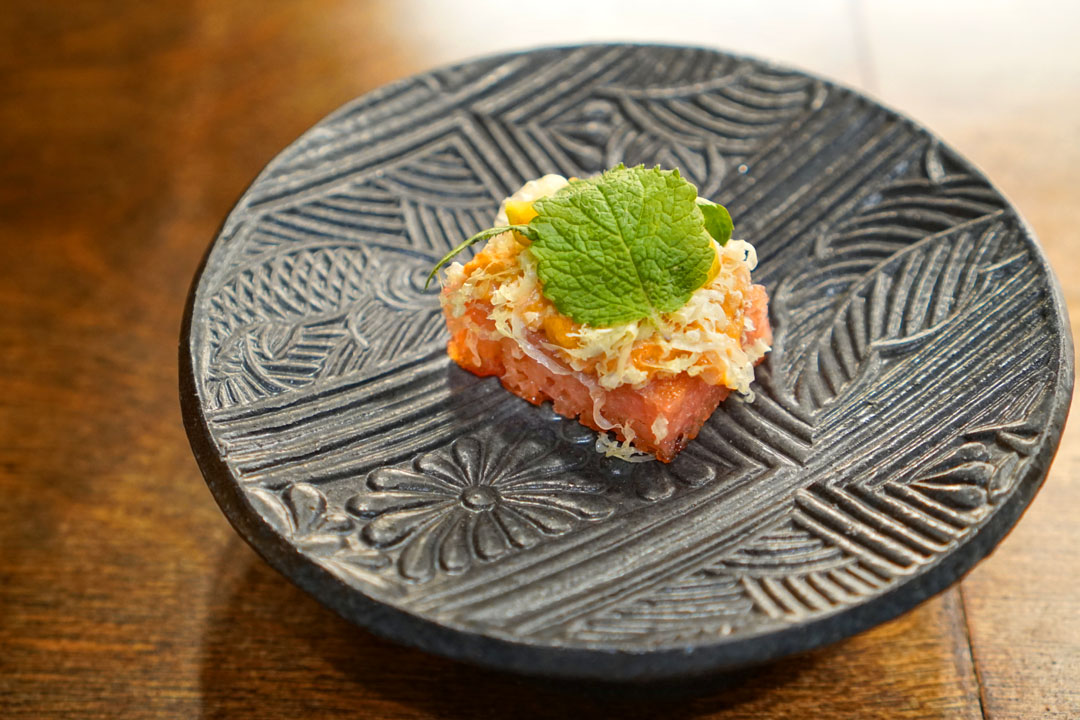 1b: 태 ― 胎 ― TAE / a bridge over field & paddy
| red yeast makgeolli, nduja, gouda, pichuberry
A steamed-then-fried cake made with red-tinted rice wine demonstrated a chewy, gratifying bite. Even more gratifying, though, were all the complementary flavors at play: a yeastiness at first, leading to a creeping spice and herbaceousness, with a lingering sweet heat bringing up the rear. Really smart.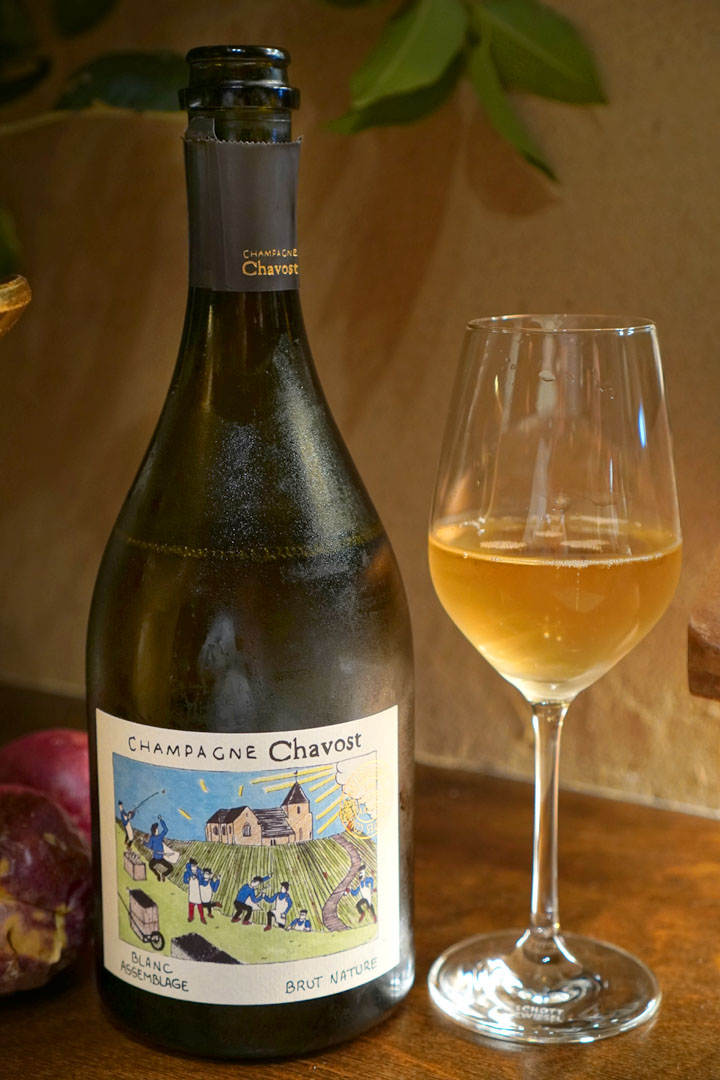 The
Chavost "Blanc d'Assemblage Brut Nature" Champagne [$110]
served as a fitting accompaniment for the food tonight. The wine displayed a bright, vibrant nose bursting with citrus, but with a backing of caramel and smidges of
suanmei
. On the palate, I found the sparkler fresh and invigorating, its vivid acidity and orchard fruit elements joined by an undercurrent of barnyard.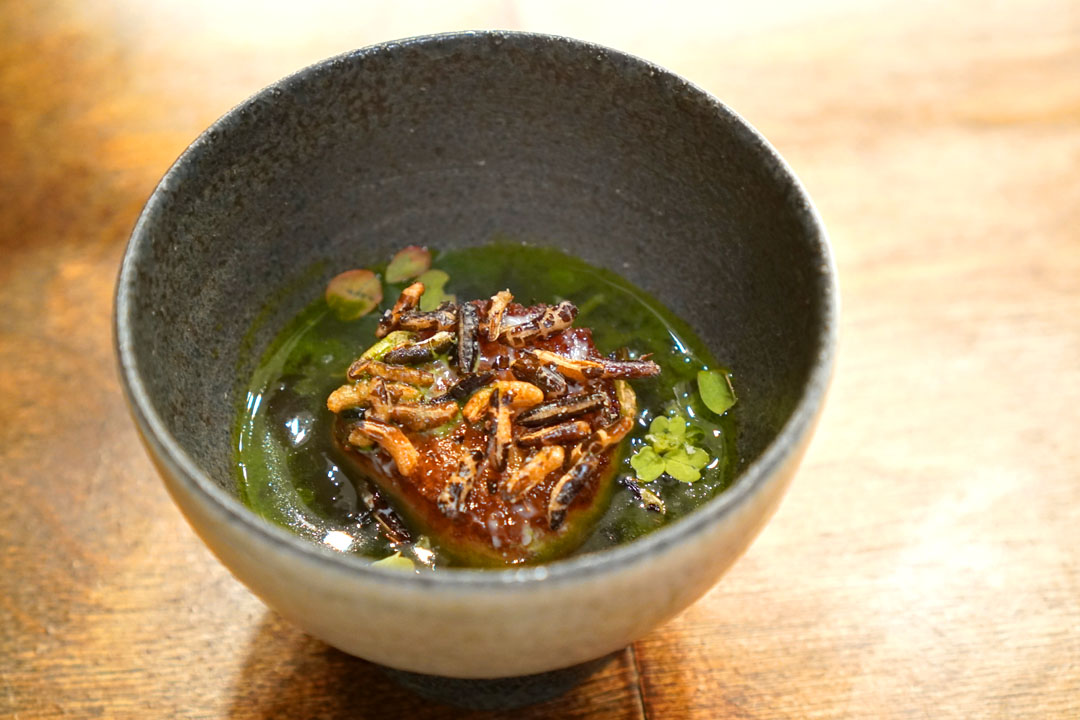 2: 양 ― 養 ― YANG / a lotus flower in the mud
| hokkaido scallop, minari, gim, rice puff
This might be the best scallop I've had all year. It showed off a mouthwatering sweet-salinity that linked up perfectly with the almost salmon skin-like savor from the toasted rice. Just as crucially, the scallop was juxtaposed against the vegetal, grassy depth of water dropwort and seaweed in expert fashion.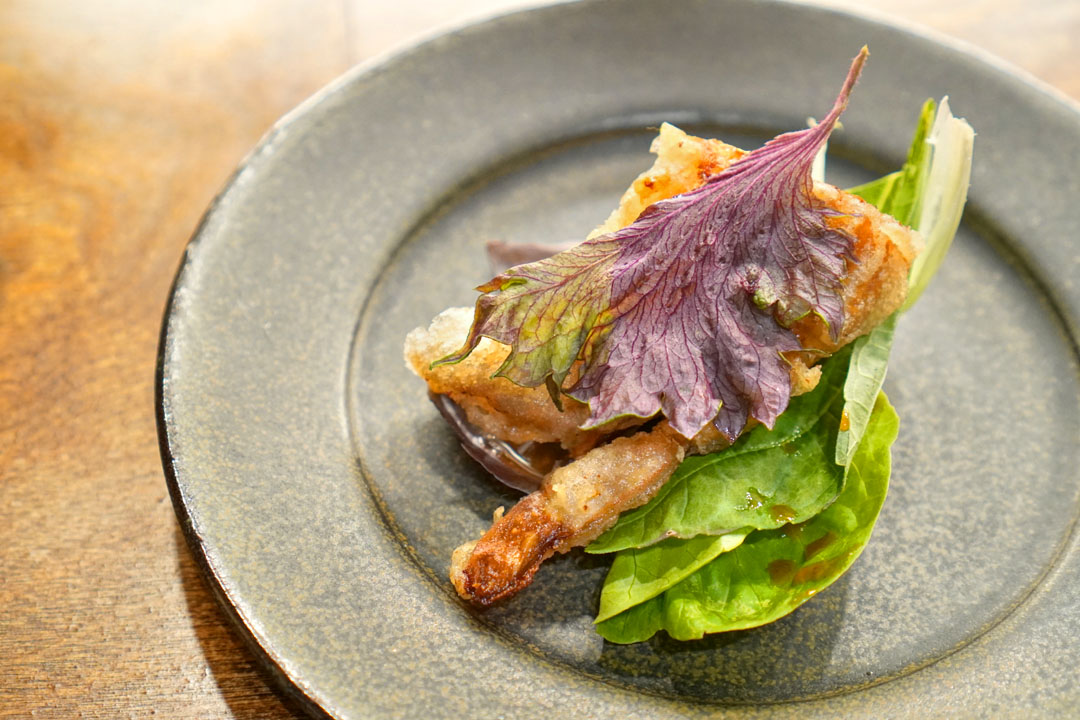 3: 생 ― 生 ― SAENG / life begins
| fried gaejang local soft-shell crab, seabuckthorn, ssam
I've actually never been a huge fan of soft-shell crab in general, but I can safely say that this was one of the better ones I've had. The crab was marinated in soy sauce, giving it a lovely combination of savory, sweet, and saline flavors, and showcased a spot-on fried consistency. At the same time, the greens and sea buckthorn emulsion offered up a contrast that balanced out the headier flavors in the dish.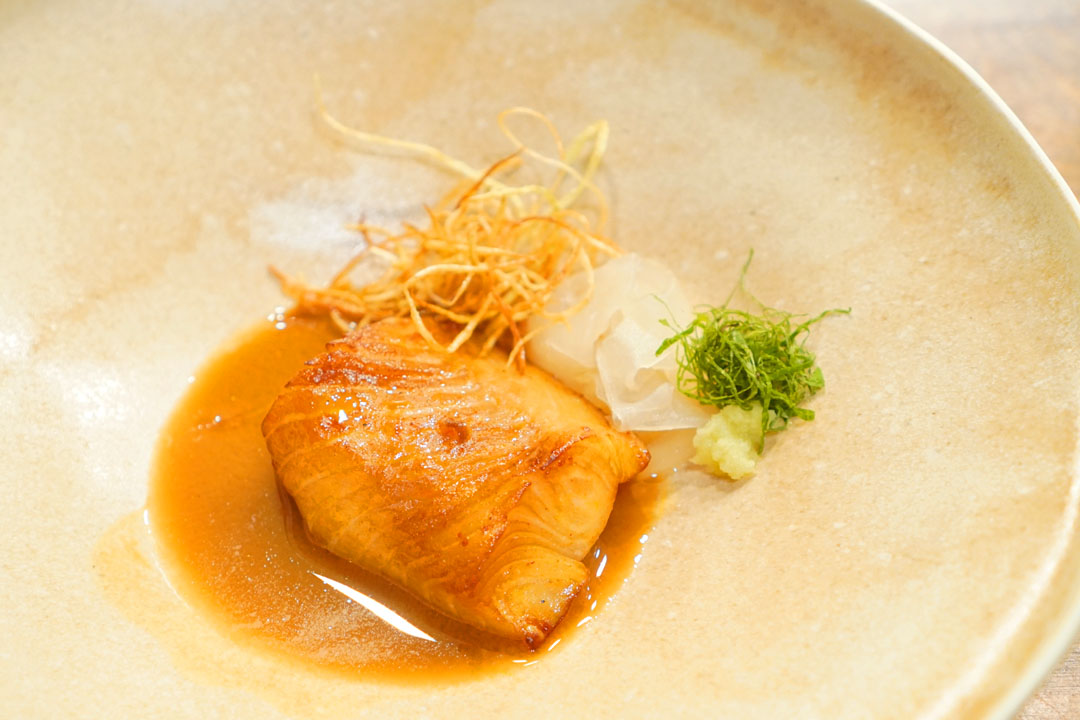 4: 대 ― 帶 ― DAE / sometimes nomadic
| soy-braised wild black cod, dongchimi, lemongrass, buttermilk, green papaya
Sablefish arrived wonderfully silky and flaky and fatty, with a soy-fueled depth and a nearly buttery richness. Accoutrements of fried papaya, pickled
chamoe
, perilla, and fresh wasabi worked to offset the heft of the fish, while a sauce of buttermilk, lemongrass, and coconut completed the equation.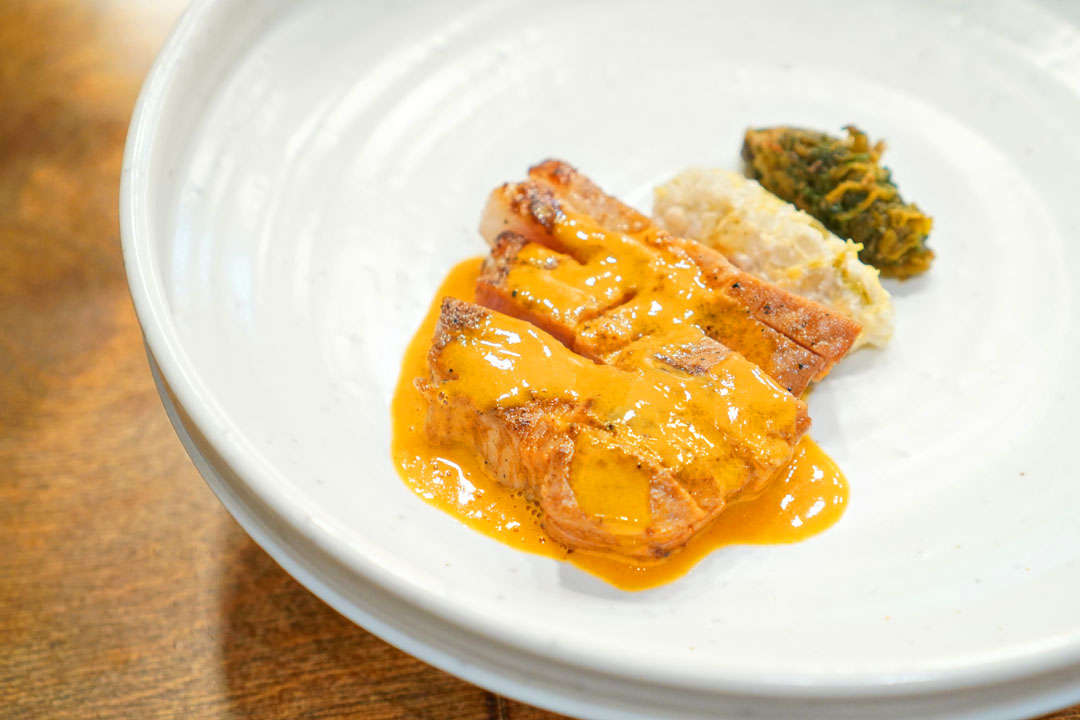 5: 왕 ― 旺 ― WANG / remain in between
| peads & barnett pork collar, goulash jjigae, baek kimchi, ssam
Pork collar arrived tender and juicy, with a delectable amalgam of lean and fat. It was delicious alone, but was certainly taken up a notch by that goulash-inspired sauce, which had this palpable refinement to it, yet still packed a punch. I was also a fan of the white and radish kimchis, which provided a zestiness that evened out the potency of the pork.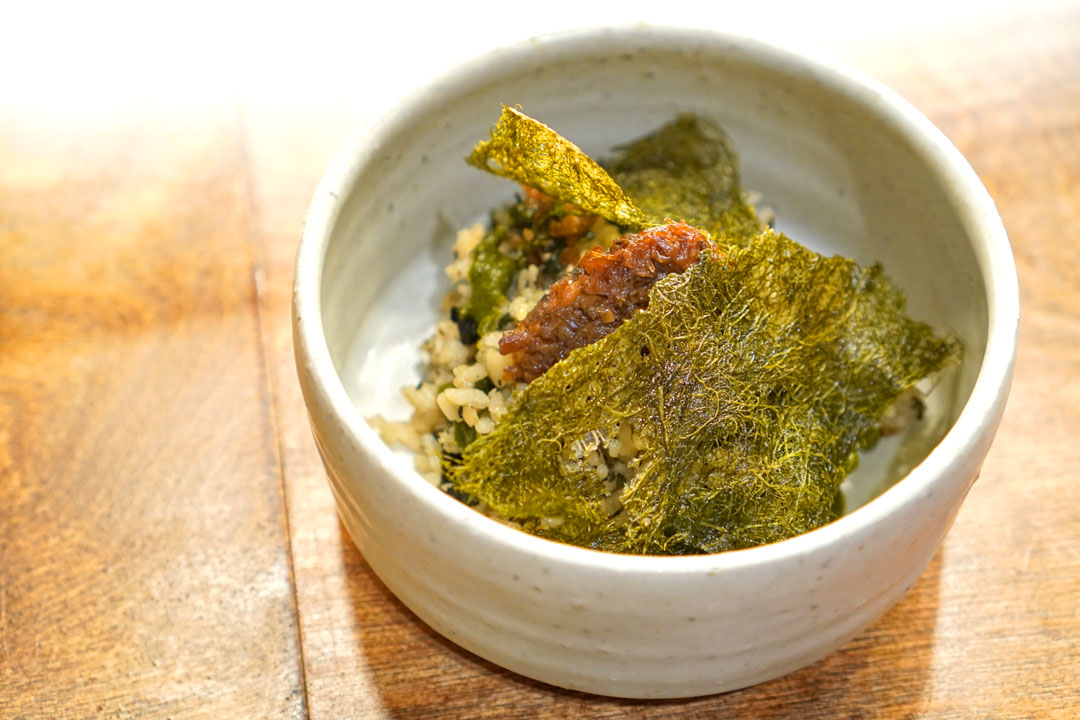 6: 병 ― 病 ― BYUNG / finally realize?
| wild mountain greens rice, maesil ramp jangajji, xo sauce, gamtae bugak
The Chef's rice course was masterful. The rice itself had just enough "stick," and meshed flawlessly with the bitterness and piquancy of steamed wild greens and plum-ramp pickles. I also loved the addition of dried shrimp, which gave the course an intense brine and
gamchilmat
that I reveled in, while the fried
gamtae
served as the perfect accent piece. This is likely my favorite rice dish of 2023.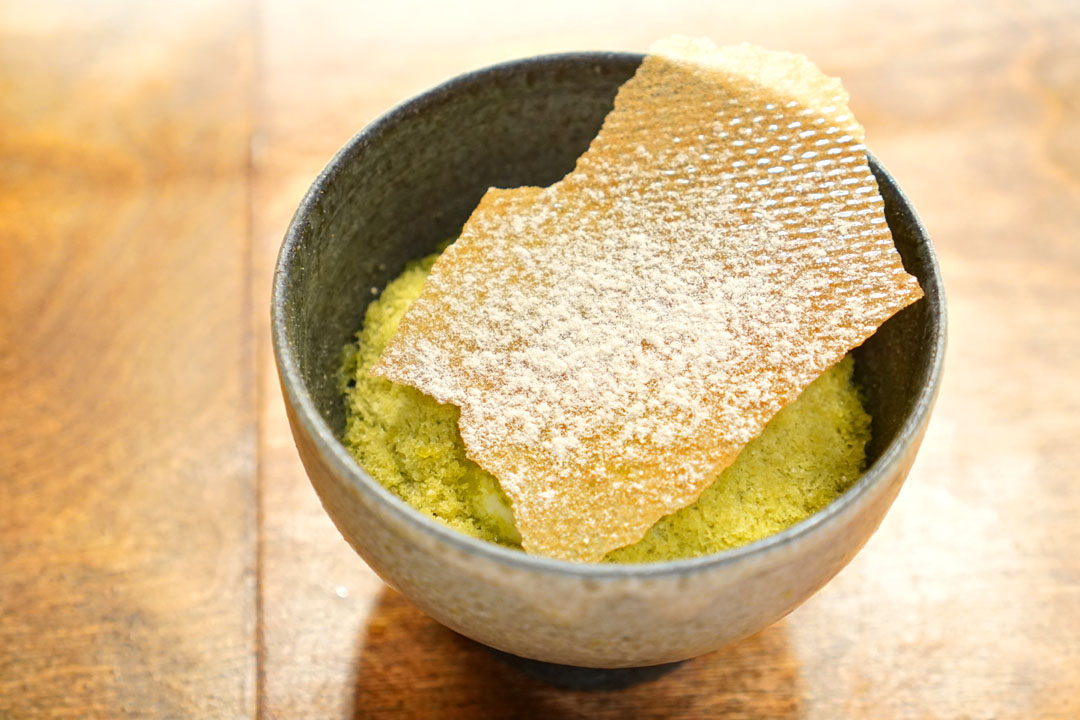 7: 절 ― 絶 ― JEOL / wait for another with doubt
| chamoe panna cotta, misugaru ice cream, french sorrel bingsu
Dessert married the sweet, subdued, melon-y flavors of a
chamoe
panna cotta with the delightfully nutty, malty nature of grain powder ice cream, all while a sorrel-rose shaved ice perked things up beautifully. A very apropos dessert to end with, one that summed up the meal nicely.
We've waited five long years for the return of Baroo, and I'm happy to report that the place did not disappoint. Indeed, I could tell from my first few bites that this would be a standout meal, and the hits just kept on coming. This is a clear evolution from the original restaurant, so it was great to see what the Chef and his team are able to accomplish now, given a proper space with proper service. I was actually a bit jaded after returning from my recent Copenhagen trip, but this meal was able to help rekindle my excitement for the LA dining scene. Baroo is back, and better than ever.