Bé Ù (Los Angeles, CA)
Be U Restaurant – Vietnamese Street Food & Comfort Food
557 N Hoover St, Los Angeles, CA 90004
323.928.2135
www.beukitchen.com
Tue 09/12/2023, 03:05p-04:20p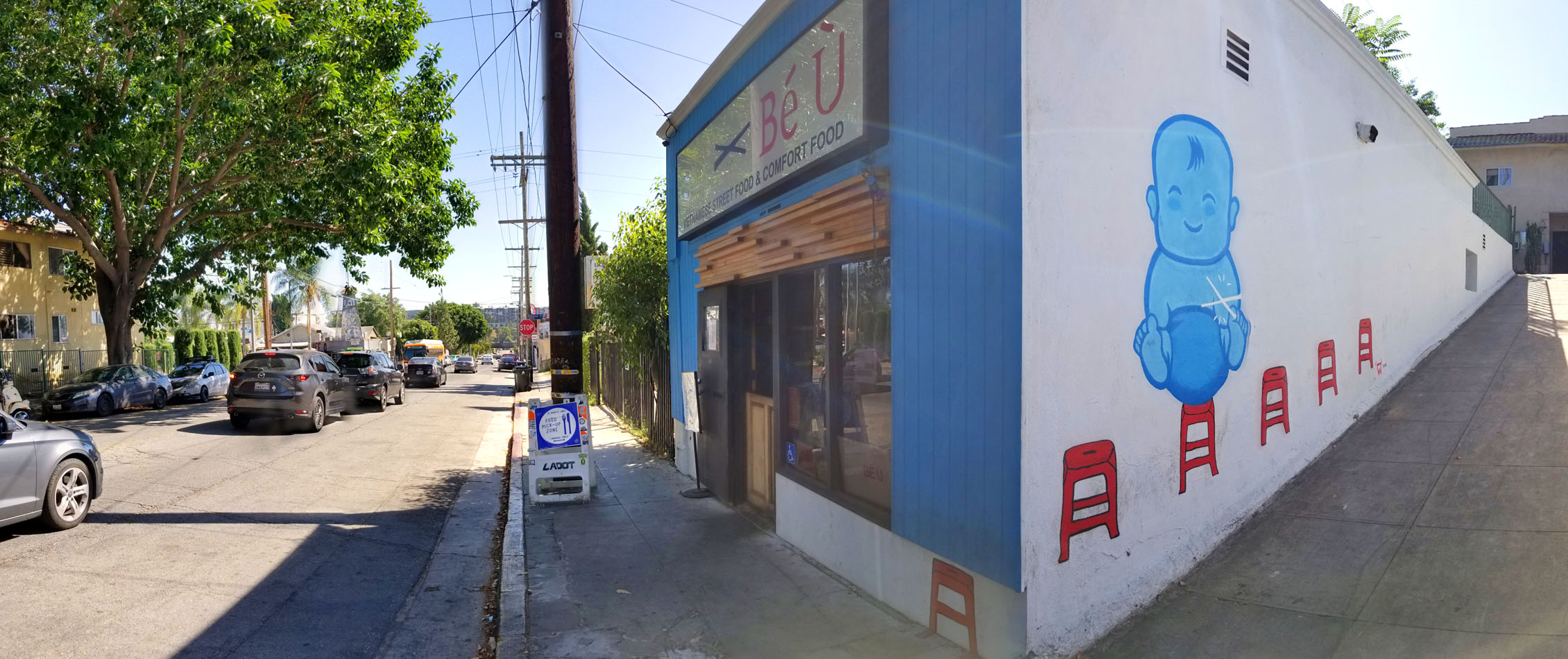 I recently attended a baseball game at Dodger Stadium, and since I was going to be in the area early, I wanted to try out a new food spot. After looking at a few options, I decided on Bé Ù, a casual, takeout-only Vietnamese eatery situated right on the edge of East Hollywood, on its border with Silver Lake, near Virgil Village. The place was opened in February 2021 by Chef Uyen Le, and interestingly, the name Bé Ù is actually derived from her childhood nickname of "fat baby."
About the Chef
: Lê Phước Uyên was born in Saigon in April 1984, but her family relocated to the US when she was seven, settling first in West Covina, then La Puente. Food was always a constant in those early years (even if it meant relying on food stamps), and was nearly synonymous with family. In 2002, Lê enrolled at UC Berkeley, where she majored in political science. During her final semester, Hurricane Katrina struck, and as a result, she went to Louisiana's Gulf Coast to aid in rebuilding. During this time, she got involved with the National Alliance of Vietnamese American Service Agencies, a group dedicated to the empowerment of Vietnamese-Americans.
After finishing her bachelor's degree in 2006, she stayed with NAVASA until the end of the year, then prepared herself for graduate school. Lê began her master's degree in city planning at MIT in August 2007, and during her tenure there, she held a particular focus on the development of Vietnamese communities. After graduating in May 2009, she joined UCLA Labor Center's California Construction Academy, where she concentrated her efforts on green construction and construction labor. Her next move came at the start of 2013, when she joined International Brotherhood of Electrical Workers Local 11, working in compliance and outreach.
However, Lê ended up leaving her position at IBEW Local 11 in 2016 in order to pursue a career in food. As a result, she began taking classes in both pastry and savory at the now-shuttered New School of Cooking in Culver City. In 2017, she was able to assist chefs at various culinary events, including John Tesar at the Los Angeles Food & Wine festival,
Gilberto Cetina
at The Taste, and
Thi and Nguyen Tran
at the Eastside Food Festival. Lê would later work for the Nguyens at Button Mash in 2018, and also dabble in craft services. From April to May 2019, she spent five weeks in Vietnam and Singapore on a food research trip, then cooked at
Cassia
. She left her post under
Bryant Ng
at the start of the pandemic, catered a bit, and soon started work on launching Bé Ù, which soft-opened on February 2nd, 2021.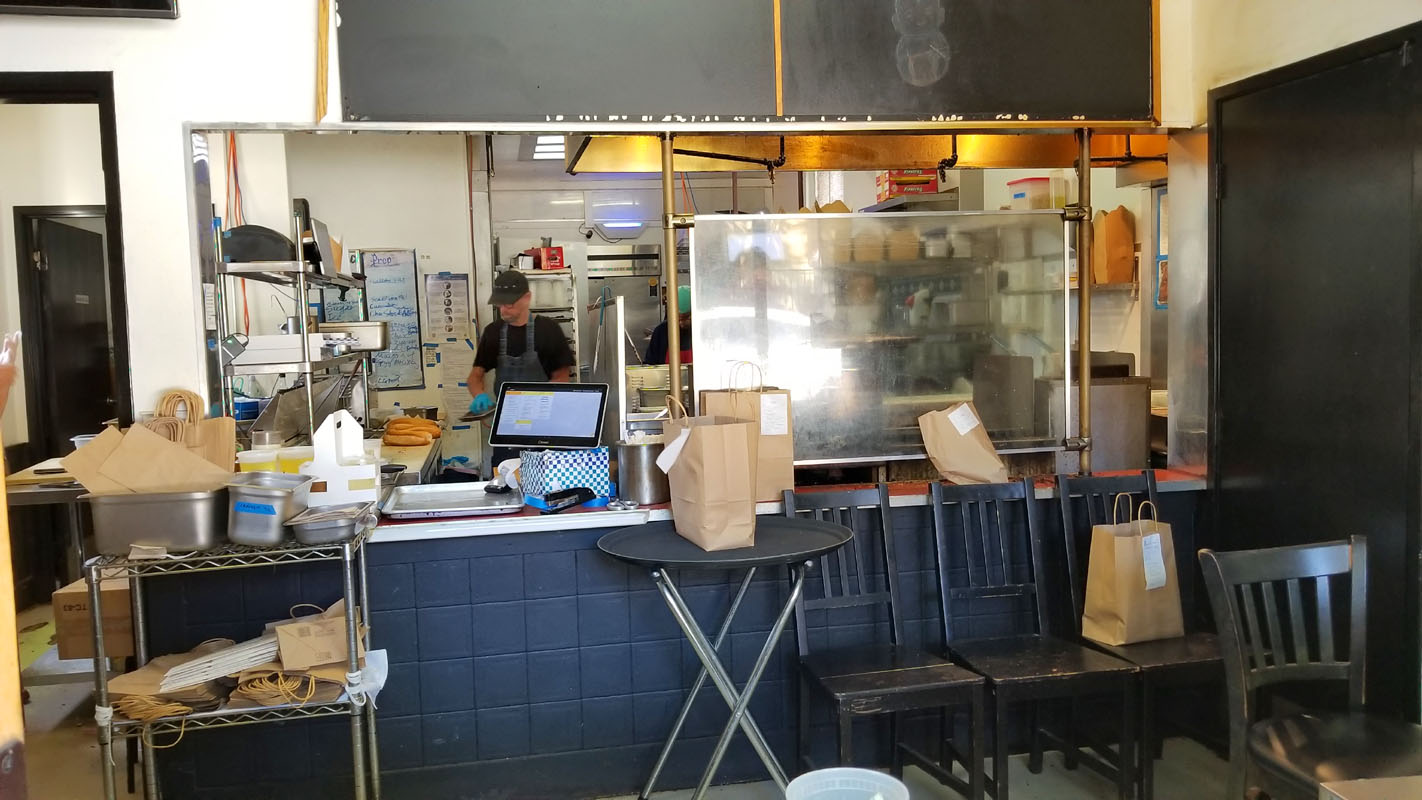 Bé Ù resides in a small structure that was previously home to the likes of Gail's Rolls N' Grill, Ninjin Express, El Pollo Fresco, and Iglesia Cristiana Evangelica. Inside, things haven't changed too much from the Gail's days, though the exterior of the building was refreshed by Mike Mazon of
MADLOSANGELES
.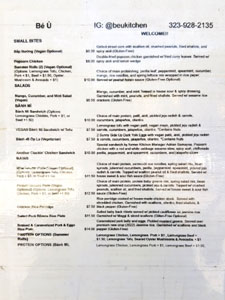 And here we see Bé Ù's menu, which is comprised of mostly familiar and approachable dishes, though specials and new items do get added fairly often. Click for a larger version.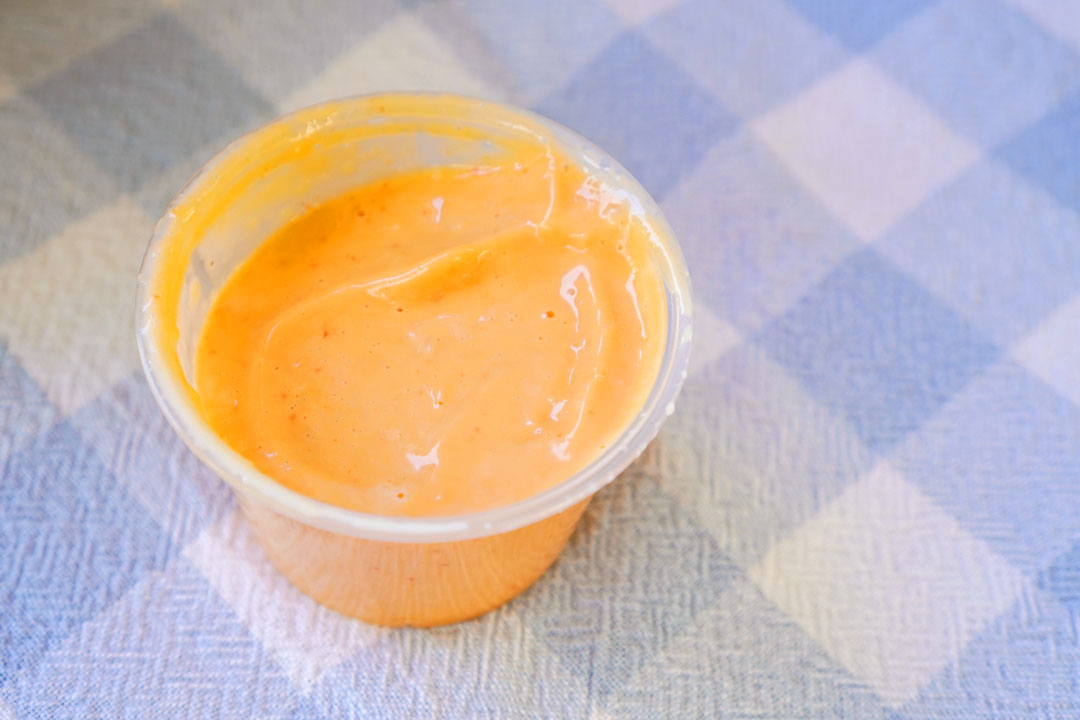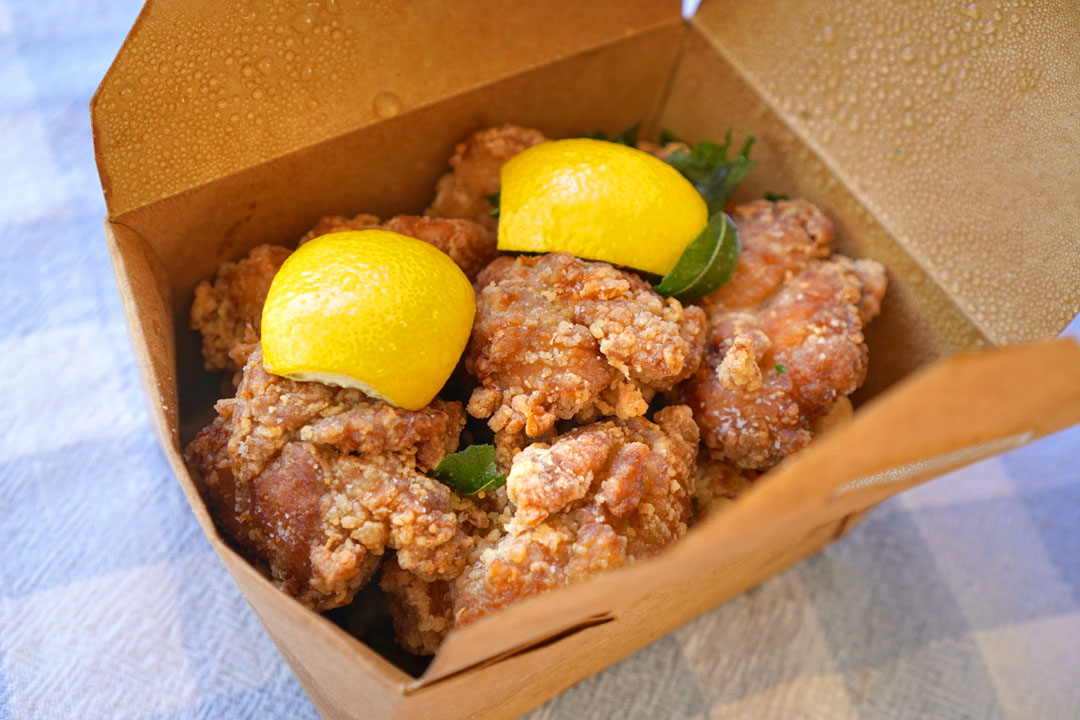 Popcorn Chicken [$8.00]
| Double-fried popcorn chicken garnished w/ fried curry leaves. Served w/ spicy aioli and lemon wedge
Slightly larger than expected nuggets of fried chicken were delectably spiced, and decently juicy to boot. They were perked up nicely by a squirt of lemon, and made sense with the curry as well, though I would've liked more of those leaves. The accompanying sriracha-boosted aioli, meanwhile, had this creamy, vegetal sort of heat, and more nuance to it than I was expecting.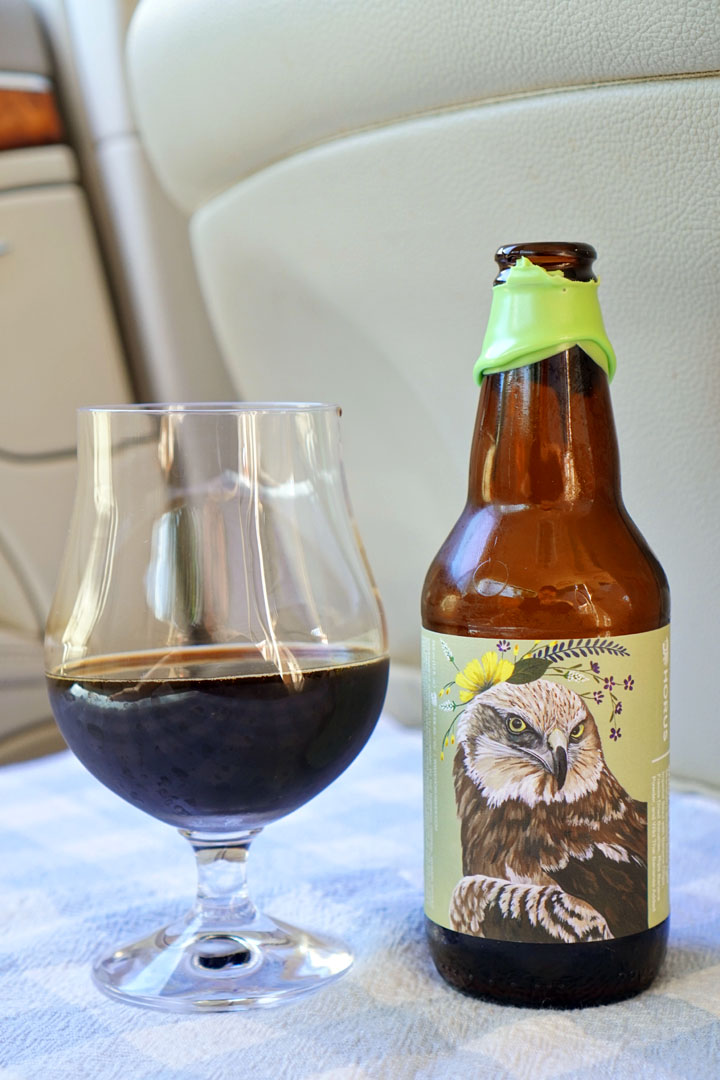 Today's first beer was the
2023 Horus The Greatest Show in Stouts
, an imperial stout aged in Stranahan's whiskey barrels for 34 months, with banana chips, freeze dried bananas, ripe banana powder, and wild Thai bananas added. Unfortunately, the nose here was surprisingly muted, and I only got a trace of the advertised banana peeking through. Thankfully, the palate was a completely different story: thick and luscious, with a healthy dosing of multifaceted banana flavors that meshed seamlessly with the beer's malty, chocolate-y, whiskey-soaked notes.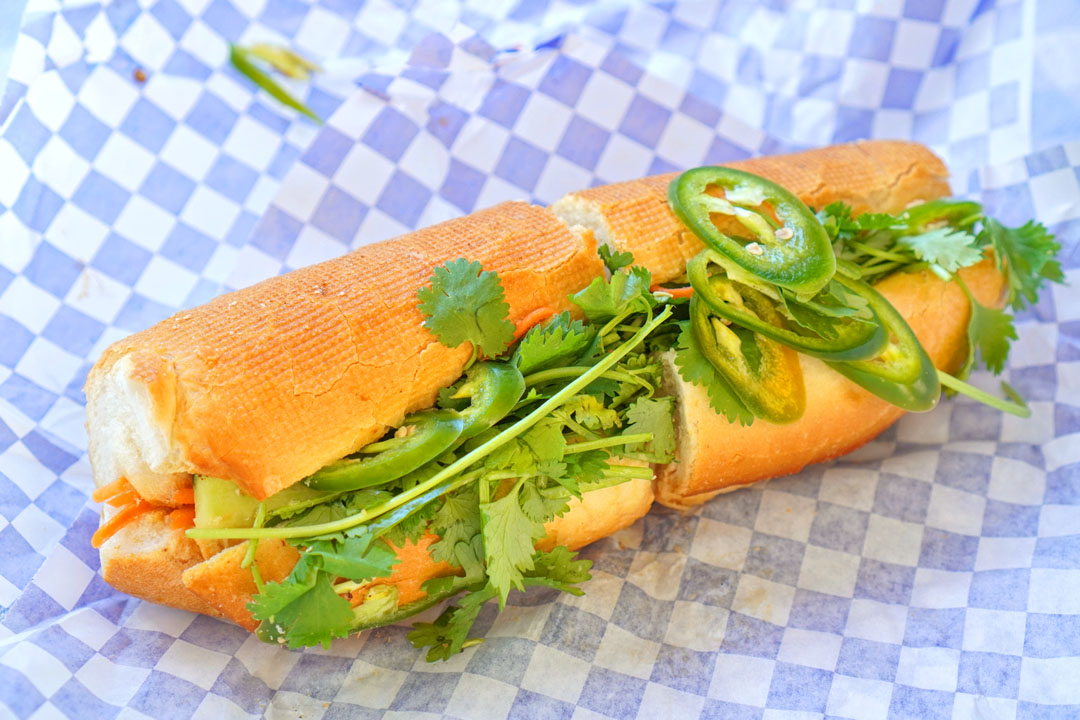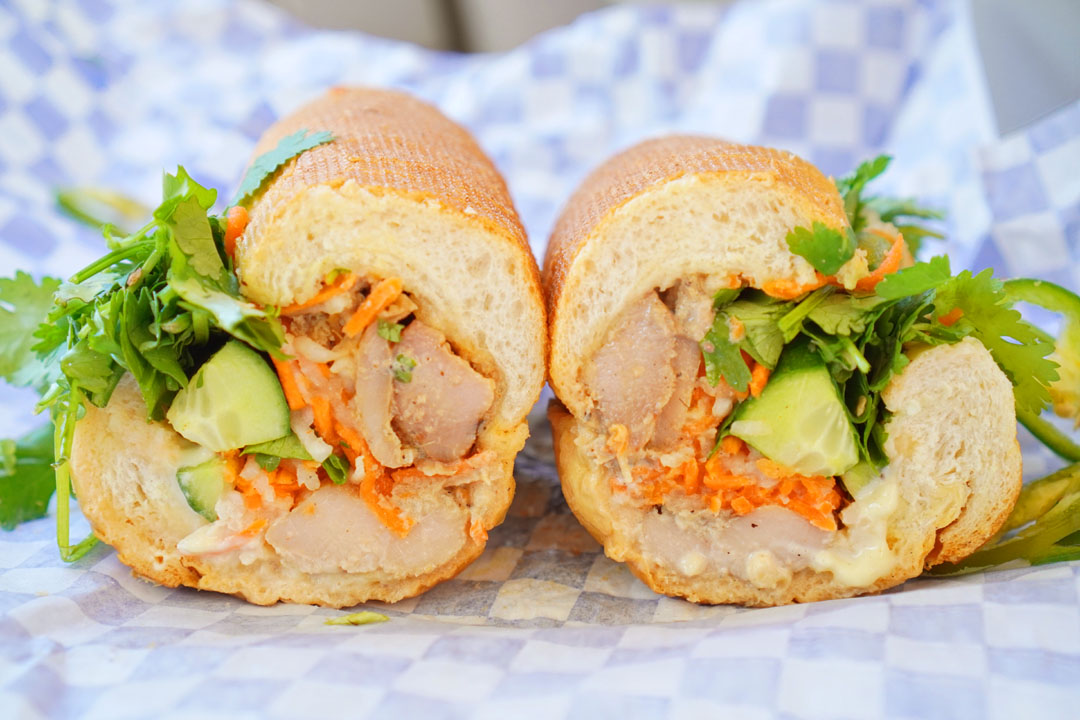 Bánh Mì Sandwich - Lemongrass Chicken [$10.00]
| Choice of main protein, patê, aioli, pickled radish & carrots, cucumbers, jalapeños, cilantro
The banh mi was a standout, one of the strongest renditions of the sandwich that I've had. The hero here was the chicken itself, which was beautifully seasoned, juicy, tender, and teeming with a tasty mix of both sweetness and smoke. The cilantro, cucumber, chile, and
đồ chua
combo certainly worked for contrast, while the aïoli helped tie it all together (though I wouldn't have minded more from the pâté). I also enjoyed the bread used, which featured a satisfyingly soft chew and a thin, delicate crust.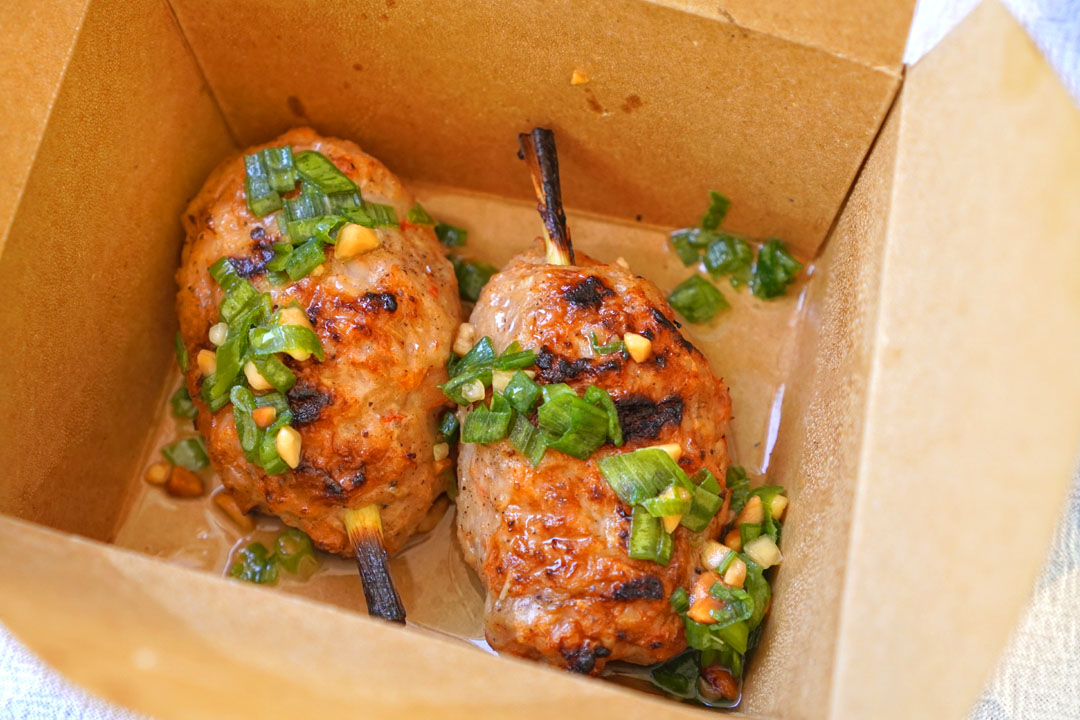 Charred Shrimp Sausage on Lemongrass Skewers [$8.00]
| Shrimp sausage skewered with a lemongrass stalk then charred. Topped with scallion and crushed peanuts. Served with house tangy fish sauce.
A new menu item, the Chef's take on
nem lụi Huế
was another favorite. The shrimp was great texturally, and I loved how its sweet-n-saline qualities meshed with all the sharp, herby, garlicky notes present.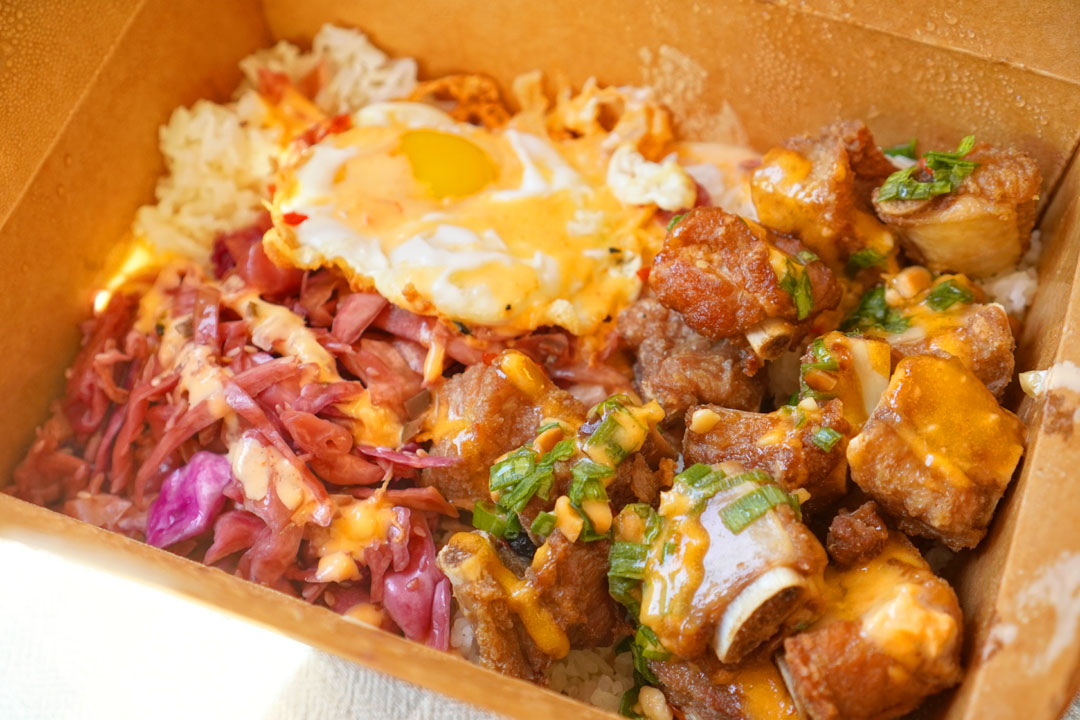 Chef Uyen's Comfort Riblets Lunch [$16.00]
| Fried Riblets, Cabbage Slaw, Fried Egg, Spicy Aioli, Scallion Peanut Oil, and Fish Sauce. All over a bed of jasmine rice.
This preparation of
sườn chiên
is apparently what the Chef makes herself for lunch, and I can understand why. The pork ribs had this salty-savoriness going on that definitely veered nostalgic, and married particularly well with the green onions. I was also a fan of the fluffiness of the rice, the brightness of the slaw, and the runniness of the egg, while that spicy aioli helped bring all the ingredients together.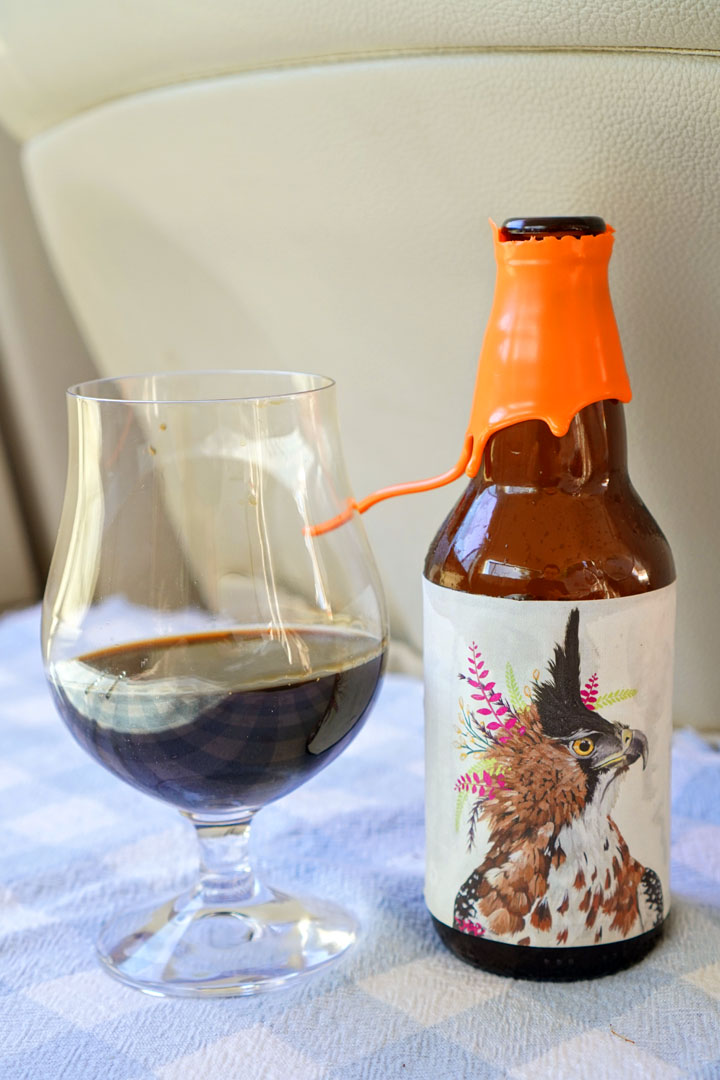 Next to drink came the
2023 Horus Convergent Cycle
, an imperial stout with coconut candy, coconut syrup, coconut water, desiccated coconut, shredded coconut, and toasted coconut, aged in Buffalo Trace and Pappy Van Winkle 23 bourbon barrels. This one smelled intensely and appealingly of rich coconut commixed with jammy fruits, with a malty backing. On the palate, it was even thicker than the first beer, with layers and layers of heady coconut character leading to elements of malt balls and dark-hued fruit. Nice!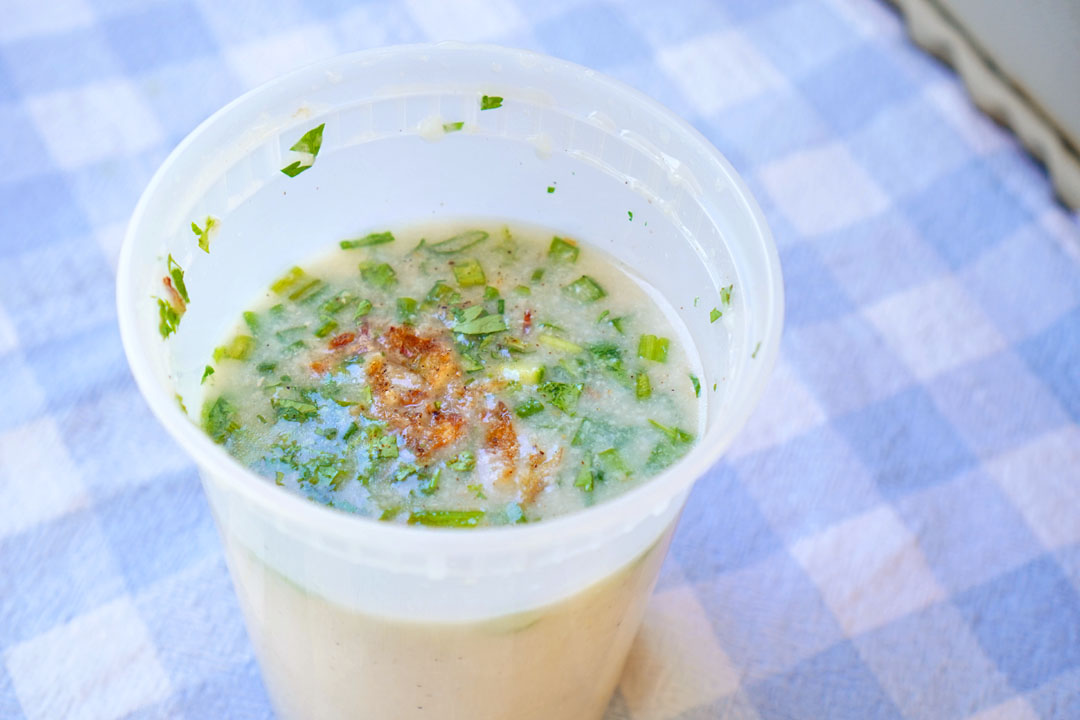 Chicken Rice Porridge [$7.50]
| Rice porridge cooked w/ house-made chicken stock. Served with shredded chicken. Garnished with scallions, cilantro, fried shallots & black pepper.
Bé Ù's interpretation of
cháo gà
was all about cozy, homey comfort, and I was a big fan of the dish's tanginess and herbaceousness, perked up by pricks of pepper. My one gripe was that I would've liked the chicken softer and silkier.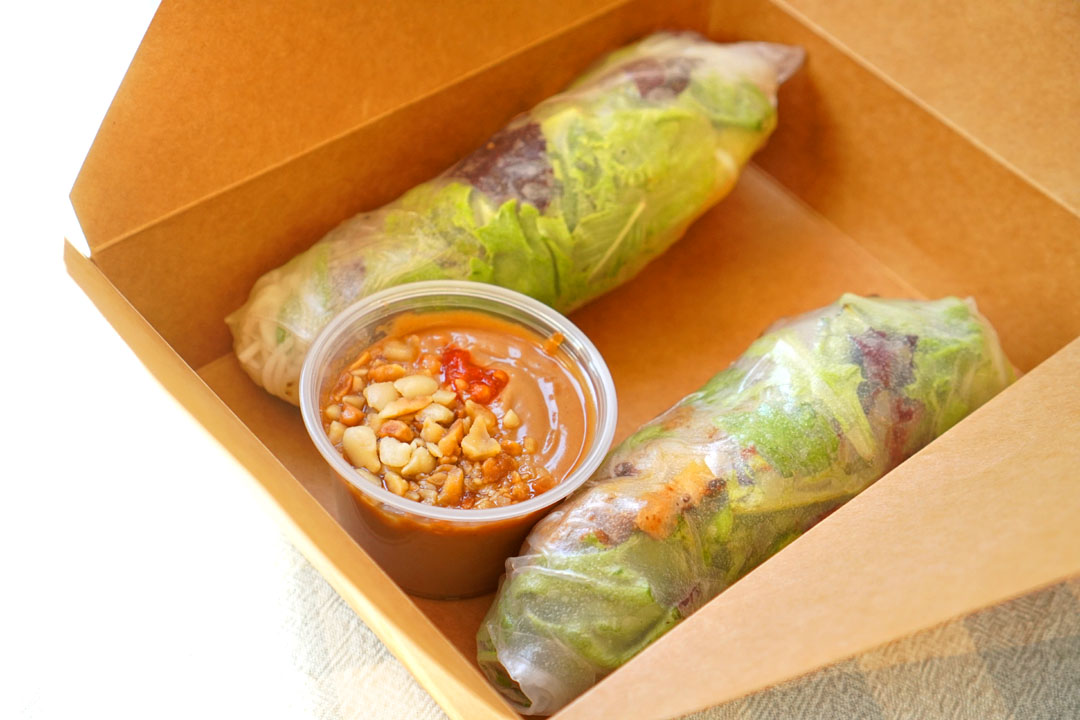 Summer Rolls - Lemongrass Pork [$10.00 + $1.00]
| Choice of main protein/veg, fresh herbs, cucumber, mango, rice noodles, and spring lettuce mix wrapped in rice paper. 2 per order. Served w/ peanut hoisin sauce.
Tightly rolled
gỏi cuốn
showed off all the light, bright flavors I was expecting, but with the surprising addition of mango, which imparted a very noticeable fruitiness. The pork was on point as well, and I liked the sticky stretch of those
bánh tráng
wrappers, too. At the same time, the peanut sauce on the side was absolutely crucial, and I enjoyed its overt nuttiness and sweet heat.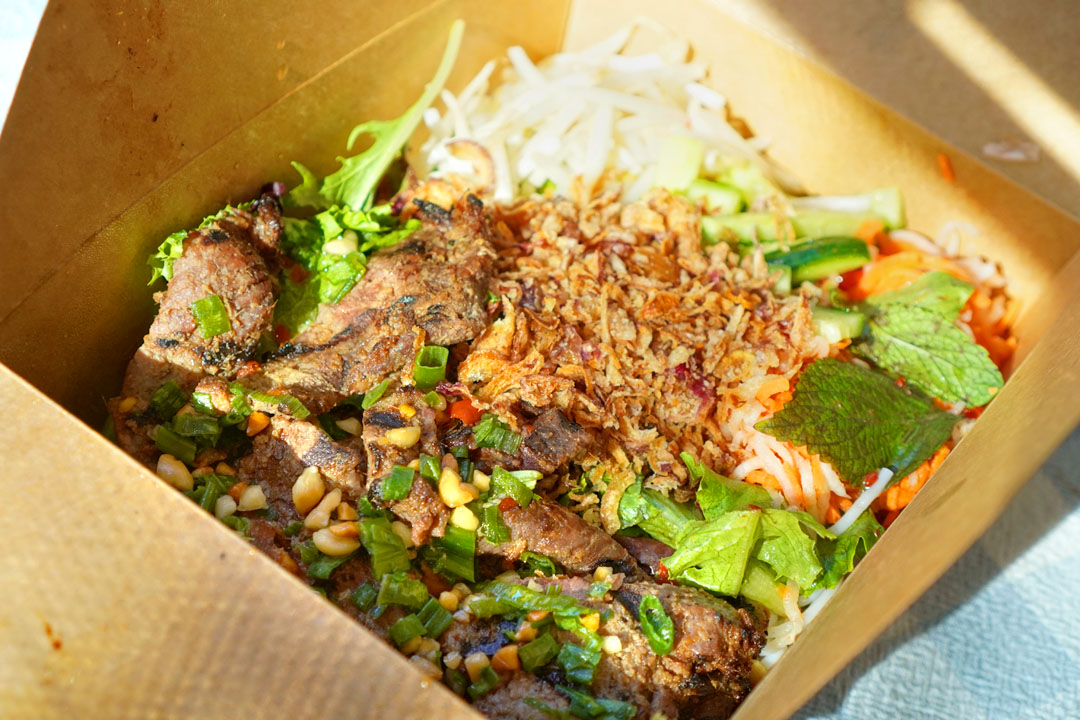 Rice Noodle Plate - Lemongrass Angus Beef [$11.50 + $1.50]
| Choice of main protein, vermicelli rice noodles, spring salad mix, bean sprouts, julienned cucumbers, pickled daikon & carrots. Topped w/ scallion oil & crushed peanuts. Served dressed w/ house sweet & sour fish sauce.
Last up was essentially a version of
bún thịt nướng bò
. The actual beef was expertly seasoned, with a sharpness from the lemongrass that made a lot of sense with its sweet, smoky notes, though I did find the meat a bit tough in certain places. I liked the slickness and chew of the vermicelli, and of course, the zippiness of the pickles, herbs, and crunchy bean sprouts in particular was much appreciated. I can't forget about the
nước chấm
and scallion oil either, which helped unify the dish.
I ended up quite happy with my meal at Bé Ù (and it was certainly miles ahead of what was served at the Stadium!). The cooking was pretty spot-on save for a few minor quibbles, and I appreciated the clarity and focus of the flavors that the kitchen was able to develop, all while keeping the food very approachable. As for the Chef's next steps, Lê is already working on her sophomore effort, which is a more ambitious restaurant/bar called Hạt Concept, created in partnership with Daniel Nguyen of Sông Cái Distillery (whom she met while working on Katrina relief). The project held its first pop-up on Earth Day this year, and its second in June at Di An Di in Brooklyn, so that's definitely something to keep an eye out for.