Alchemist (Copenhagen, Denmark)
Alchemist Restaurant
Refshalevej 173C, 1432 København K, Denmark
+45 31 71 61 61
www.alchemist.dk
Sat 08/12/2023, 05:15p-01:30a

Since arriving in Copenhagen, I've been fortunate enough to enjoy fantastic dinners at both
Kadeau
and
Noma
. Given how good those two were, I knew they'd be hard to top, but if any place was going to do it, I was figuring that it'd be Alchemist. The inimitable brainchild of Chef Rasmus Munk, Alchemist definitely deviates from what one would typically expect from a restaurant or a meal. This is undoubtedly a highly conceptual sort of place, and in fact, the Chef has even developed a new nomenclature to describe his approach: Holistic Cuisine. In a nutshell, this innovative style of cooking aims combine gastronomy with art and science to create a multisensory dining experience that emphasizes sustainability and touches upon socio-ethical themes, with also drawing from both personal and collective memories. That's some heady stuff, so I was super excited to see what all the hype was about, and specifically avoided doing too much research beforehand as to not spoil things.
About the Chef
: Rasmus Munk Thomassen was born in April 1991 in Kristrup, a suburb of Randers on Denmark's Jutland peninsula. His parents (mom was a nurse and dad was a trucker) didn't prioritize food, and in fact, McDonald's was the family's preferred restaurant. The young Chef actually wanted to be a mechanic or a police offer when he grew up, but decided to join a friend in taking vocational classes in the culinary arts. He worked at a decidedly unglamorous canteen during this period, but quickly fell in love with the craft. In 2008, he commenced training at Casa Kåtrup in Fårup, under Martin Knudsen, and
staged
at Noma and Restaurant Herman at the Nimb Hotel around this time. Munk also began participating in various cooking competitions, and after leaving the Silkeborg Tekniske Skole in 2011, worked briefly as a sous at Knudsen's Nørlunds Gæstebud in Nørager.
In 2012, he moved to England to cook at North Road in London, but had a difficult time there due to the abusive environment. While in the UK, the Chef also underwent a
stage
at The Fat Duck, and improved his English skills to boot. After returning to Denmark, he landed a head chef gig at Restaurant Martino in Aarhus, but didn't stay long. His next move came in August 2013, when he took over the kitchen at TreeTop at the Munkebjerg Hotel in Vejle. Munk's tenure there was generally well-received, but he wasn't satisfied with the limitations imposed on his cooking, and thus left after two years.
He subsequently decided to open his own restaurant (with the help of then-girlfriend Camilla Masorsky Skov), and the original Alchemist thus debuted at Århusgade 22 in Østerbro in August 2015. The place quickly made a name for itself due to its gusty cuisine, which seemed to embrace the tenets of molecular gastronomy, but in an even more daring manner. One of the patrons who took a liking to the 15-seater spot was Lars Seier Christensen, the billionaire co-founder of Saxo Bank. In fact, he liked the place so much that he purchased a stake in the restaurant in August 2017 (note that he's also an investor in Geranium, where Munk had
staged
). It was then announced that Alchemist 1.0 would be closing at the end of the year, but that a new location would be coming soon.
By mid-2018, construction was well underway, and after a whopping $15 million spent on the build-out, Alchemist 2.0 grand-opened on July 4th, 2019 to considerable anticipation. Reservations for the first three months sold out immediately (and continue to do so), and in February 2020, the restaurant was awarded two Michelin stars (which have been retained ever since). Unfortunately, just a month later, the team had to close due to the pandemic. Munk used this downtime to launch JunkFood, a charity focused on providing meals to Copenhagen's homeless. On-site dining resumed that May, but stopped in December before resuming again in May 2021. That June, Alchemist was named #1 in Europe by Opinionated About Dining, a feat repeated the next two years. September 2021 saw the restaurant secure the #58 spot on The World's 50 Best ranking; this improved to #18 last year, and to #5 on the latest list, released in June.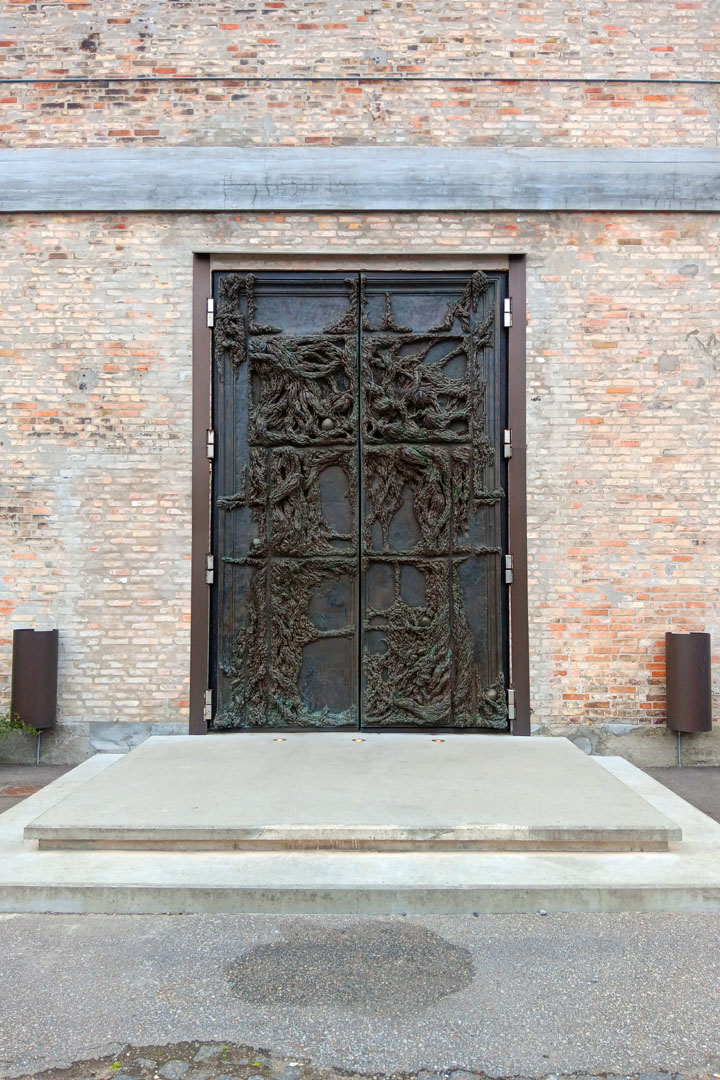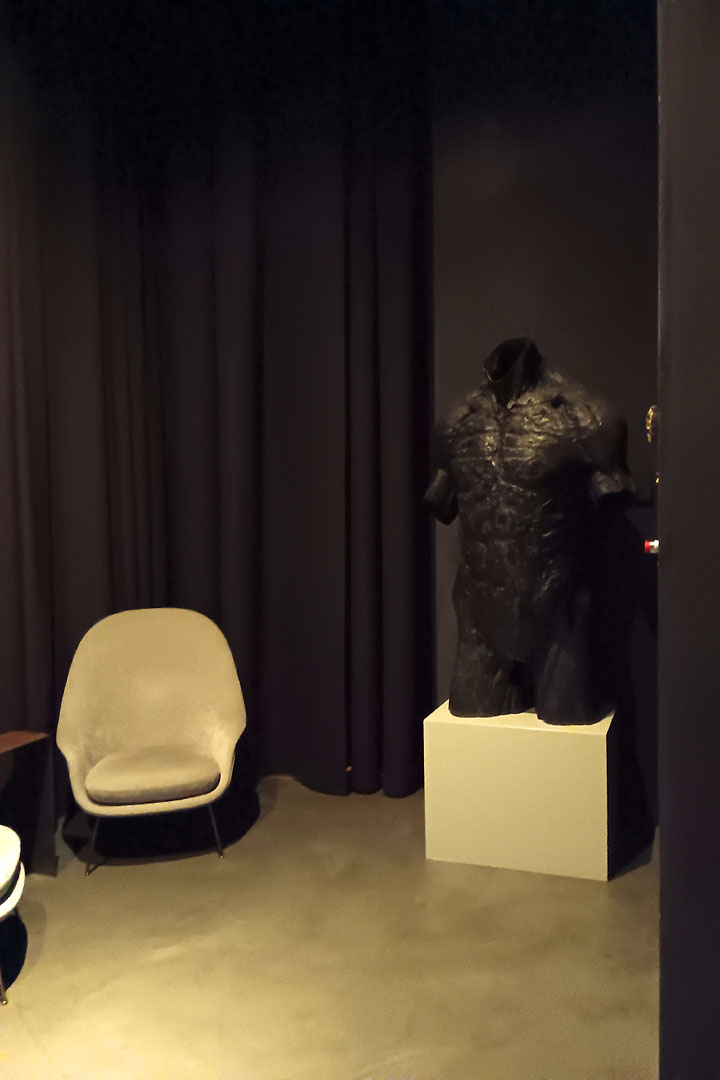 After being dropped off by my taxi in Refshaleøen (a former shipyard), I approached the structure that houses Alchemist, which was originally a welding shop for Burmeister & Wain, and later served as a set-building space for the Royal Danish Theatre. You enter the restaurant through these rather massive bronze doors, an artwork entitled
I Found Myself Within a Forest Dark
crafted by Danish sculptor
Maria Rubinke
. The doors don't appear to be openable from the outside, so I wandered around a bit before being let in to a small waiting area.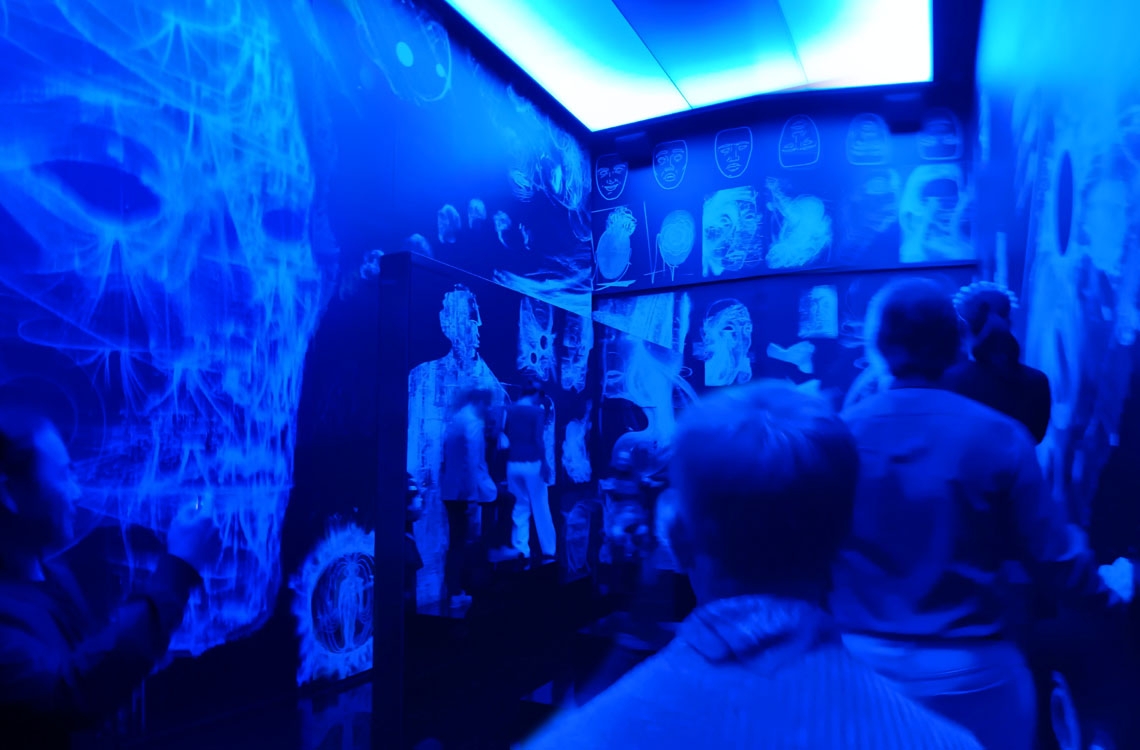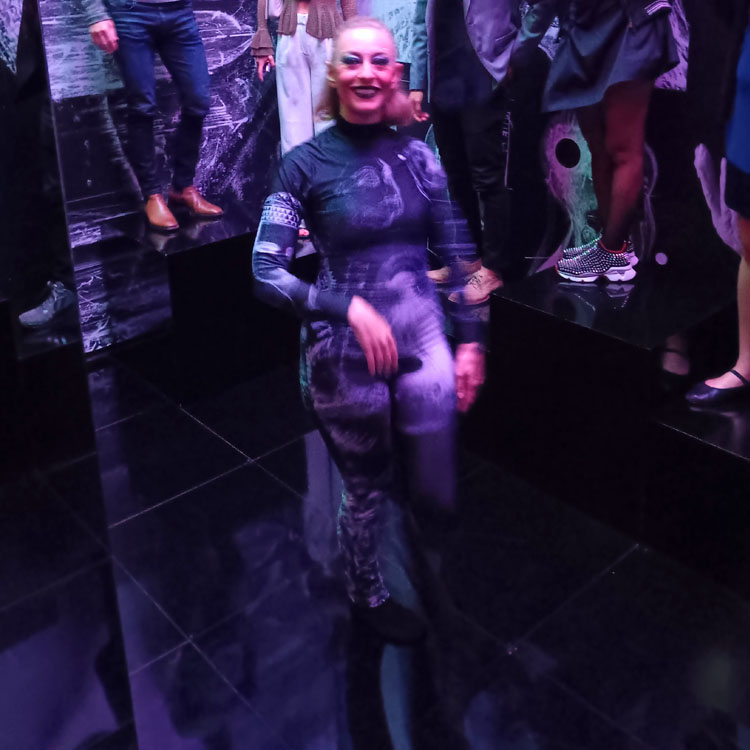 ENTRANCE - Perspectives / ACT I - Square One
A group of us were then ushered into an art installation room named
Perspectives
, which immediately signaled to me that Alchemist was going to be a dining experience like no other. The goal here was introspection, and the semi-mirrored room even featured performance artist
Nana Lind
, with whom I was cajoled into dancing with awkwardly. Apparently, I was supposed to be handed my first bite of the evening here (called "Square One"), but somehow missed it.

LOUNGE
One of the walls of the previous room rose up to reveal a rather fetching lounge area, which offered a view into Alchemist's development kitchen. This is where we enjoyed the first few courses of the night and got to know the staff, who'd we be spending quite a bit of time with. Coordinated by GM Lykke Metzger (also the Chef's significant other), the team provided some genuinely personal service tonight, so a big kudos to them.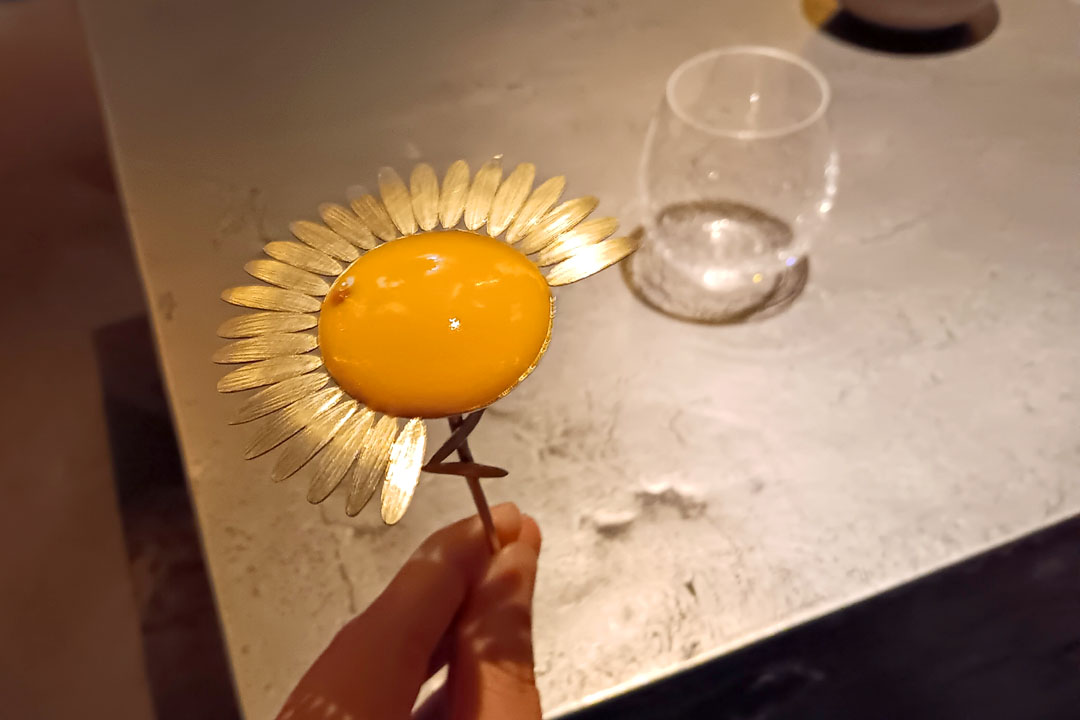 ACT II - Daisy
Modeled on Denmark's national flower, the marguerite daisy, this was like a welcome cocktail, an easy, breezy, refreshing slurp that definitely perked up the palate and hinted at the whimsical nature of the meal to come.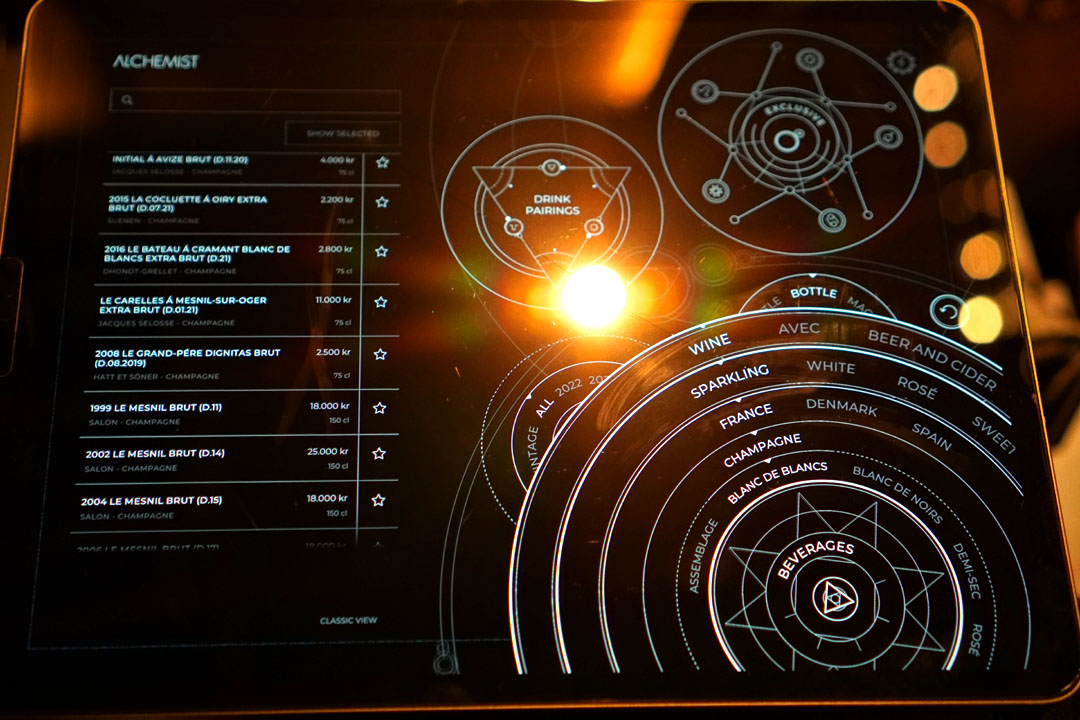 Alchemist's wine list is managed by Sommelier
Nina Højgaard Jensen
, and was presented in a visually-striking tablet format. I'd never seen a wine list like it before--very impressive.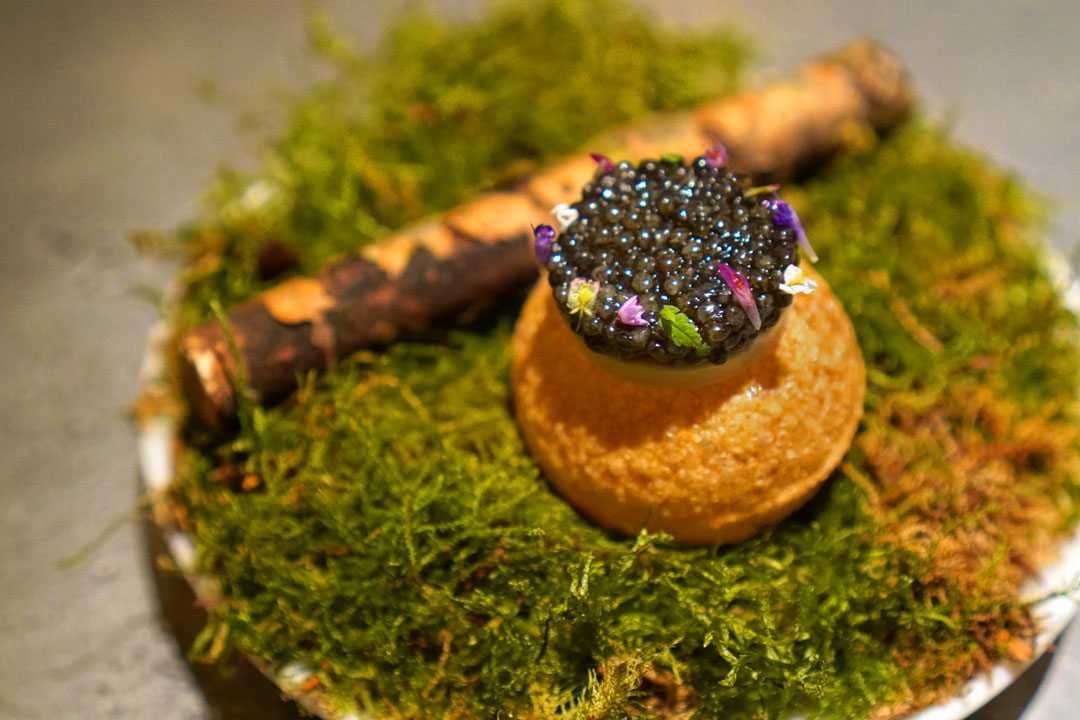 ACT II - Smokey Ball
Here, we were instructed to consume the top part first, which comprised a wonderfully saline portion of Ossetra caviar over a cream of langoustine and almond. We then ate the remaining spherical section of the dish, which, upon mastication, burst with a surprisingly intense smoke, one that paired seamlessly with the lingering brine of the sturgeon roe. And interestingly, the ball itself featured an almost salmon skin-esque savor that I quite liked as well. A highlight for sure.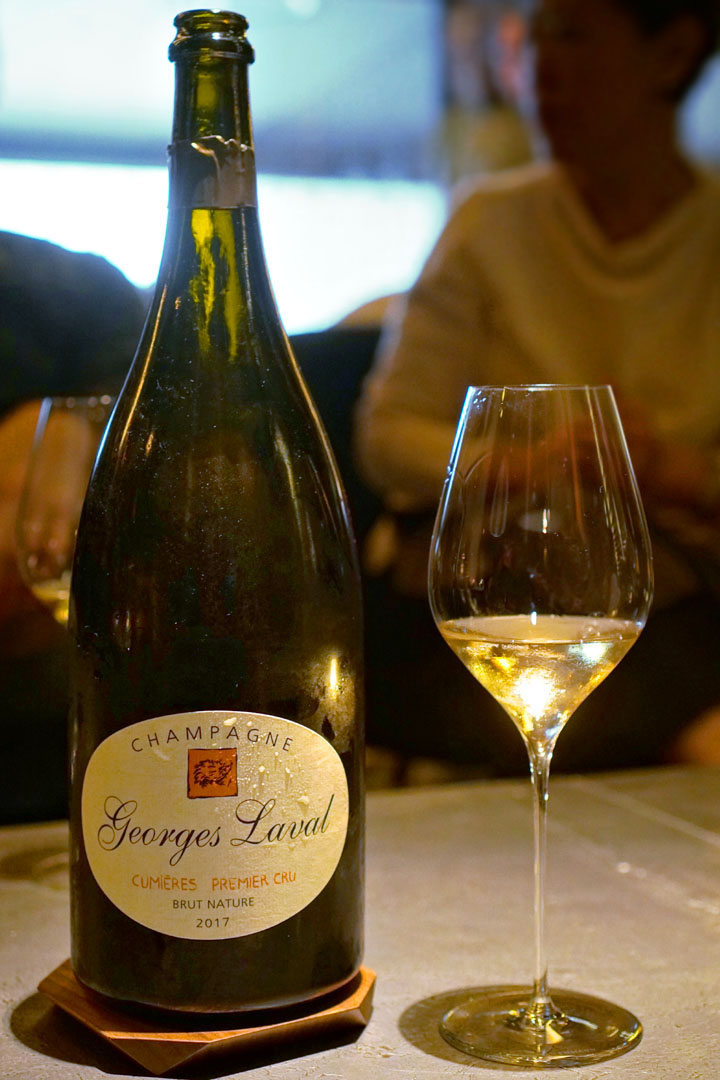 To drink, we got the ball rolling with a magnum of the
2017 Cumiéres Brut Nature (D.03.22), Georges Laval [4300 kr ($628.98)]
, as Champagne seemed appropriate given the celebratory mood of the room. The nose here was concentrated fruit with unexpected hints of herb. On the palate, I found the wine crisp, acidic, sharp, its minerality joined by distinctly brioche-y notes. A fitting apéritif.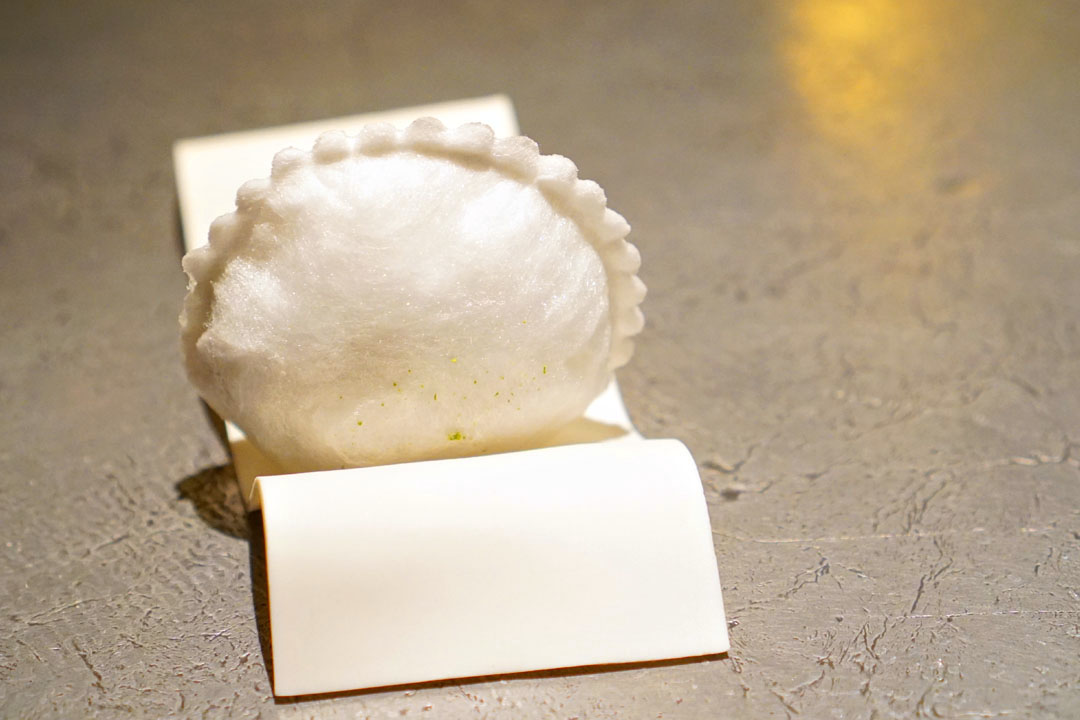 ACT II - Dumpling
This was a cotton candy dumpling made with
wasanbon
, stuffed with bok choy, chili, coriander, and a fish sauce that had been fermented for five years. The use of Japanese sugar resulted in a fine-spun, "cotton-y" mouth feel that was super fun, while flavors were decidedly Asian and savory-sweet, with distinct herbal overtones. There was definitely an element of comfort and familiarity here.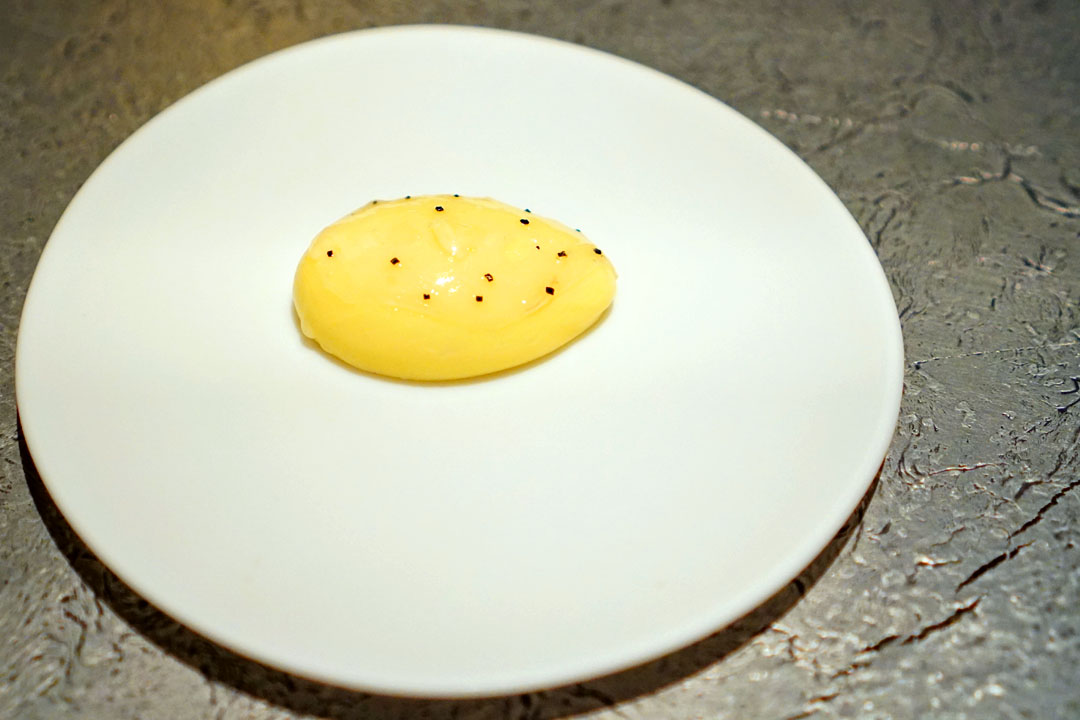 ACT II - Omelette
When this came to the table, I mistook it for butter, but it was actually Chef Munk's attempt at a perfect omelet: a membrane of egg yolk, filled with Comté and more yolk, capped with lardo, truffle, and brown butter. I enjoyed the "explosive" nature of the bite, that eruption of palate-coating, creamy, cheesy, eggy goodness, accented by salty pork and hints of truffle-y musk.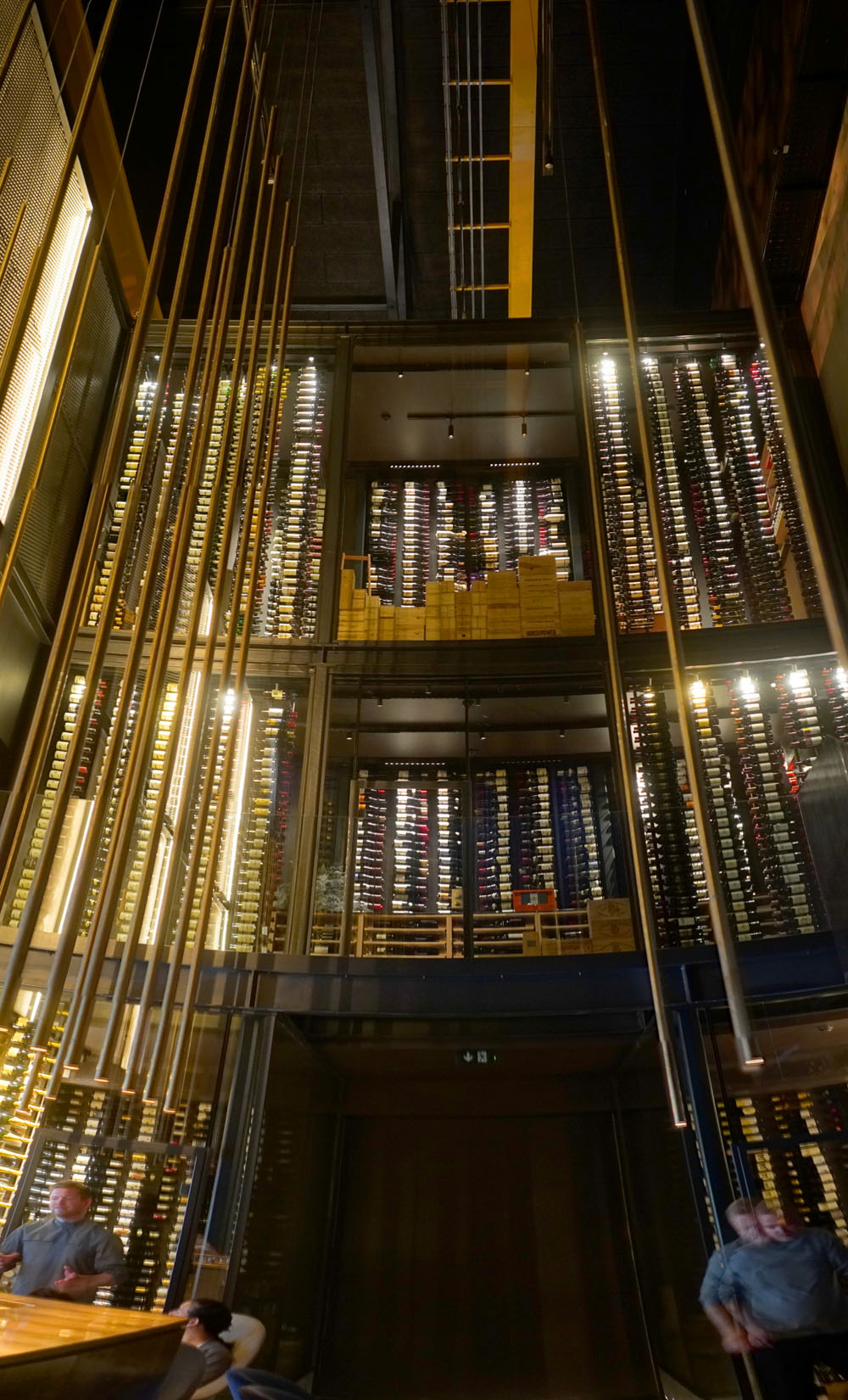 Spanning three levels, this was one of the most impressive wine cellars I'd ever seen, and reportedly boasts a capacity of around 10,000 bottles.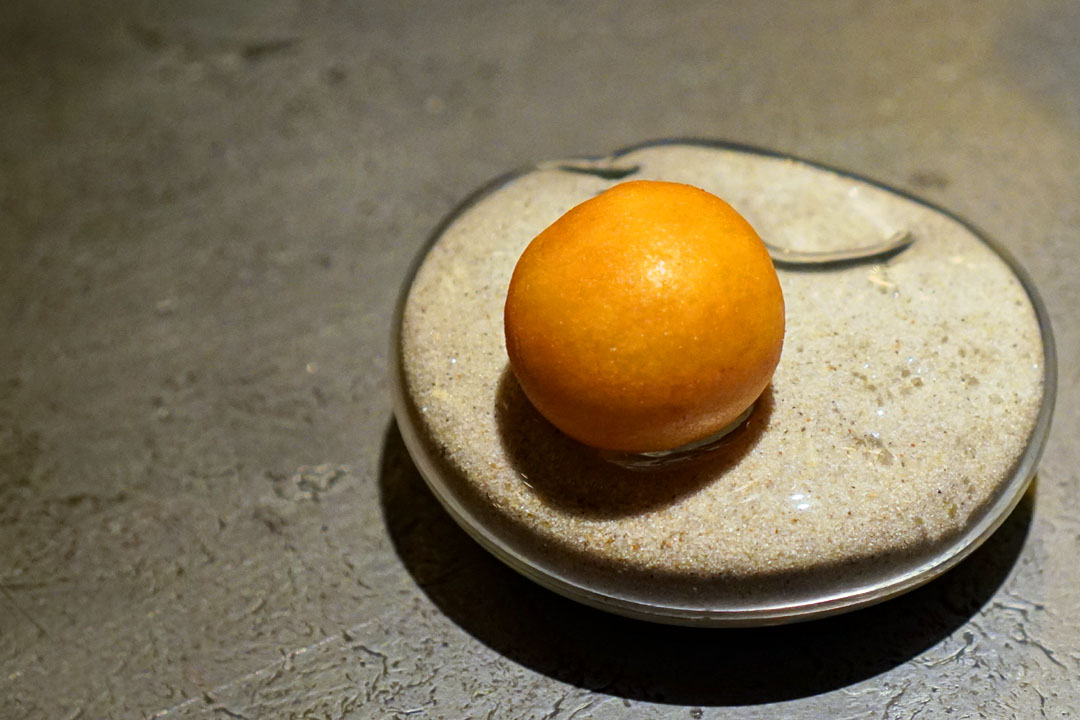 ACT II - Sunburnt Bikini
Inspired by the bikini sandwich at Barcelona's Tapas 24, this was a sphere of mochi dough filled with Gruyère and Joselito Iberian ham. I loved the agreeably chewy texture achieved by using rice flour, and the classic duo of cheese and pork really worked with the dish's underlying sweetness.
ACT II - Sea Buckthorn Tonic
Our final snack in the Lounge was this twist on the vodka tonic: a tonic water-vodka meringue filled with sea buckthorn marmalade. The disks were bracingly cold, with classic flavors of vodka and tonic clearly recognizable, but tarted up by that tangy fruit. Fresh and invigorating, these helped prepare us for the next phase of our experience.

DOME
We were then led up a set of stairs, past the wine cellar, and into the Dome. Essentially Alchemist's main dining room, the space consisted of a snaking dining counter with room for 48, all set underneath an 18-meter, planetarium-style dome illuminated by 12 mapping projectors. The dome played host to 20 different animations throughout the evening, accompanied by an ambient soundtrack. It was apparently designed by Munk himself back in 2016, with later involvement by
Studio Duncalf
, a London-based firm that was responsible for the overall look of the restaurant. The first video sequence we saw, shown above, was entitled "Under Water."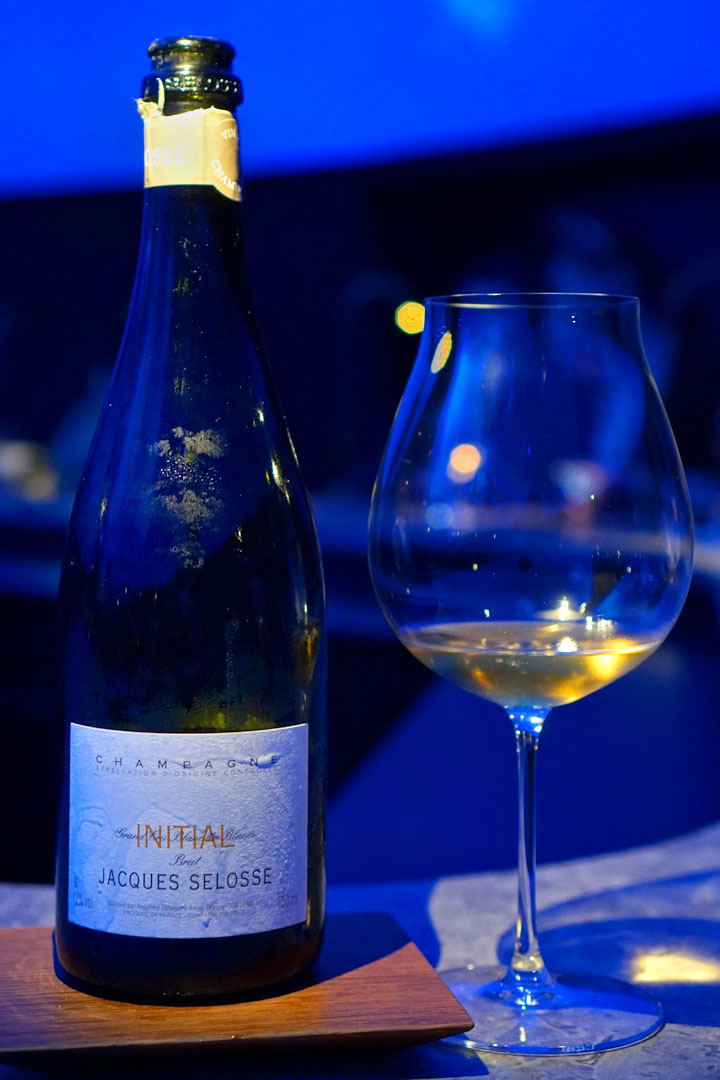 First to imbibe in the Dome was another Champagne, the
Initial á Avize Brut (D.11.20), Jacques Selosse [4000 kr ($585.10)]
. The wine smelled of bright, fresh yellow fruits, backed by an undercurrent of toast and barnyard. Taking a sip, I got a bevy of oxidized, funky, nutty, mineral-driven, and acidic notes, joined by loads of zippy lemon. This was actually tasting a bit too young for me, so it might be worth revisiting in a few years.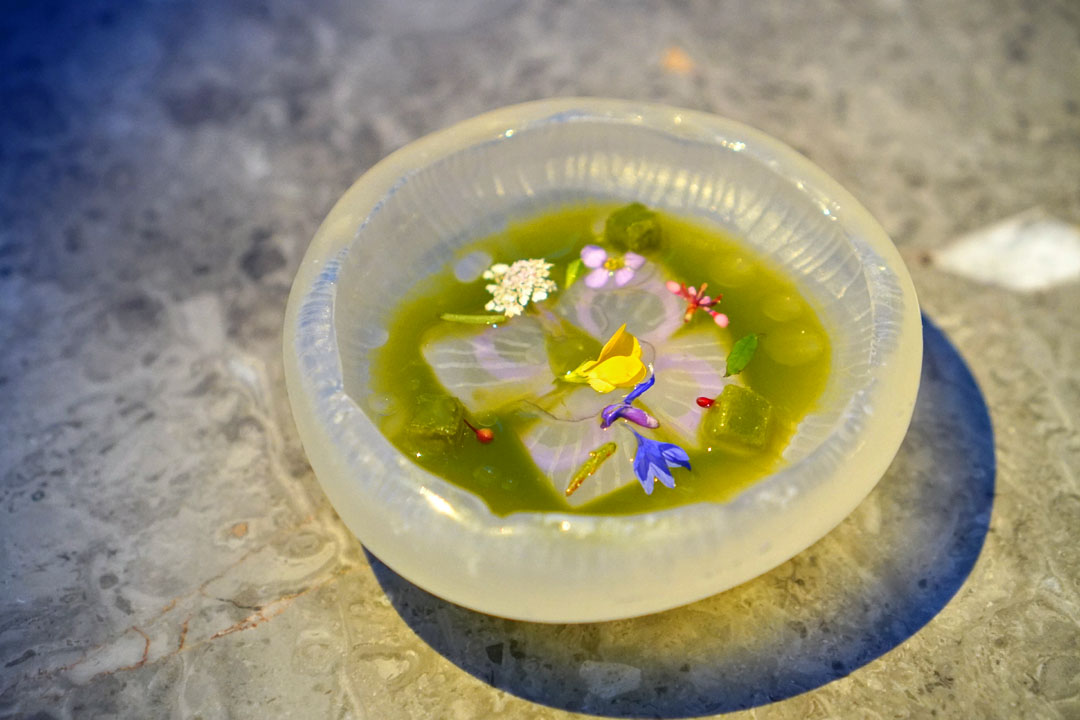 ACT III, SCENE 1 - Double Trouble
We began with a duet of invasive species: raw moon jelly (which inspired the plate), marinated in beach rose oil, with a
nước chấm
-style dressing incorporating Japanese greens, coriander, and fermented green tea leaf. The jellyfish itself was more about texture than taste, so the key was the conflux of all those bright, funky, acidic notes from the Vietnamese-inspired sauce, which really served its purpose flawlessly.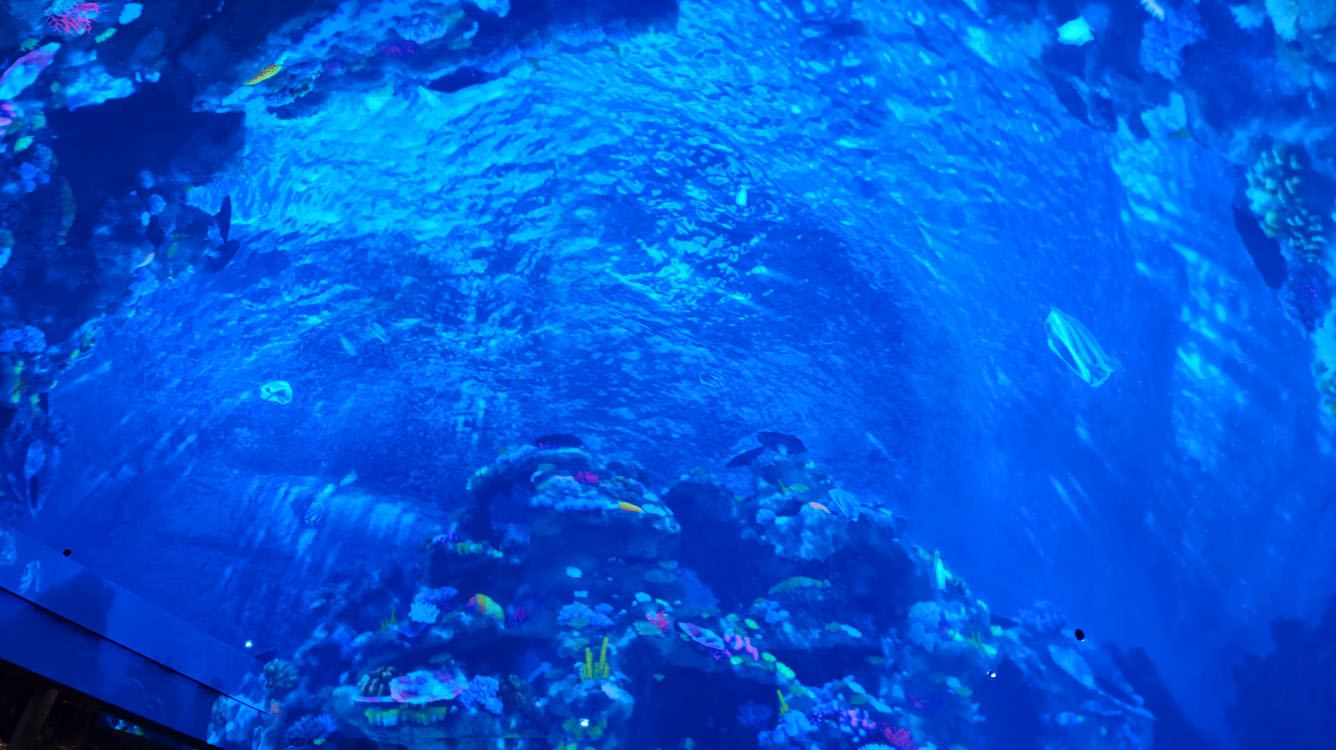 Coral Bleaching
Note the plastic bags floating around in the water.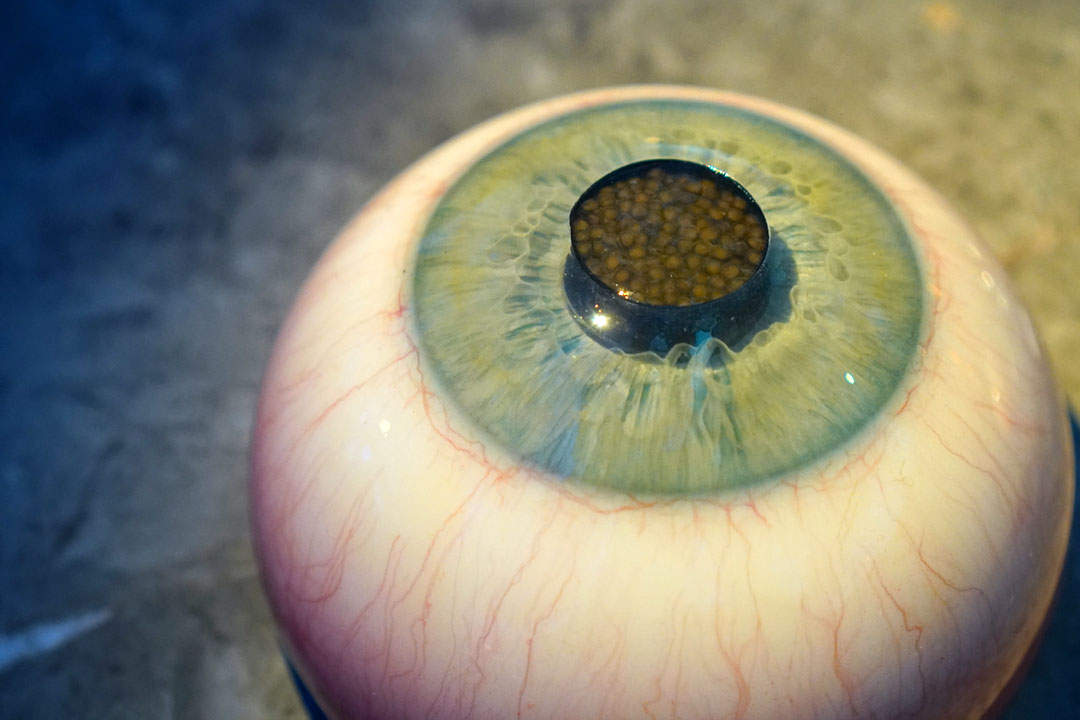 ACT III, SCENE 1 - 1984
Unsurprisingly, this next course references George Orwell's
1984
(my favorite novel, coincidentally), and was meant to draw attention to the harvesting of personal information through social media, considered by the Chef to be our current incarnation of Big Brother. The pupil of the eye was home to chopped lobster, corn cream, and celery root brunoise, with a top layer of Ossetra caviar set in a gel made from cod eyes. The marriage of sweetness from the corn and lobster was really effective, and I appreciated how the creamy, nutty salinity of the roe balanced that out. Strangely enough, I even tasted lemon biscuits.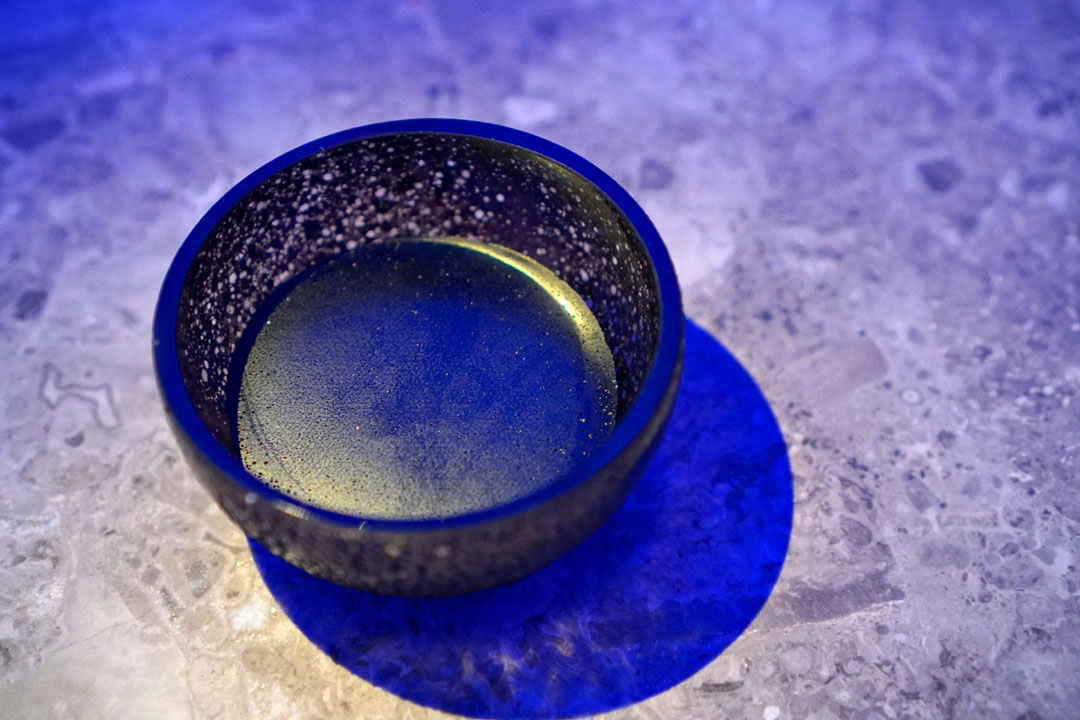 ACT III, SCENE 1 - Marine Invaders
This rather severe looking dish was another to feature problematic species in the form of both fresh and creamed Faroe Islands sea urchin, topped with a disk of caramelized beach crab stock. The uni was as sweet and saline as I was hoping for, but in a different way than the usual Hokkaido or Santa Barbara urchin that I'm accustomed to. The smoky, briny, umami-laden nature of the crab disk worked well as a foil, and I detected some citrusy, herbal notes that helped lighten the mood.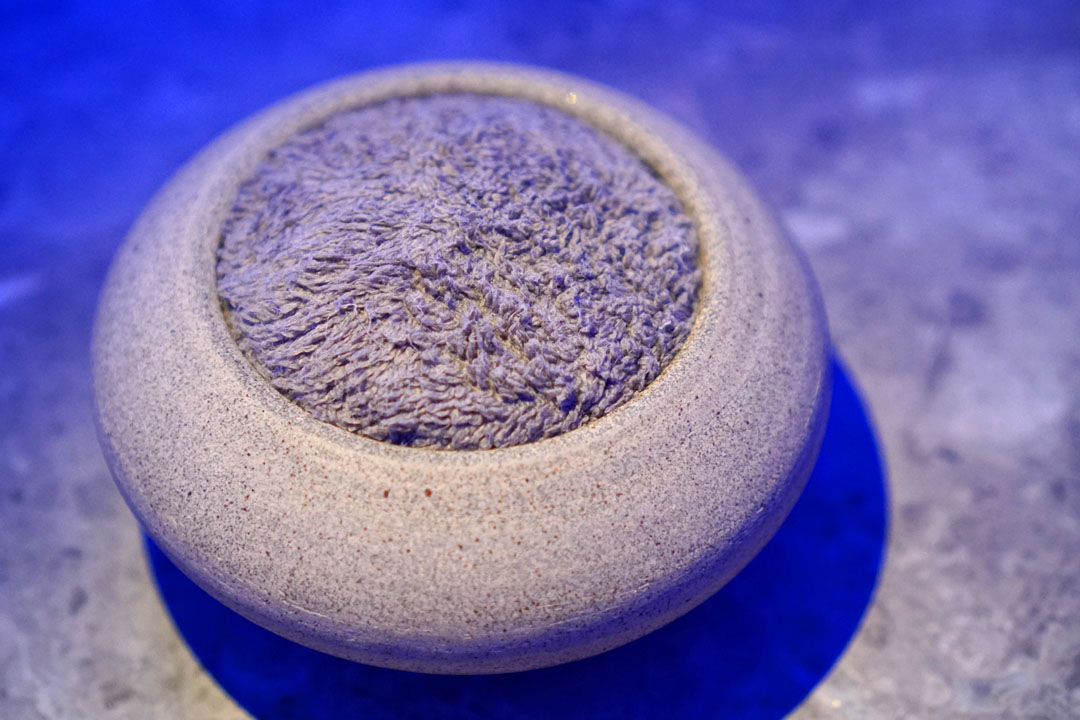 I initially mistook this for our next course, but it was instead one of the most inventive finger napkin presentations I've seen.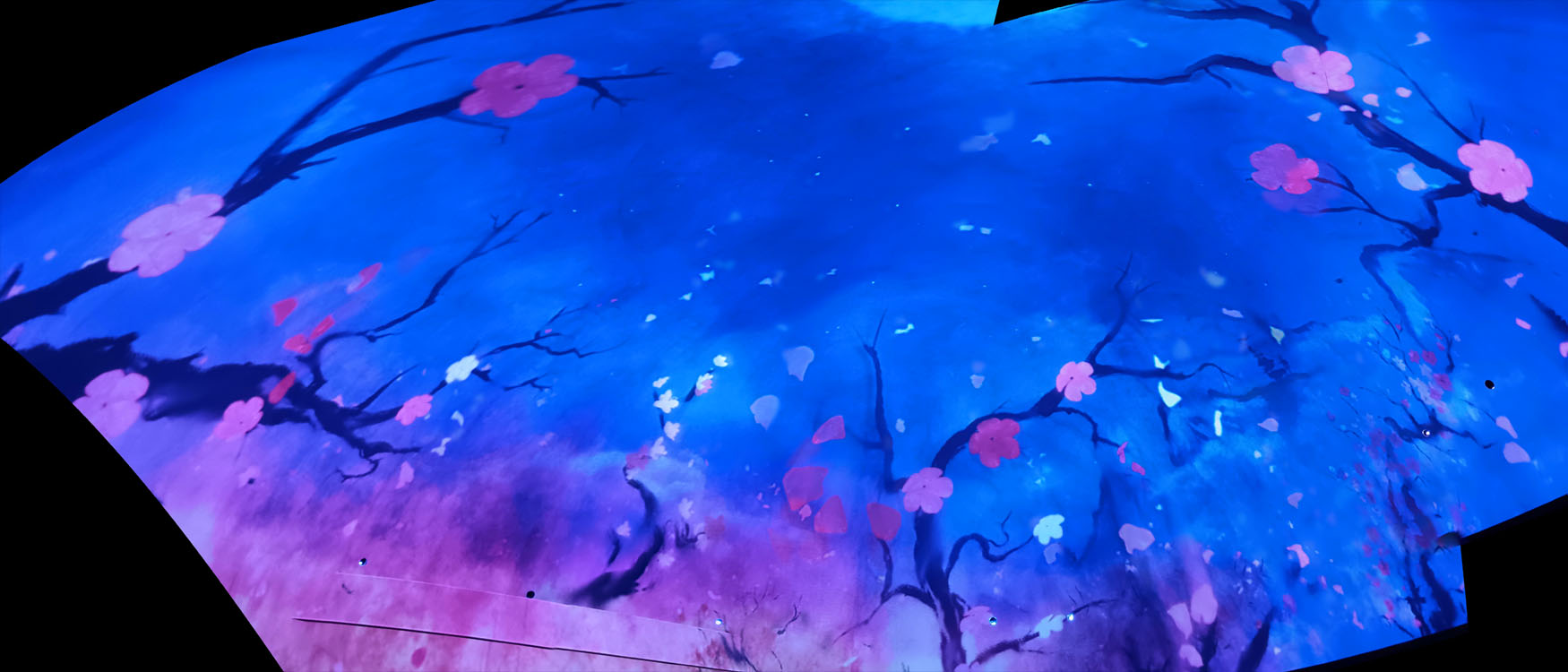 Sakura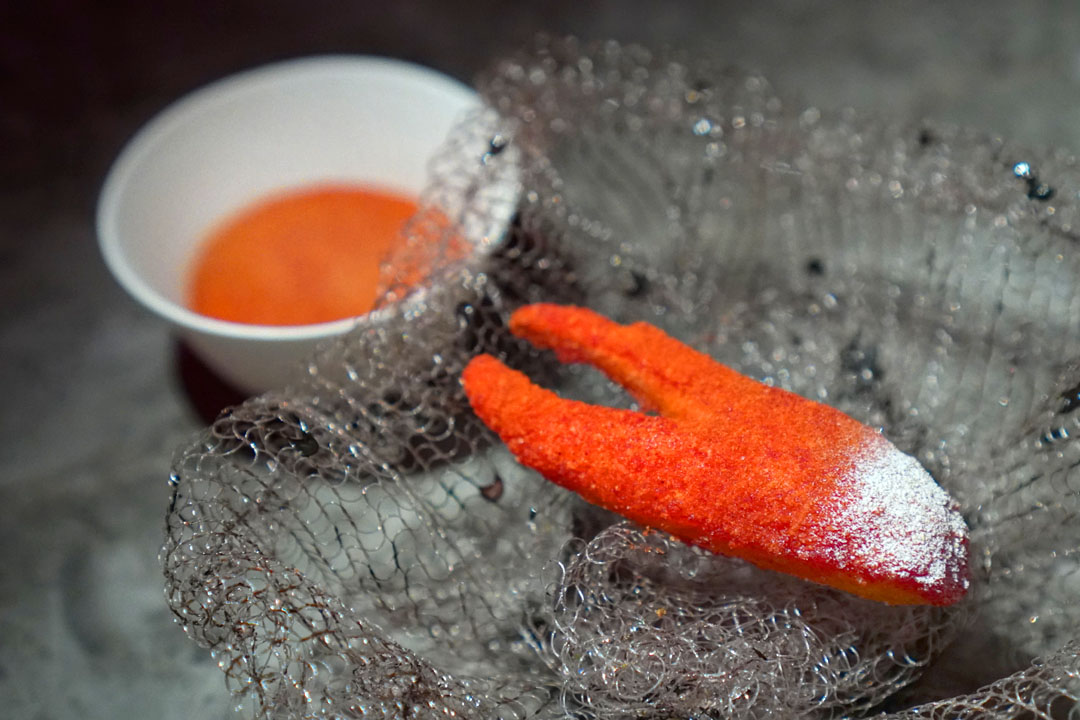 ACT III, SCENE 1 - Lobster Claw
Here was a completely reimagined version of one of the Chef's favorite things to eat: the Connecticut-style lobster roll. This was a sublimely sweet-n-saline butter-poached lobster salad moulded into the shape of a claw, coated with an impossibly light, crispy fried crust of corn starch and vodka that made me think of Flamin' Hot Cheetos. The condiment on the side incorporated a fantastic horseradish-driven pungency along with fermented pumpkin, smoked butter, and tomato. I eagerly used my finger to eat up the remaining sauce. Another standout.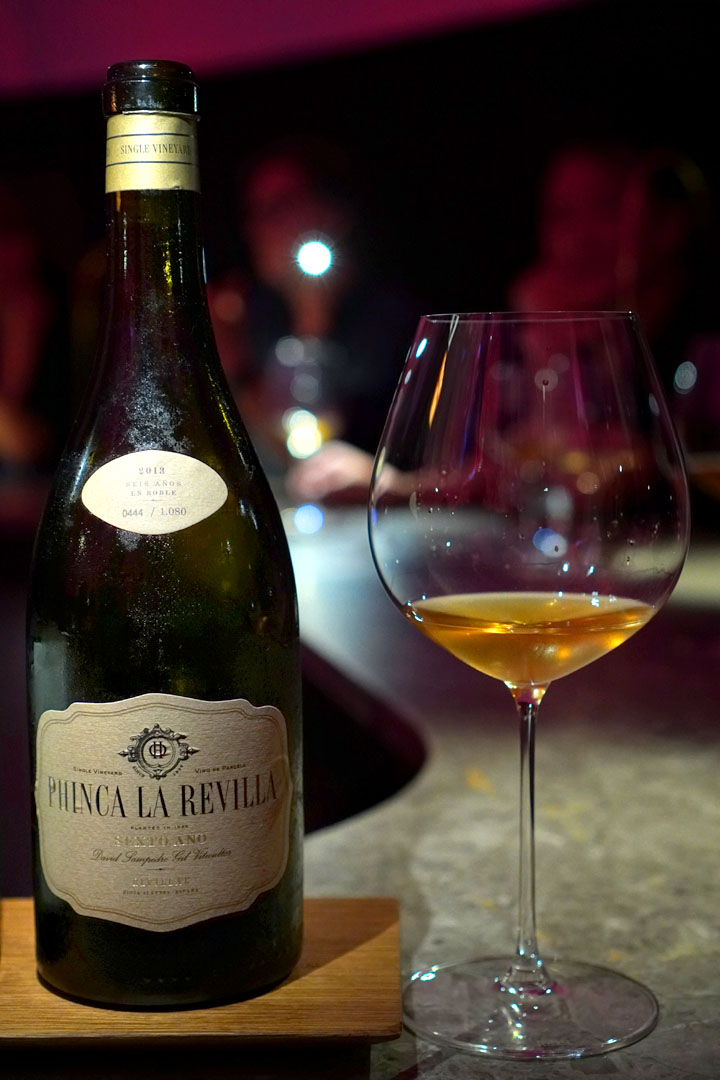 We moved to Spain for our next wine, the
2013 Phinca La Revilla Blanco Viura, Bodegas Bhilar [1200 kr ($175.53)]
. The one had a showstopping bouquet that went in a decidedly smoky, savory, funky, yet fruity direction, and while tasting it, I couldn't help but notice its brazenly cacao-like qualities, supported by touches of oxidation and subdued orchard fruit.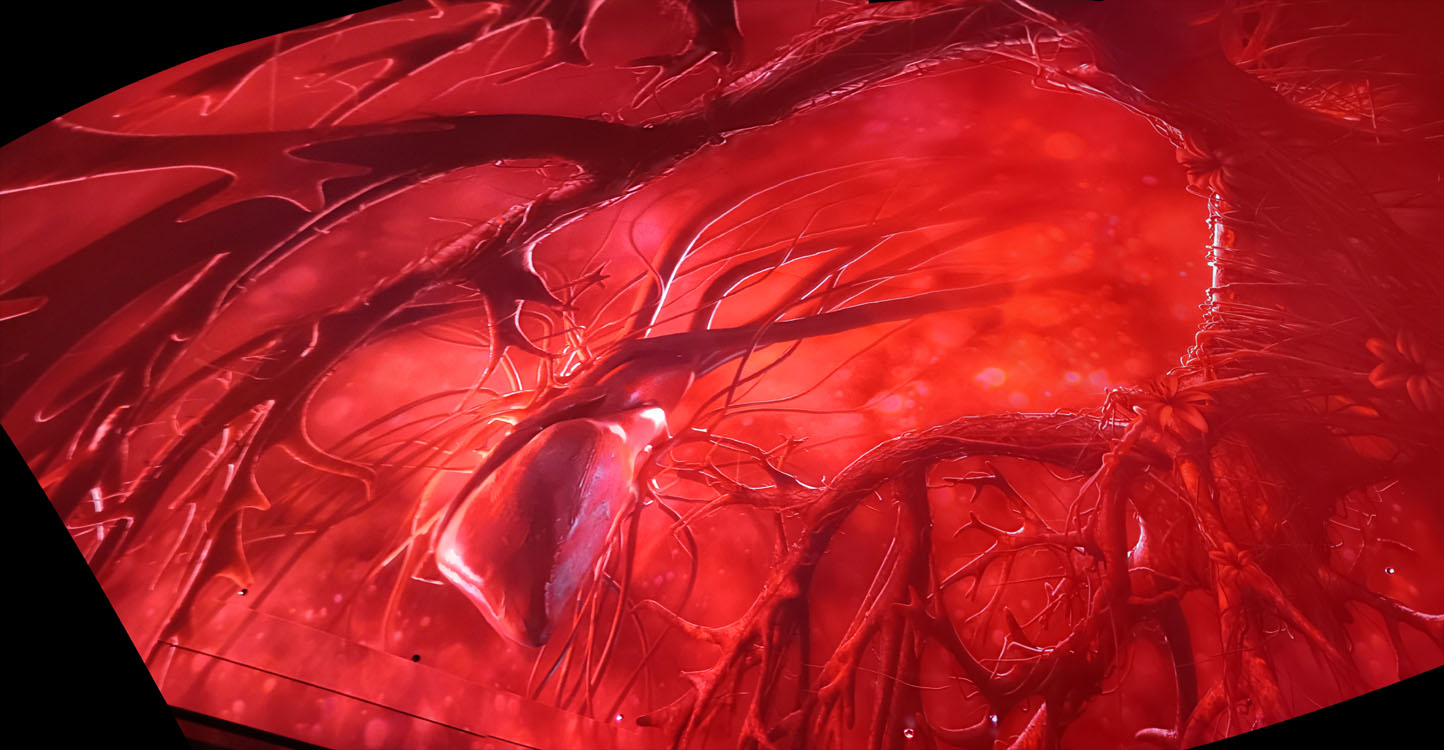 Heartbeat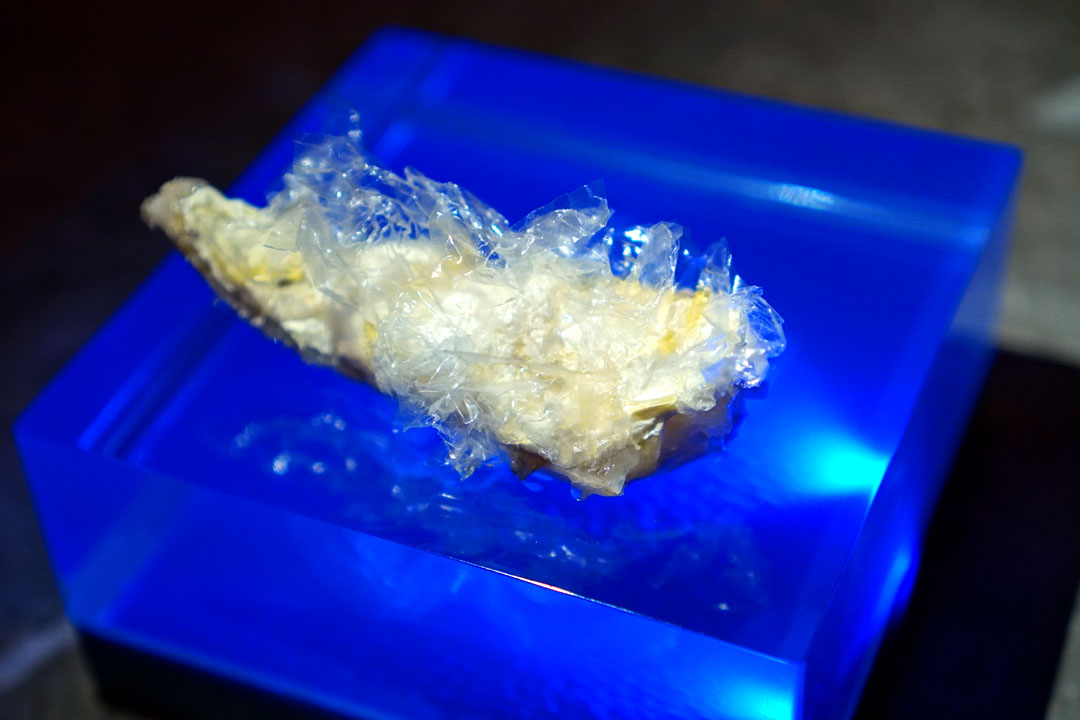 ACT III, SCENE 1 - Plastic Fantastic
This curious looking bite was meant to draw attention to the topic of plastic pollution in the Earth's oceans. It was grilled bone-in cod jaw with Gruyère cream and smoked marrow, swathed in an edible "plastic" made from dehydrated cod skin bouillon. We were instructed to eat this like a sparerib, and I have to say that the combination of fish and cheese made sense here, and really emphasized the cod's sweeter notes.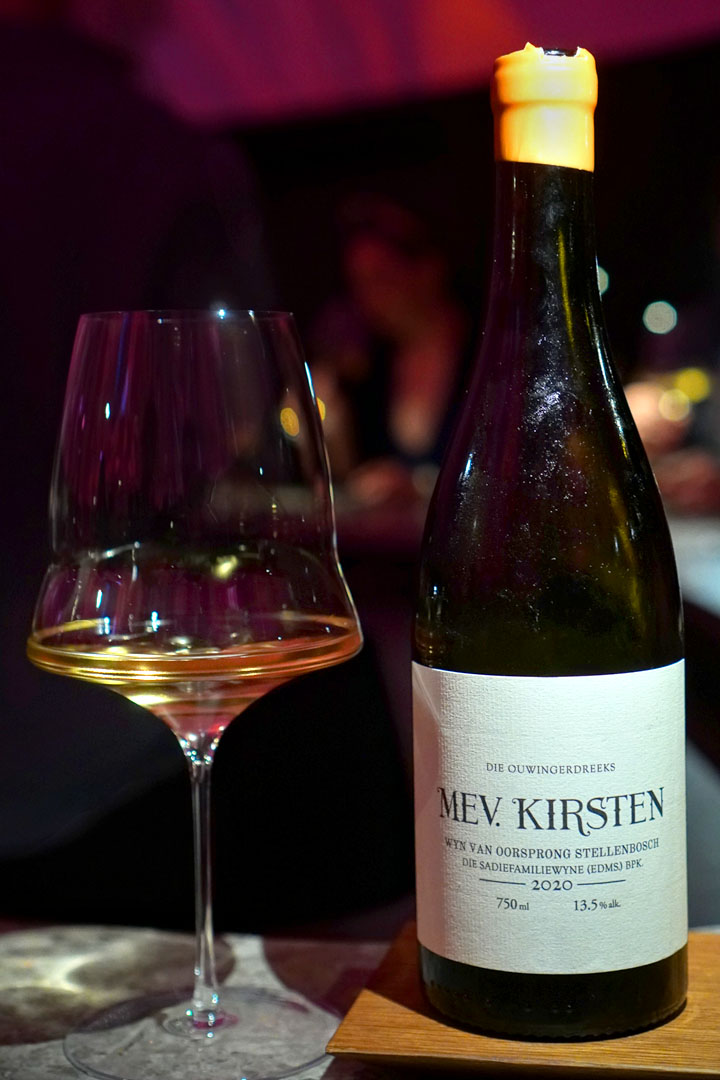 South Africa was represented by the
2020 Mev. Kirsten Chenin Blanc, Sadie Family Wines [1950 kr ($285.23)]
, with its vibrant nose brimming with apricot and citrus. On the palate, the wine was almost Riesling-like, thanks to its bevy of stone fruit and orchard fruit notes, offset by just enough minerality and acid.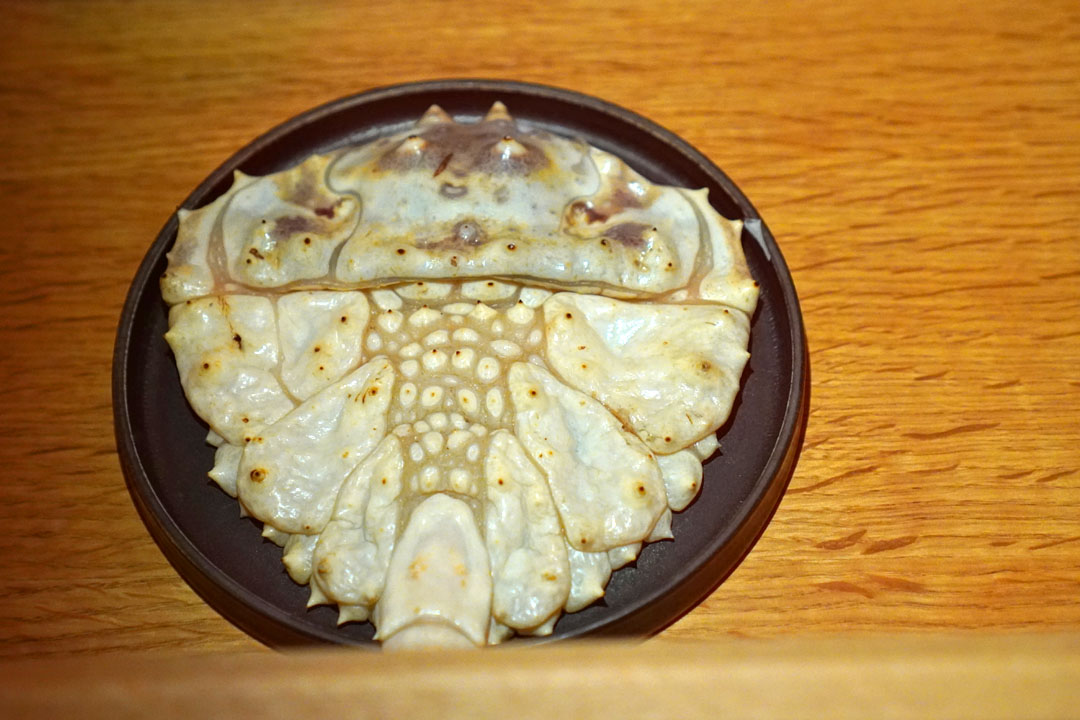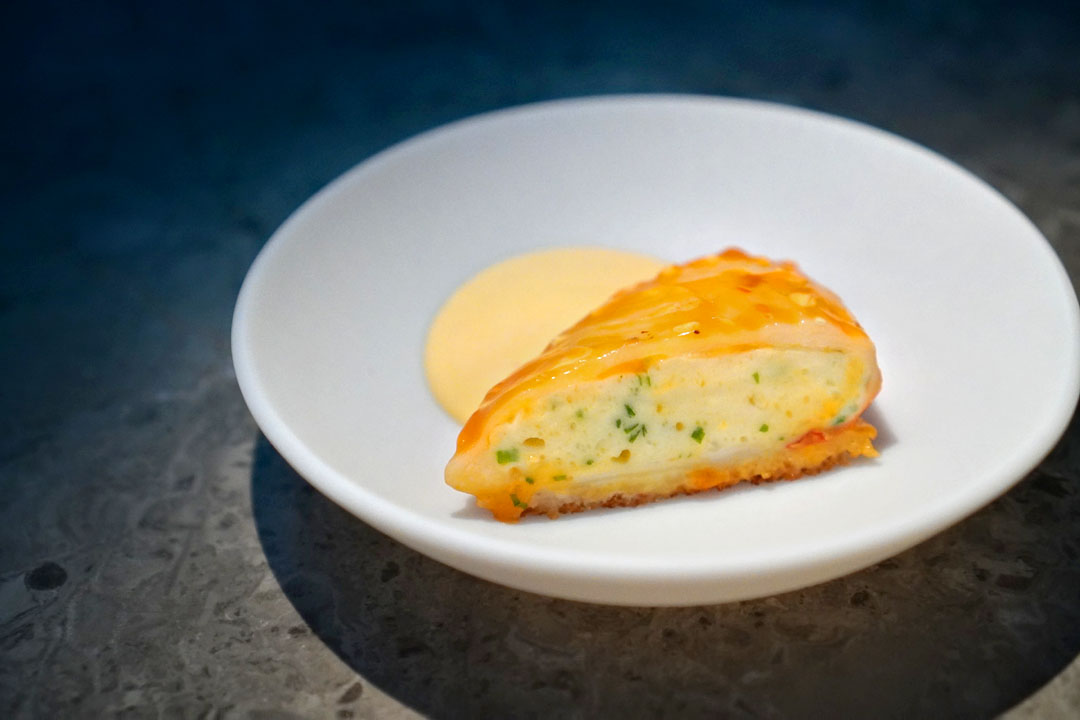 ACT III, SCENE 1 - King Crab
King crabs originally hail from the Bering Sea, and were introduced to the Murmansk Fjord off the coast of Finland, but have since migrated over to Norwegian waters, where they've become a bit of a nuisance. Apparently, a Norwegian company contacted Alchemist to see how the restaurant could utilize more of the crab, since typically around half of the animal is wasted. The kitchen thus came up with this dish of crab tail, along with mussels and lobster (what the crab likes to eat), cooked over a thin layer of bread (which moderates most of the direct heat and protects the seafood's delicate texture). We also had a tomato glaze, as well as tomato sauce on the side, underneath which was a super concentrated 72-hour XO sauce with a fantastic depth and heat. I loved the soft, almost fluffy nature of the stuffing here, which contrasted well with the much more substantial consistency of the exterior. Another favorite.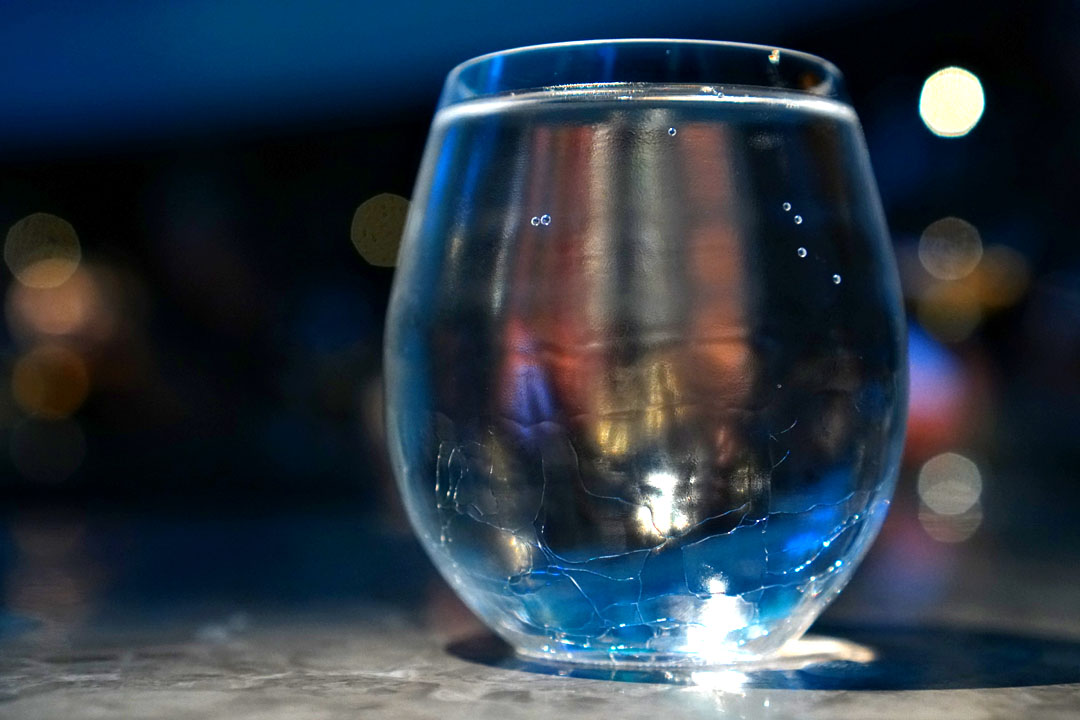 The water glasses were rather neat, with their cracked bottoms.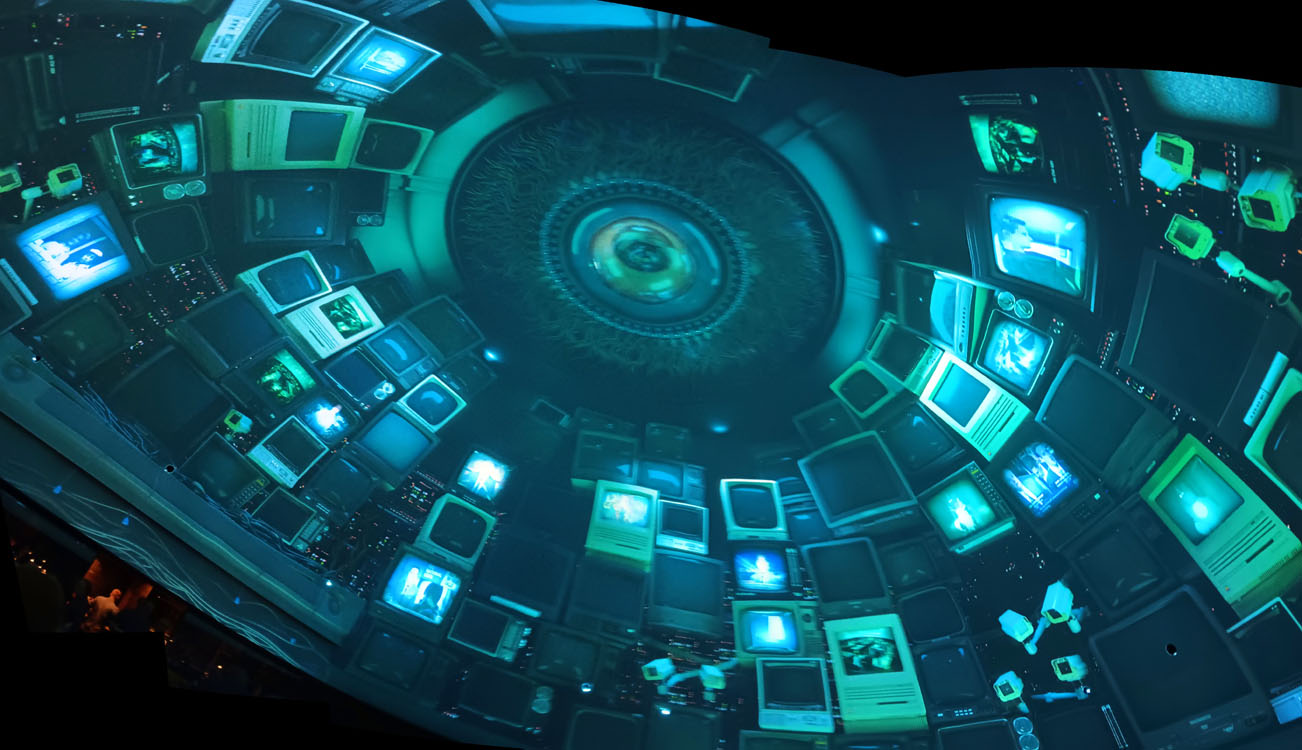 Surveillance
This animation was particularly notable since what was projected included a live feed of the dining room.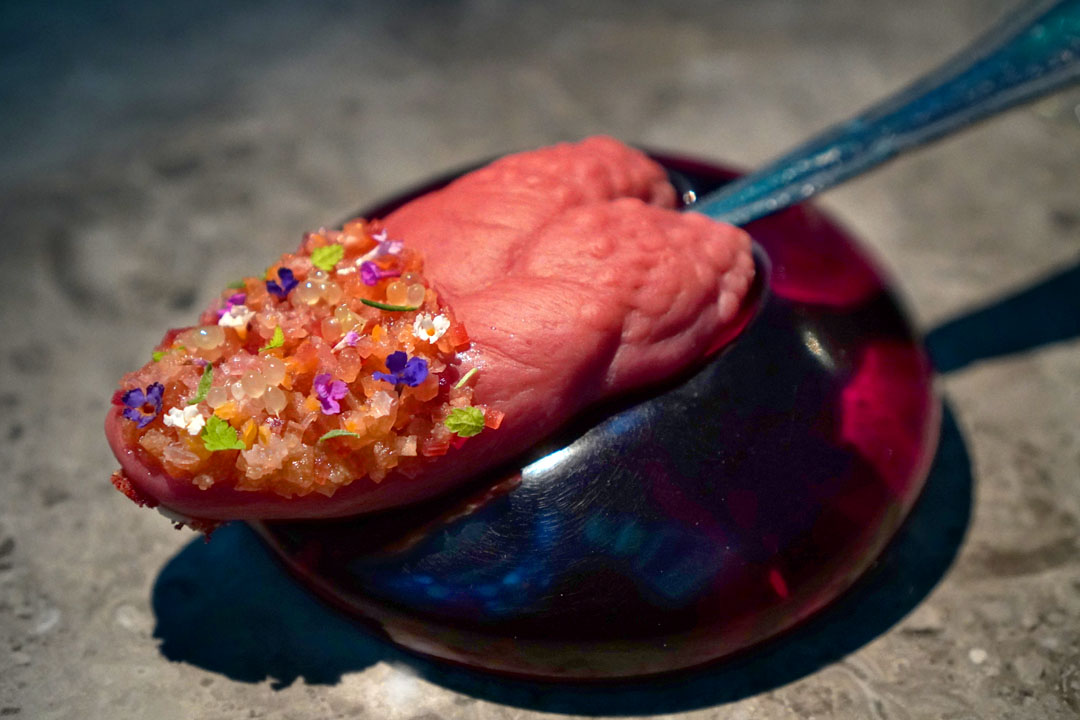 ACT III, SCENE 2 - Tongue Kiss
Munk ostensibly came up with this after hearing about a friend's fight with tongue cancer, but the dish is also meant to make diners think about the dichotomy of pleasure and disgust. What we had here was a silicone tongue, essentially acting as a spoon, coated with yuzu, rhubarb, fermented and pickled asparagus, elderflower, umeboshi in the form of fermented mirabelle plum, and Marcona almonds (the Japanese-themed ingredients were only revealed to us after we'd finished the course). I found this to be a delightfully fruity, nutty palate cleanser of sorts, and I quite enjoyed the textural play offered by the tongue. Some of my fellow diners even felt the urge to make out with it!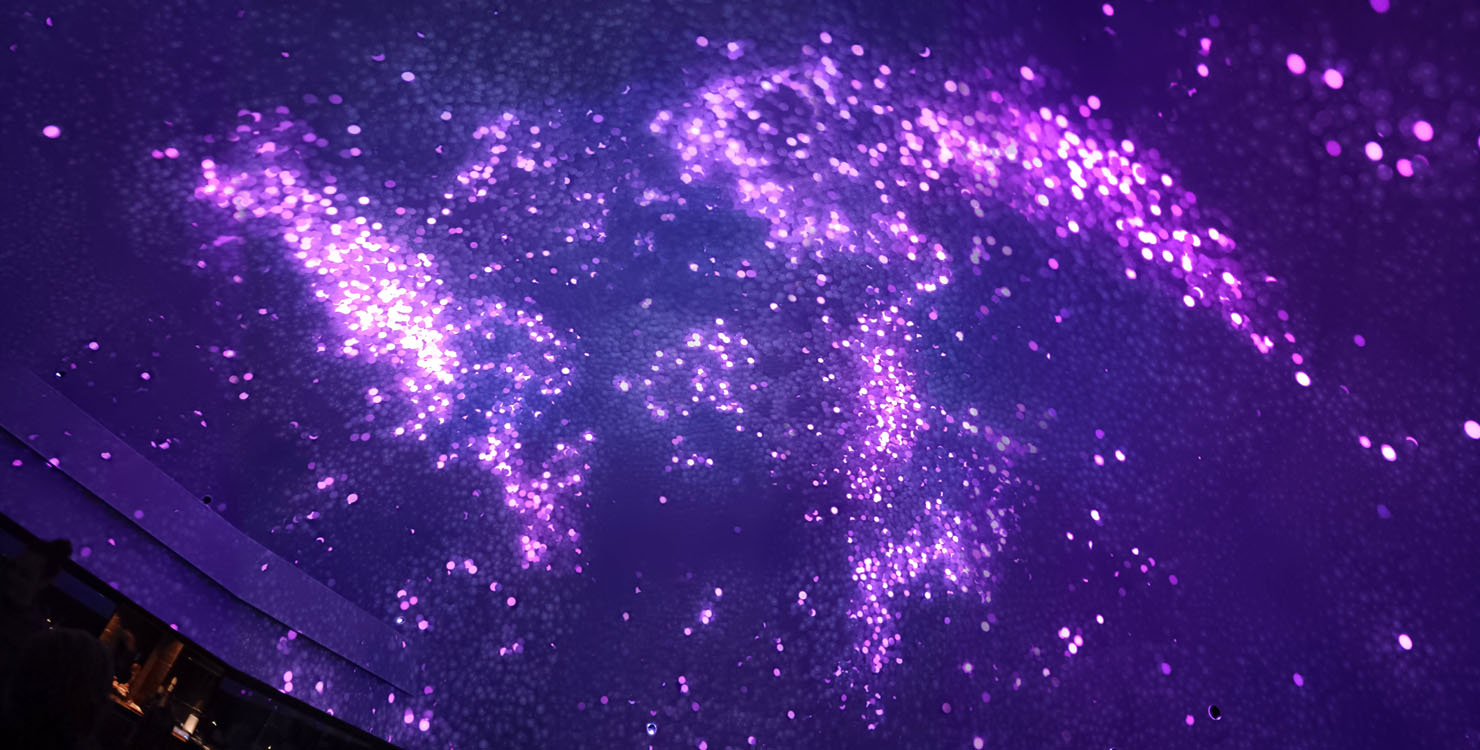 Bioluminescence
Foreshadowing our next course...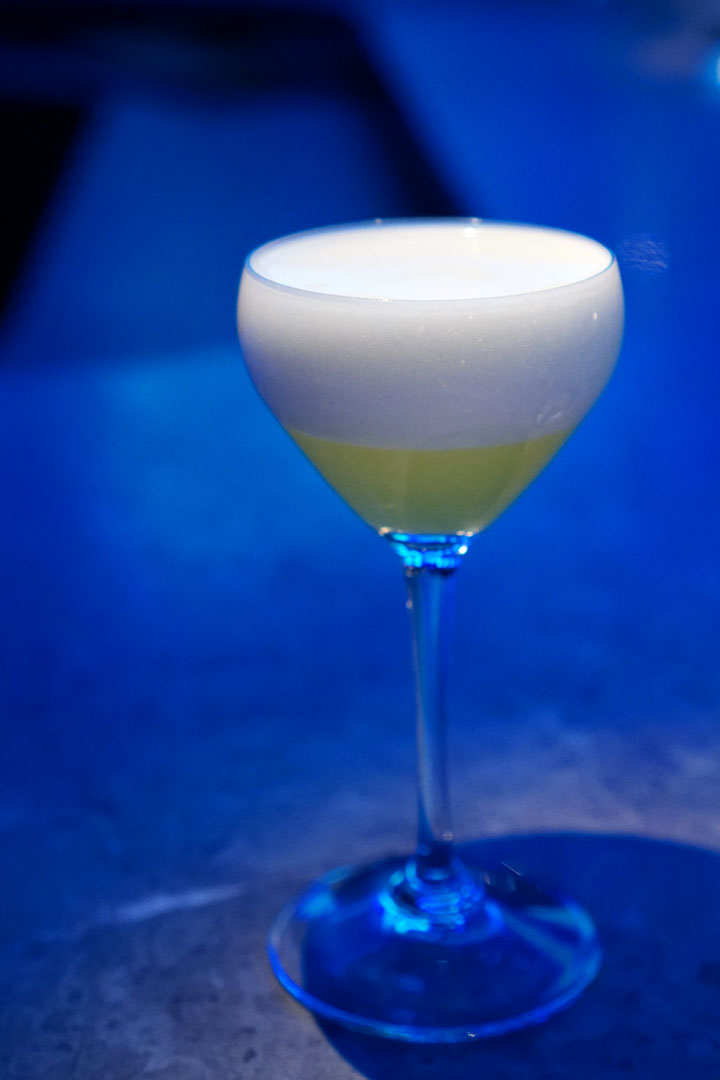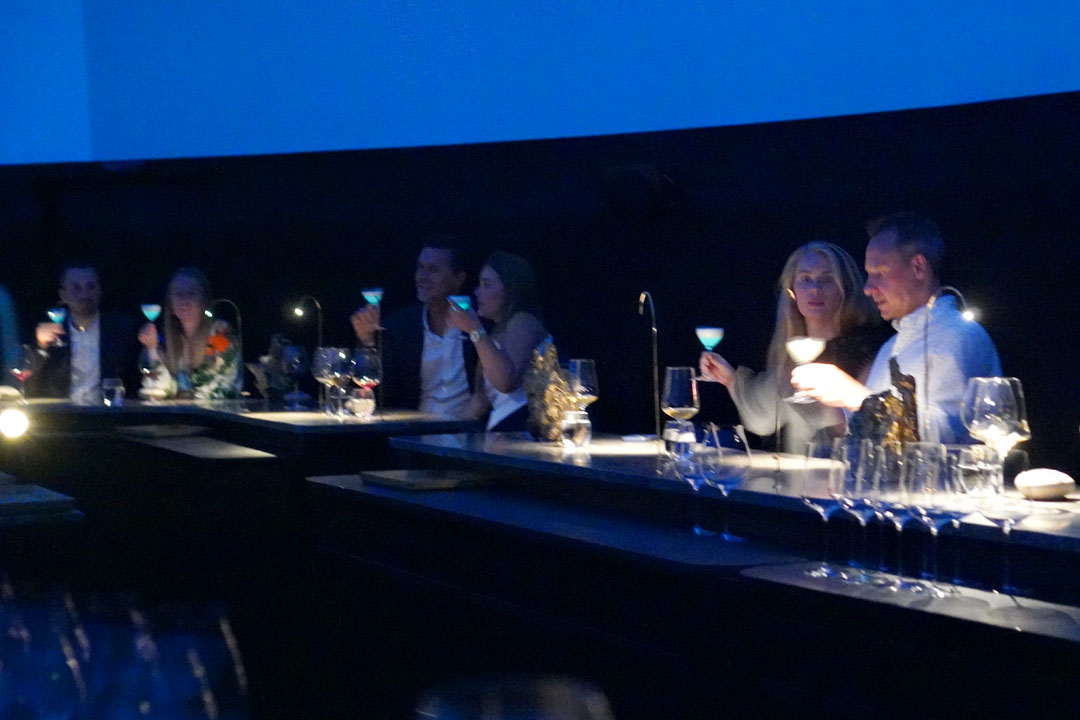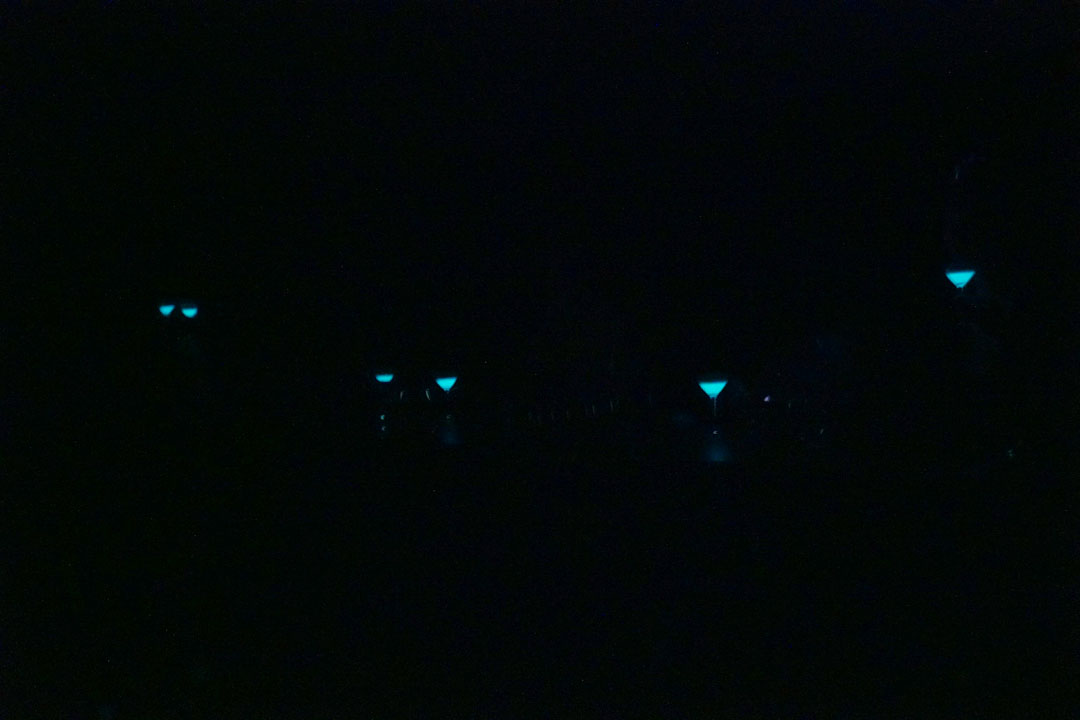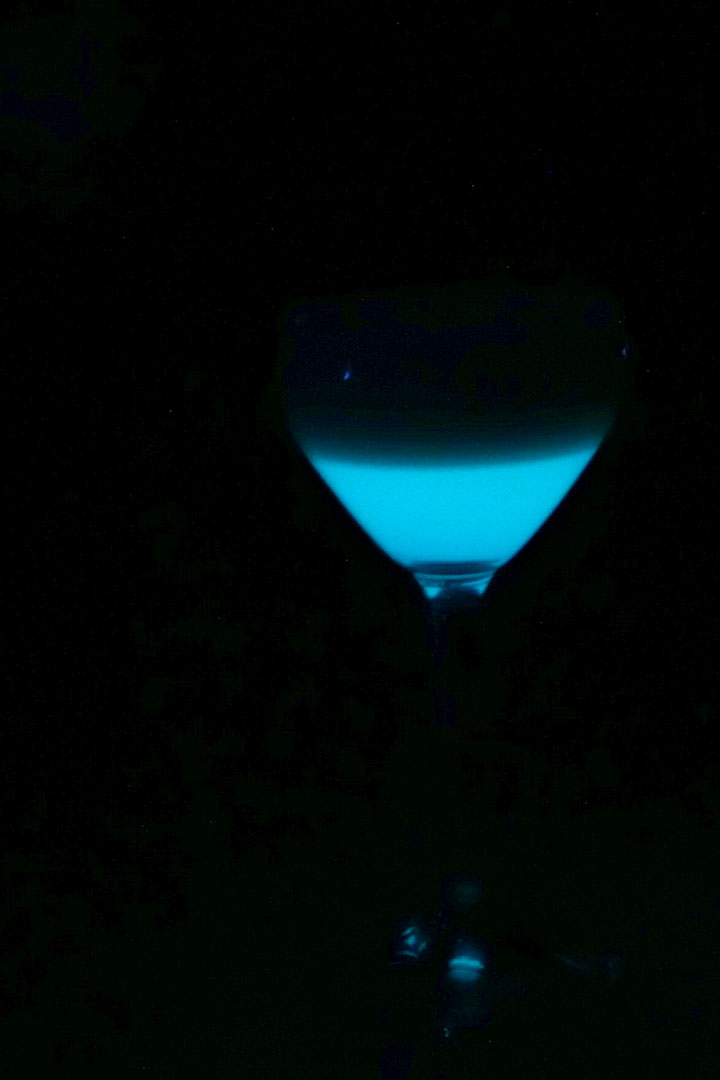 ACT III, SCENE 2 - Cheers!
At this point, the entire dining room was presented with a cocktail resembling a pisco sour. The lights then suddenly went dark, and we were asked to toast our fellow diners across the Dome, which emphasized the shared nature of our experience tonight. The actual drink was based on honeydew and lime (though it tasted of cucumber), and featured a bioluminescent protein that the kitchen was apparently able to synthesize.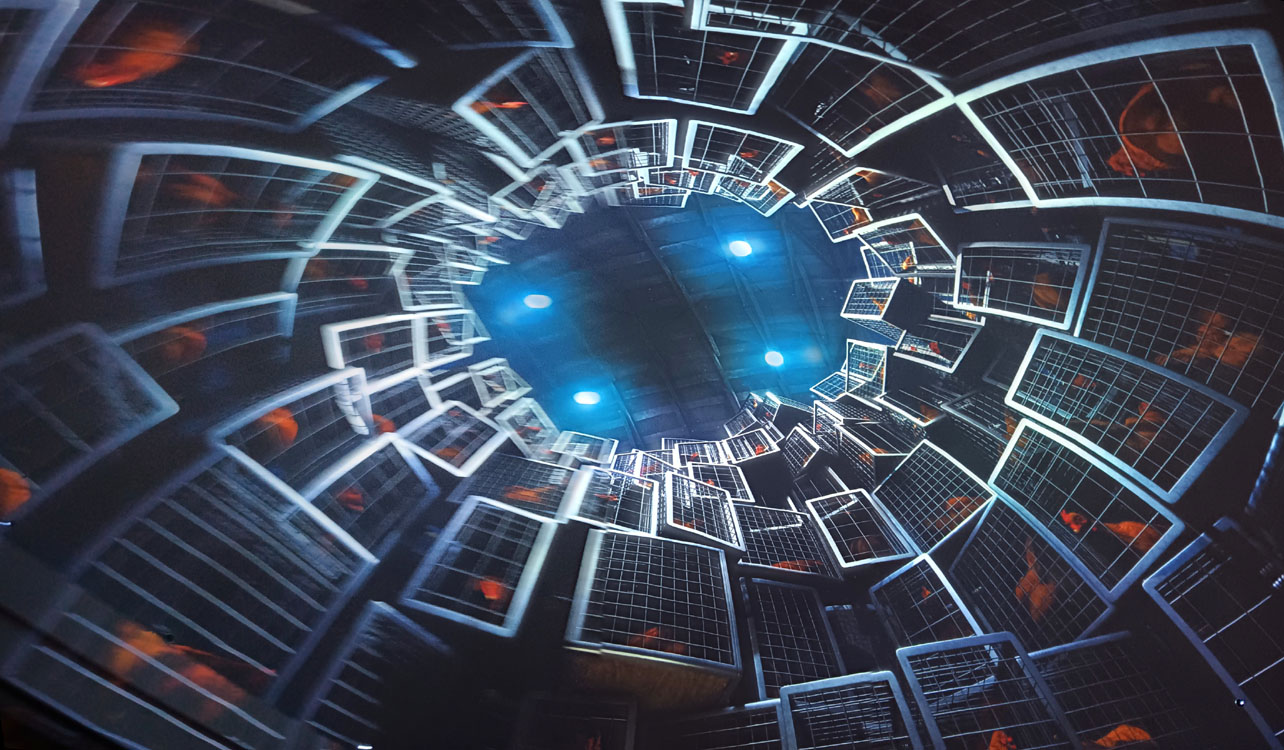 Caged Chicken
One quibble I had was that the video projections didn't necessarily align with the food being served. For example, this particular sequence would've made much more sense if paired with "Burnout Chicken" below.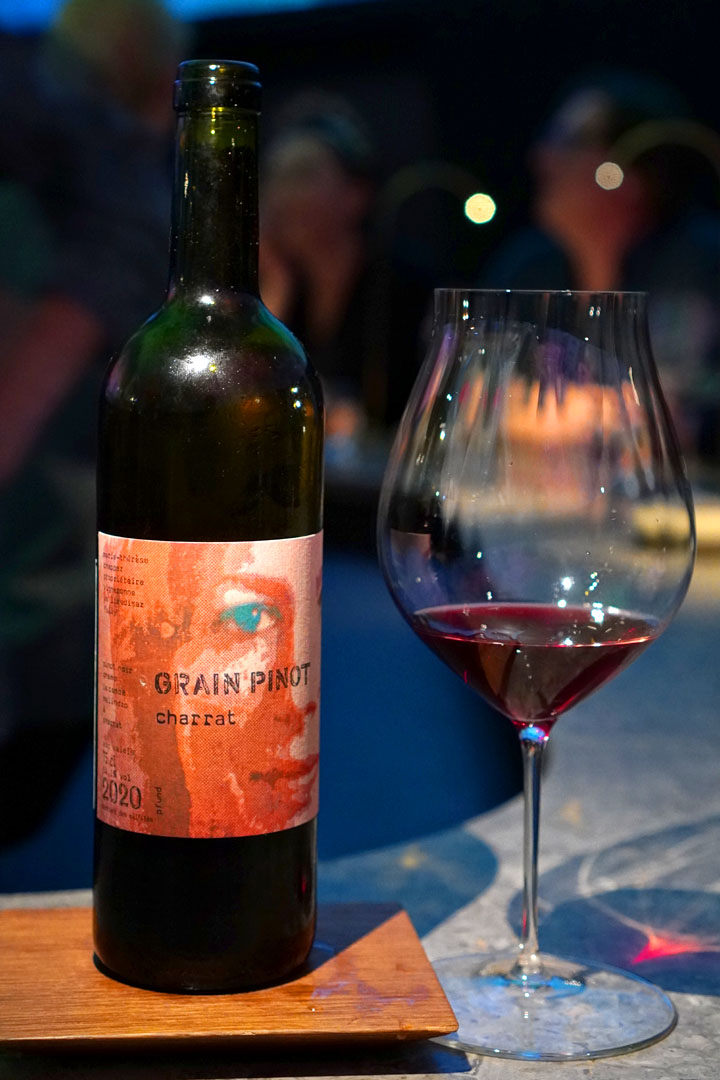 The
2020 Charrat Grain Pinot, Marie-Thérése Chappaz [1200 kr ($175.53)]
came from Switzerland, an underrepresented country on wine lists. This one featured a bouquet rife with inky dark fruits and florals, while its palate went in a smoky, astringent, tannic direction that belied the lushness of its nose.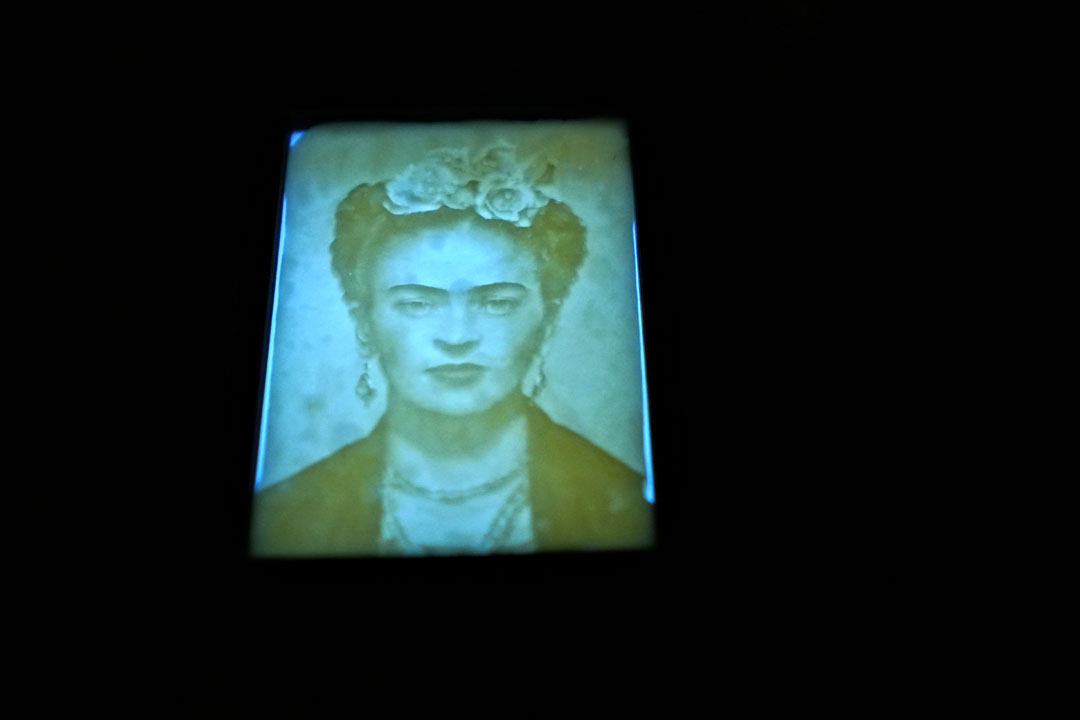 ACT III, SCENE 2 - Lithophane
A recent addition to menu, this was an edible lithophane based on Nickolas Muray's 1939 photograph
Frida Kahlo on Bench #5
, and was meant to continue the theme of identity and introspection that we started the evening with. It was constructed of a sweet, citrusy Jerusalem artichoke cream, and was designed to be eaten with those super thin chips, though those chips broke rather easily, so I ended up earnestly licking Frida clean.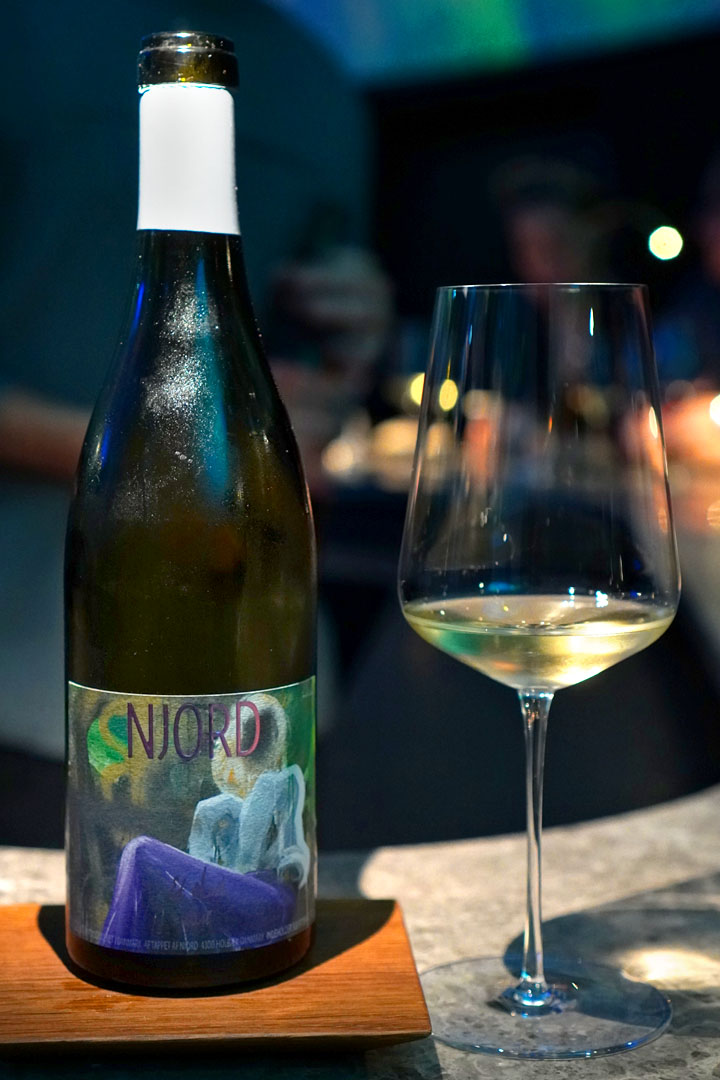 Continuing on with underrepresented countries on wine lists, the
2018 Et Skud Blend, Njord [700 kr ($102.39)]
came from right here in Denmark. A combination of Solaris (60%), Auxerrois (30%), and Chardonnay (10%), this showcased tons of tropical fruits, pineapple, and funk on the nose. Tasting it, I found the blend soft and smooth, its delectable fruit flavors joined by a welcomed herbaceousness. A very pleasant surprise I have to say.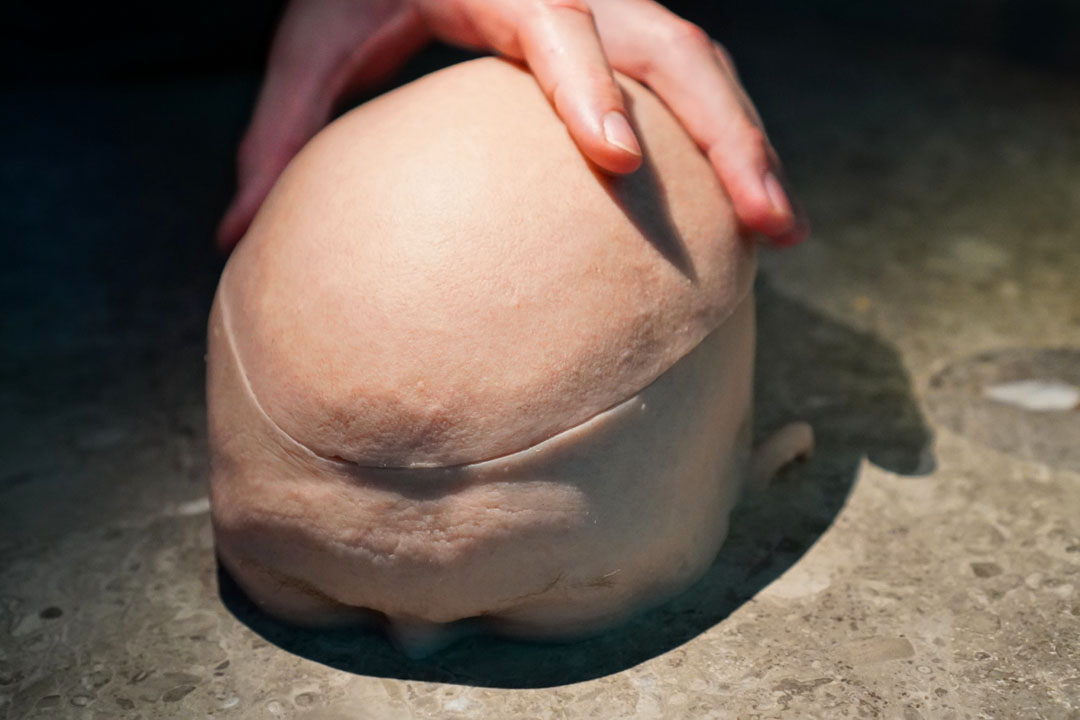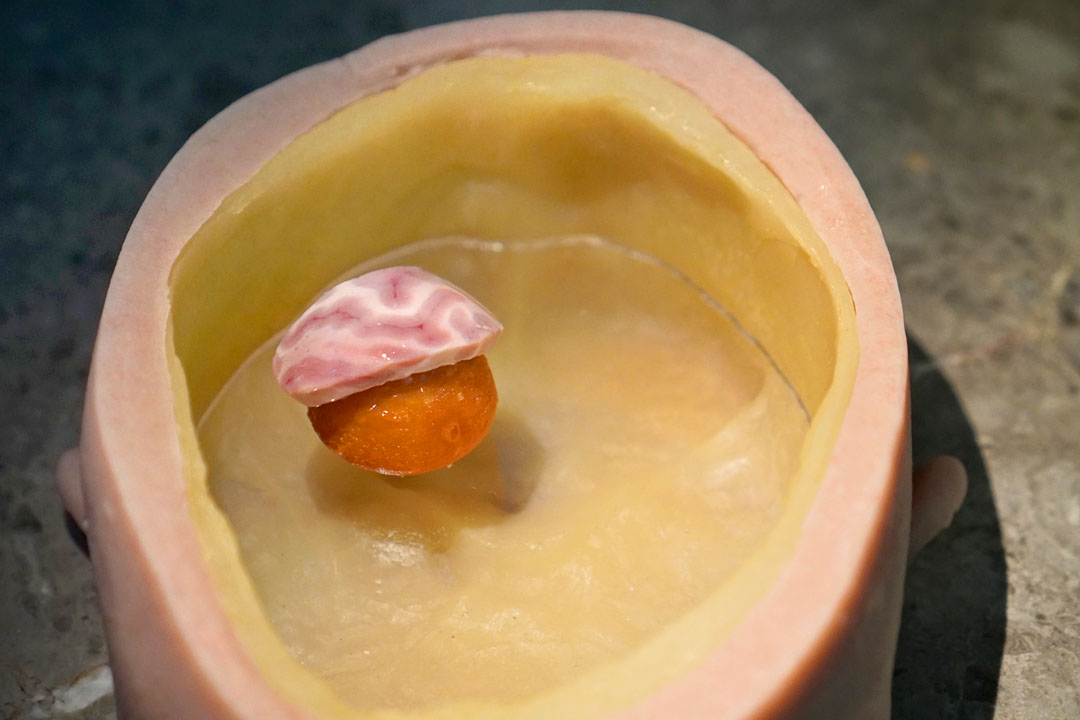 ACT III, SCENE 2 - Food For Thought
One of the more provocative courses of the night was meant to make us think about how we can use our resources in the right manner. A rather realistic-looking silicone head held lamb brain, fried in milk then steamed, on top of a cherry gel-filled brioche. The kitchen wanted to highlight how to effectively utlize brain in haute cuisine, and they certainly succeeded. The offal was actually very approachable, and really took well to the brioche, which tasted almost doughnut-like, with a lemon-y zest to it.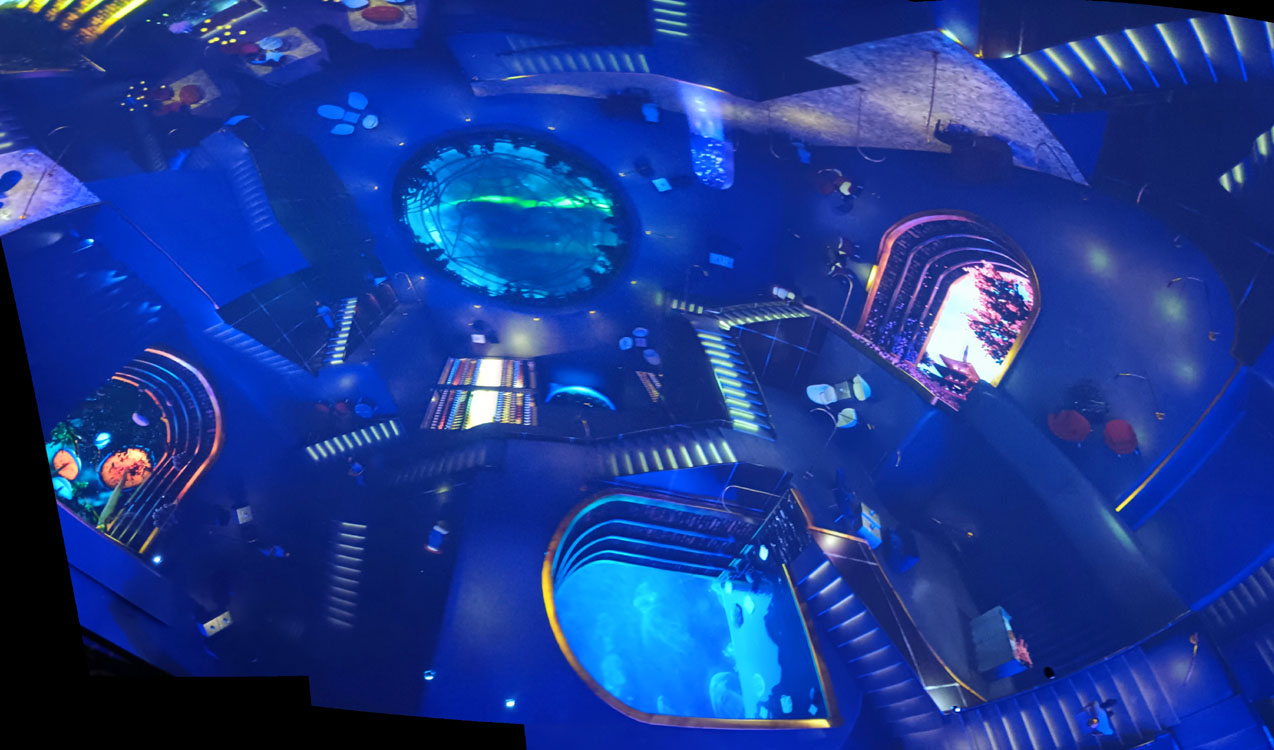 MC Escher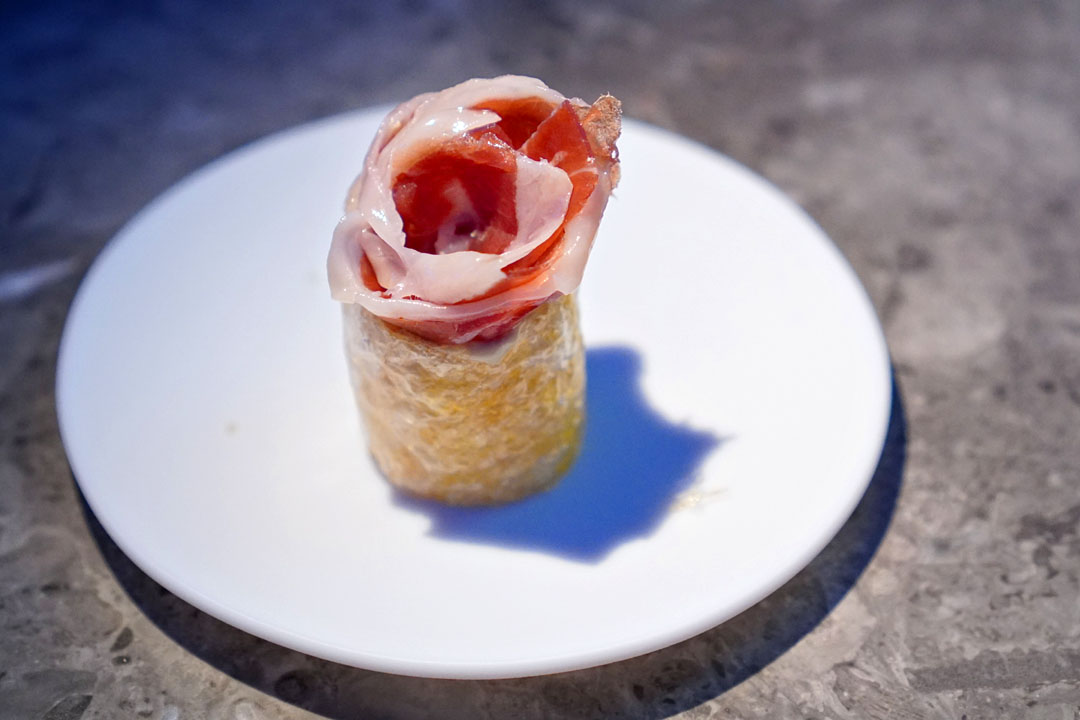 ACT III, SCENE 3 - Airy Bread
Here we have perhaps the most straightforwardly delicious bite of the meal. This was a potato starch bread enhanced with brown butter and roasted yeast, rolled into a cigar shape, which causes a compression and expansion that makes the bread extremely fluffy. The loaf is then frozen to maintain its shape, baked to a crispy, caramelized consistency, and sliced tableside. There was also a sauce of yeast butter, crème fraîche, and egg yolk, along with 2018 vintage jamón ibérico. The end result of all this was pretty magical, and I just loved the bread's amazingly light, airy, shattery texture, and how that paired with all the lush, creamy, salty flavors going on.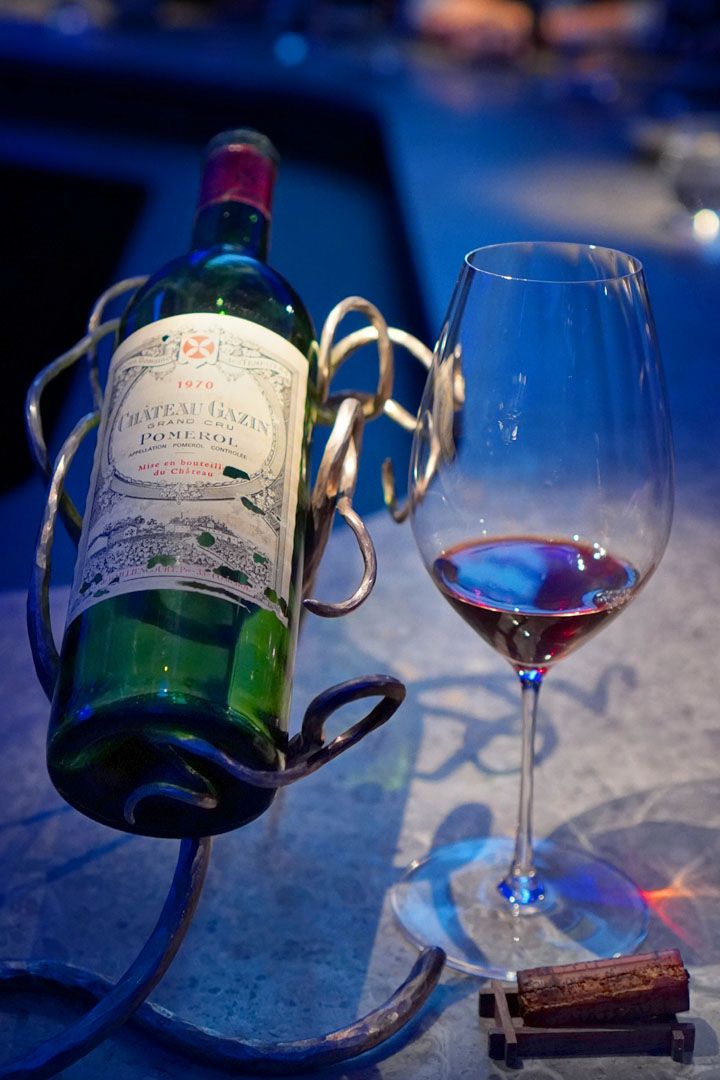 We then opted for some old Bordeaux in the form of the
1970 Grand Vin, Château Gazin [4000 kr ($585.10)]
. The wine boasted multifaceted aromas of truffle, forest floor, red fruit, pencil lead, herb, and earth, and somehow, I was even smelling dim sum in there. Tasting it, I found a surprisingly healthy amount of ripe, lush fruits, overlayed with more herbaceous and barnyard-y notes. This one actually held up better than I thought it would, a testament to the quality of the 1970 vintage I suppose.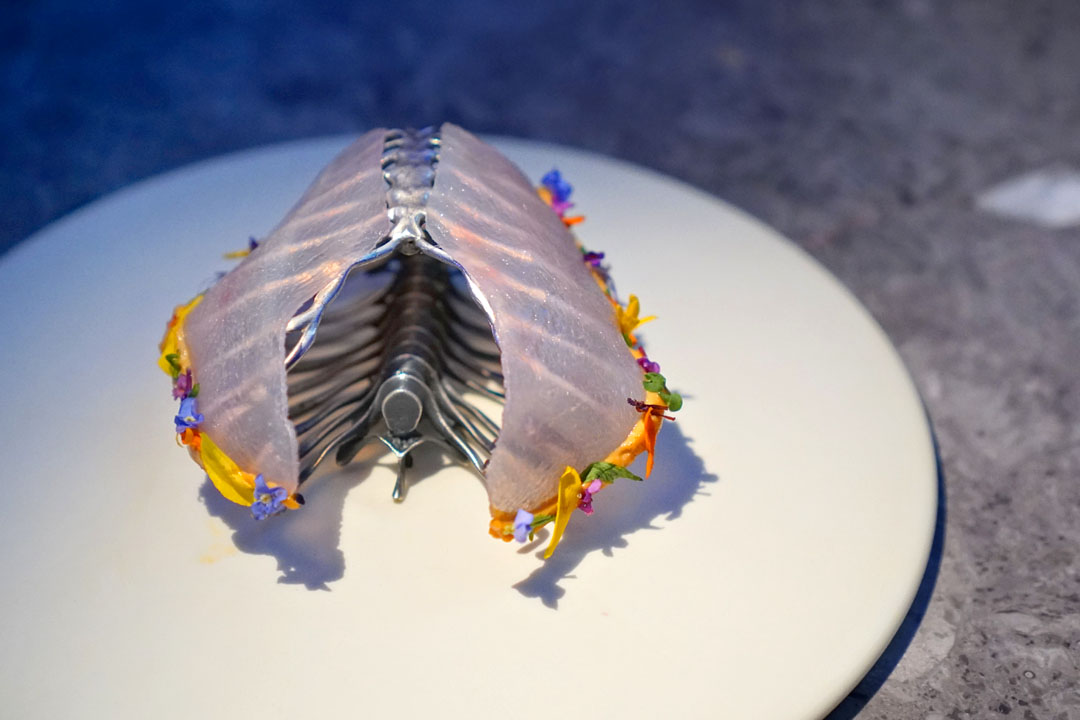 ACT III, SCENE 3 - Hunger
A commentary on childhood hunger in the developing world, this dish comprised salt-cured back filet of hare (one of the most sustainable meats we were told), along with harissa and a frill of aromatic flowers and herbs, which acted as sort of a fanciful element juxtaposed against the grimness of the ribcage (rendered in silver by Nicolai Appel). This was a standout for me, as I absolutely loved the interplay between the sweet-spiciness of the harissa and the herbs.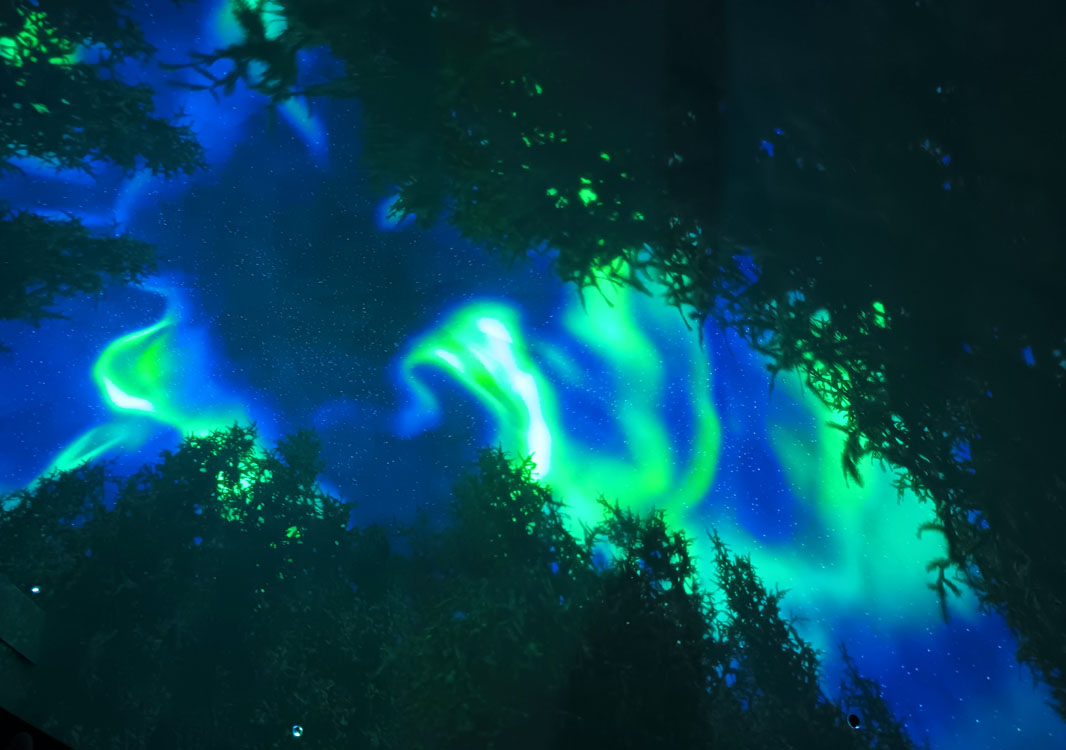 Northern Lights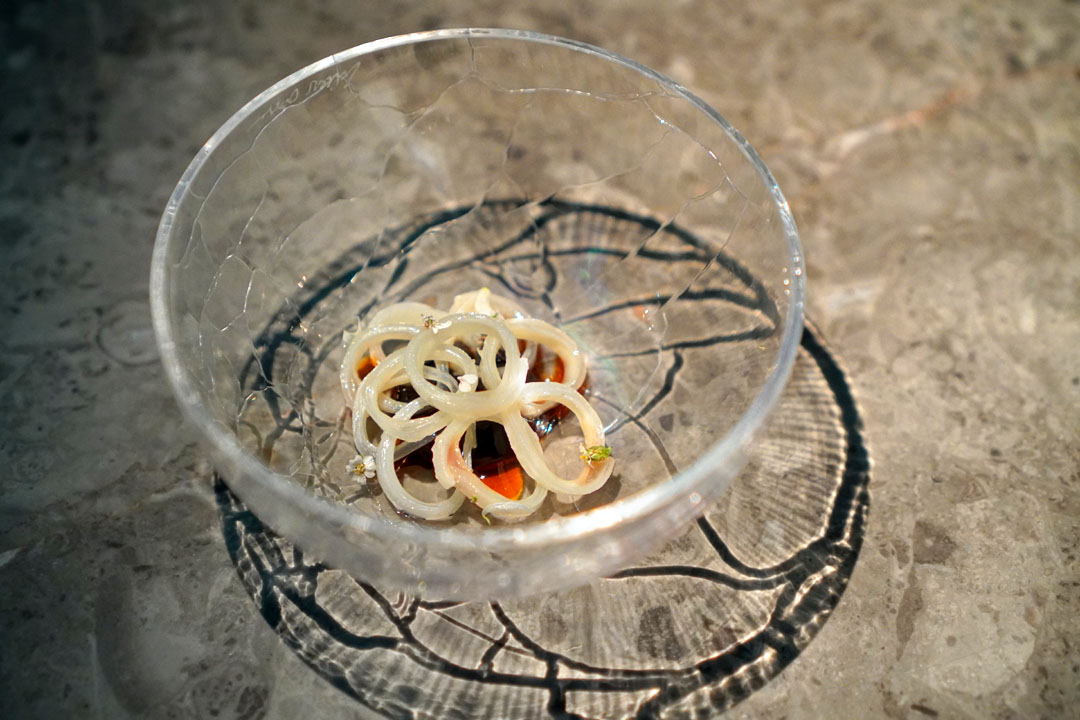 ACT III, SCENE 3 - Don't waste your Breath
Inspired by Munk's initial discovery of a novel texture that was simultaneously soft and crisp, this was pig trachea, prepared in a Korean pressure cooker. I was a huge fan of its gratifyingly dichotomous consistency as well, and also superb was the accompanying sauce of chili and wasabi flowers, which showed off a marvelous heat along with a long-lingering sweetness. Another one of the newer dishes, and a favorite of mine.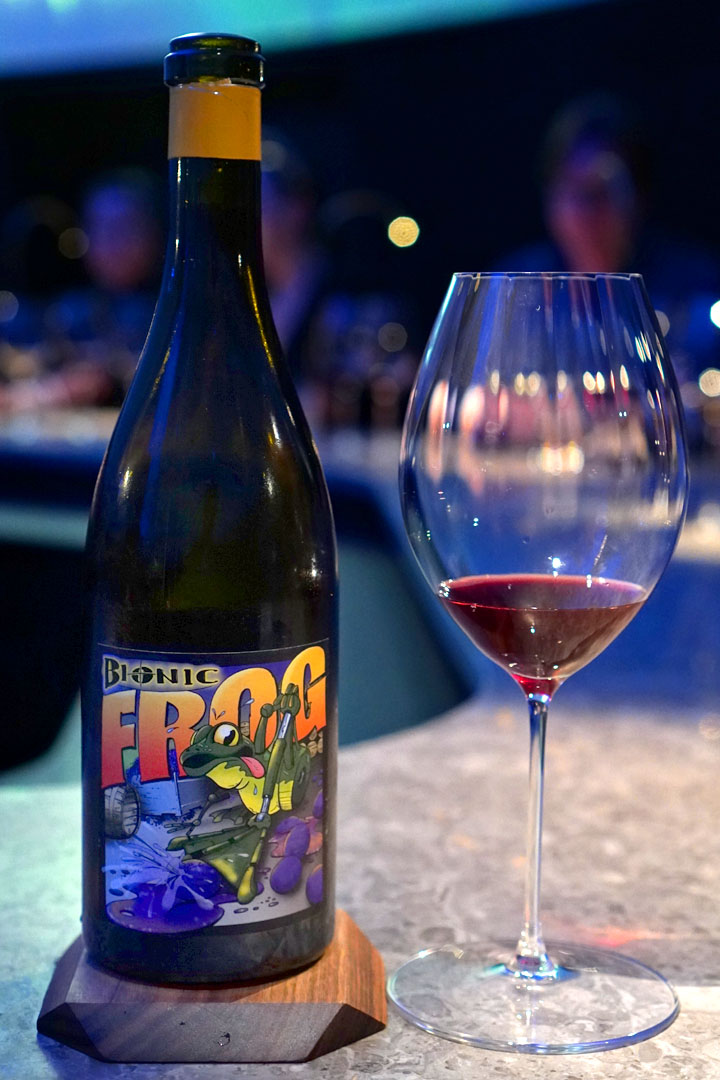 The
2013 Bionic Frog Coccinelle Vineyard Syrah, Cayuse Vineyards [1950 kr ($285.23)]
was our lone wine from the United States. Hailing from Washington's Walla Walla Valley, I got a super in-your-face nose of funk, olive, and smoked meats. In terms of taste, think dark-toned, palate-coating fruits all over the place, joined by a supporting cast of herb and barnyard. This was something else.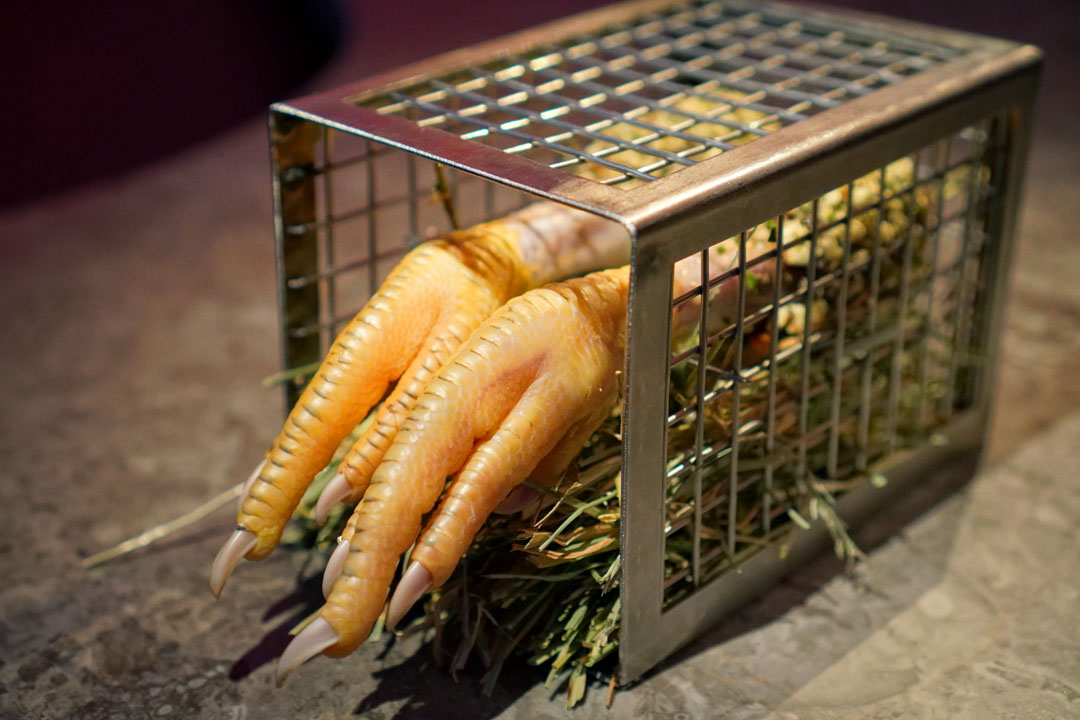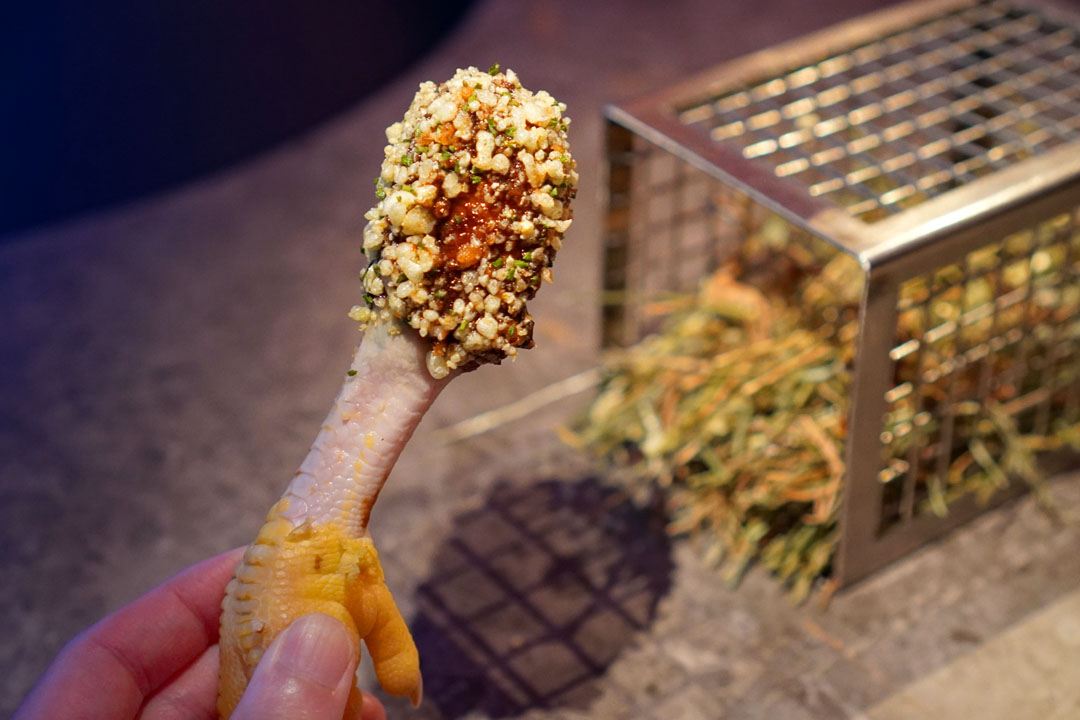 ACT III, SCENE 3 - Burnout Chicken
In this commentary on the issue of overcrowding at poultry farms, we had to "free the chicken from its cage" before consuming it. On the edible end of those gnarly claws was fried-then-glazed chicken with poached shrimp and potato. I was enamored with its fluffy, spongey consistency, while its flavors were familiar and comforting, a mix of sweet, savory, and tangy with an almost ginger-like piquancy--absolutely delish.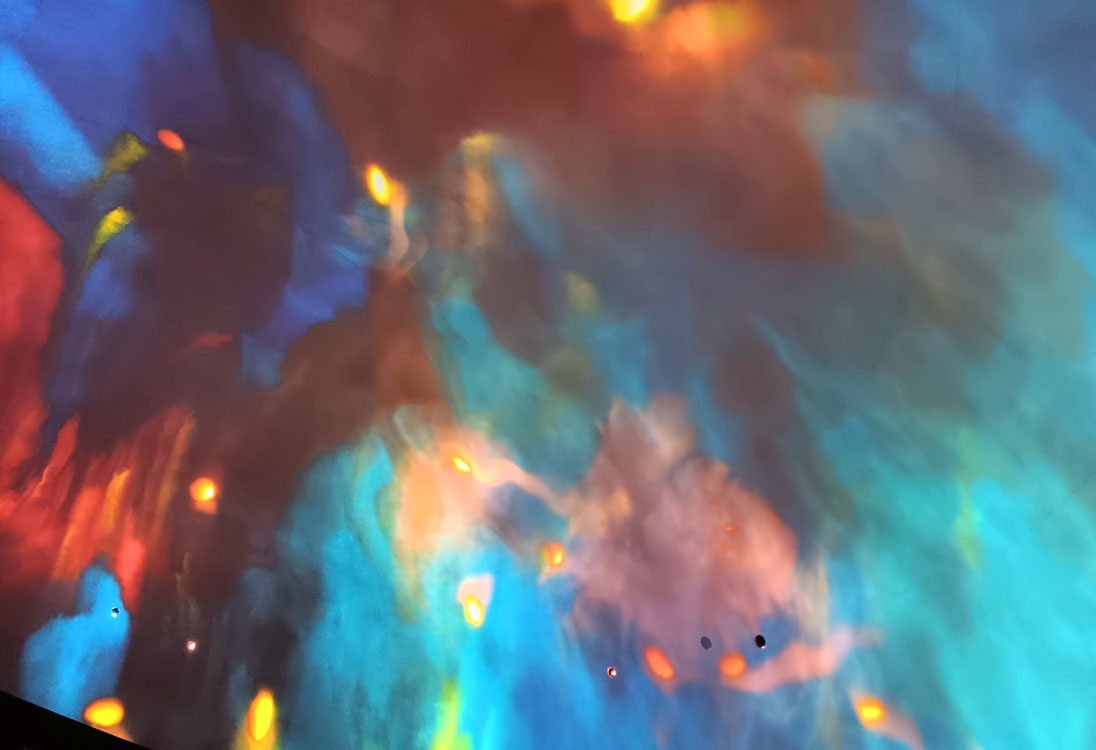 Ember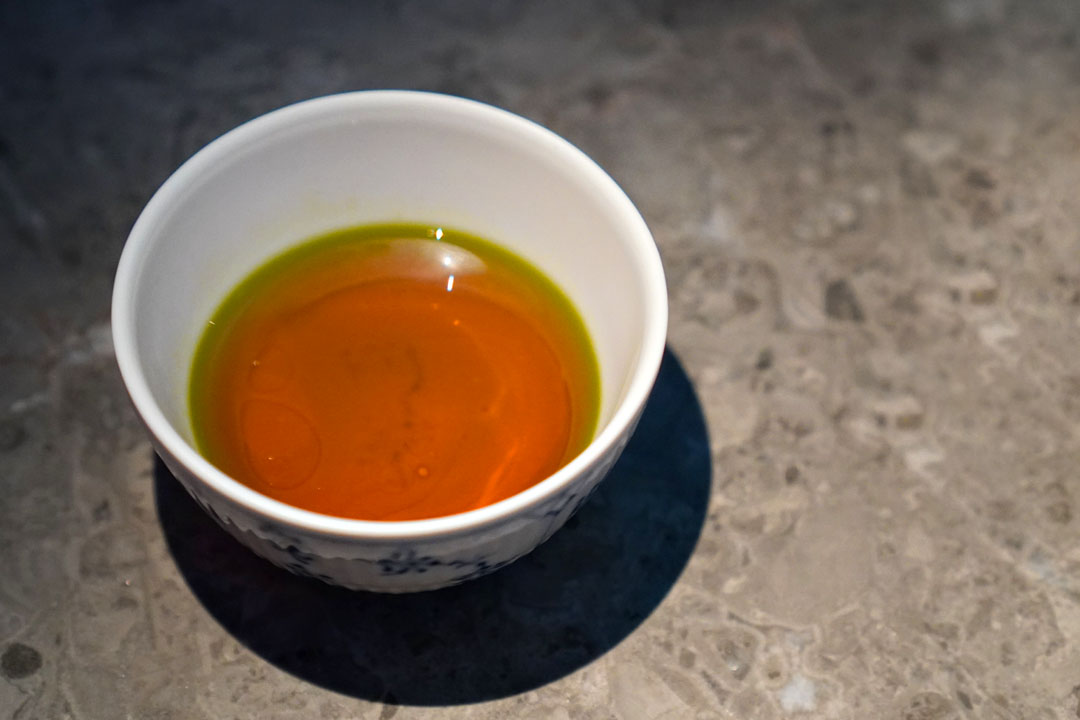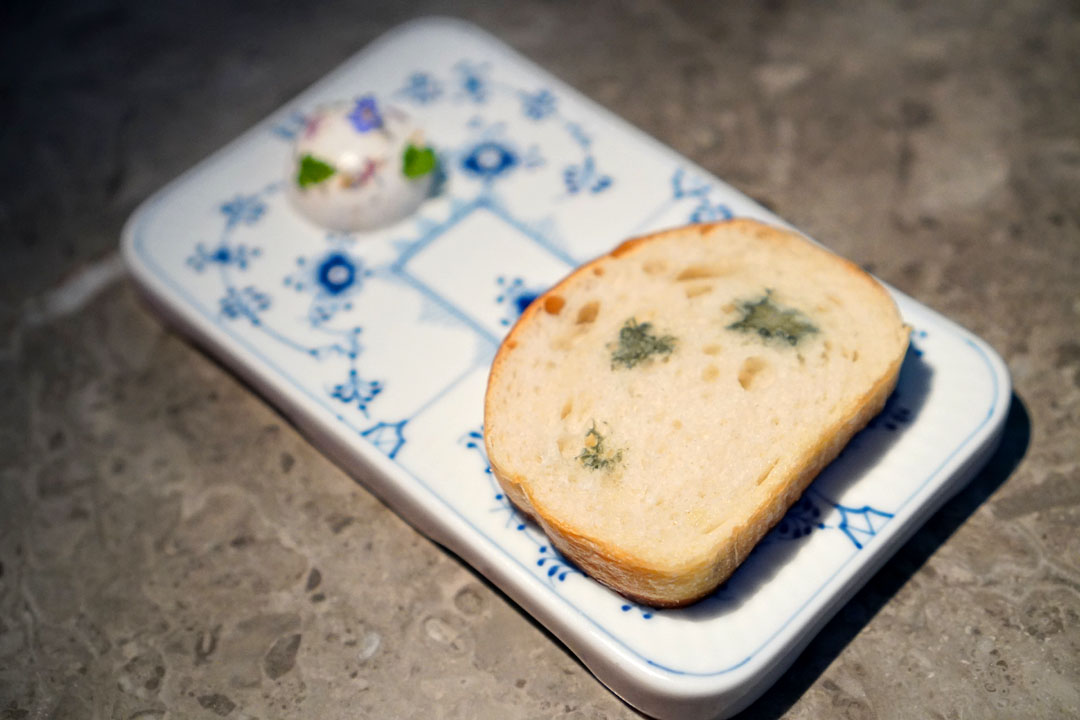 ACT III, SCENE 3 - Soup on a Sausage Peg
Hans Christian Andersen's 1858 short story "Soup on a Sausage Peg" ("Suppe paa en Pølsepind") was the guiding light for this recent menu addition. In the story, mice are enjoying a feast of moldy bread and sausages, and following said feast, they're asked to make a soup out of the wooden sticks used to hold the aforementioned sausages--essentially a metaphor for making something out of nothing. This was some well-textured housemade bread, intentionally molded with
Penicillium roqueforti
and
Penicillium candidum
, giving it a blue cheese-like bite. Meanwhile, accompanying the bread was pancetta and
pata negra
, as well as a gorgeously rich, deeply flavored beef bouillon that I reveled in. A cozy ending to the savory portion of meal.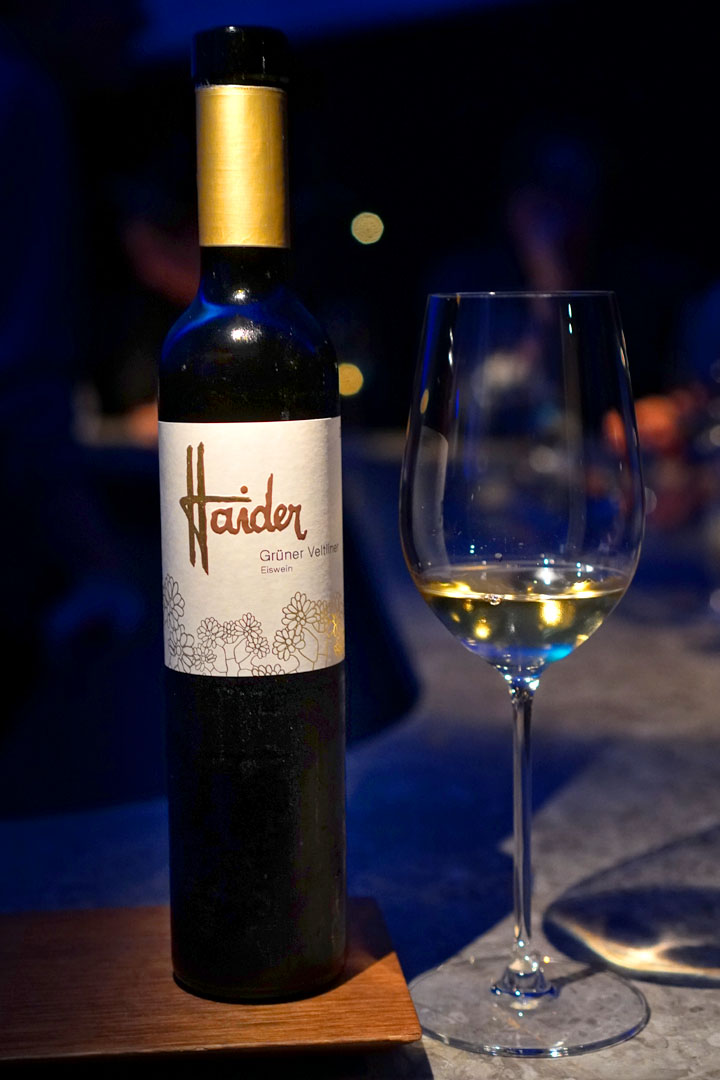 Moving into the dessert wines now, here was the
2020 Grüner Veltliner Eiswein, Weingut Haider [800 kr ($117.02)]
. The Austrian ice wine smelled of poached fruits and honey, and was nearly Sauternes-esque. On the palate, think thick and juicy, with a plentiful serving of stone fruit, tropical fruit, and even more honey, all kept in check by just enough acidity.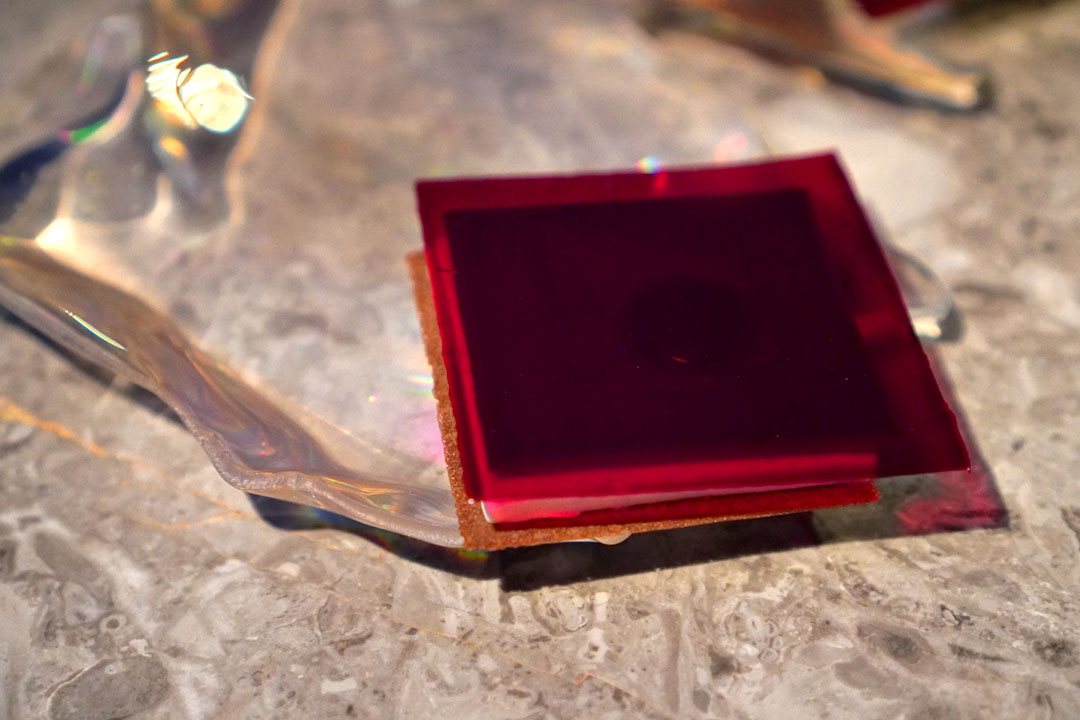 ACT III, SCENE 4 - Reflection
Our first dessert course also dealt with the idea of identity, as evinced by its various reflections, meant to symbolize the more than 30 nationalities represented on the Alchemist team. This was in essence a thoroughly rejiggered ice cream sandwich, with lovely flavors of blackcurrant, chocolate, and vanilla. Some nice textures, too.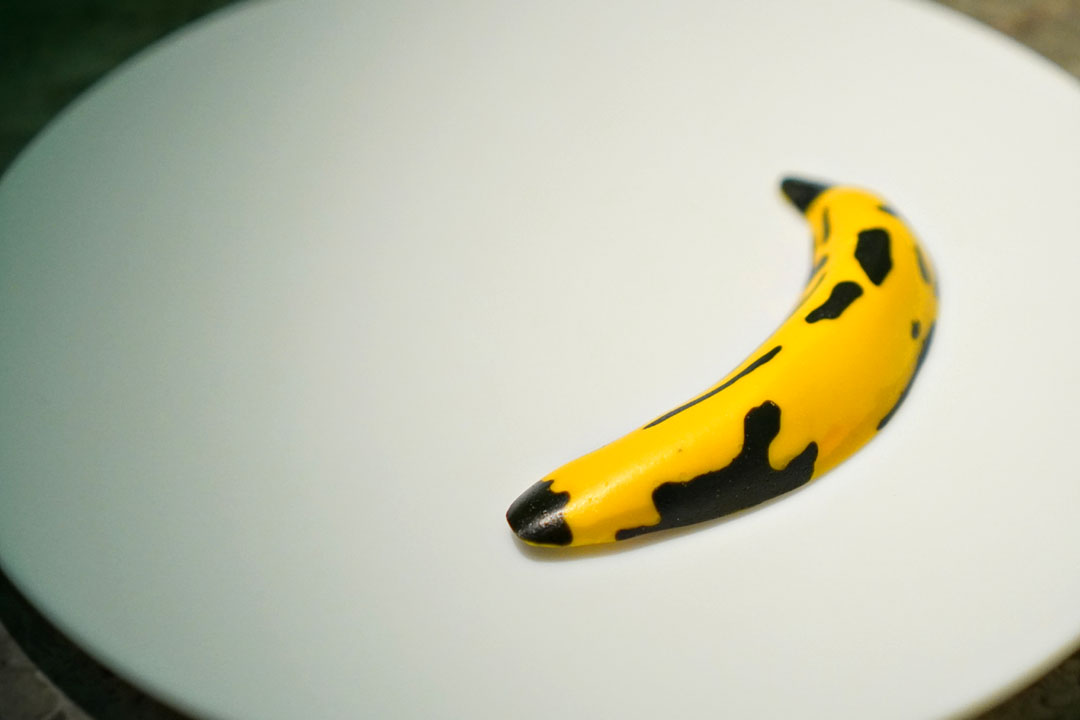 ACT III, SCENE 4 - Andy Warhol
Munk is reportedly quite the Warhol fan, so this next dessert was inspired by his cover art for the 1967 album
The Velvet Underground & Nico
. A Manzano banana sorbet was combined with cachaça, egg yolk caramel, and tonka bean, then encased in a thin shell incorporating banana and jasmine tea. There were some fantastic banana flavors going on here, but also this astringency that I was smitten by, and I tasted elements that somehow recalled lemon-lime soda, too.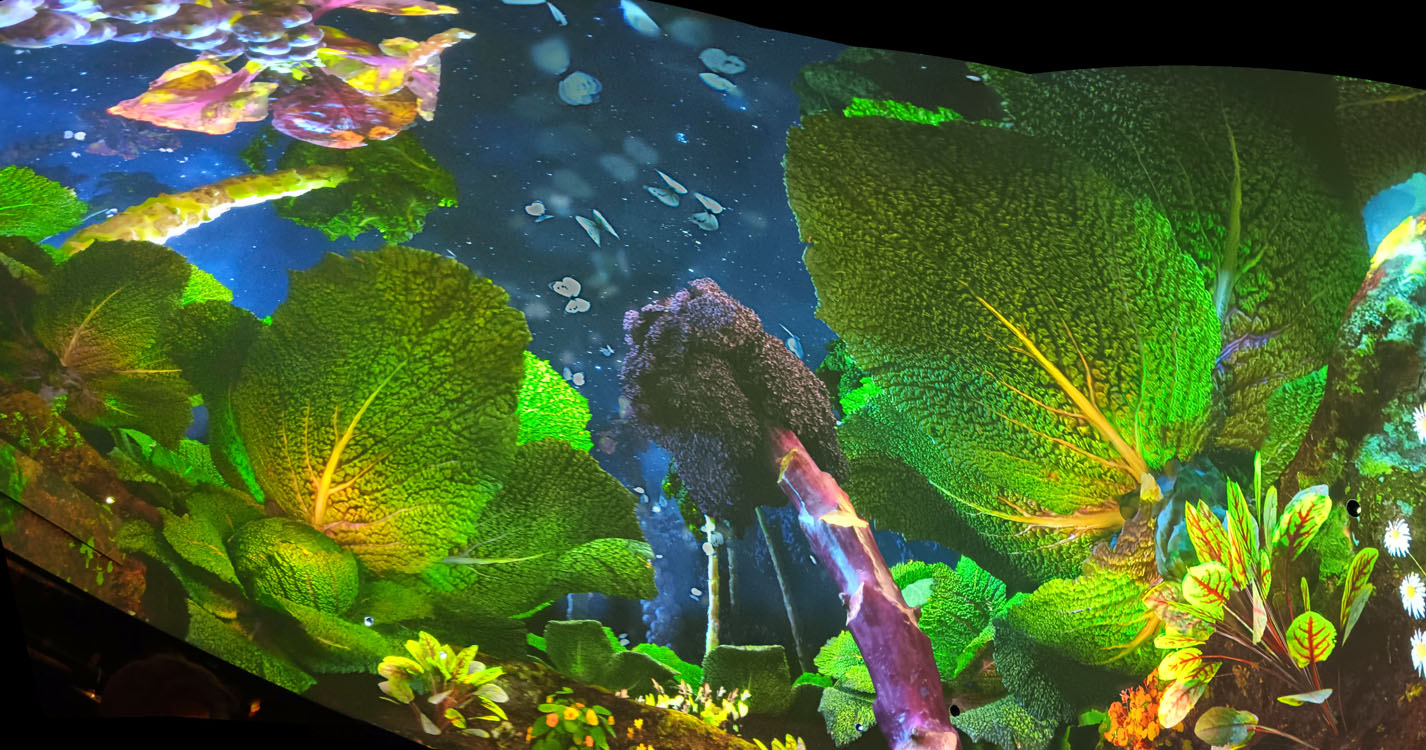 Biodiversity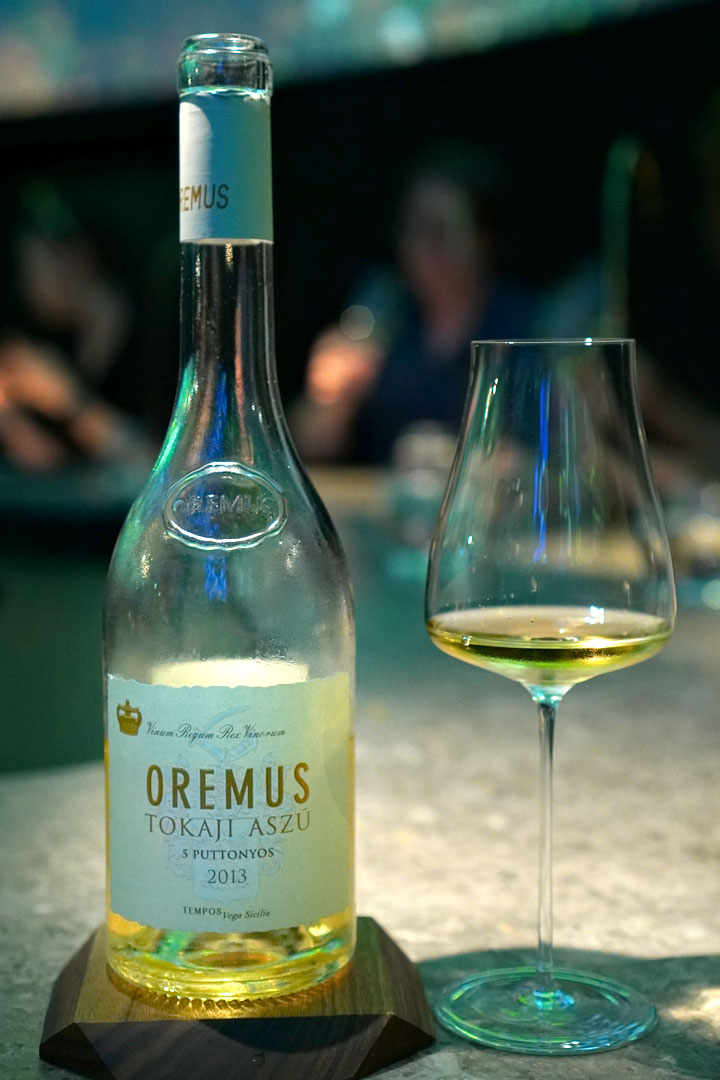 The night's final wine was the
2013 Tokaji Aszu 5 Puttonyos, Oremus [1500 kr ($219.42)]
. This was the sweetest of the bunch, with a lush nose of honey and peach, alongside brioche in the background. Its taste was similarly sugary, but evened out by enough acidity to keep things from becoming cloying. Not bad at all.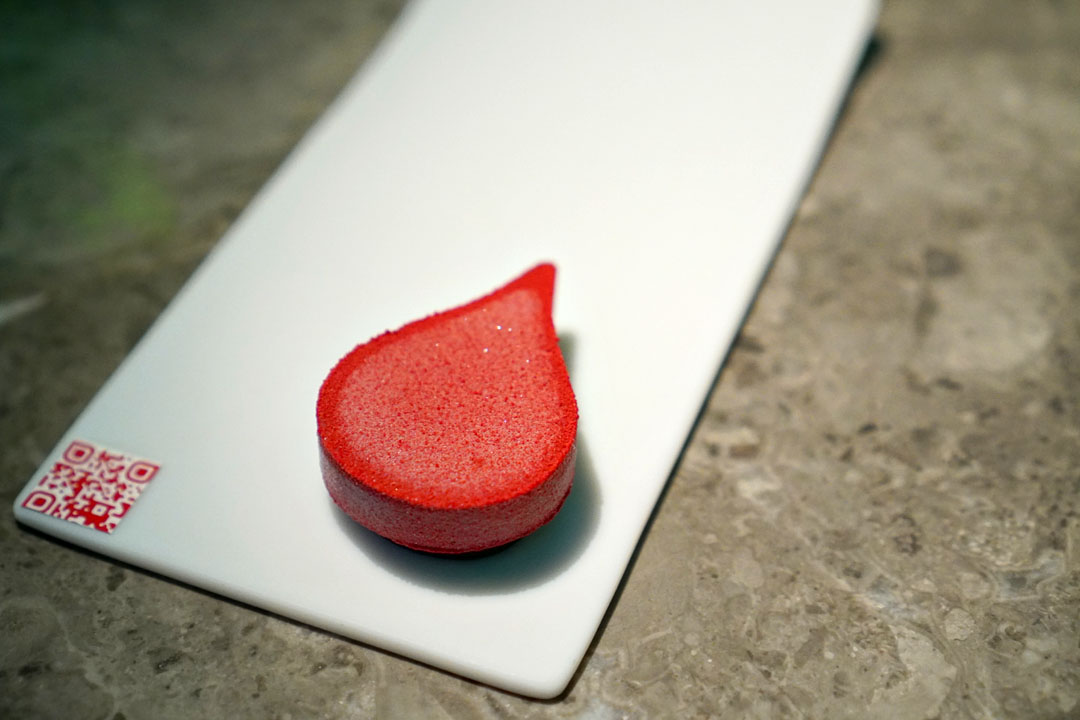 ACT III, SCENE 4 - Lifeline
This rather stark dessert highlighted the importance of saving lives through blood donation, and was created during the pandemic, when there was indeed a blood shortage. This was pig's blood ice cream, filled with wild blueberry jam and a ganache composed of pig's blood, deer blood garum, and juniper oil. It was easily the most polarizing course of the night, as some of my fellow diners couldn't even stomach it. The ice cream really did taste like blood, but tempered by some cherry-like flavors that did make sense with the iron-y notes present. And if you're wondering about that QR code, it brings you to
this page
, which offers links to sign up for blood donation.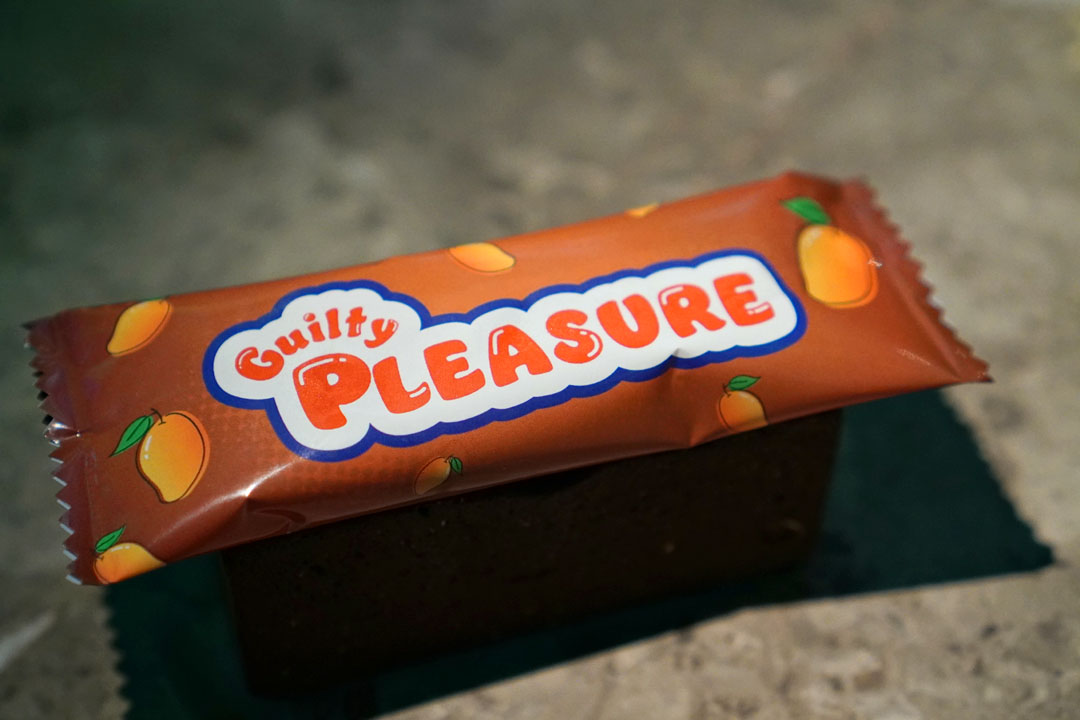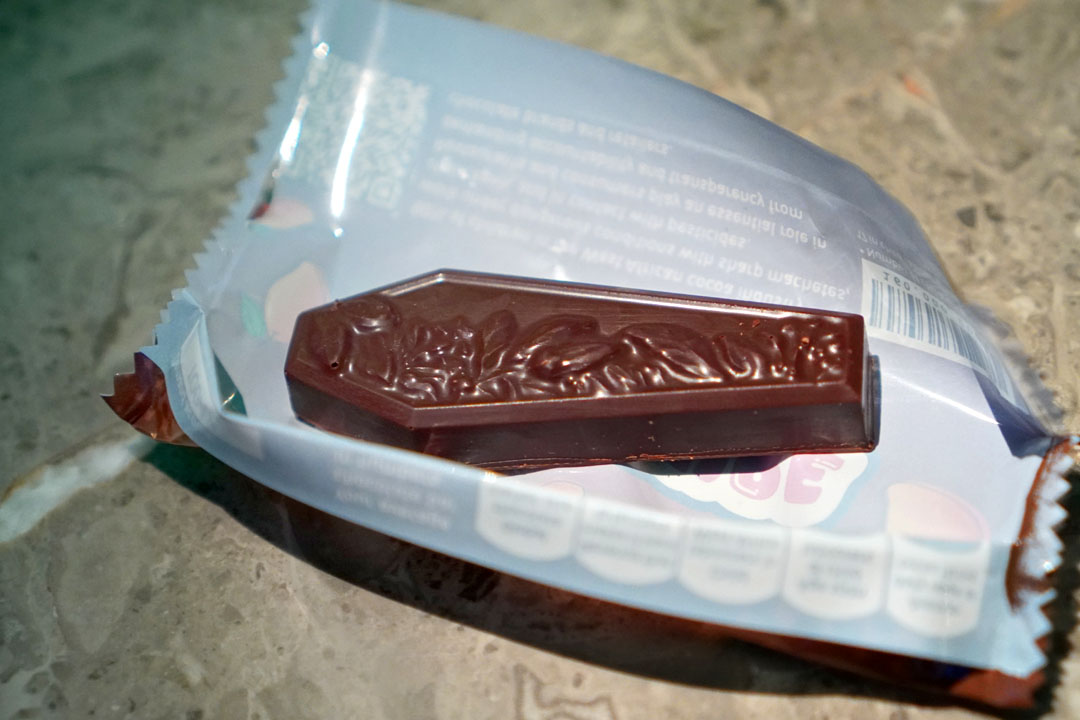 ACT III, SCENE 4 - Guilty Pleasure
Our last course in the Dome was intended to raise awareness of child labor in the chocolate business, and featured a wrapper printed with uncomfortable claims about the industry, while the chocolate itself was coffin-shaped as a nod to the human suffering that the trade often entails. I will say that the bar was very tasty, demonstrating rich caramel notes along with a delightful nuttiness.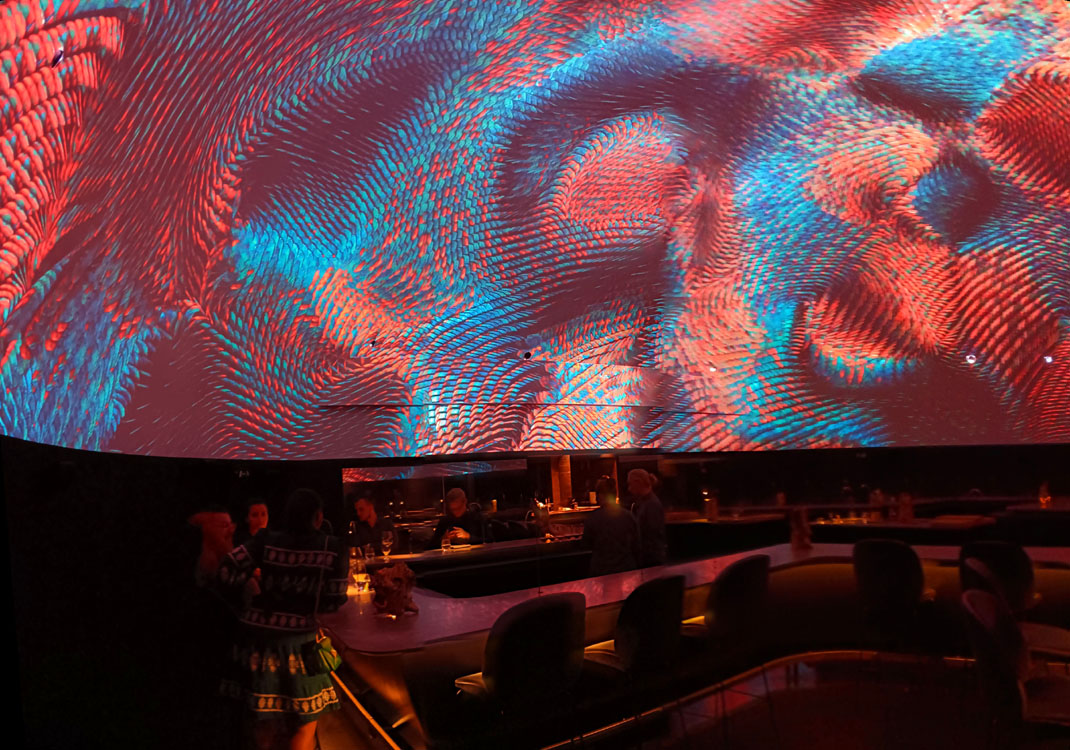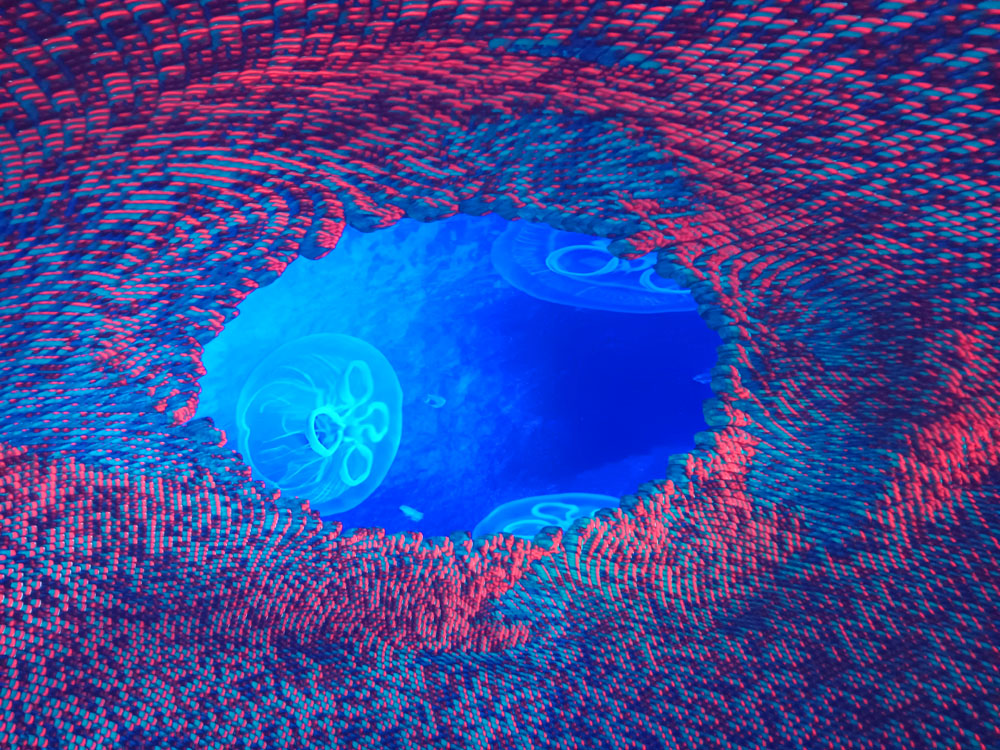 Scales
Here we see the night's final video projection, along with its transition back to "Under Water," which we kicked things off with.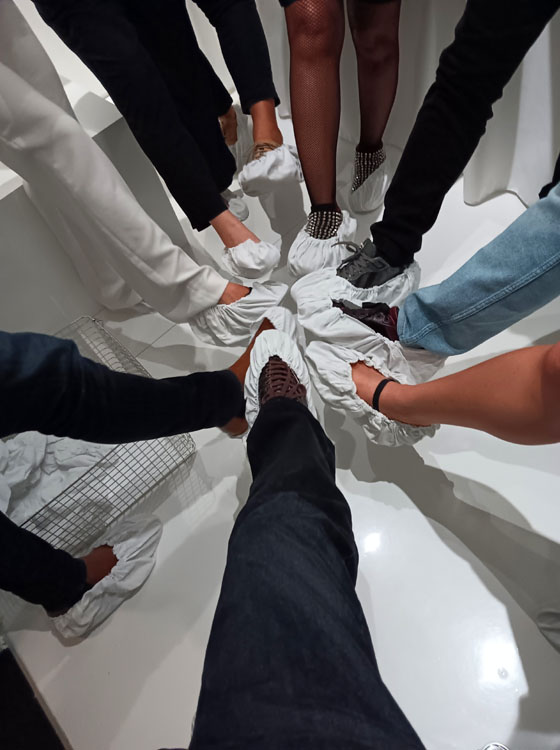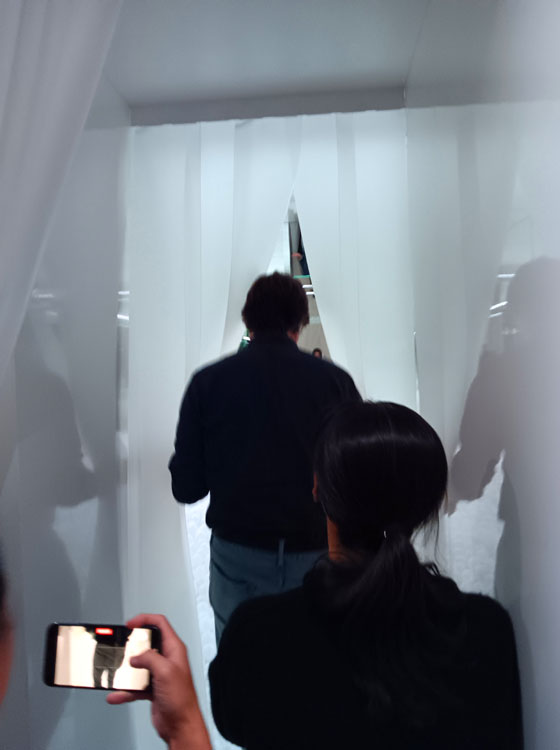 We were then asked to leave our belongings in the Dome, and were led in small groups to a space where we had to put on shoe covers, confusingly. I had no idea what Alchemist had in store for us...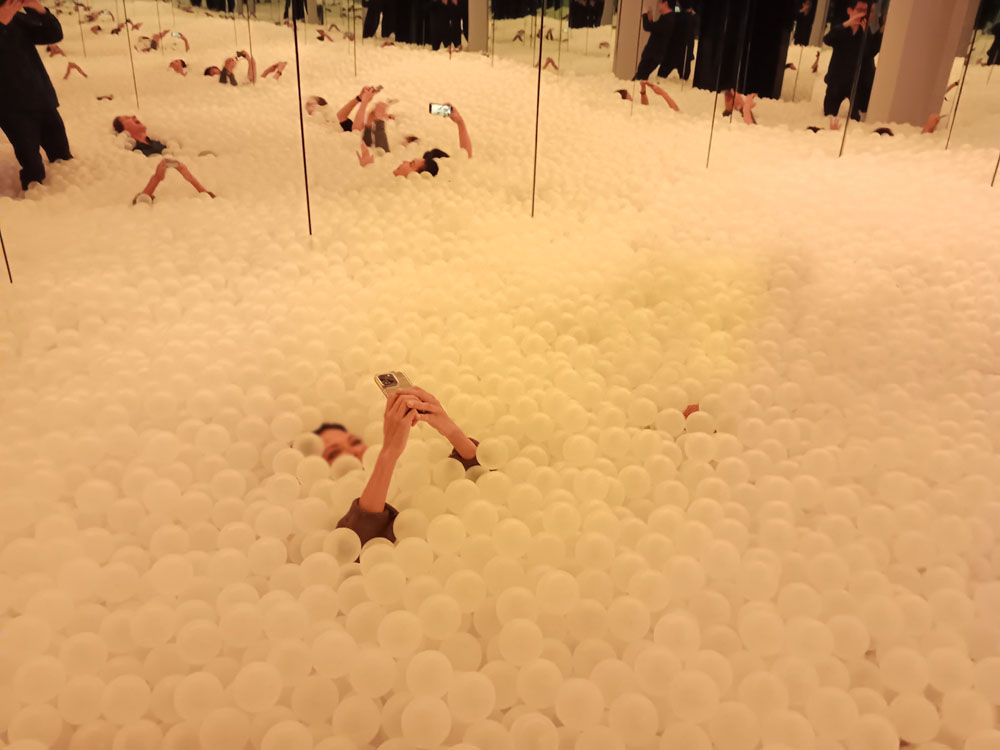 ACT IV - FREEDOM
...Yes, it was a legit ball pit, one set in a mirrored room illuminated by multicolored lights, with "Freedom! '90" by George Michael playing in the background. The idea here was to evoke a sense of childhood joy, and the pit was successful in that regard given how giddy we all were. And as we can see, we also witnessed the return of performance artist Nana Lind from the beginning of our evening.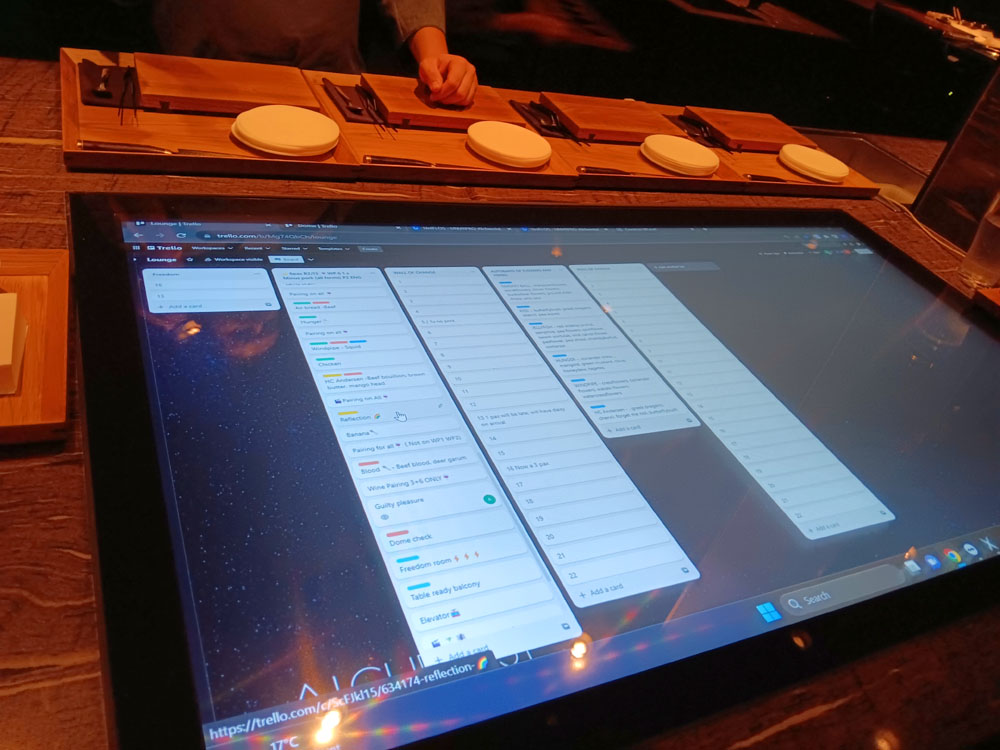 We were then given a brief tour of the kitchen, which, notably, had this huge screen running Trello, an application used to manage the guest experience.


BALCONY
Following, we made our way up to the Balcony, which overlooks the Dome and the rest of Alchemist. It was here where we enjoyed petits fours and after-dinner beverages, all in an environment that offered up a bit of that
hygge
feeling.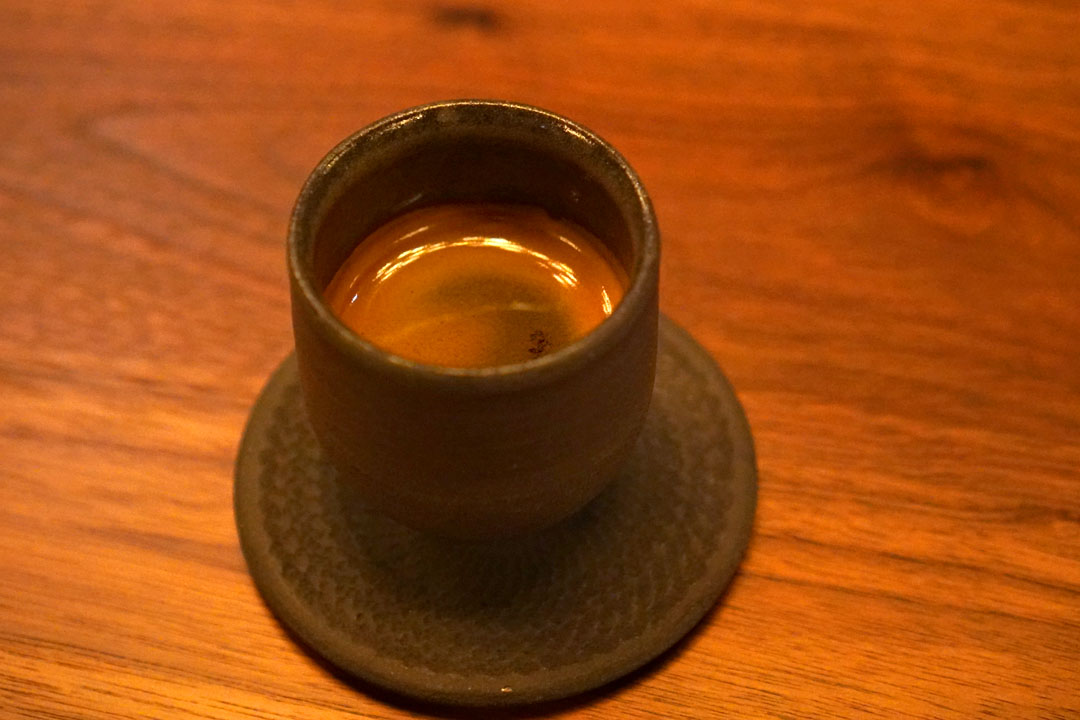 Up first was a roasty, bitter shot of espresso.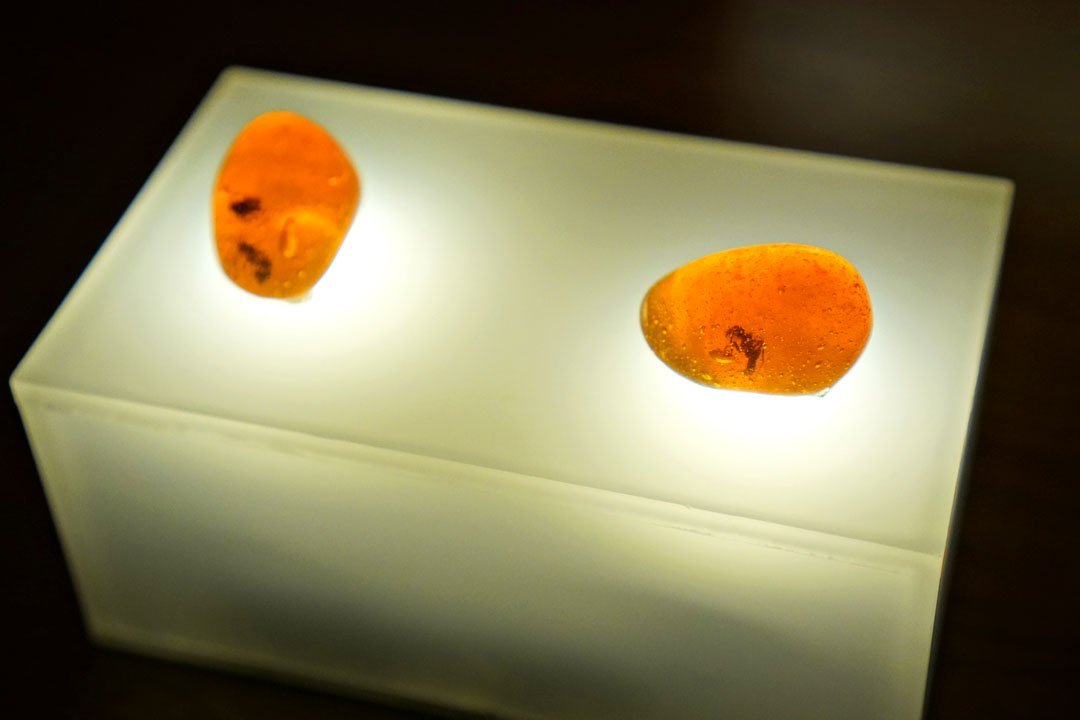 ACT V - Amber
Chef Munk was quite fond of amber as a child, hence this creation: red wood ants trapped in a Tasmanian leatherwood honey-ginger candy, coated with a tough beeswax-sugar shell. This was a delight texturally, and I was certainly a fan of the honeyed to herbal to floral flavors here, all punctuated by a ginger-y spice.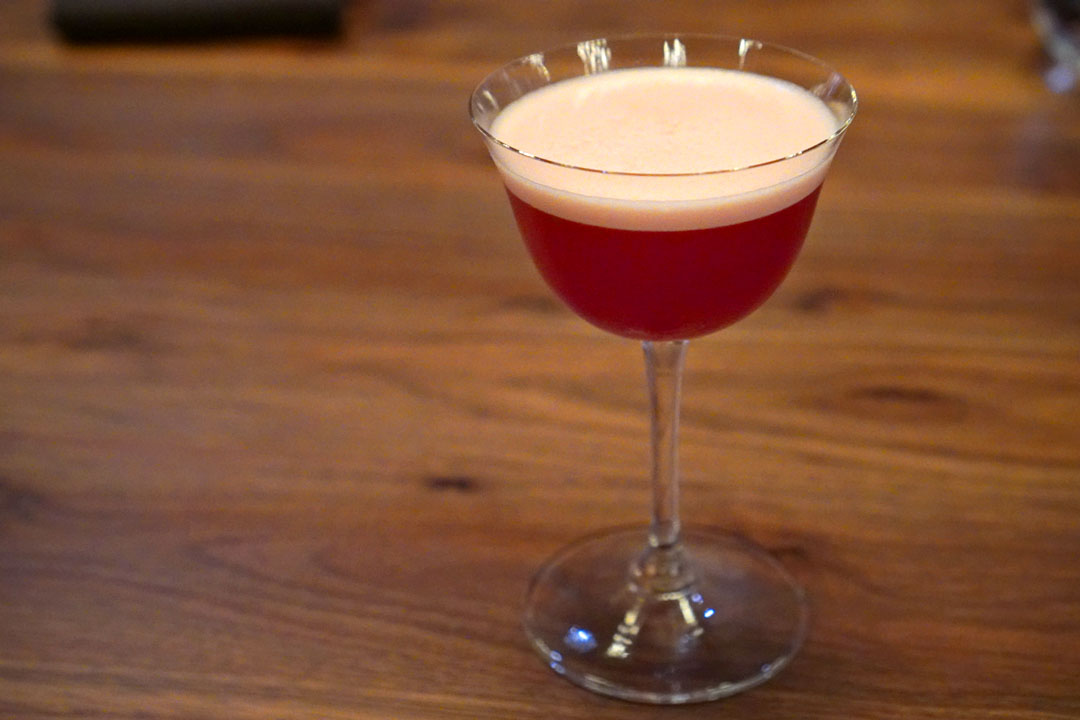 Raspberry Rush
We were offered a choice of cocktails, and I went for this one, with its focused raspberry flavors commingled with herbal components and a creamy touch of pink pepper on top. Other options included the smoky Viva Mexico, which had a base of habanero spirit and Aperol, and a Speyside whisky cocktail with PX sherry and bonito flakes. Frozen gin and tonics, Moscow mules, and espresso martinis were also mentioned.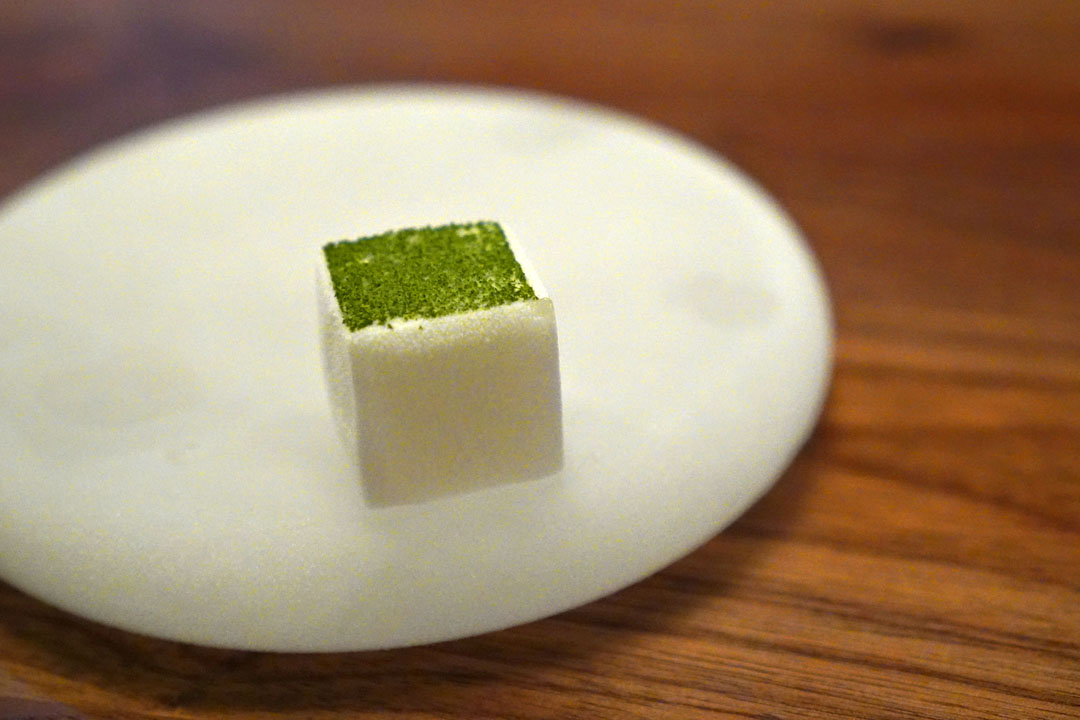 ACT V - Cubic Margarita
A jellified margarita incorporated tequila and mezcal, along with sea salt and frozen mint on top, and was apparently held at -64° right before serving. I liked the bite's soft, slippery texture, while its bracing citrus flavors managed to be quite refreshing.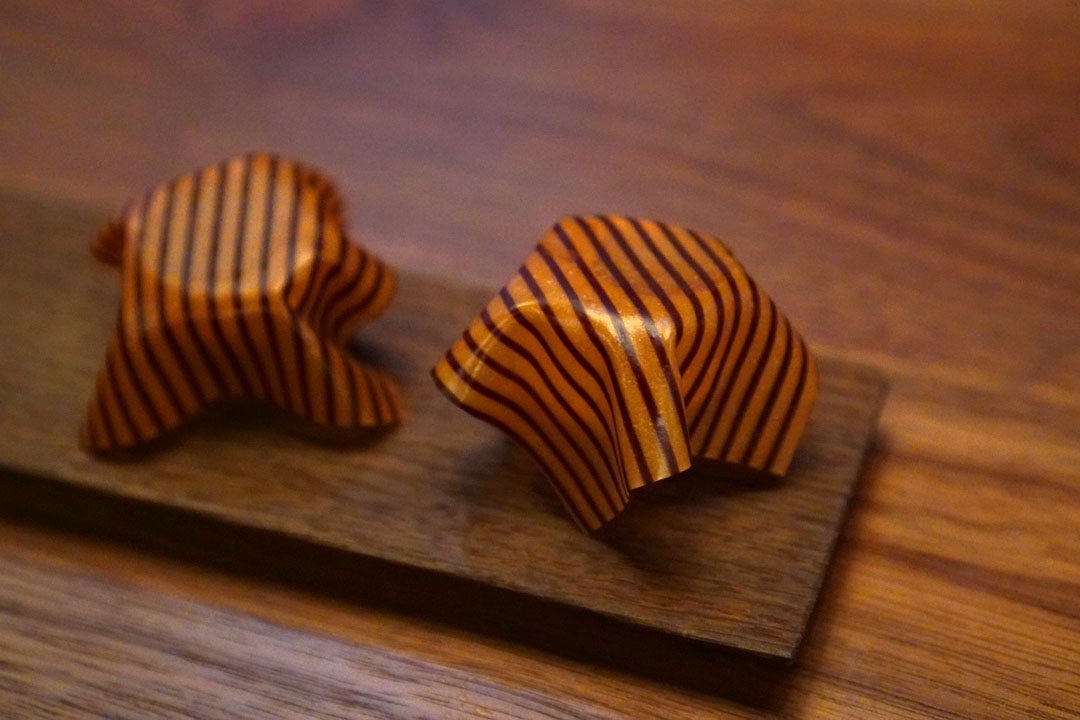 ACT V - In a Nutshell
A striated caramelized milk and cocoa crisp was draped over Piedmontese hazelnut ice cream. Think delectably chocolate-y and nutty, with a fun clash of temperatures and textures.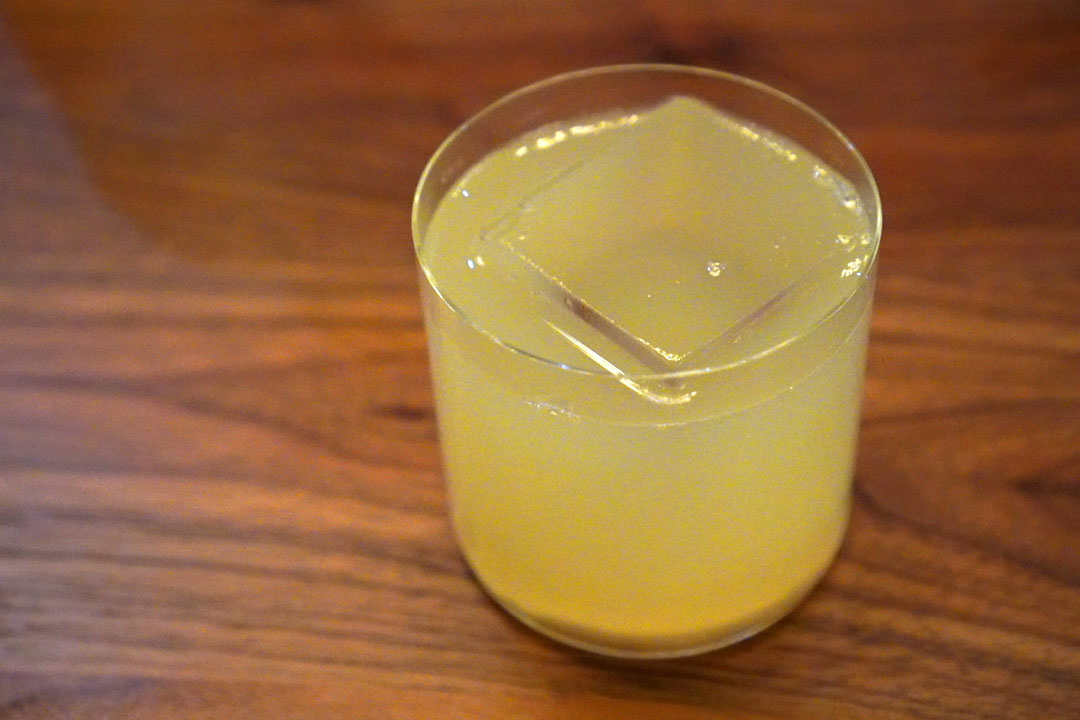 Gooseberry Breeze
I don't remember exactly what was in this next cocktail, though I do believe it featured lacto-fermentation if I recall correctly. Nevertheless, it did a great job showing off the gooseberries, and had this tangy, herbaceous depth to it that I really enjoyed.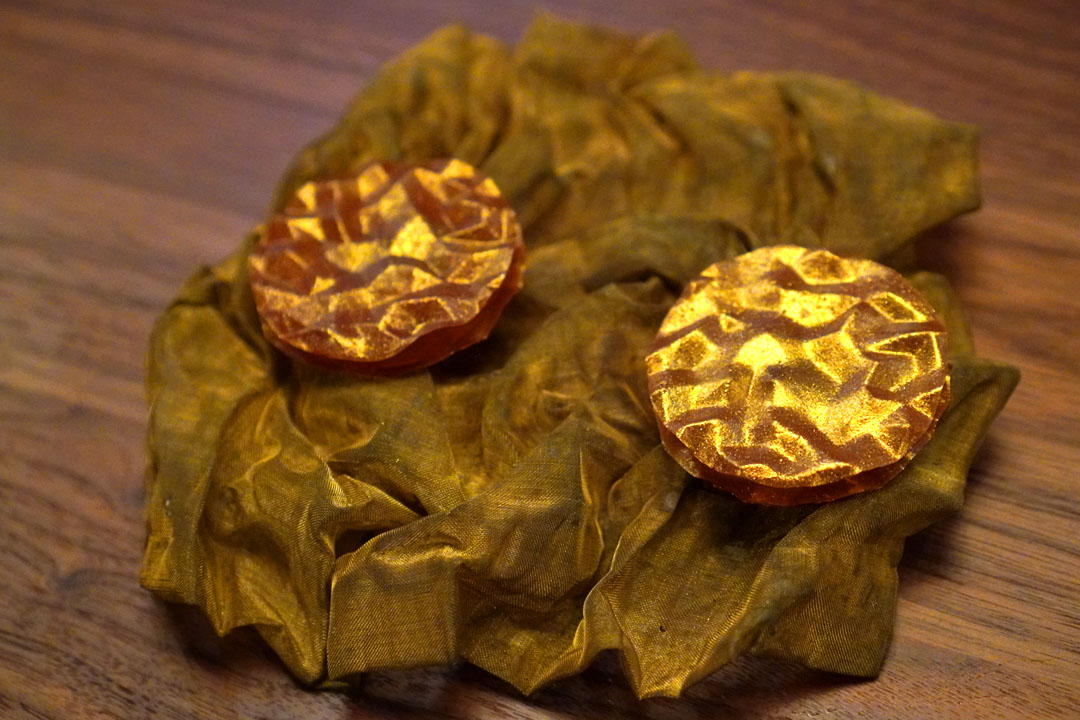 ACT V - Tarte Tartin
Our final, tarte Tatin-inspired mignardise comprised baked apple, crème fraîche, layers of caramel, and 24-karat gold dust, all in a 3D printed puff pastry.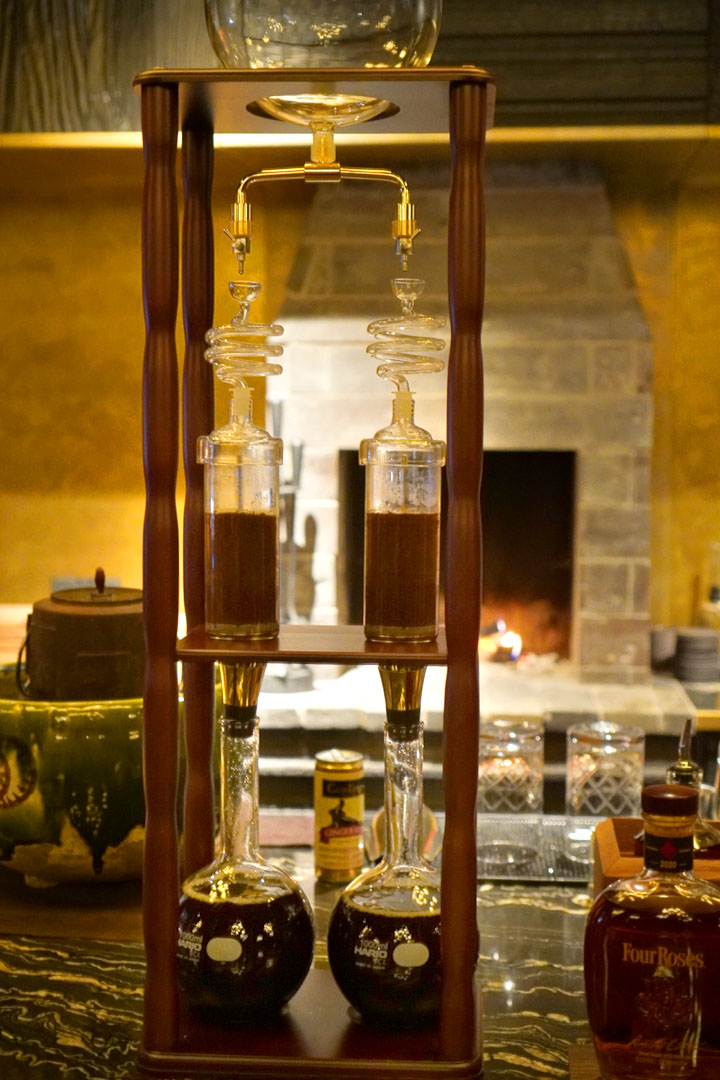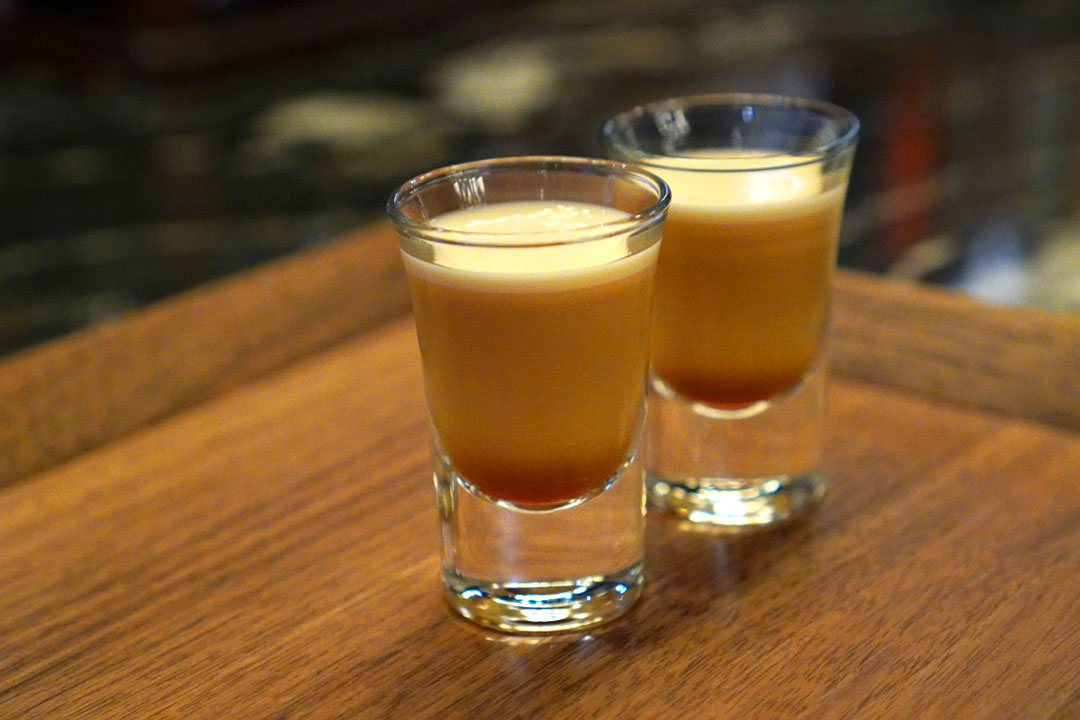 To close out the night, we also sampled some nitro coffee, which was easily the fruitiest coffee I'd ever had, and probably the smoothest, too.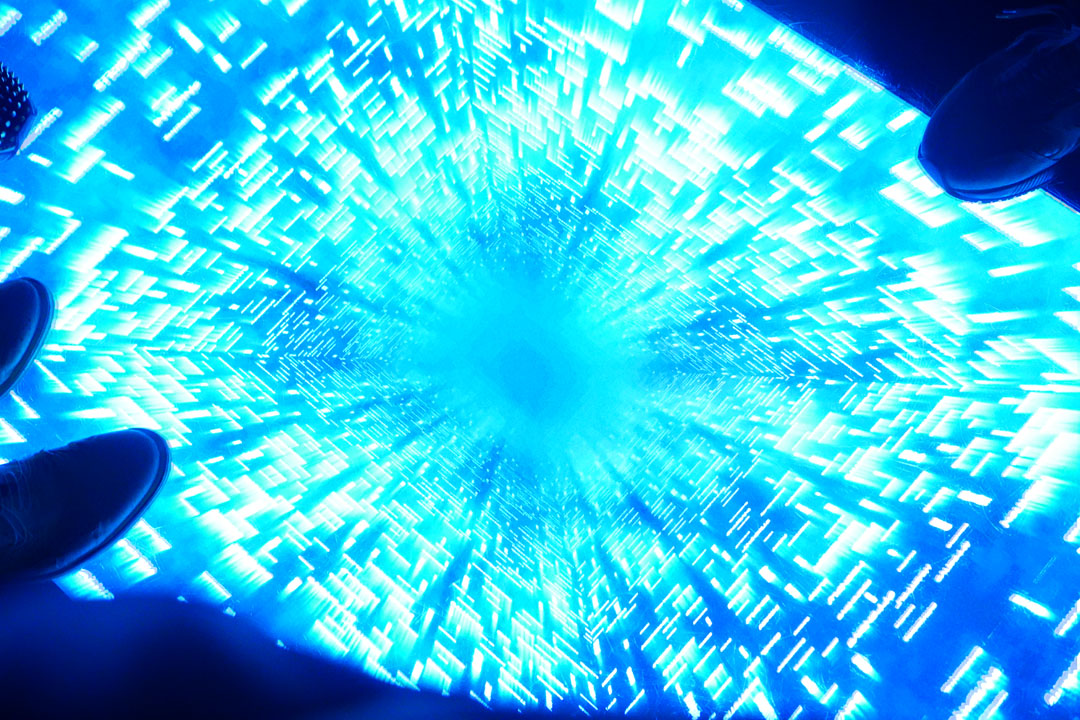 Even the elevator ride down was out of the ordinary.

THE END - Brainstorm / EPILOGUE
Alchemist's final room before the exit,
Brainstorm
, also touched upon the theme of self-analysis.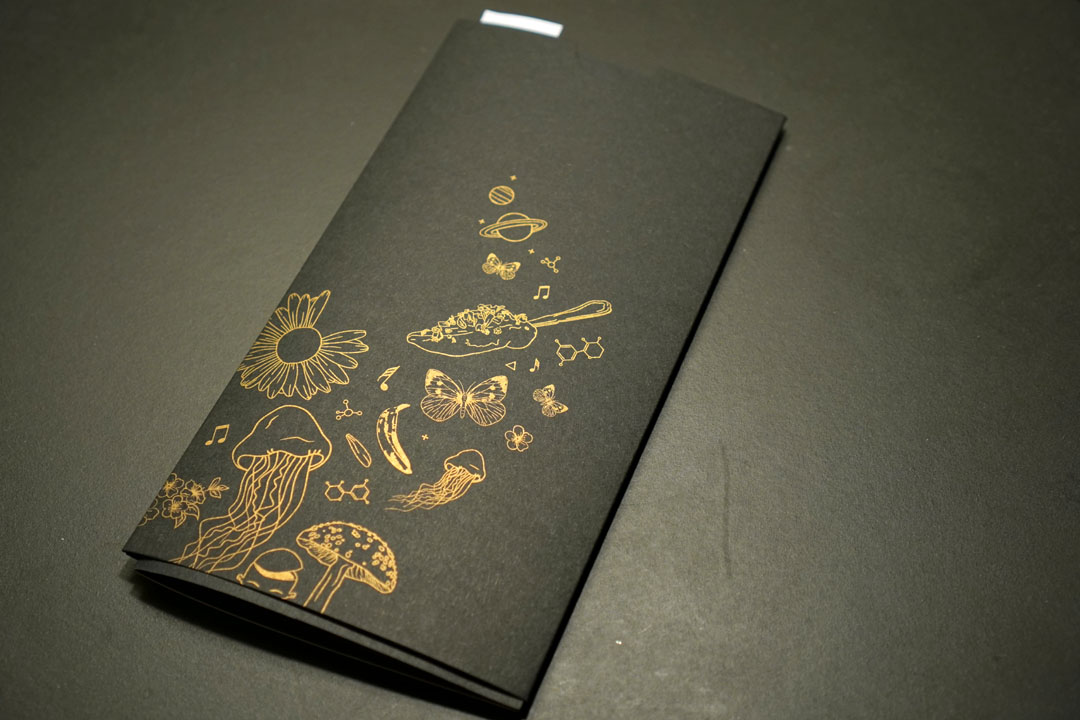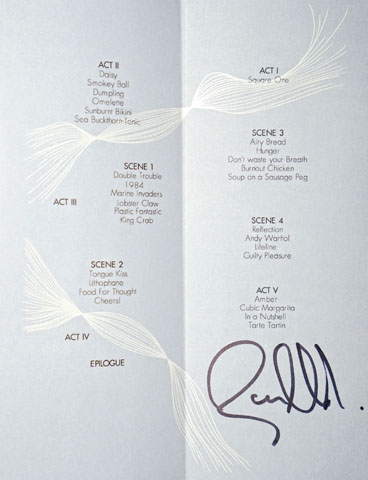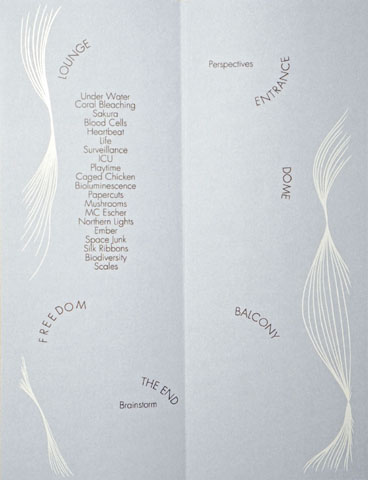 We were handed menus at the end of the night, and of course, they were also far away from the norm. In addition to the intricate pop-up feature designed by
Vicki Zoe
, the actual structure of Alchemist's 50 "impression" menu was highly unusual, and a bit hard to decipher. As for price, it was 4900 kr ($716.74) a person, with a 3000 kr ($438.82) deposit required. Wine pairings start at 1800 kr ($263.29), and go up to a eye-popping 8500 kr ($1243.33), though we chose to order bottles off of the restaurant's impressive
wine list
, as you saw above. Click for larger versions.
Quite simply, Alchemist is a restaurant like none other. My visit was time-bending and transportive, completely immersive, outrageous and original. I sort of lost my sense of time and place, and despite spending over eight hours(!) here, those hours went by in a flash. Calling this a mere meal would be selling the experience short. Indeed, what we have here represents a dining philosophy that extends way beyond the confines of a typical restaurant setting. It's something fantastical, which is not a word you hear too often in the food world.
Indeed, Alchemist almost feels like a logical progression of the modernist cuisine movement of the 2000s (Munk is a huge fan of Ferran Adrià, after all), and perhaps a retort to the prevalence of new Nordic's more naturalistic ethos in haute gastronomy, but at the same time, it's clearly its own, quirky, outlandish thing. I could certainly see some diners viewing this meal as preachy and/or pretentious, but for me, it was my most memorable dining experience thus far, one that will stay with me for a long, long time.