Barr (Copenhagen, Denmark)
Restaurant Barr
Strandgade 93, 1401 København, Denmark
+45 32 96 32 93
www.restaurantbarr.com
Mon 08/14/2023, 08:40p-11:10p

For my fifth meal in Copenhagen, I decided to go for something a bit more casual, and thus checked out Chef Thorsten Schmidt's Barr, situated on the waterfront in Christianshavn. The restaurant is probably most known for residing in the former home of
Noma
, and in fact, René Redzepi is actually a partner in the business. The place opened in 2017, and serves what Schmidt calls "Northern Sea cuisine," i.e. the food of areas surrounding the North Sea and Baltic Sea, but a bit reimagined. In fact, the restaurant's name apparently means "crop" in Old Irish and "barley" in Old Norse, which seems fitting.
About the Chef
: Torsten Schmidt was born in 1976 in Germany to a family in which both his father and paternal grandfather were chefs, though he was estranged from his dad from age six to 21. When he was eight, his mother took him and his brother to live in Denmark on the island of Als, where his maternal grandparents were. As a youngster, he was severely dyslexic, and thus gravitated toward art. However, after enrolling in art school in Sønderborg at age 16, he quickly found out that it wasn't for him. Following the family's move to Hurup Thy, Schmidt began taking cooking classes in Aalborg, then started apprenticing at the Marriott in Bremen, Germany. However, he eventually transitioned over to Grashoff, a Michelin-starred bistro at the hotel, where he trained under Chef Rüdiger König for about one and a half years.
With his apprenticeship completed, Schmidt wound up cooking at Sallingsund Færgekro in Nykøbing Mors for roughly six months, then got called up to serve in the Royal Danish Navy. After two and a half years in the armed forces (during which time he often cooked for his fellow soldiers), he left to work at Molskroen, a restaurant situated in a seaside hotel in Ebeltoft, starting out as a line cook before moving his way up to sous. The Chef's next move was to France, where he spent another year and a half working at ski resorts and exploring regional French food culture. Schmidt then returned to Denmark and became head chef at Hotel Philip in Aarhus. He received accolades for his cuisine there, and soon began competing in culinary competitions, winning many of them.
In early 2005, he and his new wife Rikke Malling launched their own restaurant called Malling & Schmidt, situated at Jaegergärdsgade 81 in Aarhus. The food served was avant-garde Nordic, and was widely praised in culinary circles. The eatery's success allowed the couple to launch a more casual brasserie by the name of Nordisk Spisehus just down the street in 2007. However, things reached a turning point in 2011, when Malling & Schmidt shuttered, and Nordisk Spisehus was sold to Frantz Longhi of Danish ceramics company Kähler Keramik. The reason for all this was that Schmidt and Malling wanted to take things to the next level, and thus moved Malling & Schmidt to a larger, multi-purpose location at Grenåvej 127 in the affluent suburb of Risskov. The place opened in April 2011, but unfortunately, things didn't go as planned, and the couple had to declare bankruptcy in August 2012 due to liquidity issues.
Once again, Kähler Keramik came in and took over the business, and by the end of 2012, had transformed it into Kählers Villa Dining (along with an occasional higher-end offering called Gastro Supreme). Schmidt was hired to run the kitchen there as well as at the old Nordisk Spisehus, but left after a year. At the start of 2014, he found himself at Ruths Hotel in Skagen, where he was tasked with taking over both of the property's restaurants from Chef Michel Michaud, who had retired. He maintained the existing old school French spot Ruths Brasserie, but turned the fancier Ruths Gourmet into the latest rendition of Malling & Schmidt. However, the Chef's regional Nordic fare didn't end up aligning with ownership's vision, and he was out by early 2015.
Following, Schmidt guest cheffed for a bit at Musikkens Spisehus in Aalborg starting in April that year, and gave lectures and consulted as well. He also began collaborating with the Noma team around this time, and it was eventually determined that he would take over Noma's old home at the Nordatlantens Brygge, a former seafood warehouse now serving as a cultural center. The Chef decided that the restaurant would feature the Northern Sea cuisine that he'd been formulating all these years, and Barr thus grand-opened on July 5th, 2017.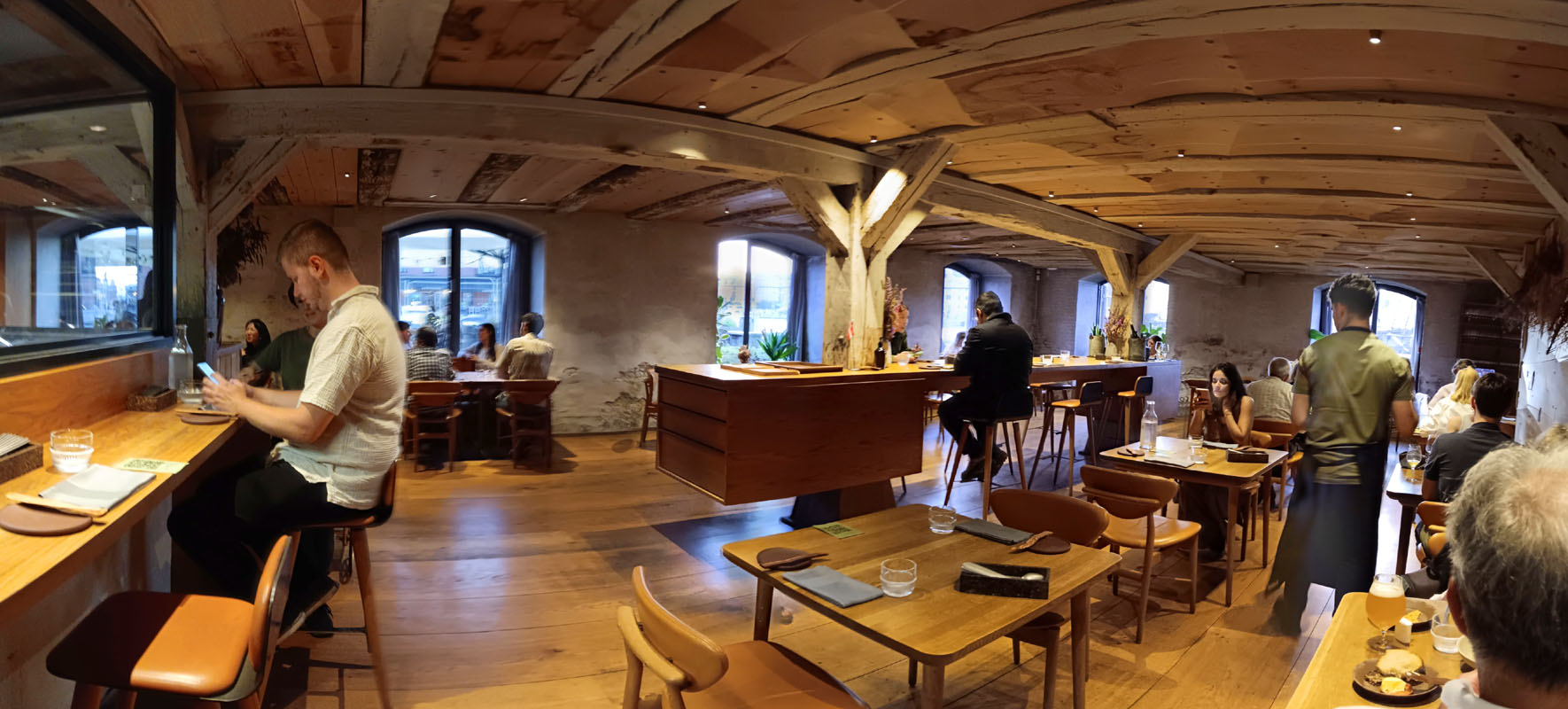 Inside, things have been remodeled a bit since the Noma days, and the dining room now sports a more rustic appearance befitting the cuisine. In addition, there's also a private dining room on the second level that can accommodate up to 28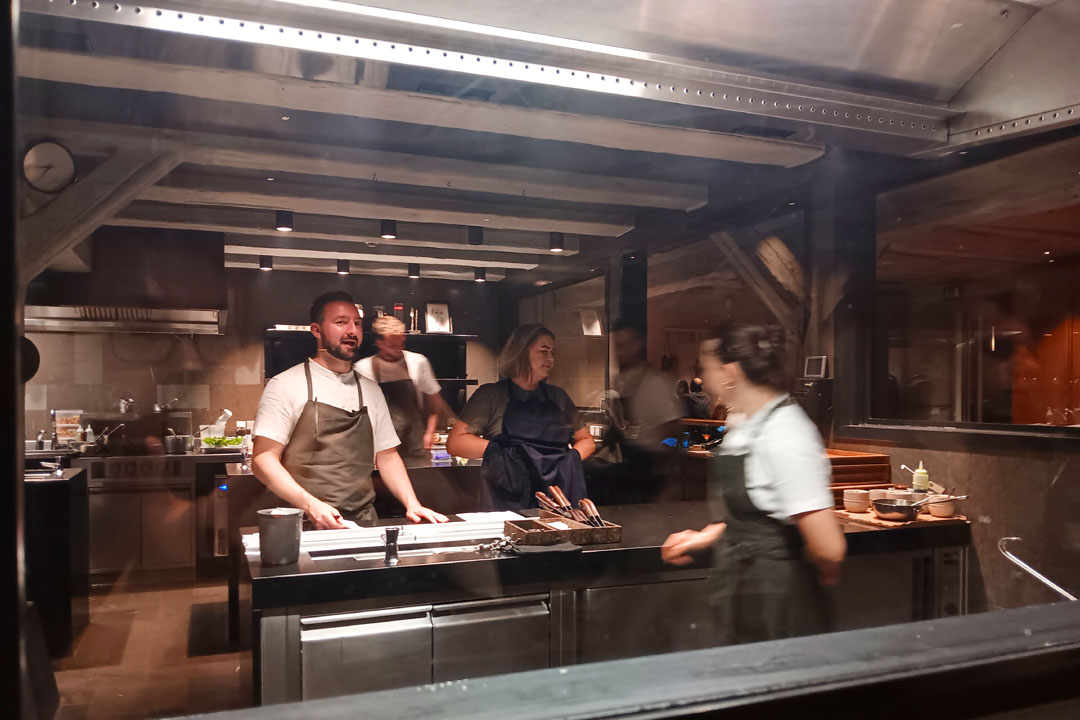 Given that I was here alone, I was seated at the dining counter, which peers into the kitchen.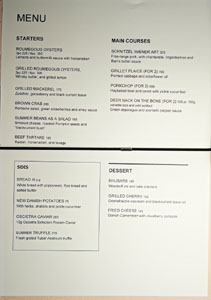 The menu is refreshingly compact, and features Schmidt's reinterpretations of classic Northern European fare. Ordering can be done à la carte, but I opted for the four-course prix fixe at 685 kr ($101.73) a head, which may include an optional beer pairing at 325 kr ($48.27), or a wine pairing at 525 kr ($77.97). To drink, beer--both on tap and bottled--is probably the beverage of choice, though there's a decent selection of wine as well. Click for a larger version.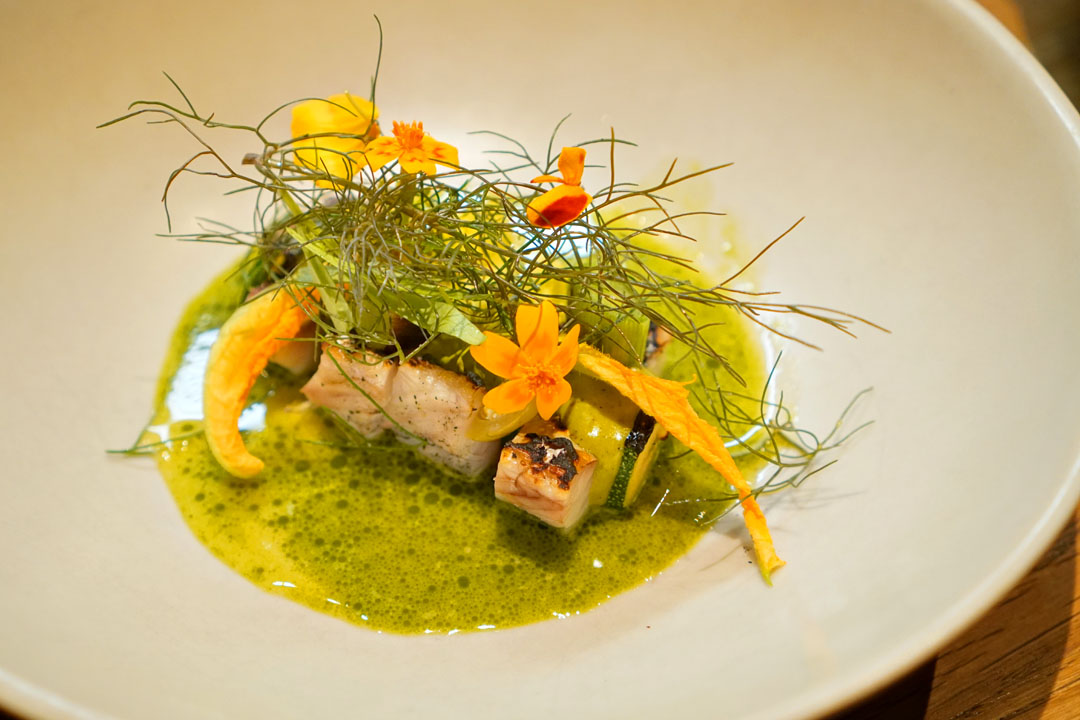 1: GRILLED MACKEREL
| Zucchini, gooseberry, and blackcurrant leaf
My meal started off strong with a delectably smoky cut of mackerel. The fish paired beautifully with all the fresh, fruity, minty elements on the plate, and I especially enjoyed the zippiness of that black currant leaf-zucchini juice sauce.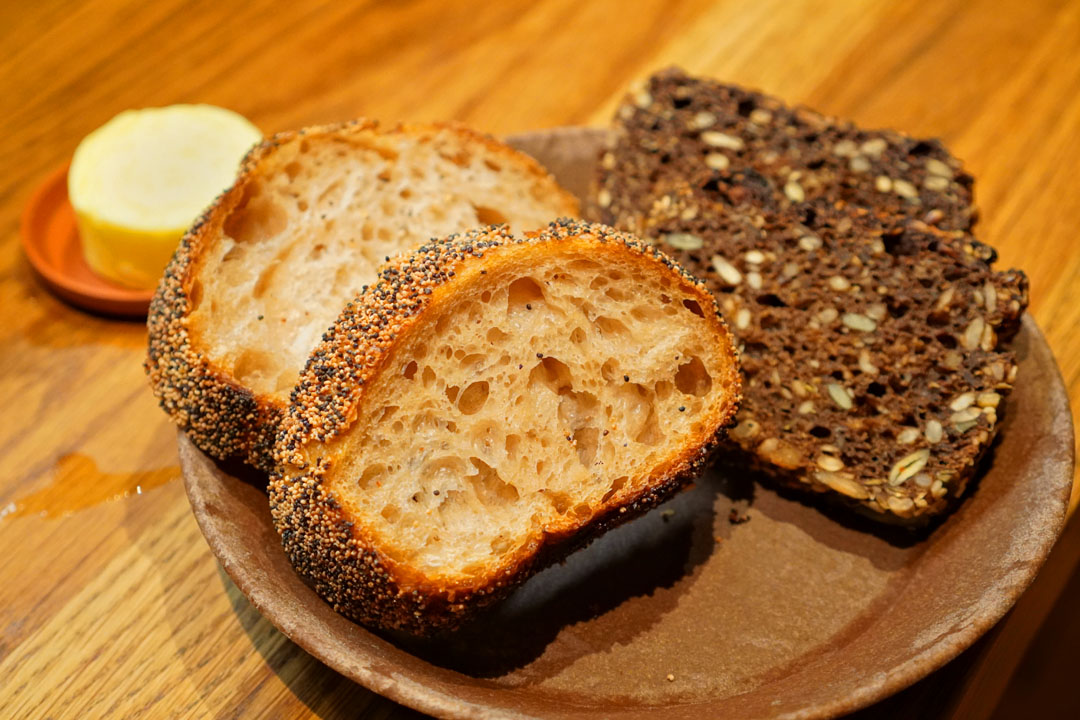 BREAD
| White bread with poppyseeds, Rye bread and salted butter
The set menu included bread service, and I was provided two varieties, accompanied by a wonderfully salty butter. Sourdough took well to a coating of poppy seeds, and I appreciated its pillowy crumb, though I would've liked it a bit crustier on the outside. The rugbrød, meanwhile, ate smoky, sweet, and nutty, with a fun array of textures.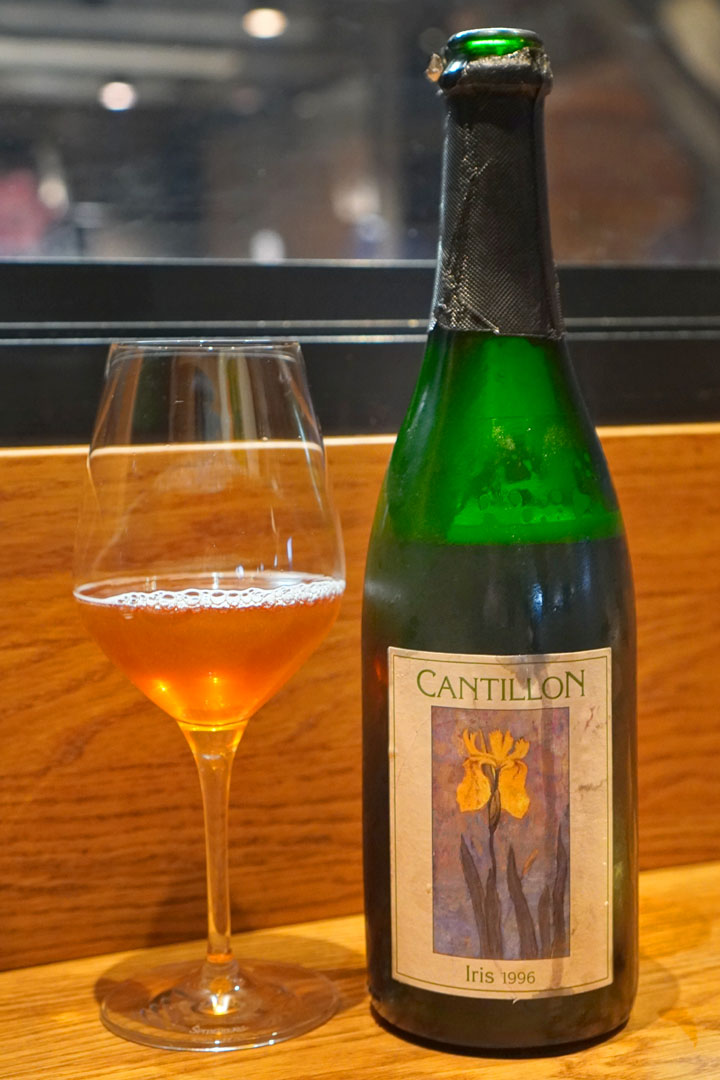 To pair with my meal, I went with a bottle of the
Cantillon, Iris 1996 [2250 kr ($334.15)]
, a non-traditional lambic brewed without the use of wheat. Given the bottle's age, as well as the fact that 1996 was actually the first time that Iris was ever made ("batch 1"), this was a super rare beer that I never expected to encounter out in the wild. Initial whiffs were very promising, and surprisingly youthful, with earthy stone fruits at the fore. Tasting it, I got just the slightest carbonation, while flavors veered dry, earthy, acidic, and grassy, but with those stone fruits always omnipresent; there was also a marked funkiness that quickly blew off. With more time, the ale got softer, smoother, but with some barnyard-y notes becoming more prominent. Towards the end of the evening, the earthiness on the nose intensified, but the fruit never faded, while on the palate, I found things more acidic and even more barnyard-y, but surprisingly, the hops also became more pronounced. This was a once-in-a-lifetime sort of beer, so I'm really glad that I got to try it, especially in pretty much the ideal setting.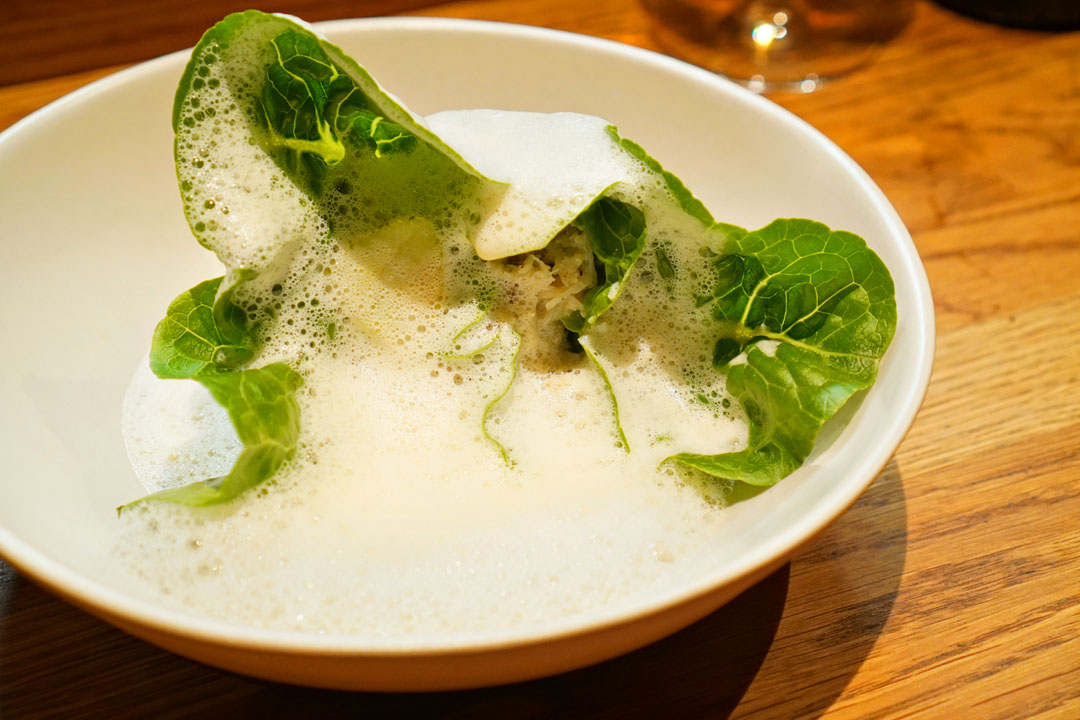 2: BROWN CRAB
| Romaine salad, green strawberries and whey sauce
Brown crab was properly sweet, but also displayed some pricks of pepperiness that I really fancied. The tartness of green strawberry and what I believe was sorrel worked surprisingly well for contrast, as did the lettuce, both in terms of taste and texture. The key here, though, was that whey, which had a lactic character that really tied everything together.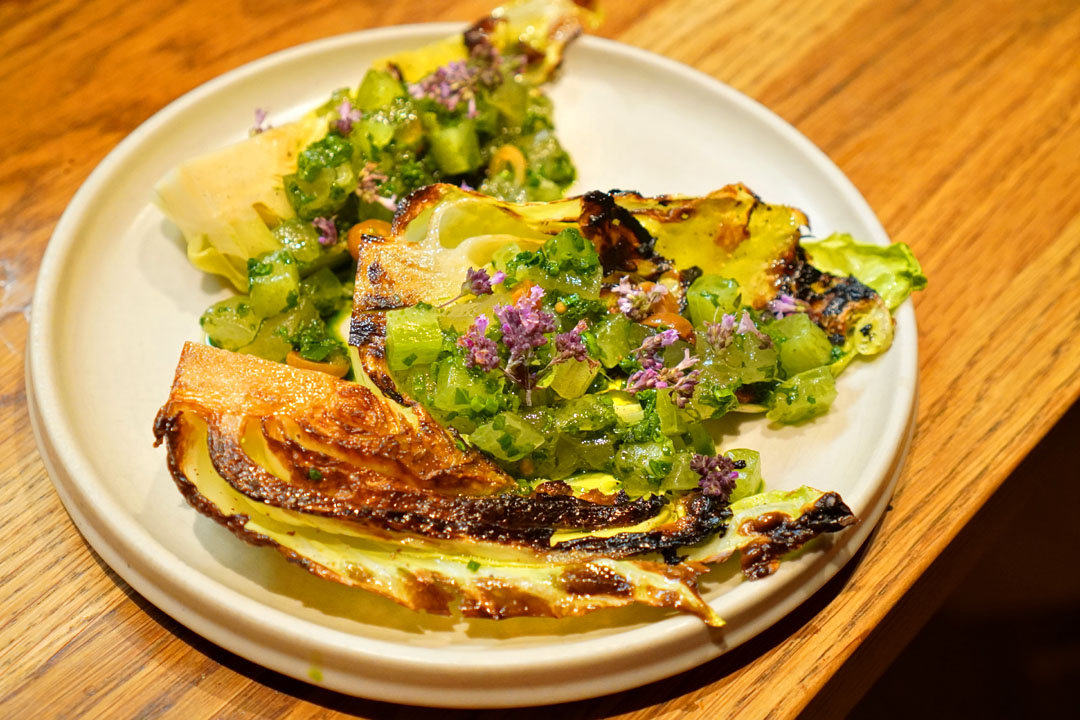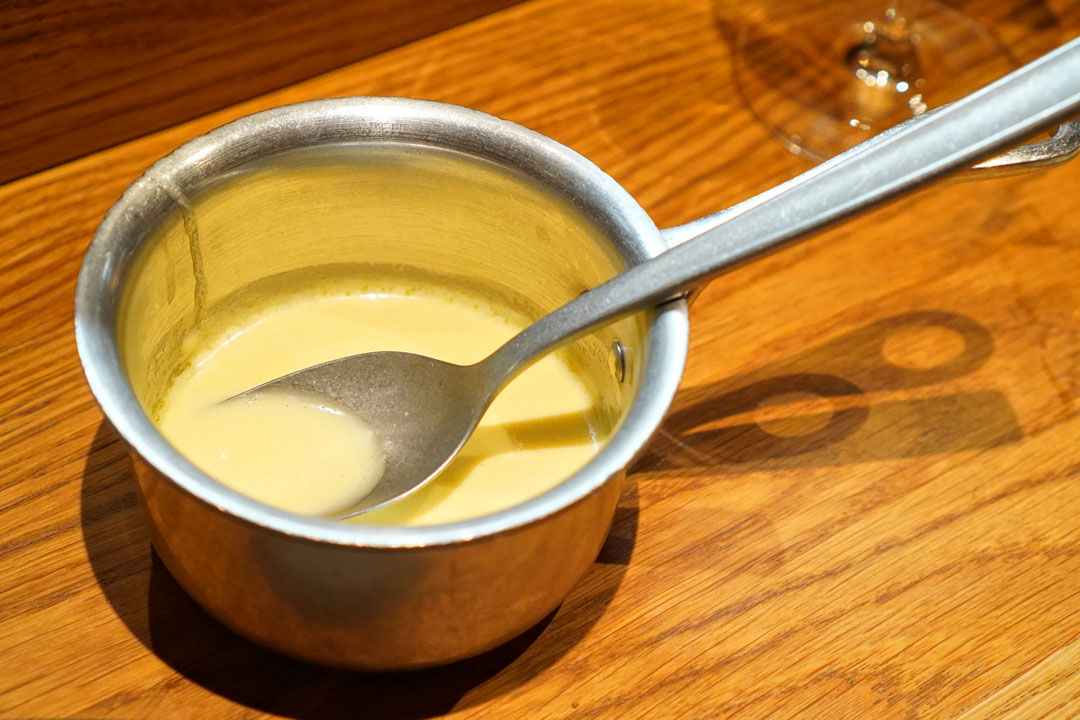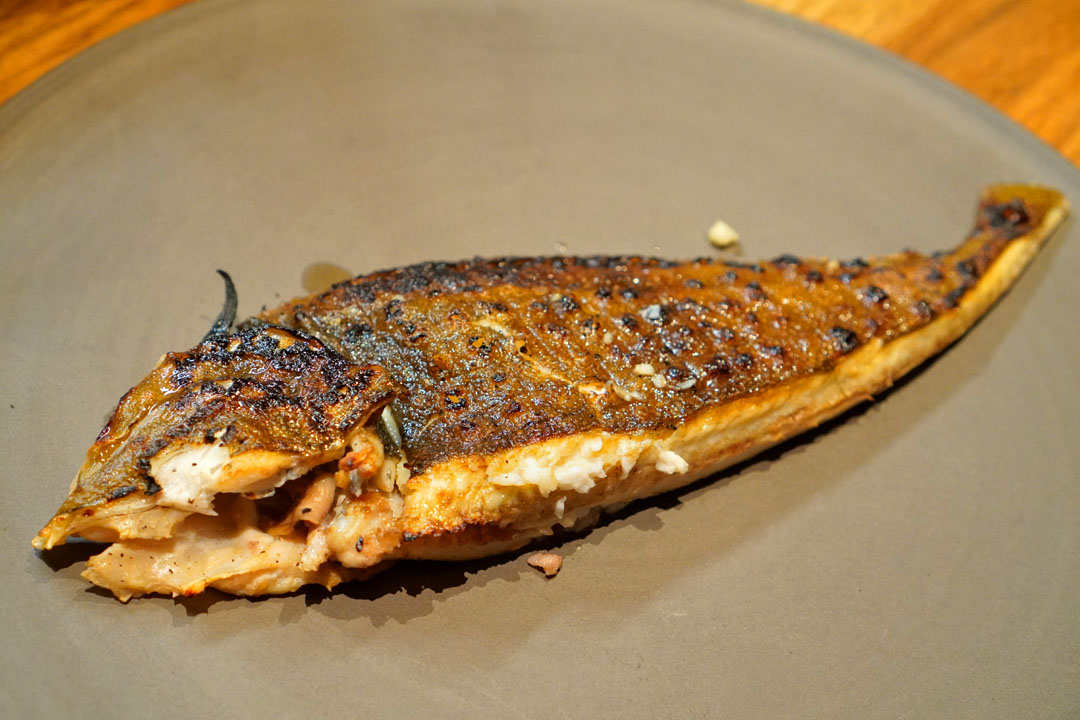 3: GRILLED PLAICE [+175 kr ($25.99)]
| Pointed cabbage and elderflower sauce
Plaice is an ingredient that you don't encounter too often in the States, so I was looking forward to having it on this trip. The fish had some super soft, silky flesh, while flavors were generally mild, but with a bit of a sweet-lactic element. Its salty, savory skin was much appreciated, too. To accompany the plaice, I was provided a fantastic elderflower sauce, which had this butteriness and citrusy tang, but also a fruitiness from the elder that married surprisingly smartly with the fish. I was also given a serving of cabbage, which I found delightfully crunchy and smoky, with some lovely pickle-y bits to boot.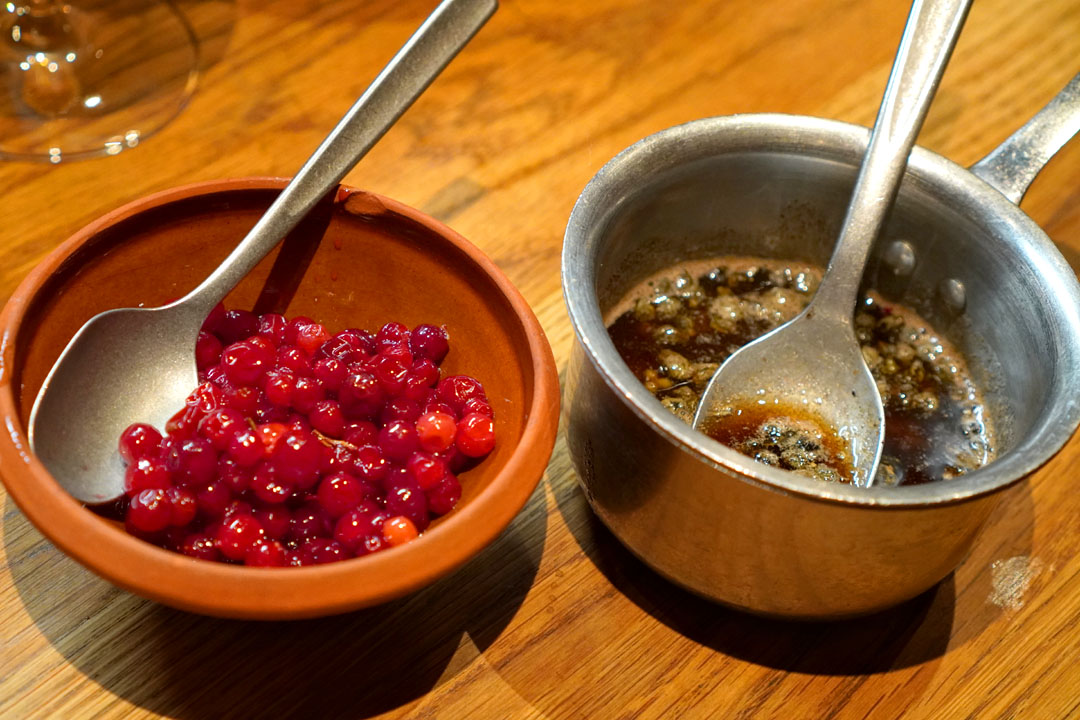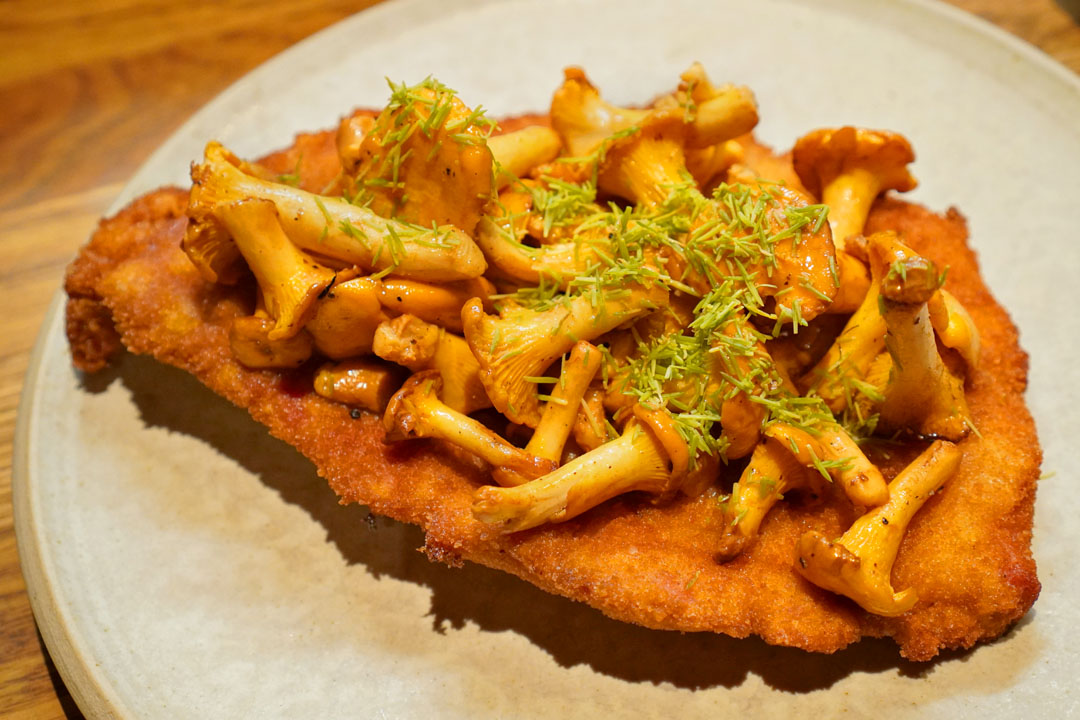 SCHNITZEL WIENER ART [325 kr ($48.27)]
| Free-range pork, with chanterelle, lingonberries and Barr's butter sauce
I'm generally a fan of schnitzel, so this was a must-try, and probably the best version of the dish I've had. The cutlet itself came out crisp-crusted, juicy, tender, slightly rare, and teeming with porcine funk. The meat meshed swimmingly with the earthy spice of those mushrooms, and even better with the almost bracing taste of pine. On the side were tangy, herby lingonberries and a brown butter sauce with capers, ramps, and shallots. Both added further facets to the schnitzel, but weren't strictly necessary.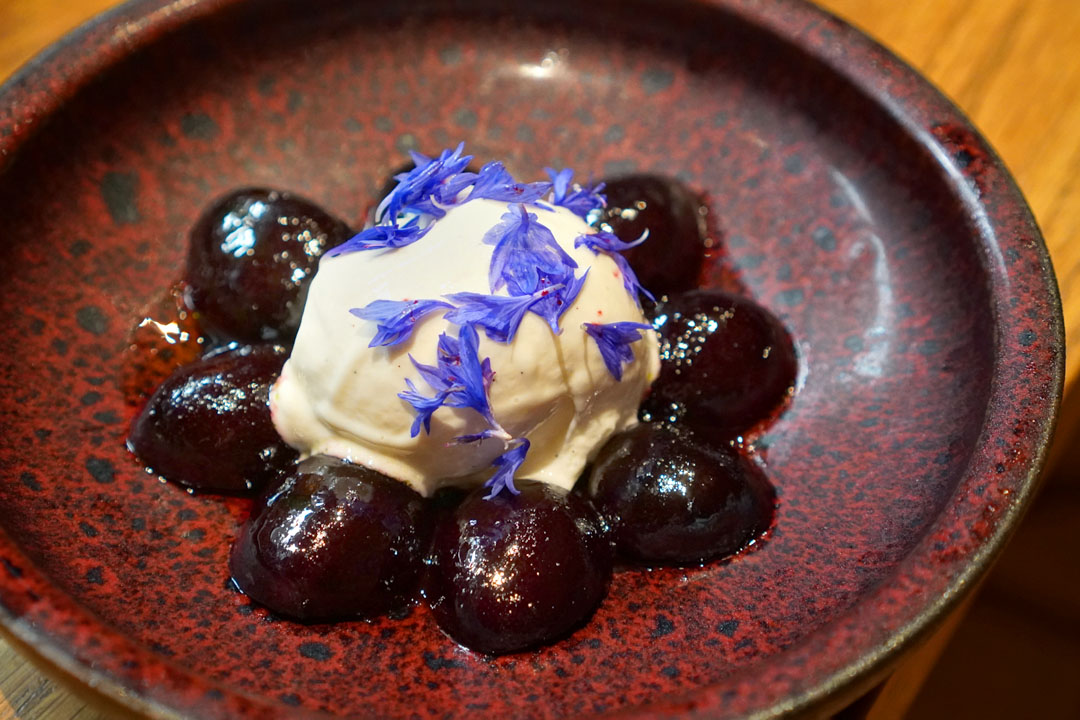 4: GRILLED CHERRIES
| Creme fraiche ice cream and blackcurrant leaf oil
Dinner ended on a strong note as well. I loved the lactic sweetness of the ice cream and how that combined with the creeping, fruity smoke of the cherries, while cornflower flowers provided some visual interest. However, the crux here was that cassis leaf oil, which had this green, herbaceous quality that helped harmonize the dessert.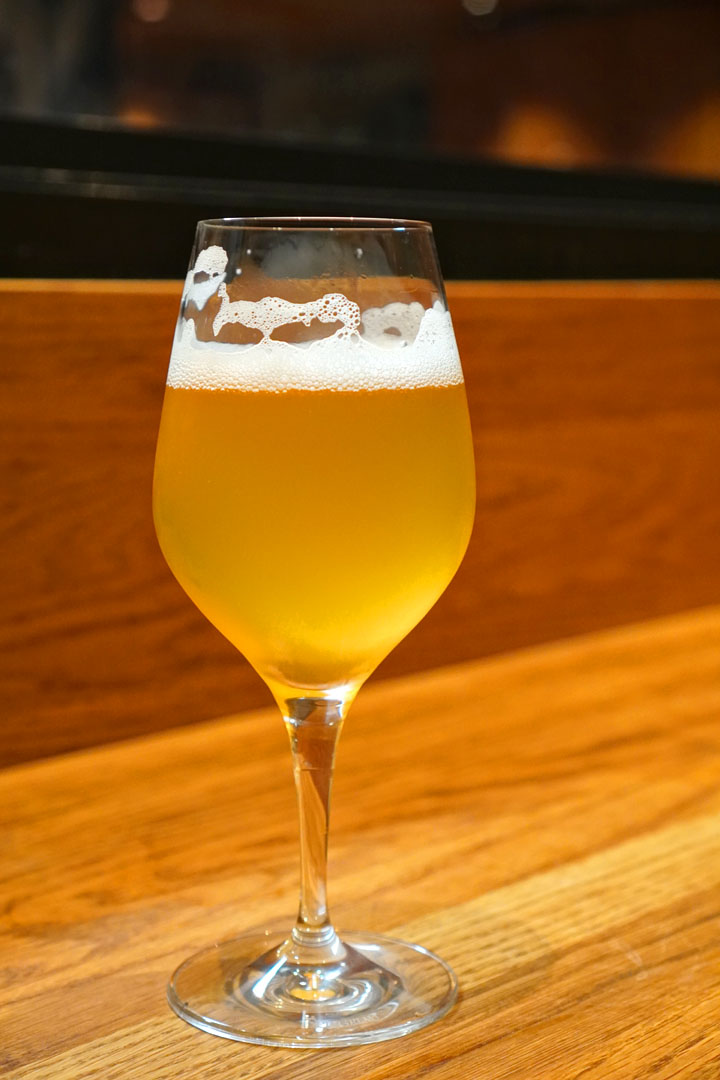 To close out the night, I was offered a complimentary pour of the
Noble Nordic, Copenhagen Commons
, a local hoppy farmhouse ale. The nose here was super bright and aromatic, an appealing amalgam of hops, barnyard, and citrus. Tasting it, I got a nice earthiness from the use of wild yeast fermentation, with more of those refreshing citrusy and hoppy notes all over the place. This seems like it'd work quite well with the food served at Barr.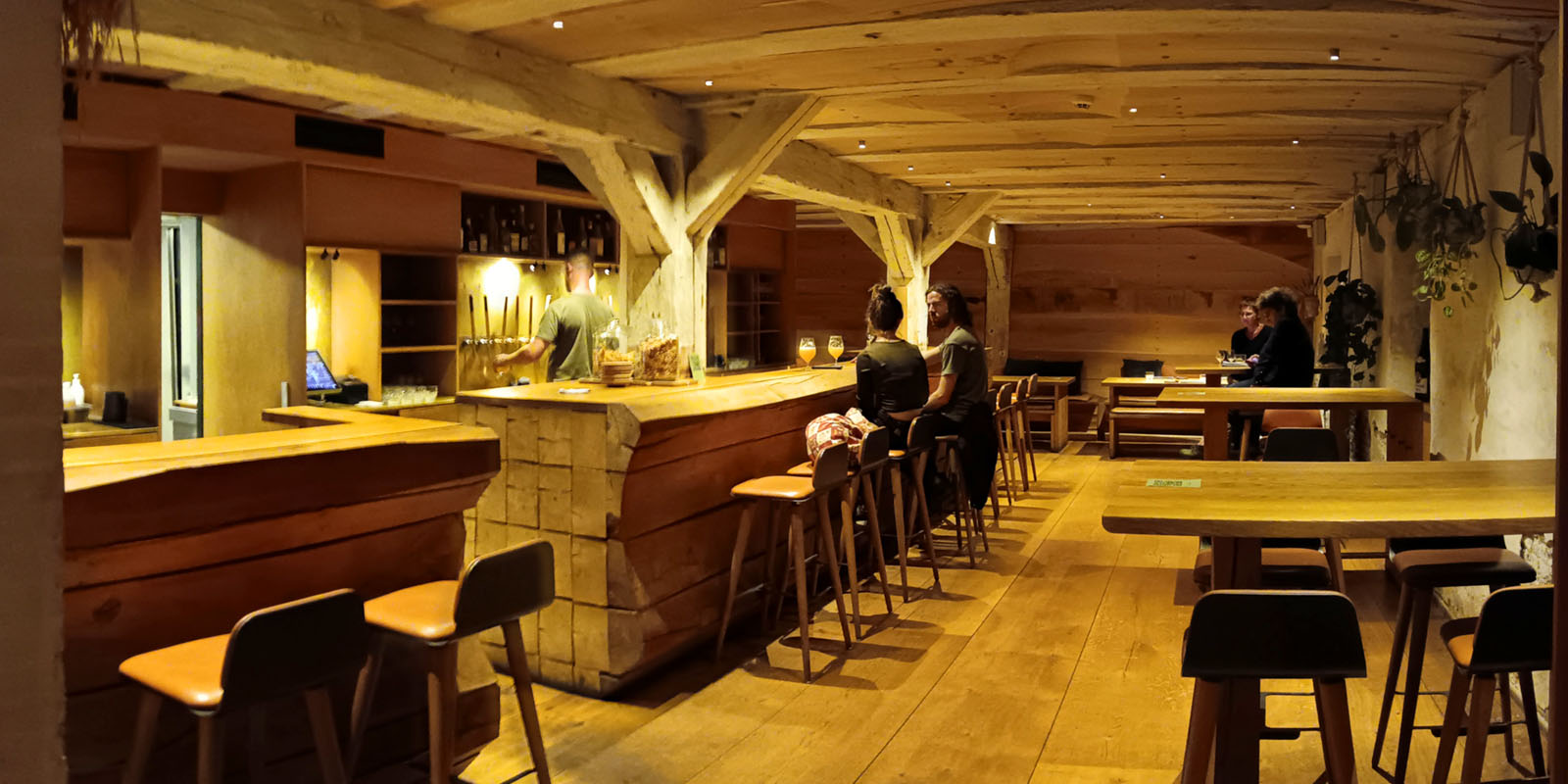 On my way out, I took a peek into Barr's 30-seat beer bar, where you can also partake in the restaurant's full menu.
The team at Barr didn't disappoint. The kitchen did a commendable job presenting dishes that blended familiar elements with a sort of modern Nordic sensibility, making for food was simultaneously comforting yet exciting. Service was also friendly and inviting, and the space featured that cozy
hygge
feeling that everybody likes to talk about. This is surely a worthwhile option to consider if you're looking for something more casual, but still gastronomic.