Melody (Los Angeles, CA)
Melody Wine Bar
751 N Virgil Ave, Los Angeles, CA 90029
323.922.6037
www.melodyla.com
Mon 05/23/2022, 08:30p-09:55p

I recently experienced a power outage at my house, and given that I didn't want to spent my evening at home in darkness doing nothing, I ventured out to kill some time while the electricity was being restored. I decided to check out East Hollywood's Melody, one of the four "M" wine bars that I'd been meaning to visit (along with Marvin, Melanie, and Mignon). Situated in a Virgil Village bungalow that was previously home to Guatemalan eatery Amalia's, the place grand-opened on November 18 2017, and was apparently inspired by the life of French entertainer Serge Gainsbourg.
Melody is the brainchild of Eric Tucker (a former photographer-slash-DJ who briefly operated Louie and Chan in Manhattan's Lower East Side) and wife Paloma Rabinov (an actress), along with partners David Andreone (an entertainment industry exec) and Matthew Seigel (h.wood Group, NoMad NYC, Eleven Madison Park). Opening chef Hunter Pritchett instituted a French Riviera-inspired menu, but left in May 2018 to lead the kitchen over at
Atrium
. He was replaced by Justin Abram for a bit, but by October that year, Tucker was forced by some harsh economic realities to drop Melody's food program altogether (as well as most of the staff). The owners then made the decision to use the wine bar to host pop-up dinners, which turned out to be what allowed the business to survive and thrive.
Speaking of which, running the kitchen tonight was
Budonoki
, a self-described "West Coast izakaya" concept founded in 2021. It had its debut at
Thunderbolt
at the end of last June, then made sporadic appearances at Melody,
Ototo
, Thunderbolt (again), and DTLA Dinner Club. The people behind Budonoki are Chef Dan Rabilwongse, along with partners Eric Bedroussian (
Majordomo
, Hillstone Restaurant Group) and Joshua Hartley (
Jon & Vinny's
/Helen's, The
Alinea
Group), both of whom were actually the creators of Lynnwood & Vine, an underground supper club at USC.
About the Chef
: A native Angeleno, Daniel Rabilwongse was born in 1980 and grew up around Echo Park. The son of Thai immigrants, he got interested in cooking at an early age, and after fishing his studies at Loyola Marymount University in 2002, enrolled in culinary school. Following graduation, he was able to secure a position at
Urasawa
, then moved over to
Bouchon
in Beverly Hills not long after it opened in November 2009. Rabilwongse stayed at the iconic bistro until the end of 2017, spent some time in Japan, and subsequently, was able to land a job at
Hayato
, which had just launched in January 2018. This was followed by a stint at
Tsubaki
, and by the end of 2019, he had become head chef at Tartine Sycamore, where he remains to this day.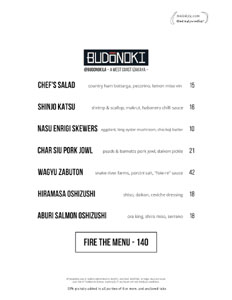 Here we see Budonoki's menu for tonight, comprising a mere seven items. Unfortunately, upon arriving at Melody, I was informed that the kitchen had run out of all but two of them. At that point, I was thinking about leaving, but decided to stick it out. Click for a larger version.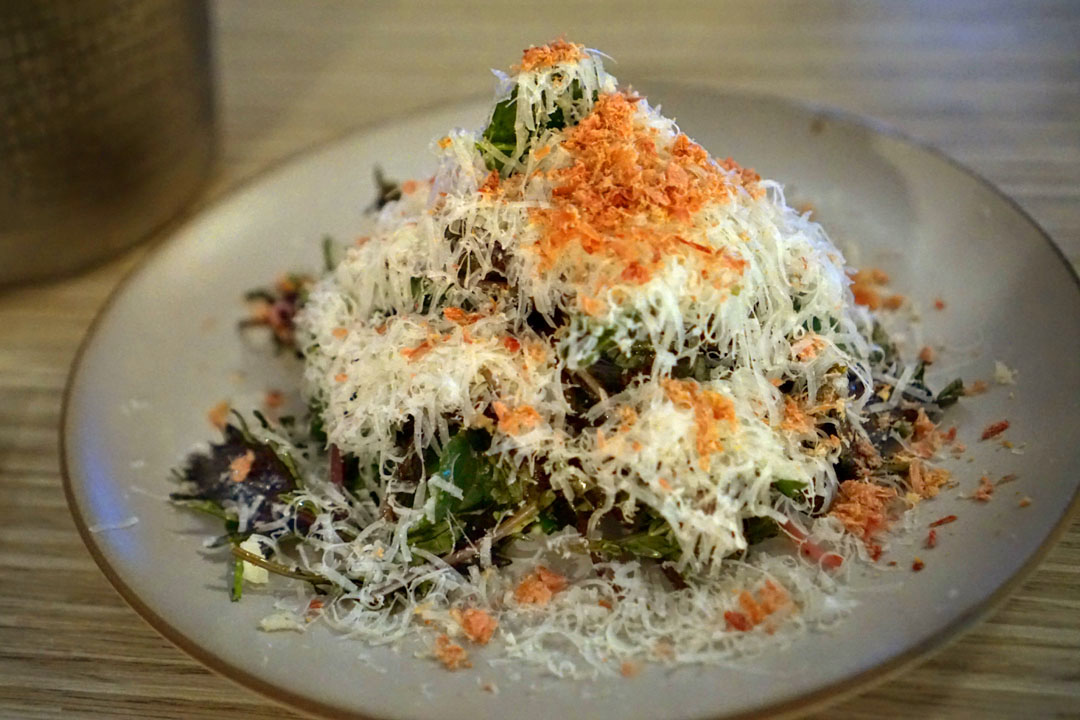 Chef's Salad [$15.00]
| country ham bottarga, pecorino, lemon miso vin
After taking a seat at the bar, I quickly ordered the two remaining dishes, lest those sell out too. I wasn't too excited about the salad initially, but it was way better than I thought it'd be. The back-and-forth between the tangy, bitter greens and the fluffy, salty cheese and even saltier crumbles of crunchy ham was pretty masterful, and I appreciated the slight undercurrent of sweetness here to boot. I just loved how seamlessly everything came together--don't sleep on this.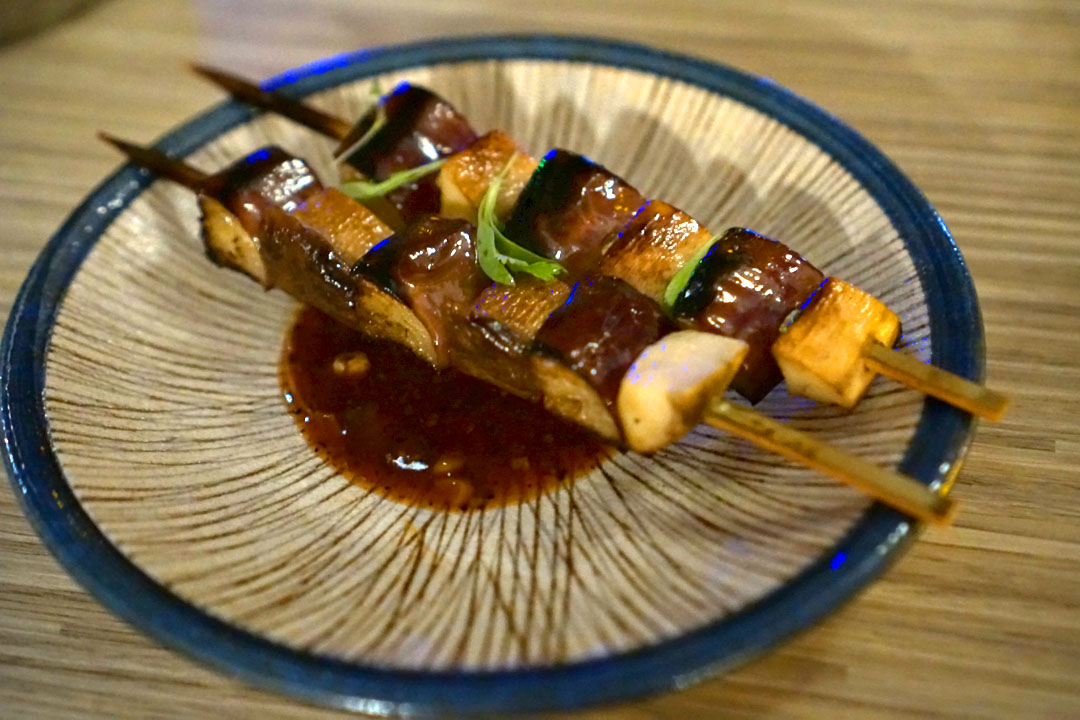 Nasu Eringi Skewers [$10.00]
| eggplant, king oyster mushroom, shio koji butter
Rabilwongse's skewers delivered. There was a lovely juxtaposition of textures between the meaty king trumpets and spongy eggplant, while taste-wise, I got a super buttery, umami-laced sweetness that paired easily with the smoke imparted by the grilling process. I detected a hint of a pepperiness that worked for me as well.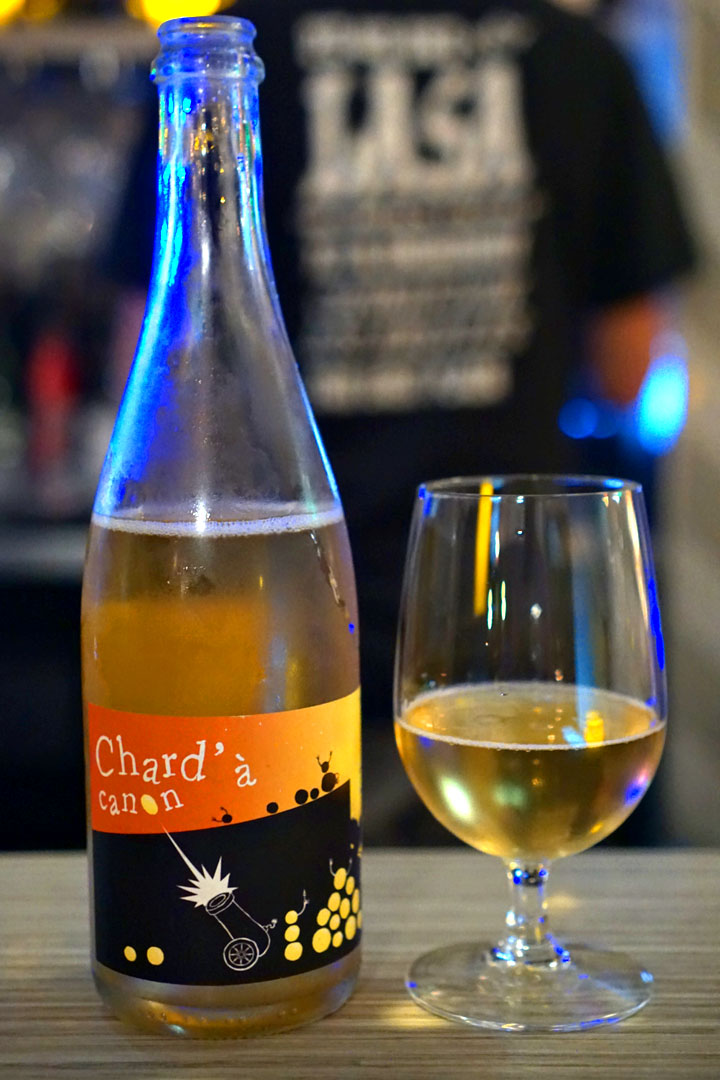 As far as the beverage situation goes at Melody, you get a wine list focused on natural and small-producer offerings, as well as some beers and low-ABV cocktails. I was in the mood for something sparkling, so I opted for a bottle of the
Nicolas Arnou 'Chard' à Canon' Pet Nat 2020 [$60]
. A blend of 70% Chardonnay and 30% Chenin Blanc from Coteaux du Layon, this one had a barnyard-y nose filled with fresh pome fruit, and even recalled Riesling at times. On the palate, I found the wine fizzy and invigorating, its inherent earthy qualities melding with tasty notes of creamy orange, pert minerals, and more of those orchard fruits.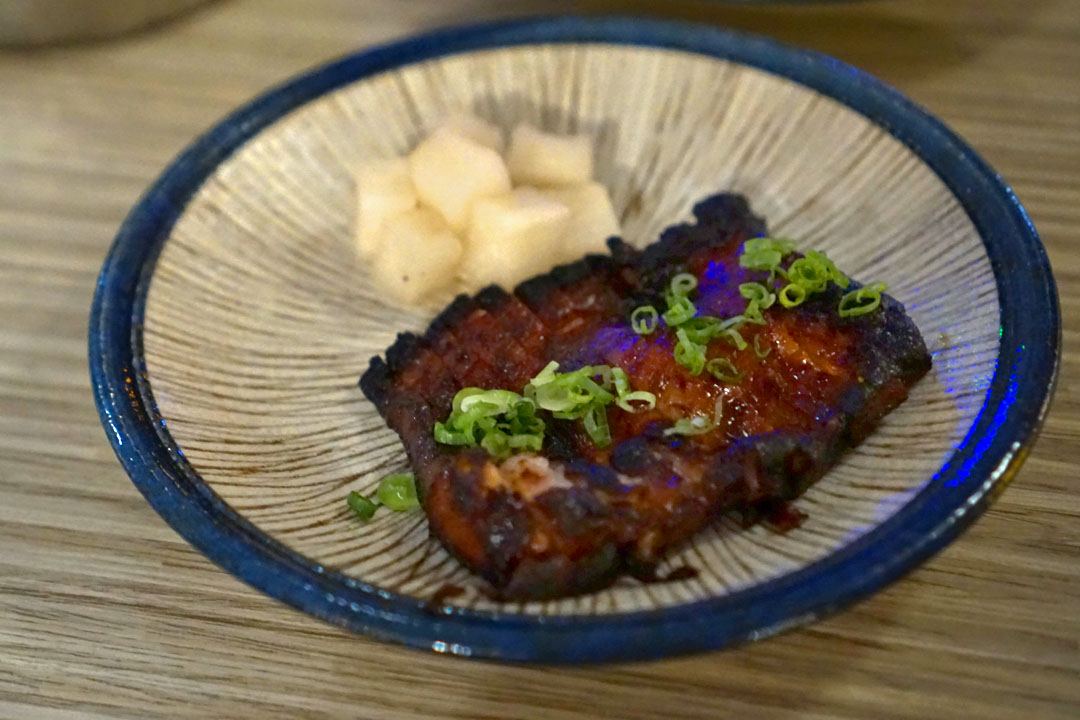 Char Siu Pork Jowl [$21.00]
| peads & barnetts pork jowl, daikon pickle
At this point, I was informed that the kitchen had somehow discovered two extra orders of the pork and steak, so I jumped right on it and added them to my tab. The Chef's binchotan-finished take on char siu was a standout for sure. I was a huge fan of how utterly balanced the
tontoro
's sweet-spicy, savory, and smoky flavors were, and how the jowl's crispy, charred, caramelized bits contrasted with its supple insides. Meanwhile, the radish pickles on the side reminded me of Korean-style
chikin mu
(치킨 무), and offered up a tart, refreshing crunch that I certainly appreciated.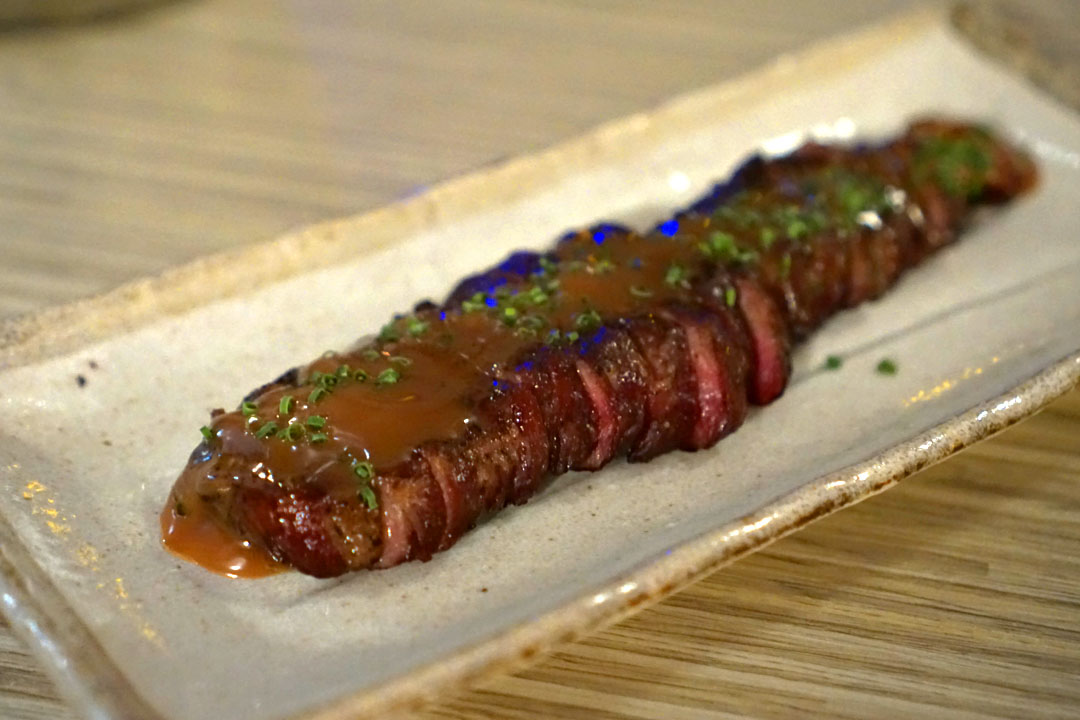 Wagyu Zabuton [$42.00]
| snake river farms, porcini salt, "foie-re" sauce
When I saw "foie-re" listed on the menu, I was convinced that it was a riff on au poivre sauce, but it turned out that it was actually a reimagined version of
tare
. Because of that, I tasted all the familiar sweet-savory flavors I was looking for, but boosted by the inimitable funk of the foie gras; it certainly stood up well to the robustness of the Snake River Farms beef. My one concern here was that the steak was a bit chewier than I would've liked.
Despite the kitchen running out of food, I still had a pretty good time at Melody, and I wouldn't mind returning to check out some other up-and-coming chefs on the docket. As for Budōnoki, the team has since expanded their pop-ups to
Employees Only
, and I believe they're in the process of raising capital in order to open a permanent restaurant. Given what I tasted tonight, I'd certainly be interested in giving it a try if the place ever comes to fruition.
---
After my meal at Melody, I still had some time to kill before my power would be restored, so I ended up heading over to
Death & Co
in the Arts District for further food and drink.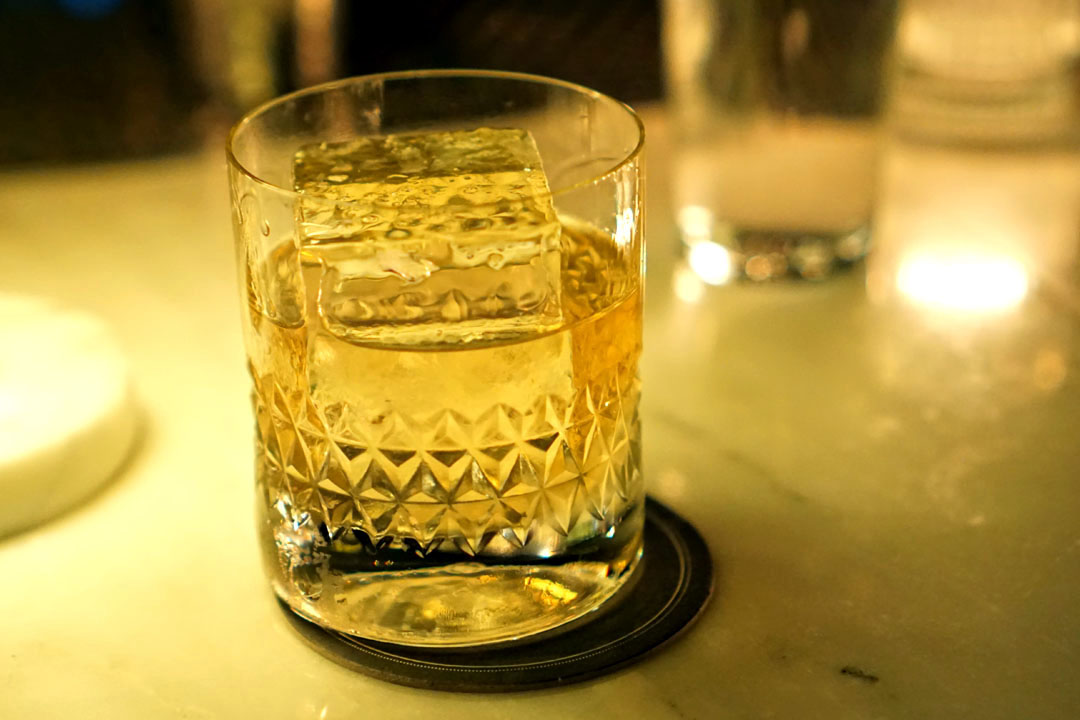 Truthsayer [$28.00]
| Rivers Royale Grenadian Rum, Red Breast 12yr Irish Whiskey, Maraschino, Passionfruit, 'Elemakule Tiki bitters
Upon being seated, I asked my bartender for a recommendation on the more spirit-forward side of things, and she pointed me to this concoction. The drink showed off an intense, inviting nose that commingled smoke and fruit in deft fashion, while its palate presented itself as astringent and smoky at first blush, with spicy, nutty nuances, while the tropical nature of the passion fruit came in later and lingered. Very neat, and one of the best cocktails I've had this year.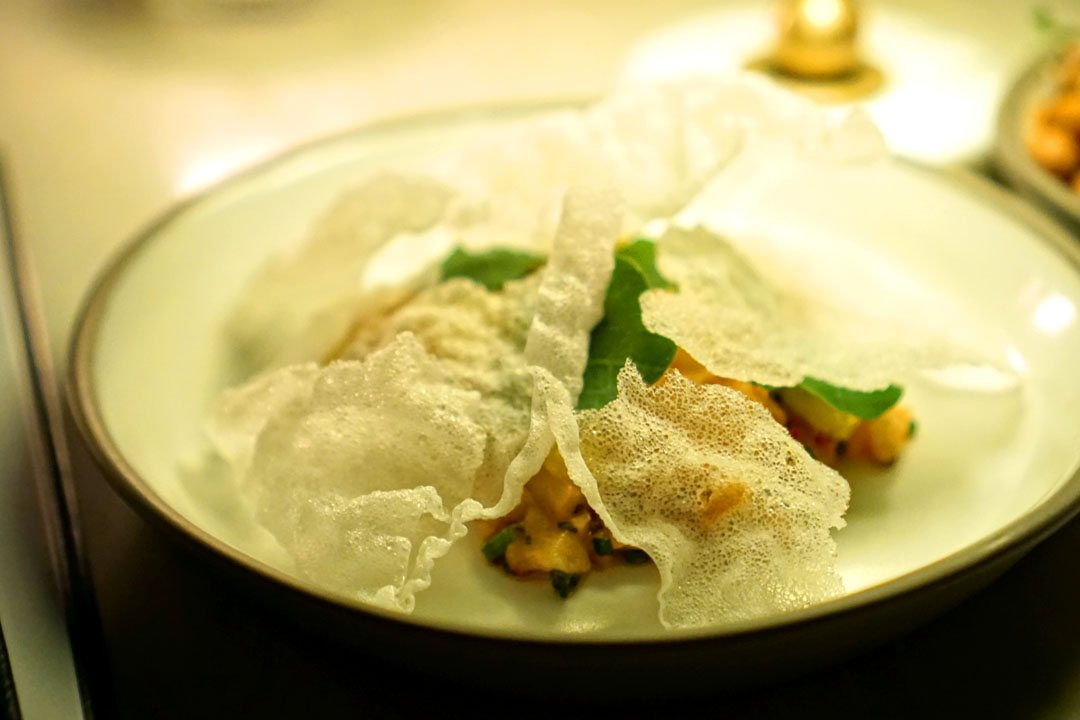 Black Cod Tartare [$21.00]
| chili, summer shrub, nasturtium
Death & Co has traditionally had a surprisingly good food program for being a bar, so I made sure to try a couple of the kitchen's newer creations. This tartar showcased a smart balance of chili-fueled heat and sweetness, punctuated by the zing of nasturtium, while the rice paper puffs added some texture. The cod was well complemented, yet never overwhelmed, though I will say that I would've liked the fish served at a cooler temperature.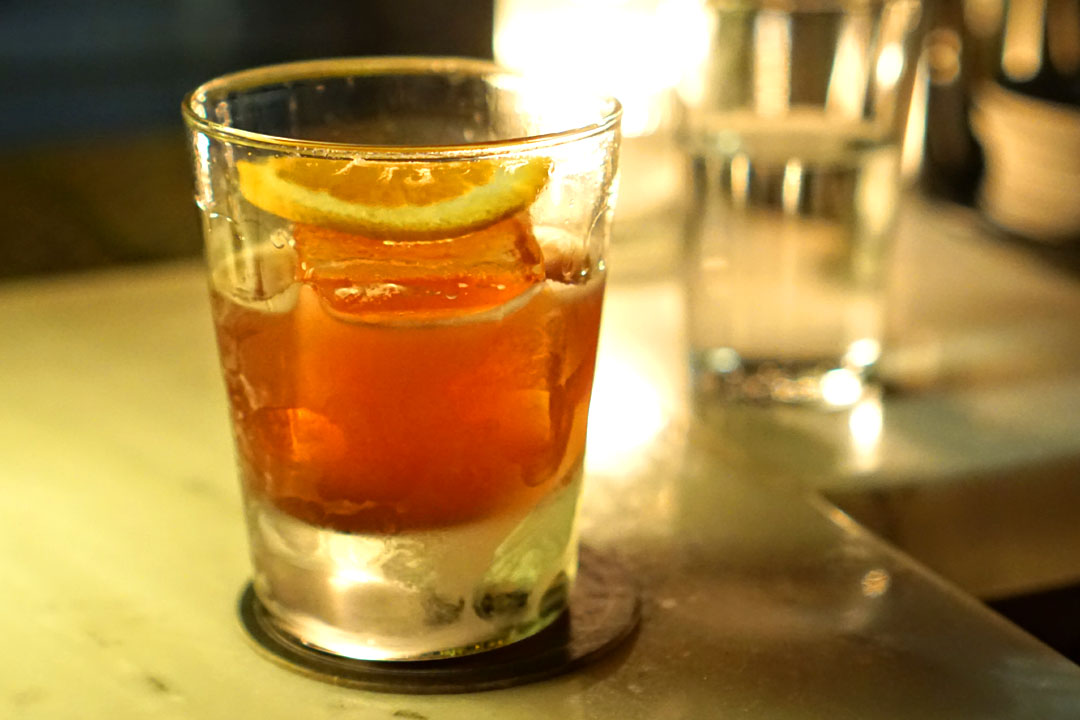 Canyoneer [$22.00]
| Westward American Single Malt, Martini & Rossi Riserva Speciale Rubino, Aperitivo, Pasilla Chile, Molè
I also enjoyed my second cocktail, which featured an aggressive, biting bouquet filled with notes of caramel and cacao. Tasting it, I found loads of chocolate and rich, dark fruits, countered by spicy, herbal elements and the potent kick of the whiskey.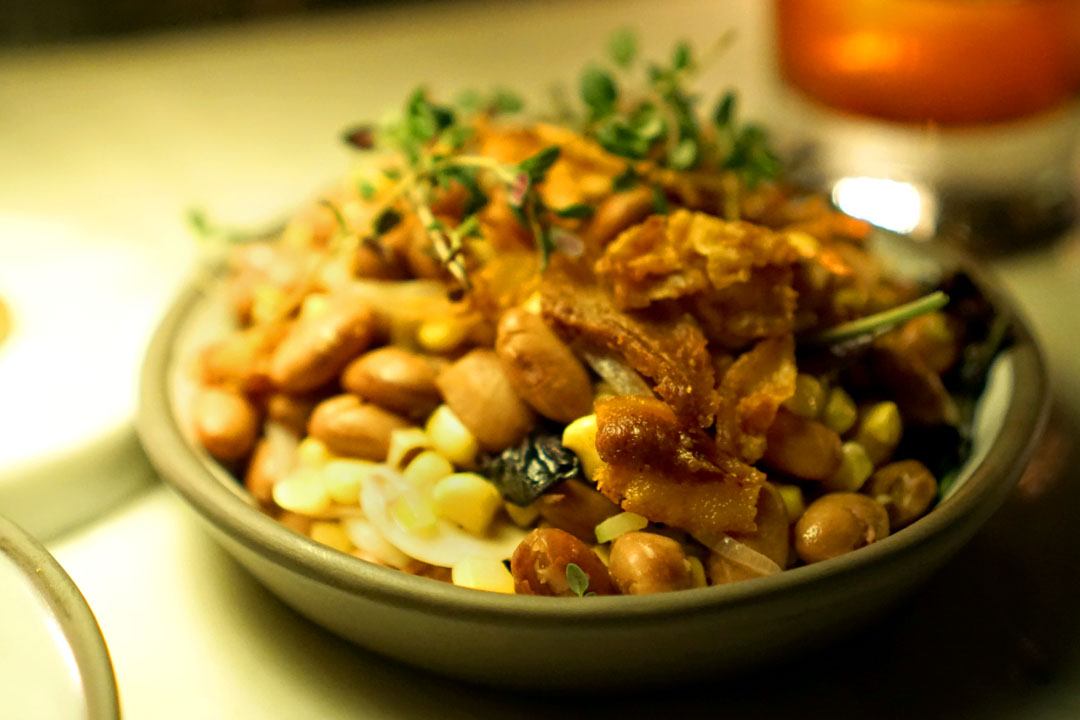 Cranberry Bean Succotash [$16.00]
| chili oil, guanciale, red frills
I was craving something weightier to end with, and this last dish fit that bill nicely. The combo of beans and corn made for some hearty, comforting eating, and I liked the additional hits of salt imparted by the cured pork, too.