Ellie's (Long Beach, CA)
Ellie's Restaurant
204 Orange Ave, Long Beach, CA 90802
562.437.4837
www.ellieslbc.com
Sun 06/12/2022, 08:10p-10:10p

I was on the prowl for a good dining spot in the Long Beach area, and decided to check out Ellie's in Alamitos Beach, which had been on my "to-try" list for a few years now, and which I'd often seen referred to as one of the best places to eat in the LBC. Opened in October 2017, the restaurant offers Californian-influenced Southern Italian cuisine, and comes to us from Chef/Owner Jason Witzl.
About the Chef
: Jason Paul Witzl was born in March 1984, and grew up in Whittier. He began his hospitality career at age 17 as a dishwasher at The 6740, a local pub, and after graduating from Whittier High School in 2002, enrolled at the Los Angeles Trade–Technical College. Following completion of his culinary degree at LATTC in 2005, he cooked at Mark Peel's iconic
Campanile
as well as at Setá in Whittier, under Hugo Molina. He also worked at Peel's Tar Pit, then moved over to Water Grill, which was under the control of David LeFevre. However, LeFevre left the Downtown seafooder at the end of 2010, and when that happened, Witzl used the opportunity to
stage
at Martín Berasategui.
In April 2011, he became an opening chef de partie for LeFevre at
MB Post
, where he stayed until November 2012. After hosting a pop-up at his old employer The 6740, he went on to work for
David Féau
at Le Ka in DTLA. Witzl's next move came in March 2014, when he became Executive Chef for Brian Malarkey at
Herringbone
in WeHo. He got married to girlfriend Alexandra Klem in May 2015, and not long after, took on EC duties at the Santa Monica outpost of Herringbone as well. However, he left in March 2017 to begin work on Ellie's, which actually started as a pop-up and was named after his grandmother Eleanor.


Ellie's takes over the former home of At Last Cafe, and Blue Rose Kitchen before that. Apparently, the space was flipped in 30 days, and I guess you can see that, since, although the room has been gussied up a bit, not all that much has changed from the At Last days (they're even still using the same chairs). Note that the restaurant also offers outdoor dining, which most people seemed to prefer this evening.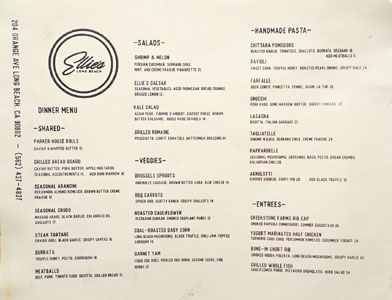 Seen above is Ellie's' menu, which reads Italian-ish, but not strictly so. To drink, you get a small wine and beer list, while corkage is $25 per bottle, limit two. Click for larger versions.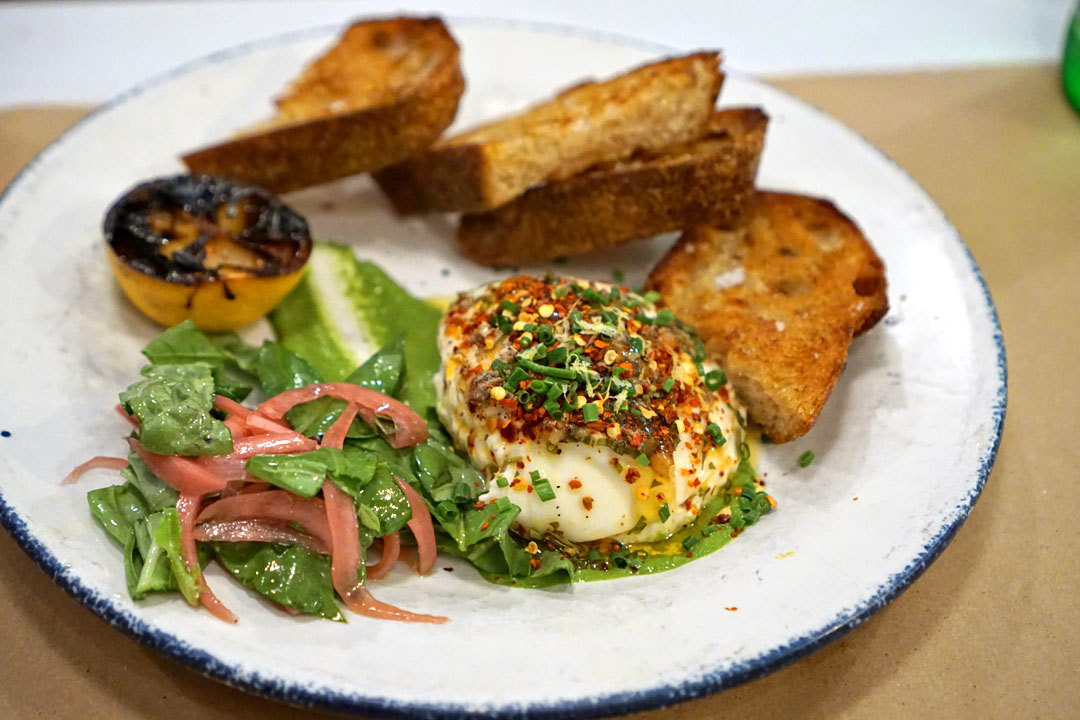 Burrata [$16.00]
| Truffle Honey, Pesto, Sourdough
Our first dish came highly touted by our server, and it looks like he knew what he was talking about. The honey linked up nicely with the creaminess of the cheese, and the pairing was juxtaposed against the spicy, herby elements on the plate, all while the bread offered up a smoky, crunchy contrast.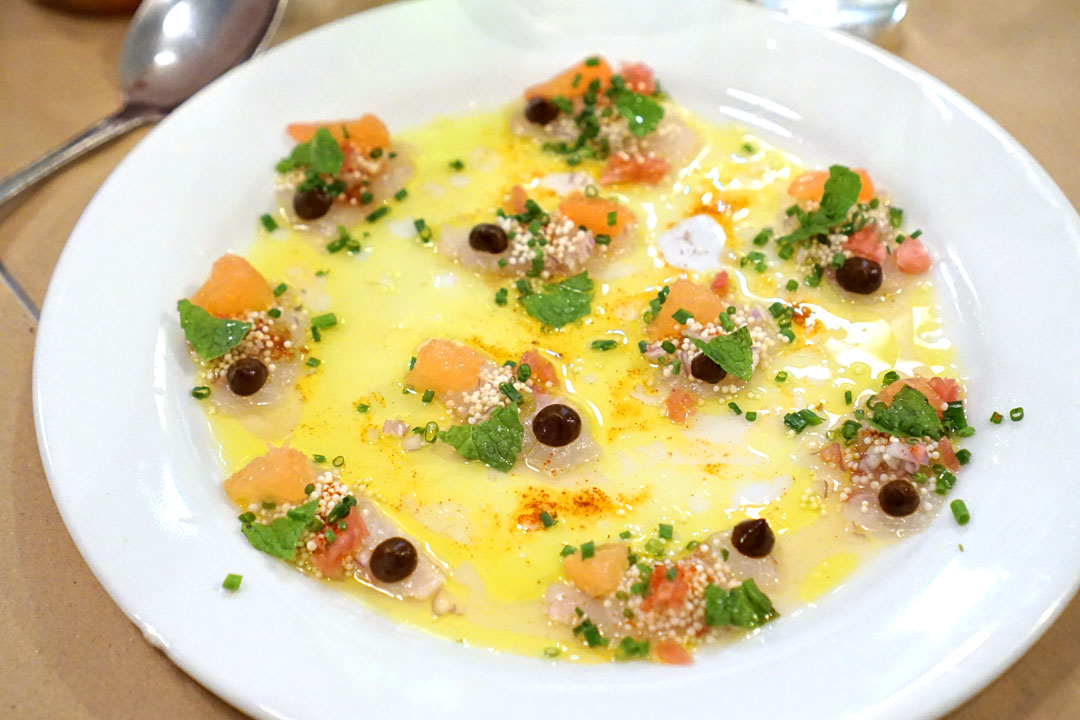 Seasonal Crudo [$17.00]
| Masago Arare, Black Garlic, Calabrese Oil, Shallots
Tonight's crudo featured firm cuts of sea bass, joined by bitter, mustardy notes, the funky sweetness of black garlic, and a touch of brightness from what I believe was grapefruit.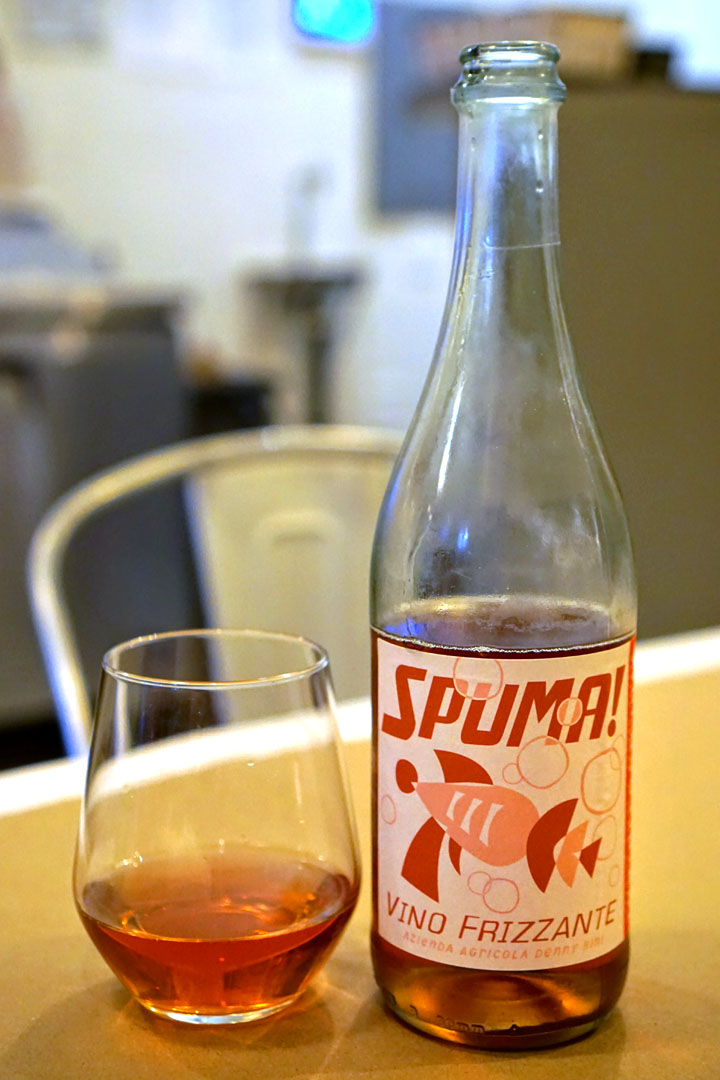 To drink, we opted for something sparkling to start, the
Lambrusco di Sorbara, Denny Bini 'Spuma' NV Emilia, Italy [$52]
. This was definitely a fun, fizzy, easy-going wine, one that showed off mostly red fruits and minerals, but punctuated by a zippy acidity and nuances of citrus.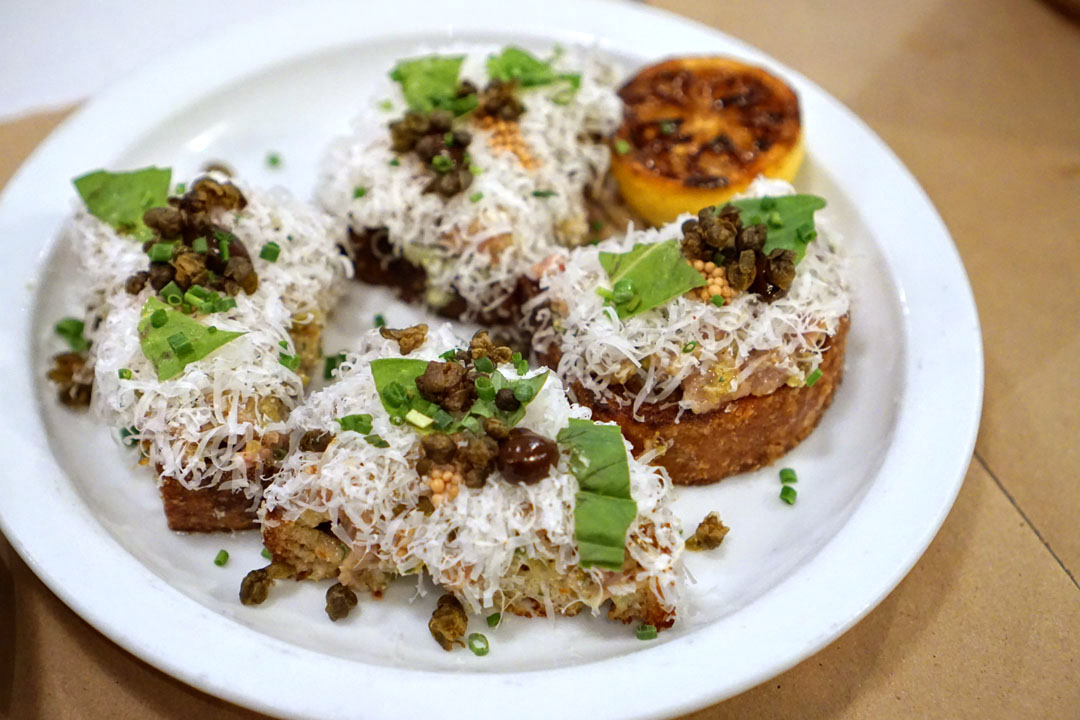 Steak Tartare [$16.00]
| Caviar Aioli, Black Garlic, Crispy Capers
Set atop toast, the tartar incorporated cuts of pleasantly firm-yet-springy steak, but the combination of caper, black garlic, and mustard veered overly intense, and tended to dominate the beef.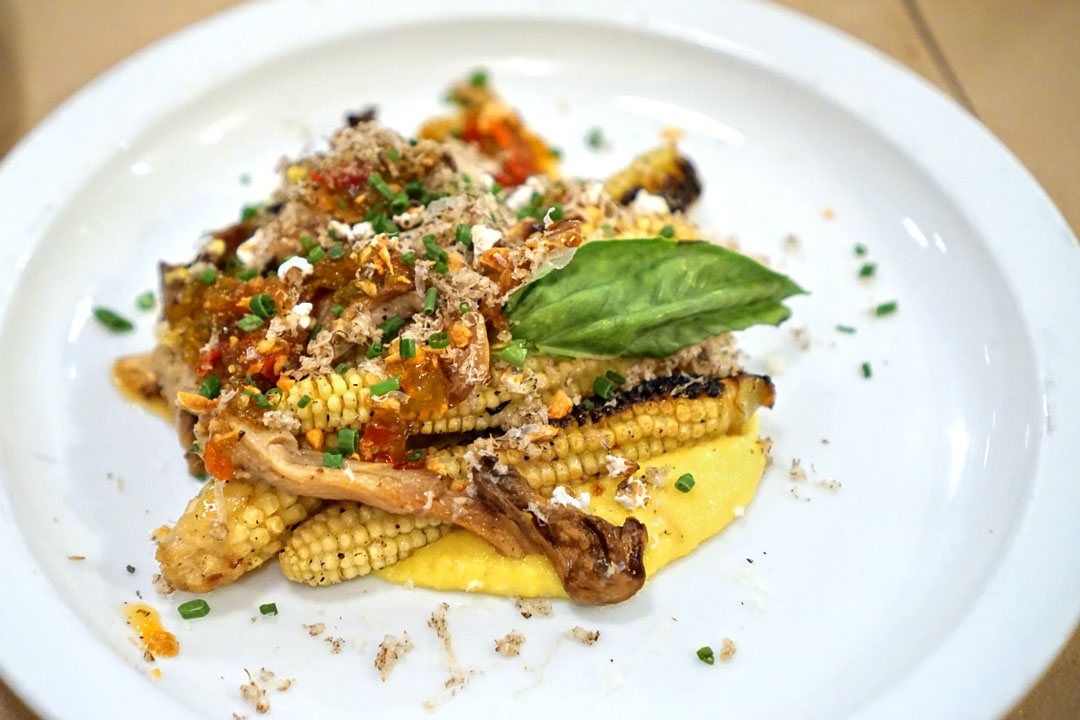 Coal-Roasted Baby Corn [$14.00]
| Long Beach Mushrooms, Black Truffle, Chili Jam, Popped Sorghum
It'd been a long while since I last had baby corn, so it was great to see it tonight, and the dish ended up being a standout for me. The key here was how the corn's intrinsic sweetness played with all the smoke present, as well as the musk of the truffles, while the chili jam provided a crucial sweet-spicy counterpoint.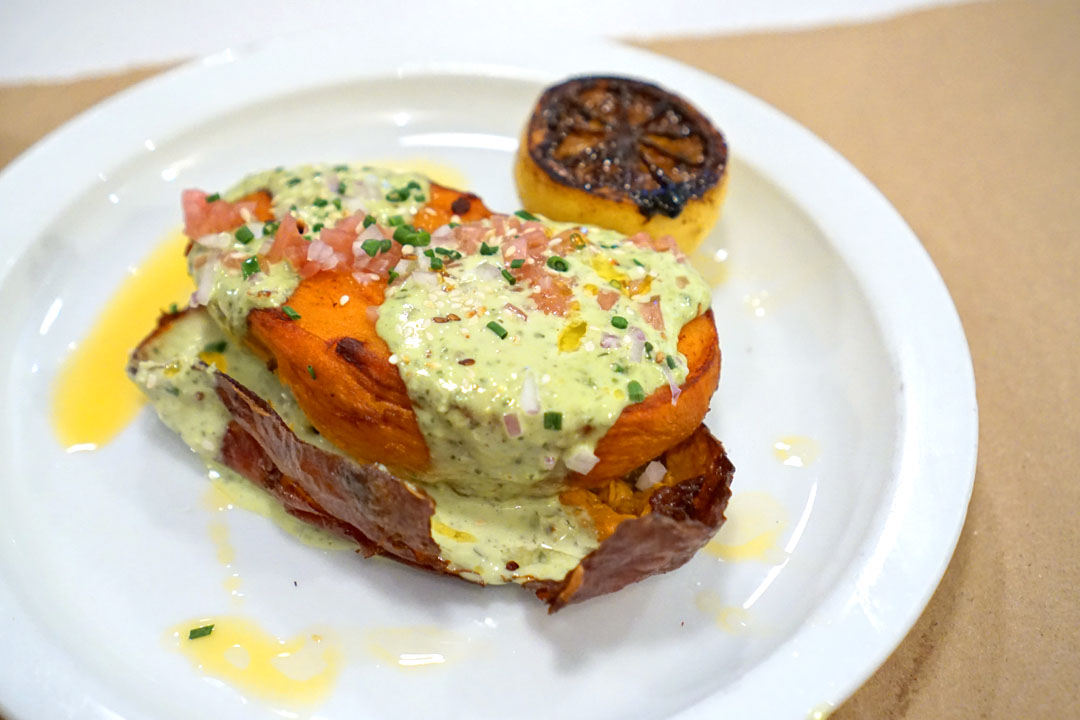 Garnet Yam [$13.00]
| Fried Egg Aioli, Pickled Red Onion, Sesame Seeds, Fine Herbs
The yam was my favorite dish of the evening, which was surprising given that I'm typically not a fan of the root veggie; in fact, this might actually be the best yam dish I've ever had. What made this work was how the sweetness of the tuber was so expertly presented, never becoming overbearing. The combo of aioli, onion, and herbs imparted a vibrancy that really kept the yam in check, and a creeping heat gave me another facet to enjoy. Masterful.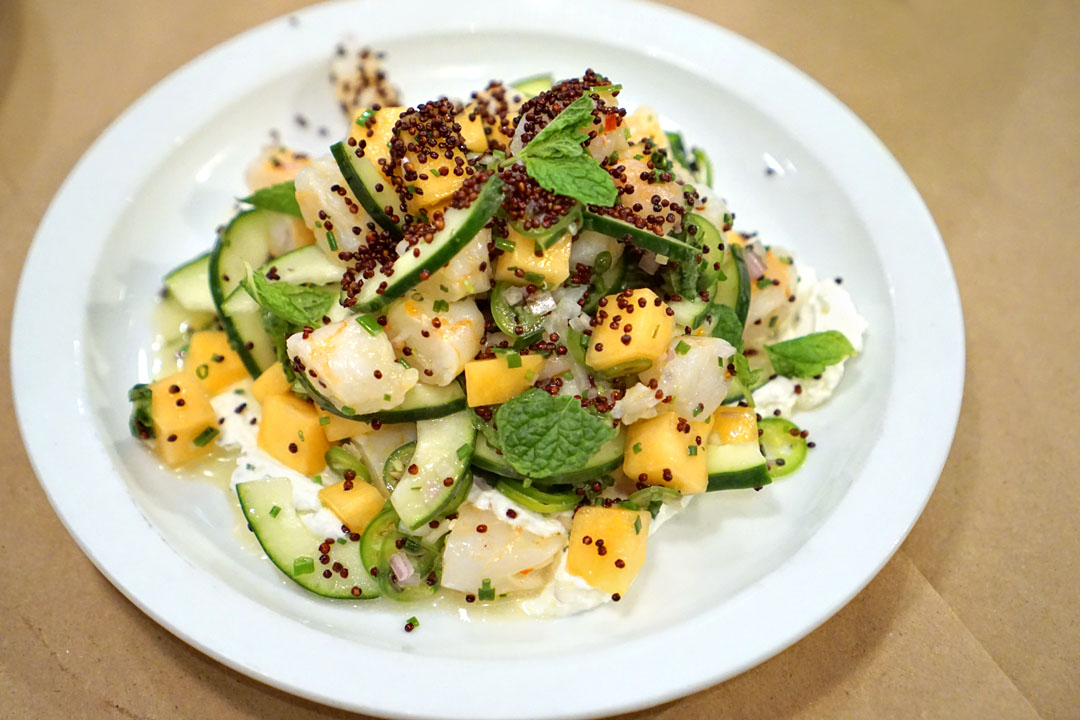 Shrimp & Melon [$15.00]
| Persian Cucumber, Serrano Chile, Mint, and Crème Fraiche Vinaigrette
This salad turned out to be a pleasant surprise. The shrimp were spot-on both in terms of taste and texture, and I appreciated how they matched up with the crisp, refreshing nature of the cucumber and mint. There was also a lovely interplay between the juicy sweetness of the melon and the dish's growing heat, and I liked how the crème fraîche bound all the elements together.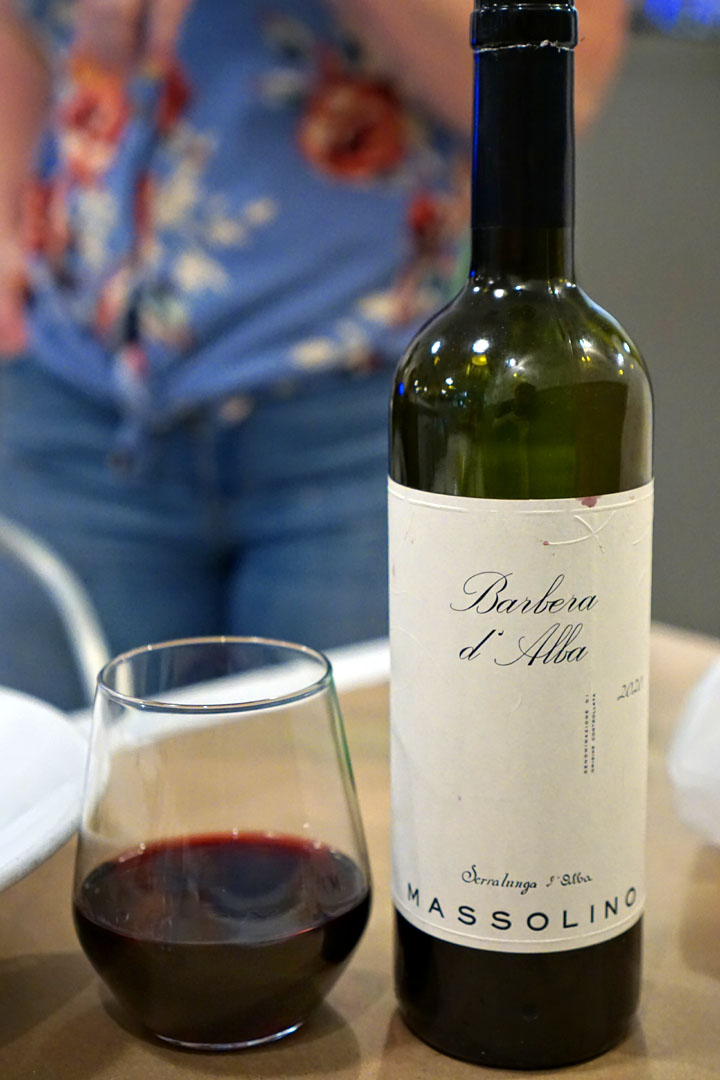 With the bubbly above dispensed with, I ordered a glass of red, the
Barbera d'Alba, Massolino 2020 Piedmont, Italy [$17]
. The wine had an appealing nose filled with sweet fruit and flowers, with smoke hiding in the background. On the palate, I found it soft and silky, its flavors of dark fruit tempered just a tad by some herbaceous notes. This one went down easy.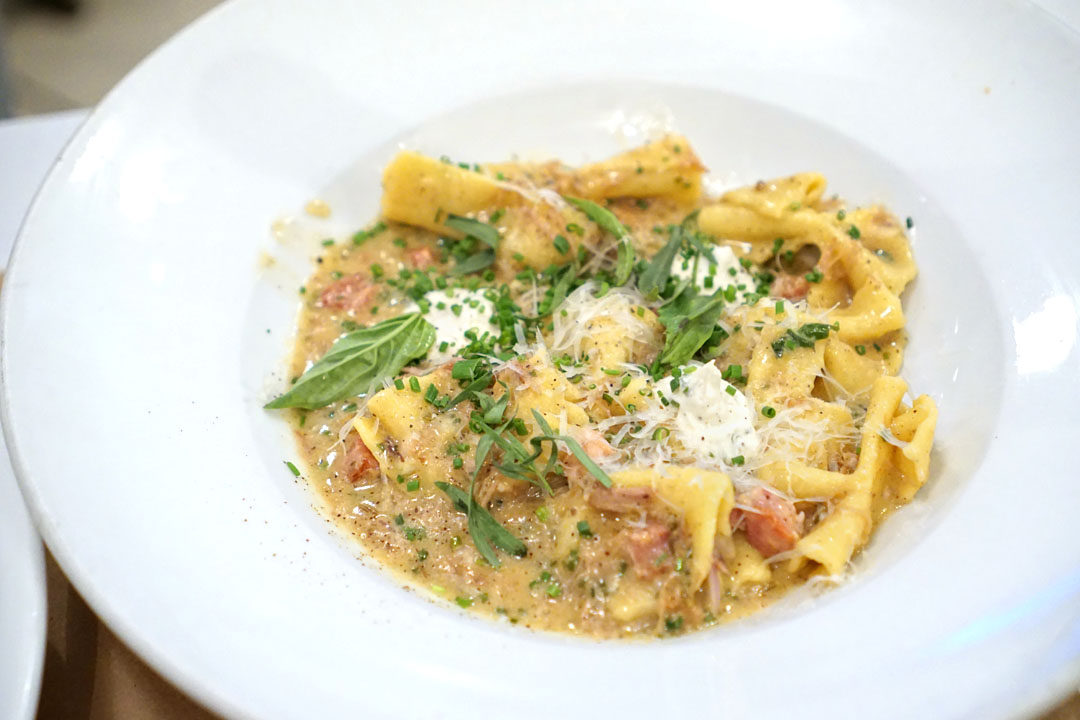 Farfalle [$29.00]
| Duck Confit, Pancetta, Fennel, Dijon, La Tur
At this point we got into the first of four pasta courses. Here, the duck was certainly the star, its rich, dark, distinctly anatine savor working hand in hand with the ham-like qualities of the pancetta.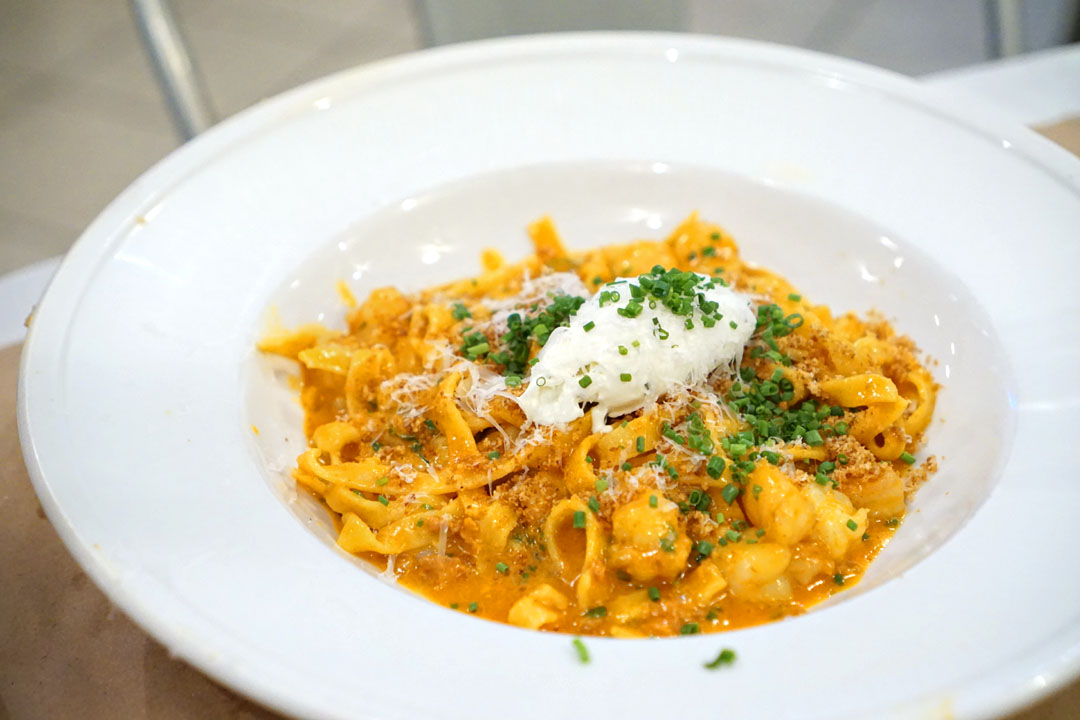 Tagliatelle [$24.00]
| Shrimp, N'Duja, Serrano Chile, Creme Fraiche
The tagliatelle delivered as well. I enjoyed the brine and bite of the shrimp, as well as the enveloping sort of heat from the 'nduja-serrano. It was a pretty effective combination, one softened just a tad by the crème fraîche.
Pappardelle [$26.00]
| Seasonal Mushrooms, Serranos, Basil Pesto, Bread Crumbs, Calabrian Chili
This was my favorite of the pastas. The pappardelle were slick and supple, and worked great as a base for the bitter, vegetal nature of the pesto, while the earthiness of the 'shrooms and the dish's slight heat offered even more interest.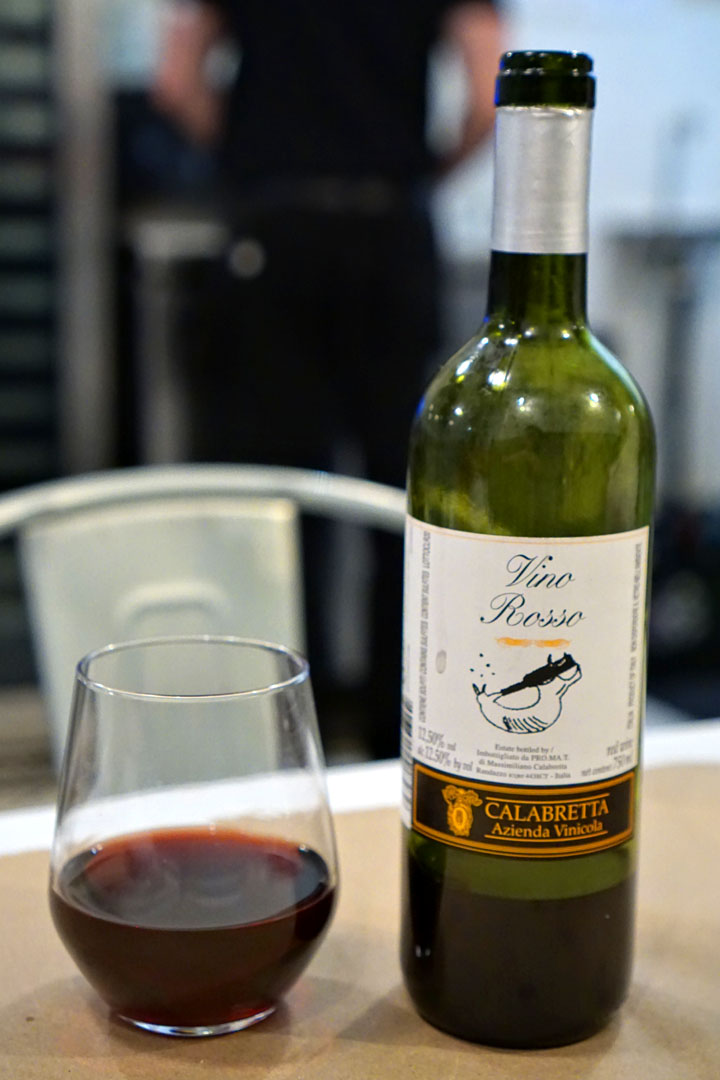 My final drink was a glass of the multi-vintage
Nerello Mascalese, Calabretta 'Cala Cala' NV Etna, Sicily, Italy [$15]
. The wine showcased a bouquet loaded with dried flowers and herbs, with earth, smoke, and berries in the background. Its palate went in a generally dry, tannic direction, with a healthy amount of spice, savor, and minerals cut by florals and dark fruits.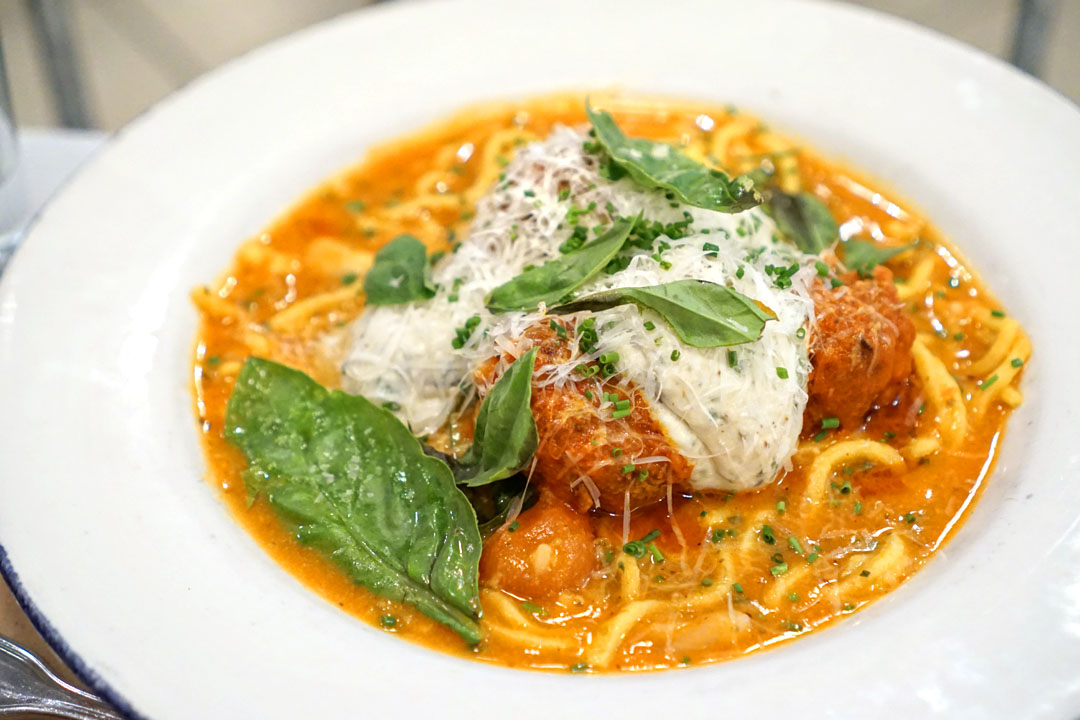 Chitarra Pomodoro [$16.00 + $5.00]
| Roasted Garlic, Tomatoes, Shallots, Burrata, Oregano + Add Meatballs
Our last pasta dish ended up being the least successful, due to the somewhat limp texture on the spaghetti, as well as the "soupy" nature of the dish. Fortunately, the classic flavors I was expecting were there, and I appreciated the homey, rustic depth of the meatballs, as well as how the herbs lightened up the dish.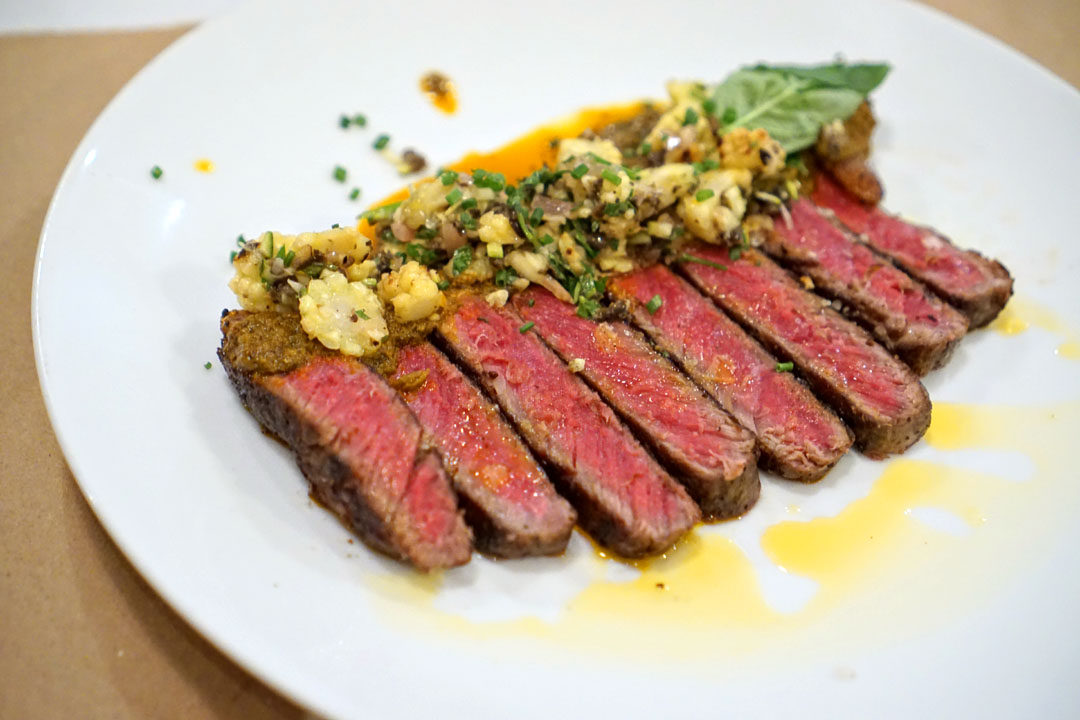 Creekstone Farms Rib Cap [$39.00]
| Smoked Paprika Chimichurri, Summer Succotash
We ended with the steak. My quibble here was that the cut could've been juicier, though the meat did have this bovine funk to it that I rather liked, and I appreciated its strong sear, too. I also enjoyed the piquancy and heat from the chimichurri, while the succotash helped brighten things up.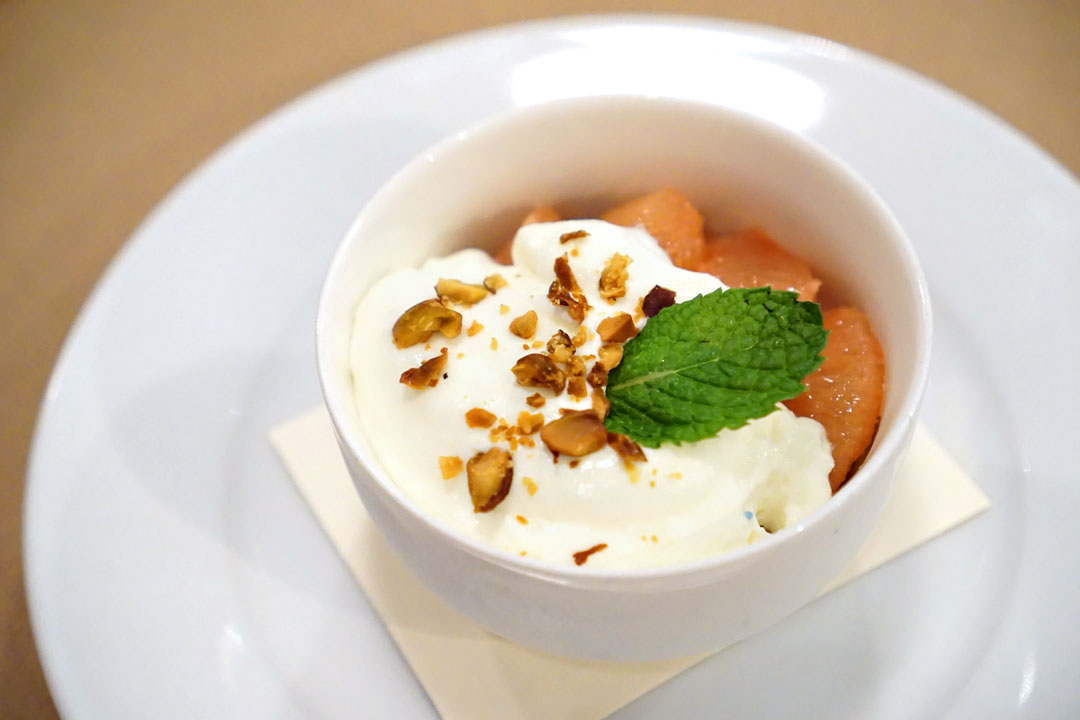 Dark Chocolate Cremeux [$12.00]
| Whipped Cream, Pistachio, Grapefruit
Our sole dessert was the crémeux, which was actually better than anticipated. The custard was just what I wanted texturally, and its chocolate-y sweetness meshed well with offsetting flavors of both citrus and salty pistachio.
I'm glad I checked Ellie's off my list. The food here is solid, and does a good job combining a base of Italian cookery with enough of a SoCal influence to keep things interesting. If I lived in the neighborhood, I could see this place becoming one of my go-to spots in the area. Now I'm thinking I may check out some of Witzl's other projects, specifically Ginger's, a 12-seater tasting menu-only restaurant next door to Ellie's that launched back in December 2019. I imagine the cuisine there to be more boundary pushing. There's also Lupe's de la Mar in Downtown Long Beach, a Mexican seafood joint that the Chef opened in February 2020, and he's also working on Jolie, a butcher shop-slash-market-slash-restaurant in Coronado (San Diego) that should debut later this year.