Pearl River Deli (Los Angeles, CA)
Pearl River Deli
727 N Broadway, Los Angeles, CA 90012
626.688.9507
www.pearlriverdeli.com
Sat 03/20/2021, 03:15p-05:30p

I attended a picnic at Elysian Park recently, and when deciding where to pick up food from, I figured that I should choose something close by. After some rumination, I settled on Pearl River Deli over other strong contenders like Angry Egret Dinette and Today Starts Here. Situated in Far East Plaza, the epicenter of Chinatown's culinary revival, PRD is the work of Chef Johnny Lee, and offers his updated takes on Chinese (mostly Cantonese) cuisine classics.
About the Chef
: Chef Lee was born in China to a Taishanese family, but immigrated to the US as a baby. A child of the SGV, he attended Temple City High School, and during one of his summer breaks, got his first restaurant job at a McDonald's inside the Westfield Santa Anita in Arcadia. After finishing high school in 2005, he went to UC Riverside, where he attained a bachelor's degree in business administration. Unfortunately, Lee graduated college in the midst of the Great Recession, and struggled to find a job. As a result, he ended up moving to Colorado to work the FOH (since he spoke English) at Chinese eatery opened up by one of his mom's friends. He started out as a waiter, but eventually became the manager, and really enjoyed the customer interaction. However, the restaurant quickly failed, so Lee moved back to Southern California in early 2010, which is when food trucks were becoming popular.
In March that year, he was able to secure a job as a supervisor for Flying Pig Truck, and stayed with them for a year, during which time he decided to scrap his plans for culinary school. Following, he briefly served as a line cook at John Sedlar's
Rivera
. This was followed by a seven-month period where Lee worked as a transcriber for Productive Playhouse, a children's video production company in Los Feliz. Things changed in the middle of 2012, when he happened to meet David Tewasart through an ad for an immersion circulator on Craigslist. Tewasart eventually recruited him to head the kitchen at Spirit House, a rooftop bar at Monterey Park's Lincoln Hotel (which Tewasart's family owned). Lee became somewhat known for his charsiu tacos, which even garnered the attention
of Jonathan Gold
. From there, he opened Tewasart's Sticky Rice, one of the first new wave tenants at Grand Central Market, in March 2013. It was here where he first began serving Hainanese chicken rice.
However, due to lack of support from his management, he left the Thai food stall at the end of February 2014. Lee's next move was to another stall at GCM: Alvin Cailan's Eggslut. He ran the always-busy spot until the end of 2014, when he switched over to steer the ship at Cailan's
Ramen Champ
(which was supposed to open at GCM but ended up at Far East Plaza). He would leave the ramen joint by early 2015 though, just a couple months after its debut, and in April, was recruited to lead product development at failed fast casual chain Kaya Street Kitchen. That gig lasted about six months, after which Lee began cooking at Genghis Cohen, just up Fairfax. He left the New York-style Chinese eatery in April 2016, and quickly linked up again with his old bosses from the Sticky Rice group.
With their backing, he developed the concept for Hainan chicken rice specialist Side Chick, which bowed that May at Chinatown After Dark before moving on to Smorgasburg. Side Chick turned into a permanent food stall in September 2016, taking residence inside the Chef's old stomping grounds: the Westfield Santa Anita. The place was well received, earning a positive review from the
LA Times
as well as a spot on
GQ
's "
Best New Restaurants in America
" list in 2017 (along with
Kato
and
Salazar
). Lee also helped out with the opening of Matcha Matcha and Monkey Bar, both of which were also at the Westfield and owned by the Sticky Rice organization. Despite all the fame and acclaim though, there were numerous issues with management behind the scenes, so he split with his partners in May 2018.
At this point, he decided to venture out on his own, and thus started his company Pearl River Delta in order to highlight the traditions of Cantonese cuisine here in Los Angeles. Lee soon popped up with his Hainanese chicken at
Unit 120
, Alvin Cailan's culinary incubator at Far East Plaza. This was followed by appearances, once again, at Chinatown After Dark, as well as the start of the Chef's Dai Pai Dong series, first held at East Hollywood's Union Swapmeet (street food focused) and then at
Pine & Crane
(seafood focused). Curiously, in October 2018, he relocated to Chicago to become a co-owner of Rakki Cafe, a Japanese soft serve shop in the Wicker Park neighborhood. The place opened in December that year and seemed to be doing well, but shuttered in November 2019, as Lee wanted to return to LA to work on other projects.
As soon as he got back, he teamed up with former colleague Todd Chang (
Gwen
, Kato,
Joy
, Pine & Crane,
Ink
, Kaya Street Kitchen, Go Get Em Tiger, Sticky Rice,
Le Comptoir
, Spirit House) to launch Gatsu Gatsu, a Japanese breakfast-focused pop-up in Echo Park. At the start of 2020, Gatsu Gatsu relocated to the former Far East Plaza home of
Baohaus
(and
Pok Pok Phat Thai
before that). However, Lee quickly switched the focus of the space to a casual Cantonese pop-up that dropped at the start of February last year. Named Pearl River Delta, the pop-up rapidly became a permanent spot called Pearl River Deli in March, just a couple weeks before the start of the coronavirus lockdowns. PRD has been widely praised, and even landed a spot on
LA Magazine
's list of "
10 Best New Restaurants of 2020
" back in December.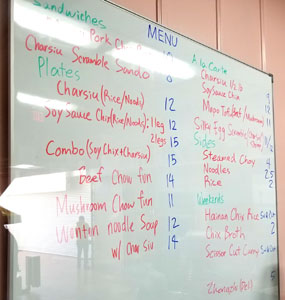 Pearl River Deli's menu is pretty straightforward, and changes regularly. It features many of your Chinese favorites, and even ventures out occasionally into other cuisines like Thai or Vietnamese. Click for a larger version.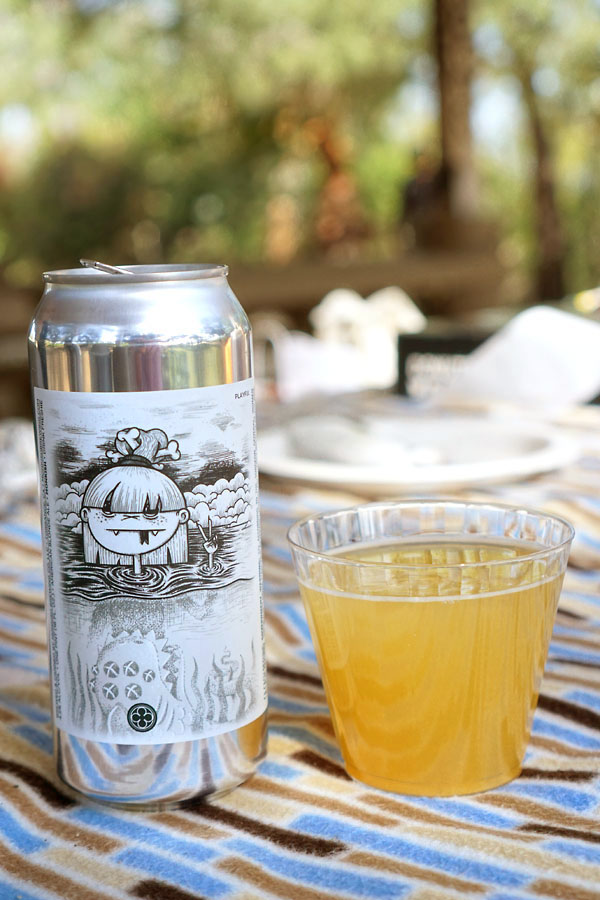 A picnic certainly calls for beer, and we got things started with the
2021 Monkish Playful
, a blonde ale hopped with Galaxy and Centennial. Nose here was of juicy, bitter hops, with a surprisingly dank backbone. The taste, meanwhile, was on the softer, milder side, and rather balanced in both its citrusiness and its hoppiness. A solid start.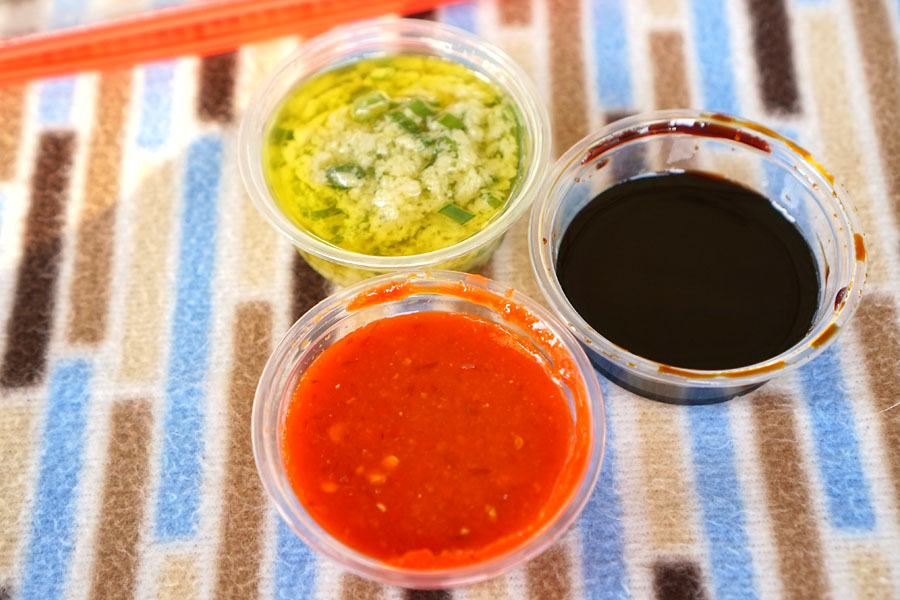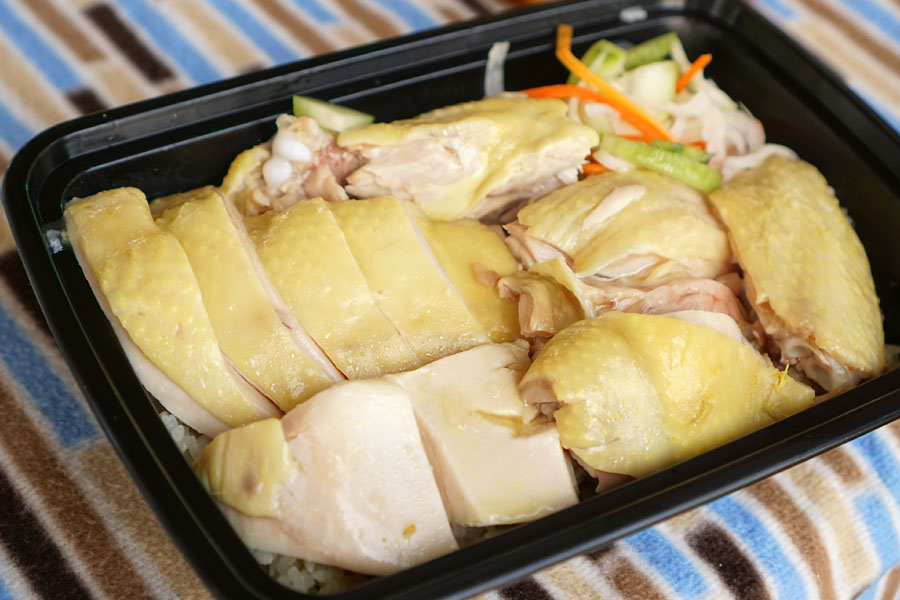 Hainan Chicken Plate [$16.00]
| White poulet chicken served with garlic rice and pickled Cucumber. Comes with house-made ginger scallion sauce, hot sauce, and soy sauce.
Hainanese chicken rice is the dish that the Chef is most known for, though it's only available sporadically and must be ordered in advance. That's a shame, since Lee's is very likely the best rendition I've ever had. The chicken itself was delicious, blending the surprisingly earthy flavors of the bird with refined notes of ginger. It was even more impressive texturally, with the dark meat demonstrating a supple, velvety nap while the breast was more multifaceted, yet still tender and eminently juicy--a real treat for your palate. But that's not all. The rice was also a joy to eat, arriving properly oily, and thoroughly imbued with a warm, garlicky spice that complemented the bird beautifully. This actually managed to live up to the hype.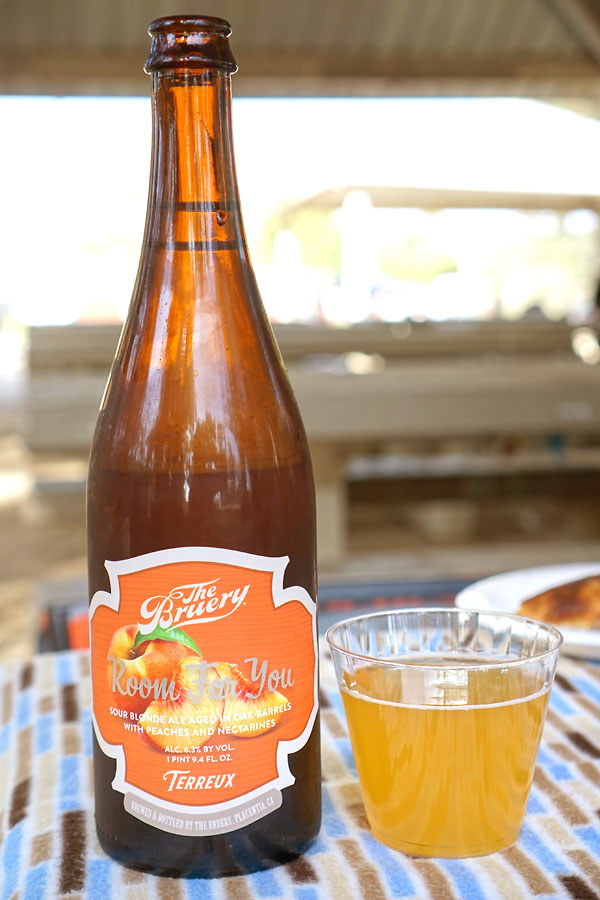 The
2019 The Bruery Terreux Room for You
was a sour blonde ale aged in oak barrels with peaches and nectarines. The beer showed off a delightful aroma filled with stone fruit and yeast. Tasting it, I got robust, almost candied peach flavors cut by plenty of crisp, tart, acidic nuances. Yum.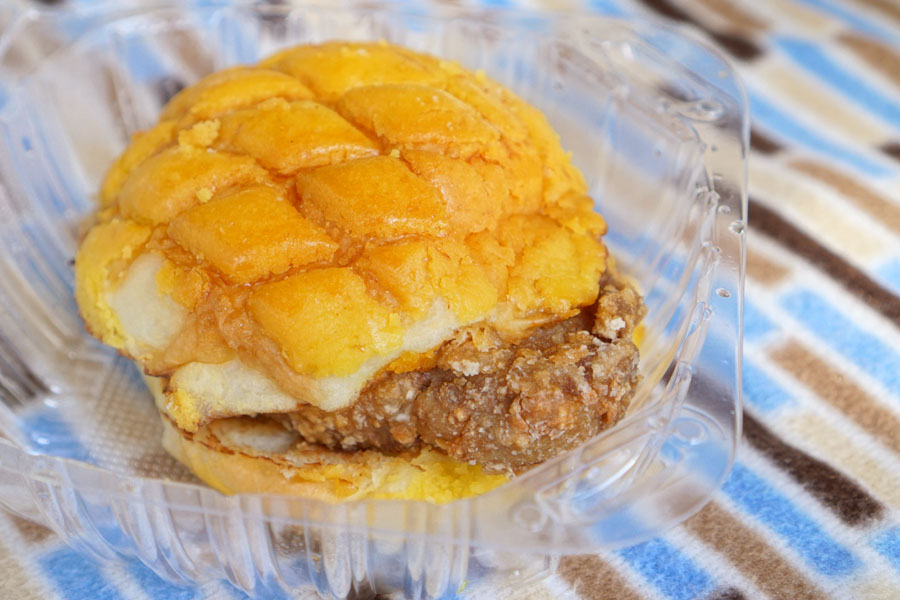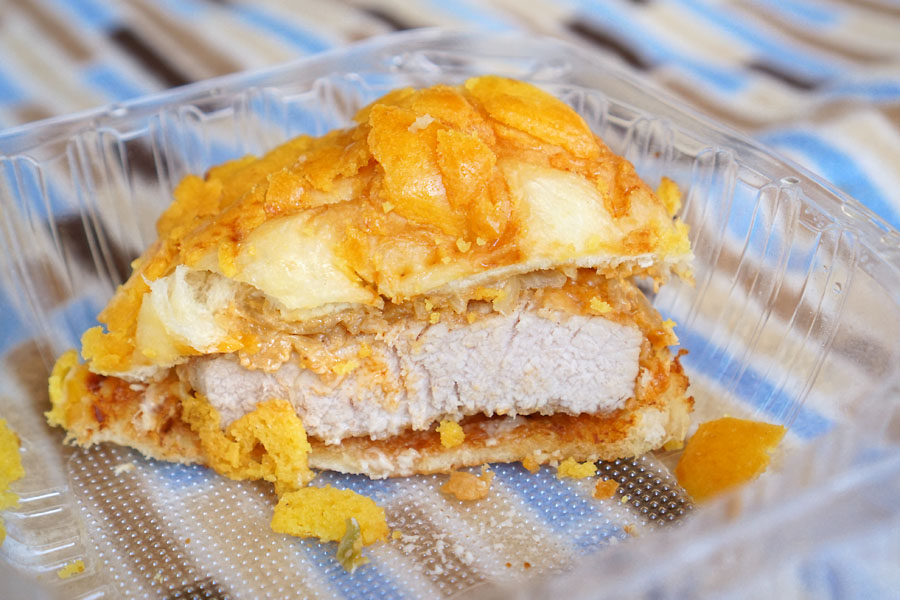 Macau Pork Chop Bun [$10.00]
Lee's take on this Macanese staple also hit the mark. The pork chop was thick-cut, but still juicy and easy to eat, and displayed a subtle spiciness to go along with its inherent porky funk. The soft, sweet-ish bun worked for contrast, but even better was the kick of the included onions.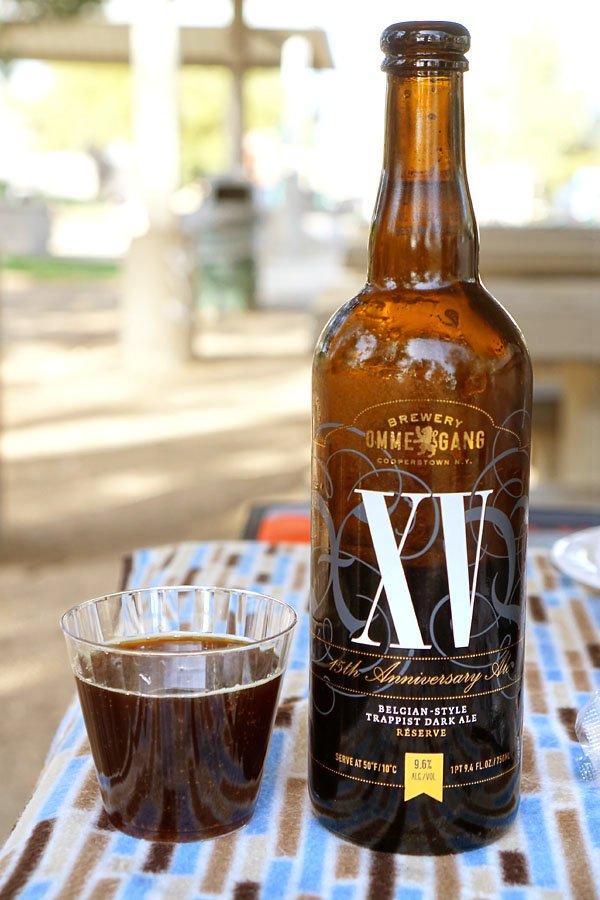 Next to imbibe was the
2012 Ommegang XV
, a Belgian-style Trappist dark ale created for the brewery's 15th anniversary. Bouquet here was of sweet, candied malt all over the place. In terms of taste, I got loads of cacao, roast, and maltiness, all backed by forceful flavors of candi sugar. I'd been cellaring this beer for nearly a decade, so it was nice to be able to finally try it out.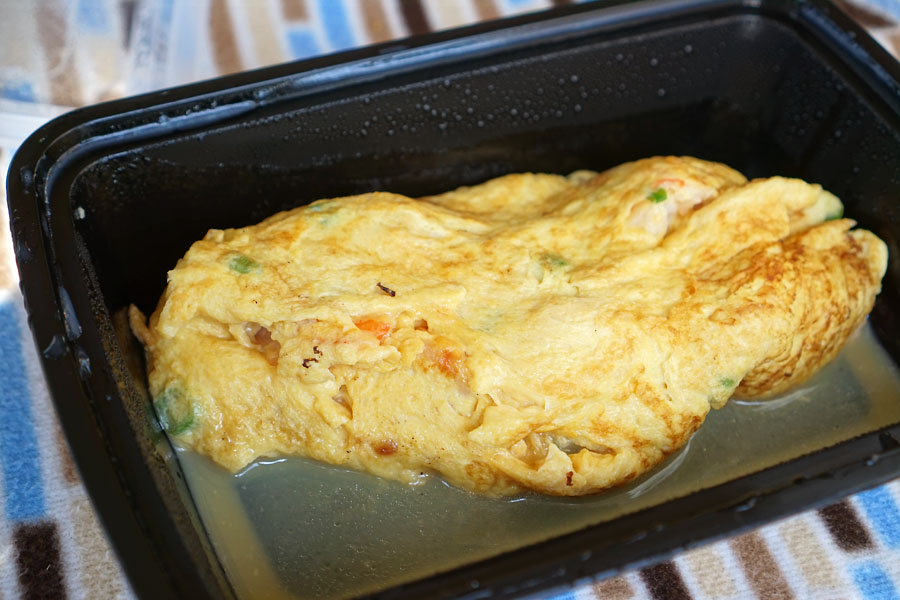 Silky Shrimp Scramble [$12.00]
Given my proclivity for both eggs and shrimp, this was a must-get for me, and also managed to be a winner. The eggs were indeed as silky as advertised, and worked great as a foil to the meaty, briny nature of the shrimp, all while bits of green onion imparted a zestiness that uplifted the dish.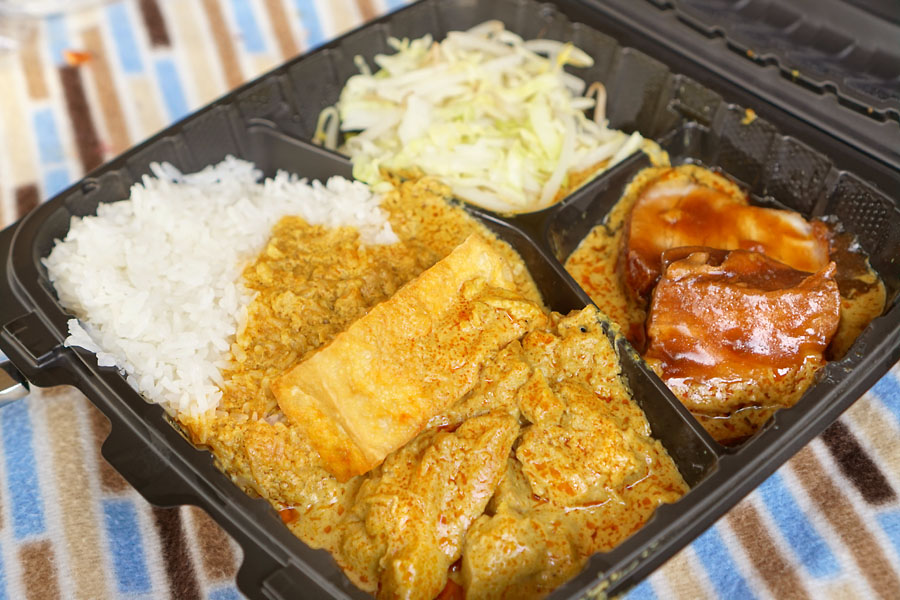 Scissor Cut Curry Rice [$15.00]
The Hainanese curry rice was a special for the day, so I felt compelled to give it a shot. Lee's curry had an elegance to it, one that worked hand-in-hand with the perfectly textured cuts of chicken. It also functioned as a splendidly homey accompaniment to the rice. Bean sprouts added a touch of lightness to things, as did the Meiji-sourced tofu. My only gripe was that I would've liked some more texture on that dark soy-braised pork belly.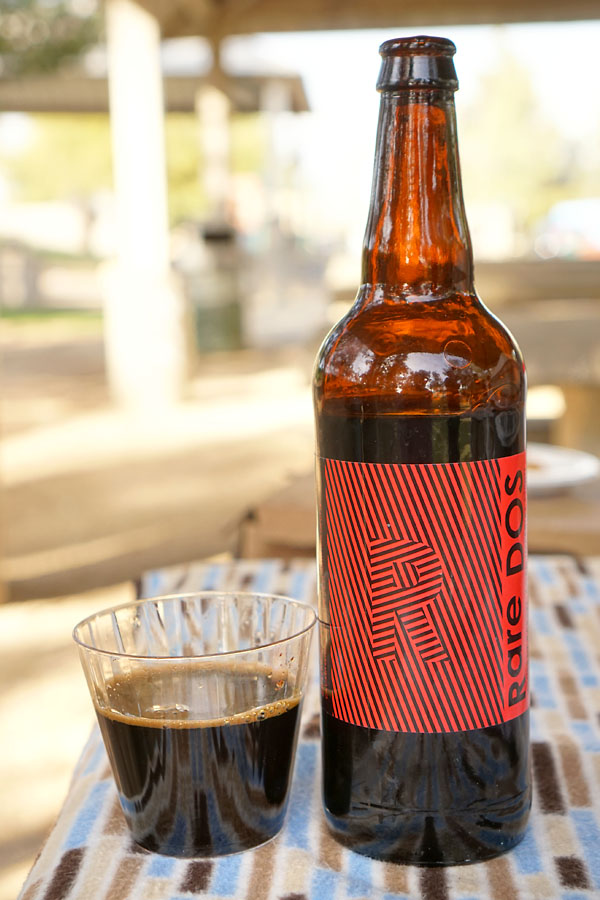 An imperial stout aged in Wild Turkey barrels, the
2016 Cycle Rare DOS Red Label
was definitely one of the heftier beers of the afternoon. Its aromas went in a chocolate-y, malty direction, but cut by a distinct oakiness. Taste-wise, think more wood and cacao, along with coffee, whiskey, and a licorice-esque spice.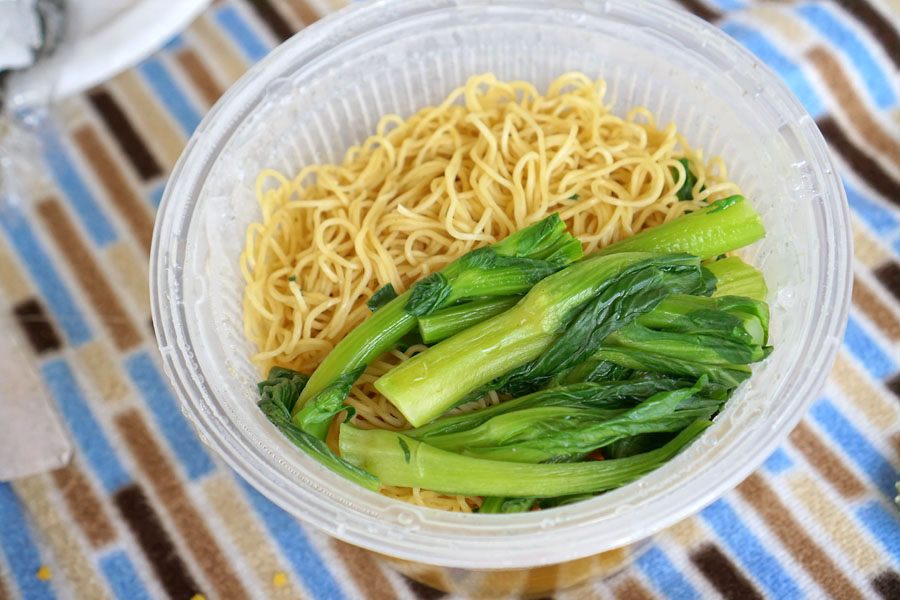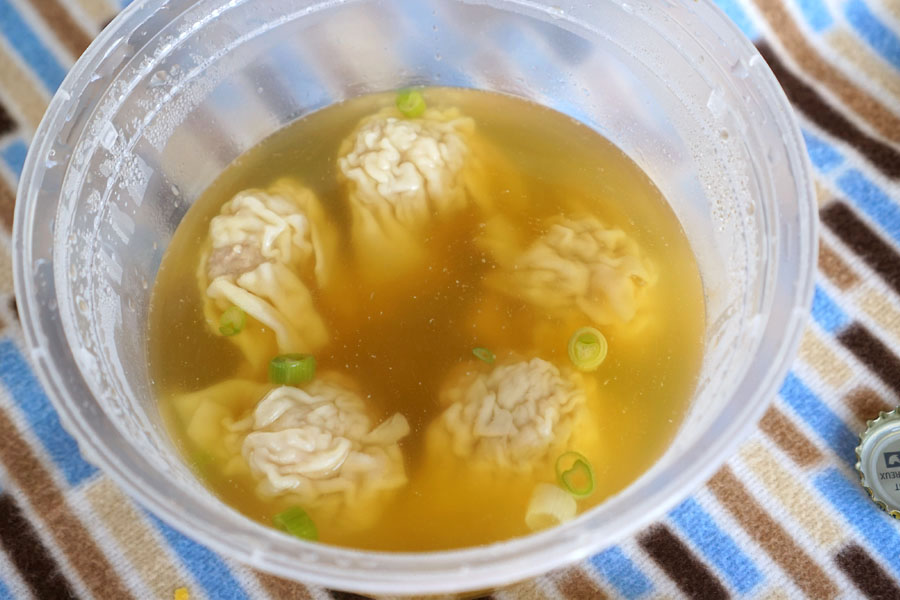 Wonton Soup Noodles [$12.00]
| Wontons, egg noodles, choy, soup
I had to sample Lee's wonton noodles as well, and the dish did not let me down. I was particularly impressed by the dumplings' rich, deep brine and dainty, slippery skins. The thin noodles were also spot on, thanks to their springy, slightly firm consistency and classic, familiar flavor profile. The third part of the equation was the bitterness of the yu choy, while the fourth was that hot, heartwarming broth that brought it all together.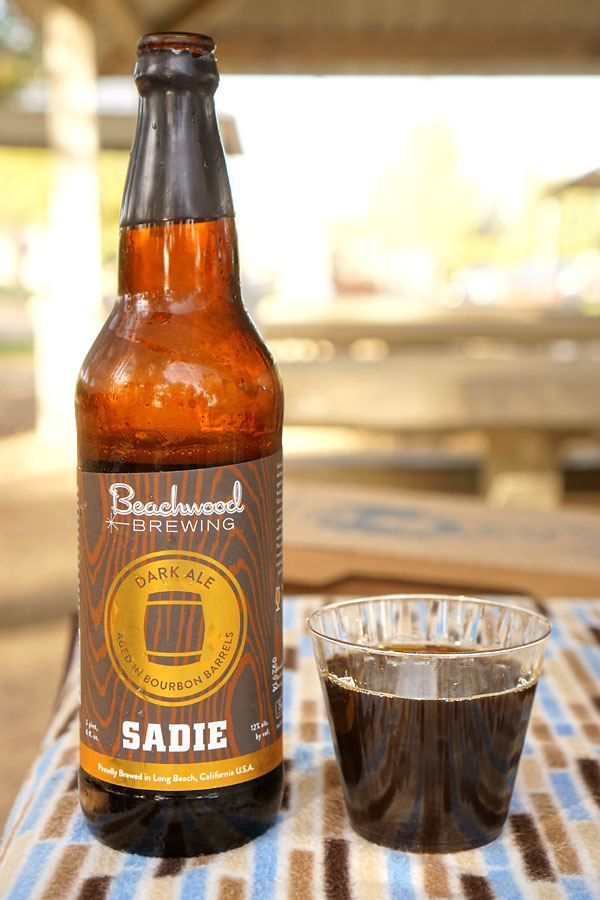 The
2014 Beachwood Sadie
was a dark ale aged for a year inside bourbon barrels. The beer had a extra malty nose filled with raisins and funk, while its palate brought notes of rich chocolate, dark fruit, and even a touch of barnyard. A bit unexpected, actually.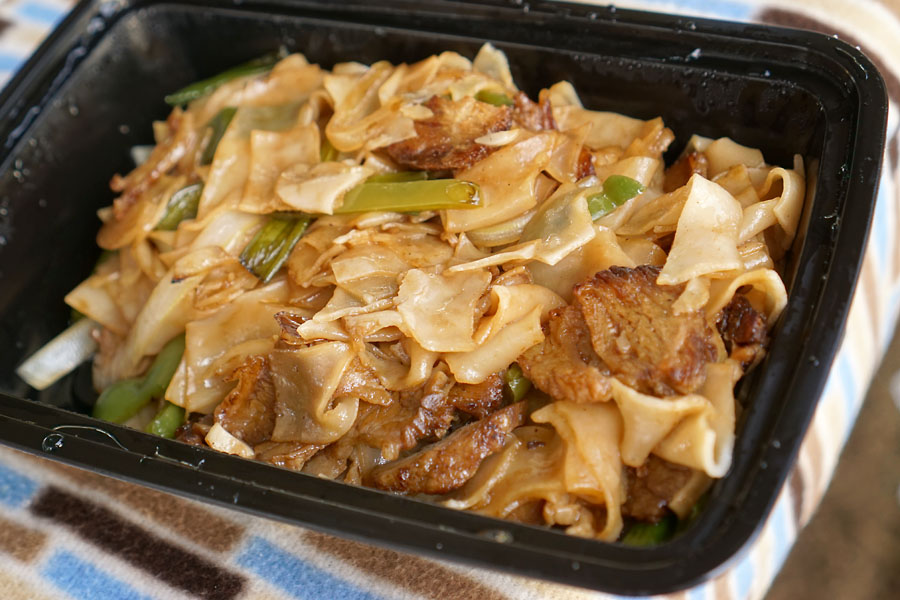 Chow Fun - Beef [$14.00]
Beef chow fun is just about the most ubiquitous Cantonese dish out there, and PRD's just might've been the best I've had. The wide rice noodles were perfectly textured, and I was a big fan of the slight undercurrent of heat present. However, the star of the show was clearly the beef itself, which was treated with a proper amount of
wok hei
, resulting in a somewhat caramelized exterior and a bevy of deep, savory, concentrated flavors.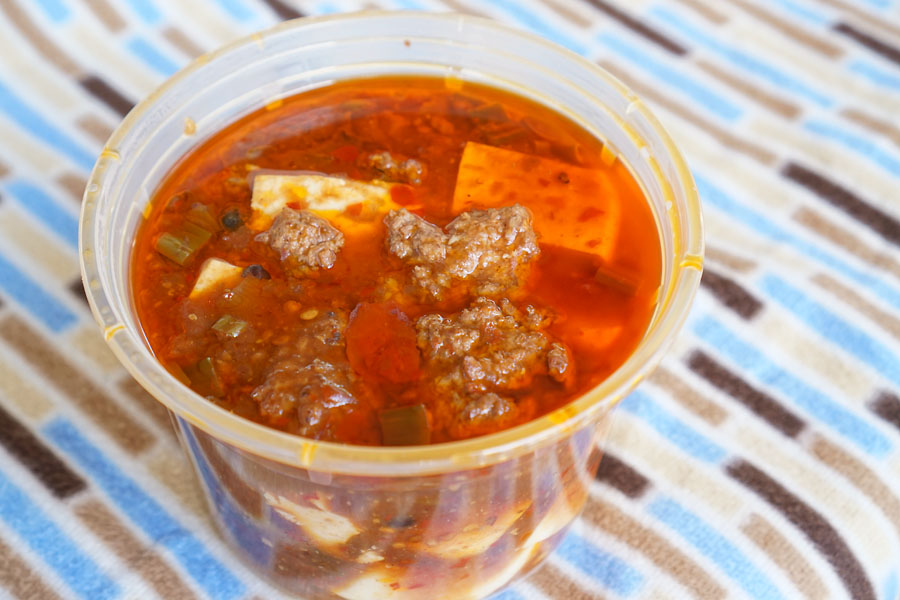 Mapo Tofu - Beef [$11.00]
Mapo tofu is another one of those dishes that I always feel the need to order, and the version at PRD didn't disappoint. What struck me the most here was the beef, which was expertly seasoned and showed off a wonderfully springy consistency. I would've been happy just eating the meat alone, but it also married effortlessly with the uncommonly silky tofu, and overall, the dish conveyed a sturdy, yet delicate spice, a healthy dosing of
douchi
, and just enough
mala
to keep things interesting.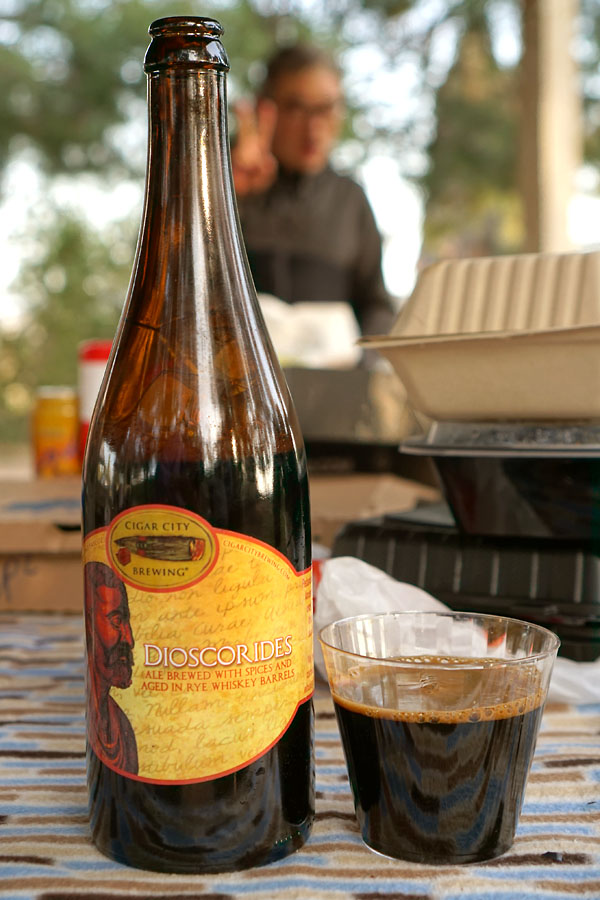 Our final beer was the
2016 Cigar City Dioscorides
, a rye whiskey barrel-aged imperial stout with black caraway seeds. I detected relatively subdued aromas of chocolate, raisin, licorice, and the advertised caraway. This was followed by flavors of cocoa, sweet spice, and molasses, as well as the zippy, woody qualities of the rye whiskey casks.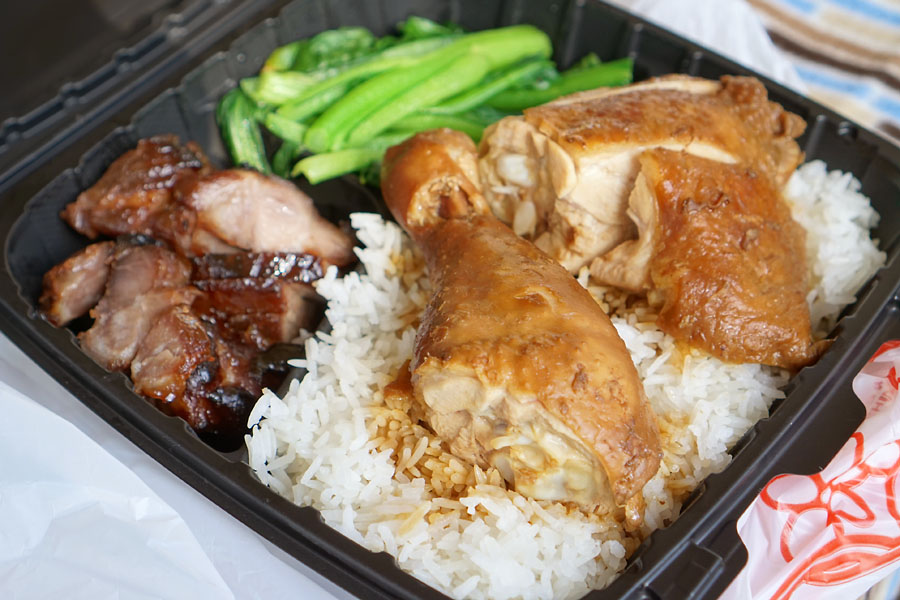 Two Item Combo Rice Plate [$15.00]
| char siu neck, soy sauce chicken, choy, rice
We'll conclude with a duo of
siu mei
. I tried the chicken first, and found it tender, succulent, and full of flavor. Its cozy soy sauce characteristics were joined by a subtle spice and a touch of sweetness, making for a gratifying, nostalgic eating experience. The barbecued pork also delivered. I was fond of its deft balance of sweetness, spice, and porcine depth, while its texture was simultaneously firm, fatty, and gelatinous. Meanwhile, the white rice and yu choy worked perfectly as counterpoints to all the potent forces at play.
I stated up above that the Hainan chicken lived up to the hype, but actually, this entire meal lived up to the hype. The precision and finesse that the Chef imbues into his dishes made them some of the very best I can remember having. You can clearly tell that Lee's super passionate about preserving and, at the same time, evolving the traditions of Cantonese cuisine, and for that I'm grateful. I can easily see Pearl River Deli becoming one of the "essential" Chinese spots here in the Southland.