Ad Hoc (Yountville, CA)
Ad Hoc
6476 Washington St, Yountville, CA 94599
707.944.2487
www.adhocrestaurant.com
Mon 03/12/2007, 08:00p-10:15p
Thomas Keller does comfort food? What's this world coming to? Apparently, Keller had always wanted to do a "burgers & bottles" type of restaurant and bought a vacant restaurant down the street from his French Laundry with that very intent. While plans were finalized, a temporary, or ad hoc (get it?), restaurant would be opened so that the space wouldn't go to waste. But it turns out that Ad Hoc was a bit of a smashing success, so the future of the restaurant remains unclear. Reports on the Internet told me that the place was here to stay, but when I asked Ed Keller (Thomas Keller's father, ask me about that story some other time) about the issue, he just smiled...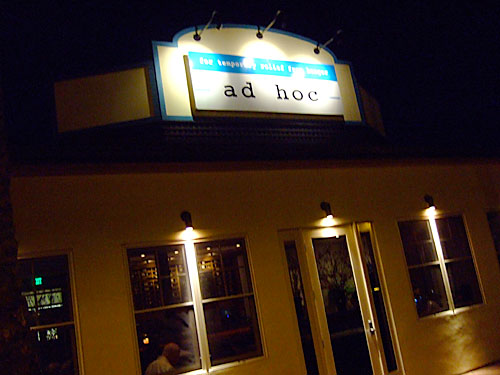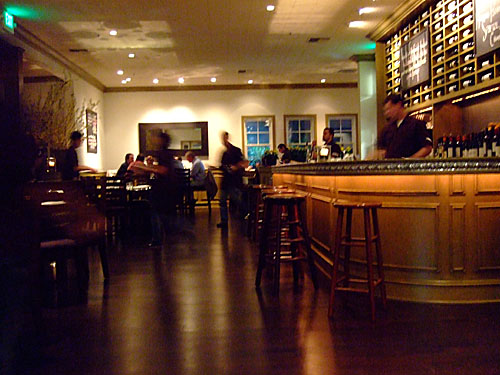 Ad Hoc's signage is instantly recognizable. The decor is refined yet unpretentious, sleek yet inviting. Approximately half of the restaurant is the bar area pictured above, while the other half is off to the left.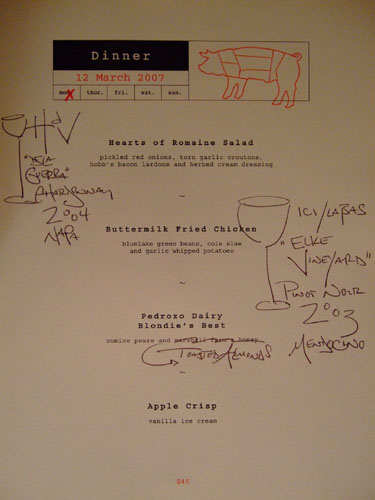 Picky eaters need not apply: Ad Hoc only offers one four-course prix fix menu per night, served family style, centered around one main entrée, fried chicken for tonight. Other main courses have included beef stroganoff, pot roast, and hamburgers. Note our wine selections drawn/written down by our server. Click for a larger version.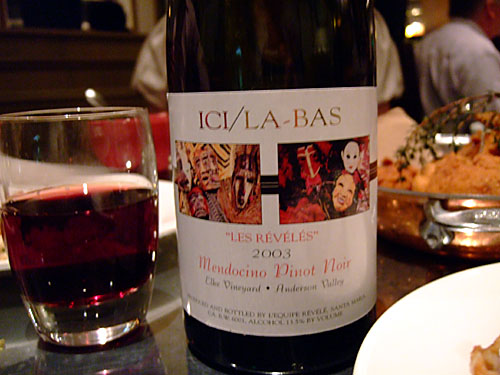 We ordered two bottles of wine: the HdV "De La Guerra" Chardonnay 2004 Napa and the ICI/La Bas "Elke Vineyard" Pinot Noir 2003 Mendocino pictured here. They were recommended by our server, who I might add, was very persuasive in his selling of the wine. Both wines were superb and savored immensely by the entire party. In fact, the HdV was thoroughly enjoyed by one diner who was a staunch non-drinker of chards. Note the very informal wine glasses.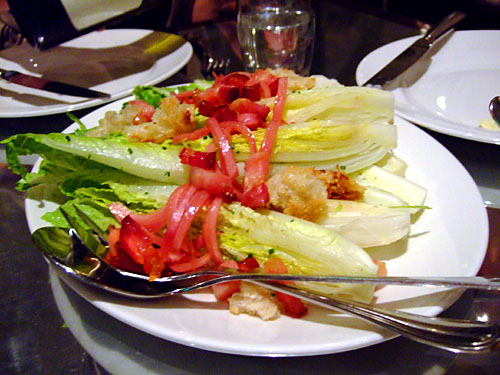 1: Hearts of Romaine Salad
With pickled red onions, torn garlic croutons, Hobb's bacon lardons and herbed cream dressing. I'd never had a salad presented in such a manner before! I loved the crispness of the Romaine and the subtle saltiness of the lardons. FYI: Lardons are taken from the rendered back fat on a pig.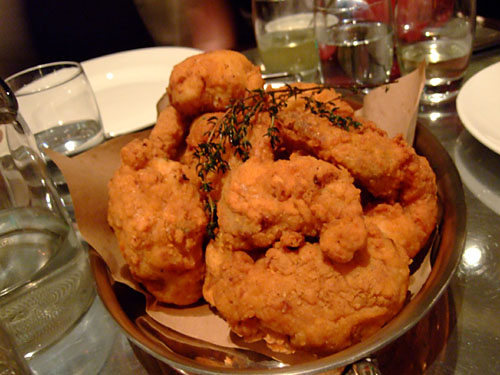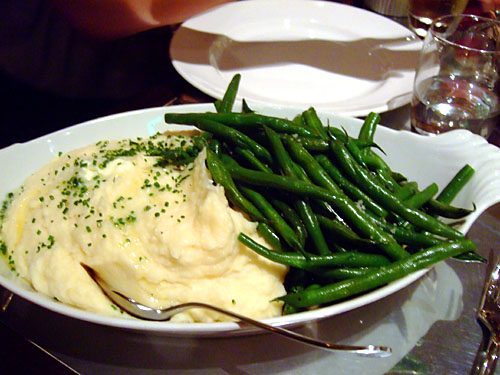 2: Buttermilk Fried Chicken
With Blue Lake green beans, cole slaw and garlic whipped potatoes. I will say without hesitation that this was the best fried chicken I've ever had; sorry Colonel! The sides were fantastic as well and we actually had to box some of the chicken and potato to go.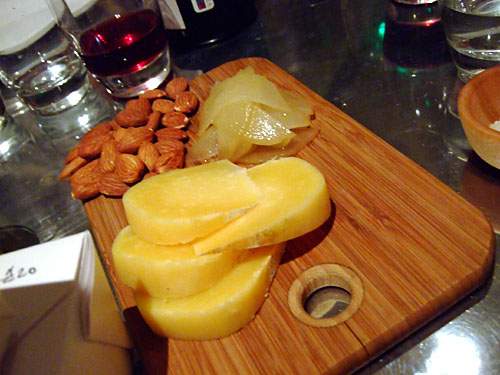 3: Pedrozo Dairy Blondie's Best
With Comice (oft considered the sweetest and juiciest) pears and toasted almonds, which really complemented the cheese. Pedrozo is located in Orland, CA and this is a raw cow's milk cheese named after one of the dairy's first cows.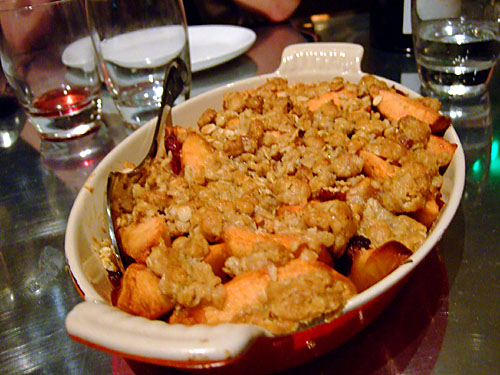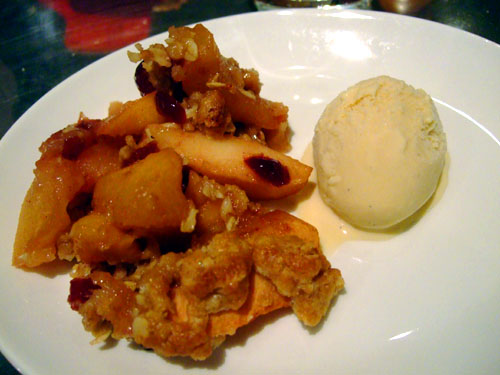 4: Apple Crisp
Made with Fiji apples and served with vanilla ice cream. My only complaint here was that it was served a bit too hot for me (and thus I had to cool it down with the ice cream!).
Going into Ad Hoc, I thought the concept was interesting, and now I can say that the execution was near flawless. Truly, Ad Hoc demonstrates that food doesn't have to be fancy to be fantastic.