Michael Mina (San Francisco, CA)
Michael Mina
335 Powell St, San Francisco, CA 94102
415.397.9222
www.michaelmina.net/michaelmina_sanfrancisco/
Sun 03/11/2007, 08:35p-10:45p
This was my second experience with Michael Mina, the first being at
Stonehill Tavern
at the St. Regis in Dana Point. I wasn't sure what to expect. On one hand, I had a great time there. But at the same time, I had heard negative things from a friend about Mina's venture at the Bellagio (one of his many in Las Vegas, actually).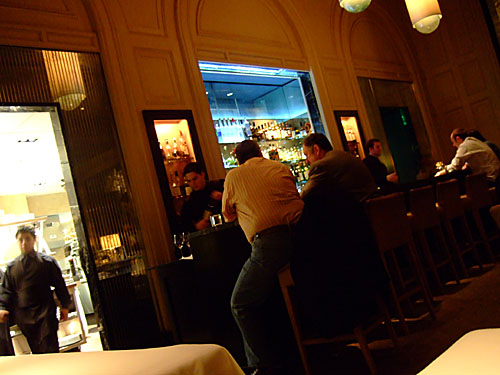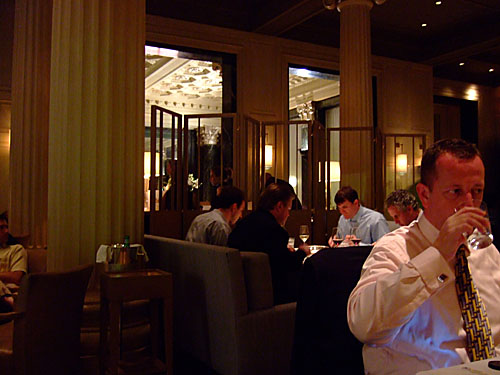 Michael Mina is located inside the Westin St. Francis, and the restaurant's decor reflects the hotel's grand scale, replete with rising pillars and soaring ceilings. From a table along the back wall, we see a bar/lounge area (as well as the entrance to the kitchen) to the left and the main dining room to the right.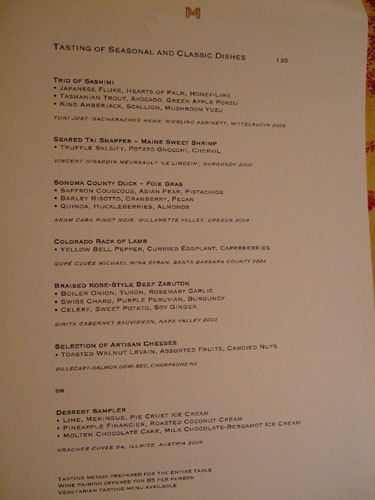 I went for the seven-course (had both cheese and dessert) tasting menu with wine pairings. Note Chef Mina's signature method of interpreting an ingredient through three different preparations. Click for a larger version.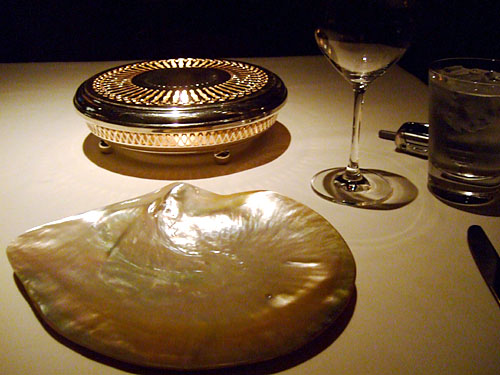 Left
: A beautiful place setting, which looks like a scallop shell to me. The flying saucer shaped object holds a lamp.
Right
: Nice presentation of bread, though I really would've liked to have more than one variety offered.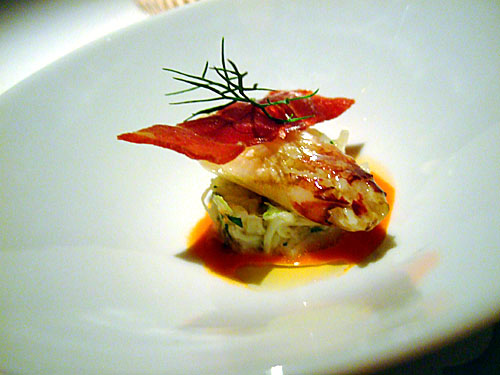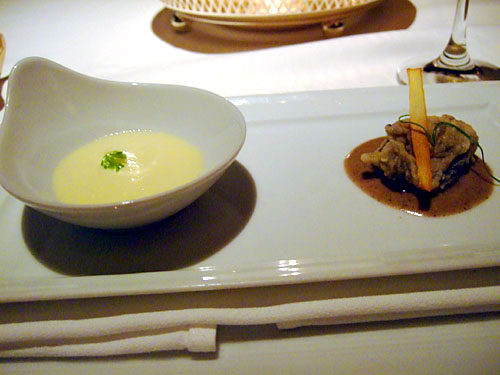 Amuse Bouches
Chartogne Taillet Cuvée Michael Mina, Champagne NV
There were two amuses. First up was Dungeness Crab and Fennel Salad with Serrano Ham. The savoriness of the ham provided the crab with just enough of a salty kick. Next was the Truffle and Parsnip Flan & Crispy Oyster in Mushroom Emulsion. I didn't care too much for the flan but the oyster was quite tasty. The accompanying Champagne was complementary, which was a really nice touch. Overall the amuses were a wonderful way to kick off the evening.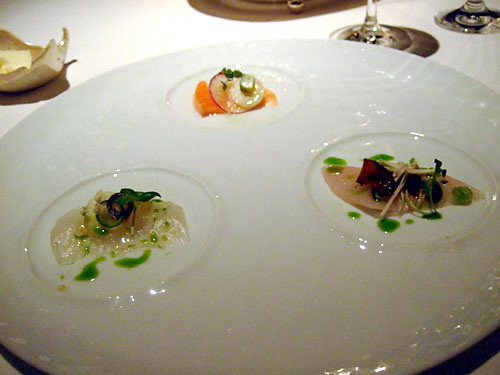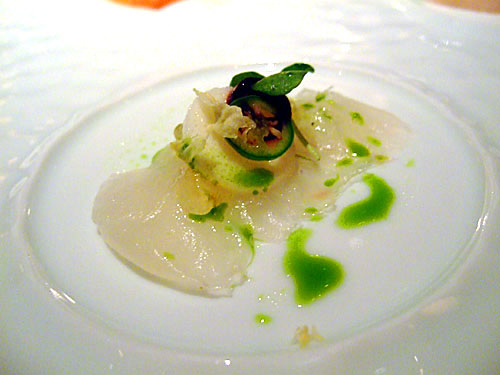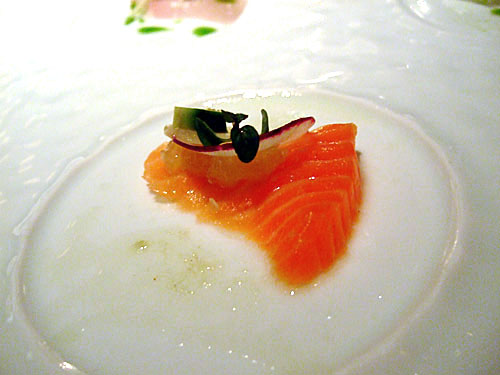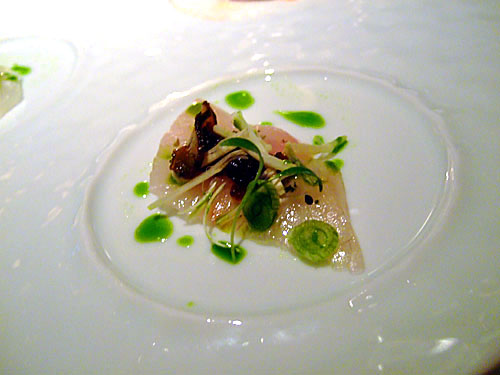 1: Trio of Sashimi
Toni Jost 'Bacharacher Hanh' Riesling Kabinett, Mittelrhein 2005
We have the first of Mina's signature threesomes: Japanese Fluke, Heart of Palm, Honey-Lime; Tasmanian Trout, Avocado, Green Apple Ponzu; and King Amberjack, Scallion, Mushroom Yuzu. All were very fresh and tasty, though my favorite was the last one, the hamachi with enoki. Also loved the paired Riesling.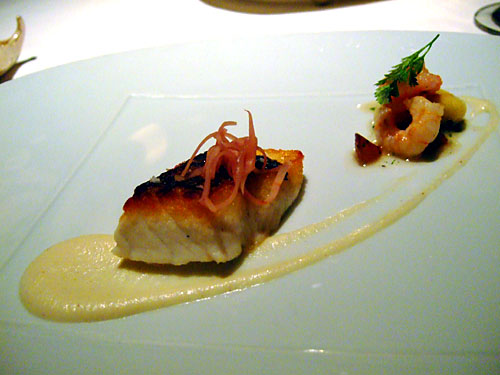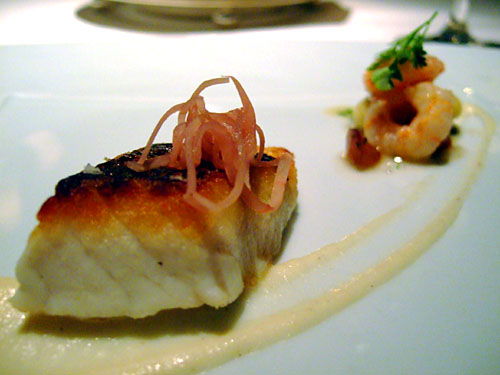 2: Seared Tai Snapper - Maine Sweet Shrimp
Vincent Girardin Meursault 'Le Limozin', Burgundy 2002
With Truffle Salsify, Potato Gnocchi, Chervil. I've had snapper countless time at sushi restaurants; however I believe this was my first time having the fish prepared cooked, so I was a bit wary. My fears were unfounded, as the snapper turned out very well, especially the skin. Speaking of sushi, the sweet shrimp was unlike anything I've had at a sushi joint; the texture was totally different the shrimp was much "sweeter." Great gnocchi as well.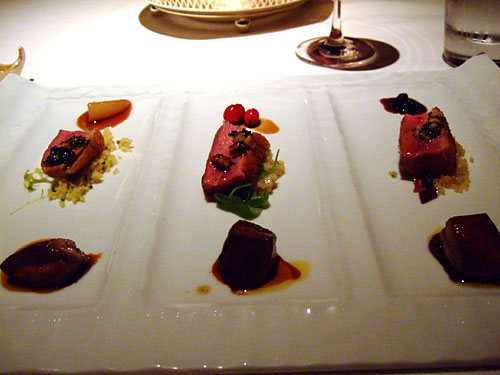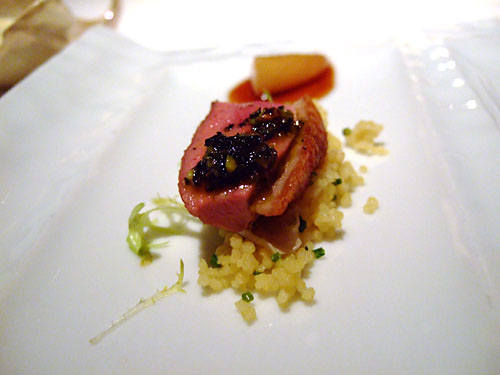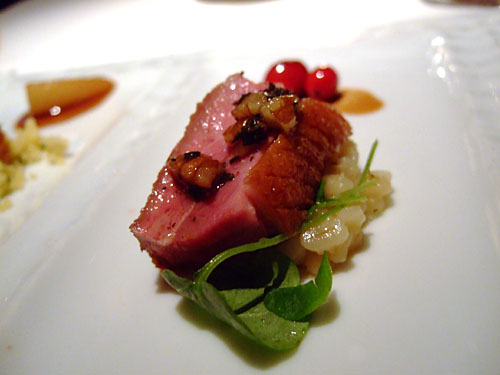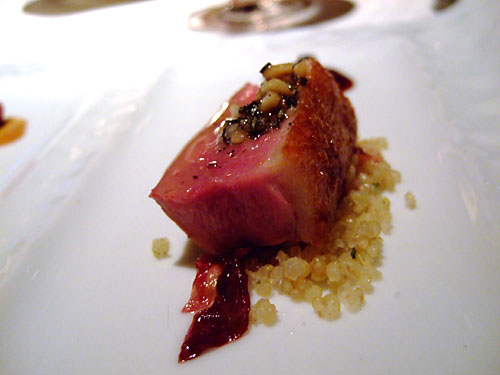 3: Sonona County Duck - Foie Gras
Anam Cara Pinot Noir Willamette Valley, Oregon 2004
Here we have the second threeway: Saffron Couscous, Asian Pear, Pistachios; Barley Risotto, Cranberry, Pecan; and Quinoa, Huckleberries, Almonds. All three pieces of duck were expertly cooked with crispy, juicy, flavorful skin. The third preparation, with a hint of rosemary, was my favorite.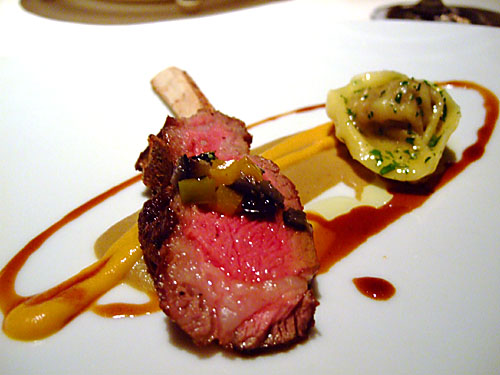 4: Colorado Rack of Lamb
Qupé Cuvée Michael Mina Syrah, Santa Barbara County 2004
With Yellow Bell Pepper, Curried Eggplant, Caperberries. Great piece of lamb, cooked rare, the way I like it. The lamb-stuffed tortellini in the background was superb as well. As for the Qupé, I had the exact same wine at
Stonehill Tavern
, also paired with Colorado lamb.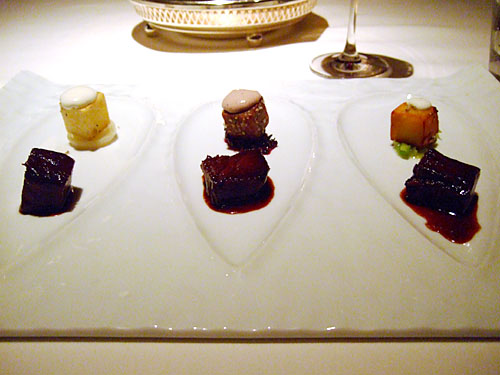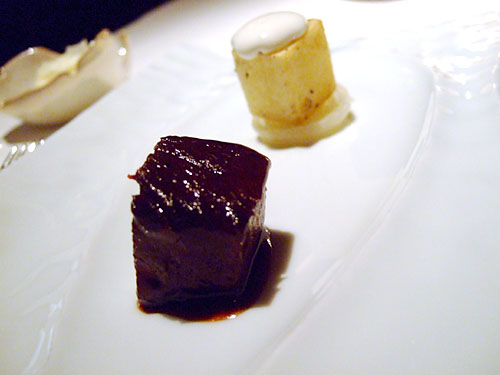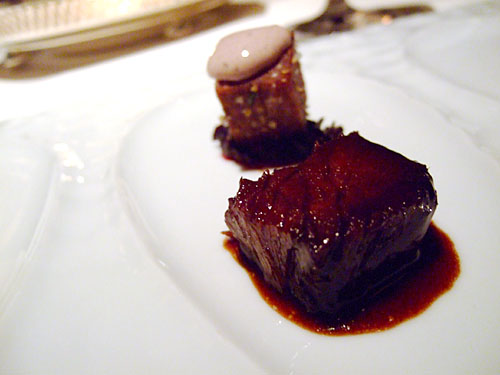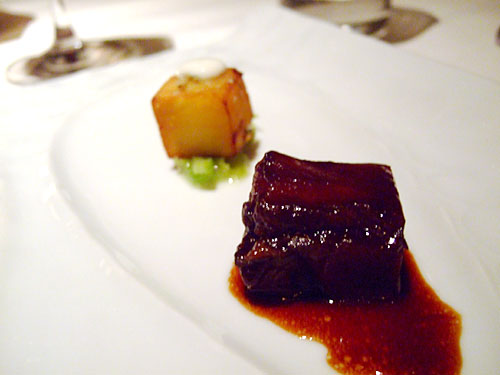 5: Braised Kobe-Style Beef Zabuton
Sirita Cabernet Sauvignon, Napa Valley 2003
The last savory triad of the night: Boiler Onion, Yukon, Rosemary Garlic; Swiss Chard, Purple Peruvian, Burgundy; and Celery, Sweet Potato, Soy Ginger. All three bites were incredibly rich, decadent, and melt-in-your-mouth. Actually it reminded me of the beef I had at
Urasawa
. This was my second time with the Sirita; we had it with Kobe at
Stonehill
as well, though it was the 2000.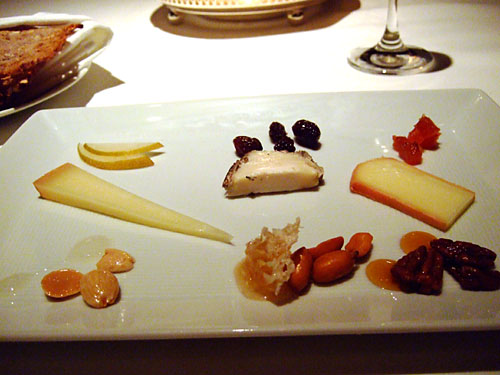 6: Selection of Artisan Cheeses
Billecart-Salmon Demi Sec, Champagne NV
With Toasted Walnut Levain, Assorted Fruits, Candied Nuts. From left to right, we have sheep, cow, and goat cheeses. I had a slight preference for the cow's, and loved all the accoutrements provided. This was my first time having Champagne with cheese, but it worked out well due to the sweetness of the demi sec.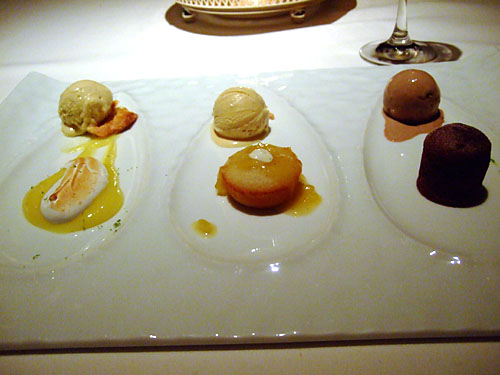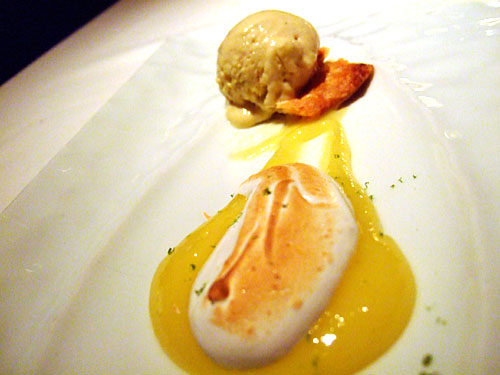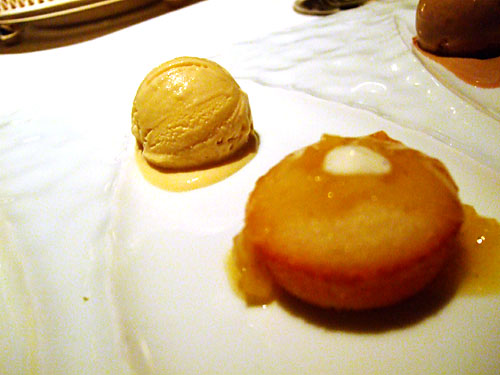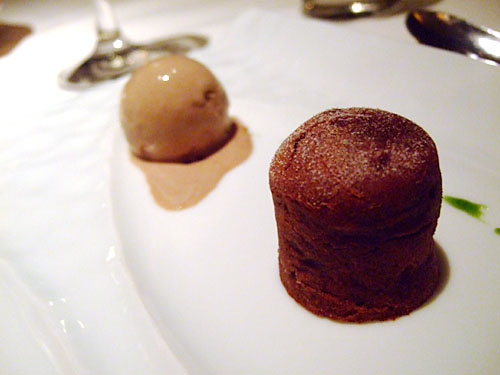 6: Dessert Sampler
Kracher Cuvée Ba, Illmitz, Austria 2005
At last, the final trinity: Lime, Meringue, Pie Crust Ice Cream; Pineapple Financier, Roasted Coconut Cream; and Molten Chocolate Cake, Milk Chocolate-Bergamot Ice Cream. I thought the ice creams were quite interesting, though the rest were a bit ordinary.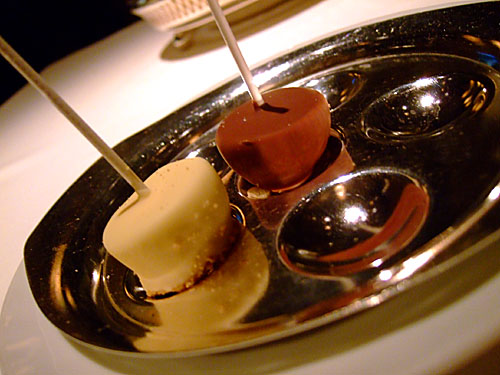 Lollipops
This must be a Michael Mina thing, because we had nearly the same lollipops at
Stonehill
. Basically chocolate-covered ice cream, a wonderful, tasty way to end the evening. Best petit fours ever!
I'm happy to report that Chef Mina did not disappoint in San Francisco and is now 2 for 2. And I can't say that I'm too surprised. This flagship of Mina's empire is actually Michelin two-star rated and in my estimation, deserves it.