Cakebread Cellars (Napa, CA)
Cakebread Cellars
8300 St Helena Hwy, Napa, CA 94558
800.588.0298
www.cakebread.com
Mon-Wed 03/12-14/2007
After the wine industry panel discussion on Day 2, we had the chance to have lunch with the panelists.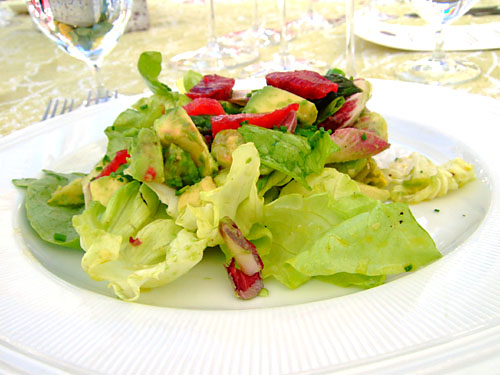 1: Butter Lettuce, Endive Salad
2005 Cakebread Cellars Sauvignon Blanc
With Asparagus, Avocado and Blood Orange. I'm not usually a salad guy, but this was nice, everything tasted so fresh, I loved the avocado!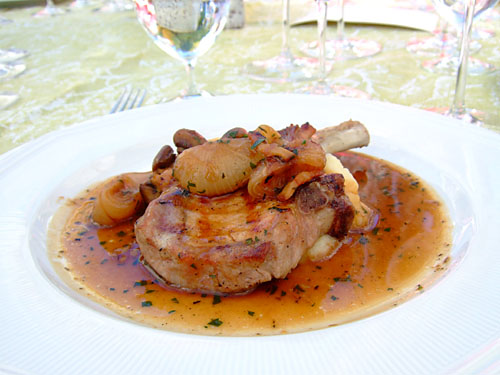 2: Niman Ranch Pork Lion
2004 Cakebread Cellars Zinfandel
With Bacon, Cippolini-Cremini Mushroom Ragout and Celery Root Puree. Good pork flavor, though onions were a bit too sweet for me.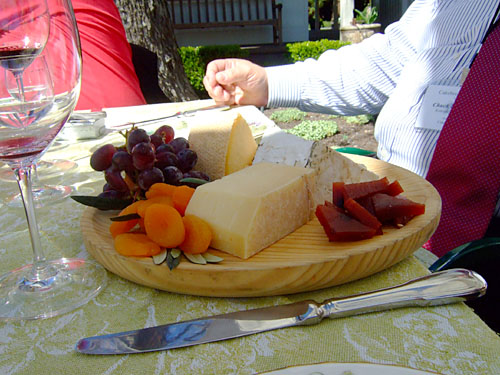 3: Selection of Artisan Cheeses and Fresh Fruit
2003 Cakebread Cellars Benchland Select
With grapes, apricots, and figs. My favorite was Humboldt Fog, a soft, surface ripened cheese. The texture was rich and creamy, with a slight tanginess.
On Day 3, the group went to Cakebread's Dancing Bear Ranch up in Howell Mountain. Here, we were to cook our own lunch, which Jack and Dolores Cakebread would sample later in the day.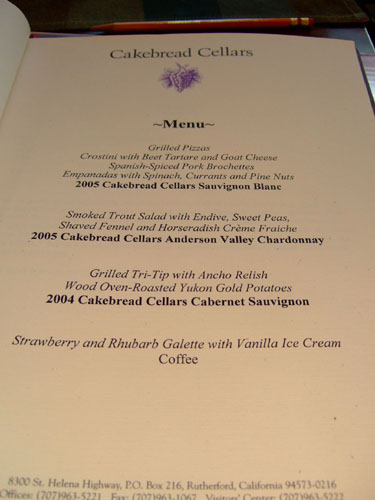 The menu that we were supposed to prepare (with assistance from the resident chefs, of course). Click for larger version.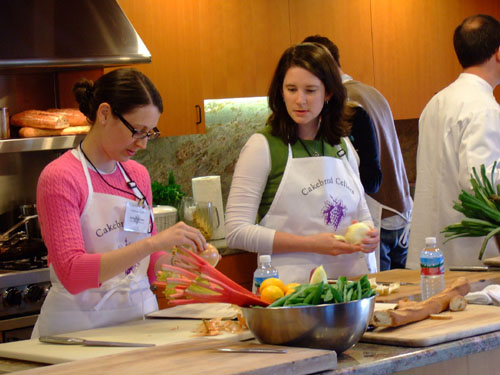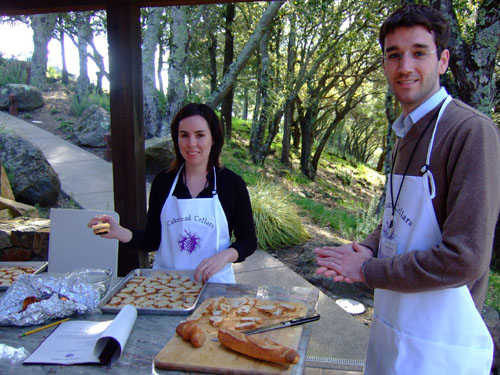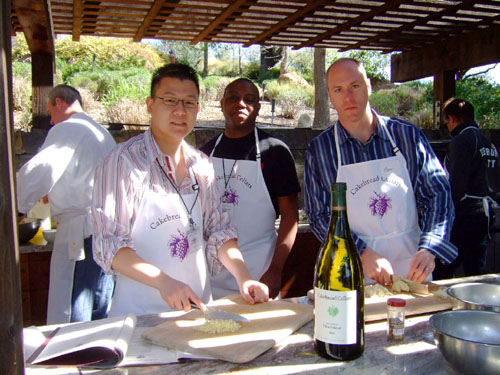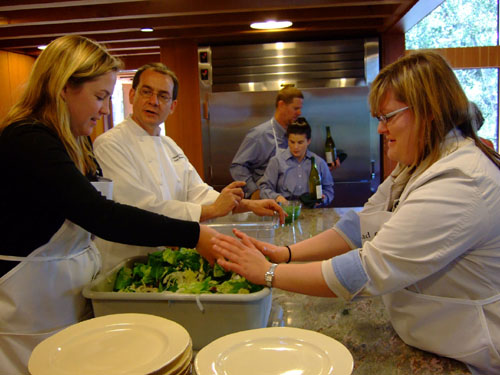 A team of two or three was assigned to each item on the menu. I was part of the tri-tip trio.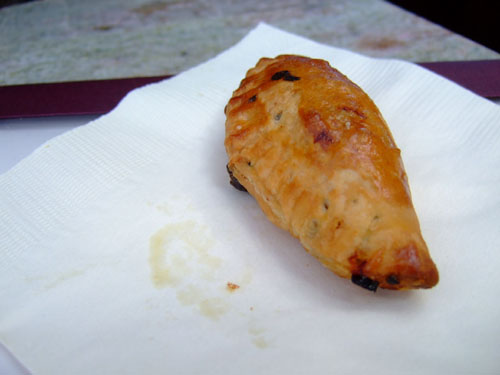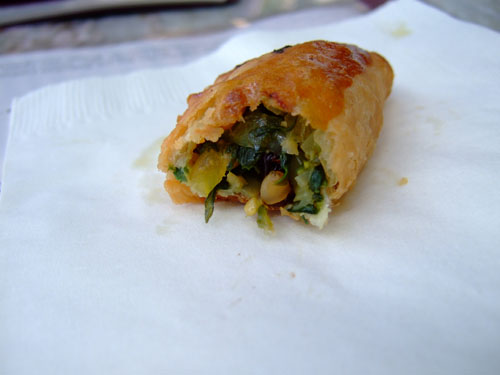 1: Empanadas
2005 Cakebread Cellars Sauvignon Blanc
With Spinach, Currants and Pine Nuts. This was the first of the four appetizers. A good way to kick things off, but they were just a tad too sweet for my tastes, probably due to the currants.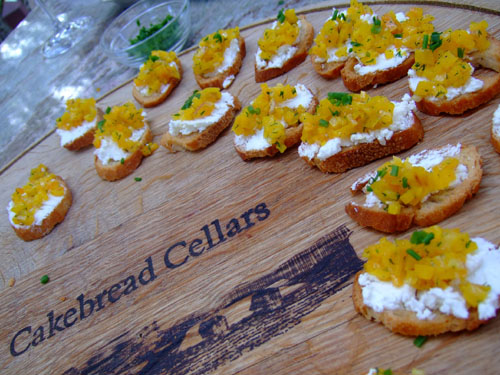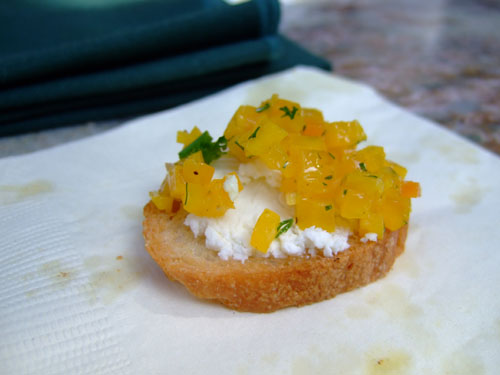 2: Crostini
2005 Cakebread Cellars Sauvignon Blanc
With Beet Tartare and Goat Cheese. These actually turned out a lot better than I thought they would. Really nice!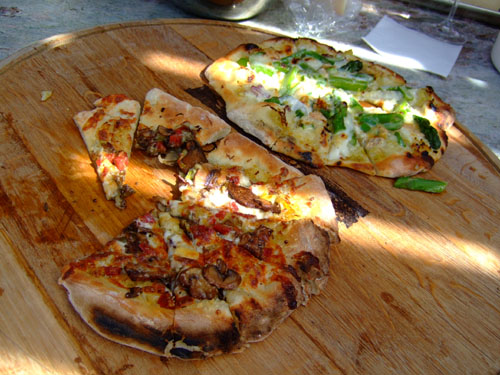 3: Grilled Pizzas
2005 Cakebread Cellars Sauvignon Blanc
One with Spring Garlic, Asparagus and Crescenza Cheese and one with Wild Mushrooms, Fontina Cheese and Pancetta. Both were tasty, though I, along with most of the others, like the mushroom pizza better.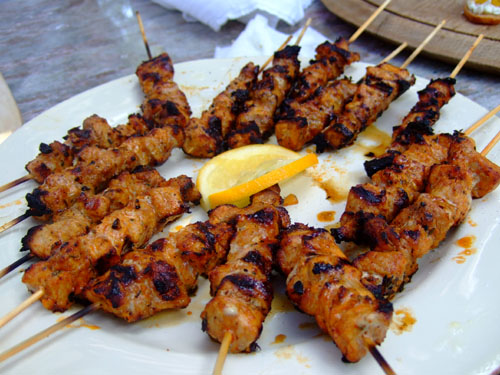 4: Spanish-Spiced Pork Brochettes
2005 Cakebread Cellars Sauvignon Blanc
Really tender, with a nice kick to them.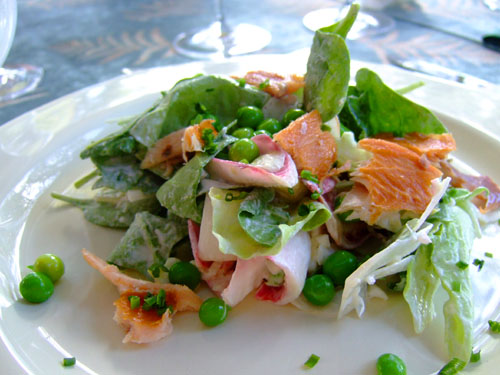 5: Smoked Trout Salad
2005 Cakebread Cellars Anderson Valley Chardonnay
With Endive, Sweet Peas, Shaved Fennel and Horseradish Crème Fraîche. Wonderful salad, one of the best I've had ever. The trout was fantastic and I loved the firm pop of the peas. Delish!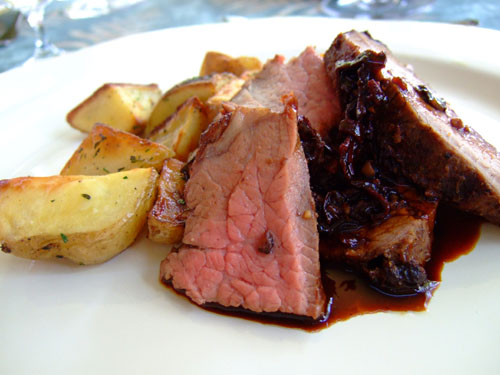 6: Grilled Tri-Tip
2004 Cakebread Cellars Cabernet Sauvignon
With Ancho Relish, Wood Oven-Roasted Yukon Gold Potatoes with Fresh Thyme. My team was responsible for this. There were problems cooking this thoroughly in the wood-burning oven, so it had to be thrown back into the regular oven for more cooking. A little tough, but not bad for a tri-tip. The ancho relish was more fruity than I prefer; I would've like to have seen a more savory garnish. The potatoes were perfect.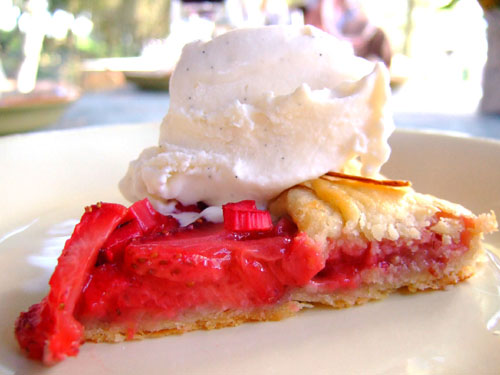 7: Starwberry and Rhubarb Galette
Coffee
With Vanilla Ice Cream. The ice cream was homemade and had a somewhat grittier texture than I'm used to, which I liked actually. Tough to go wrong with this.
For the entire set of Cakebread U photos, see
Days 1 & 2
and
Day 3
.