Bouchon (Yountville, CA)
Bouchon
6534 Washington St, Yountville, CA 94599
707.944.8037
www.bouchonbistro.com
Tue 03/13/2007, 05:40p-07:10p
I believe Bouchon was Thomas Keller's second restaurant after the Laundry. The food is strictly French bistro fare, so perhaps not as far of a stretch as
Ad Hoc
. The restaurant was recently rated one-star by the famed Michelin guide, and there is also a location in Las Vegas at the Venetian.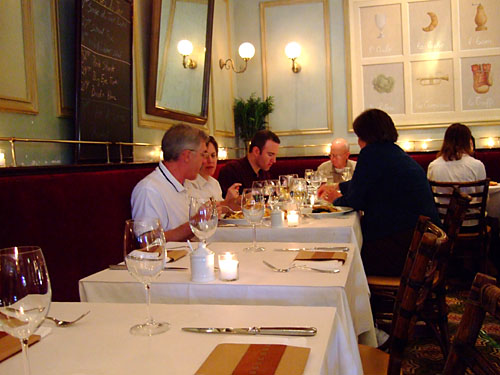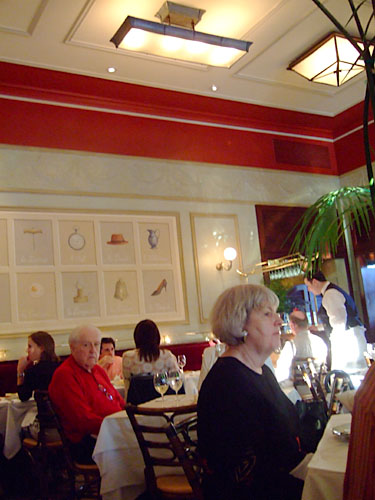 I quite liked the decor of the place...so
French
. Table spacing is a bit tight though. The dress code was surprisingly casual.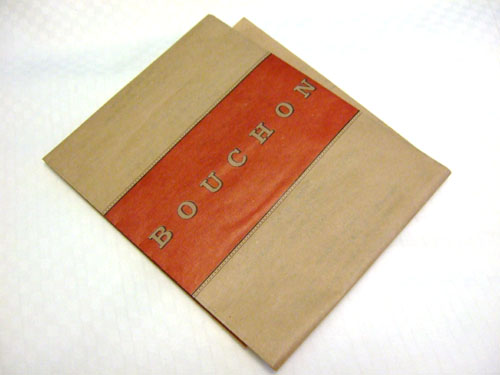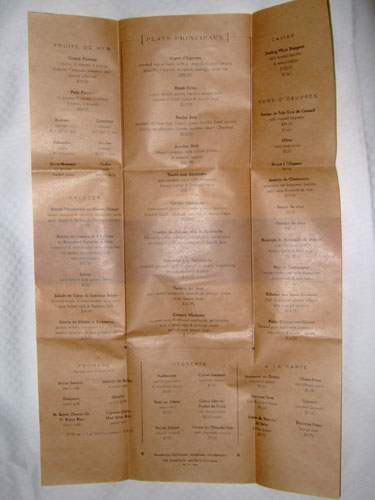 Definitely one of the more unique menu presentations I've seen. There are a lot of items I'd like to try on my next visit back. Click for a larger version.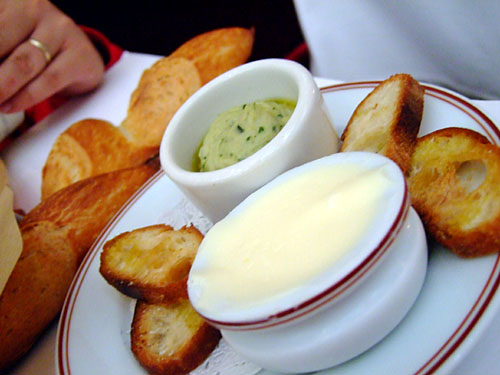 Plenty of French baguette is provided, along with two spreads.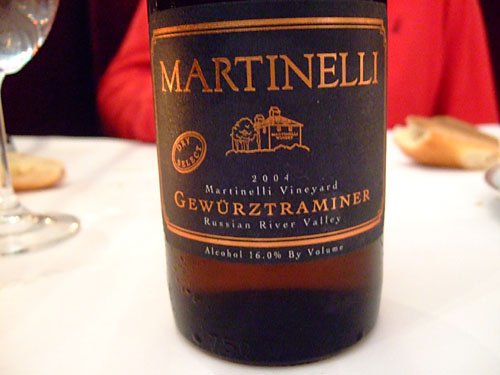 Along with the meal, we drank a Martinelli Vineyard Dry Select Gewürztraminer, Russian River Valley, 2004 we purchased from literally across the street (at V Wine Cellar). It was quite good. Corkage was a reasonable $20.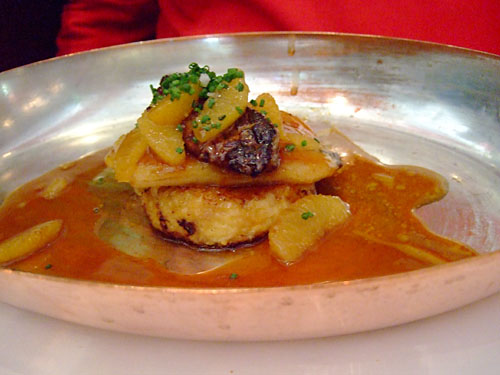 Sautéed Foie Gras
This was one of the specials of the night. It was served with apricot and "French toast" and was one of the most saccharine preparations of foie I've ever had.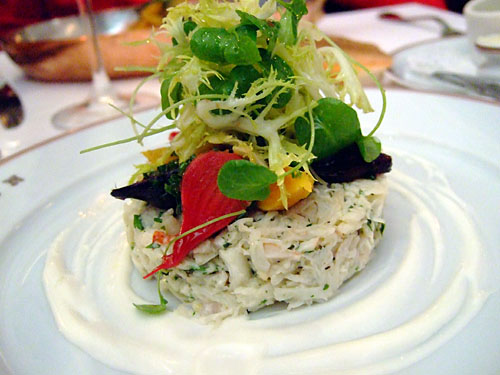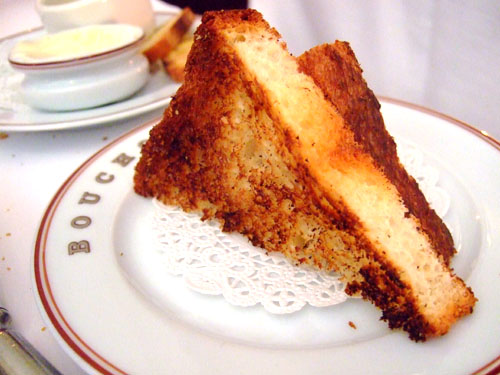 Crab and Lobster Salad
This was the other special. It was served with frisée salad and toasted brioche (an interesting pairing). Lots of meat and very little filler. My only complaint was that it had a bit of shell.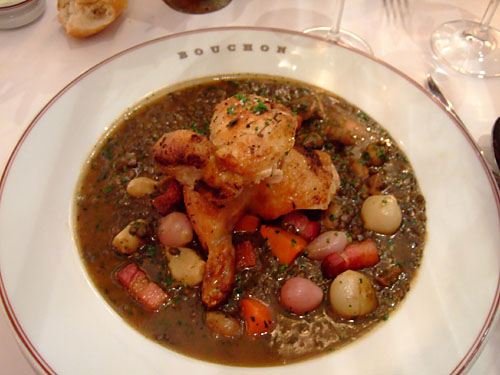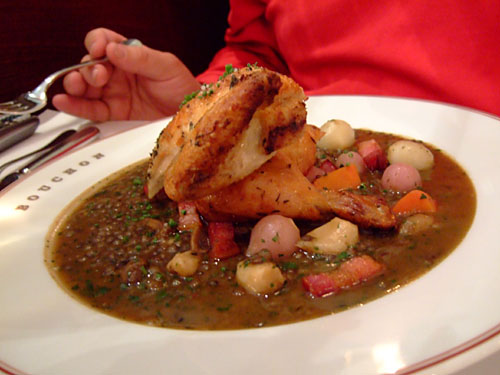 Poulet Rôti
Roasted chicken with French green lentils, pearl onions, button mushrooms, bacon lardons, sauce Chasseur. My dining companion ordered this so I didn't get a chance to sample unfortunately. I believe it was said to be quite delish though.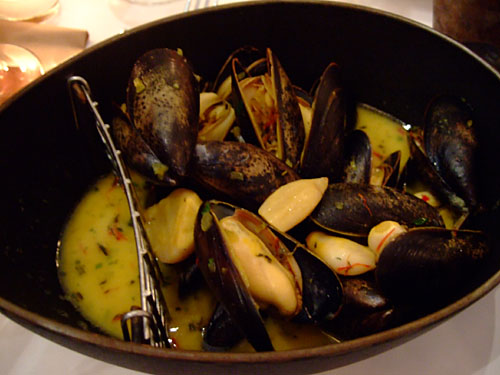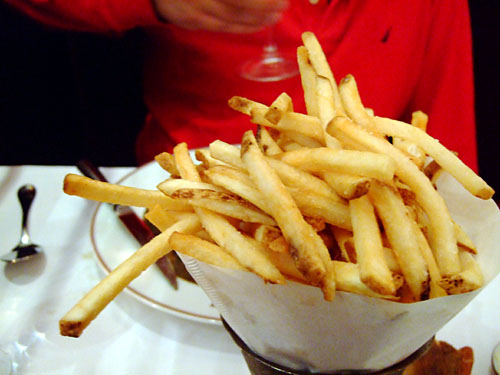 Moules au Safran et à la Moutarde
Maine bouchot mussels steamed in white wine, mustard & saffron, served with french fries. Step aside McDonald's, these are now the best
pommes frites
I've ever tasted! Salty, savory, skin-on, simply scrumptious. As for the mussels, a generous portion with great flavor, though not as firm as I'd like.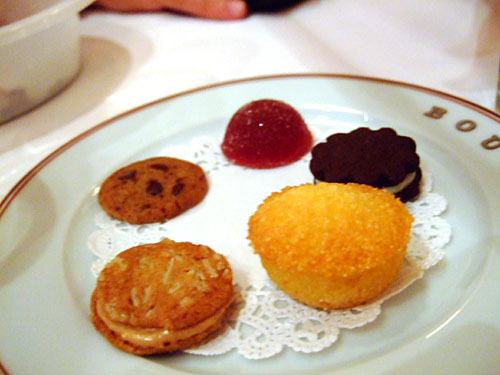 Finishing off with mignardises is usually a good sign of the intended quality of a restaurant. We had chocolate chip cookie, some sort of gelée, "Oreo" cookie, a macaroon, and finally a peanut butter cookie. A nice way to close the meal!