Dining Room (San Francisco, CA)
The Dining Room at The Ritz-Carlton
600 Stockton St, San Francisco, CA 94108
415.773.6168
www.ritzcarltondiningroom.com
Thu 03/15/2007, 07:00p-09:20p
Originally I hadn't planned on going to The Dining Room during my trip, instead having Fleur de Lys in mind on my culinary itinerary. However, plans quickly changed when I found out that Fleur de Lys was a long walk from my hotel,
uphill
, a steep hill at that. The fact that my server at Masa's the night earlier recommended The Dining Room didn't hurt either. In fact, The Dining Room's executive chef Ron Siegel used to head the kitchen at Masa's. Actually, both Siegel and Masa's current executive chef Gregory Short are ex-French Laundry. That brings up the number of Laundry alum's restaurants I've sampled to four, the other two being Eric Ziebold's CityZen and Grant Achatz's
Alinea
.
Unfortunately we will have to live without the usual decor photos. I actually forgot to insert the memory card in my camera, so I had to rely on the 10MB of internal memory. Needless to say, I had to conserve my shots. I would describe the main dining room as bathed in traditional French elegance, a bit too traditional perhaps, especially when viewed in contrast to Siegel's inventive creations.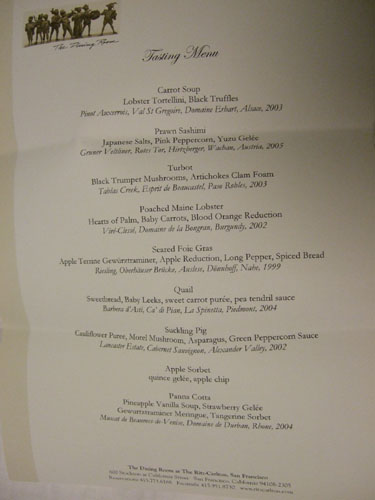 The night's nine-course tasting menu, which is available "upon request," is shown above. The courses served are not printed on the regular menu; I requested that my courses be typed and provided to take home at the end of the meal. I also had the sommelier Stephane Lacroix provide half-glass wine pairings for each course. I need to note that the pours were extremely generous as these were the largest "half-glasses" I've ever had; in fact, by the end of it, I was quite a bit tipsy, good thing I didn't drive! Six-course and vegetarian tastings are also available, as well as à la carte selections. Click for a larger version.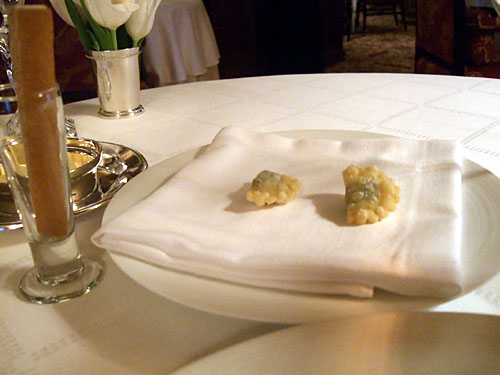 Pre-Amuse Bouche
I was presented with this shortly after I sat down (right after the Champagne cart, more on that later). What we have is spinach in puff pastry, with four different kinds of tuiles. I didn't particularly care for the tuiles but enjoyed the savory little morsels.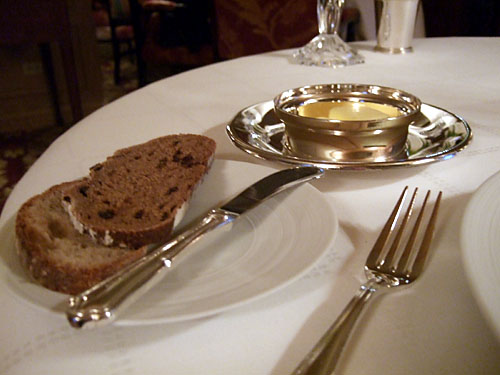 A variety of bread was offered: sourdough, black currant, oak molasses, sourdough with fennel and sesame, and marbled rye (which reminded me of that
Seinfeld
episode...). My favorite was the sourdough with fennel and sesame. Very mild butter.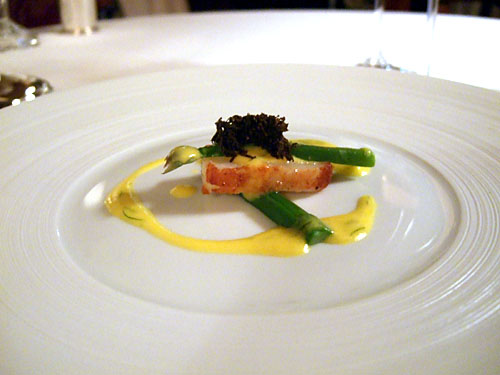 Amuse Bouche 1
This rather pretty amuse consisted of scallop, Hollandaise, asparagus, and black truffle. Rather tasty, though I would've liked to have the entire scallop! Before this arrived, I also ordered an item from the Champagne cart, the coppery-hued brut, the Henriot Rosé. It had been a while I had a rosé and I found it to be citrus-y, spicy, with a crisp, clean finish. There were three other selections; I believe they were the Schramsberg Blanc de Noirs, the Billecart-Salmon Brut Réserve, and the Heidsieck Monopole Diamant Bleu.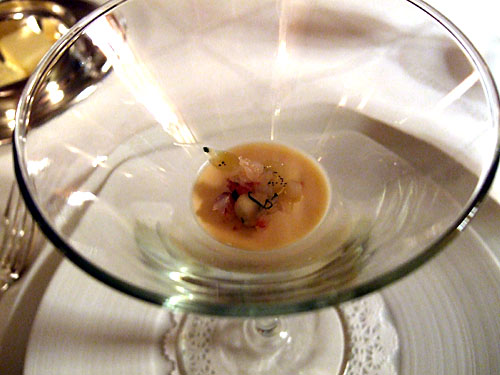 Amuse Bouche 2
The second amuse was a sea urchin panna cotta with lobster and vanilla oil. I wasn't too fond of this one, as I felt the flavors were a bit muddled.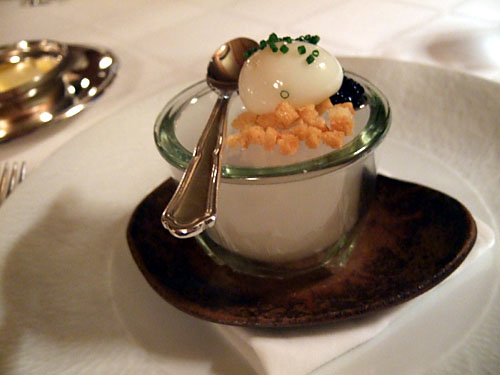 Amuse Bouche 3
The was by far the most fascinating item I had that night. We have poached quail egg and caviar, sitting on plastic wrap, atop a glass filled with cedarwood smoke. When the spoon is lifted, the smoke exits the glass, enveloping the eater with an aroma which enhances the flavors of the other ingredients. This is only the second time I've seen aromas used in such a manner, the first was at
Alinea
, naturally. And yes, this sets a personal record for the number of amuses in a meal.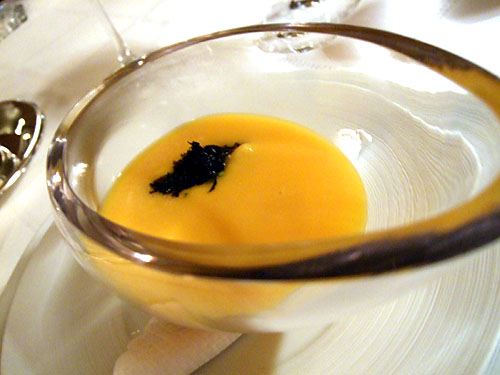 1: Carrot Soup
Pinot Auxerrois, Val St Gregoire, Domaine Erhart, Alsace, 2003
With Lobster Tortellini, Black Truffles. A very rich, creamy soup, with only a hint of carrot essence. The tortellini was a nice surprise at the bottom. Excellent use of the truffles here.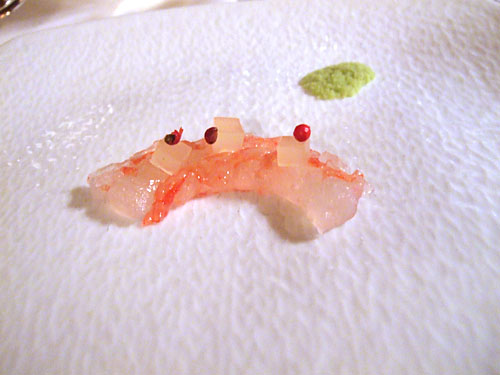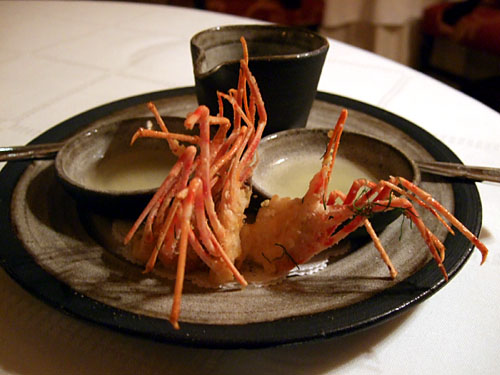 2: Prawn Sashimi
Grüner Veltliner, Rotes Tor, Hirtzberger, Wachau, Austria, 2005
With Japanese Salts, Pink Peppercorn, Yuzu Gelée. Quite a bit different from the typical sweet shrimp, much crisper and milder; and I loved the peppercorns and how the server grated fresh wasabi on sharkskin. The deep fried heads? Better than any I've had from a sushi restaurant.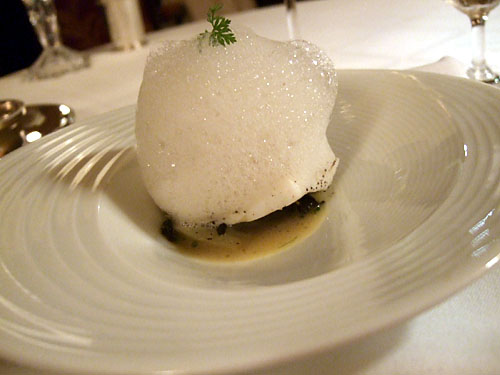 3: Turbot
Tables Creek, Espirit de Beaucastel, Paso Robles, 2003
With Black Trumpet Mushrooms, Artichokes, Clam Foam. I wasn't a huge fan of the foam here. The turbot was good enough, but didn't come close to the turbot I had at
Arterra
(best turbot I've ever had).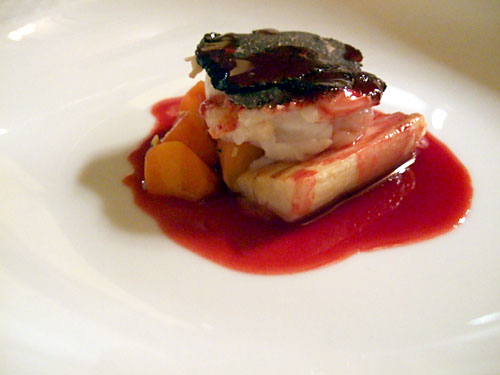 4: Poached Maine Lobster
Viré-Clessé, Domaine de la Bongran, Burgundy, 2002
With Hearts of Palm, Baby Carrots, Blood Orange Reduction. This was a well-cooked piece of lobster, though I thought the blood orange reduction was far too sweet and tended to overpower the meat.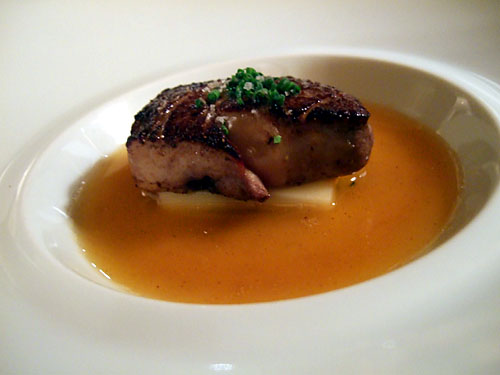 5: Seared Foie Gras
Riesling, Oberhäuser Brücke, Auslese, Dönnhoff, Nahe, 1999
With Apple Terrine Gewürztraminer, Apple Reduction, Long Pepper, Spiced Bread. I think this was the biggest piece of foie I've ever had! It was actually very nice, considering I'm not a huge foie fan (though I am warming up to it...).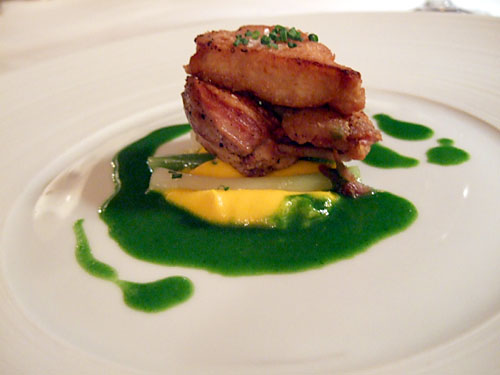 6: Quail
Barbera d'Asti, Ca' di Pian, La Spinetta, Piedmont, 2004
With Sweetbread, Baby Leeks, Sweet Carrot Purée, Pea Tendril Sauce. Both the quail and the sweetbread were incredibly flavorful. Loved the color of the sauce!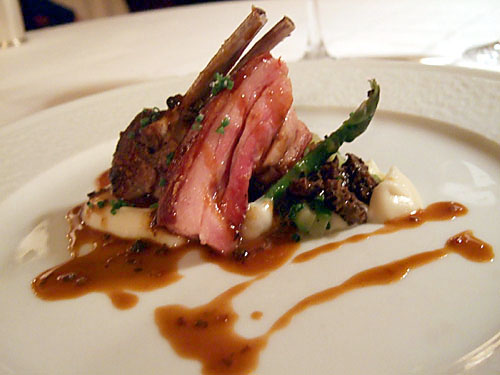 7: Suckling Pig
Lancaster Estate, Cabernet Sauvignon, Alexander Valley, 2002
With Cauliflower Purée, Morel Mushroom, Asparagus, Green Peppercorn Sauce. I'm not usually a pork fan but this was a great rendition of the hog. I especially enjoyed the crisp, delectable skin.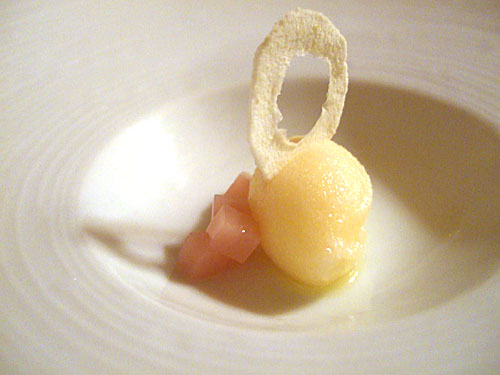 8: Apple Sorbet
With Quince Gelée, Apple Chip. A refreshing intermezzo, setting the palate perfectly for dessert.
9: Panna Cotta
Muscat de Beaumes-de-Venise, Domaine de Durban, Rhone, 2004
With Pineapple Vanilla Soup, Strawberry Gelée, Gewürztraminer Meringue, Tangerine Sorbet. I remember the panna cotta had a notes of coconut, but unfortunately I don't remember much else, as I was pretty tipsy at this point in the meal!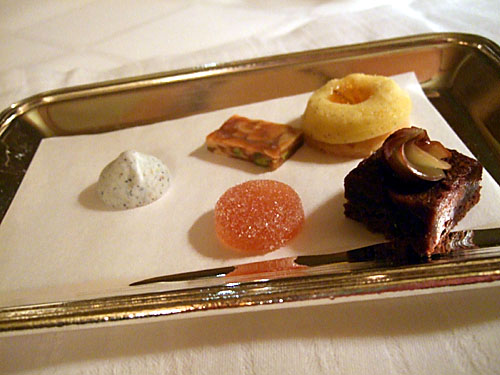 Mignardises
Mignardises came out on a huge cart, which I wish I could've gotten a photo of. I had green tea, hazelnut, and gelée, among others.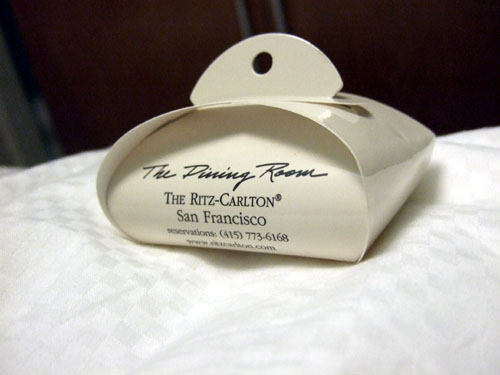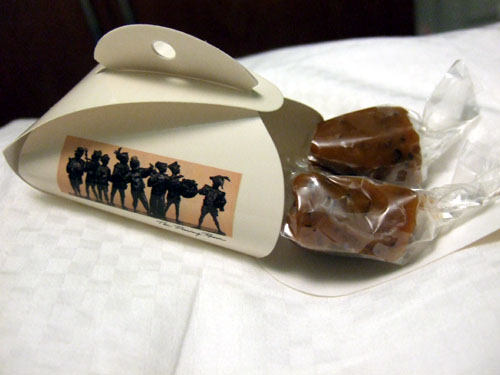 I also received a box of caramels to take way, probably the best caramels I've ever had mind you. A nice touch.