Spago (Beverly Hills, CA)
Spago
176 N Canon Dr, Beverly Hills, CA 90210
310.385.0880
www.wolfgangpuck.com/restaurants/finedining/spago/beverlyhills/
Sat 04/28/2007, 06:40p-10:40p
Spago. Wolfgang Puck's first and flagship restaurant. I cannot think of another eatery that is so iconically LA. I've heard a lot about Spago, much of it hype I'm sure. I've heard it's a good place to see celebrities, and a good place to
be seen
. But is it a good place to
eat
? As the restaurant has been around for over two decades, I assumed that it was much more than a fad, that there was some substance behind the glitz. But Puck had expanded his culinary empire so much; between the Oscar parties and guest appearances on
American Idol
, did he even cook any more? Could he possibly keep up the quality while spread so thin? After waiting for what seemed like years, a group of us decided to find out for ourselves...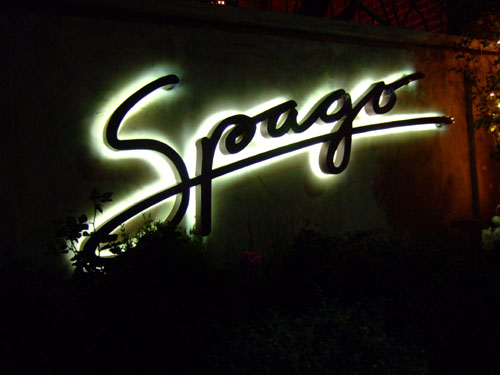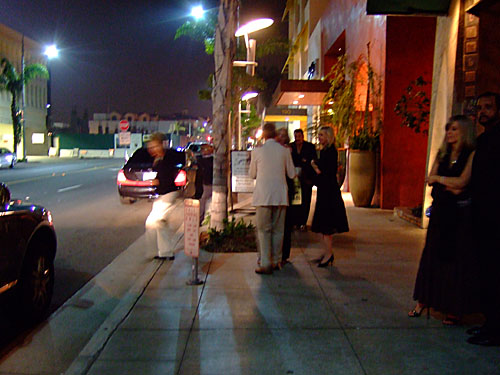 One of the first things you notice is the signature Spago sign. Taking a look at the Mercedes-laden valet line, I can unequivocally say that we had the worst car there. Yes, that is indeed a Maybach in the photo.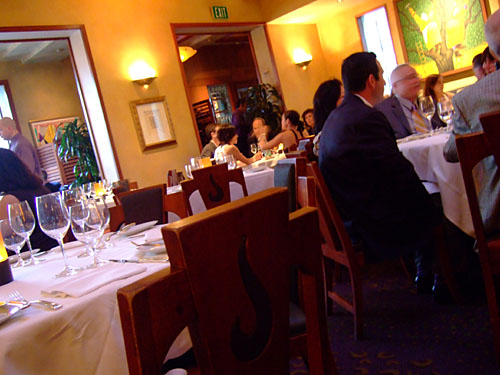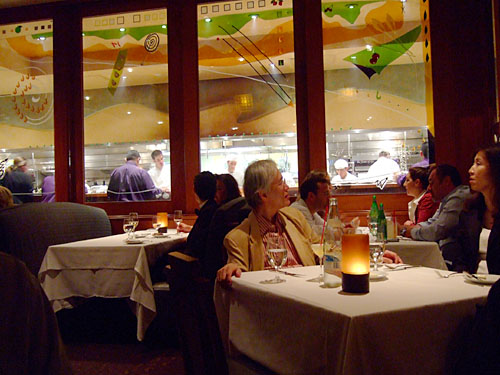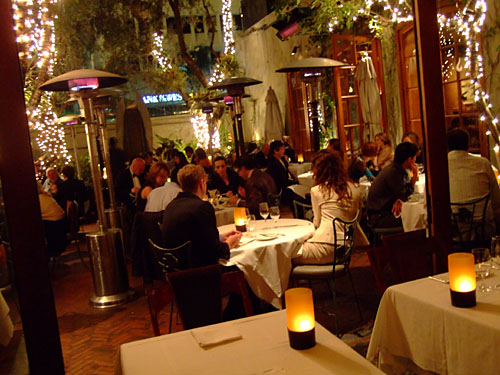 Spago consists of a main dining room (where we were seated), the patio (the best seats in the house, apparently), a longish gallery dining room (mostly empty on this particular night), a bar area, and private dining rooms. Total capacity is around 250. The decor, designed by Barbara Lazaroff, is warm and inviting, though perhaps a bit ostentatious. Original artwork adorns the walls. A giant curtain of etched glass shows off the hustle and bustle of the kitchen.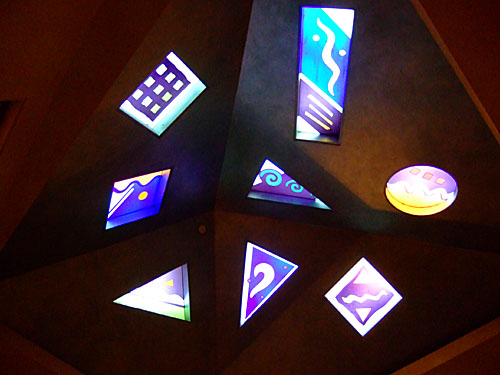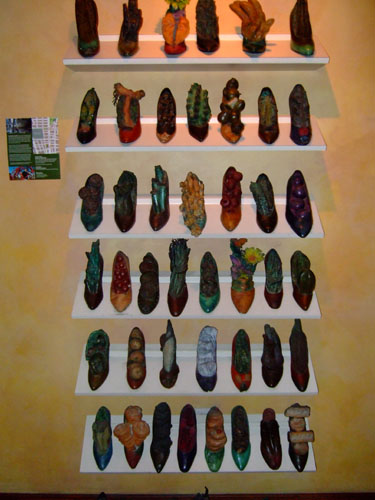 The main dining room's ceiling is decorated with stained glass panels, while an interesting shoe sculpture guards the restroom entrances.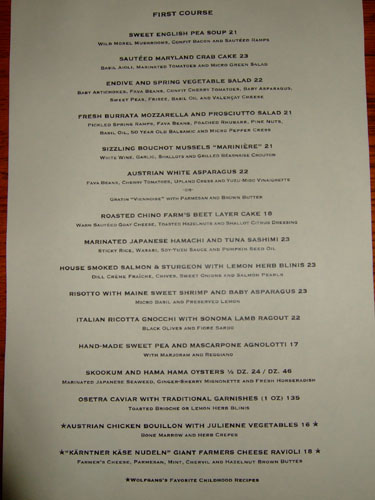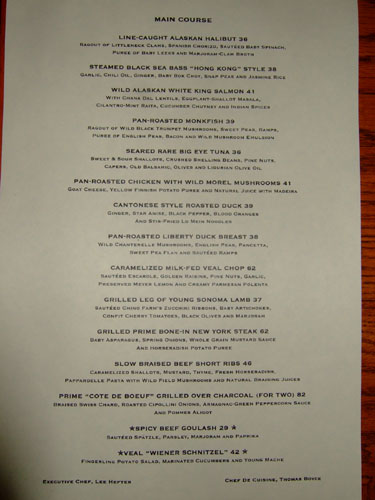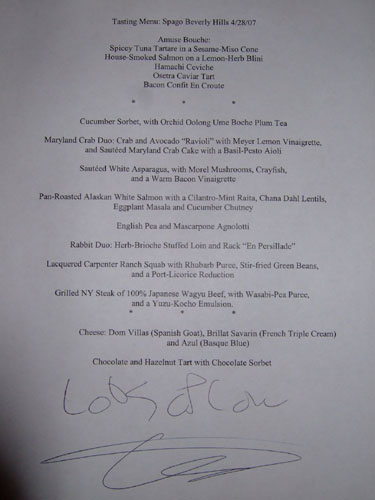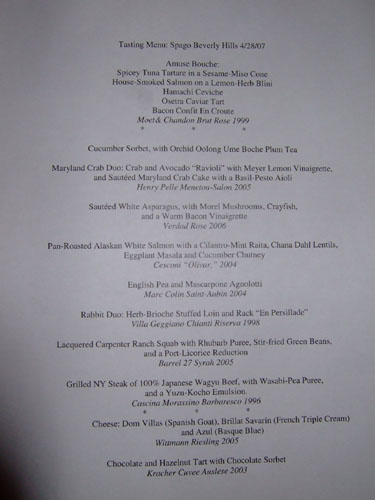 On the top, we have the standard à la carte menu. However,
from what I've read
, by far the best way to experience Spago is to go for the tasting menu, shown below. Note the signature of Chef de Cuisine Thomas Boyce. I also requested signatures from Executive Chef Lee Hefter and Pastry Chef Sherry Yard. However, according to our server, they were down the street at Puck's CUT steakhouse, since apparently, noted Los Angeles Times restaurant critic
S. Irene Virbila
was dining there that night.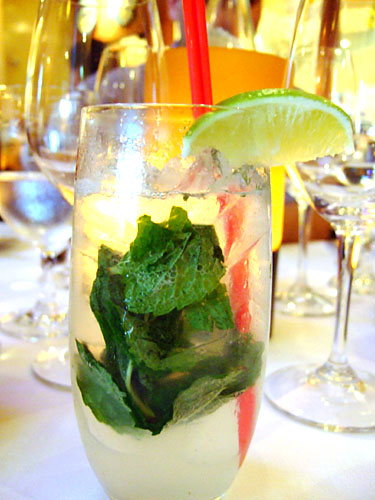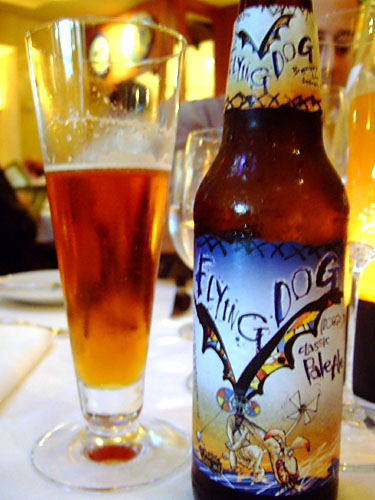 I started with a mojito (traditionally made of mint, rum, sugar, lime, and carbonated water) and I must say that it was probably the best example I've ever had (and also the most expensive!). Two of my dining companions ordered the Flying Dog Classic Pale Ale, which was brilliant-amber in color with hoppy flavor and aroma. Not bad!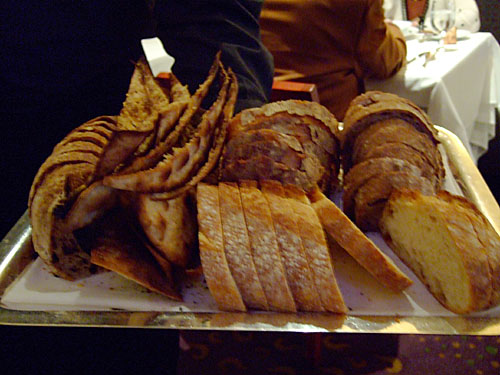 The bread selection consisted of walnut, olive, lavash, sourdough, and French varieties. My favorite was the olive, followed by the lavash. Excellent bread overall.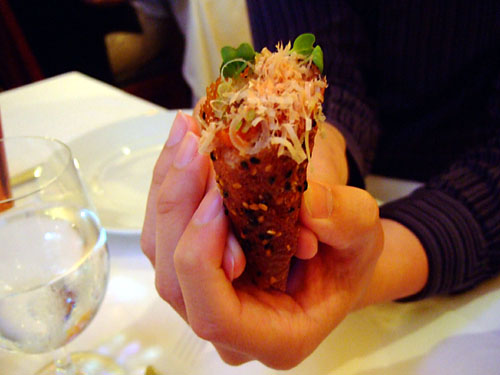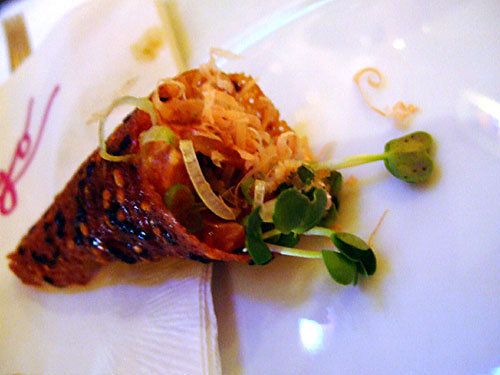 Amuse Bouche 1: Spicy Tuna Tartare in a Sesame-Miso Cone
With ginger and wasabi. This reminded me a lot of the salmon cone that serves as French Laundry's signature amuse. When our server overheard me saying such, he mentioned that Puck's version predated Keller's (which I can certainly believe). In any case, this was fantastic. The cone, along with all five amuses bouches, was served with a complementary glass of Moët & Chandon "Millésimé Rosé," 1999 Champagne, which I rather enjoyed.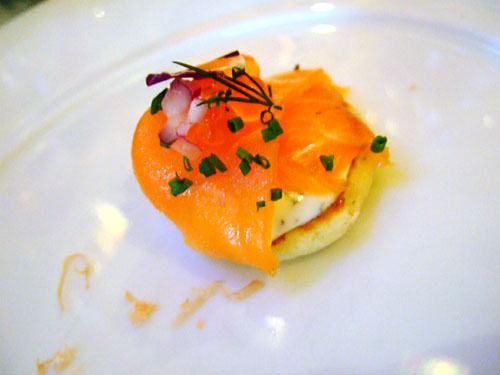 Amuse Bouche 2: House-Smoked Salmon on a Lemon-Herb Blini
With crème fraîche, chives, and sweet onion. Excellent. The epitome of smoked salmon as far as I'm concerned.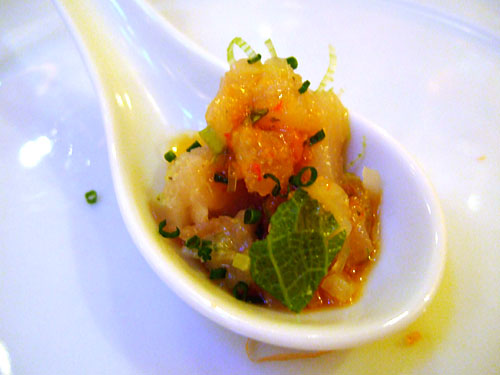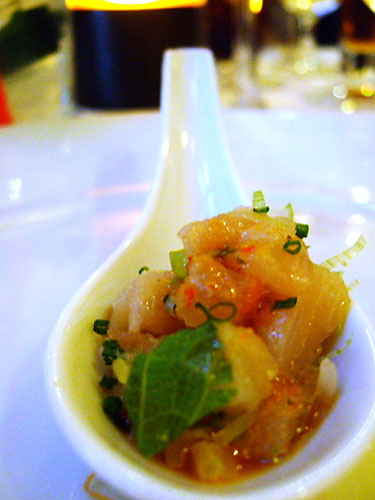 Amuse Bouche 3: Hamachi Ceviche
Yellowtail served in a yuzu juice, with scallion. The kitchen delivers another smashing serving of raw fish to complete the troika. Delish.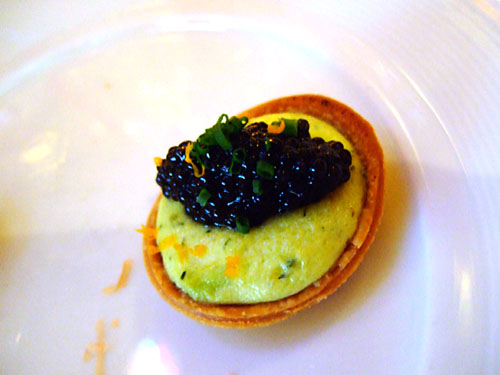 Amuse Bouche 4: Osetra Caviar Tart
The caviar itself had a nice, mild saltiness. It was served on a cheesy, almost quiche-like base, which had a surprisingly liquid texture on the palate.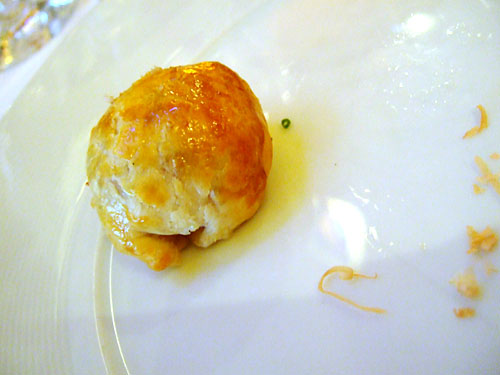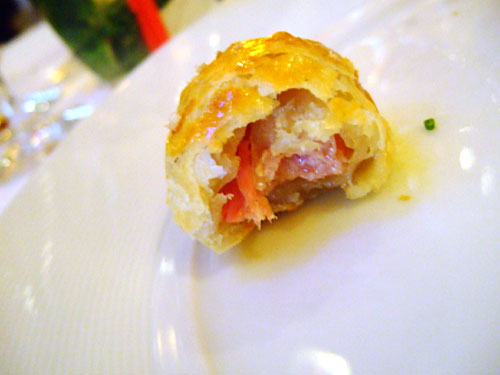 Amuse Bouche 5: Bacon Confit En Croute
This was basically bacon served in a puff pastry. It came out very hot, too hot for one of my dining companions, actually. I waited for it too cool down a bit before eating this very savory morsel, reminiscent of a ham and cheese Hot Pocket actually!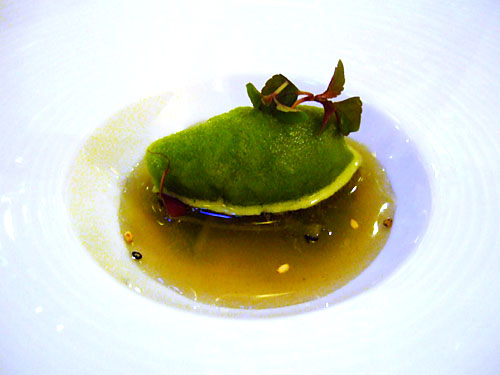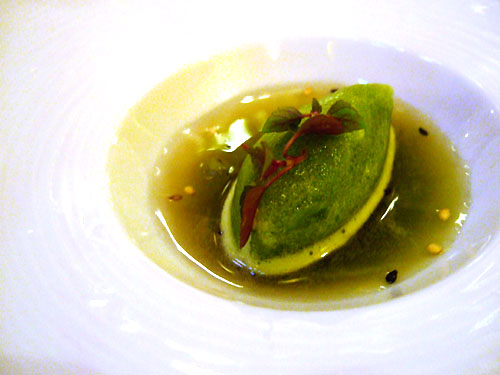 Intermezzo: Cucumber Sorbet
With Orchid Oolong Ume Boche Plum Tea. Usually a sorbet of some sort, intermezzos are meant to cleanse the palate, and are relatively rare in today's dining scene. And in fact, I've never had one at the
beginning
of a meal, only at the end before dessert. Nonetheless, the sorbet tasted almost exactly like cucumber and was refreshing, if not a bit disconcerting.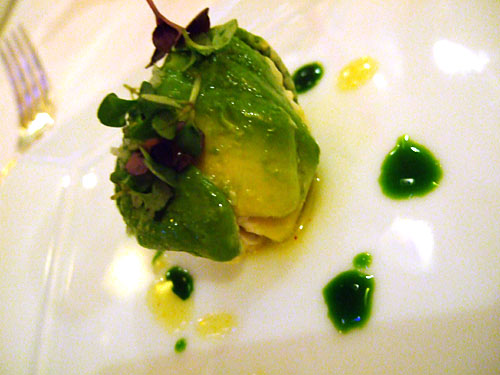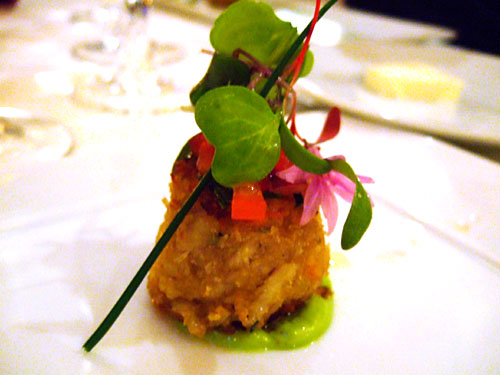 1: Maryland Crab Duo
Menetou-Salon, Henry Pellé, France (Loire Valley, 2005)
Crab and Avocado "Ravioli" with Meyer Lemon Vinaigrette, and Sautéed Maryland Crab Cake with a Basil-Pesto Aioli. After the string of amuses, we finally get to the first "real" course of the night. The table unanimously preferred the "ravioli." I thought the crab cake was tasty but pedestrian (very pretty though!). Great wine pairing on this one.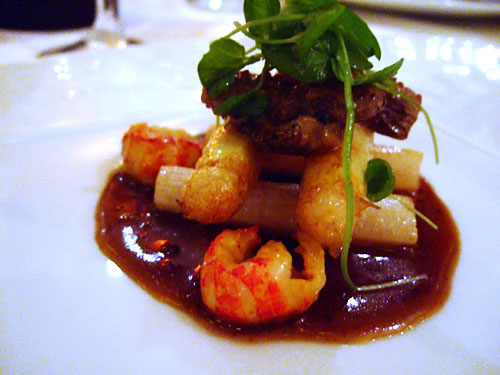 2: Sautéed White Asparagus
Rosé, Verdad, Arroyo Grande Valley 2006
With Morel Mushrooms, Crayfish, and a Warm Bacon Vinaigrette. According to our server, this was first-of-season asparagus from Austria. I'm not normally a fan of asparagus, but this was fantastic, in fact, the best asparagus I've ever had. The bacon vinaigrette was delectable, and reminded everyone a bit of barbeque sauce! Unfortunately, the paired rosé was my least favorite wine of the night.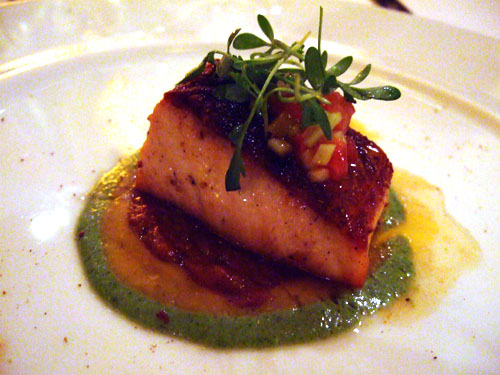 3: Pan-Roasted Alaskan White Salmon
"Olivar," Cesconi, Italy (Trentino, 2004)
With a Cilantro-Mint Raita, Chana Dahl Lentils, Eggplant Masala and Cucumber Chutney. I'm not sure what the difference is between white salmon and "normal" salmon. In any case, the fish itself was mild for salmon, and I enjoyed pairing it with the various concentric "rings" of Indian-influenced flavor.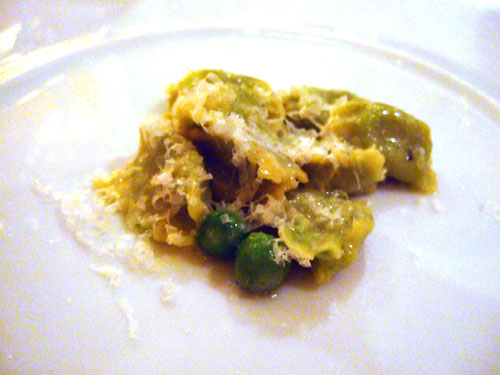 4: English Pea and Mascarpone Agnolotti
Saint-Aubin "La Chanteniére," Marc Colin, Burgundy, 2004
With Marjoram and Reggiano. Although it may not look like much, the flavor was there in spades. I think this took everyone at the table by surprise. From what I hear, the agnolotti is a signature dish at Spago, though the filling changes seasonally, from peas to squash to truffle. As for the wine, I'm usually not a fan of white Burgundy, but liked this.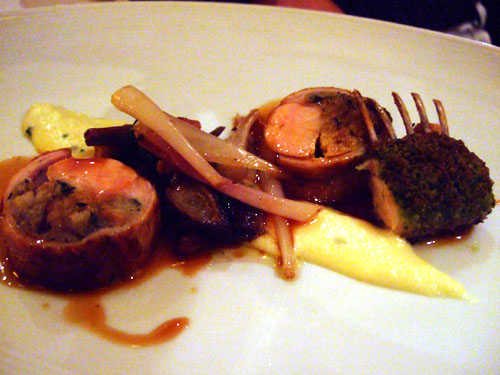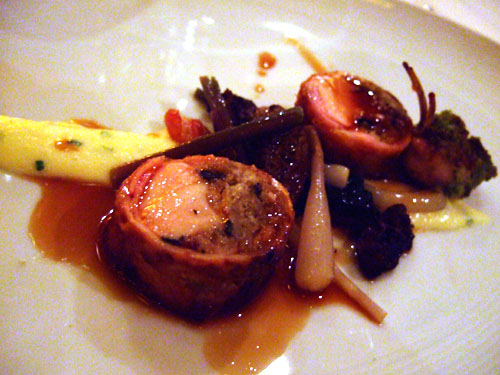 5: Rabbit Duo
Chianti Classico "Riserva," Villa di Geggiano, Tuscany, 1998
Herb-Brioche Stuffed Loin and Rack "En Persillade." Basically we have rabbit loin wrapped in prosciutto and rabbit rack battered with breadcrumbs, parsley, and thyme, with potato purée, onions, and crème fraîche. I never liked rabbit...before this. I actually preferred the rack meat, while all my other dining companions liked the loin better. The paired Chianti was one of my favorites of the night.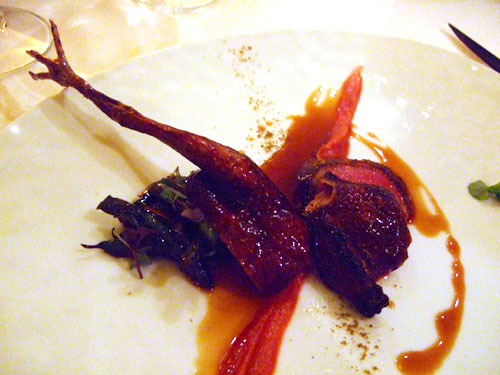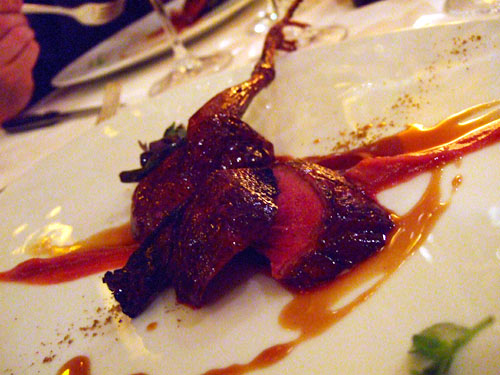 6: Lacquered Carpenter Ranch Squab
Syrah, Barrel 27, Santa Barbara County 2005
With Rhubarb Purée, Stir-fried Green Beans, and a Port-Licorice Reduction. We also detected five-spice powder (a Chinese mixture typically containing cinnamon, cassia, star anise, ginger, and cloves) and maitake mushrooms. I've never had a bad squab before, and this was no exception. This course was a favorite of the table. The squab's tang went well with the Syrah's typical spiciness.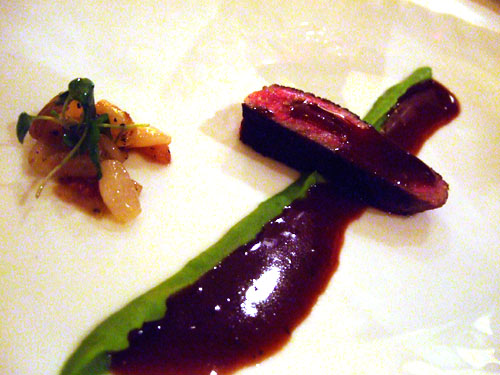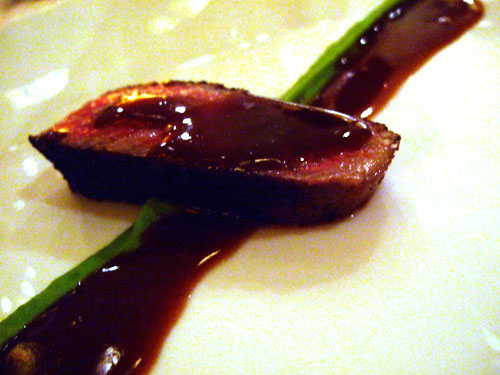 Supplement: Grilled NY Steak of 100% Japanese Wagyu Beef
Barbaresco, "Ovello," Cascina Morassino, Italy (Piedmont, 1996)
With Wasabi-Pea Purée and a Yuzu-Kocho Emulsion. This was a supplemental course offered. According to our server, Spago had actually ran out of the meat, and had to procure it from CUT steakhouse (it's only 0.2mi away). The meat was noticeably marbled and was very tender for a NY cut. The paired Barbaresco was complementary (I guess they figure they're charging us so much already!) and showed off the zestiness of the Nebbiolo grape.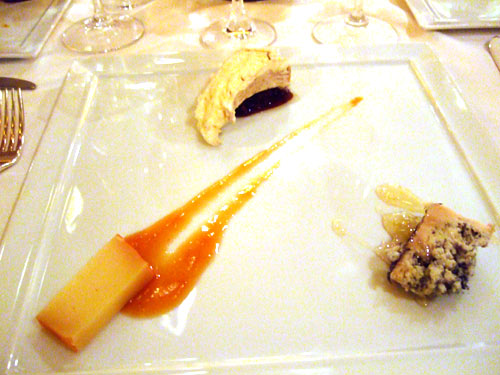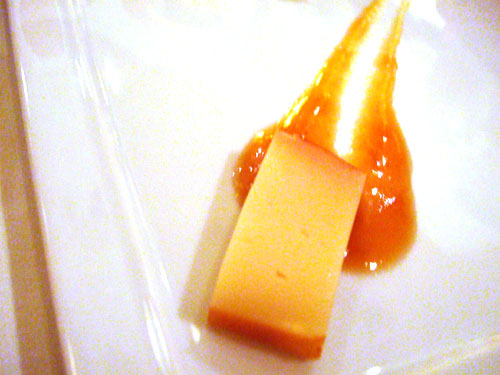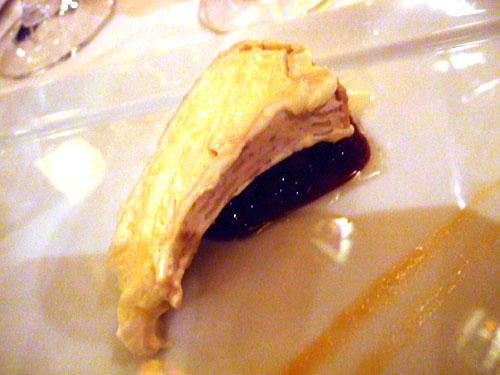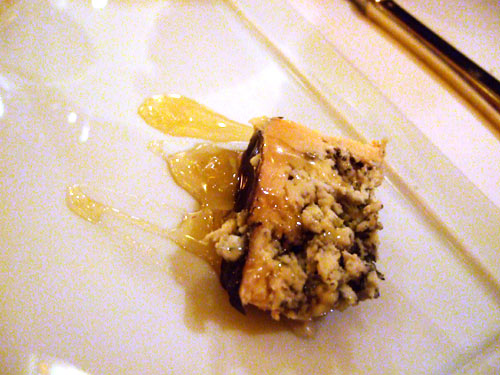 7: Cheese
Riesling, Wittman, Germany (Rheinhessen, 2005)
Going clockwise from the lower left, we have a Dom Villas (Spanish goat's milk with apricot), Brillat-Savarin (French Triple Cream cow's milk with preserves, very creamy) and Azul (Basque Blue sheep's milk with honey, by far the strongest of the trio, too strong for a few of my dining companions actually). As for the Riesling, we were told it was a "Trocken," which means dry. And indeed the wine lived up to its moniker, with pronounced acidity and minerality. Overall quite good for a very dry Riesling.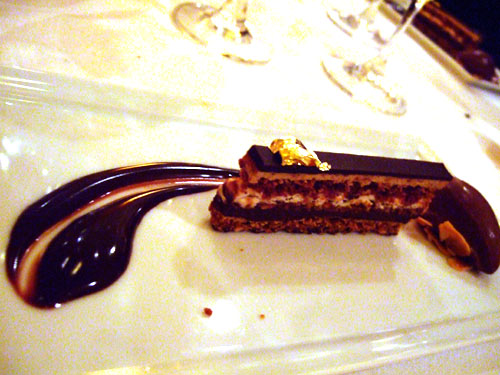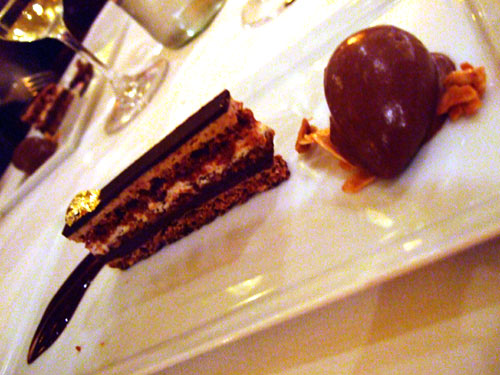 8: Chocolate and Hazelnut Tart
Kracher Cuvée Auslese 2003
With Chocolate Sorbet, which had strong notes of espresso. Yes, that's real gold foil on top of the tart. The paired dessert wine was mainly Chardonnay and had strong hints of raisin and apricot.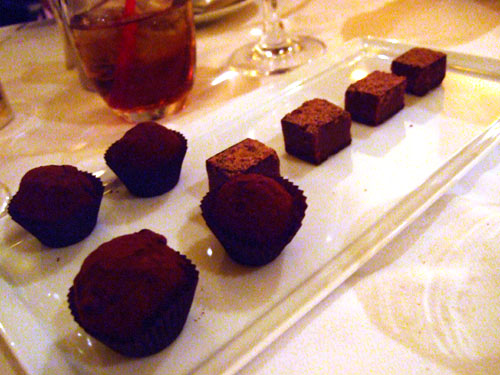 Mignardises
We had some delicious truffles, with chocolate ganache centers coated in chocolate powder, as well as some chocolate caramels.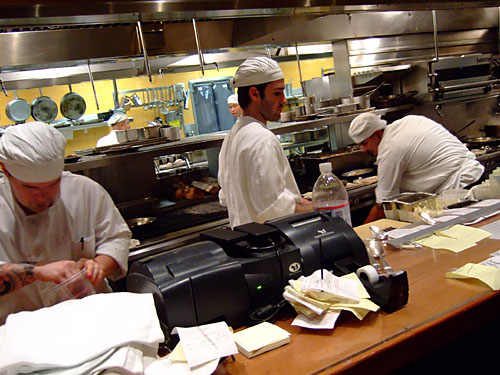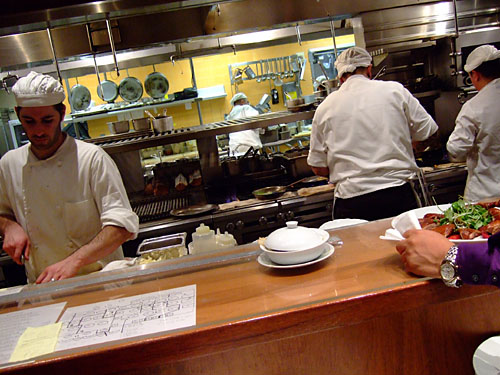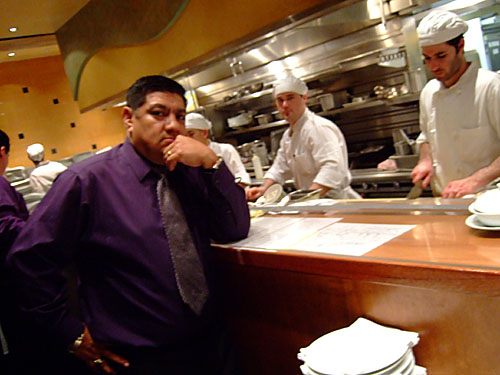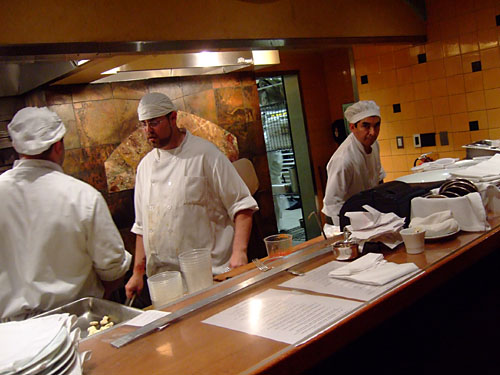 After our meal, we were provided with a quick tour of the kitchen, which was still quite busy. We were led past dessert, hot/cold appetizer, wood burning oven, and fish sections.
I am happy to say that Spago exceeded all of our expectations. One word of caution however: as mentioned above, the tasting menu is supposedly vastly superior to ordering from the menu. Thus, if going à la carte, be warned. That being said, it looks like Spago offers more than just hype and celebrity voyeurism. After all, it is one of the birthplaces of California cuisine, and one of the most influential restaurants of our time run by one of the most influential restaurateurs of our time. It appears that Wolfgang hasn't lost his touch after all...he's still got it!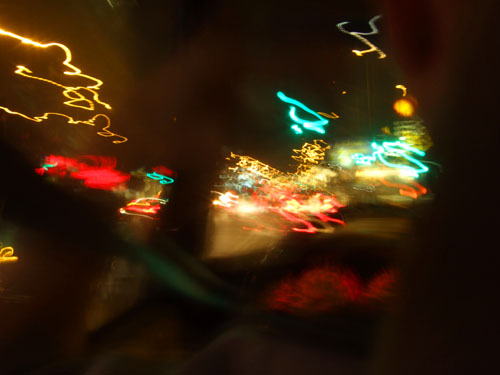 Perhaps a bit tipsy after 10 or so glasses of wine...