French Laundry (Yountville, CA)
French Laundry
6640 Washington St, Yountville, CA 94599
707.944.2380
www.frenchlaundry.com
Sat 05/12/2007, 07:35p-12:40a
French Laundry is a bit like Mecca for foodies, one that has been proclaimed the "Best Restaurant in the World" by
Restaurant
magazine, though currently it is merely the "Best Restaurant in the Americas." As such, it had been on our "to-eat" list for several years and we were ready to make a trip up to Northern California just to dine there. Unfortunately, the restaurant is also one of the hardest tables to get in the country, and is booked up a full two months prior. So how did I manage to get reservations? Well I was in the area for
Cakebread U
and visited the restaurant at its 10:00am opening time, only to be told that they were no longer accepting reservations in person. Disheartened, I ran into a man walking his dog. We chatted for about 45 minutes in French Laundry's garden while I was frantically redialing the restaurant's number on my cell phone (without getting through even once!). It turns out the man was Thomas Keller's father, Ed (as an aside, unfortunately we were informed during dinner that Ed was involved in a rather serious car accident and was in the hospital, we certainly wish him a speedy recovery!). After I ceased my futile efforts to get through, he kindly went inside and spoke with the reservationist, then told me to expect a call in the afternoon. I returned to my bed & breakfast and waited patiently. Then the call came, asking me if a table for four at 7:45 on May 12 was acceptable. Acceptable? "That was fantastic!" I told the reservationist. With that, I spent two anxious months waiting for the fateful day in May to arrive, and the rest, they say, is history...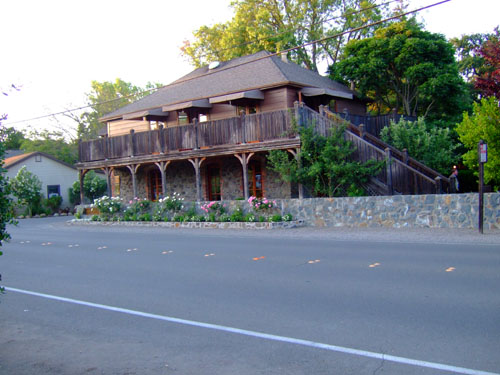 French Laundry's exterior is rustic to say the least. Passing by, one could easily miss it and never assume that an world-class restaurant lies within. As a bit of history, the building was constructed in the 1900s as a saloon and was indeed a French laundromat in the 1920s. In the 1980s, the building was already a well-regarded restaurant, before Keller bought it in 1994 and brought to it international renown.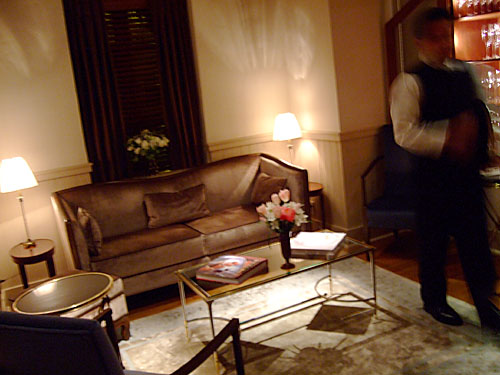 Pictured above is the waiting area by the main entrance. Unfortunately, we were seated in a bit of an alcove so I didn't get any good photos of the dining room. Overall, the decor is relatively simple, going along with the restaurant's unpretentious wine country charm.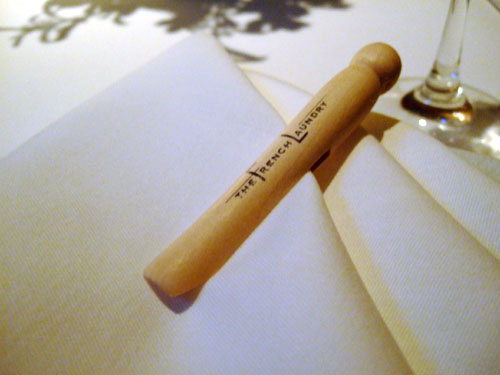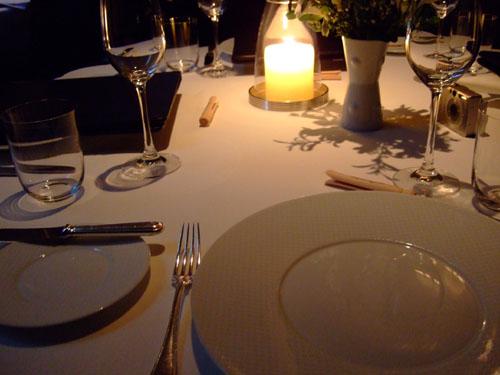 Here we see French Laundry's signature clothespin initially attached to a napkin. We were able to take them home at the end of the night.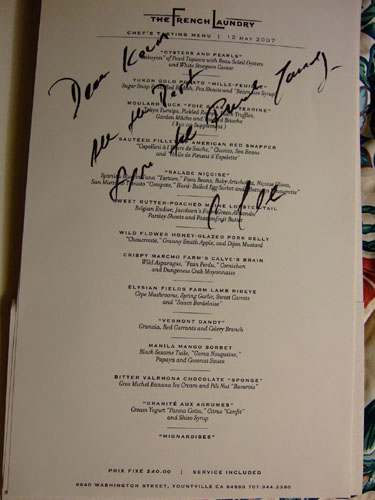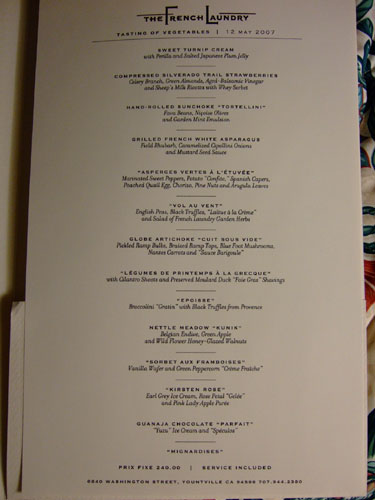 Two menus are available each night: the Chef's Tasting Menu and a Tasting of Vegetables, both identically priced. The menu is signed by Chef de Cuisine Corey Lee. Keller was not in that night, but in New York for the James Beard Awards. Click for larger versions. We requested the "extended" menu, which unfortunately was "only" 12 courses that night. I have heard that extended meals can be in the range of 16 to 20 courses. Though considering how full we were at the end of the meal, perhaps it was a good thing we only had four additional courses. We also requested the Wagyu beef supplement that was announced at the beginning of the meal. The restaurant is supposed to send me a copy of the menu with the extended courses listed, which I have yet to receive.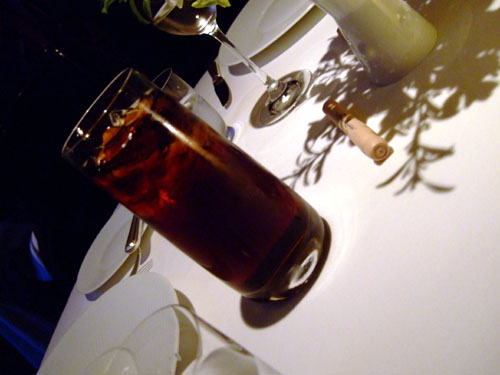 The most expensive Diet Coke ever. Or so we thought. It was listed on the menu at $10 but the charge for two glasses didn't appear on our bill. I guess they figure they can spare 50 cents for a couple cans in the course of a four-figure meal!
We also ordered a bottle of Fritz Haag, Riesling, "Brauneberger Juffer Sonnenuhr," Mosel, 2003 for the lighter courses, which, unfortunately, wasn't complementary like the Coke. The wine was a spätlese, with a sweet nose of apple cider and a taste of general sweetness, and was effervescent and easy drinking.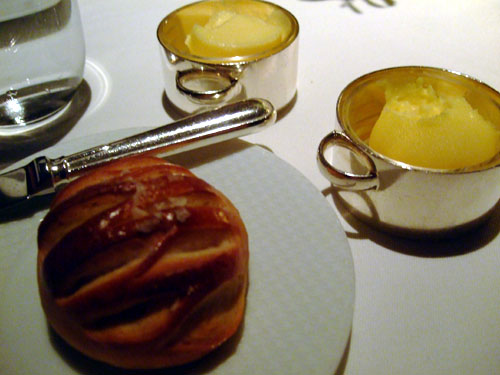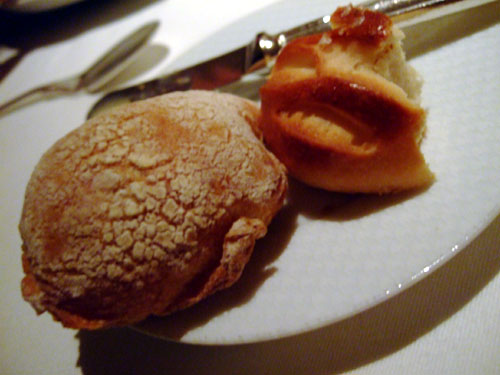 The bread in the left picture is French Laundry's signature bread from Bouchon Bakery down the street. The bakery also supplies bread for
Bouchon
and
Ad Hoc
. Later on in the meal we were offered ciabatta (shown), sourdough, French, and pretzel varieties. The breads were served with salted butter from Vermont and a local unsalted butter from Petaluma.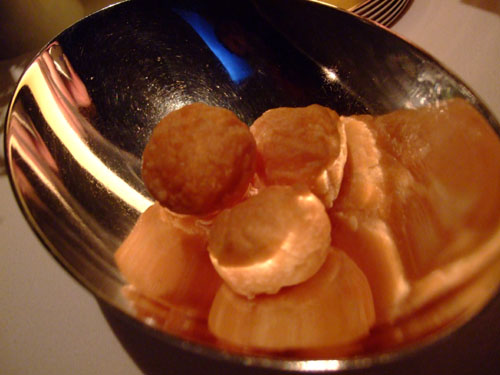 Canapé 1: Gougères
These savory puffs were made with Gruyère cheese and a sauce Mornay. One of my dining companions commented that it was reminiscent in taste of a Cheez-It.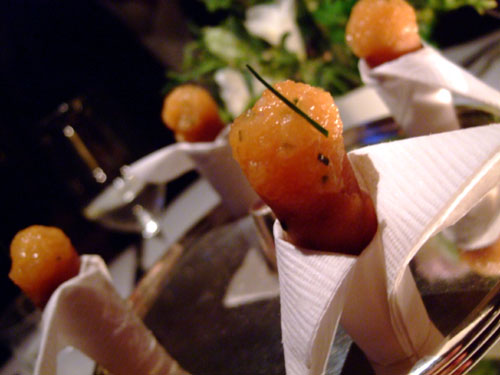 Canapé 2: Scottish Salmon Coronets
Without a doubt, the signature amuse of French Laundry. The salmon was complemented with chives and a red onion crème fraîche. The cone itself had a creamy, buttery, sesame flavor and broke apart easily. The dish reminded us of the salmon cones at
Spago
(apparently, Puck's salmon cones predate Keller's). Excellent.
Canapé 3: Roasted Sunchoke Soup
This soup canapé was an addition from the extended menu. We were first presented with a mixture of red bell pepper and orange in the bowl; roasted sunchoke soup with olive oil was then poured on top by our servers. There was a nice contrast between the rich, chowder-like soup and the cold tang of the pepper and orange.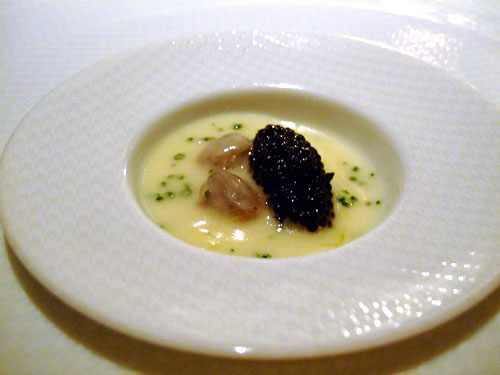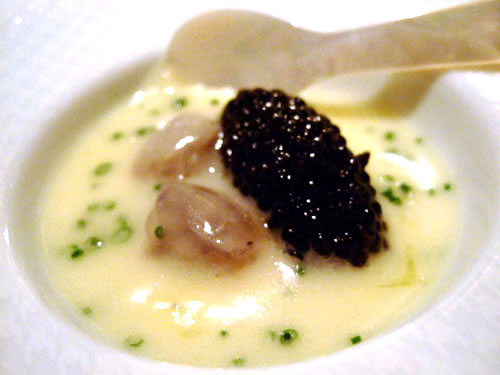 1: "Oysters and Pearls"
"Sabayon" of Pearl Tapioca with Beau Soleil Oysters and White Sturgeon Caviar. The briny, salty caviar provided a perfect foil to the tapioca's subtle creaminess. The oysters, from La Maison BeauSoleil in Canada, were cooked but still had a great texture. We were told that the oysters were small because they were trimmed, with the trimmings going into the sabayon. This is perhaps Chef Keller's most famous dish, and I can certainly see why.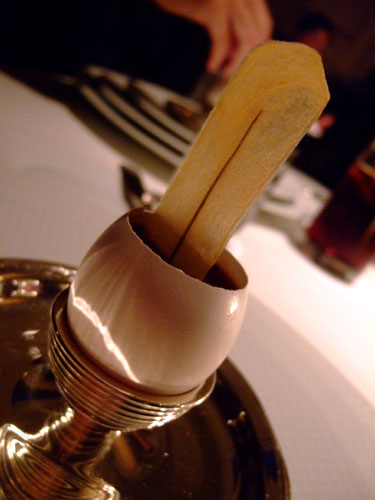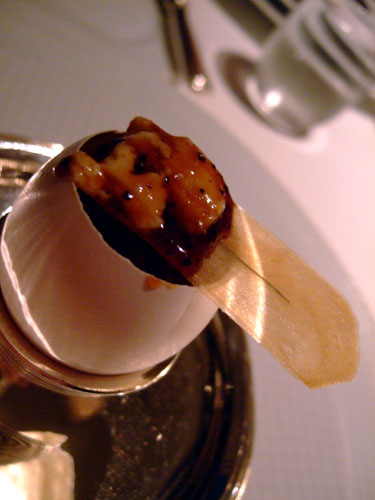 2: White Truffle Infused Custard
The white truffle custard base was relatively mild compared to the ragout of black truffle on top. The tab sticking out of the egg is a chive chip, which I used to mix and scoop up the custard. The mixture almost had an "Asian" taste that I couldn't quite put my finger on. This dish was part of the extended menu.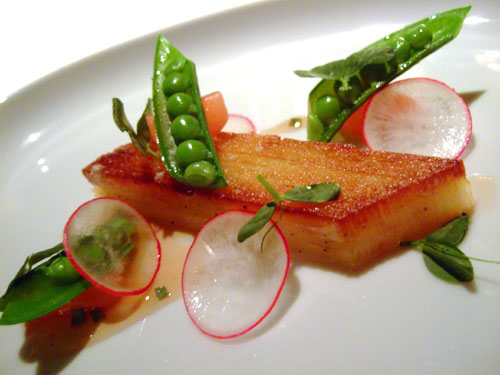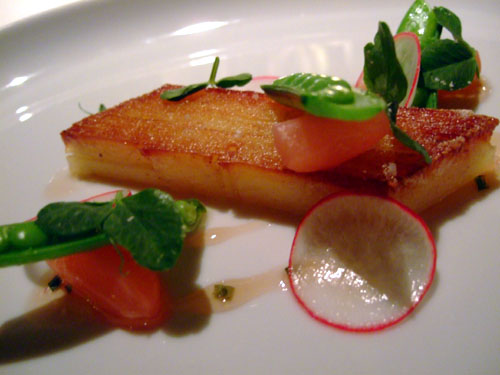 3a: Yukon Gold Potato "Mille-Feuille"
Sugar Snap Peas, Red Radish, Pea Shoots and "Béarnaise Syrup." I absolutely loved the crunch of the raw radish and the snap of the peas. A mille-feuille is traditionally a pastry made of layers of puff pastry and sweet filling. But in this application, the term describes layers of potato stacked atop each other. The flavor can be likened to a French fry.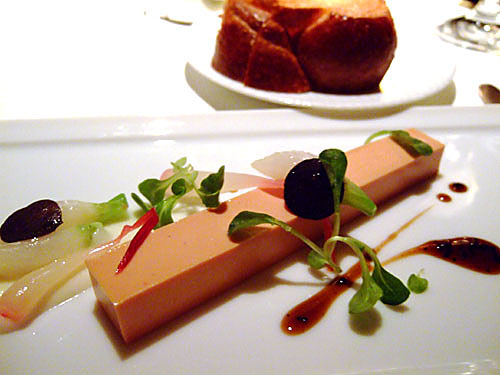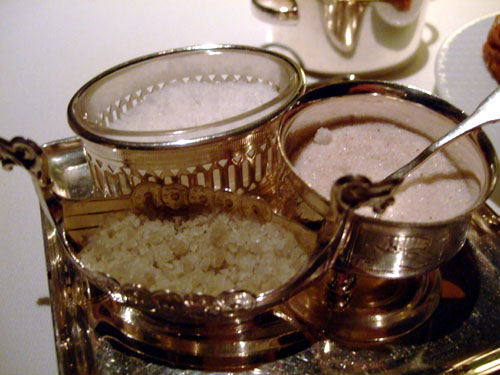 3b: Moulard Duck "Foie Gras Terrine"
Tokyo Turnips, Pickled Ramps, Black Truffles, Garden Mâche and Toasted Brioche. This was served with three salts: a French sea salt, a Japanese salt, and a mined salt from Montana. However, the foie was so flavorful that salt wasn't necessary. This was easily the best terrine I've tried, and perhaps the best preparation of foie gras I've
ever
had. Simply superb. I will note that once our server saw us sharing, he brought each of us extra brioche.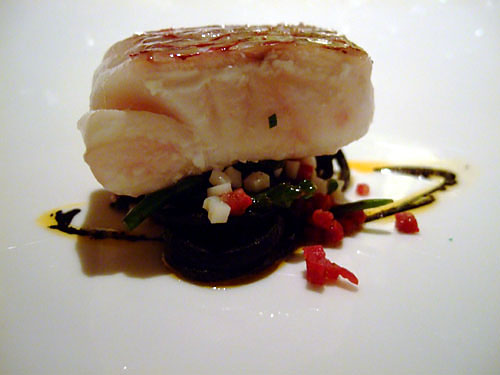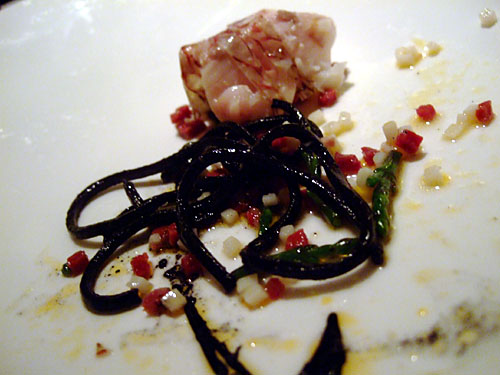 4a: Sautéed Fillet of American Red Snapper
"Capellini à l'Encre de Seiche," Chorizo, Sea Beans and "Huile de Piment d'Espelette." The fish was very tender and not quite what I expected from snapper. The taste reminded me of a steamed Asian-style fish with it's very light and delicate flavors. Below the snapper was squid ink pasta, as shown in the second photo.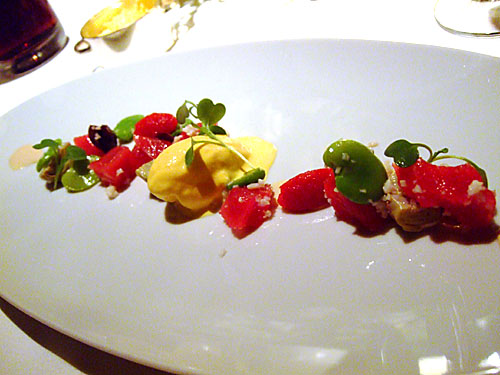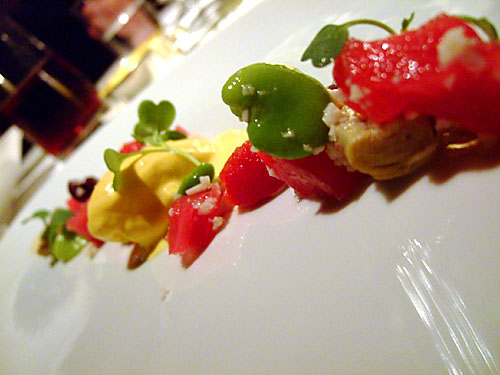 4b: "Salade Niçoise"
Spanish Bluefin Tuna "Tartare," Fava Beans, Baby Artichokes, Niçoise Olives, San Marzano Tomato "Compote," Hard-Boiled Egg Sorbet and "Bottarga Vinaigrette. The tuna was good on its own but excellent when eaten with the egg sorbet. Loved the texture of the fava beans as well. I thoroughly enjoyed this dish; however, it didn't go over well with my dining companions.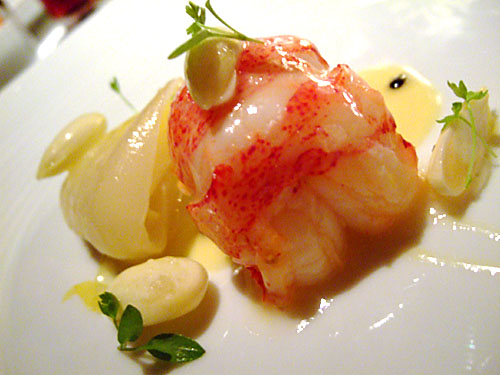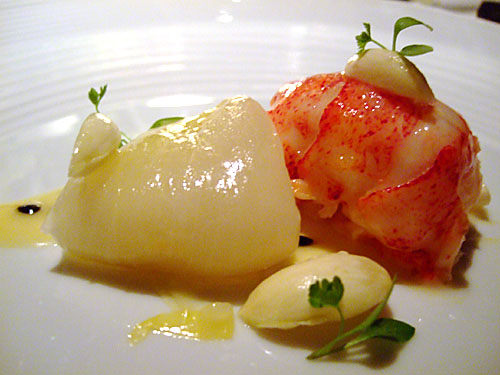 5: Sweet Butter-Poached Maine Lobster Tail
Belgian Endive, Jacobsen's Farm Green Almonds, Parsley-Shoots and Passionfruit Butter. Great texture with a notable sweetness to it; very buttery and creamy. I wasn't a fan of the endive though. This was a favorite of the night.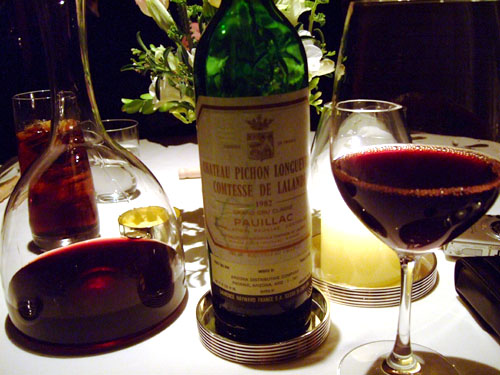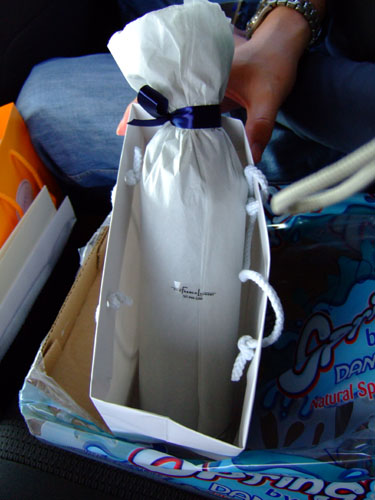 We decanted the 1982 Château Pichon-Longueville Comtesse De Lalande that we brought for a couple of hours before bringing it out for the heartier dishes of the night. We chose the wine mainly for two reasons: it is a Robert Parker 100-point "perfect" wine, and 1982 was the year of our birth (and also a banner year in Bordeaux). The wine had an intoxicating nose of tobacco, ripe fruit, and cassis; I also detected notable hints of tobacco and spices on the palate. It had a meaty, chewy mouthfeel and a long, lingering finish. To quote Mr. Parker:
"I have had this wine a half-dozen times over the last eleven months, and have rated it either 98, 99, or 100 on every occasion. It is a fully mature, sumptuous, gloriously perfumed, luxuriously rich Pauillac the likes of which are rarely encountered. The color is a dark plum/ruby with amber at the edge. Spectacular aromatics offer up cedar, smoke, jammy black and red fruits, minerals, licorice, and toast. Unctuously-textured and full-bodied, with low acidity, fabulously sweet, rich fruit, surprising definition for a wine of such lushness and intensity, this is one of the vintage's most compelling and profound efforts. It has been delicious since birth, but absolutely stupendous over the last decade."
I do no hesitate to say that this was one of the top red wines I've ever tasted. We asked to keep the bottle, which was cleaned out and nicely presented in the signature French Laundry livery. Corkage was a hefty $50.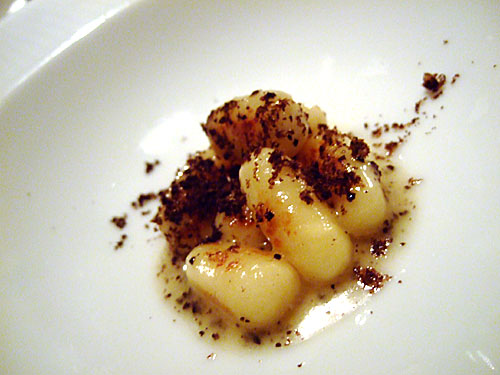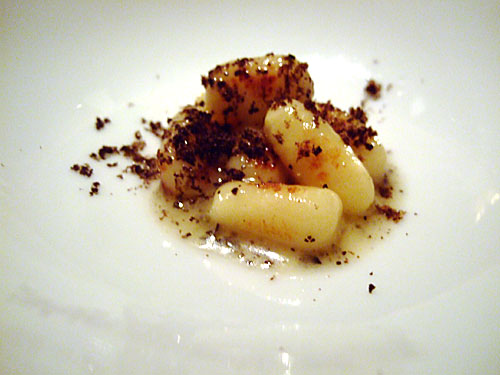 6: Russet Potato Gnocchi
The black flecks on top are shaved black truffle. Our server brought out the truffle from a nice presentation box and proceeded to shave it at the table. According to him, these truffles were purchased in February. In any case, they provided a nice, rich pungent flavor to the gnocchi. I wasn't a huge fan of truffle the first time I had it, but I think I'm beginning to really like it! I suppose it's a bit of an acquired taste. This course was also part of the extended tasting.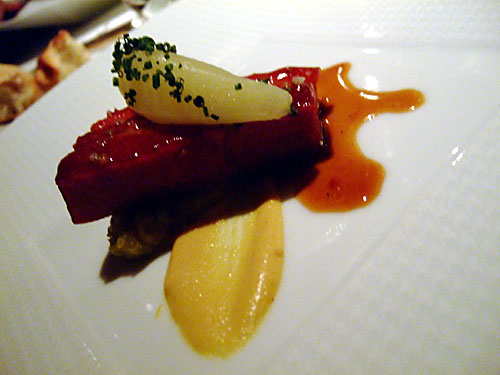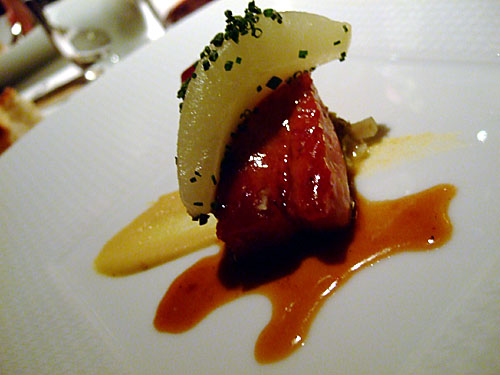 7a: Wild Flower Honey-Glazed Pork Belly
"Choucroute," Granny Smith Apple, and Dijon Mustard. The dish also included cabbage from French Laundry's garden across the street. The pork was sourced from Pennsylvania and was very fatty, very flavorful. Also, according to our server, the apple on top was compressed, sealed in a vacuum bag, and cooked sous vide. Sous vide is a controversial way of cooking that maintains the integrity of the food by heating it at low temperatures for long periods.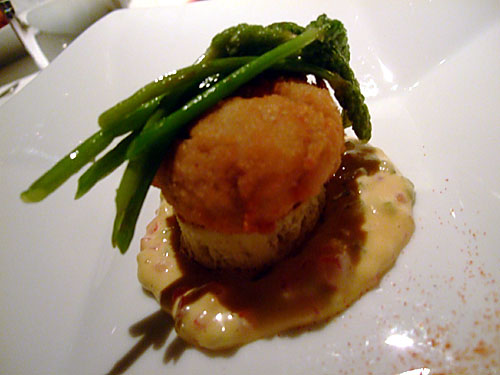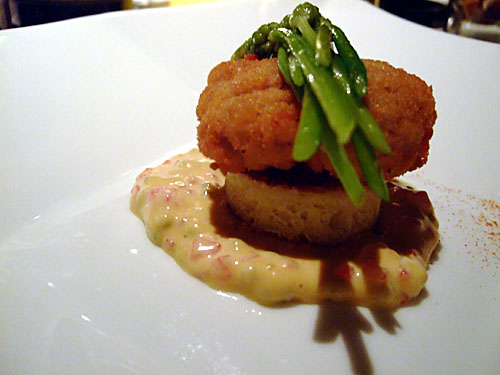 7b: Crispy Marcho Farm's Calve's Brain
Wild Asparagus, "Pain Perdu," Cornichon and Dungeness Crab Mayonnaise. Yes my first time with brain! The brain, from the same source in Pennsylvania as the pork, was crusted with buttermilk and panko and had a very creamy consistency. It was not tough at all like I expected. Overall quite mild and not offensive. The asparagus was from France and quite interesting, not like any I've had before.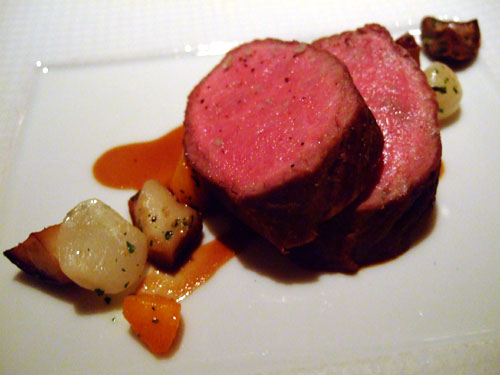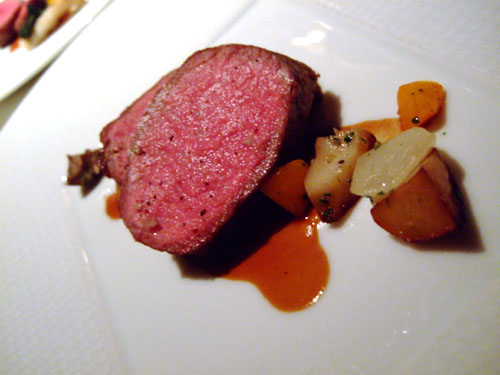 8a: Elysian Fields Farm Lamb Ribeye
Cèpe Mushrooms, Spring Garlic, Sweet Carrots and "Sauce Bordelaise." A very pure expression of lamb, rare, firm yet tender, and exceedingly flavorful. I quite enjoyed this dish, but many of dining companions thought it was a bit too strong, a bit too gamy for their tastes.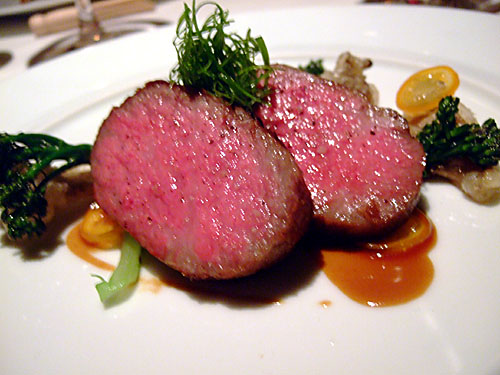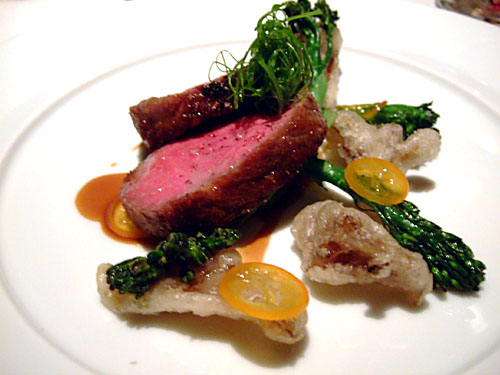 8b: Wagyu Beef Sous Vide
Very rich, this almost turned to liquid in my mouth. One of the most decadent pieces of beef I've ever had, look at that marbling! The fat remained intact thanks in part to the beef's sous vide preparation. Do to its low-temperature, vacuum-sealed methods, sous vide must be performed under carefully controlled conditions, as to avoid botulism poisoning. The beef was also served with hen of the wood tempura, brocollini, and kumquat.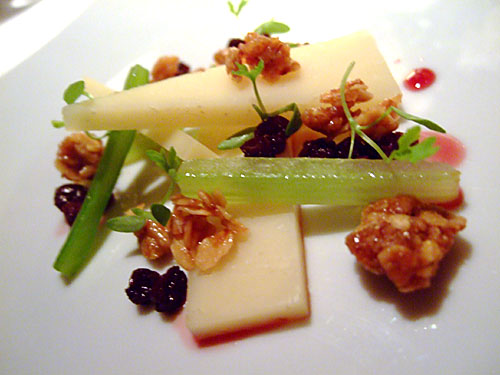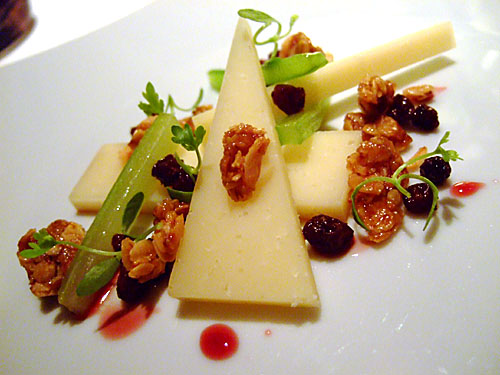 9: "Vermont Dandy"
Granola, Red Currants and Celery Branch. This was a natural rind, semi-hard, aged sheep's milk cheese from Peaked Mountain Farm in Vermont. Overall very mild and easy-eating. I liked the pairing of the granola and the currant, but could've done without the celery. It was served with toasted walnut and raisin breads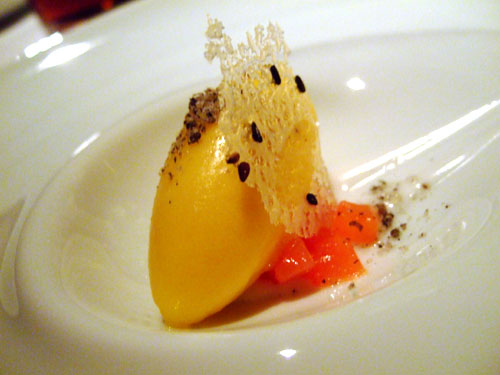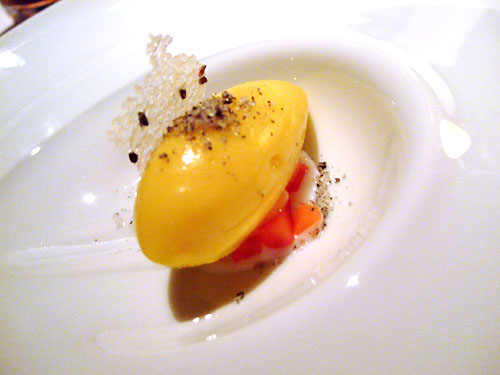 10: Manila Mango Sorbet
Black Sesame Tuile, "Goma Nougatine," Papaya and Coconut Sauce. Strong, authentic tastes of mango. Very reinvigorating and a nice segue into the desserts.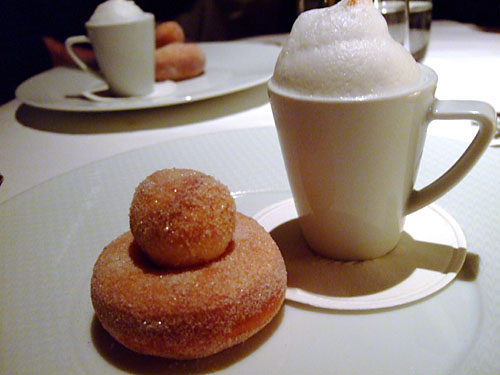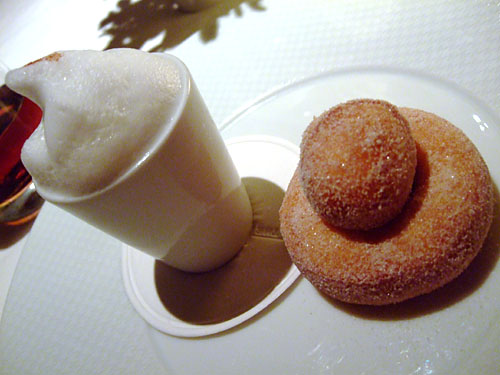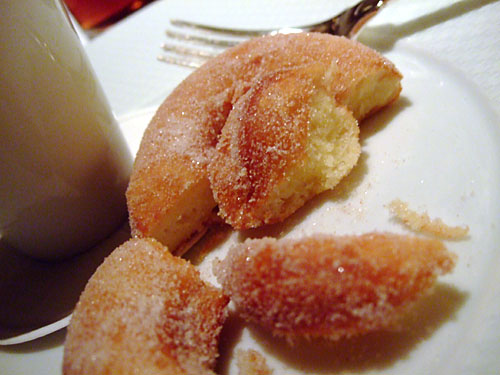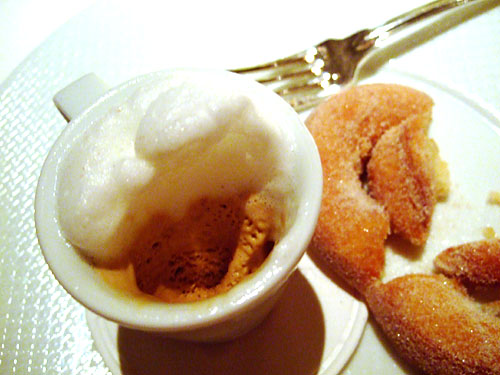 11: "Coffee and Doughnuts"
The last extended item and perhaps Keller's most famous dessert, this was a miniature fried cinnamon doughnut with a small demitasse of delightful espresso ice cream semifreddo. The trick is to eat the doughnut with the ice cream. Excellent.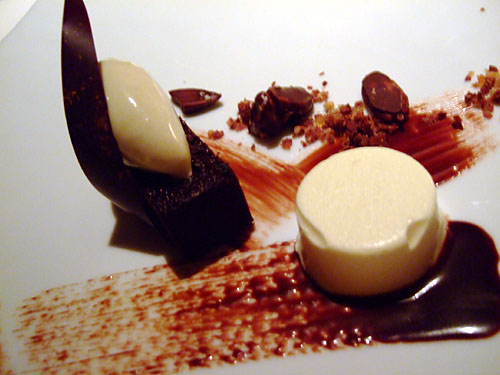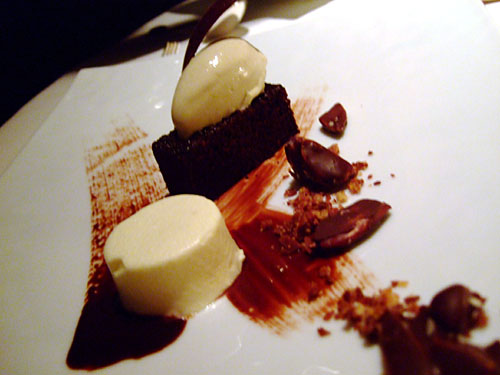 12a: Bitter Valrhona Chocolate "Sponge"
Gros Michel Banana Ice Cream and Pili Nut "Bavarois." Loved the presentation here. The "Bavarois" is French for "Bavarian cream," or a flavored custard combined with gelatin and whipped cream. I'm not a huge fan of bananas, but enjoyed the ice cream.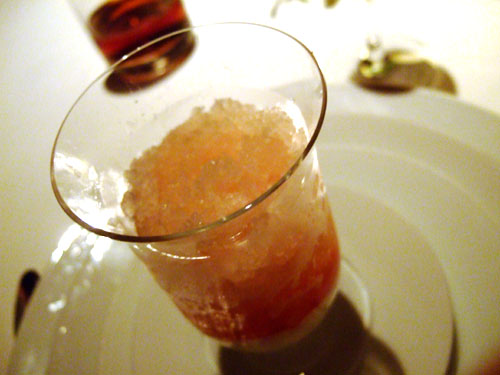 12b: "Granité Aux Agrumes"
Cream Yogurt "Panna Cotta," Citrus "Confit" and Shiso Syrup. The key here was to take in all the layers at once. The shiso syrup was brought out in a large volumetric flask-type container and drizzled onto the granité with a large dropper.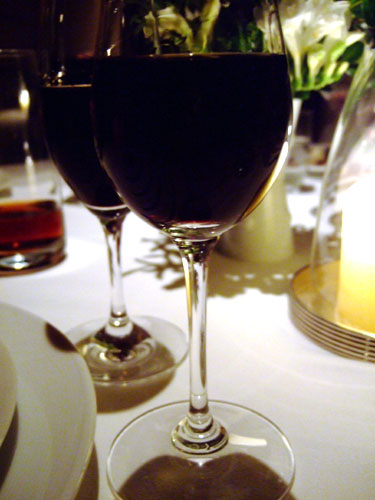 The dessert wine on the left is the Velha Barbeito, Bual, Madeira, 1863. Madeira is known for its longevity, and this was clearly the oldest wine I've ever had. Interestingly enough, the Bual's color was rather light bronze-red in color (much lighter than in the photo), which belied its vintage. However, its taste definitely gave away its age, with a smokey, woody nose and musty flavors of soil and smoke on the palate. It was unlike any wine I've ever had. The second wine is a Alvear Solera Pedro Jimenez Montilla-Moriles, Spain, 1927. This was the second oldest wine I've ever tasted, and was much sweeter, with heavy doses of raisin and a hint of chocolate.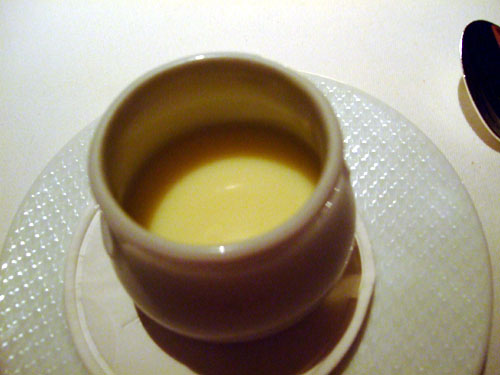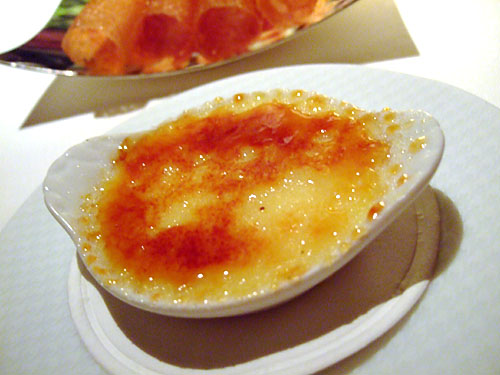 Mignardises 1
The first of the post-dessert courses was a pot de crème made with Meyer lemon; it was a bit tart for me. We then had a simply prepared miniature Tahitian vanilla crème brûlée, which had a nicely caramelized top and classic crème brûlée taste.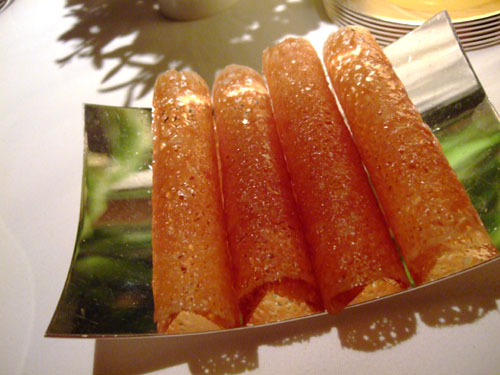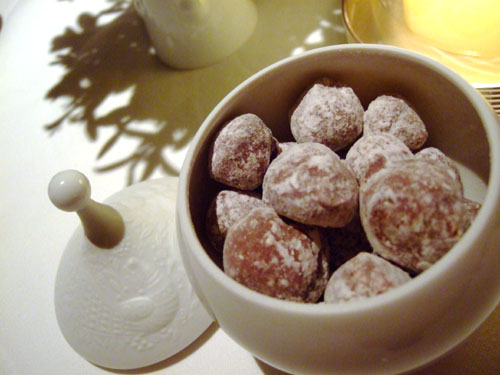 Mignardises 2
Next up were honey flour tuiles with Bergamot (Bergamot orange is a small, sour citrus from Italy) and macadamias coated in caramel and chocolate. The nuts were superb, with a nice crunch and texture, and tasted like caramel corn; we finished the entire pot, even though we were already sufficiently stuffed by the time they came out.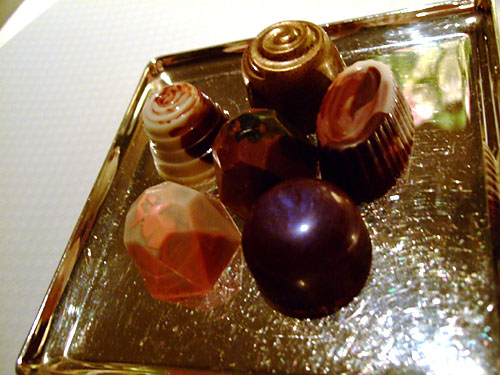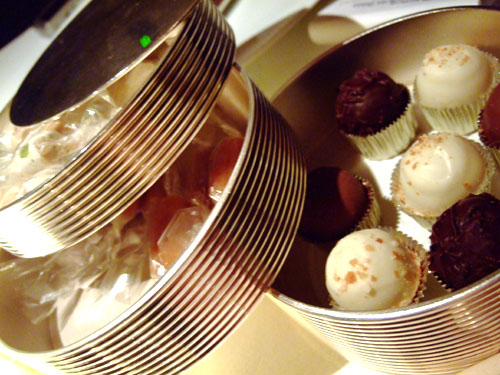 Mignardises 3
Our server Milton then brought out a tray of chocolates: raspberry with black pepper, banana, cofee, hazelnut, peanut butter, and caramel. I just had to grab one of each, though unfortunately I was so full that I could only manage partial bites. We then had a sliding metal box (which must have weighed close to 10 pounds!) filled with nougats, salted caramels, and various truffles. Unfortunately they were left largely uneaten (though some were taken home), as we could take no more food by this point!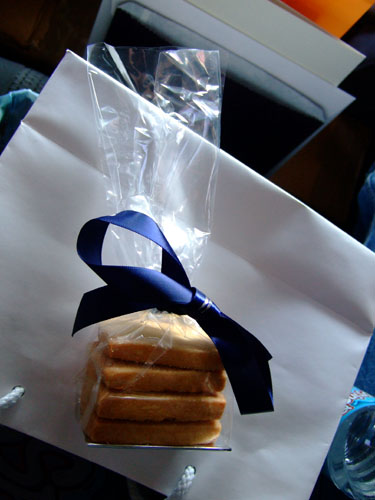 Gift
These were shortbread cookies, apparently from a recipe by the pasty chef, Claire Clark's, mother. Very rich and buttery. Really nice. Note the application of the signature clothespin motif.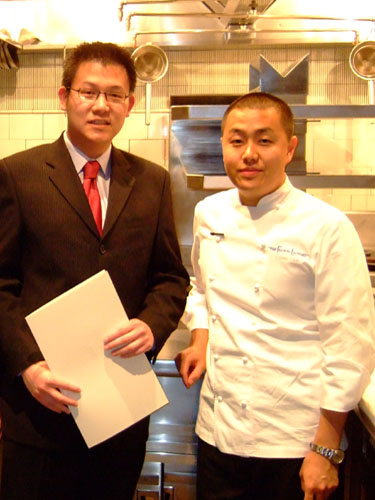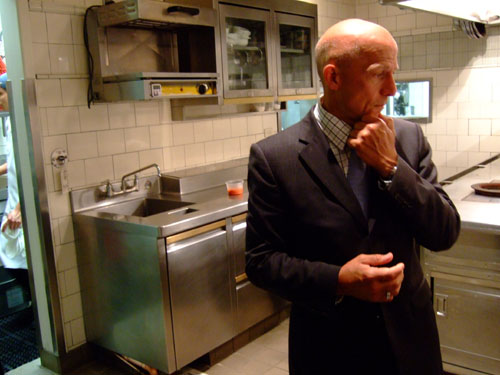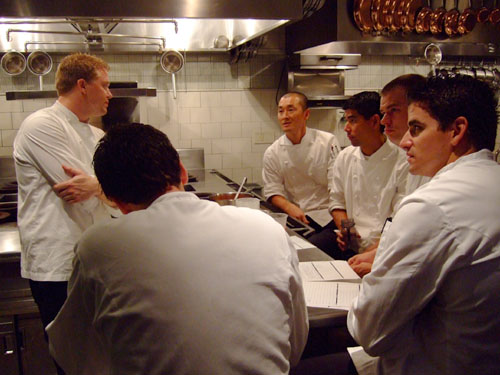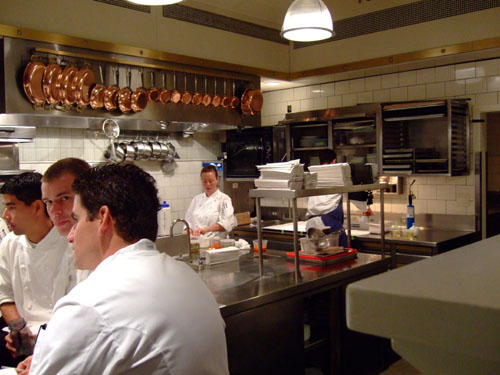 After our meal, we were invited into the kitchen. Chef Lee was busy talking to the various chefs so we didn't get too much time to chat. The man in the upper right photo is maitre d' Larry Nadeau, who did a great job accommodating us throughout the evening.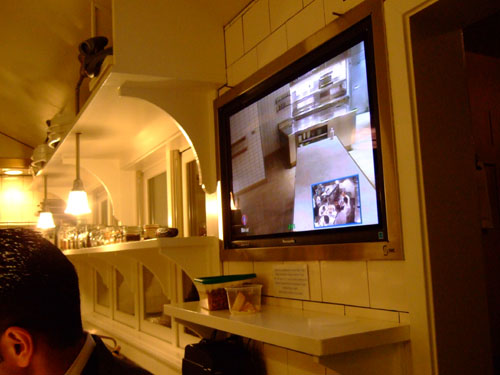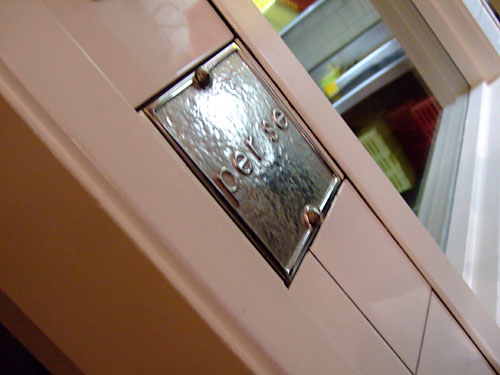 Chef Lee talks daily with Per Se via the video conferencing system pictured above. The idea is that this collaboration helps create a free flow of ideas between the two kitchens. Speaking of Per Se, we definitely plan on going next time we're in New York.
Michelin defines a 3-star restaurant as being "worth a trip." To that effect, I completely agree. We drove 450 miles for the privilege of dining here and I do not regret it one bit. Best restaurant in the country? I can believe it. My only disquiet concerns Keller's decreasing involvement in French Laundry's daily operations. Control of the kitchen has been, for a large part, handed over to Lee (who, to be fair, has proven himself eminently capable), as Keller has become more restaurateur than chef. Keller has stated that he would like French Laundry to outlive him, to become a gastronomic icon of sorts,
irrespective
of the chef in charge. After all, does one know or even care about the chef at
La Tour d'Argent
? Indeed. As to whether the restaurant will continue to thrive without him, only time will tell...