Garden Room (Santa Maria, CA)
Garden Room
801 S Broadway, Santa Maria, CA 93454
805.928.7777
www.santamariainn.com/html/santa-barbara-ca-bed-breakfasts-restaurants.html
Wed 06/06/2007, 07:00p-08:15p
The Garden Room is the main restaurant at the historic Santa Maria Inn. I had seen it on a top ten list of restaurants in the area, so I decided to give it a shot (big mistake!).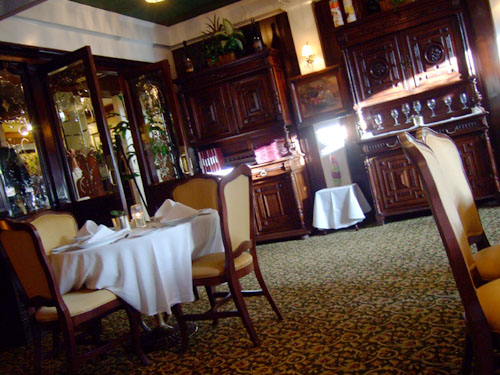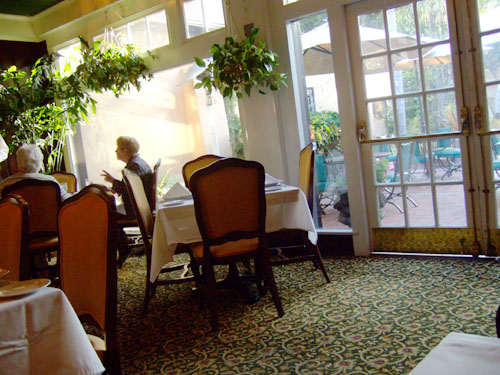 The decor is a bit tired, but acceptable. The dining room was almost empty when I arrived, but quickly filled up with German tourists, who apparently had vouchers for free dinners.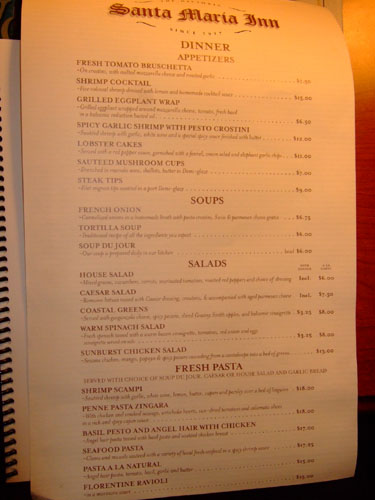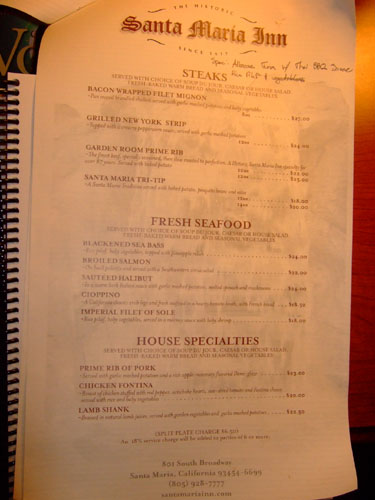 The menu is fairly standard, with nothing too adventurous or inventive. Prices are reasonable.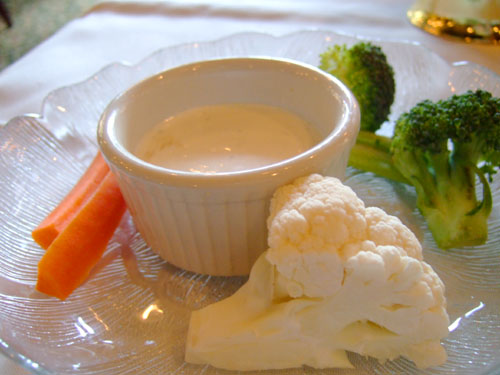 Things didn't start of well. When I sat down, I immediately ordered a mojito (my drink of choice as of late it seems); after conferring with the bartender, my server told me they couldn't. I then decided to order a kir royale; again, my server left for a few minutes only to return and tell me no. Miffed, I asked for a glass of Champagne; surely they could do that, right? Well almost. I was brought a split of J. Roget, which was simply the worst "champagne" I've had in recent memory. What do you expect for $3.49 a bottle, I suppose? I also thought it was odd that they brought out a tray with a few stale veggie pieces and some ranch. Strange.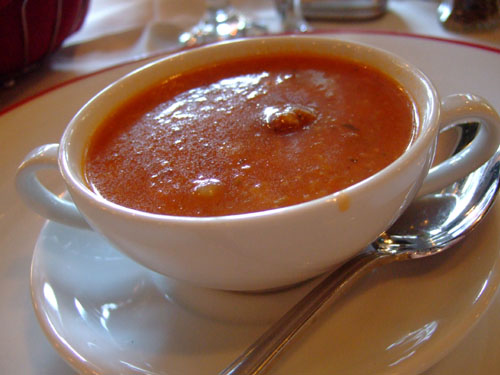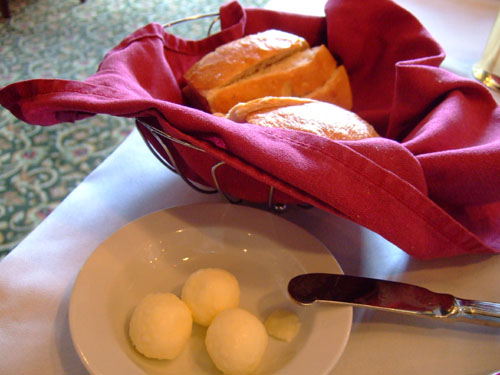 The meatball soup was decent but tasted like it came from a can (and not even Campbell's). The bread is often a good indicator of a restaurant's quality and unfortunately, in this case, it was spot on. The bread had a strange mineral-y taste that foreshadowed the food ahead.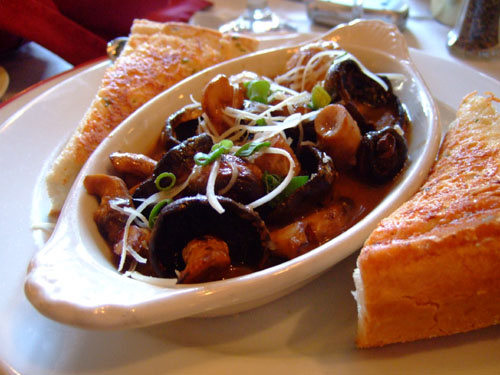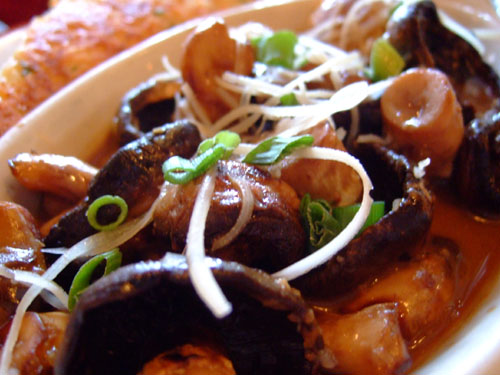 Sauteed Mushroom Cups
Drenched in marsala wine, shallots, butter in Demi-glaze. The mushrooms were pretty tasty, though they were a tad large. In fact, the whole dish was a bit large. I would've been content with 3/4th of the course. Also, the included pieces of garlic bread were rather redundant. This was a passable dish, but unfortunately things quickly went downhill from here...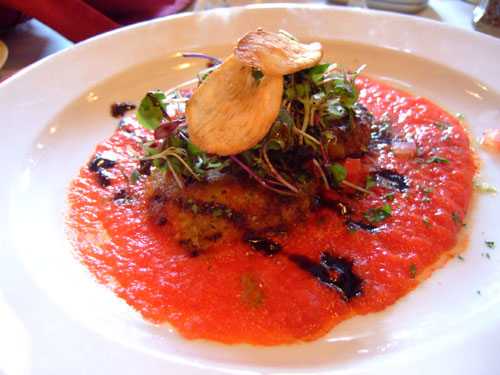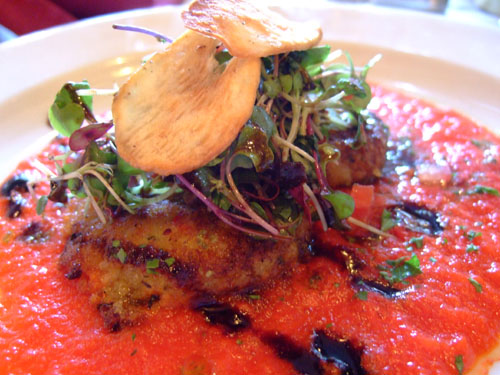 Lobster Cakes
Served with a red pepper sauce, garnished with a fennel, onion salad and elephant garlic chips. This was advertised as lobster but I could detect no such thing here. Texture-wise, the cakes were akin to a very poorly prepared incarnation of crab cakes - all filler - think paper pulp. Taste-wise, all I could discern was the red sauce, which overpowered everything on the plate. An absolute mess.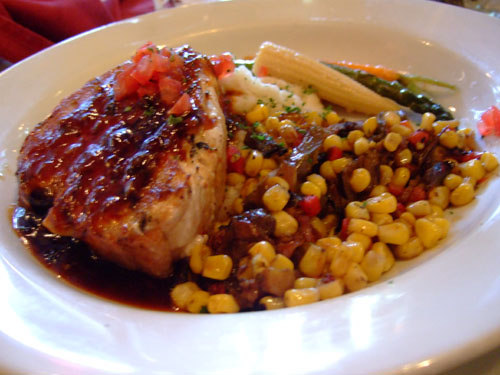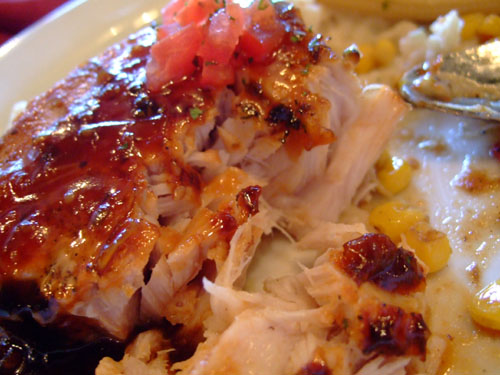 Charbroiled Albacore Tuna
Thai BBQ sauce, rice pilaf and vegetables. This was the special of the night. Unfortunately for me, the only thing
special
about the tuna was that it was
especially
awful. I'm normally a huge fan of tuna, but this, this was something else. Tuna is best served seared rare, but this albacore was overcooked to the point of being bone dry and hard as rubber. As far as taste went, all I could taste was the sickly sweet BBQ sauce (nothing Thai about it). I ordered a glass of EOS Sauvignon Blanc with the tuna, but I don't remember anything regarding it, as I was in a state of shock and awe about the abject horror of the dish.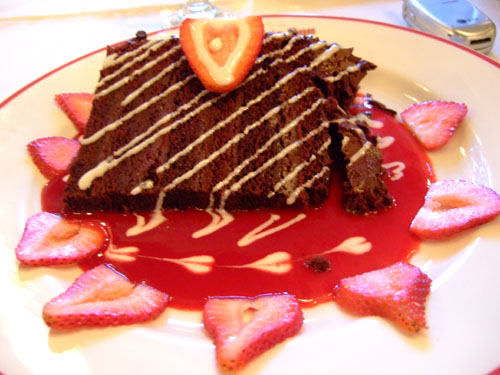 Chocolate 3-Layer Cake
Strawberries and raspberry sauce. At least the meal ended on a semi-high note. This was a competently prepared chocolate cake (though chocolate cake
is
pretty hard to screw up; come to think of it, this probably wasn't even made in-house). My problem with it wasn't taste, but portions. It was huge! In fact I couldn't even finish it (and I'm pretty good about finishing everything I order); 40% of it would've been the perfect size.
Wow. When I talk about "hotel food," this is what I'm talking about. This was easily the second worst meal I've had in the past few years (the first was a godawful lunch at Todai). Almost nothing went right. The decor was depressing and the service slow, but they were nothing compared to the food, which was borderline inedible. They seem to try to make up for the sub par quality but piling it on; but when the food tastes bland at best,
the last thing I want is more of it
. And I was not alone in my sentiments. I overheard one of the Germans say: "I'm not happy, and I don't want to talk about it!"
In der Tat
.