Sona (Los Angeles, CA)
Sona
401 N La Cienega Blvd, Los Angeles, CA 90048
310.659.7708
www.sonarestaurant.com
Sat 06/09/2007, 08:20p-12:40a
Sona is one of those restaurants that I'd known about for a long time, but just never got around to trying. The menu had always appealed to me and I'd heard plenty of good things about it; in fact, Hiro
Urasawa
once told me it was one of his favorites in LA. But at the same, I'd heard a number of negative reviews, some implying that Sona was basically a lesser version of
Providence
. So when my birthday came around, I knew I had the prerogative to choose the restaurant, and so off to Sona we went...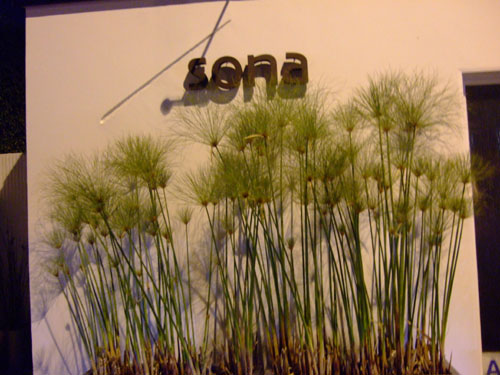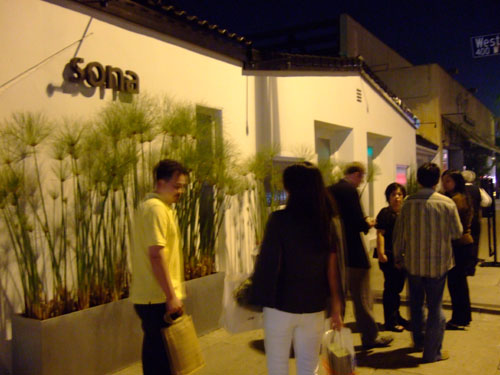 Looking like a small cottage home, Sona's exterior is rather modest. It's something you could easy pass by without ever suspecting that a world-class restaurant lies within.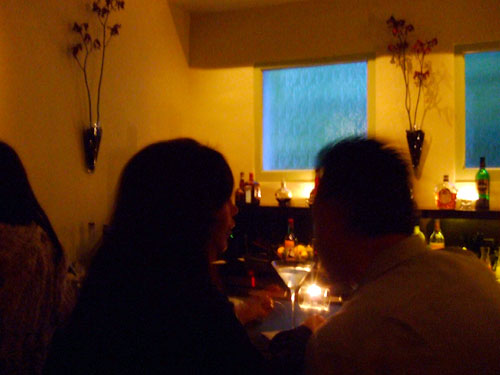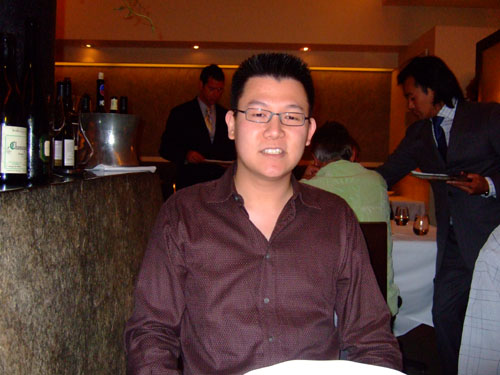 We arrived a bit early, so we waited in the bar area for a few minutes before being led to our table, which was in the middle of the room next to a divider which held various bottles of wine. I ordered a Mojito (my signature drink as of late, it seems), while two of my dining companions had Vespers (a drink invented by James Bond in
Casino Royale
, made of gin, vodka, and Kina Lillet).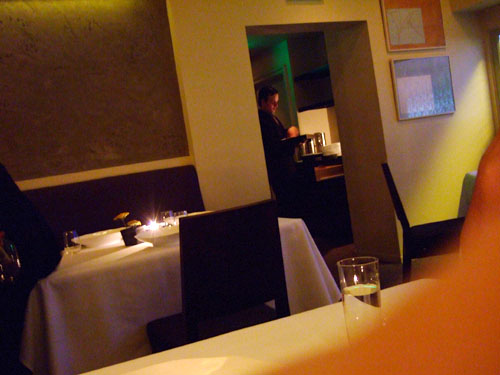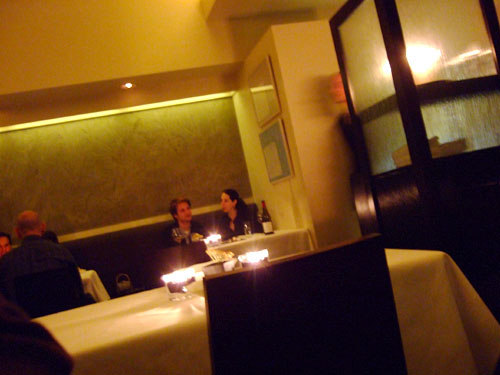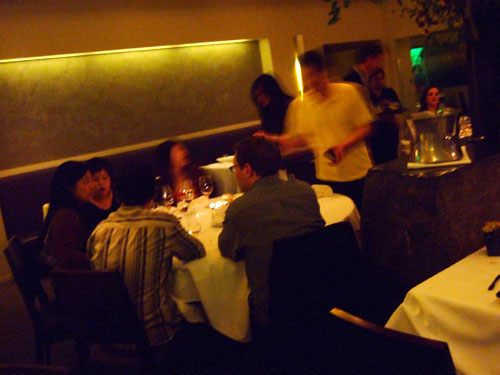 Sona's interior is a bit minimal; some have even gone as far as to call it "cold." But I rather liked it. The large frosted glass windows produced a nice effect out of the flurries of colored lights passing outside.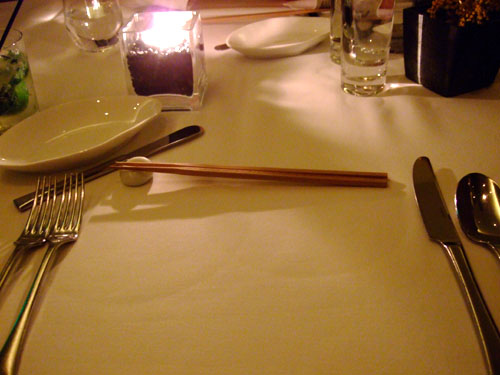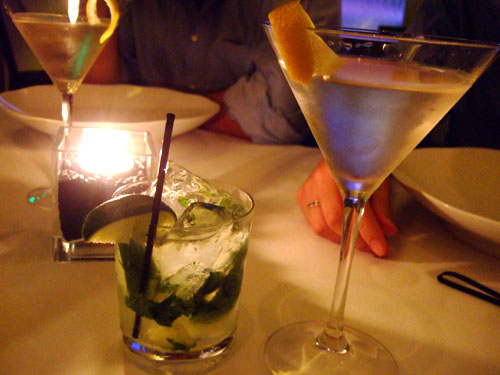 On the left we see the table set up for the amuse bouche course. On the right we see the Mojito and Vespers ordered at the bar and brought to the table. Unfortunately, one Vesper was spilled in an accident involving the passing of the wine list (our fault). One of my dining companion's shirt was completely soaked, so the staff offered a chef's coat to wear. A replacement cocktail was quickly provided at no charge. We even got to keep the coat at the end of the night!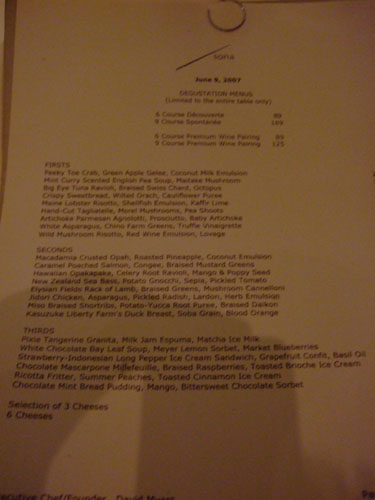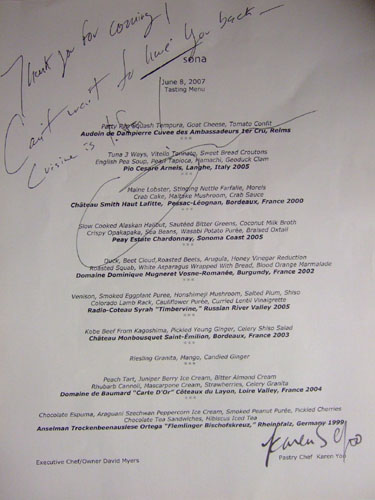 You can order à la carte at Sona but the only way to go for me is the nine-course tasting menu, with wine pairings. On the right is the menu we received at the end of the night, signed by Executive Chef David Myers and Pastry Chef Karen Yoo. Note that the date is actually incorrect (June 8th instead of 9th). Perhaps they simply reused the menu from the previous day? Click for larger versions.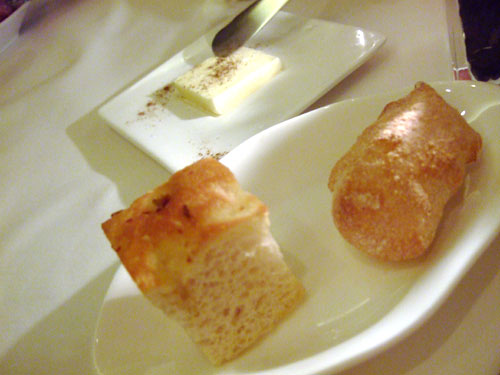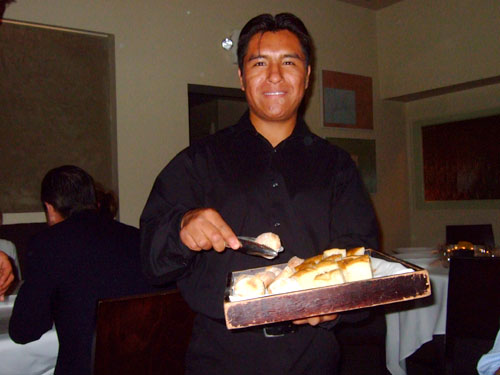 Two types of bread were offered: olive and ciabatta. Both were rather addicting, but our bread server was very quick in replenishing our plates. We must've had seven or eight servings!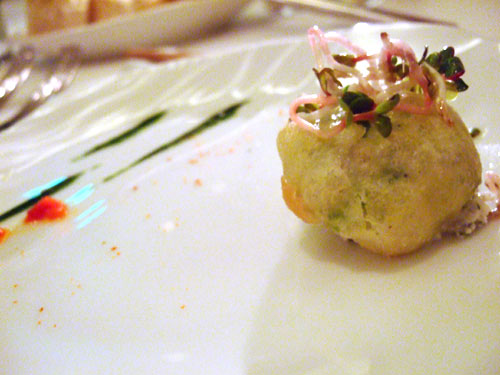 Amuse Bouche: Patty Pan Squash Tempura
Audoin de Dampierre Cuvee des Ambassadeurs 1er Cru, Reims
Goat Cheese, Tomato Confit, and Piquillo Pepper Purée. I thought this was nice, but my dining companions weren't fans, complaining that the piece of squash was a bit too big, a bit too monolithic. The paired Champagne was dry and chalky, a very typical expression of the style.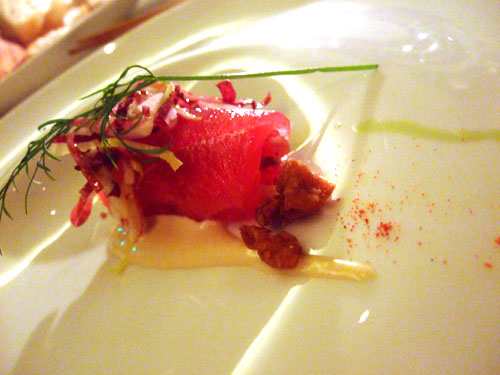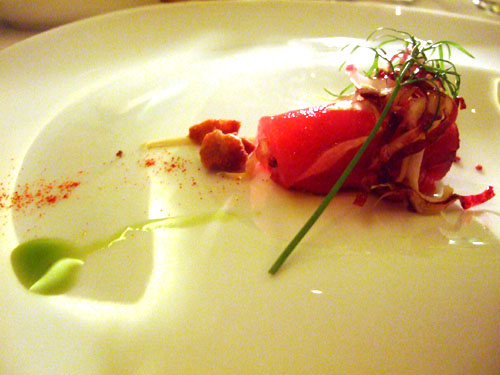 1a: Tuna 3 Ways
Pio Cesare Arneis, Langhe, Italy 2005
Vitello Tonnato, Sweet Bread Croutons. This was tuna sashimi wrapped around tuna tartare, atop another preparation of tuna I can't recall. All three were quite tasty. The sweetbread was lovely, though a bit of a tease.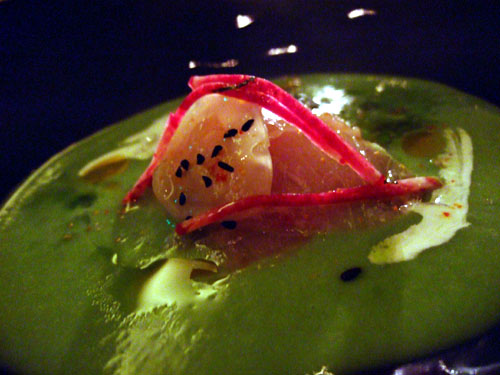 1b: English Pea Soup
Pio Cesare Arneis, Langhe, Italy 2005
Pearl Tapioca, Hamachi, Geoduck Clam. We also detected crème fraîche and watermelon radish. Again, a very solid course of raw fish, though three of us at the table preferred the tuna above. The Pio Cesare had a rather intoxicating nose and a fruity flavor, a result of the rather uncommon Arneis grape I'm sure (Arneis is an ancient native grape from the Langhe and Roero areas of Piedmont).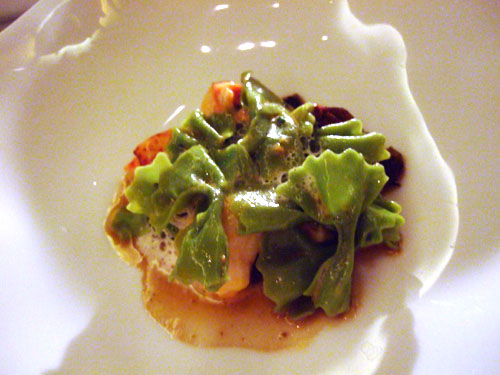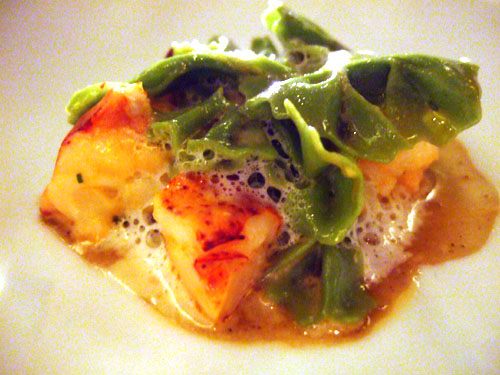 2a: Maine Lobster
Château Smith Haut Lafitte, Pessac-Léognan, Bordeaux, France 2000
Stinging Nettle Farfalle, Morels. I really enjoyed the flavor and consistency of the lobster and how it complemented the creaminess of the farfalle (more commonly known as "bow-tie" pasta). The wine was a Bordeaux blanc with a floral, honey nose and an earthy, oaky taste.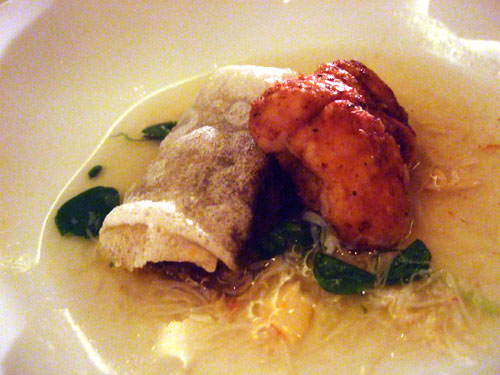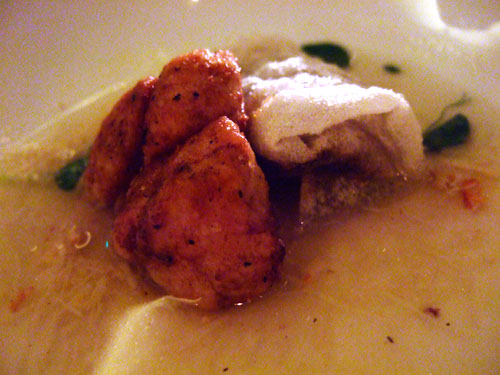 2b: Crispy Veal Sweetbreads
Château Smith Haut Lafitte, Pessac-Léognan, Bordeaux, France 2000
Maitake Mushroom Cannoli, Crab Sauce, and Chinese Bitter Greens. There was actually a mistake on the menu, as this certainly wasn't the "crab cake" as printed. Perhaps they served crab cake on the previous night. In any case, the sweetbread was as savory and tasty as I expected; I have yet to be let down by the organ (pancreas or thymus in case you didn't know). I wasn't nearly as impressed with the mushroom cannoli however.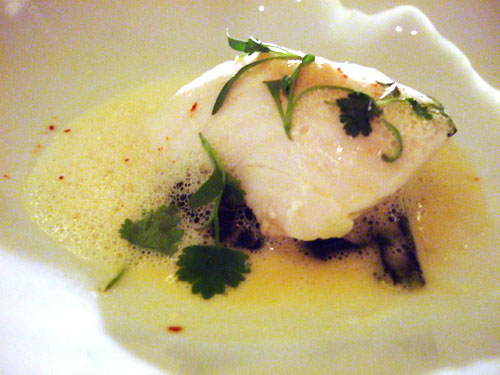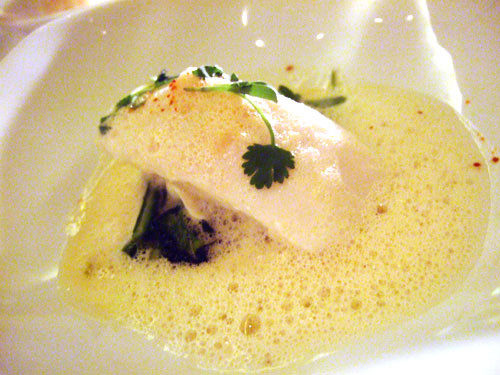 3a: Slow Cooked Halibut
Peay Estate Chardonnay, Sonoma Coast 2005
Sautéed Bitter Greens, Coconut Milk Broth. Amazing texture on this one, I'm not sure if I've had fish quite like it, completely unlike any halibut I've had before. A lot of ginger and coconut milk on the palate. The table was split on whether we liked this or the dish below better.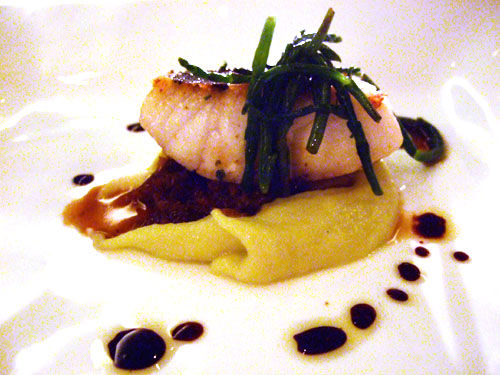 3b: Crispy Opakapaka
Peay Estate Chardonnay, Sonoma Coast 2005
Sea Beans, Wasabi Potato Purée, Braised Oxtail. We were unsure of what exactly this was when we were told the name, though we were informed that it was a Hawaiian fish. I later found out that opakapaka is also known as Hawaiian pink snapper. In any case, the fish was quite delicious and a nice contrast to the halibut above, which was much softer and milder in flavor. I'm not usually a huge Chardonnay fan, but the Peay was nice, heavy with a viscous mouthfeel and long finish.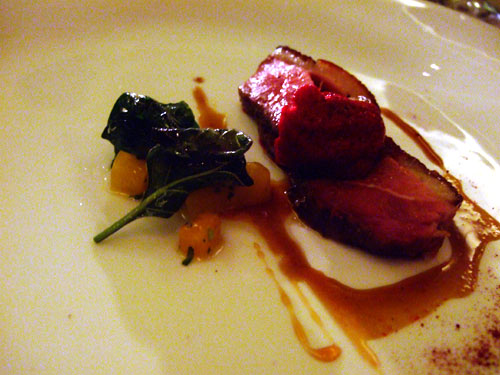 4a: Liberty Farms Duck Breast
Domaine Dominique Mugneret Vosne-Romanée, Burgundy, France 2002
Beet Cloud, Roasted Beets, Arugula, Honey Vinegar Reduction, Kale. An excellent preparation of duck. I remember I didn't eat duck in my younger days, but superb preparations such as this have really turned me on to the bird. The Burgundy was a nice pairing, with rich, spicy notes and not too much fruit.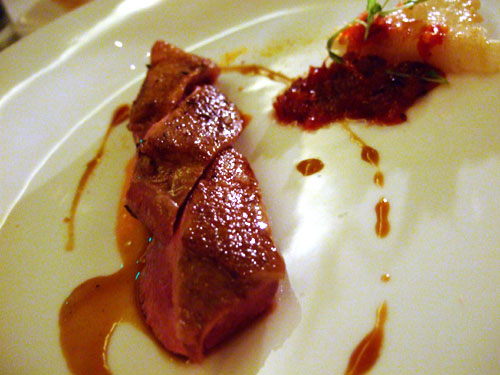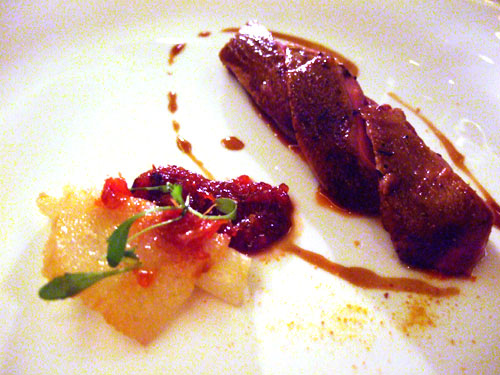 4b: Roasted Squab
Domaine Dominique Mugneret Vosne-Romanée, Burgundy, France 2002
White Asparagus Wrapped With Bread, Blood Orange Marmalade. Another fantastic bird from Myers, this was served a bit rarer than I typically get (not a bad thing!). We were split as to whether this or the duck was better.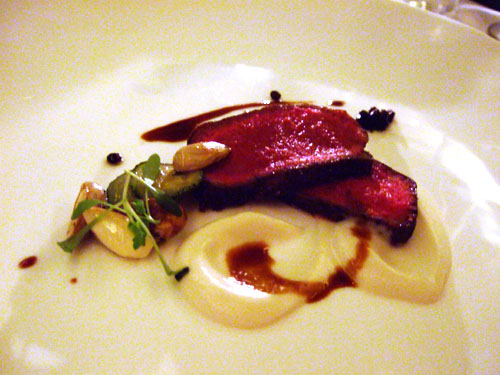 5a: Venison
Radio-Coteau Syrah "Timbervine," Russian River Valley 2005
Smoked Eggplant Purée, Honshimeji Mushroom, Salted Plum, Shiso. I think I'm starting to like venison! This was a very smoky, savory, delectable example. Quite tender, not gamy. The eggplant purée was exceptionally smoky.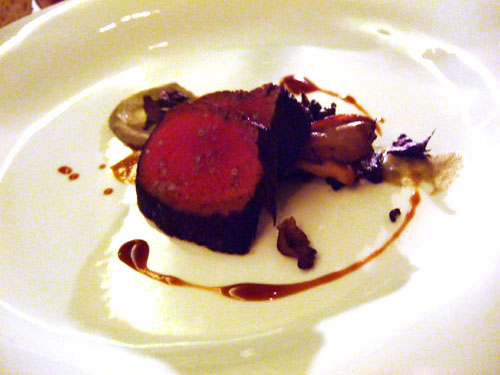 5b: Colorado Lamb Rack
Radio-Coteau Syrah "Timbervine," Russian River Valley 2005
Cauliflower Purée, Curried Lentil Vinaigrette. A very tender, very peppery, and very tasty preparation of lamb. As with the duck, I've been very much into lamb the past few years. The flavor went very well with the Syrah's trademark spiciness.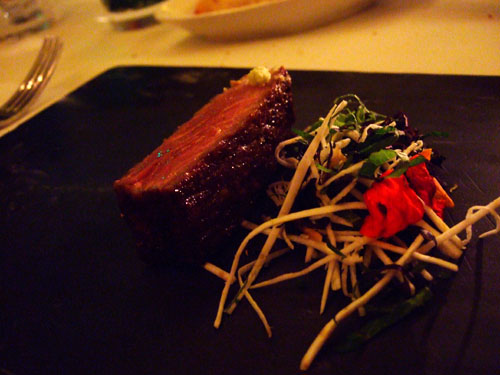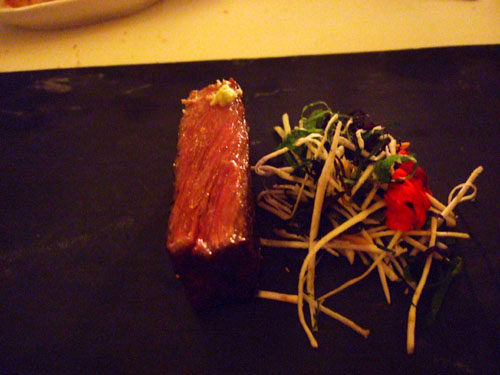 6: Kobe Beef From Kagoshima
Château Monbousquet Saint-Émilion, Bordeaux, France 2003
Pickled Young Ginger, Celery Shiso Salad. The Kobe (though not exactly, since Kagoshima is a different prefecture) was also a special ($175 for 8oz) but we were pleasantly surprised to see it featured as part of the tasting menu that night. We were also told that this was A5 grade beef (the highest). In any case, this was served medium rare and was fatty but not too much so. Fantastic. The wine was very jammy, with lots of fruit, a quintessential profile of Bordeaux.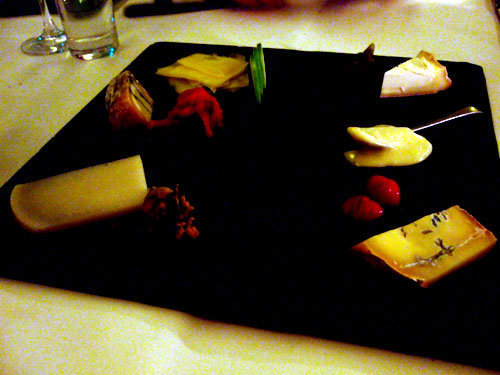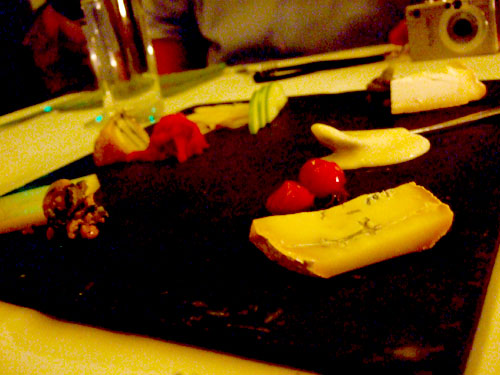 Cheese
Ramos Pintos Vintage Port, Portugal, 1997
Six selections for the entire table. Going clockwise from lower left: a Spanish cheese, smooth, even easy to eat, served with olive tapenade; an aged goat's, smoky and similar to a bleu, served with roasted pepper; French cheese, very similar to a Swiss, served with green apple; the "best" according to our server, goat's milk, served with gherkins; very creamy, a cow's milk, probably my favorite, served alone; a mild bleu cow's milk, served with cherries and fig jam. Overall a wonderful cheese course. I also selected a Port to go along with the cheese. The Ramos was earthy and spicy in character, medium-bodied, with sweet raisins and a mild finish.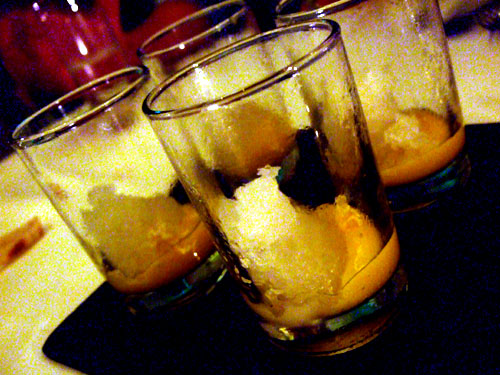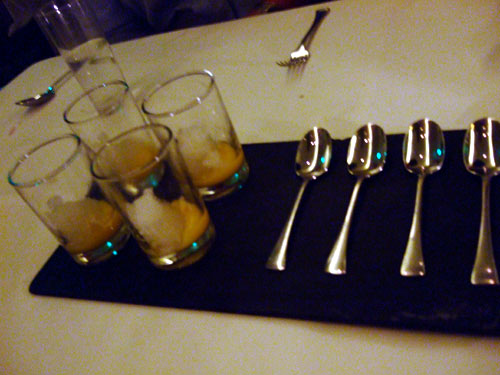 7: Riesling Granita
Mango, Candied Ginger. I consider this more of an intermezzo than a full course. But in any case, it had a strong Riesling nose, which gave away to hints mango and ginger on the tongue. Nice and refreshing.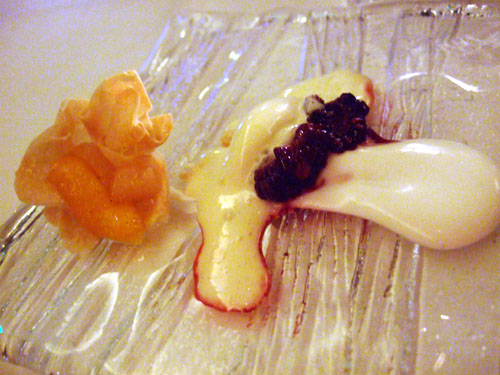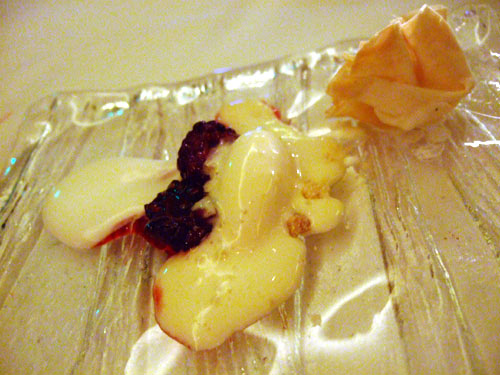 8a: Peach Tart
Domaine de Baumard "Carte D'Or" Côteaux du Layon, Loire Valley, France 2004
Juniper Berry Ice Cream, Bitter Almond Cream, and Candied Black Berries. The ice cream was rather interesting, though unfortunately I don't remember much else about this dessert. I suppose I should've taken more notes.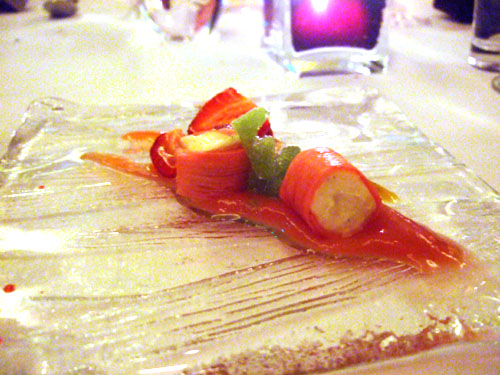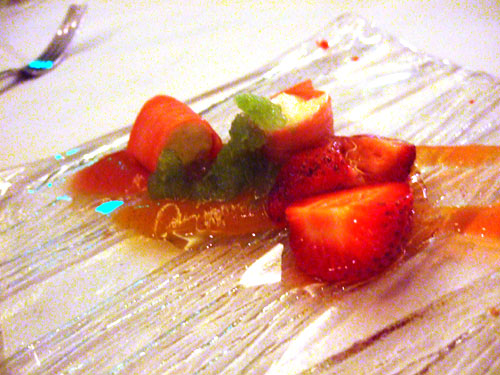 8b: Rhubarb Cannoli
Domaine de Baumard "Carte D'Or" Côteaux du Layon, Loire Valley, France 2004
Mascarpone Cream, Strawberries, Celery Granita. Very nice, though I didn't care too much for the celery granita; it was a bit strong and reminded me of the celery ice at
Alinea
.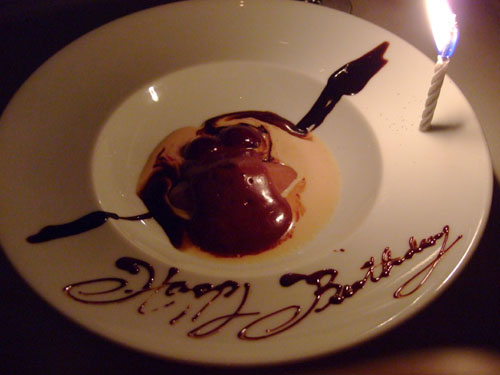 9a: Chocolate Espuma
Anselman Trockenbeerenauslese Ortega "Flemlinger Bischofskreuz," Rheinpfalz, Germany 1999
Araguani Szechwan Peppercorn Ice Cream, Smoked Peanut Purée, Pickled Cherries. My chocolate fix for the night. Our server overheard that it was my birthday, so this was a nice touch. They used a trick candle, so it pretty much burned all the way before going out (I couldn't bow it out!).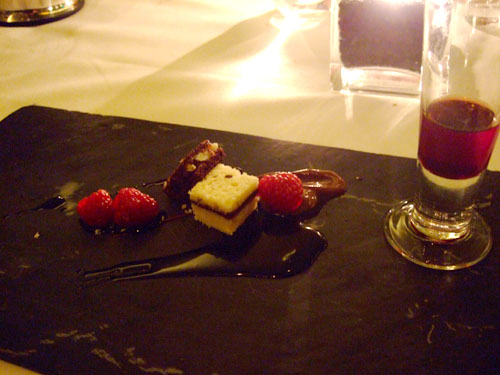 9b: Chocolate Tea Sandwiches
Anselman Trockenbeerenauslese Ortega "Flemlinger Bischofskreuz," Rheinpfalz, Germany 1999
Hibiscus Iced Tea. The sandwiches were quite nice, though they left me wanting more. The most interesting thing was the tea, which was very viscous, and very sweet.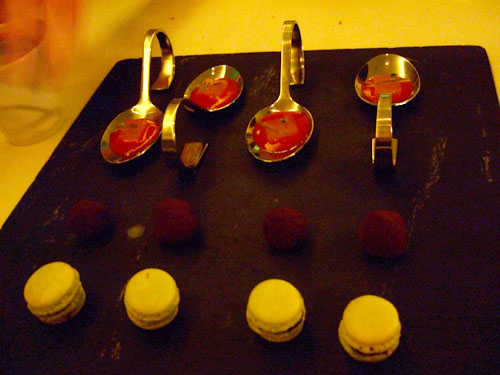 Mignardises 1
Strawberry Confit with Lime Gelée, Star Anise Truffle, Rosemary Macaroon. All were tasty, though my favorite was the truffle; you wouldn't expect anise to work well with chocolate, but it does surprisingly.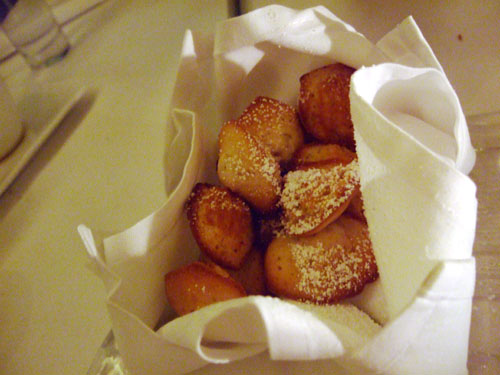 Mignardises 2
Rosemary madeleines, which are small buttery sponge cakes. These were superb, with a soft, warm interior wrapped in a crisp crust; we ate every last one.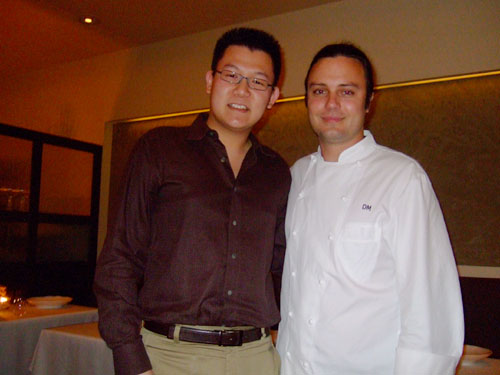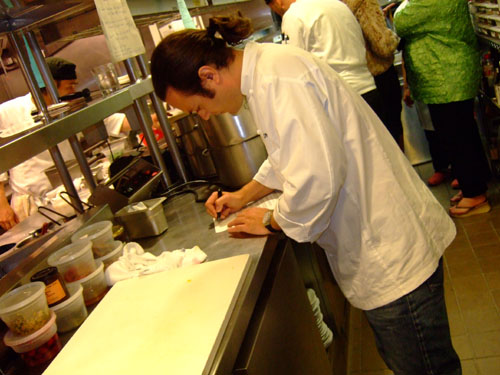 Chef Myers stepped out to talk to our table at the end of the night. He then showed us around the kitchen and signed my menu.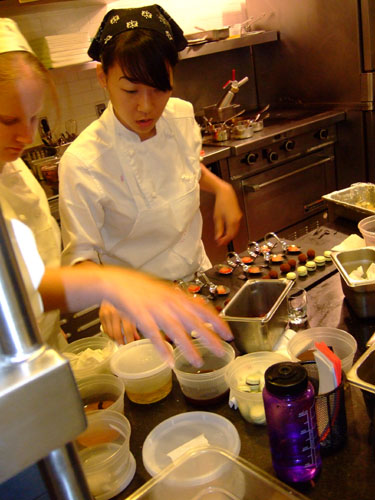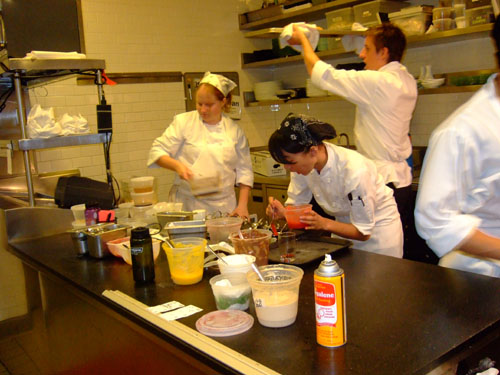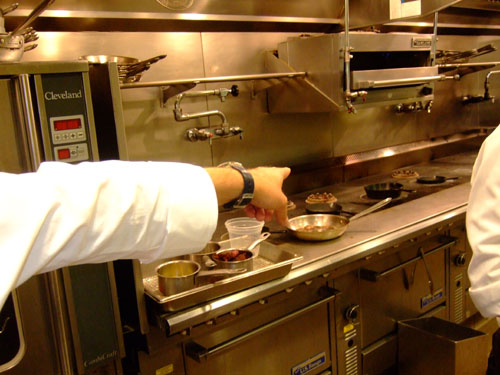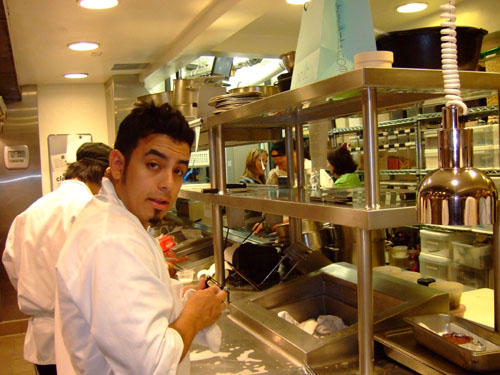 The first two photos are of Pasty Chef Karen Yoo at her station. On the bottom, Chef Myers points out the various stations for appetizers, fish, etc. The kitchen struck me as remarkably small for a restaurant of this caliber.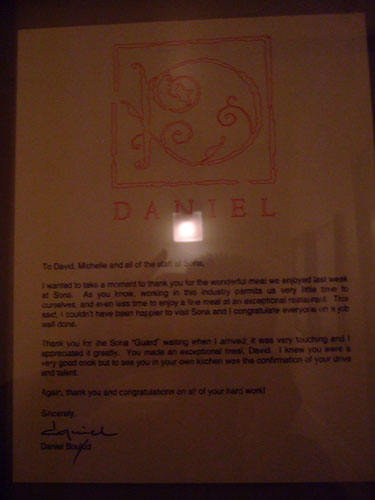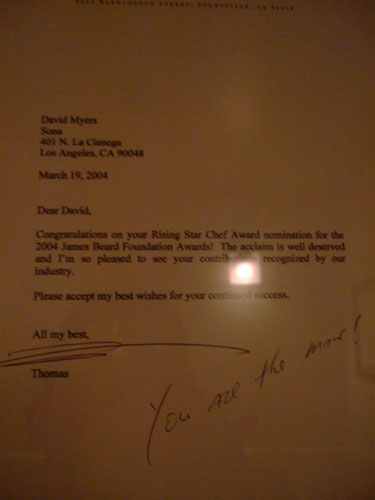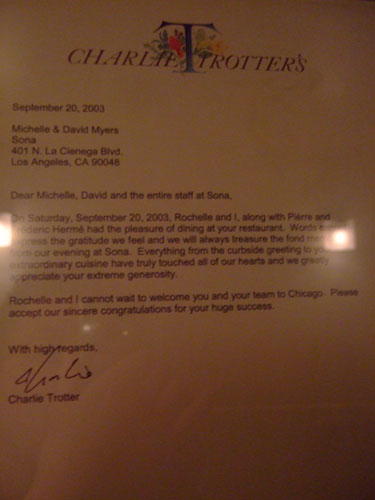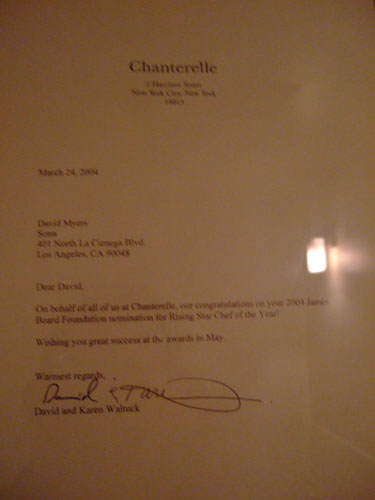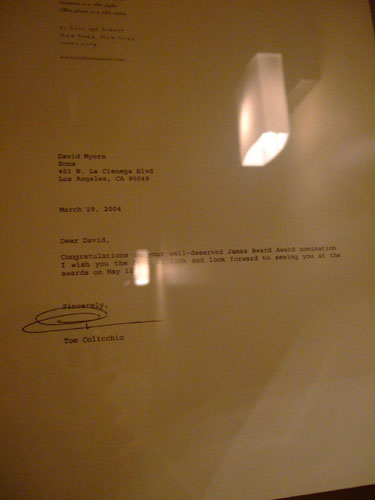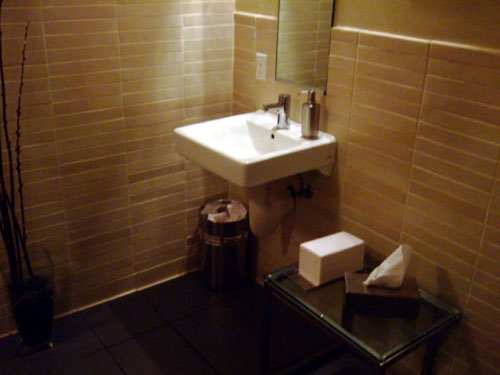 I don't normally post photos from the bathroom, but these were worth noting. Basically on the wall there were letters to David from various well-known chefs: Daniel Boulud (Restaurant Daniel), Thomas Keller (French Laundry / Per Se), Charlie Trotter (Charlie Trotter's), David Waltuck (Chanterelle), and Tom Colicchio (Gramercy Tavern / Craft). I wonder what was in the ladies room. Click for larger versions.
Due to the mixed reviews from Sona, I came in with low expectations. But I'm glad to report that they were not only met, but far exceeded. In fact, several of the dishes were
French Laundry
-calibre. Color me suitably impressed.