Metropolitain (Colorado Springs, CO) [2]
Metropolitain
101 N Tejon St, Colorado Springs, CO 80903
719.302.0280
www.themetropolitaindowntown.com
Tue 09/11/2007, 05:00p-06:00p
This was my third visit to Metropolitain. See the report from my second trip
here
. The restaurant seems to be in a constant state of flux, so let's see what this most recent visit brings...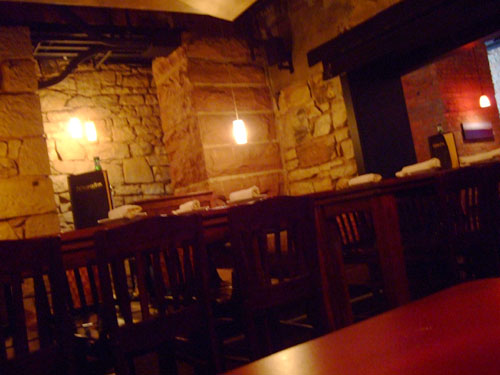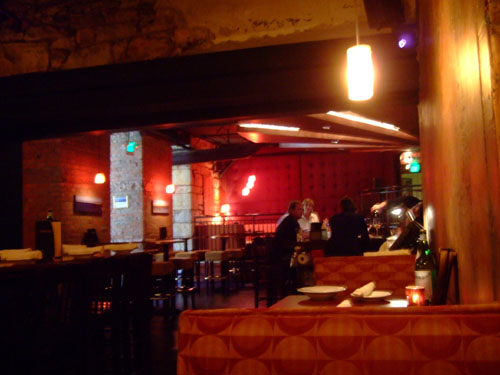 The decor is one of Metropolitain's strong points, and fortunately, it has remained one of the only constants in my three visits.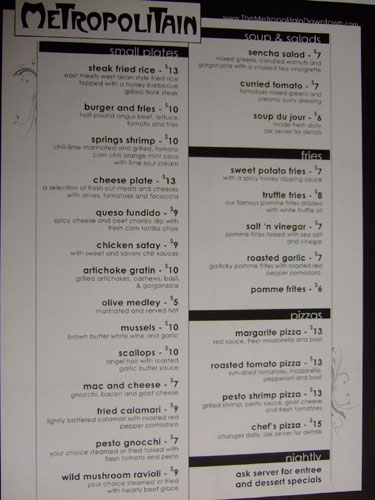 The menu underwent a drastic overhaul since my last visit; only a few dishes survived intact (e.g. Springs Shrimp, Artichoke Gratin, Sencha Salad). On my last visit, my server informed me they were moving away from the small plates concept to focus on higher quality ingredients; however, this time, apparently they've gone back! Click for larger version.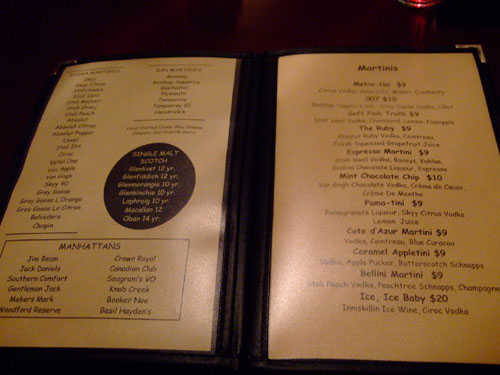 The wine expanded a bit since my last visit, though many selections have remained the same. Since I had to go to work after the meal (7PM-7AM shift, yikes!), I only ordered one drink, a glass of III Associates Chardonnay, Australia, 2002, which was passable. Click for larger versions.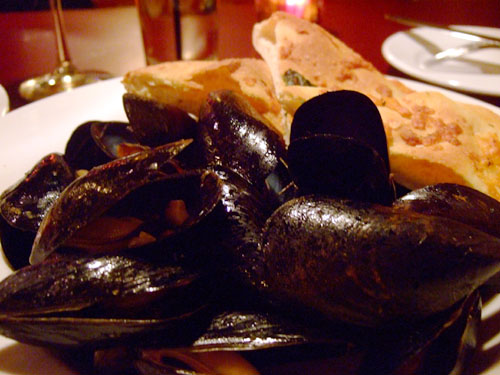 Mussels
Brown butter white wine and garlic. The first few mussels I had were quite good, but then I encountered a few that didn't seemed to be cooked through. Unfortunately these paled in comparison to the mussels I had days earlier at
Summit
; while I complained that Summit's were too small, these were too big! The included cheese bread was fantastic, however.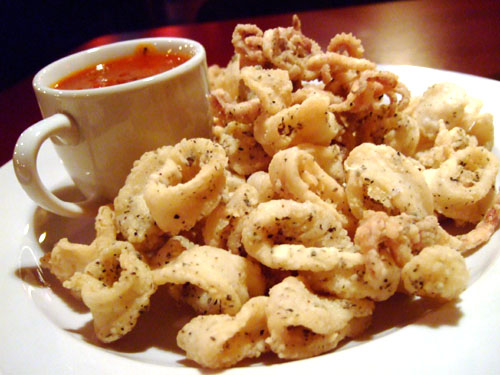 Fried Calamari
Lightly battered calamari with roasted red pepper pomodoro. The calamari itself was decent, but the paired pomodoro didn't taste quite right to me. I preferred to eat the squid sans sauce.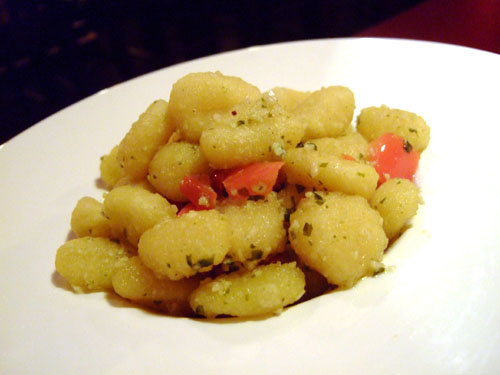 Pesto Gnocchi
Fried tossed with fresh tomato and pesto. I believe this was my first encounter with fried gnocchi, and it wasn't a great one. The gnocchi weren't particularly tasty, and were a bit tough and oily.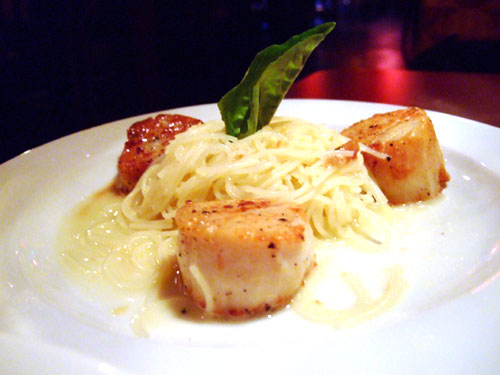 Scallops
Angel hair with roasted garlic butter sauce. The scallops were cooked near perfectly, and were plenty flavorful to boot. The included angel hair was totally unnecessary though. This was the strongest dish of the night.
Sadly, this third visit to Metropolitain was also the most disappointing. The restaurant can't seem to keep still, constantly changing menus, concepts, and even chefs. What happened to the superb flatbread (or any bread at all)? I really appreciated the amuse bouche last time; where'd it go? It appears that Metropolitain has not been blessed with the stability I hoped for at the end of my last meal.