Club 33, Disneyland (Anaheim, CA) [2]
Disneyland
Attn: Club 33
1313 S Harbor Blvd, Anaheim, CA 90803
714.781.4033
www.disneylandclub33.com (unofficial)
Sun 10/21/2007, 02:35p-04:55p
This was actually my second visit to Club 33. My employer has a corporate membership and I consider it a great privilege to be selected to go. Since the restaurant itself was detailed in my
first experience
, I'll focus on the food this time around.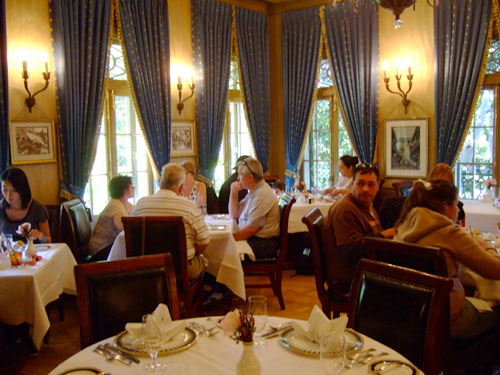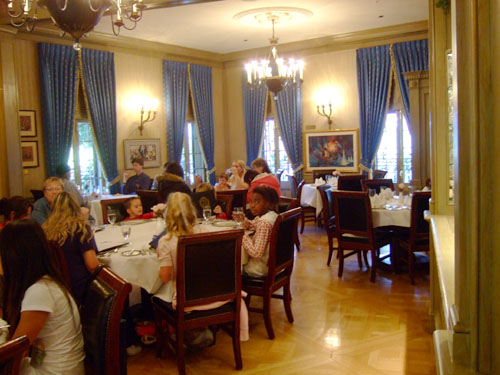 This is the main dining room, which I neglected to photograph my last visit.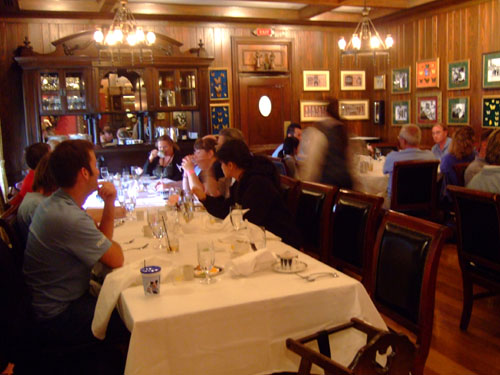 However, we were seated in the Trophy Room, the same room we were in last year. In fact, we sat at the exact same table.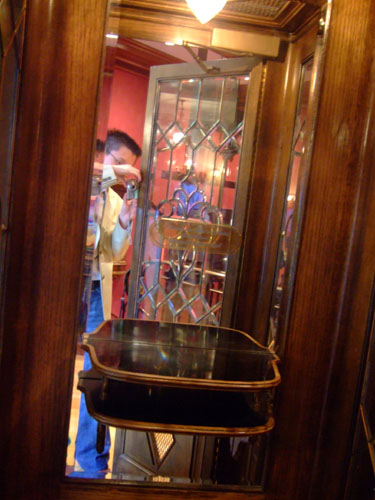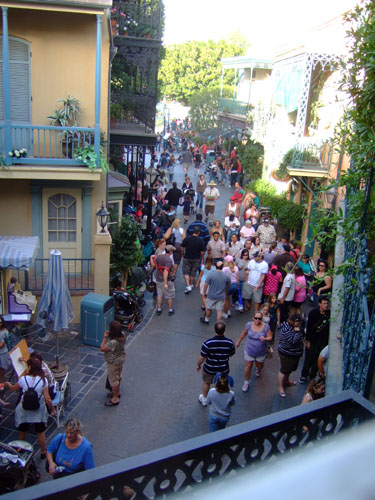 Left:
The phone booth was from the movie
The Happiest Millionaire
and used to contain a real working phone. We were told it broke and was subsequently removed pending replacement.
Right:
The second-story view from the hallway connecting the Trophy Room with the rest of the restaurant.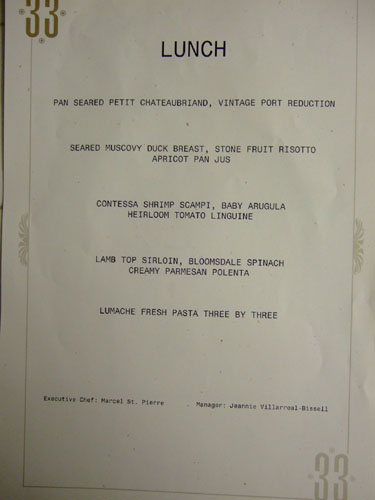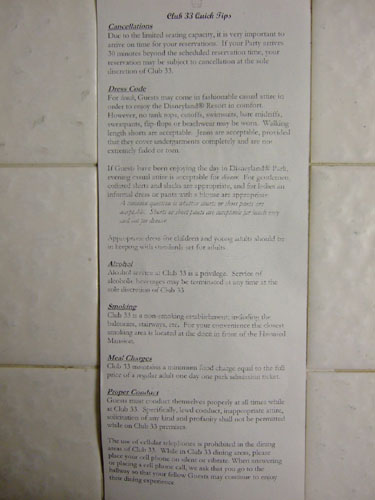 Left:
The menu remained unchanged from last year. However, we had to order in advance and were given the choice of the filet, the shrimp, the pasta, and a chicken dish not listed on the menu.
Right:
The guide I was given upon picking up my park pass from Guest Relations.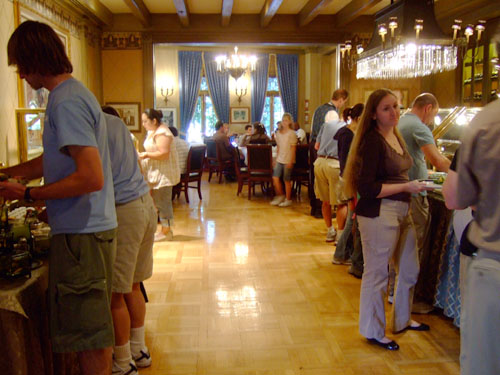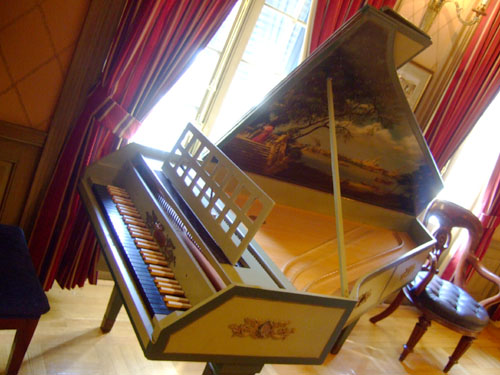 The buffet area. The harpsichord was selected by Lillian Disney and features a painted scene of New Orleans.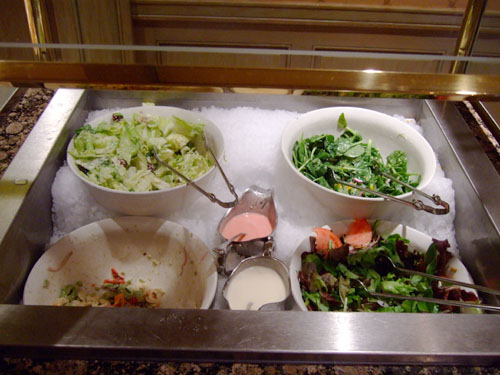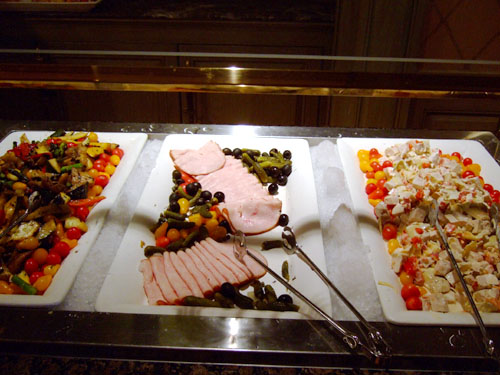 The first station contained a quartet of salads (of which I had none). The second had a chicken salad of some sort, cured meat, and roasted vegetables.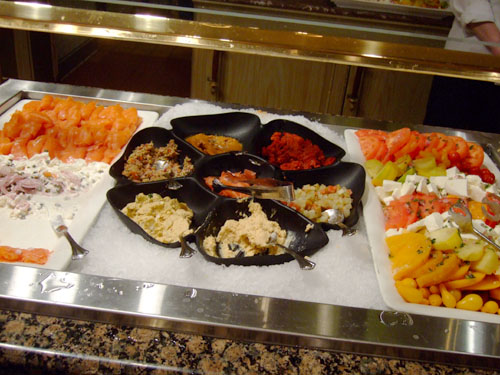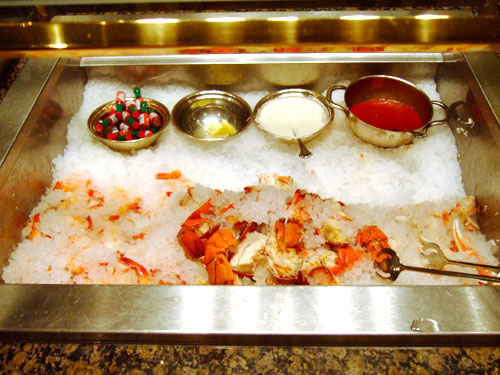 Next we have sliced fruit, various dips (including hummus), and my favorite, smoked salmon with crème fraîche, onions, and capers. Finally, we get crab claws, lobster tails, and cocktail shrimp on ice (an exact repeat of last year's spread).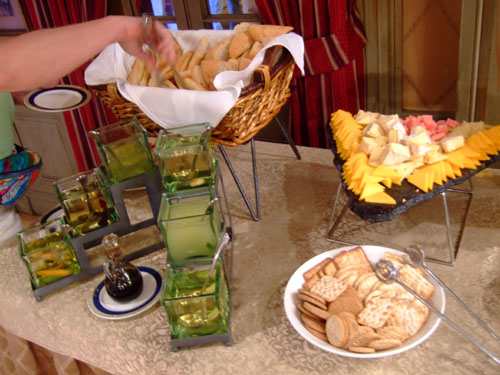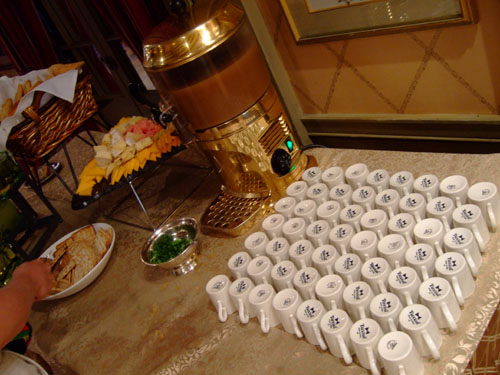 Bread, oils, cheese, crackers, and soup (which I initially mistook for coffee).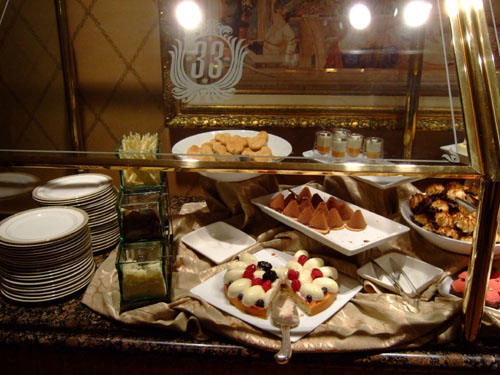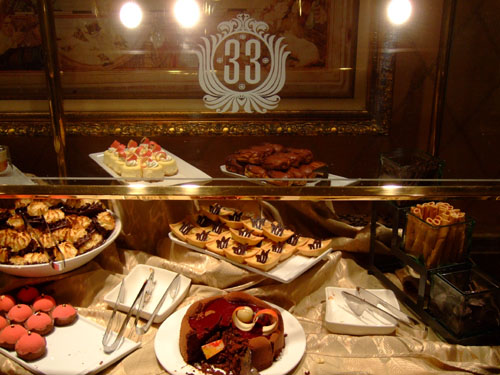 Chocolate cake, cheesecake, mousse, macaroons, tarts, éclairs, etc. I think this year's desserts were better than last year's.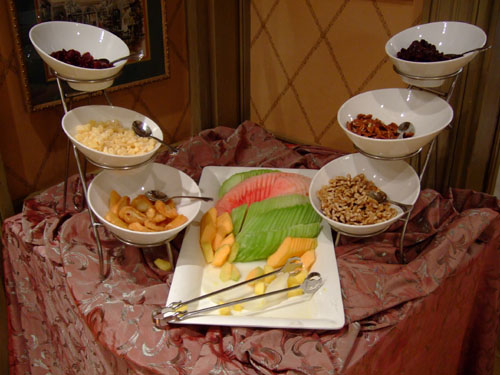 The final station provides some more fruit and selected accoutrements.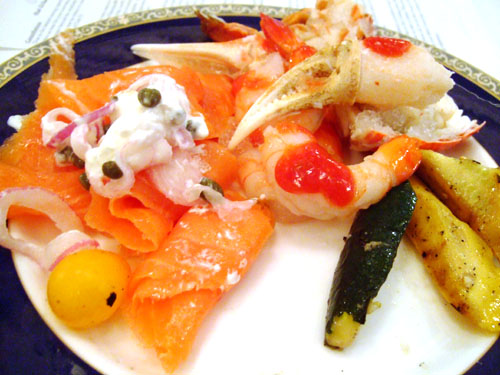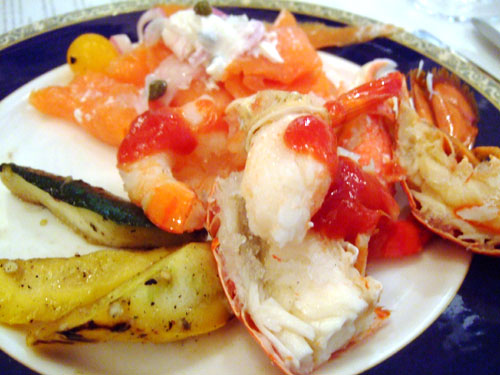 What my buffet plate ended up looking like: a motley menagerie of smoked salmon, cocktail shrimp, lobster tails, crab claws, and roasted veggies.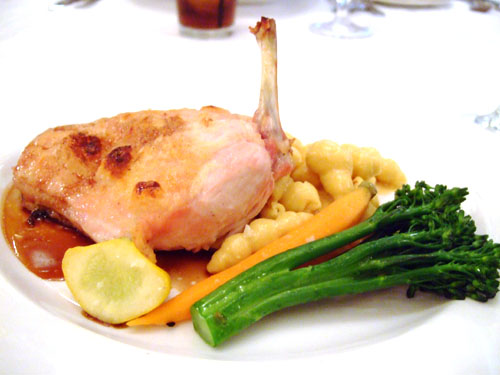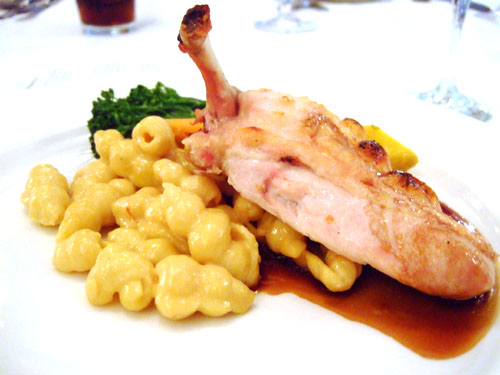 Pan Roasted Chicken, Truffled Macaroni & Cheese
My unlisted chicken entrée. I never order chicken at restaurants but this turned out surprisingly tasty. The meat was quite flavorful and had a firm but yielding texture. The mac & cheese was an unusual accompaniment but complemented the chicken well.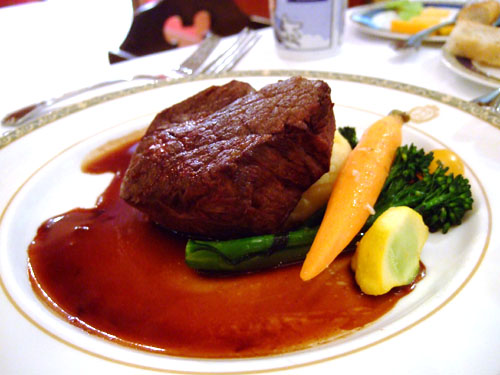 Pan Seared Petit Chateaubriand, Vintage Port Reduction
I thought the filet was pretty solid when I had it last year. However, I heard someone say this particular example was a bit tough. I thought it was interesting that the restaurant only cooks steak rare, medium, or well. That may explain why my medium-rare order last year was closer to medium.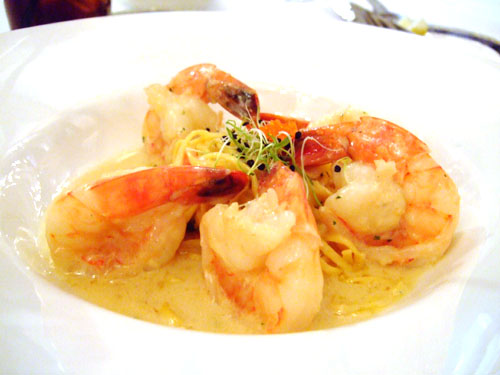 Contessa Shrimp Scampi, Baby Arugula, Heirloom Tomato Linguine
Another redux from the year prior, which unfortunately, I didn't get to try.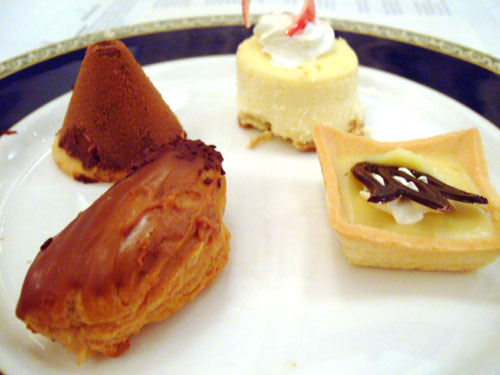 My selection of desserts, counter-clockwise from lower left in the first photo: mini cheesecake, chocolate truffle (very nice), chocolate éclair (my favorite), and lemon tart (too tart for me).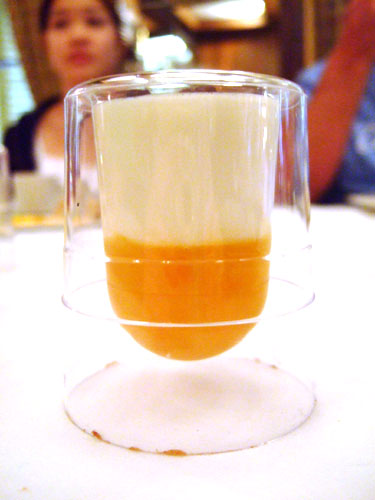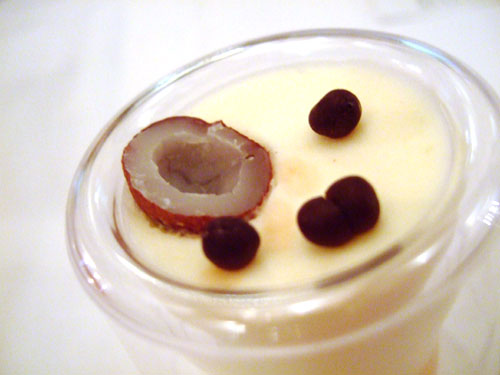 This was some sort of mousse on top of a layer of apricot(?) purée. We were all trying to figure out what the hard nut-like thing on top of the mousse was.