Leatherby's Cafe Rouge (Costa Mesa, CA)
Leatherby's Cafe Rouge
615 Town Center Dr, Costa Mesa, CA 92626
714.429.7640
www.patinagroup.com/cafeRouge/
Fri 09/28/2007, 09:50p-12:10a
Leatherby's was my third foray into the Patina group of restaurants, the first two being
Catal
and the flagship
Patina
. My expectations were not particularly high going on, since my dining companion's previous experience here was less than stellar. Our decision to dine at Leatherby's was a bit of a whim actually, as we needed somewhere open late to eat after our shopping spree at Bloomingdale's. Fortunately, we were in for a pleasant surprise...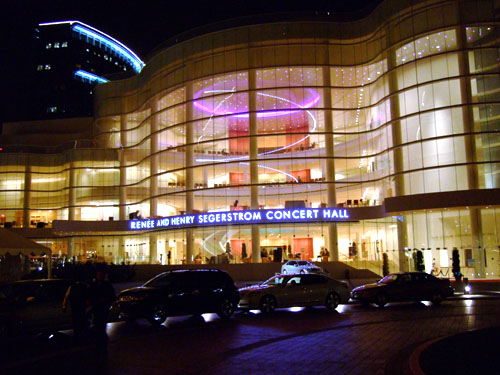 Leatherby's is located in the beautiful new Segerstrom Concert Hall (the Segerstrom family holds vast tracts of land in Orange County and owns South Coast Plaza). The flow of customers is heavily dependent on pre-theater diners and tapers off considerably when there's no show.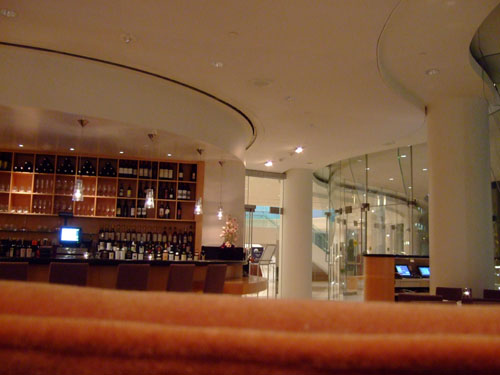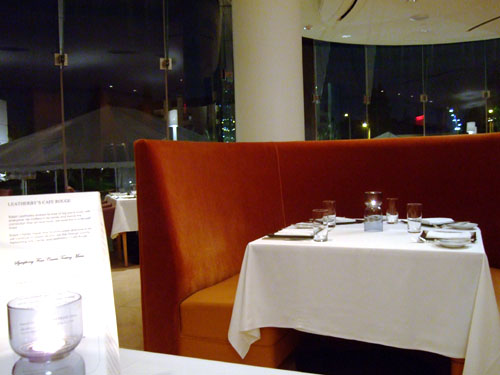 The dining room is very modern and sleek, with plenty of glass and other stark surfaces. Tables are fairly well spaced, though we opted for one of the rather enveloping orange booths, which seemed to be covered in a material that just begged to be touched.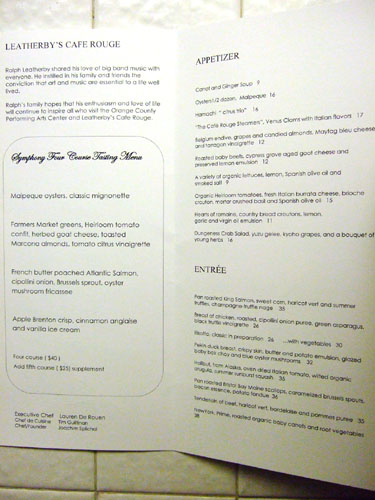 We originally ordered the tasting menu with Wagyu supplement, only to be told that the Chef would be preparing a special menu for us (I suspect they ran out of a few key ingredients). It actually turned out to be a good thing however, as I think the spontaneous tasting menu we had would've certainly been better than the standard menu. The Chef de Cuisine, Tim Guiltinan, even sat down with us to go over the menu in person. Click for larger versions.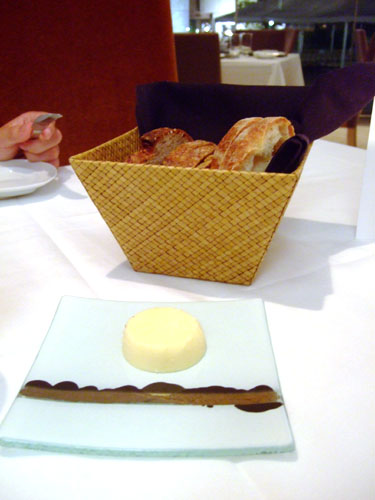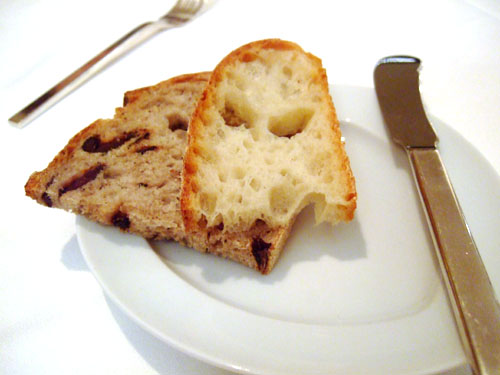 I believe there were three varieties of bread: standard, olive, and cheese (my favorite, with a fantastically flavorful crust).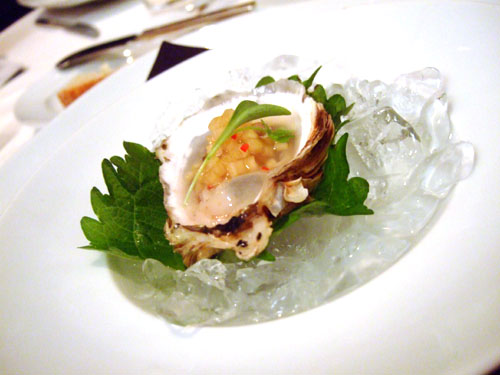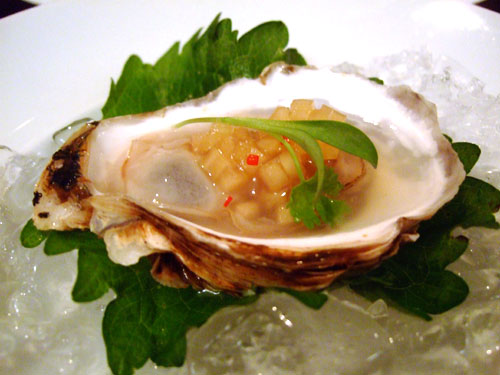 Amuse Bouche: Eastern Malpeque Oyster
Meibo Yowano Tsuki Sake Junmai Ginjo
Daikon Mignonette, Shiso. This was one of the best preparations of oysters I've had in recent memory, with the daikon lending a refreshing and tart note to the mollusk. It was milder in flavor than I'm used to (typical of Eastern oysters apparently), which I actually preferred. The paired sake had a good nose with hints of vanilla, though it was a bit harsher than I'd like on the palate.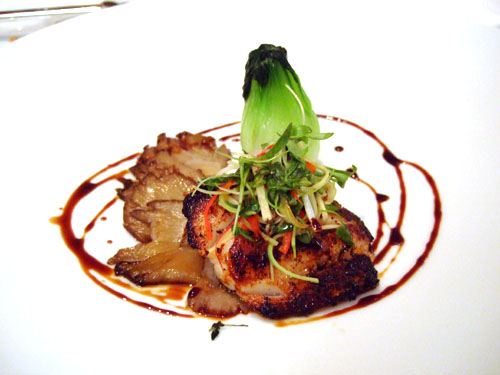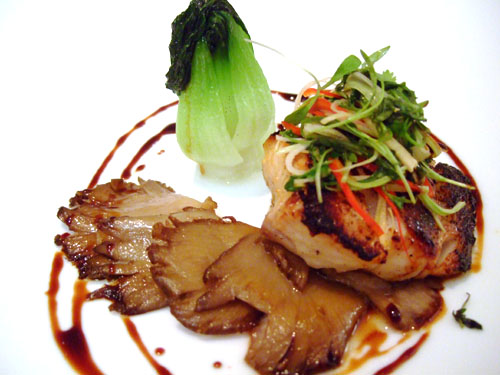 1: Black Sablefish
Meibo Yowano Tsuki Sake Junmai Ginjo
Sweet Soy, Blue Oyster Mushrooms, Bok Choy, Scallions, Ginger. I don't have sablefish (aka butterfish or black cod) often, but perhaps I should. The fish had a great texture, firm yet flaky, and was superbly flavored with a mixture of scallions and ginger which lent a very Asian taste. The bok choy and the mushrooms in particular were great accompaniments.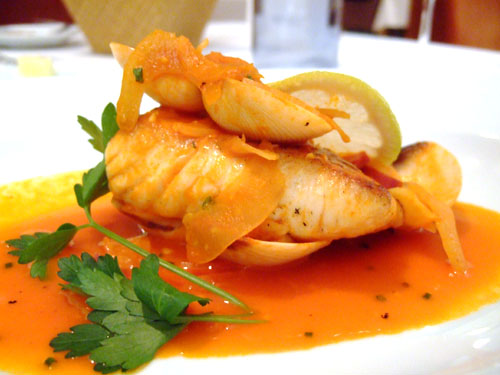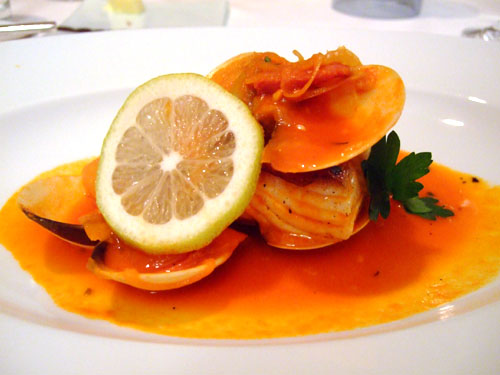 2: Alaskan Halibut, Piquillo Pepper, Spanish Chorizo, Venus Clams
Bolgheri, Campo Alla Casa, Enrico Santini, 2004
Piquillo Pepper, Spanish Chorizo, Venus Clams. I was a bit wary of this dish when it came out, but I'm happy to report it turned out quite well. The fish had the signature halibut texture which I expect, and was done in a Spanish-inspired preparation which was a welcomed change to the typical variations of halibut. The included clams were superb and I quite liked the wine (effervescent, with hints of apple) as well.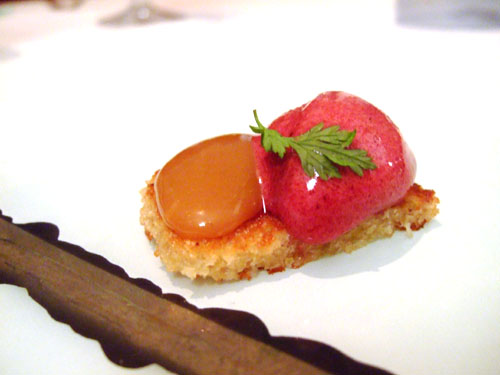 Intermezzo: "PB&J"
Kyoho Grape Sorbet, Tahini, Toasted Brioche. Tahini is basically a paste made from sesame. The Kyoho is a Concord-esque slip-skin grape originally from Japan, well-regarded for its large size and sweet flesh. Chef Guiltinan told us that he and his staff made a big batch of sorbet with the grapes, but wasn't sure what to do with it, hence this intermezzo. It worked, and I liked it better than any traditional PB&J I've ever had!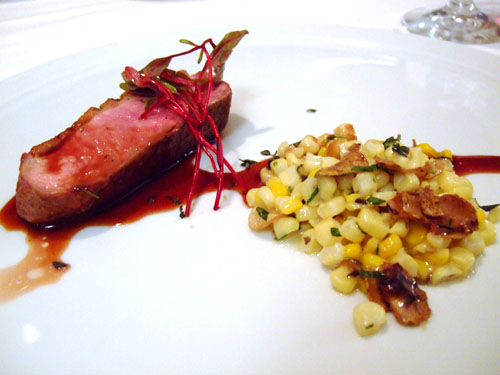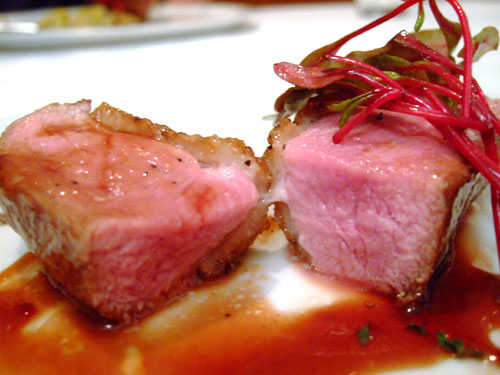 3: Duck
Pinot Noir, Campion, Santa Lucia Highlands, 2002
White Truffle, Sweet Corn, Port and Foie Gras Reduction, Beet Leaves. A very flavorful preparation of duck, especially the skin, though parts of the duck were a bit chewy. Corn and truffles aren't a traditional pairing, but it went well with me. The beet leaves draping the duck were interesting, as they had a very tart taste, like they were candied. The duck-Pinot Noir pairing is a classic one, and this particularly spicy Pinot did the duck justice.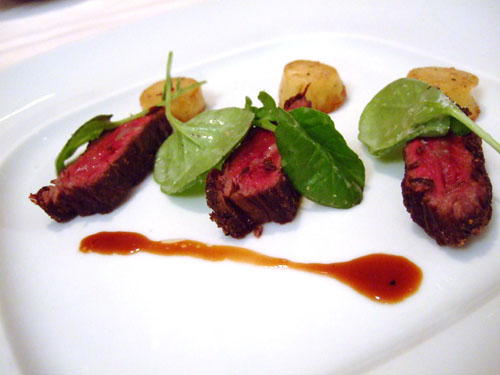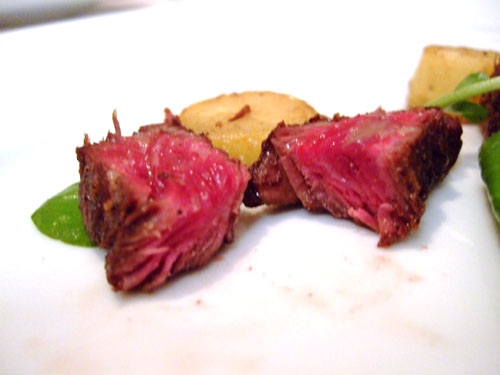 4: Snake River Farms Wagyu Ribeye Cap
Cabernet Sauvignon, Mount Veeder, Napa Valley, 2004
Fingerlings, Watercress, Au Jus. The meat was done rare, and was surprisingly tender, though not as oily, heavy, or rich as Japanese Wagyu. Notice how the marbling is very distinct, compared to the Japanese steaks at
CUT
. I appreciated how they let the beef stand on its own, with very simple accoutrements. The paired Cab was fairly intense, with less jammy fruit and more earthy notes of tobacco.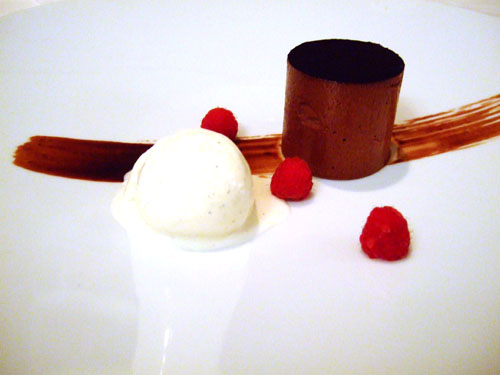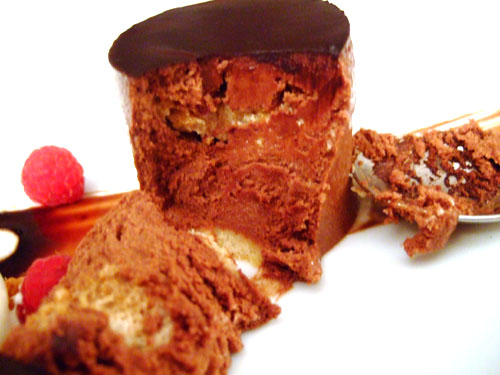 5: Chocolate Fondant
Rozes 10 Year Old Port
60% Valhrona Chocolate Mousse, Vanilla Bean Ice Cream, Raspberry. I quite enjoyed the interplay between the fondant (which seemed to contain some nougat-like chunks) and the ice cream. The Port was a bit lighter and harsher than I prefer though, and tended to overshadow the dessert a bit.
Both my dining companion and I came out of Leatherby's well sated and pleasantly surprised. From what Chef Guiltinan told us, it seems like Leatherby's is a restaurant still trying to find its own identity. Of course, it's greatly affected and dependent on the influx of theater diners, who provide a steady and important source of revenue, but who may be insidiously affecting the rest of us. Chef Mark Gold opened Leatherby's last year, and imparted an Asian influence to the food. After his departure, Guiltinan was made head chef; and now Lauren De Rouen is Executive Chef. According to Guiltinan, the restaurant is moving away from Asia and will likely be going toward a more Franco-centric influence. In any case, we definitely felt that Leatherby's has the potential to be one of the top restaurants in Orange County. It just needs to find itself before it can deliver consistently.