Lawry's The Prime Rib (Beverly Hills, CA)
Lawry's The Prime Rib
100 N La Cienega Blvd, Beverly Hills, CA 90211
310.652.2827
www.lawrysonline.com/theprimerib_beverlyhills_gen_info.asp
Fri 09/14/2007, 06:50p-10:00p
Lawry's is a bit of a Los Angeles icon, but one that I've stayed away from, until now. The reason: I'm not a huge fan of prime rib (give me a steak any day), and Lawry's is all about prime rib (it
is
"The Prime Rib"), or so I thought. Then one of my colleagues informed me of a special ABC (Anything But California) wine dinner, in which a five-course meal would be paired with wines from outside California. The menu looked intriguing, so I thought I'd give Lawry's a shot.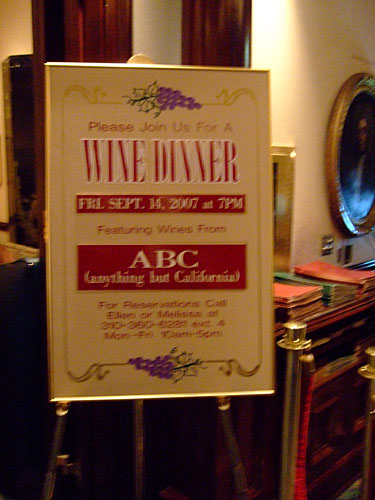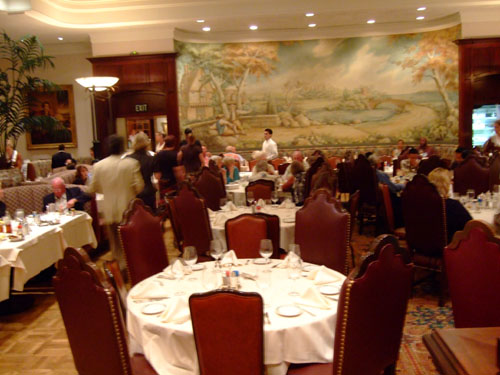 After dropping your car off to the valet, a largish reception area greets you upon entering. We waited a few minutes here before moving through the capacious main dining room to the Vintage Room in the back.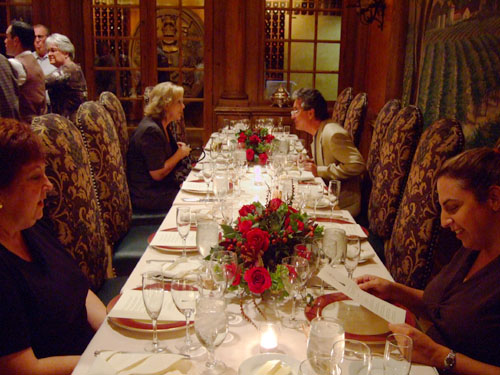 The Vintage Room contains two long tables, each seating about fourteen. We sat at the end of one, next to two high school English teachers. They proved to be a great source of conversation and levity throughout the night. I'll never look at English teachers the same way again!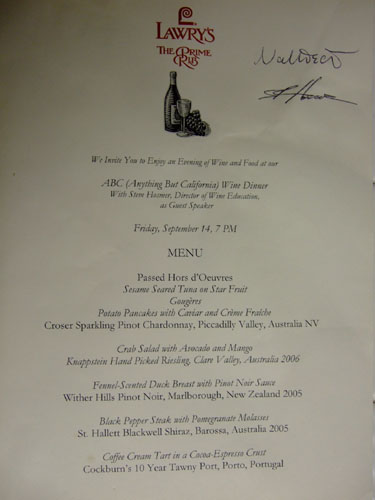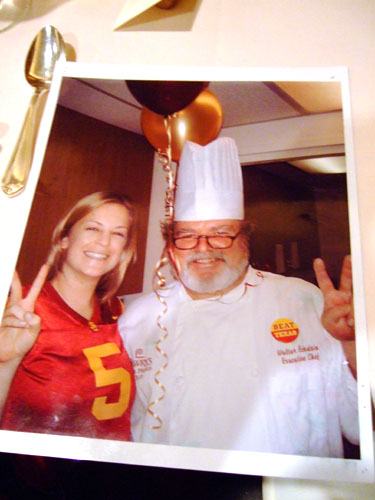 On the menu, note the signatures of Walter Eckstein, Executive Chef, and Steve Hosmer, Director of Education at Beam Wine Estates and our guide for the evening. Click for a larger version. Apparently, Chef Eckstein is a bit on the shy side and didn't want to come out, but he did provide a photo. Fight on!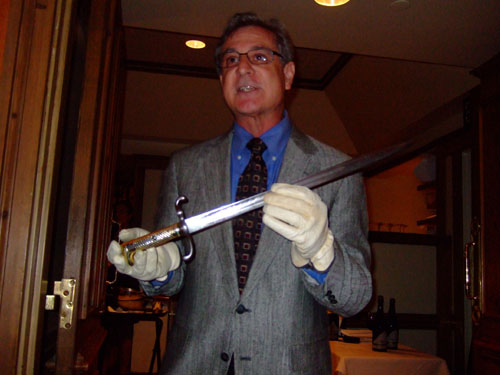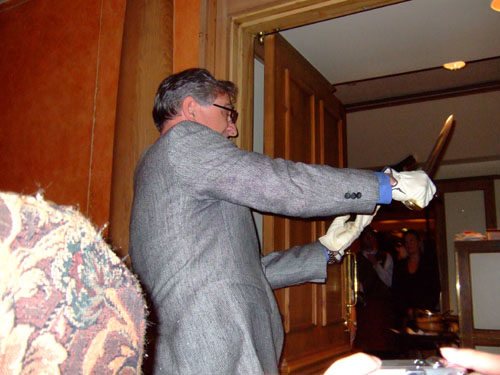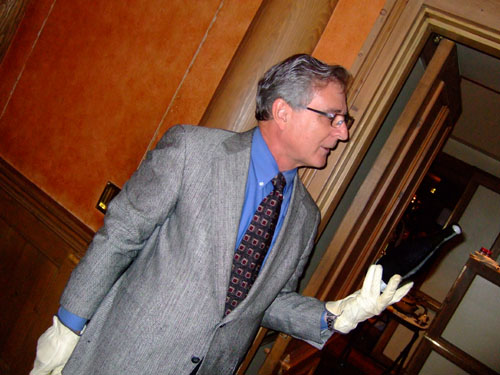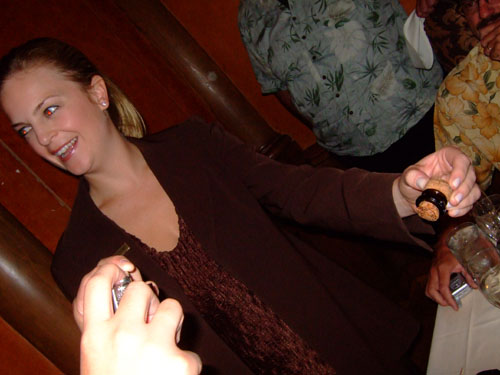 Here, we see Steve opening a bottle of champagne via saber, Napoleon style. Catering Sales Manager Summer Stearns holds up the cleanly cut cork. Unfortunately, for liability reasons, we didn't actually get to drink from this bottle.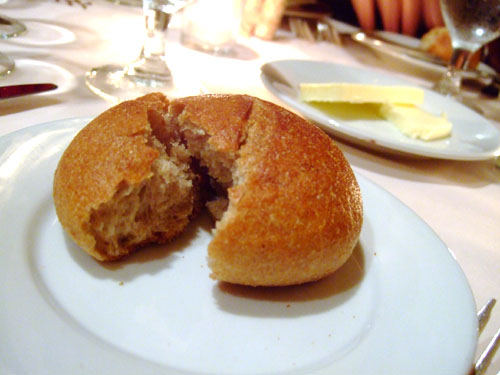 The bread came out warm, with a nice spreadable pats of butter.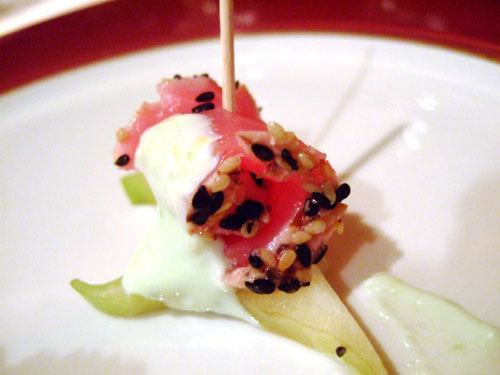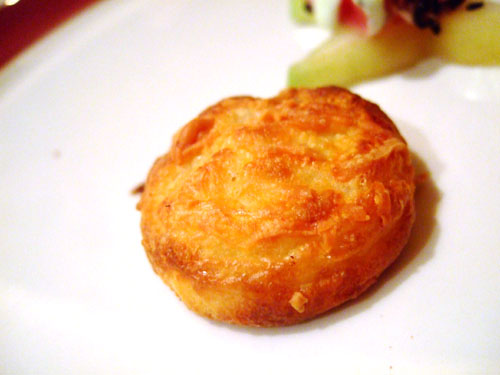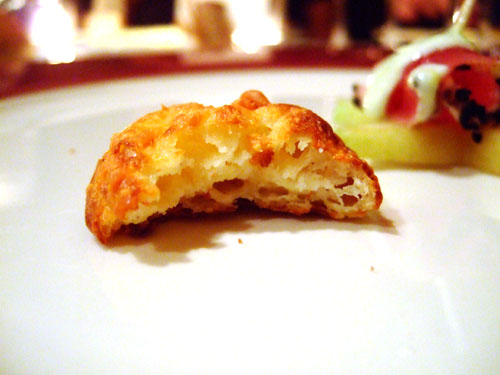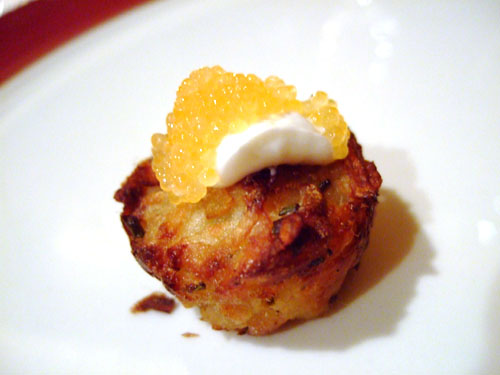 1: Passed Hors d'Oeuvres
Croser Sparkling Pinot Chardonnay, Piccadilly Valley, Australia NV
We have: (1) Sesame Seared Tuna on Star Fruit, very light and refreshing, a great way to kick things off; (2) Gougères, a delectable, cheesy bread; (3) Potato Pancakes with Caviar and Crème Fraîche, my favorite of the trio, reminiscent of tater tots with a creamy twist, courtesy of the crème fraîche (the caviar was pretty mild).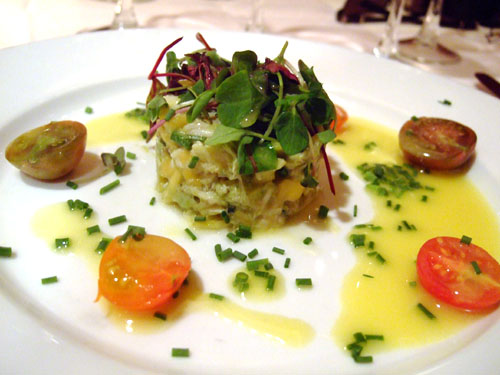 2: Crab Salad with Avocado and Mango
Knappstein Hand Picked Riesling, Clare Valley, Australia 2006
The avocado and mango proved to be good companions to the crab, providing an interplay in tartness and texture. Surprisingly, the Riesling was much drier than I was used to (my previous experiences being with sweeter German versions).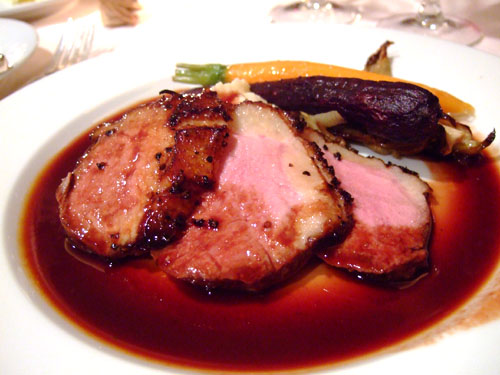 3: Fennel-Scented Duck Breast with Pinot Noir Sauce
Wither Hills Pinot Noir, Marlborough, New Zealand 2005
I heard someone mention that their duck was a bit dry. Fortunately, I didn't have that problem, as mine was quite juicy and tender. However, I would've preferred a less robust sauce, as I found it a tad overpowering. Duck and Pinot is a classic combination, one that certainly worked out here.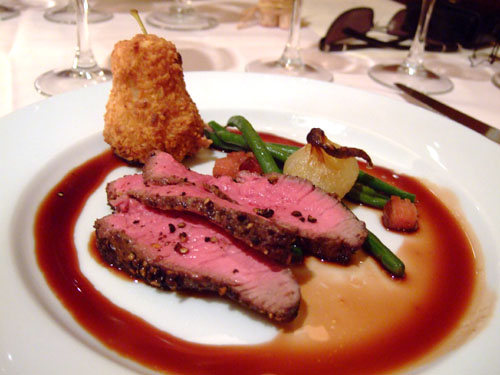 4: Black Pepper Steak with Pomegranate Molasses
St. Hallett Blackwell Shiraz, Barossa, Australia 2005
Despite not being very fatty or marbled, the beef was quite delicious, cooked perfectly and flavored just the right amount. The pear-like thing in the back was actually a truffled pear. Shiraz is well-known for its spiciness, and that spiciness certainly held up well to the copious amounts of black pepper here.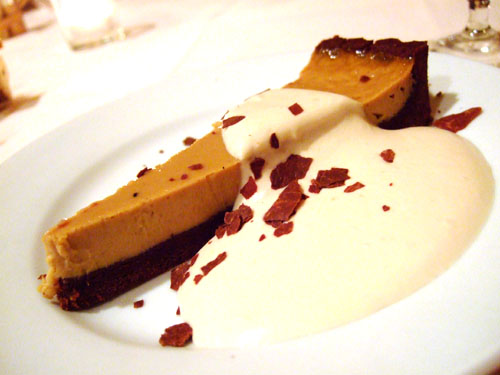 5: Coffee Cream Tart in a Coca-Espresso Crust
Cockburn's 10 Year Tawny Port, Porto, Portugal
Unfortunately this was a bit uninspired compared to the preceding dishes, though it certainly tasted good, with strong coffee notes. Most entertaining factoid of the night: "Cockburn" is actually pronounced
coh-burn
.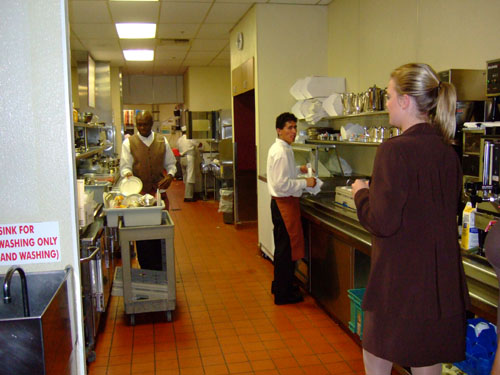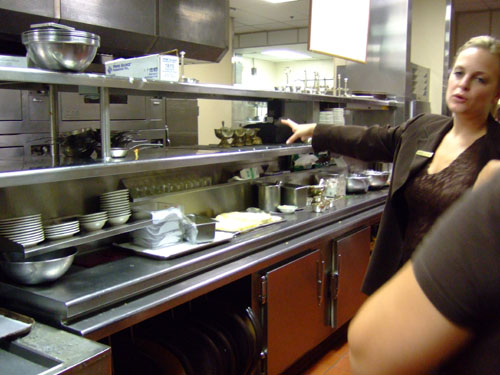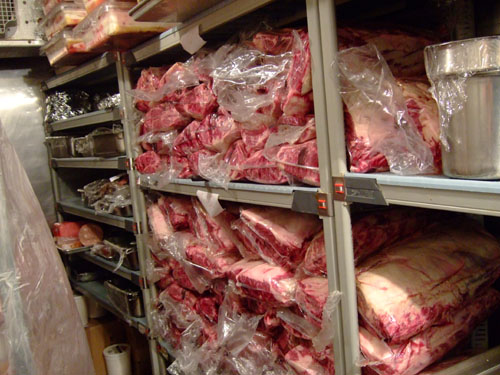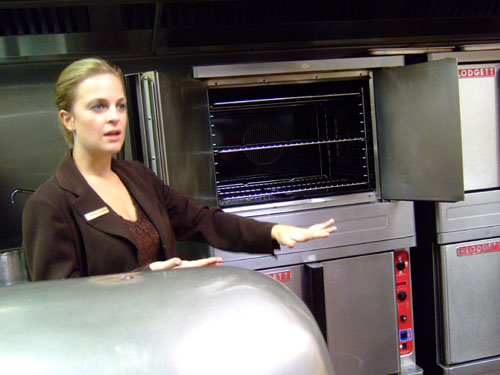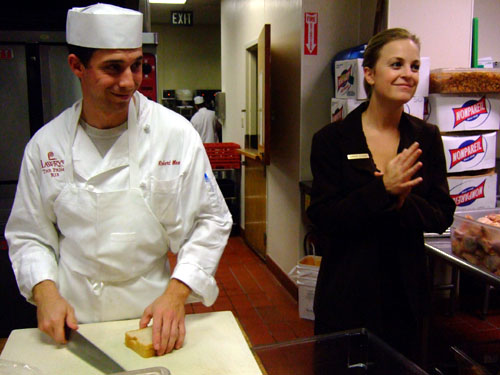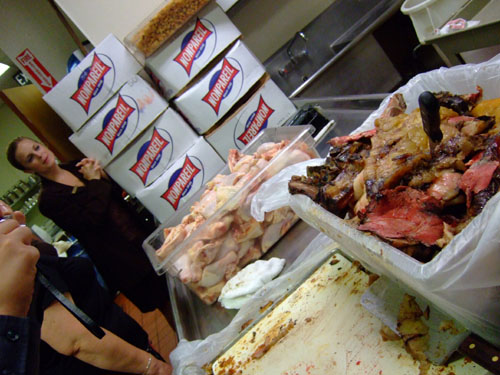 After dinner, Summer was kind enough to give us a tour of the kitchen, one of the most complete tours we've had, actually. According to her, Lawry's is the number one consumer of prime meat in the Southland, which I can certainly believe.
This dinner definitely convinced me that there's more to Lawry's than just prime rib. The chef just needs to be given the chance to shine, and special dinners like this are a great way for him to show off the range of his culinary prowess. Though next time I'm at Lawry's, I'll be sure to at least sample the prime rib, I promise.