Shiro (Pasadena, CA)
Restaurant Shiro
1505 Mission St, South Pasadena, CA 91030
626.799.4774
www.restaurantshiro.com
Sat 08/18/2007, 05:55p-08:10p
I had actually known about Shiro for many years, ever since I was a foodie-in-training actually. A few people I knew spoke pretty highly of it, but we never got around to going. However, a couple years ago, we did go to Shiro's other restaurant, Orris, in Santa Monica (on trendy Sawtelle Blvd, in the midst of a row of Japanese eateries). We thought it was quite good, especially for a new restaurant (we went shortly after it opened). Would the same sentiment hold for the original?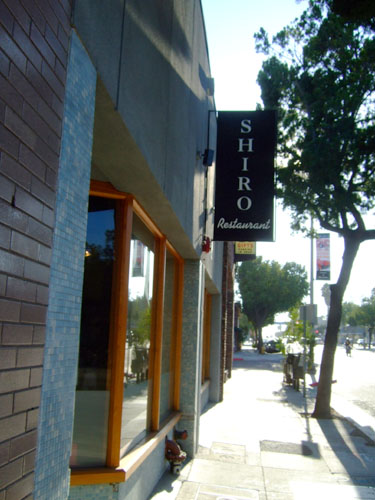 Shiro is located in a quaint section of South Pasadena, near the terminal point of the 110 freeway and not too far from the Rose Bowl. Self-parking is available in the adjacent bank parking lot.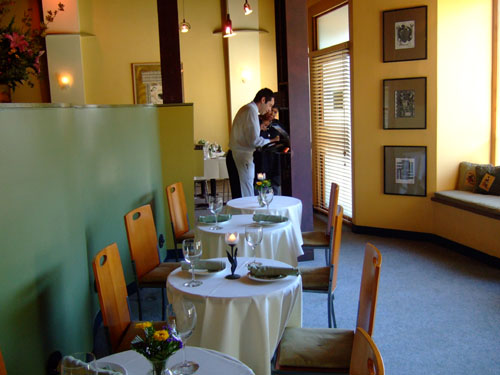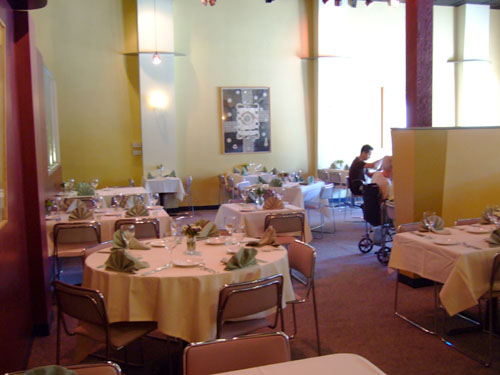 Awash in soft shades of color, Shiro's main dining room holds about two dozen tables. We were the first diners in the restaurant.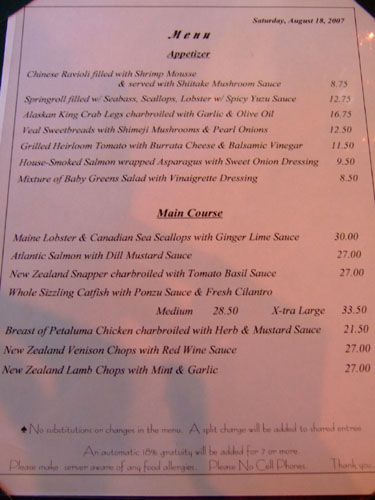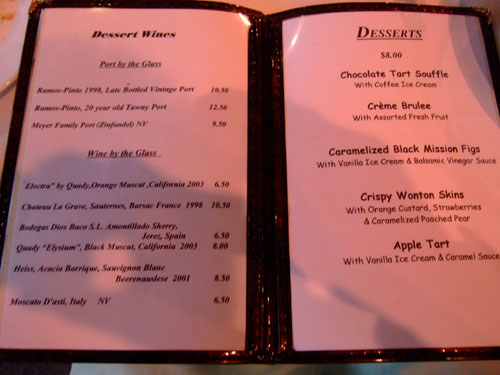 The menu is brief, a lot shorter than you'd expect given the vast listing of dishes on the
website
. Always present is Shiro's signature sizzling catfish. The dessert menu is fairly pedestrian, with only the wonton skins really catching my eye. We tried to get Shiro to sign the menus, but alas, he wasn't there. We were told that he only cooks on Thursdays, preferring to spend the rest of the week at Orris. Click for larger versions.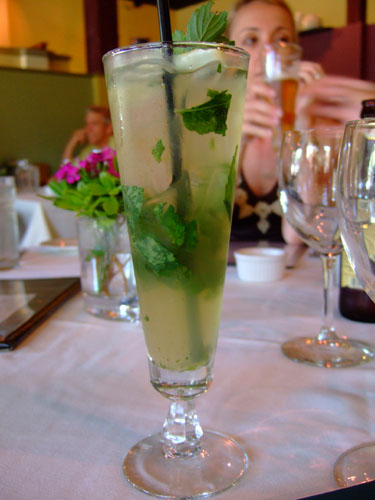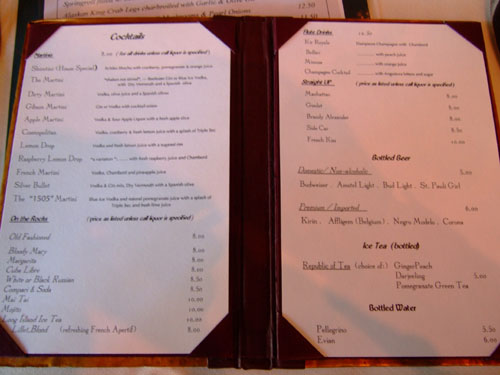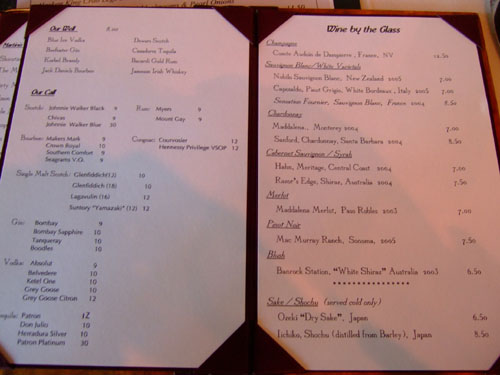 The cocktail, beer, and spirits list was rather ordinary. Naturally, I ordered my signature mojito, which was quite decent. Click for larger versions.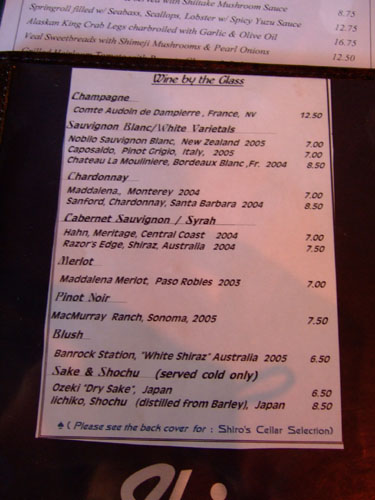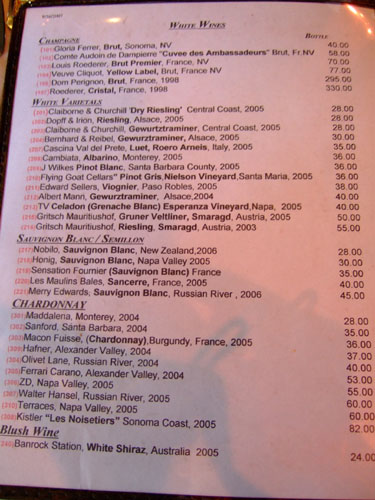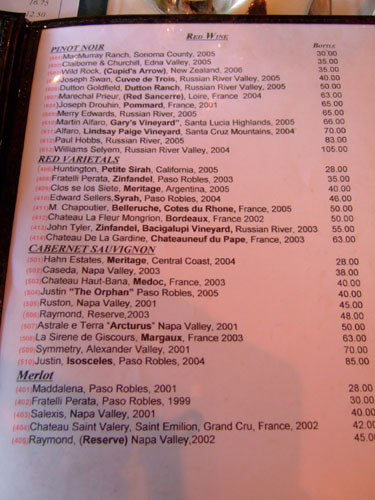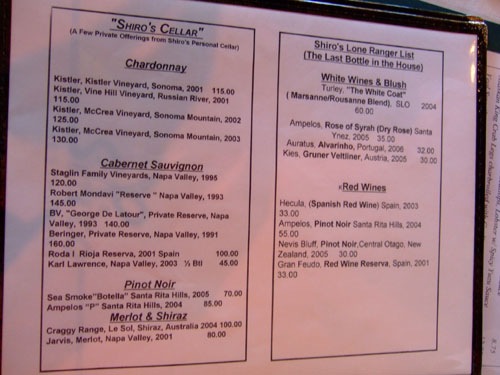 The California-centric wine list contains some interesting selections. Prices are reasonable. Click for larger versions.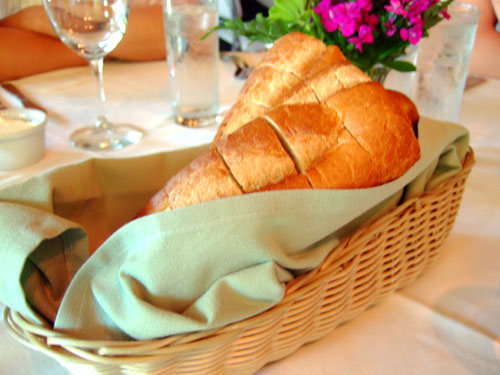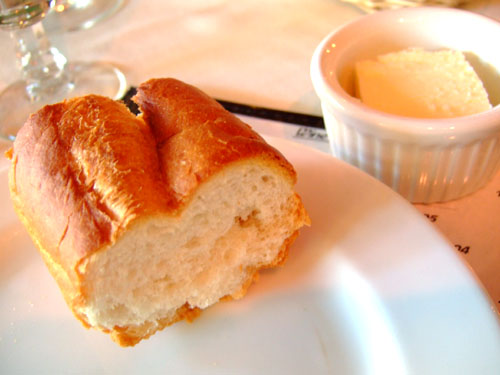 The bread was rather nondescript.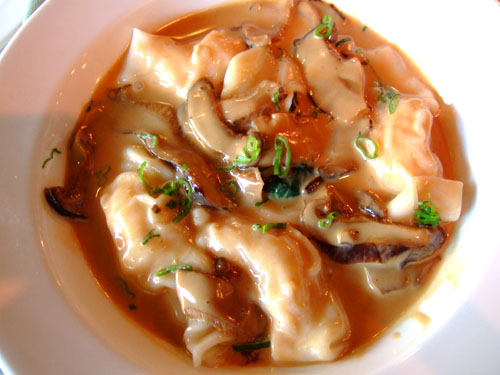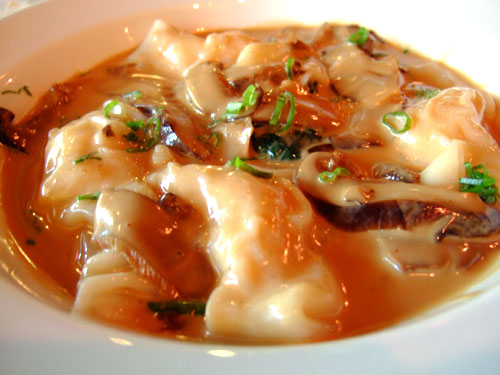 Chinese Ravioli
Filled with Shrimp Mousse & served with Shiitake Mushroom Sauce. This is one of Shiro's signature appetizers. I didn't think the dumplings were very ravioli-like or very Chinese, though they were pretty tasty. Came out a bit too hot though.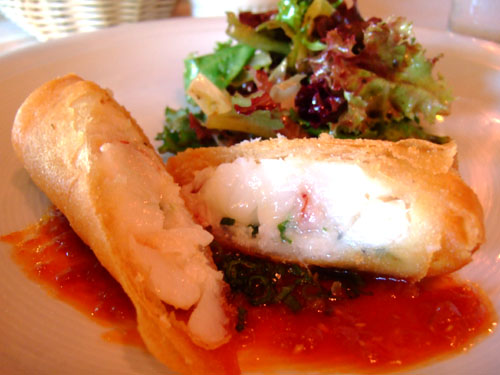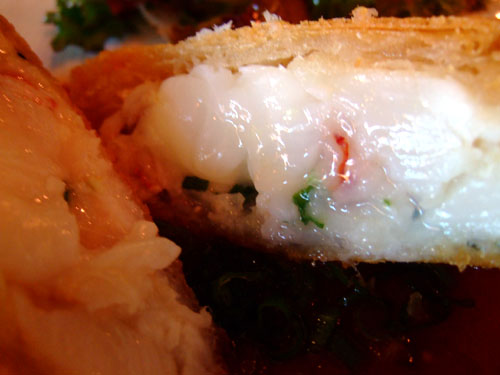 Springroll
Filled with Sea Bass, Scallops, Lobster, with Spicy Yuzu Sauce. I didn't think this would come deep-fried. As a result, the rolls were very heavy and the flavors of the various filling just blended together and became muddled. I couldn't discern the scallops from the sea bass.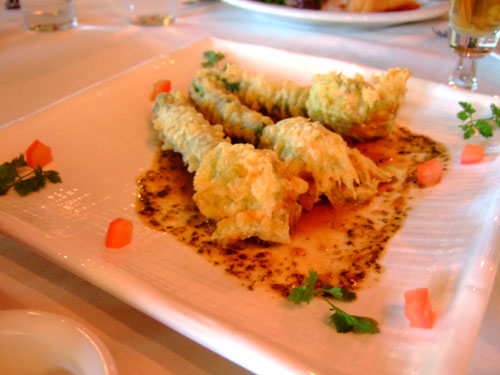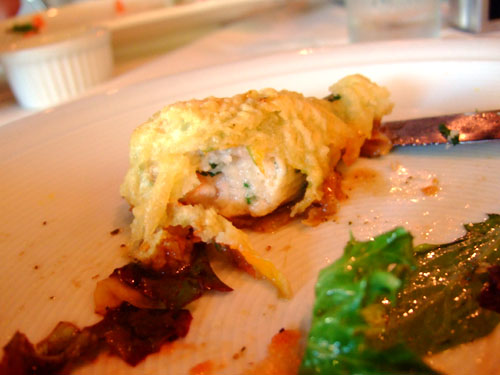 Special: Squash Blossom
Filled with Shrimp Mousse in a Light Herb Sauce. My first experience with squash blossom. The stems were similar to asparagus in texture and taste while the bulbs were filled with a light, subtle mousse. Better than I thought they'd be.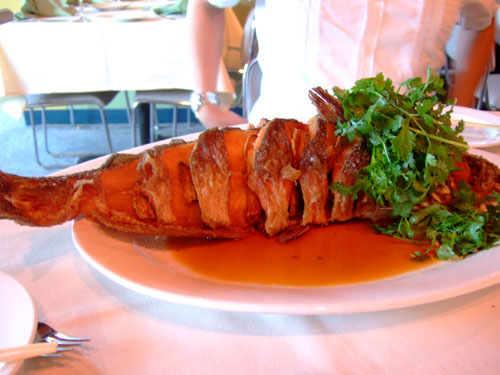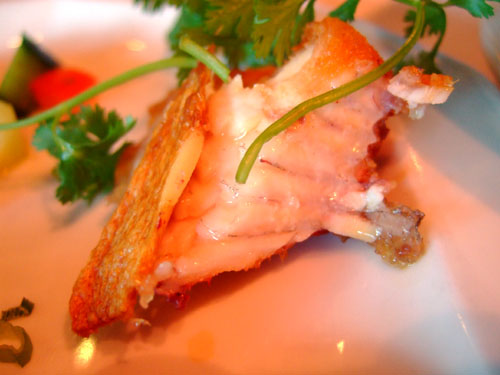 Whole Sizzling Catfish
With Ponzu Sauce and Fresh Cilantro. This is
the
signature dish at Shiro, something that seems to be present at nearly every table in the restaurant. I'm not a big fan of catfish, but enjoyed this. I liked the contrast of the crispy outer with the soft inner, and how the ginger complemented the cilantro.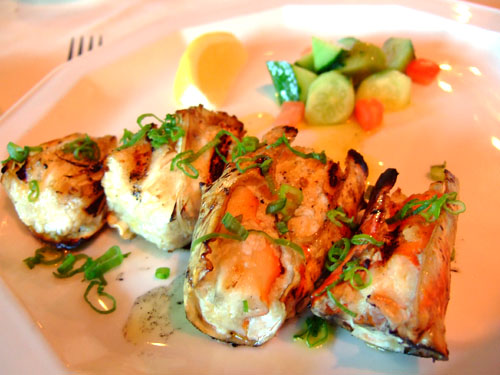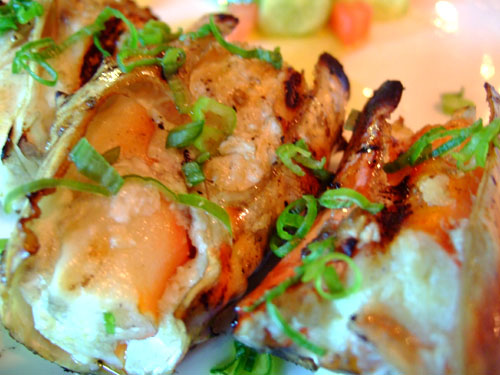 Alaskan King Crab Legs
Charbroiled with Garlic and Olive Oil. Good texture, nice flavor, but far too salty.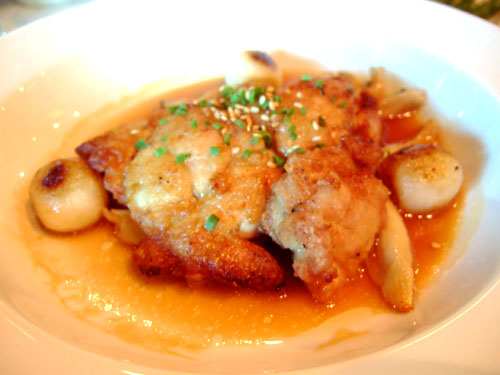 Veal Sweetbreads
With Shimeji Mushrooms and Pearl Onions. Compared to the other preparations of sweetbread I've had, this was very strongly flavored and very heavy. I gave the bulk of the dish away, since most of the other members of my party hadn't tried it before. It was a good thing, since I don't think I could've finished the whole dish.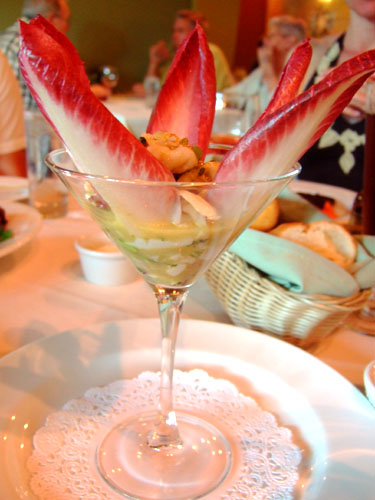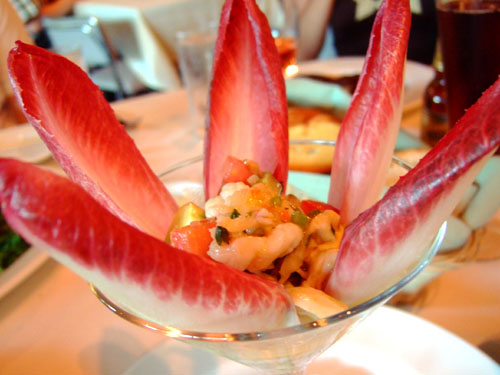 Special: Ceviche
With Octopus, Shrimp, and Scallops. Can't go too wrong with ceviche. This was a decent example, with good interplay between the seafood and the accoutrements, though the individual components lacked the crispness and freshness that a really great ceviche has.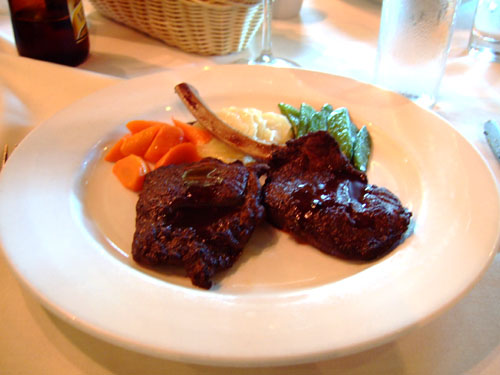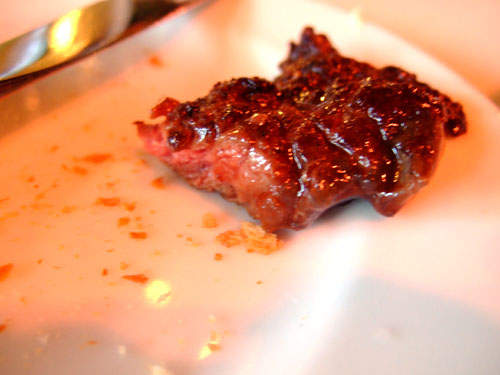 New Zealand Venison Chops
With Red Wine Sauce. I only got to try a small piece of this (right). I found it fairly tender, flavorful, and not particular gamy.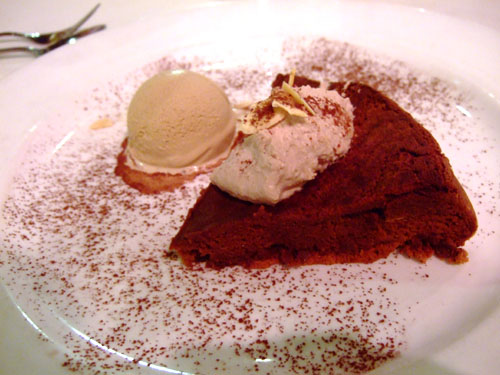 Chocolate Tart Souffle
With Coffee Ice Cream. Good, though probably not made in-house.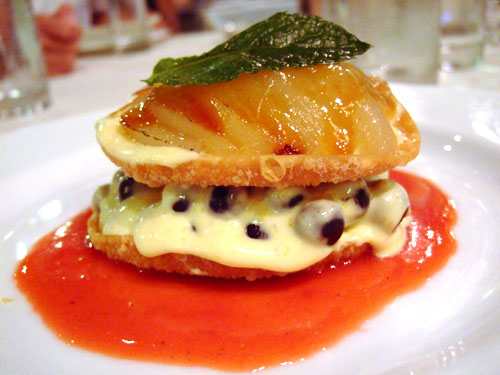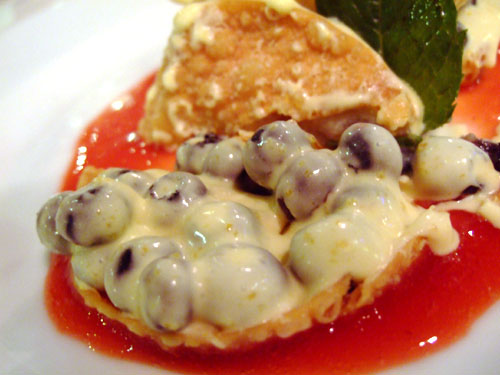 Crispy Wonton Skins
With Orange Custard, Strawberries, and Caramelized Poached Pear. Shiro's signature dessert. I've never had anything quite like it. The menu said "strawberries" but these were most definitely blueberries.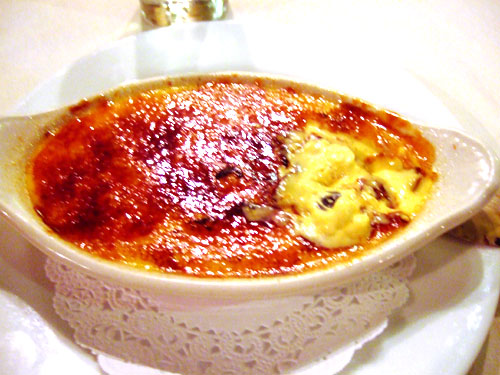 Crème Brûlée
With Assorted Fresh Fruit. A classic interpretation of crème brûlée in my opinion, though others said it was too sweet.
One of my fellow diners summed up Shiro succinctly: a bit disappointing. The menu reads very well, but execution was flawed in many cases. With all the apparent emphasis placed on quality ingredients, I found many of them to lack the freshness, crispness, and boldness that I look for. Perhaps Shiro has shifted his attention toward Orris. If that's the case, then perhaps we should pay another visit to Santa Monica.