The Counter (Santa Monica, CA)
The Counter
2901 Ocean Park Blvd, Santa Monica, CA 90405
310.399.8383
www.thecounterburger.com
Fri 05/23/2008, 08:40p-09:15p
We were in Santa Monica for a classmate's birthday party at the Viceroy hotel; but before heading over, we wanted to grab a bite to eat. Since one member of my party was budget-constrained, places like Melisse and
Valentino
were out of the question; it had to be cheap eats. My initial thought was Father's Office, since the place had been the subject of considerable hype. However, upon reading more about the restaurant on Yelp, I began to fear fighting the crowd there. Since I had burgers on the mind, The Counter, which also has had its share of ballyhoo, was a natural alternative.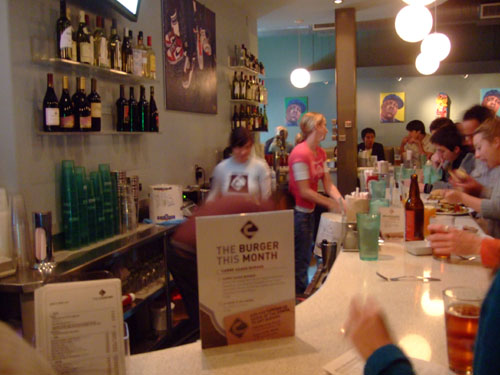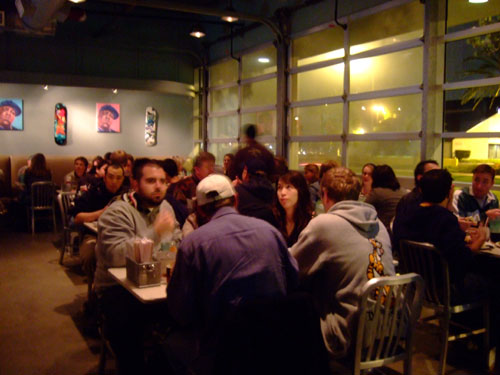 The interior space is quite nice, but was jam packed when we arrived. There was a 25-minute wait for a table, so we decided to order the food to go.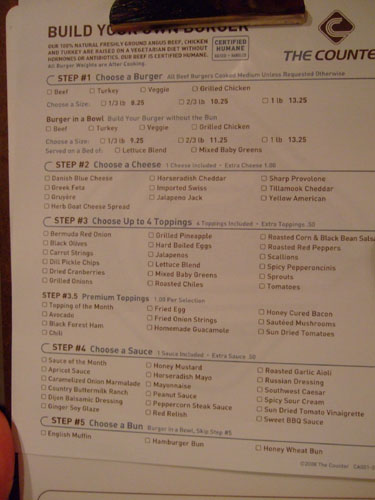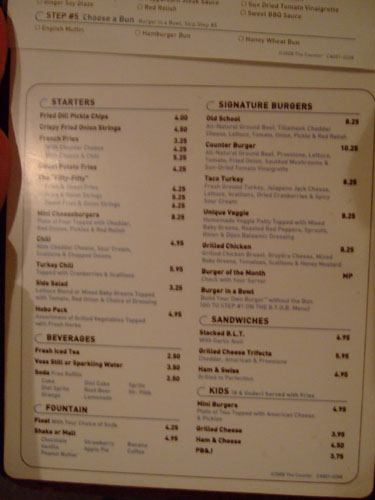 Ordering is an interesting affair: for a custom burger, you simply check boxes on the ordering sheet and hand it over to the cashier. The sheet isn't necessary, however, if you're just ordering standard menu items. Click for larger versions.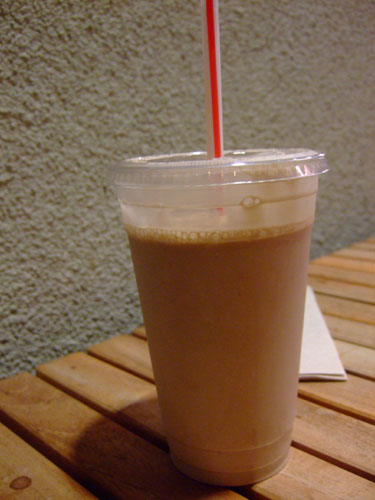 Strawberry Malt
The Counter offers both shakes and malts, with the difference being that the malts contain malted milk (a powder made from malted barley, wheat flour, and milk), which adds a subtle twist to your typical shake. This was excellent, one of the best malts I've ever had in fact, with the perfect consistency (not too thick) and a bold but not overwhelming strawberry flavor.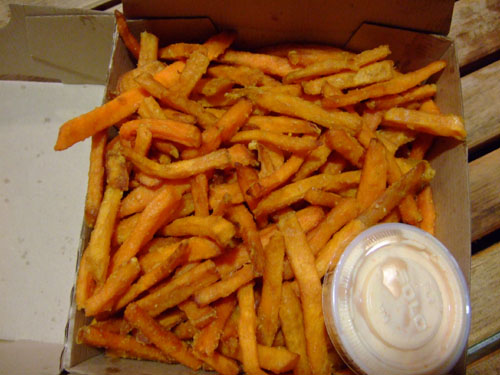 Sweet Potato Fries
Sweet potato fries are all the rage these days, with those from The Counter and Father's Office especially in vogue, so naturally I had to try them. Honestly, I was disappointed. I thought they were overly sweet and didn't have the crispness that I like, though the included horseradish sauce did make things better I'll admit. I think I'll just stick to the standard french fries next time; hopefully this fad will pass.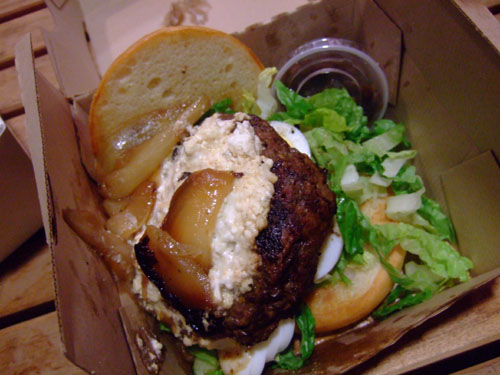 Build Your Own Burger #1
Beef, 2/3 lb, Greek Feta, Grilled Onions, Hard Boiled Eggs, Lettuce Blend, Caramelized Onion Marmalade, Hamburger Bun. One of my dining companions ordered this and seemed quite happy with it, save for the onion marmalade, which he thought was rather strange tasting.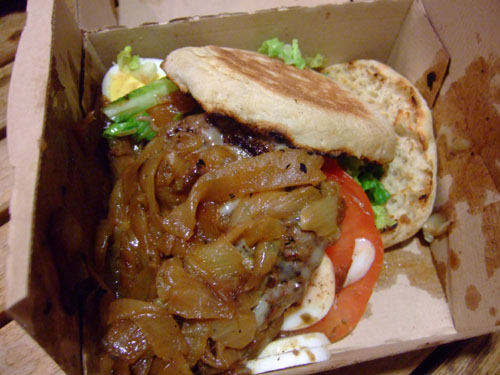 Build Your Own Burger #2
Unfortunately I forgot to snap a photo of the ordering form, so I'm not sure what this was. Going by the photo, I do see hard boiled eggs, lettuce, roasted chilis, and tomato on an English muffin. Again, I didn't order this and didn't try it, but I was told that it was quite good.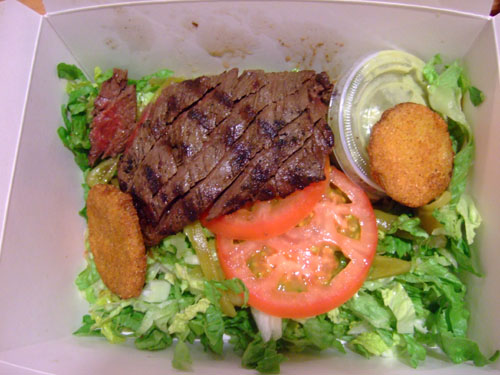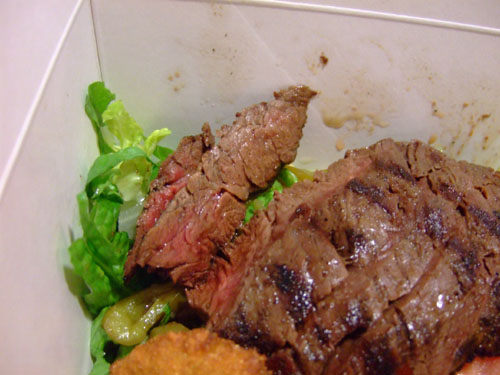 Carne Asada Burger Bowl
Grilled Marinated Skirt Steak Topped with Fried Tomatillos, Vine Ripened Tomatoes, Green Chiles and Lettuce Blend. Served on a Bed of Lettuce with a Whipped Avocado Sauce. I decided to order this, the Burger of the Month. Knowing that burgers here tended to get a bit messy, I opted to get the bowl version. That was probably a mistake, at least for this burger. As you can see, what I received was rather uninspired looking. The meat itself was decent, tender, though not particularly flavorful. The vegetables, on the other hand, seemed thrown in without much thought and added virtually nothing to the "burger." I expected much more than this.
Though my dining companions were quite satisfied with their burgers, I was left wanting. My Carne Asada burger was bordering on pathetic; I've had better at Jack in the Box. The slightly surly service didn't help either. I'm willing to give The Counter another chance, but maybe we should've braved the crowd at Father's Office after all.