Valentino (Santa Monica, CA)
Valentino
3115 Pico Blvd, Santa Monica, CA 90405
310.829.4313
www.pieroselvaggio.com/valentino_santamonica/
Fri 05/09/2008, 08:20p-11:55p
Valentino was somewhat of a monumental meal for me. Why? Well after nearly two years of food blogging, I had yet to visit an Italian restaurant. Unbelievable I know! Perhaps it was eating all that Olive Garden growing up (or more recently, Macaroni Grill) that scarred me, but I had always had a somewhat negative impression of Italian cuisine. I wanted to change that, so we headed out to Valentino, a Michelin-starred restaurant which has been at the forefront of Italian cuisine for over 30 years. If any restaurant was going to turn me around on Italian, this would be the place right?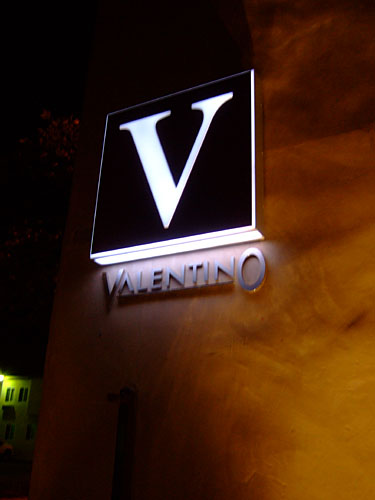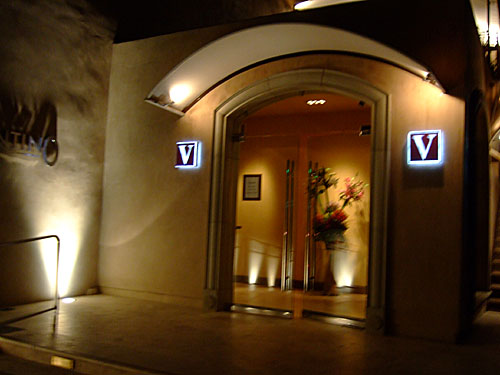 Although located on Pico, Valentino's main entrance is actually set back quite a bit from the street, adjacent to a small enclosed valet parking lot.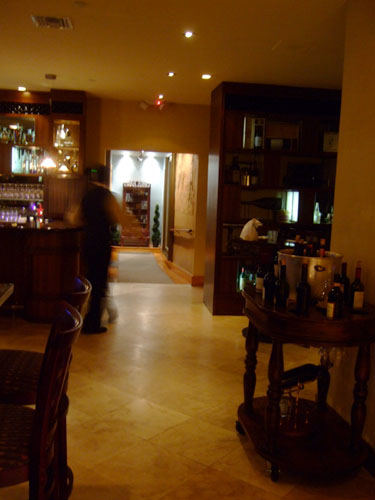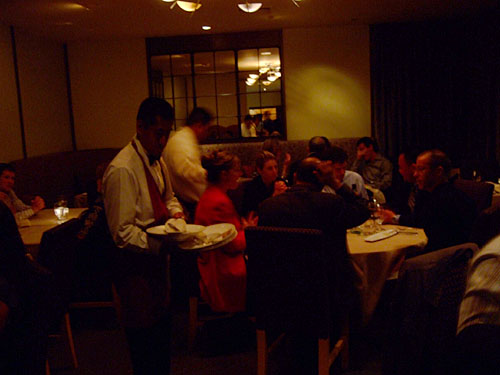 Valentino consists of four rooms, with a total capacity of about 200. Upon entering, you find yourself in the bar/reception area (left photo). On the left is the Gold Room, while the Main Dining Room is straight ahead. We passed through the Garden Room (right photo) before arriving at our table...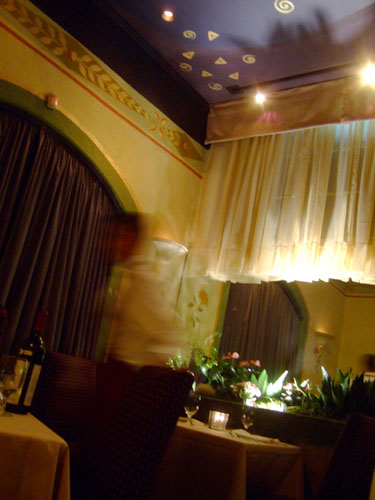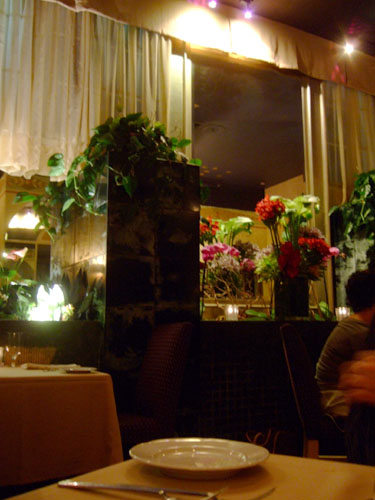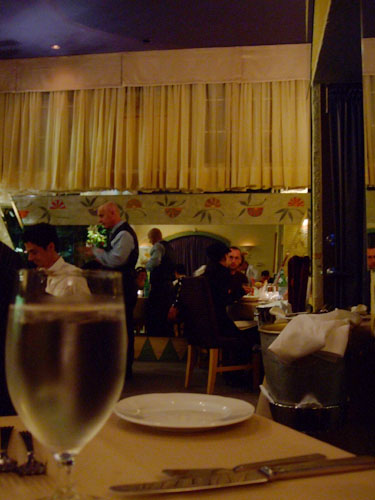 ...In the enclosed "Patio." Not sure why it's called that. In any case, it was comfortable enough, with good table spacing and a decent about of light (for photo-taking).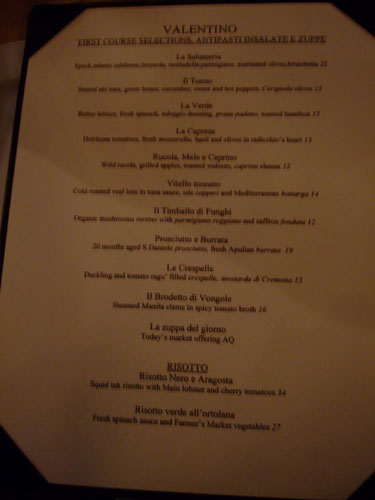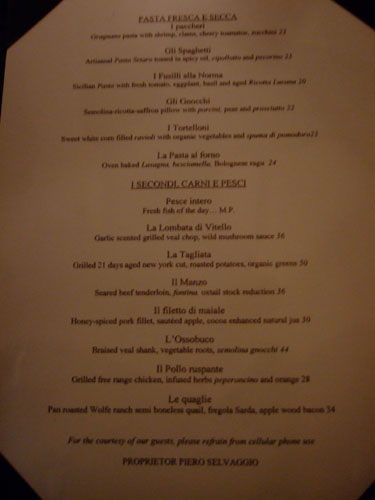 The à la carte menu showcases a good number of antipasti, pastas, and main courses. Click for larger versions.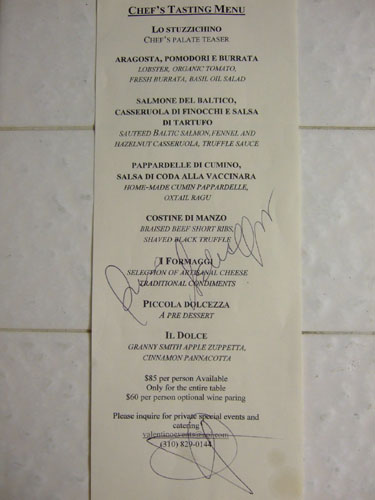 But naturally, the tasting menu was the way to go. The menu was signed by proprietor Piero Selvaggio (who was there to greet us at the start of our meal) and what I assume is Chef de Cuisine Giacomo Pettinari. Click for larger version.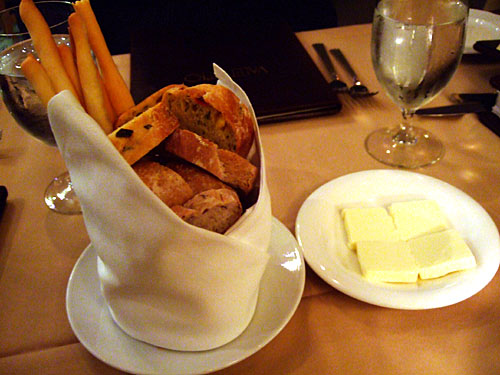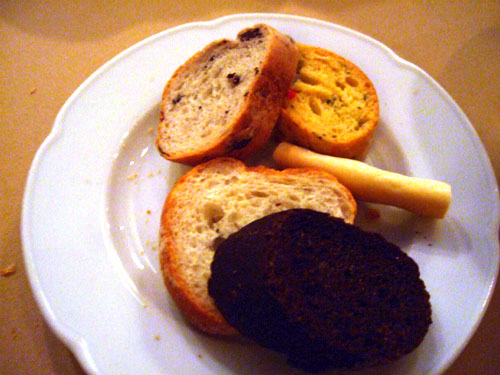 Five varieties of bread were provided: breadsticks, olive, bell pepper (our favorite), bran, and regular. The butter was quite good, but fairly typical.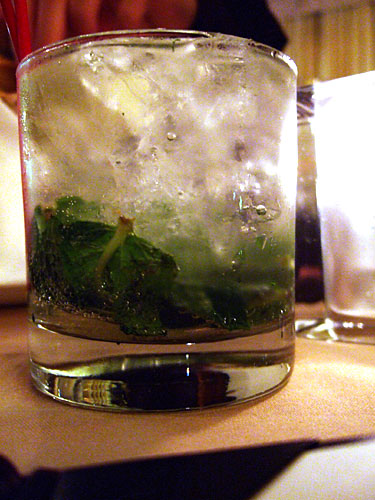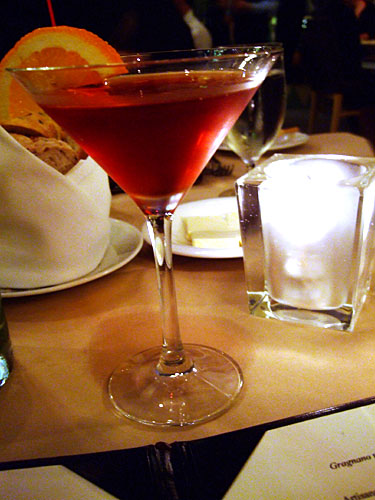 I, of course, started with a mojito, which I found rather strong and in need of more sugar. One of my dining companions opted for a Negroni, a traditional Italian apéritif made of equal parts gin, vermouth, and Campari.
Note: Although we did order wine pairings, we forgot to request a list of wines at the end of the meal. Thus, this report will not have the names or descriptions of the wines we had. Unfortunate I know.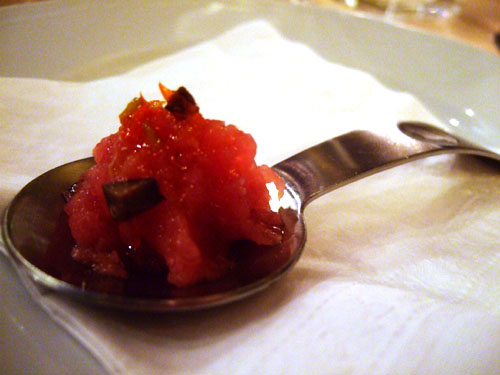 1: Lo Stuzzichino
The "Chef's Palate Teaser" was an olive-infused tuna tartare. In my opinion, the olive made the dish overly oily and heavy, and tended to overpower the fish. I would've preferred an accompaniment lighter and sharper on the palate. One of my dining companions compared this to the tuna tartare special we had at
Stonehill Tavern
. The paired Prosecco was a nice way to kick things off however.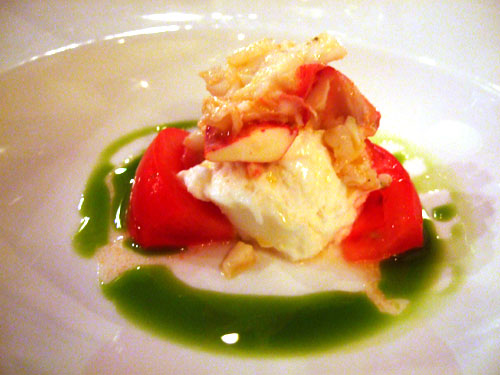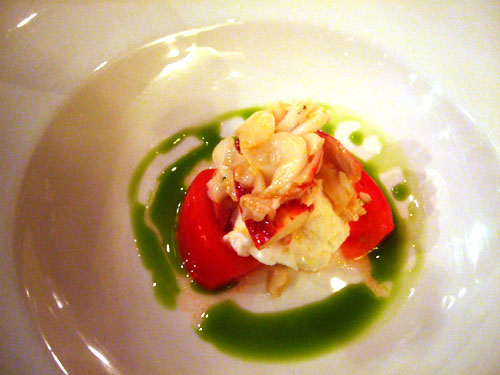 2: Aragosta, Pomodori e Burrata
Lobster, Organic Tomato, Fresh Burrata, Basil Oil Salad. This was sort of a fancy version of the traditional Insalata Caprese. The Burrata and especially the lobster were excellent on their own, but the best way to eat this was to take in everything together, to really experience the harmony of flavors here.
Magnifico
! The wine here was an intense Burgundian-style white; it was quite strong when drunk alone, but really softened when taken with the lobster.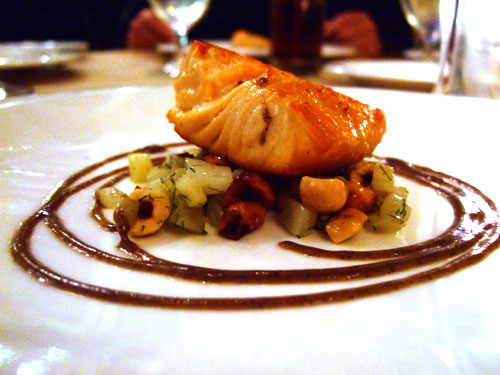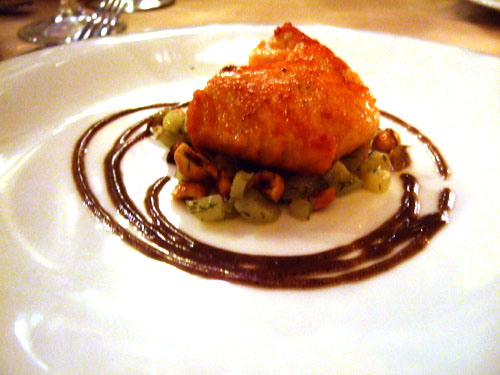 3: Salmone del Baltico, Casseruola di Finocchi e Salsa di Tartufo
Sautéed Baltic Salmon, Fennel and Hazelnut Casseruola, Truffle Sauce. I quite enjoyed the fish here, which had a great, rich, signature salmon flavor. I thought it stood up well to the truffle sauce, but some complained that the sauce lacked sufficient impact. The use of fennel and hazelnuts added a nice textural contrast.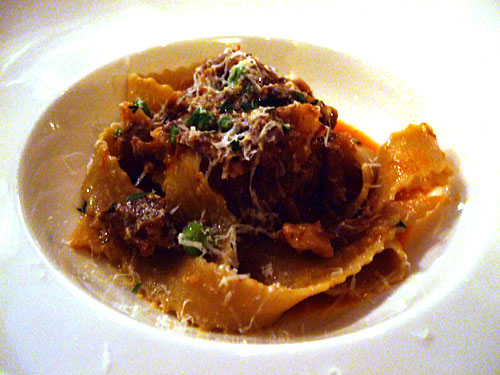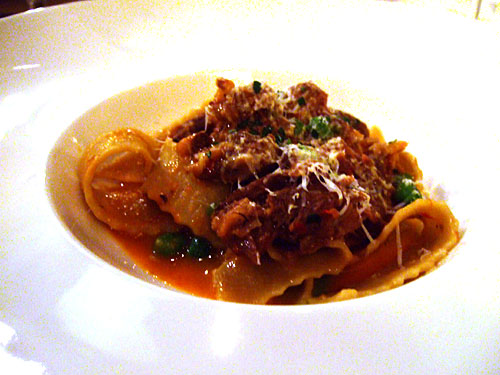 4: Pappardelle di Cumino, Salsa di Coda alla Vaccinara
Home-made Cumin Pappardelle, Oxtail Ragu. One of my dining companions thought the pappardelle was undercooked, but I appreciated its slightly tough texture, as I thought it worked beautifully with the softness of the oxtail. The addition of the peas reminded me of the pea agnolotti from
Spago
. Very good, no complaints here.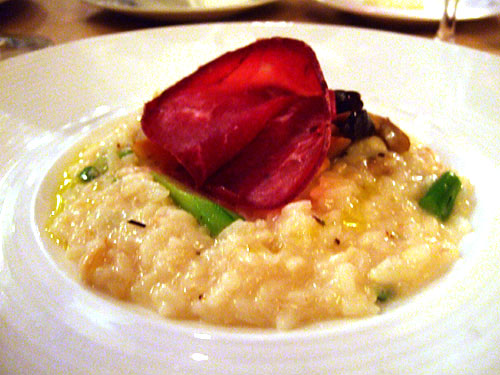 Supplement: Risotto ai Funghi
A risotto of mushroom, with asparagus and topped with Prosciutto. This was a supplement to the tasting menu, and was a special this night.
Meraviglioso
! This was probably the second best risotto I've ever had, slightly behind
Patina
's. The rice had just the right texture and was bolstered immensely by the perfect harmony of the accoutrements. Probably the best dish of the night.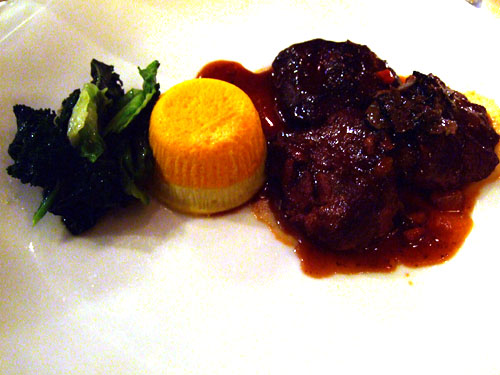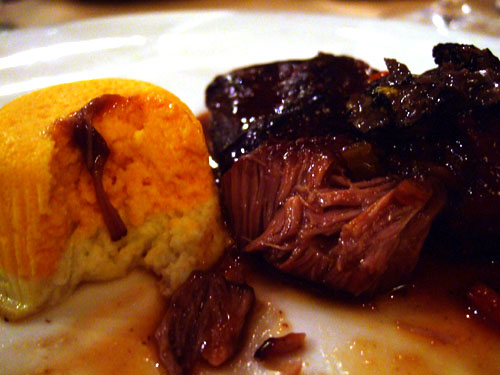 5: Costine di Manzo
Braised Beef Short Ribs, Shaved Black Truffle, Cauliflower and Carrot Tart, Brussel Sprouts and Italian Kale. I can't fault the beef itself; it was tender, flavorful, just what a good braised meat should be. However, it was just so heavy that three pieces was simply too much. About half the meat would've been perfect. I liked the veggies, but unfortunately I was not a fan of the cauliflower/carrot combo.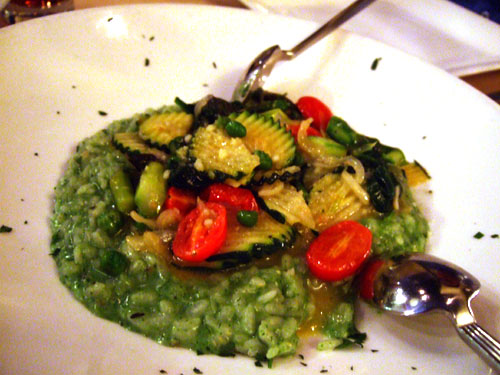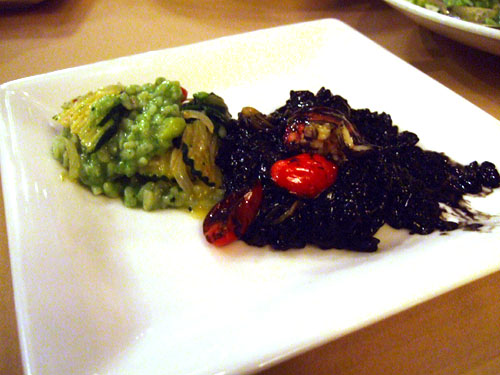 Supplement: Risotto Verde all'Ortolana
Fresh Spinach Sauce and Farmer's Market Vegetables. Not feeling full enough and heartened by the mushroom risotto, we decided to order the two risottos on the regular menu. The spinach added a great twang to the rice, and the veggies were simply a joy to eat. It was nice to be able to contrast this with the next risotto...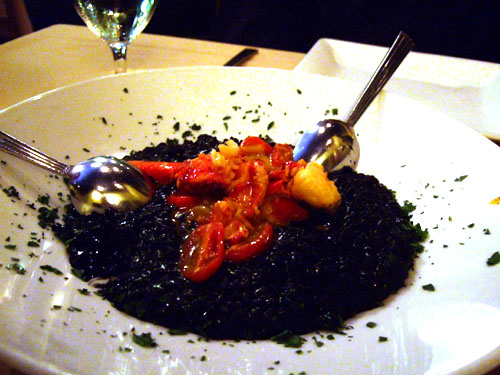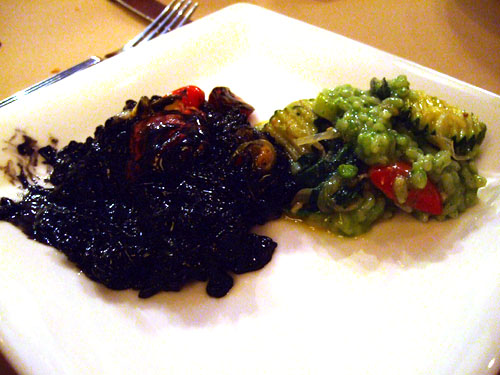 Supplement: Risotto Nero e Aragosta
Squid Ink Risotto with Maine Lobster and Cherry Tomatoes. Now this was interesting! The squid ink added a indescribable taste to the risotto, which I rather liked. The lobster was delicious, as expected, though I would've liked more! The table was split as to whether we preferred this or the spinach risotto, but we were unanimous with our preference for the "ai funghi."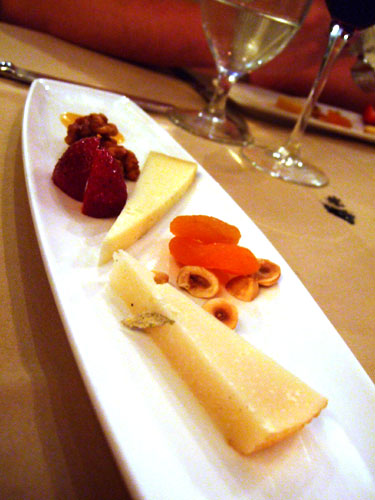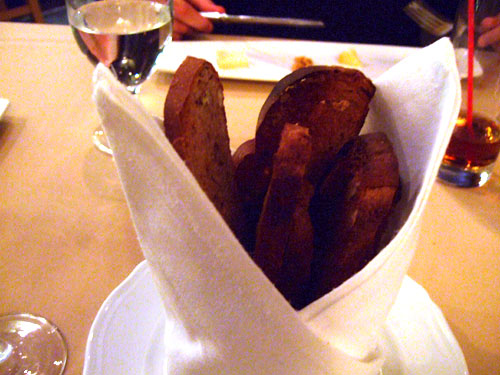 6: I Formaggi
Two Artisanal Cheeses from Piedmont, Traditional Condiments of Hazelnuts, Apricots, Strawberries, Candied Walnuts, Honey, and Toast. The cheese on the left was Raschera (cow/sheep), while I'm not so sure about the other. After doing some research on Piedmontese cheese, I
think
it's Toma Piemontese. I actually preferred it, given its softer texture and mild flavor.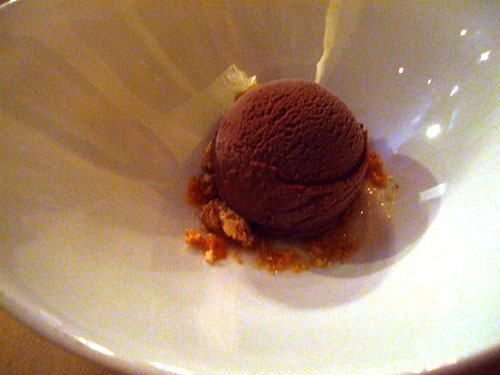 7: Piccola Dolcezza
A Pre Dessert of dark chocolate sorbet with Amaretto cookies. Amaretto is, of course, an Italian liqueur flavored with almond. It's slightly bitter taste was a wonderful complement to the similarly bitter chocolate.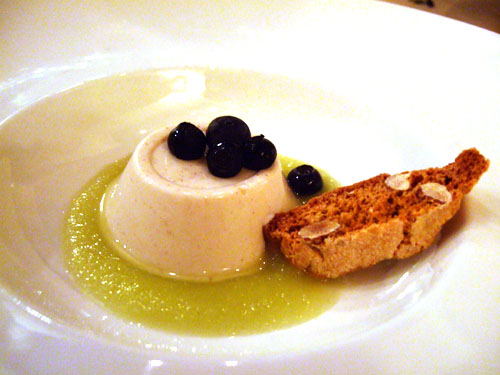 8: Il Dolce
Granny Smith Zuppetta, Cinnamon Pannacotta. This was an interesting play in contrast between the subtly sweet pannacotta and the tart apple sauce and blueberries. The biscotto was a nice textural element and was very useful for dipping the cream.
I'm happy to report that Valentino managed to exceed my expectations. What a difference compared to the dreck I normally must consume! Indeed, Piero and company have showed me the depth of Italian cooking, and I hope to continue on my journey through this brave new world. Consider my perceptions changed.
Bravo
!