Bastide (West Hollywood, CA)
Bastide
8475 Melrose Pl, West Hollywood, CA 90069
323.651.5950
www.yelp.com/biz/bastide-restaurant-west-hollywood/ (Yelp, restaurant has no web site)
Fri 03/28/2008, 08:40p-12:20a
A couple of years ago, back when I was merely a foodie newbie, Bastide was a rather well regarded French restaurant, one that I wanted to try in fact. I remember hearing rave reviews about the restaurant, but apparently it wasn't quite appealing enough to me, as I never got around to going prior to its closure in January 2006, a shame.
But fortunately, last September, after over a year-and-a-half hiatus, Bastide opened up its doors once again, this time with a new chef (L'Auberge Carmel/Patina alum Walter Manzke), new sommelier (Alain Ducasse protegé Pieter Verheyde), new decor (courtesy of Andrée Putman), and new menu (more contemporary than French). Ownership, though, remains the same (commercial director Joe Pytka). This time, we made sure to go, lest the restaurant close on us again!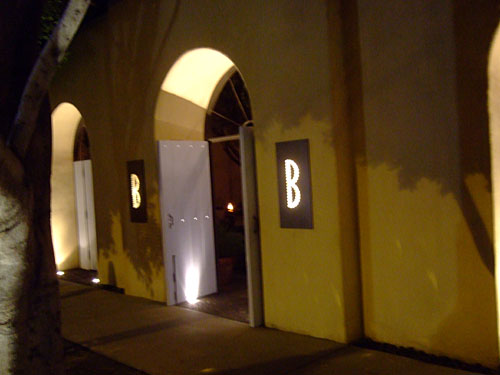 Bastide doesn't exactly scream for attention, and we literally had to drive by two times to find it. Street parking can be sparse, though there is complementary valet parking, which we also managed to overlook. Parking on some of the nearby side streets is a viable option.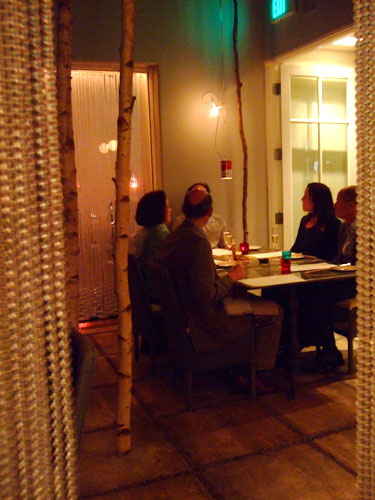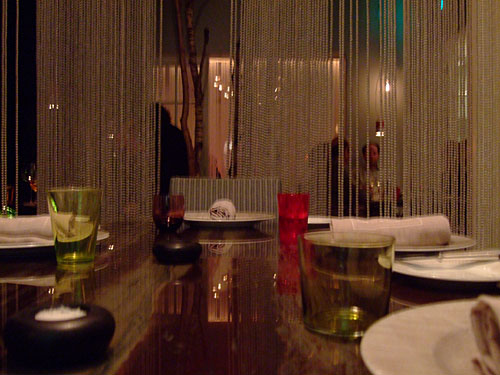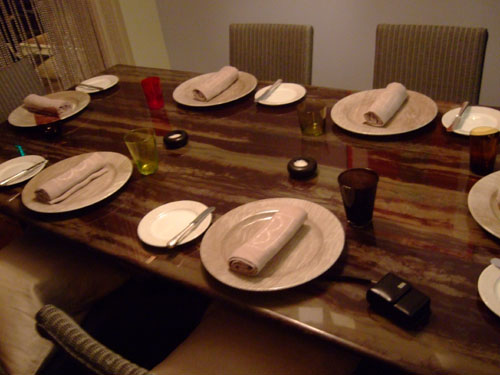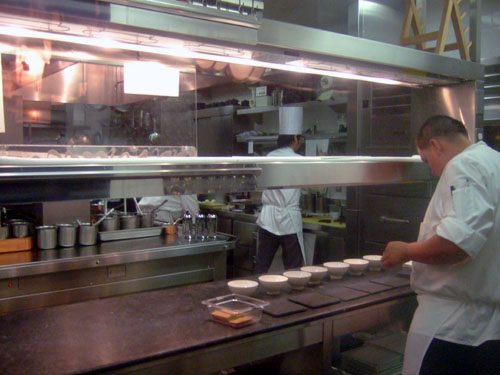 Upon arriving, we were expecting to be seated in the patio, so we were pleasantly surprised when we were shown the semi-private chef's table instead. Separated from the main room by a curtain of pearlescent beads, the chef's table has a prime view of the bustling kitchen.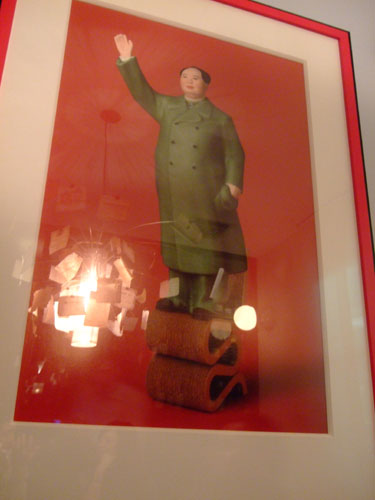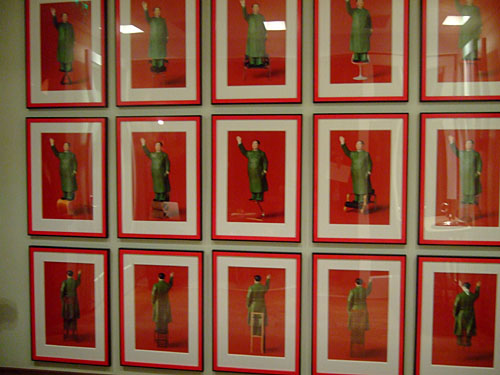 On one wall hangs a print of Chairman Mao Zedong. When we left the restaurant, we noticed that it was joined by an array of similar artwork in the hallway.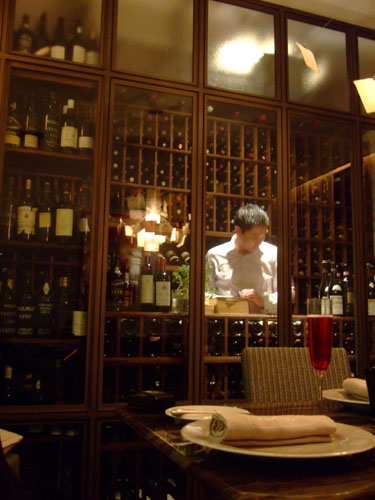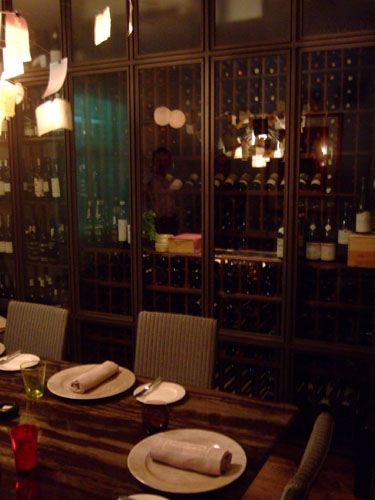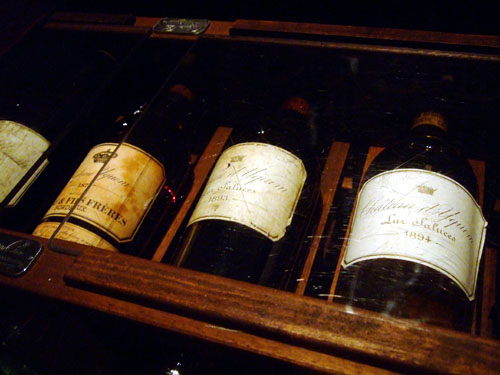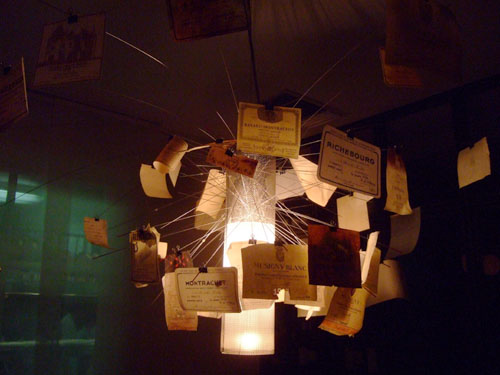 Opposite Mao was Bastide's formidable wine cellar. Pytka is an avid wine collector, and the selection here ranges from under $30 to over $100,000. In these photos, we see bottles of Château d'Yquem from the 1800s. Even the light fixture pays homage to the vast variety and caliber of wine that has been consumed on these premises.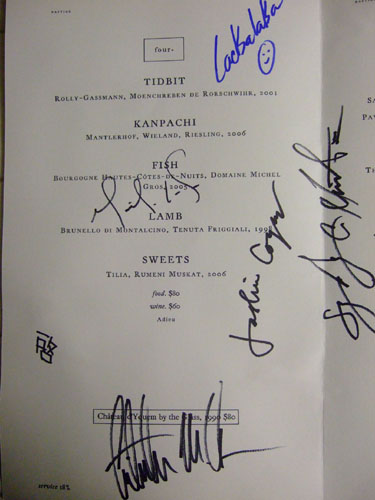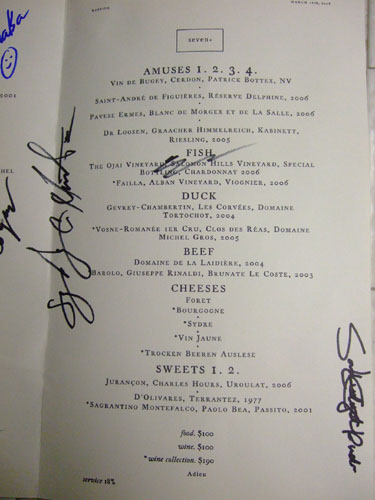 The menu offers either a four- or seven-course menu. Guess which one we went for? Given the mere $20 difference in price, it wasn't a tough decision. Unfortunately Chef Manzke wasn't in on this particular night, so we couldn't get his signature. However, the restaurant more than made up for this by having the entire kitchen staff sign in his place! I think the only other time this has happened was at
Summit
in Colorado Springs. Click for larger versions.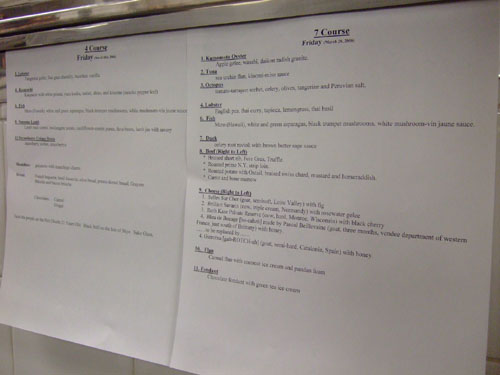 However, as you can see, the menus aren't exactly overflowing with detail. On our tour of the kitchen, we caught a glimpse of something much more helpful. Click for a larger version.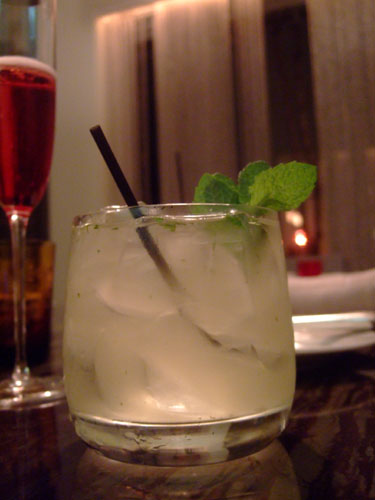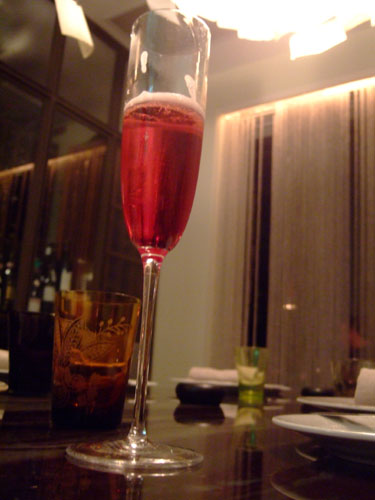 Naturally, I had to start with my signature mojito, a fine example of such. Meanwhile, one of my dining companions enjoyed a kir royal (Champagne over crème de cassis).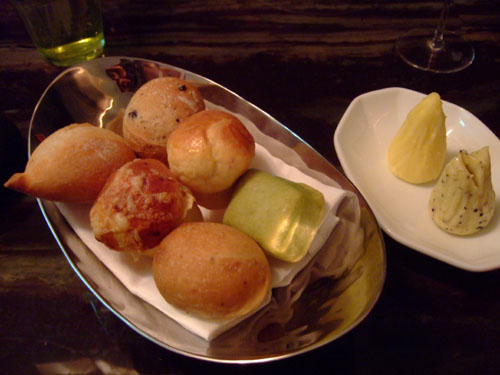 Six varieties of bread were presented: French baguette, black olive, Gruyère brioche, bacon brioche, rosemary potato, and basil focaccia. Butters were unsalted butter and black truffle butter (this one went quickly). This was a nice variety, as each bread had its own unique flavor and charm. We threw aside our mantra of "don't fill up on bread" and must've gone through five or six servings!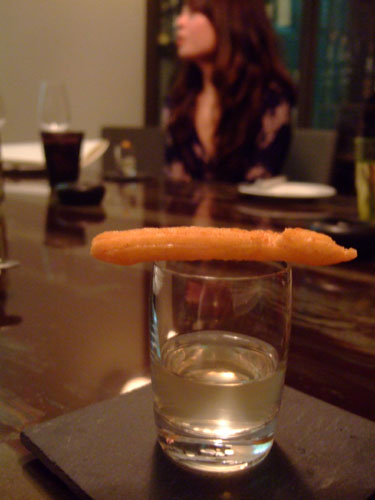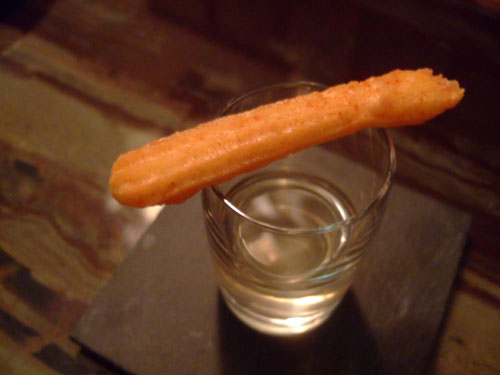 Munchies: Clear Gazpacho
Soft and creamy in texture and savory in flavor, the Manchego cheese churro stood in stark contrast to the gazpacho, which I described as being akin to a vinaigrette salad dressing. A nice way to kick things off.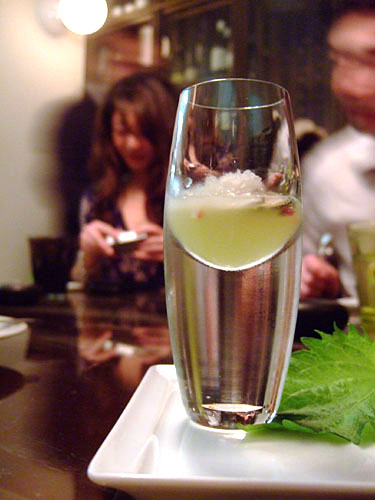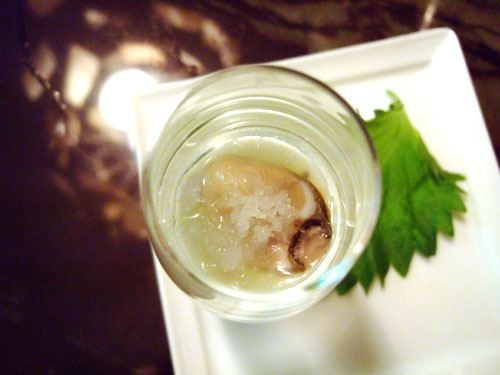 Amuse Bouche 1: Kumamoto Oyster
Vin de Bugey, Cerdon, Patrick Bottex, NV
Green apple gelée, wasabi, yuzu, daikon radish granité. The Kumamoto was quite tasty, mild in flavor as well as in consistency. The oyster's accoutrements, however, were sharp in nature and gave the dish a slightly Japanese flair. The paired Vin de Bugey was a light, refreshing sparkler with a touch of berry on the palate. Not exactly complex, but nice to drink.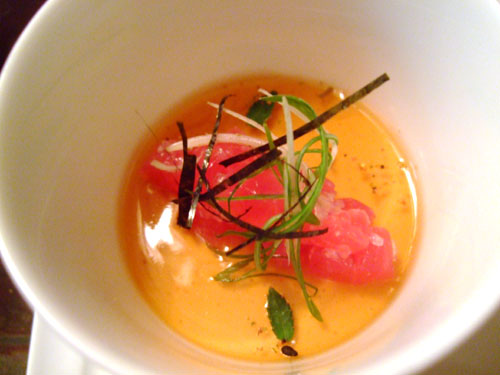 Amuse Bouche 2: Bigeye Tuna Tartare
Saint-André de Figuières, Réserve Delphine, 2006
Uni flan, kinome-miso sauce, daikon gelée. Tuna tartares are all the rage these days, so much so that the dish almost seems a bit clichéd. Fortunately, there was a definite attempt here to innovate. A quick glance of the ingredients here will clearly give away the chef's Japanese influences (fyi: kinome-miso is miso seasoned with leaf buds). Although the uni flan did add some much needed intensity to the otherwise mild tuna, I'm not quite sold on the pairing. Perhaps I would've also enjoyed some more variety in the textural elements of the dish.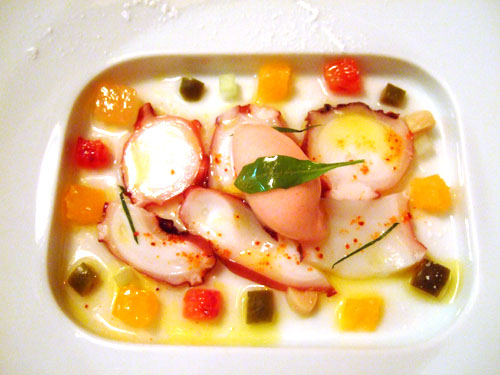 Amuse Bouche 3: Japanese Octopus Ceviche
Pavese Ermes, Blanc de Morgex et da La Salle, 2006
Tomato-tarragon sorbet, blood orange, celery, olives, tangerine, "10,000 year-old" Peruvian rock salt. Well this was certainly the prettiest of the amuse quartet. The octopus itself was cooked somewhat, giving it a firm yet pliant consistency. I appreciated all the various attempts to liven it up (the salt was the most successful in my opinion), but I didn't feel any of the accompaniments really took the dish to the level I was hoping for. Nevertheless, the tomato-tarragon sorbet was delicious on its own.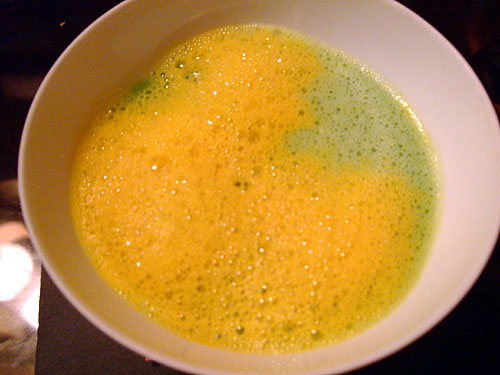 Amuse Bouche 4: Lobster
Dr Loosen, Graacher Himmelreich, Kabinett, Riesling, 2005
Hawaiian king prawn, English pea soup, Thai curry, tapioca, lemongrass, Thai basil. Interesting presentation on this one: the dish initially was simply lobster and prawn in the yellow curry soup, to which our server added a delightful pea and basil liquid. In any case, the taste was clearly Thai-influenced, with strong notes of coconuts. This was probably my favorite of the amuses. As for the wine, the Riesling turned out to be one of my favorites of the night. I recall it was rather sweet for a Kabinett; I thought it could've easily been a Spätlese. It displayed typical citrus and stone fruit notes, with medium acidity and a sweet finish.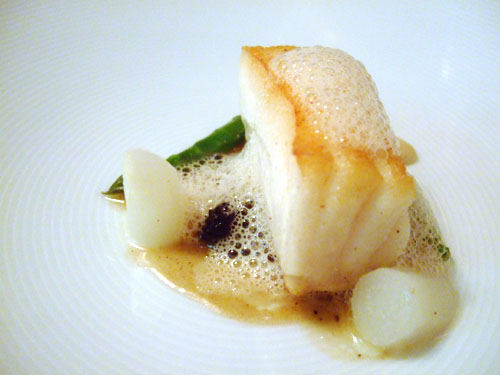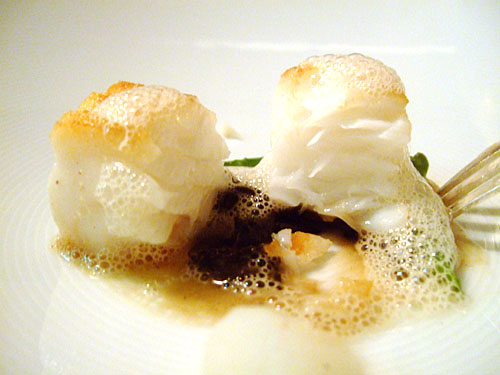 1: Hawaiian Mero
The Ojai Vineyard, Salomon Hills Vineyard, Special Bottling, Chardonnay, 2006
White and green asparagus, black trumpet mushrooms, white mushroom-vin jaune sauce. Hawaiian Mero is part of the grouper family, so the fish did possess the signature grouper texture that I look for. The last time I had it, at
Kevin Taylor
, I described the fish as being "like a firmer, less oily version of sea bass." That statement still applies here for the most part. Quite nice. The addition of the asparagus and mushroom added some nice textural and flavor elements to the dish, which otherwise would've been a bit too monolithic. As for the wine, though I'm generally a huge Chardonnay fan, I did enjoy the pairing here. According to Ojai Vineyard's web site, the wine makes use of botrytised grapes, which seemed to add a rather unconventional sweetness to the wine.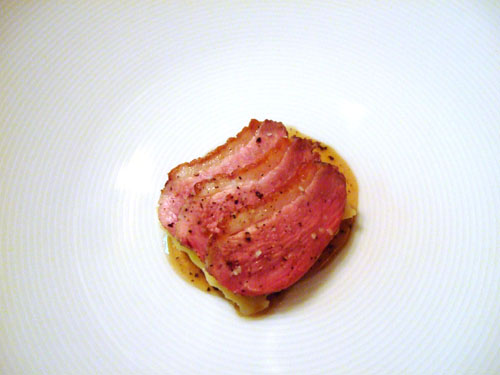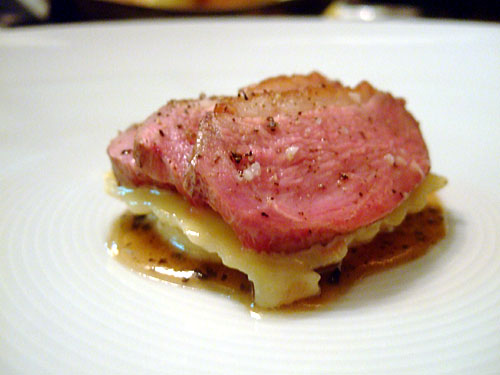 2: Sonoma Duck
Gevrey-Chambertin, Les Corvées, Domaine Tortochot, 2004
Celery root ravioli with brown butter sage sauce, black truffle, foie gras sauce. This was a delectable, though perhaps a bit conventional, preparation of duck. I found the meat quite flavorful and succulent, though I may have liked the ravioli even better! As for the Pinot, I found the Tortochot too tannic for my tastes, "too young" I remember saying. I had a hard time discerning much of anything in the wine.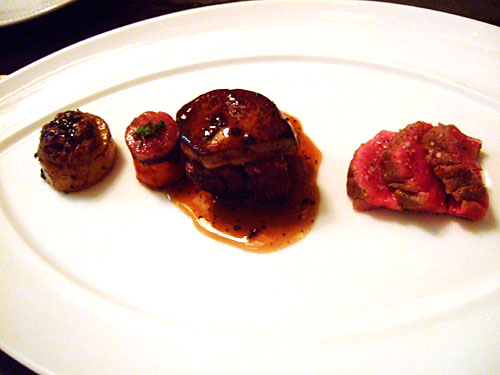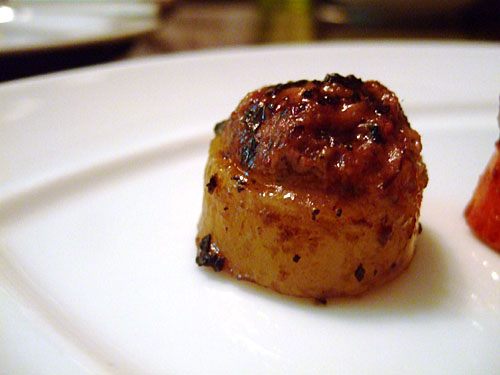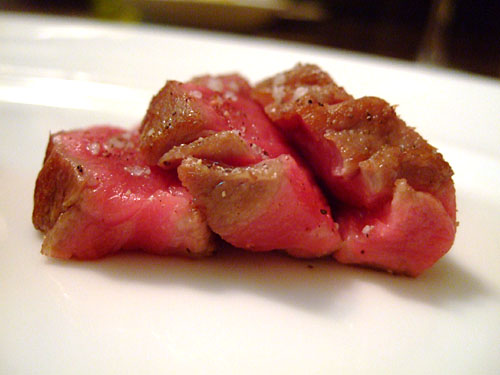 3: Beef
Domaine de la Laidière, 2004
Left to right, we have:
• Roasted potato with oxtail, braised swiss chard, mustard and horseradish - This bite displayed a well controlled interplay between the gentler potato and the lavish oxtail, and left me wanting more.
• Roasted carrot and bone marrow - Truth be told, I found this very rich, but unfortunately a bit nondescript.
• Braised short rib, foie gras, truffle - The fatty, unctuous, melt-in-your-mouth short rib was outshone in luxuriousness only by the foie gras.
• Roasted prime NY strip loin - This was my favorite of the bunch, very tender, flavored simply with only salt and pepper. With a good steak, that's all that's necessary.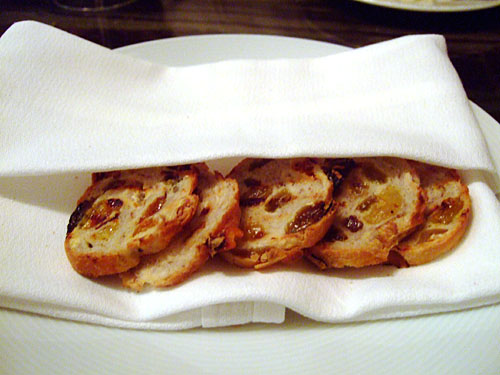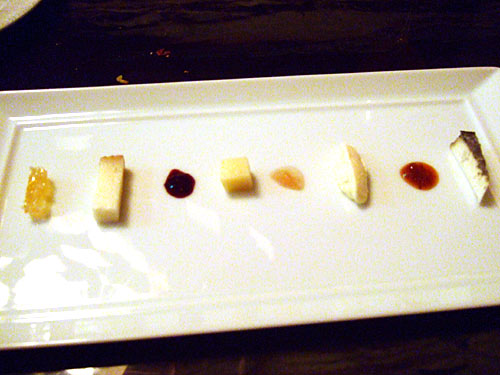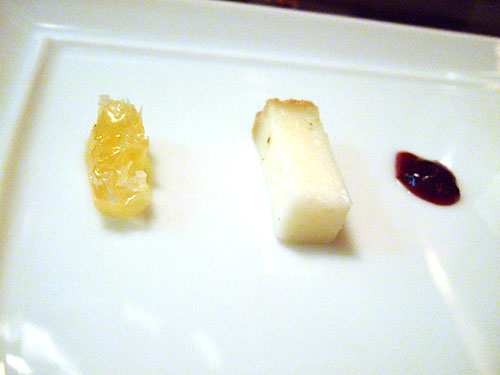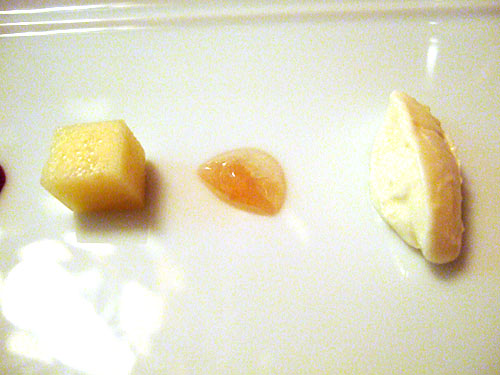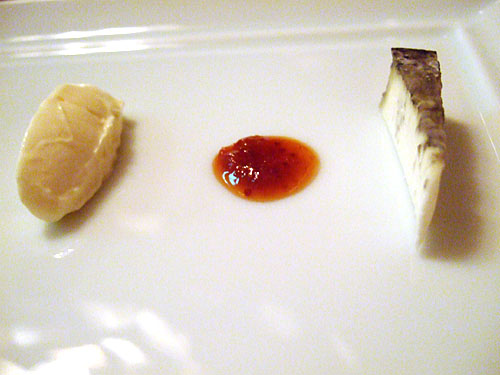 4: Cheese
Foret
• Selles Sur Cher with fig - Goat, semisoft, Loire Valley.
• Brillant Savarin with rosewater gelée - Cow, triple cream, Normandy.
• Roth Kase Private Reserve with black cherry - Cow, hard, Monroe, Wisconsin.
• Garrotxa with honey comb - Goat, semi-hard, Catalonia, Spain.
Overall, this was a pleasing selection of cheese. Of course, I have a preference for the softer cheeses, so the Selles Sur Cher and the Brillant Savarin immediately stood out to me; the others I felt were much milder in flavor. The "wine" pairing here was an interesting one. I don't think it was a wine at all, but a Belgian ale. The nose was rather complex for a beer, spicy with hints of vanilla and coffee. This zest continues on the palate as well as the finish. Quite an experience.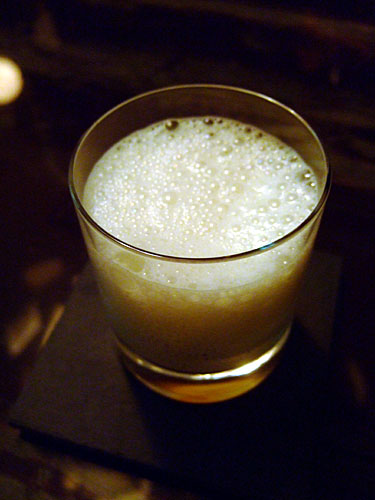 5: Steamed Milk
Jurançon, Charles Hours, Uroulat, 2006
Caramel flan with coconut ice cream and pandan foam. I can say I've never had a dessert quite like this before, and I've been missing out! The hot milk paired with the cool ice cream and rich caramel was a joy to eat. Pandan is a plant widely utilized in Southeast Asian cookery, and a common preparation is actually to steep the leaves in coconut milk, so the combo really worked well here. The Jurançon was an off-dry wine, with a sweetness bolstered by hints of spice and honey that worked well with the dessert.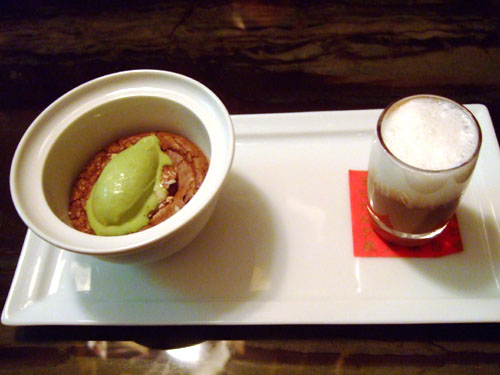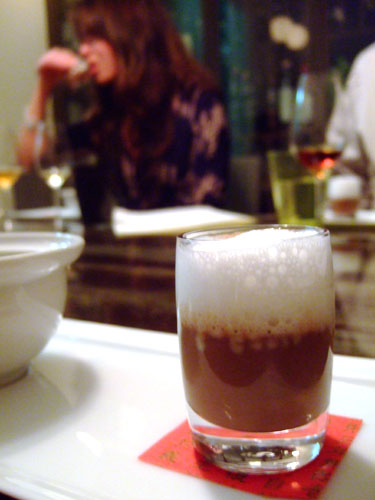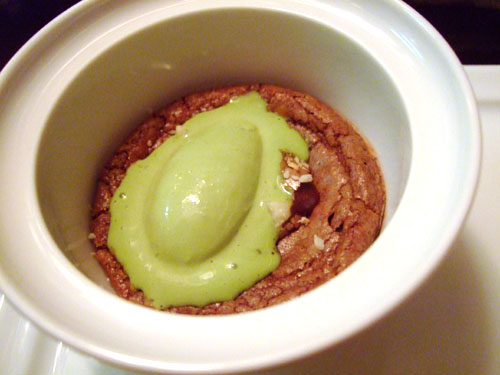 6: Chocolate
D'Olivares, Terrantez, 1977
Fondant with green tea ice cream, hot chocolate with coconut mousse. The hot chocolate was absolutely delightful, and with its coconut mousse, it was sort of a bridge with the steamed milk above. The fondant, meanwhile, seemed more like a brownie to me. Serving ice cream with a brownie is certainly a delicious, but perhaps too obvious, pairing. We had a Madeira with this course, which had an immense earthiness and smokiness which tended to drown out the dessert at points.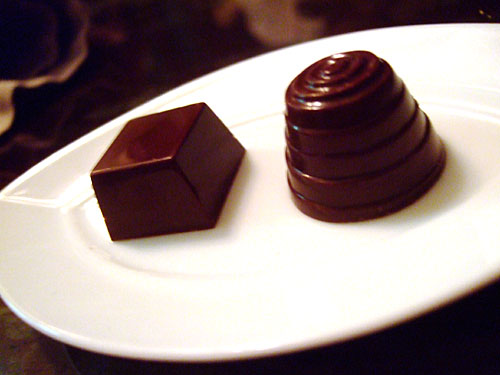 Mignardises
Caramel and ginger chocolate truffles. Tasty, though I would've definitely appreciated more variety.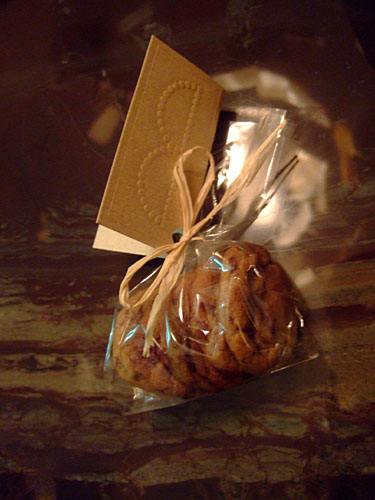 Out parting gift was a bag of chocolate chip cookies. Given the nature of the meal preceding, I would've expected something a bit fancier. But nonetheless, the cookies were moist and chewy, just the way I like 'em!
Food-wise, Bastide was fairly strong throughout, but at the same time, there wasn't anything that blew me away. The cuisine definitely veers away from traditional French, gladly incorporating flavors and techniques from around the world, specifically Asia. But then again, who doesn't these days? Bastide wasn't as cutting-edge as I'd expected, but nevertheless, I had a decidedly positive experience here. A case of the whole being greater than the sum of its parts? Perhaps it's best we waited.