5x5 Chef's Collaborative (Los Angeles, CA)
5x5 Chef's Collaborative
5955 Melrose Ave, Los Angeles, CA 90038
323.460.4170
www.providencela.com
Mon 05/19/2008, 09:20p-12:20a
Providence kicked off the 2008 5x5 Chef's Collaborative dinner series. I had heard about the 5x5 dinners last year and wanted to attend, but unfortunately I was too late to act. This year I won't make the same mistake, and plan on attending all five events! Basically, in each dinner, each of the five "core" chefs and one guest chef prepares one dish in a multi-course meal. The fab five are: Gino Angelini (La Terza, Angelini Osteria), Michael Cimarusti (Providence), Josiah Citrin (Melisse), David Lefevre (Water Grill), and Walter Manzke (ex-Bastide).
According to the chefs, these dinners were "born out of a desire to form a stronger community among chefs and restaurateurs within the Los Angeles restaurant scene." In addition to providing the chefs with an invaluable chance to network and forge relationships, a portion of the proceeds from the dinners will benefit the Southern California Special Olympics. Here's the complete 2008 schedule:
• Monday, May 19 at
Providence
(guest chef David Kinch of Manresa, Los Gatos, CA)
• Tuesday, June 17 at
Bastide
(guest chef Gabriel Kreuther of The Modern, New York, NY)
(Note: I have heard that due to Manzke's departure from Bastide, this dinner will no longer be happening, which is a shame)
• Monday, July 7 at Melisse (guest chef Douglas Keane of
Cyrus
, Healdsburg, CA)
• Sunday, August 31 at Water Grill (guest chef Giuseppe Tentori of Boka, Chicago, IL)
• Monday, September 22 at La Terza (guest chef Alain Giraud of Anisette, Los Angeles, CA)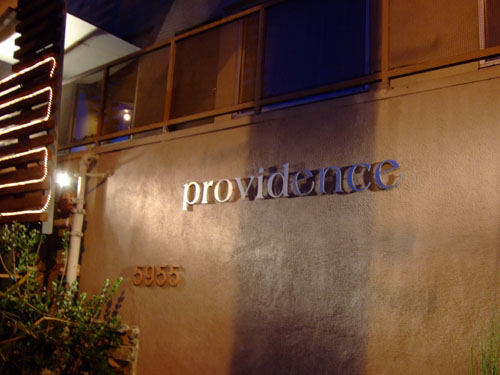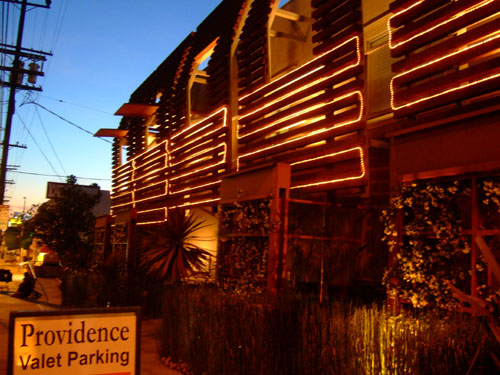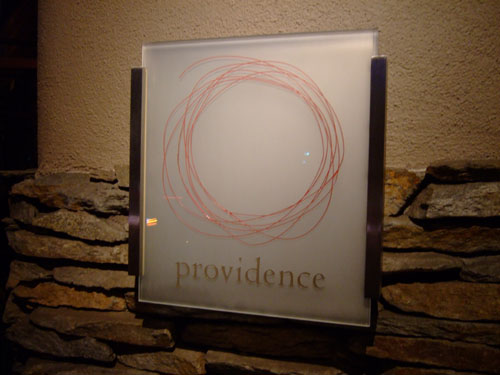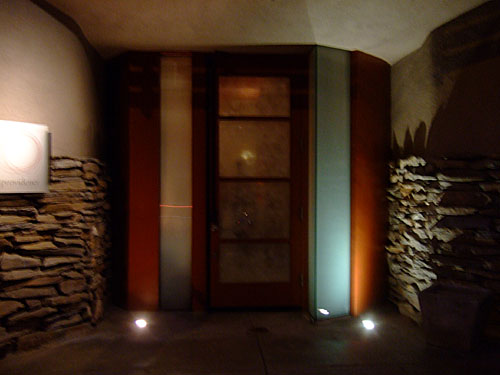 Located at the old Patina site, Providence has some interesting architecture that does catch the eye. Valet parking is available for a small fee, but we elected to park on some nearby side streets. We did note that Providence seemed to be located in a less than spectacular neighborhood. In fact, we heard another diner express concern as to whether or not her car would still be there after her meal!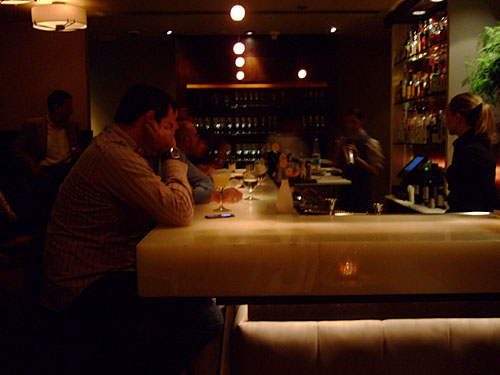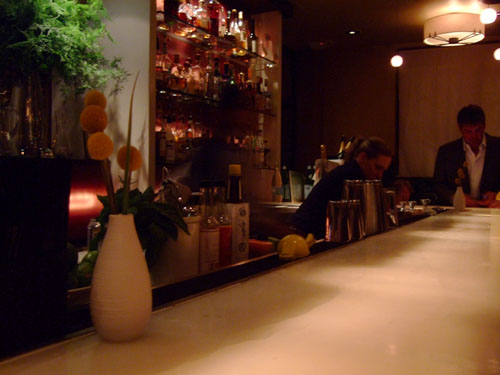 We ended up arriving about 40 minutes early, so we had to kill time at the bar.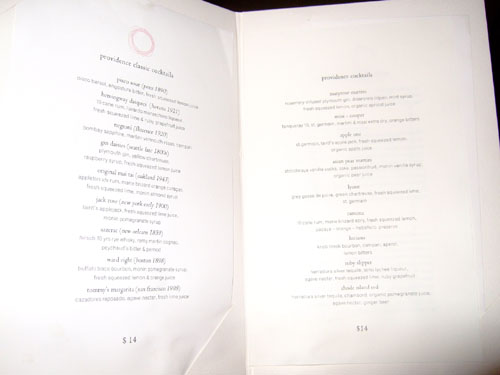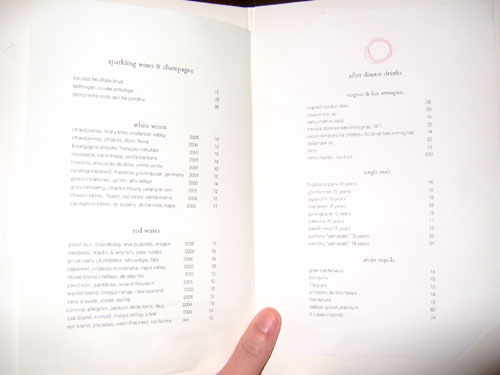 Here we see the drink menu, with some interesting cocktails presented. Click for larger versions.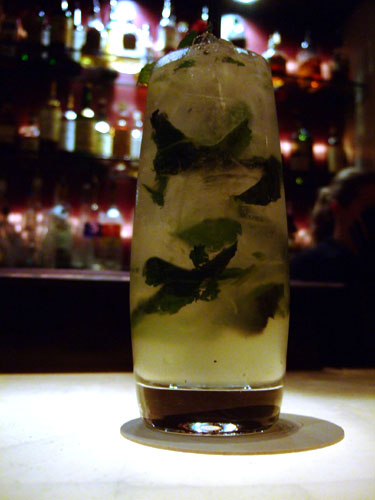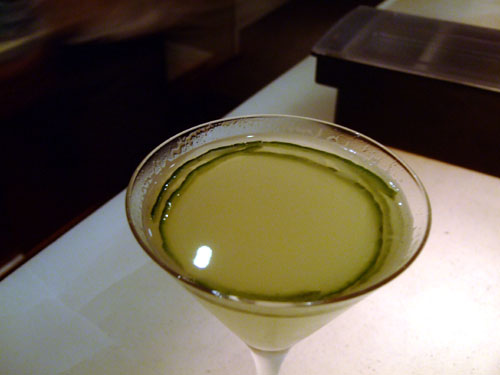 But alas, I had to go back to my old standard: the mojito. This was a very sweet example. I liked it, but some complained it wasn't strong enough (as opposed to the super-stiff one we had at
Valentino
a week earlier). On the right, we see a cucumber martini, a fine example of this very difficult to find drink. Note the attention to detail in how the cucumber mimics Providence's circular logo.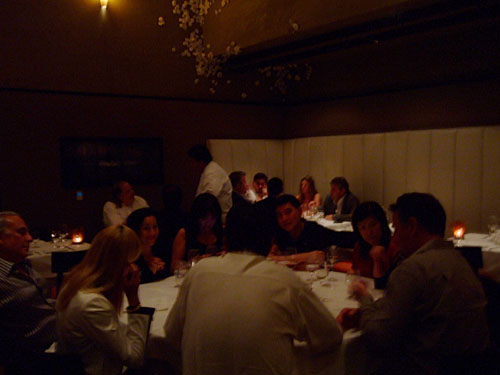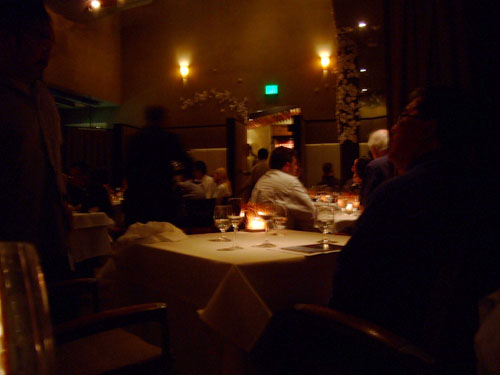 Here we have the main dining room.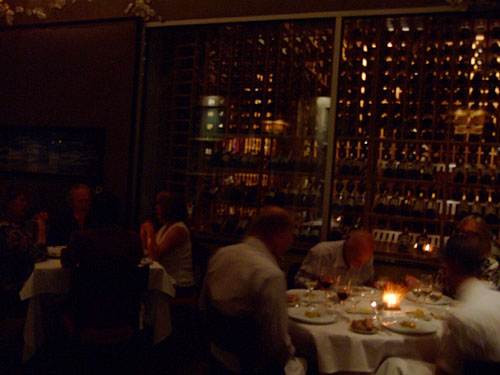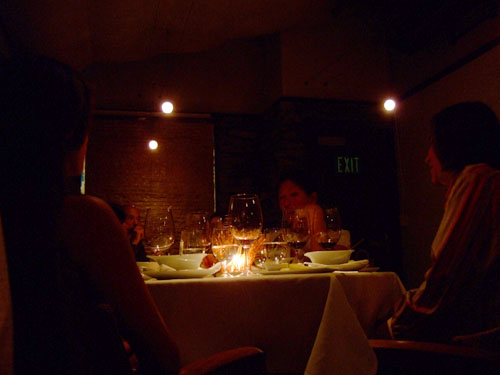 There are a number of other rooms, include the Cellar room (left), the Sonoma room, and the room where we were seated (right). There is also a Chef's Table with a view of the bustling kitchen.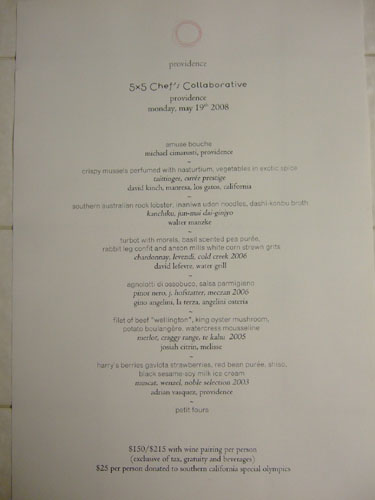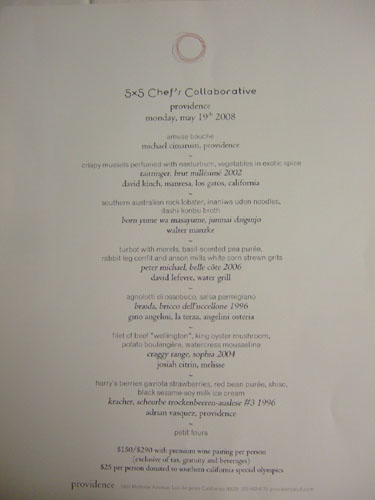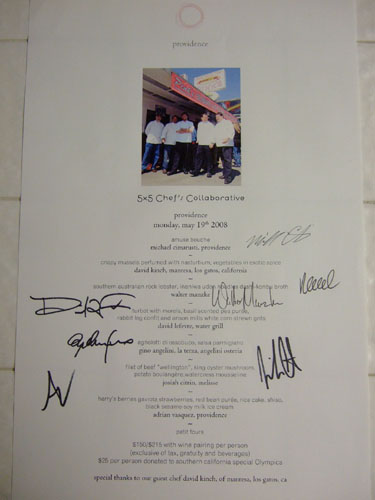 A seven-course menu was the only food option this night, but diners did have the option of going with a standard wine pairing (first photo) or an upgraded one (second photo). At the end of our meal, we were able to secure a special menu signed by all seven chefs (note that in the photo, the chefs are at Pink's!). Click for larger versions.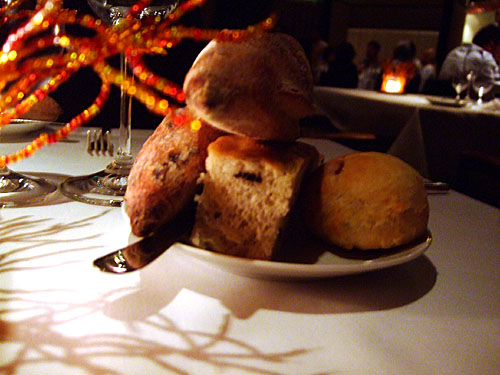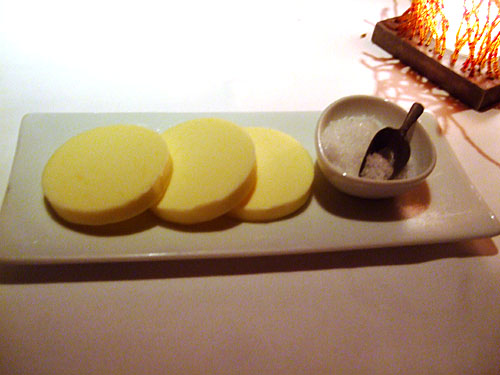 Four types of bread were on offer: French baguette, olive baguette, homemade focaccia, and bacon/onion brioche. My favorite was the brioche (how can you go wrong with bacon, the candy of meats?), followed by the olive baguette. Butter was smooth, spreadable, and salty, while the actual salt added an even stronger kick.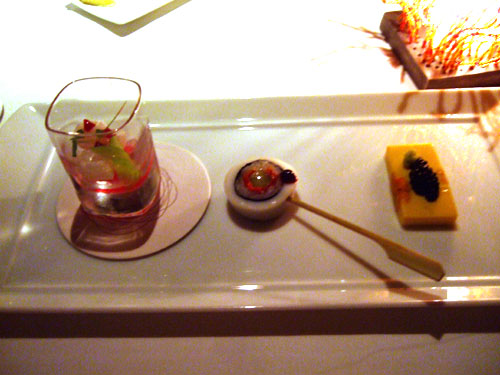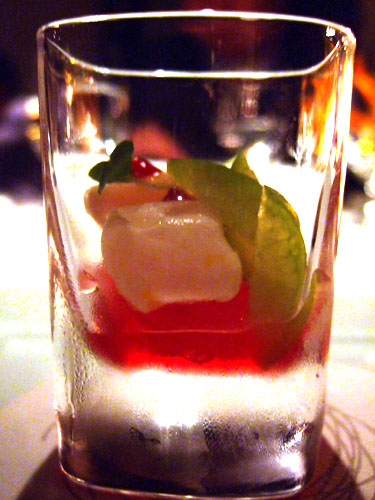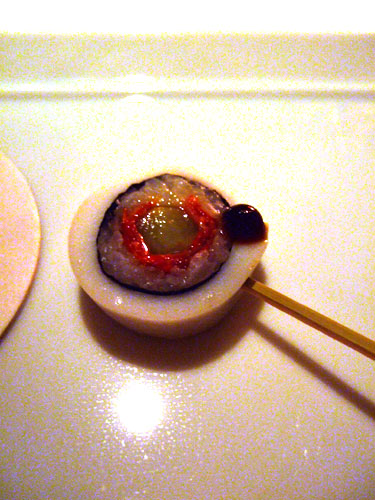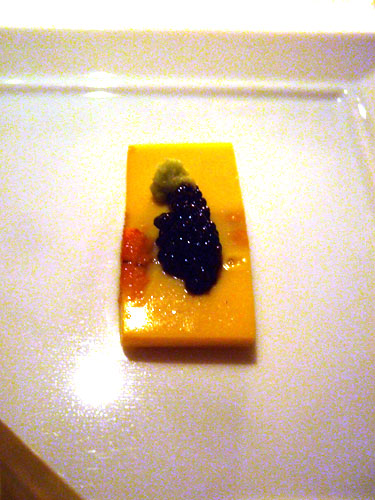 1: Amuse Bouche [by Michael Cimarusti of Providence]
• Tai ceviche with lemon, sweet and sour plum, and shiso granita - A harmony of flavors abounded here, with the various components highlighting and underscoring the snapper, though I found the utter coldness of the granita rather jarring.
• Calamari sushi with nori, asparagus, chorizo, and rice - My favorite of the trio. The squid encapsulated the other ingredients and served as a base for a fantastic flavor and texture interplay, while the chorizo added a spicy kick to the dish.
• Uni panna cotta with American caviar and wasabi - Egg with egg: the subtle flavor of the panna cotta was successfully drawn out by the brininess of the caviar. The addition of the wasabi further heightens this dish, making it a success.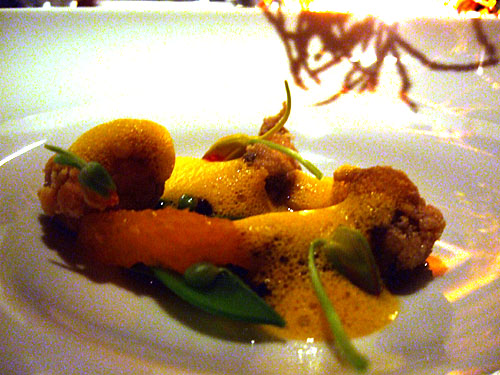 2: Crispy Mussels perfumed with Nasturtium, Vegetables in Exotic Spice [by David Kinch of Manresa]
Taittinger, Cuvée Prestige
Now I've never had mussels prepared quite like this before. In addition to nasturtium (a flowering plant with a peppery taste not unlike watercress), the dish was flavored by a vadouvan butter foam (a spice mixture that can consist of curry, fenugreek, mustard, garlic, and cumin). This lent a distinctly Indian twang to the dish; in fact, it was almost like eating a mussel pakora if there were such a thing! The dry Taittinger was a nice complement.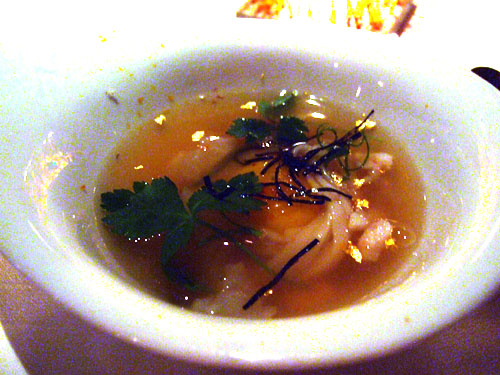 3: Southern Australian Rock Lobster, Inaniwa Udon Noodles, Dashi-Konbu Broth [by Walter Manzke formerly of Bastide]
Kanchiku, Jun-mai Dai-ginjyo
A very rich, flavorful, and heartwarming soup garnished with cilantro, nori, and edible gold foil. Taking in the lobster along with the noodles, while inhaling the aroma of the broth, was immensely satisfying. Speaking of the broth, dashi is common soup base in Japanese cuisine, typically made with konbu (kelp) and katsuobushi (dried bonito). Here, I felt it was just as vital to the dish as the lobster. Given the Japanese nature of the dish, sake was a natural and effective pairing.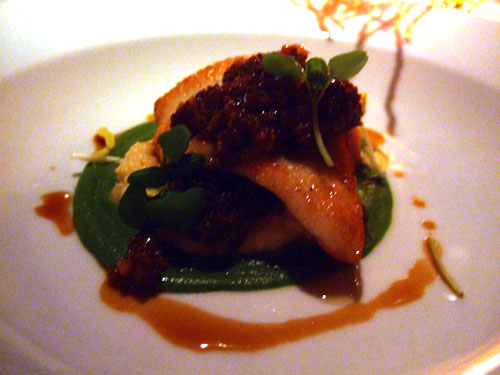 4: Turbot with Morels, Basil Scented Pea Purée, Rabbit Leg Confit and Anson Mills White Corn Strewn Grits [by David Lefevre of Water Grill]
Chardonnay, Levendi, Cold Creek 2006
If we just take the turbot in isolation, I must say that it's one of the best I've ever had, comparing favorably to the preparations I had at
Arterra
and
Joël Robuchon
. Taste- and texture-wise, the turbot was extremely enjoyable. However, I felt the rabbit confit was superfluous here, and the morels tended to dominate the fish's flavors; the grits, on the other hand, were a great accompaniment.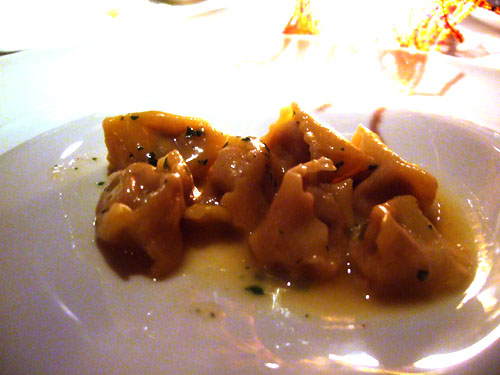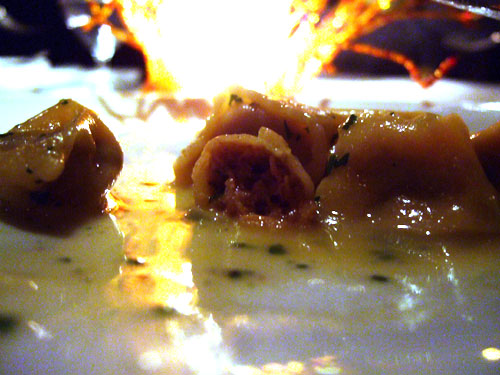 5: Agnolotti di Ossobuco, Salsa Parmigiano [by Gino Angelini of La Terza and Angelina Osteria]
Pinot Nero, J. Hofstatter, Meczan 2006
With brown butter and parsley. Although these may look simple, the taste was outstanding. The tender, flavorful ossobuco was the perfect filling for the pasta, perhaps even better than the pea and Mascarpone agnolotti I had at
Spago
. The paired wine was interesting, extremely light in color, yet, like the agnolotti, possessing a heady, meaty aroma and thick, buttery body.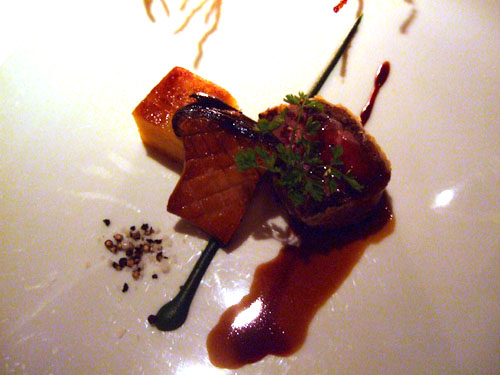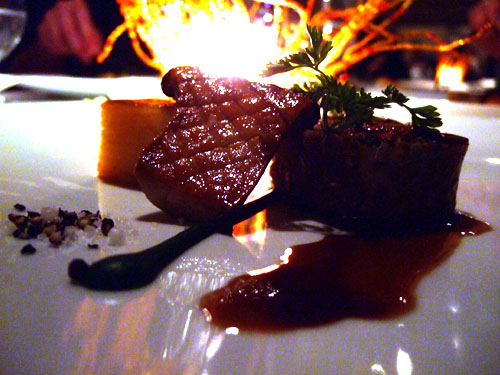 6: Filet of Beef "Wellington", King Oyster Mushroom, Potato Boulangère, Watercress Mousseline [by Josiah Citrin of Melisse]
Merlot, Craggy Range, Te Kahu 2005
Chervil, sauce Bordelaise. This was actually only the second Wellington I've had (the first was at
Veritas
in New York). This was a better preparation, with the meat cooked perfectly, and so tender I cut it with my fork. The duxelles (a mixture of mushrooms, onions, shallots and herbs) added an earthy note to the meat, and also linked the Wellington to the salty king oyster mushroom. On the other hand, the thinly-sliced pomme boulangère provided a mild counterbalance to the boldness of the rest of the dish. The wine was a Kiwi mix of Merlot and Cabernet Franc, reminiscent of right bank Bordeaux, and stood its ground here.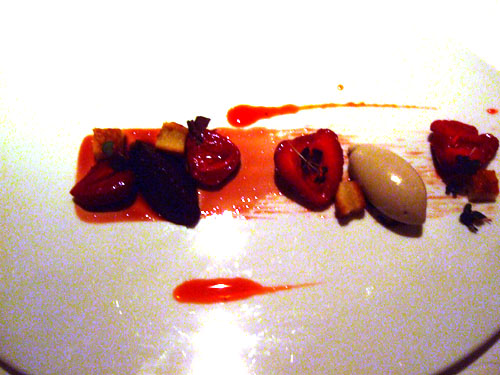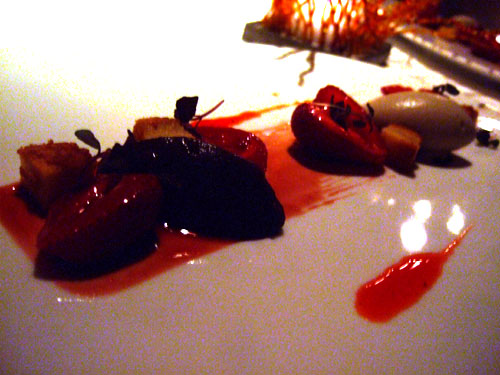 7: Harry's Berries Gaviota Strawberries, Red Bean Purée, Shiso, Black Sesame-Soy Milk Ice Cream [by Adrian Vasquez of Providence]
Muscat, Wenzel, Noble Selection 2003
The red bean, shiso, sesame, and mochi cubes here lent this dessert a decidedly Asian flavor. Although the various ingredients may seem a bit strange, they did actually work rather well together here, with the strawberries lending a sweet foil to the other components of the dish. A very inventive, and satisfying, dessert.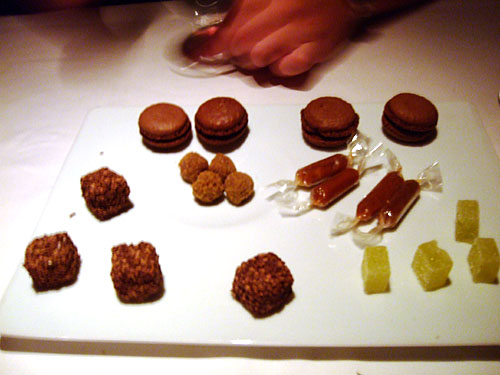 Petit Fours
The plate consisted of vanilla marshmallow truffles, Amaretto chocolates (my favorite), espresso macarons, mushroom caramels, and olive oil gelées.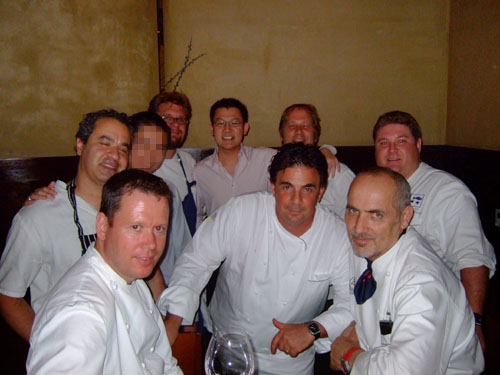 After dinner, we were able to corral the chefs together for a photo (they were all together at the bar). Clockwise from lower left, we have: Walter Manzke (ex-Bastide), Adrian Vasquez (Providence), Michael Cimarusti (Providence), David Kinch (Manresa), David Lefevre (Water Grill), Gino Angelini (La Terza, Angelini Osteria), and Josiah Citrin (Melisse).
This meal proved to be a truly memorable one. All the courses here were strong, showing off what each individual chef could offer. There wasn't a consistent theme, but rather, every dish really expressed the personality and style of each chef. In fact, one could almost tell who prepared a dish just by visual inspection. I can't wait for the next dinner in the series! (and hopefully they find a replacement for Bastide)