555 East (Long Beach, CA)
555 East
555 E Ocean Blvd, Long Beach, CA 90802
562.437.0626
www.555east.com
Sat 05/10/2008, 08:30p-09:50p
The 10th was the night of the USC Marshall end of year graduation party at the Queen Mary in Long Beach. It was smooth sailing until we had a taste of the appetizer spread, and we decided to abandon ship and head back out to Downtown Long Beach to save ourselves from the wretched food aboard the ocean liner. Would it be 555 East to the rescue?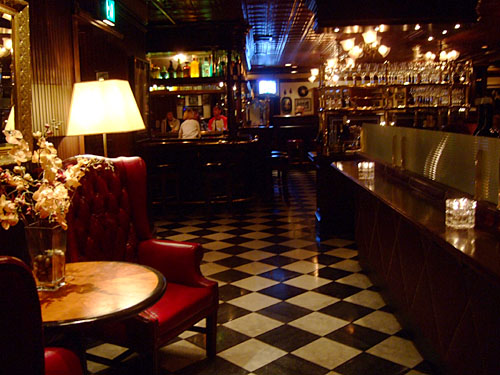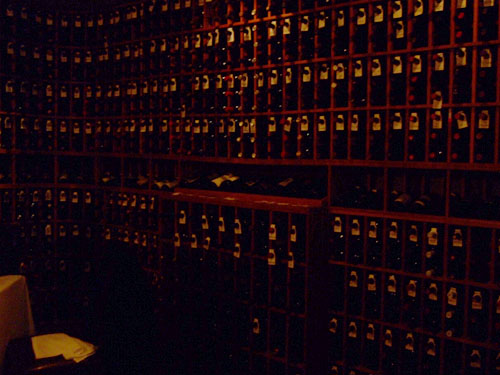 The interior of 555 is pretty much exactly what you'd expect from a traditional steakhouse: lots of dark wood, and not much light. In fact, I was forced to use flash for the photos, which I'm usually loath to do. The last time I did so was also at a steakhouse:
Mastro's
. We were seated in the "Wine Cellar," which houses a portion of the restaurant's collection. One annoying thing about this arrangement was that servers kept going by us to get to the bottles! At least we managed to snag a seat though; when we first arrived, we were told that there was an hour wait for tables and that we'd have to sit at the bar.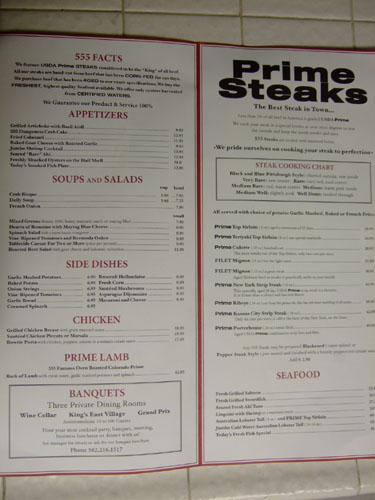 555's menu represents typical steakhouse fare. Nothing fancy, nothing innovative, just the basics: steak, sides, your requisite seafood, and basic apps. Prices are fairly steep, but no higher than a Ruth's Chris or Morton's, let alone
CUT
.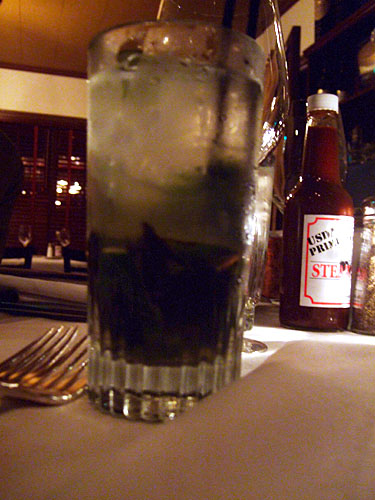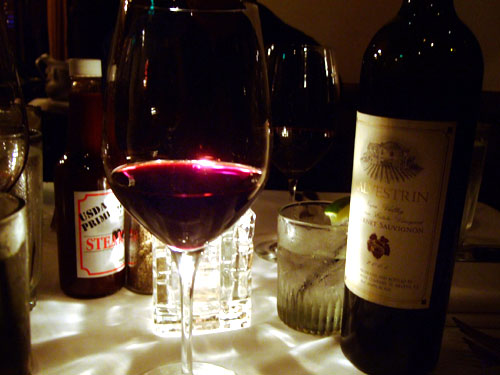 Naturally, I started with a mojito, which was decent but uninspired. For the meat, we needed something stout, and so we ordered a bottle of Salvestrin Cabernet Sauvignon, Napa Valley, 2001. That particular year was a strong one in Napa, and the wine was rather bold, with typical dark fruit and currant flavors accompanied by a medium-heavy weight and lingering bite on the finish.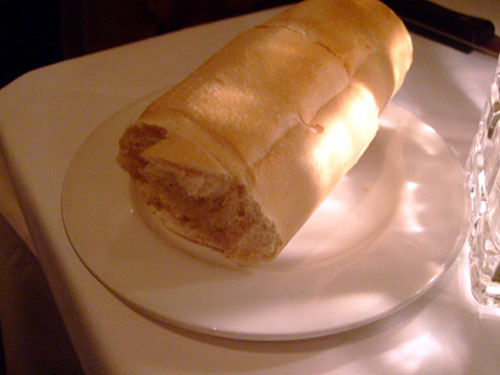 The bread was disappointing and wouldn't be out of place in a high school cafeteria. Just compare it to the selection at
Mastro's
and you'll see it's completely and utterly outclassed.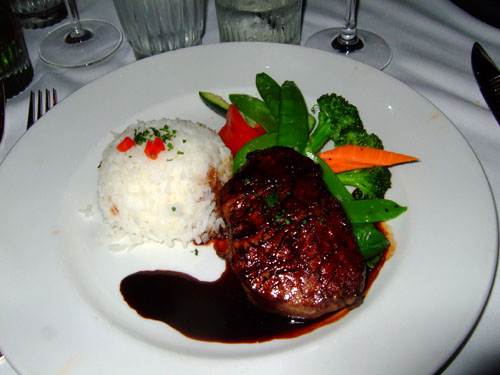 Filet Mignon Special (8oz)
This was a special filet topped with what I believe was an onion and mushroom sauce. The meat itself was tender enough, with a good mouthfeel and pleasing texture. But the sauce pretty much drowned out any of the natural beef flavor, thus confirming my firm belief in enjoying steak
sans
sauce.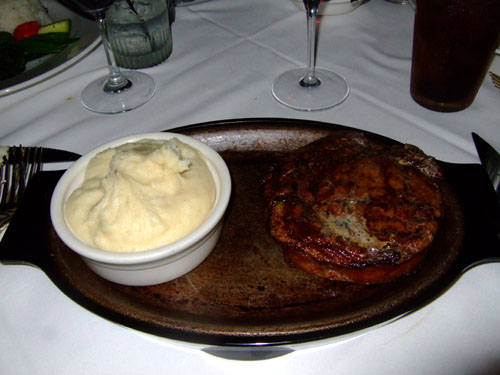 Prime Ribeye (16oz)
Cut from the prime rib, the ribeye clearly had the most marbling of all the steaks we had this night. Actually, I thought it was too much so, as I ate mouthfuls of pure fat. Taste-wise though, the flavor and the juiciness were there in spades.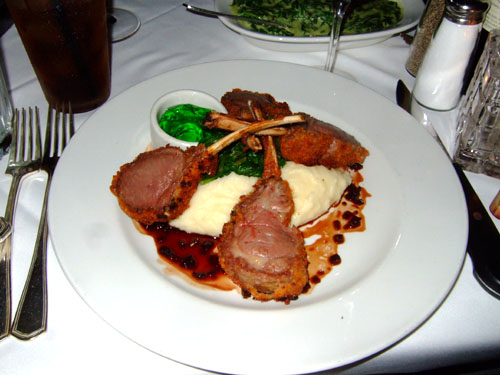 Rack of Lamb
One of my dining companions decided to break away from steak and go with these Colorado lamb chops, served with cassis sauce, garlic mashed potatoes, and spinach. Not a good decision in my opinion, as I felt the meat was overcooked and tough, while the flavor was muted and the crust failed in its intended purpose.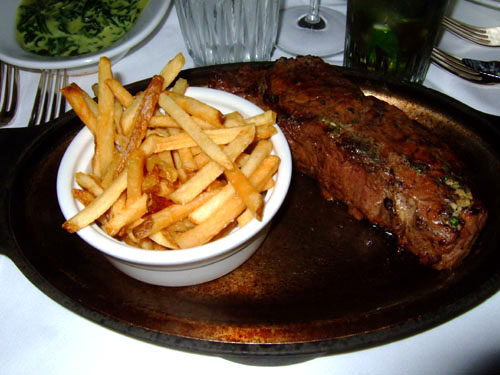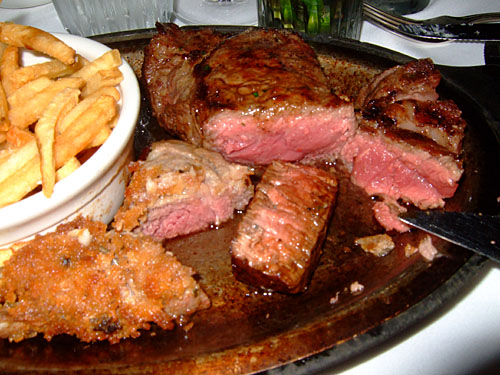 Prime New York Strip Steak (16oz)
This was what I ordered. Aged 28 days and cooked medium-rare, the New York was firmer than the ribeye with a richer flavor than the filet. In that regard, it sort of struck a balance between the two. On the right, we see all four meats together. Clockwise from left, we have the lamb, New York, ribeye, and filet.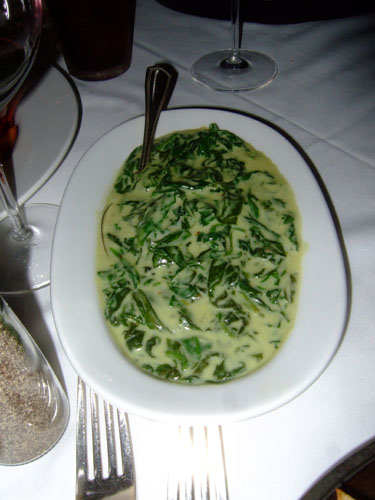 Sides
The two sides we ordered were creamed spinach and sautéed mushrooms. I didn't try the spinach, but I did eat most of the mushrooms (perhaps because no one else wanted to?). They were palatable but too sweet and lacking in complexity and variation (how about mixing in some shimeji, morels, shiitakes, chanterelles, etc?). They reminded me of the mushrooms I had at my horrendous meal at
Garden Room
.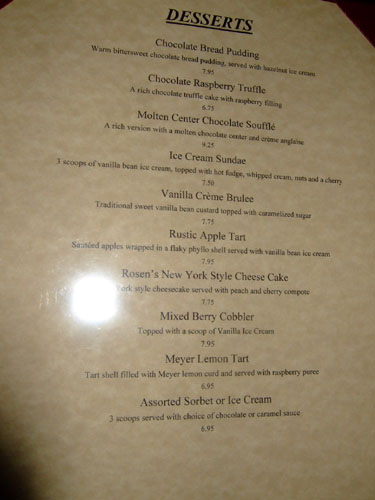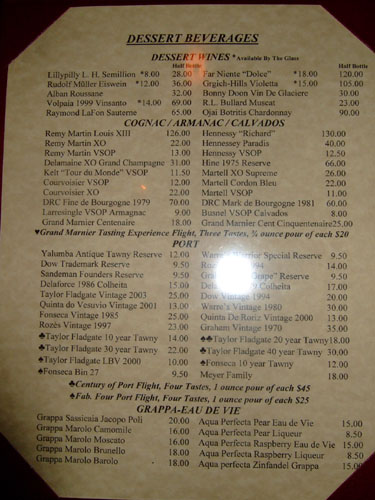 A fairly standard list of dessert and after dinner cordials is offered.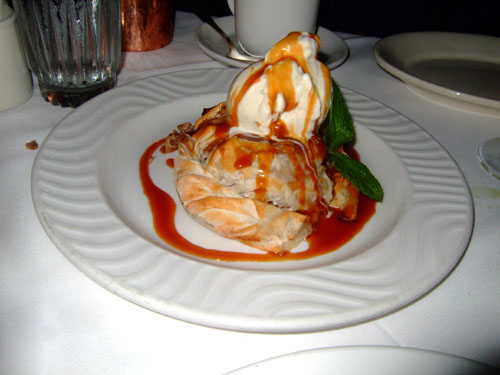 Rustic Apple Tart
Sauteéd apples wrapped in a flaky phyllo shell served with vanilla bean ice cream. I loved the temperature and texture interplay between the apple, pastry, and ice cream elements here. Surprisingly good!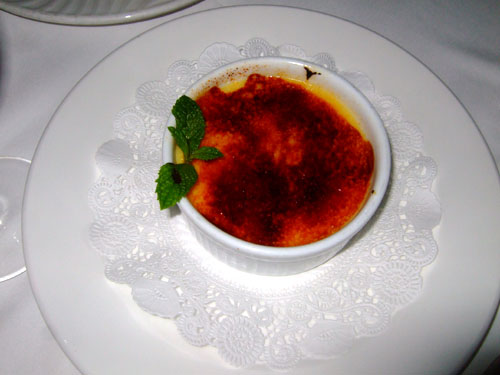 Vanilla Crème Brulee
Traditional sweet vanilla bean custard topped with caramelized sugar. A textbook example really, which I can not fault. Quite delicious.
Overall, on the steakhouse hierarchy, I'd put 555 East well below CUT, below Mastro's, and around the same level as the trinity of Ruth's Chris, Morton's, and Fleming's. The steak itself was good enough, but many of the other elements seem a bit lackluster. Although the main focus should be on the meat, I'm really looking for the total package, and I don't think 555 is quite there yet.