Fifth Floor (San Francisco, CA)
Fifth Floor
12 4th St, San Francisco, CA 94103
415.348.1555
www.fifthfloorrestaurant.com
Sat 08/23/2008, 05:20p-07:30p
Unbeknownst to me, Fifth Floor is actually a product of Laurent Manrique, of
Aqua
and Café de la Presse fame. Manrique serves as the Culinary Director, and thus is largely responsible for creating the Gascon-inspired menu. The idea was to combine the cuisine of Manrique's native Gascony with the local culinary flair of the Bay Area.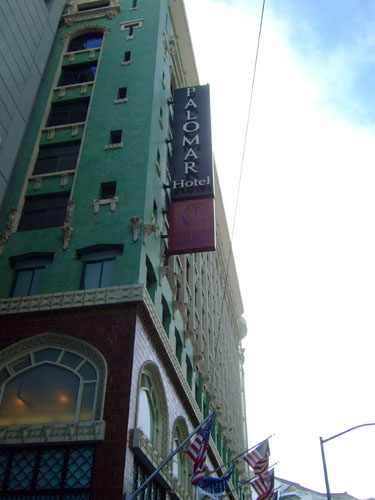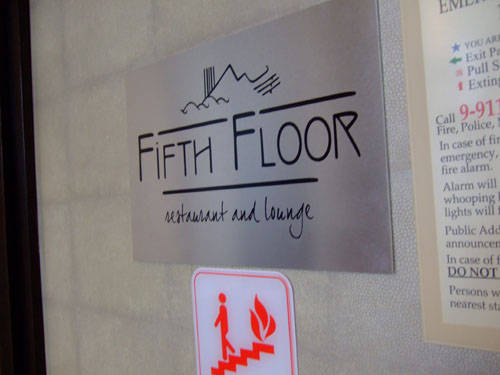 Fifth Floor is located, not surprisingly, on the fifth floor of the Palomar Hotel, just south of Market. Street parking was impossible, so I parked in a structure down the street.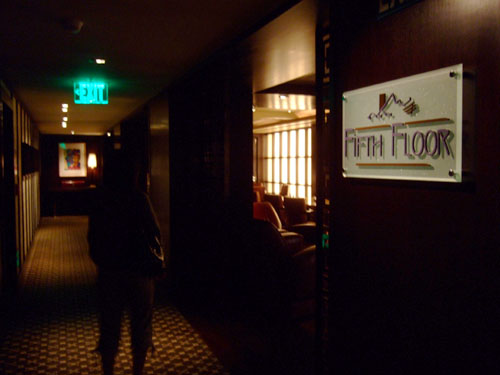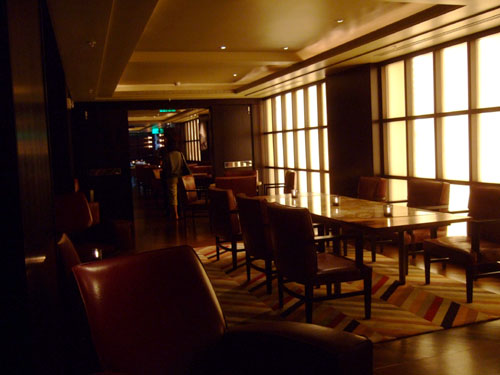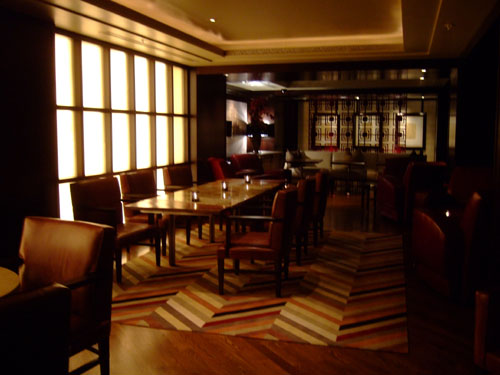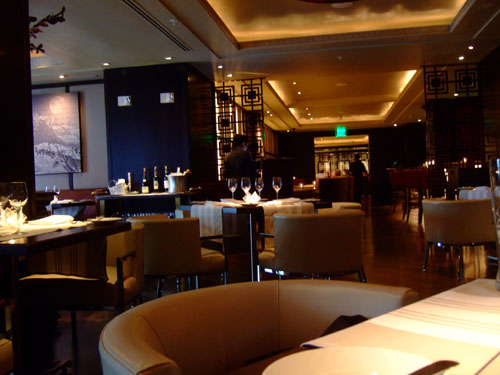 Upon entering, you first walk past a long row of tables comprising the 44-seat lounge, flanked by the bar, before entering the main dining room. We were the first ones at the restaurant for dinner (I had a flight to catch later that night).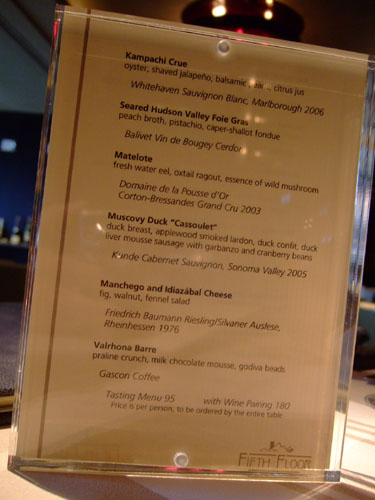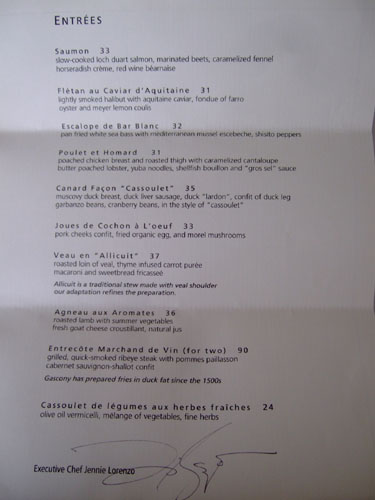 A six-course tasting menu is available, but we decided to order à la carte, as some of the items looked more appealing. Note the signature of Executive Chef Jennie Lorenzo, a Philippines native with an impressive background working at some of the top restaurants around the globe. Click for larger versions.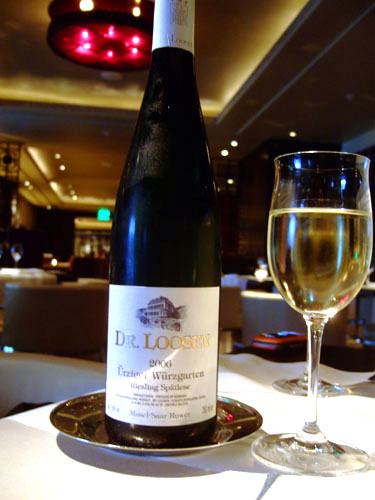 Since we were having pretty much all seafood, we chose a Riesling, Dr. Loosen Urziger Wurzgarten Spatlese, Mosel 2006 [$70.00]. The Riesling was exactly what I expected, fresh and light, subtly sweet, with citrus and stone fruit flavors. Our selection was aided by aptly-named Master Sommelier Emily Wines.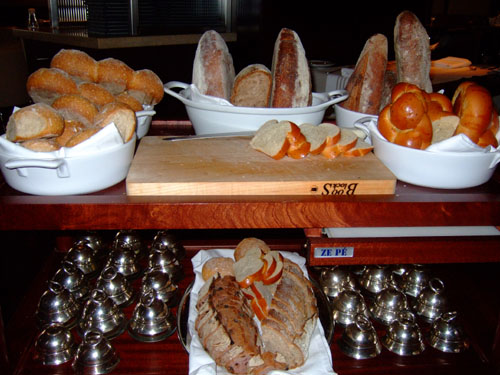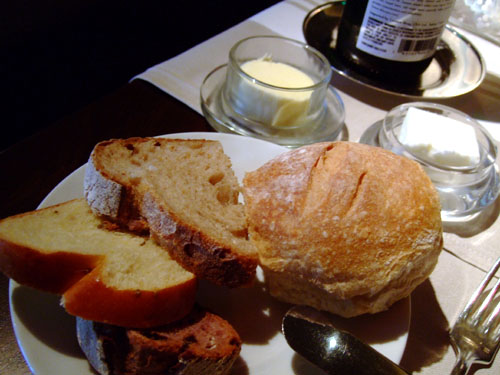 A bread cart is a rare sight these days (I think the last one I saw was at
Joël Robuchon
). Four varieties of bread were available: red wine (my favorite), anise, wheat, and San Francisco roll. A goat cheese butter topped with salt, which went superbly with the red wine bread, complemented a regular butter.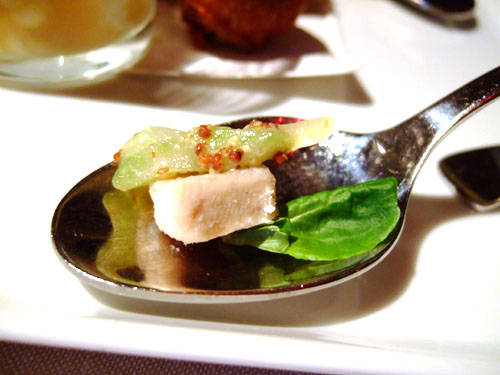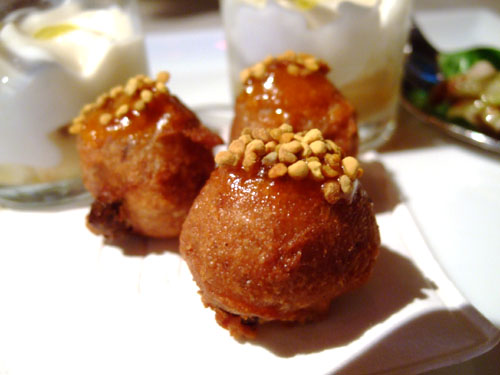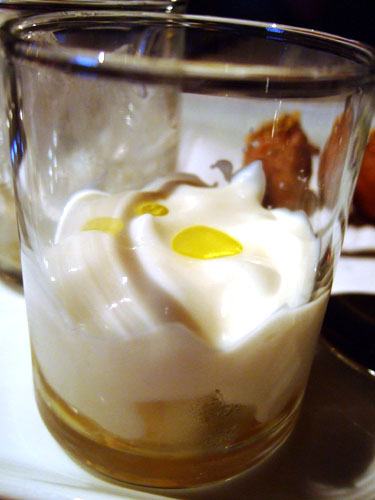 Amuse Bouche
Rabbit rillette with celery - A rillette is a meat that is slow cooked in fat then made into a paste, similar to a pâté. The resulting taste here was actually quite similar to a chicken salad.
Bee pollen beignets - I'm not sure what bee pollen is supposed to taste like, but these had an almost Indian curry type of flavor, tempered by some sweetness.
Cauliflower cream with chicken broth gelée - Bits of cauliflower added some nice textural contrast, but I wasn't sold on the pairing of cauliflower with chicken broth; eating it was a bit disconcerting.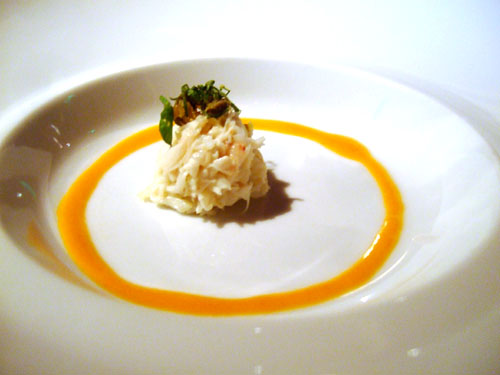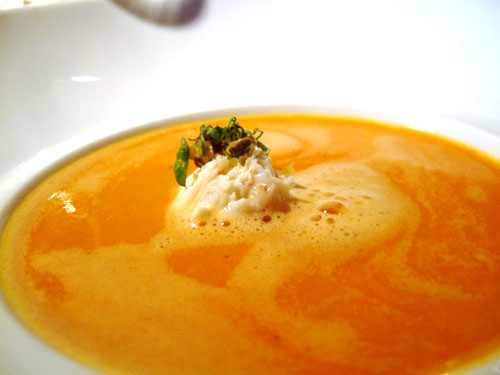 Crabe [$16.00]
Dungeness crab soup with a saffron emulsion. The small mound of crab meat was tasty all by itself, while the addition of the emulsion made the dish almost like a crab bisque. I would've appreciated more crab meat, as the little bit here tended to get lost in the soup. Good, but nothing particularly special.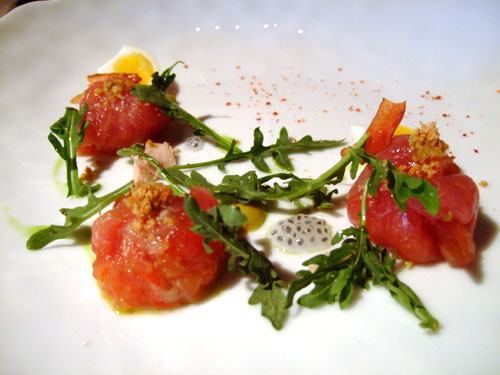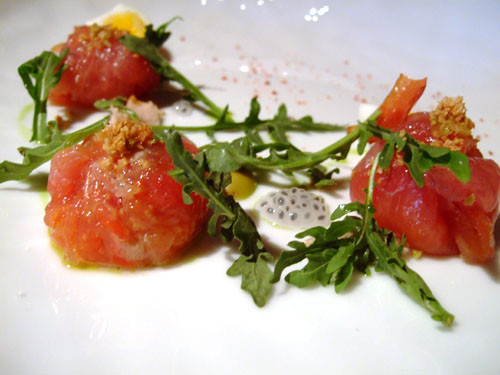 Thon Basquaise [$15.00]
Marinated cold big eye tuna boulettes filled with pipérade, soft poached quail eggs, preserved tuna "ventrèche" and green olives. Pipérade is a Basque dish made with peppers, onion, and tomatoes sautéed in olive oil. Paired here with the tuna, its sweet yet savory flavor melded perfectly with the fish. This actually reminded me a bit of the tuna crudo at
Blanca
. My favorite dish of the night.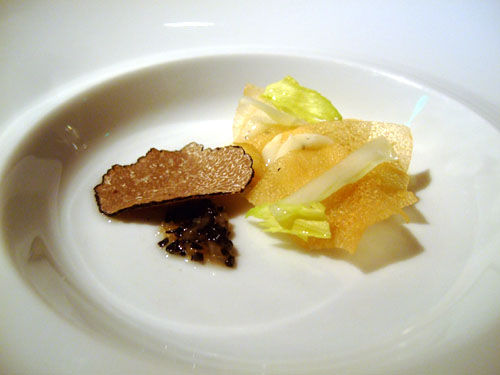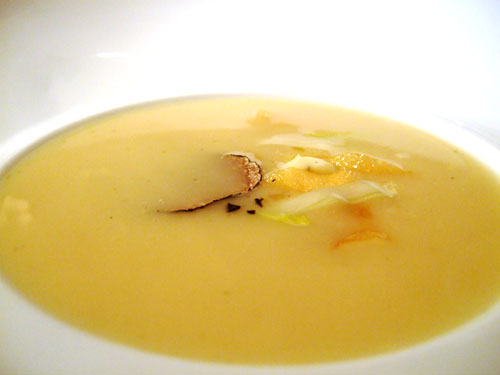 Aligot [$14.00]
"Fresh dug" potato soup, truffled brie, celery and black summer truffle salad. This was basically an updated version of the classic aligot, a dish traditionally made with mashed potatoes mixed with crème fraîche, garlic, and tomme d'Auvergne cheese. The hearty richness of the potato soup was further bolstered by the addition of truffle and brie. Although the result was perhaps a bit heavy, I think the combination worked well.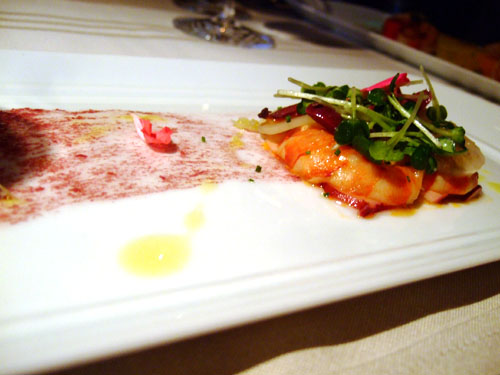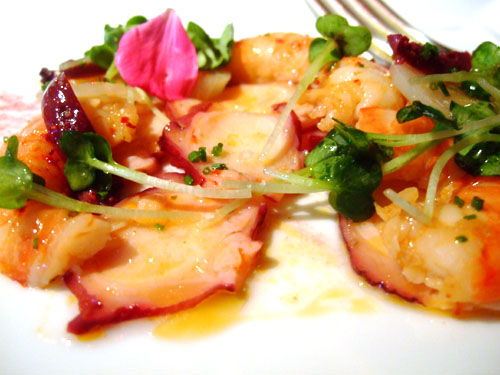 Poulpe aux Crevettes [$15.00]
Grilled octopus and black tiger shrimp salad, sunchoke confit, black olive and berber spice vinaigrette. I quite enjoyed the octopus and shrimp here, both of which had a delectable, cool, fresh crispness. Texture wise, they were similar yet at the same time just different enough, with the octopus being more resilient. Berber spice is an African spice mix commonly used with meat dishes, but here it gave the mild flavor of the duo a nice kick.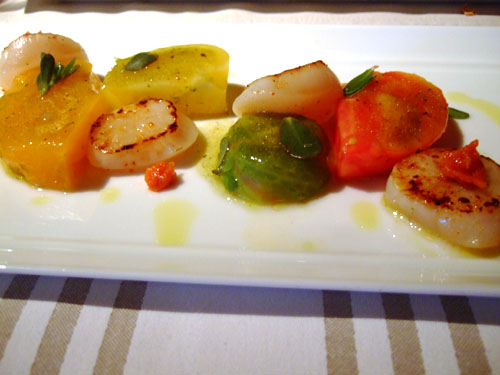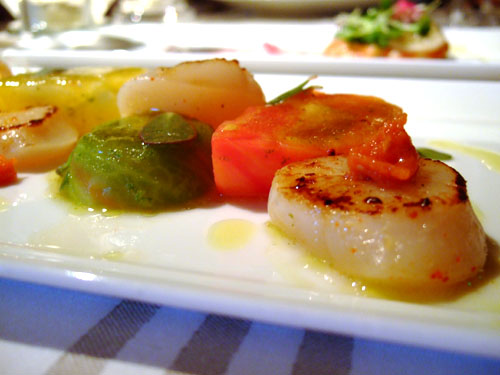 St. Jacques et Tomates [$16.00]
Scallops with marinated heirloom tomatoes, lemon verbena vinaigrette and purslane. The scallops, served slightly chilled, had a very nice texture and paired well with the tart lemon verbena vinaigrette. The tomatoes were also delicious, juicy and full of flavor. However, the pairing of scallop and tomato in this form didn't really work with me. The two seemed like disparate elements and never really integrated into a cohesive dish.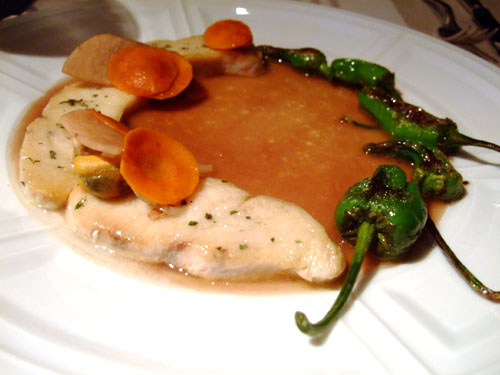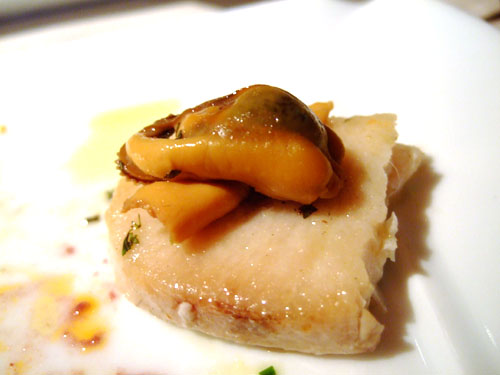 Escalope de Bar Blanc [$32.00]
Pan fried white sea bass with Mediterranean mussel escebeche, shisito peppers. This was the only entrée we ordered, and unfortunately it was a bit of a disappointment. The fish itself was very nondescript, and to exacerbate the issue, the way it was cooked was rather boring as well. The addition of mussels and shisitos was a nice attempt to liven up the dish, but even they fell flat in that context.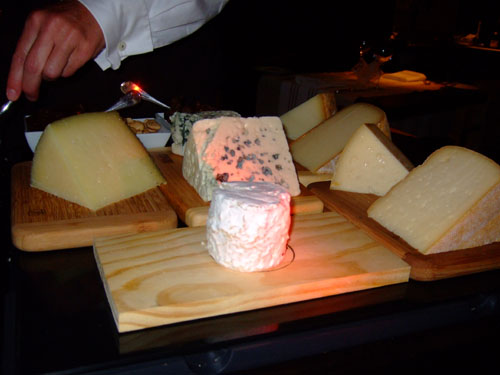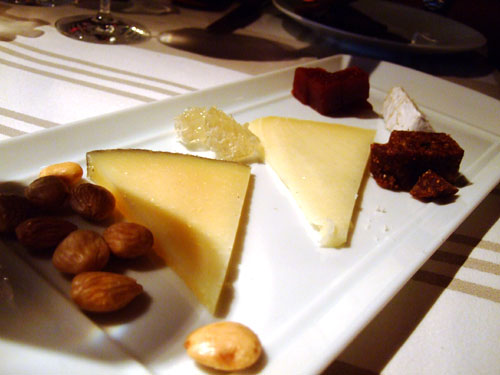 Selection of Cheese [$18.00]
Three cheeses, served with almonds, honeycomb, fig and data cake, quince, and brioche. From left to right, we have:
Manchego - Arguably Spain's most famous cheese, Manchego is a semi-firm sheep's milk cheese from the La Mancha region. Manchego is aged in natural caves for two to six months, the longer aging imparting a stronger flavor. The example here was fairly mild, though still delicious.
Ossau-Iraty - A French cheese made from sheep's milk, Ossau-Iraty is produced in south-western France, in the Pyrénées. It's a medium-firm cheese with a very smooth texture and delicate flavor, with a tinge of nuttiness.
Bucheret - From Redwood Hill Farm & Creamery in Healdsburg (the home of Cyrus), Bucheret is a rich, dense, creamy cheese with a bit of tanginess. I thought it was the most complex of the trio, as well as my favorite.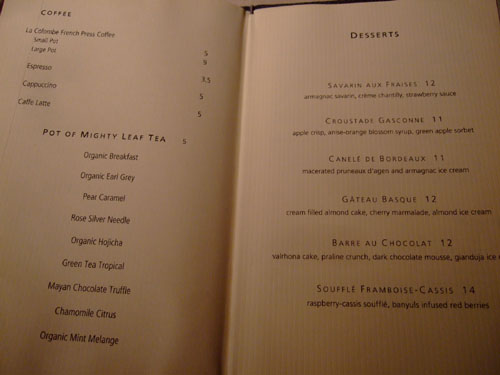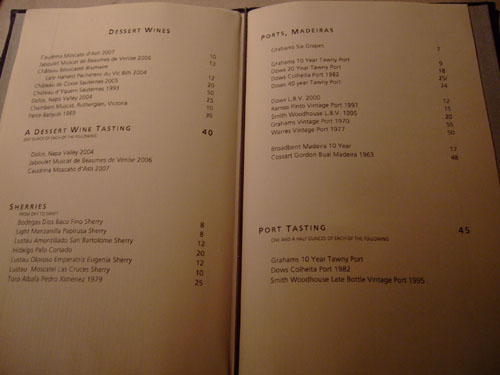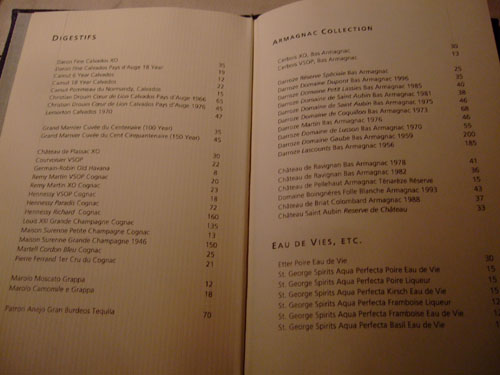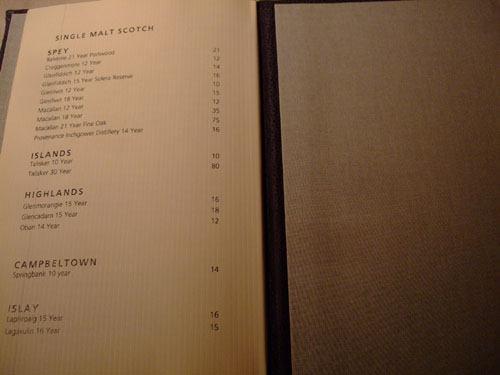 The dessert menu lists a number of intriguing selections. There's also a surprisingly large collection of after-dinner drinks presented. Click for larger versions.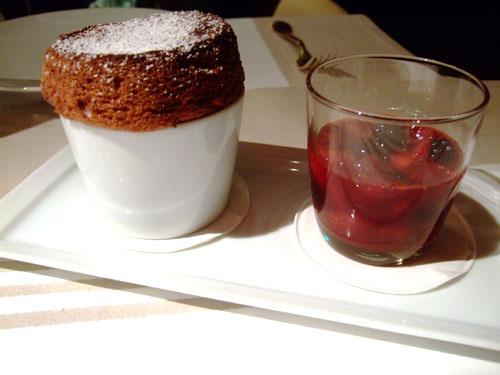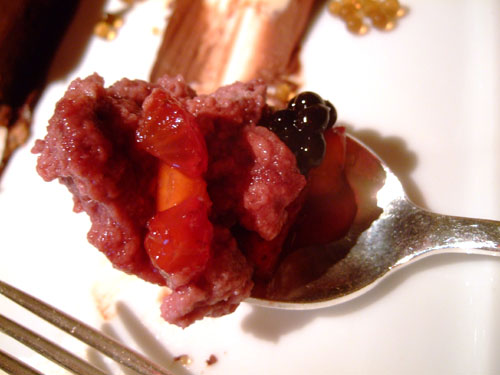 Soufflé Framboise-Cassis [$14.00]
Raspberry-cassis soufflé, banyuls infused red berries. I'm not usually a huge soufflé fan, but the addition of berries here added a fantastic bit of tartness to an otherwise pedestrian soufflé. Quite nice.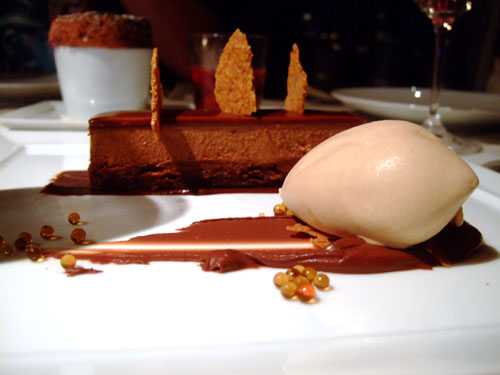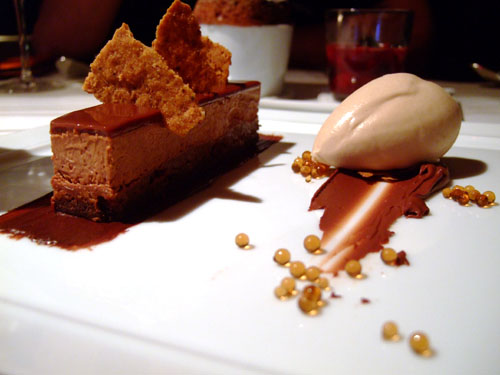 Barre au Chocolat [$12.00]
Valrhona cake, praline crunch, dark chocolate mousse, gianduja ice cream. The chocolate cake had just the right amount of sweetness, which was balanced by a bit of bitterness, and the praline added a great textural contrast to the dessert, as to prevent it from becoming too monolithic. Finally, gianduja is a preparation of chocolate containing about 50% hazelnut, and the sweet nuttiness provided by the ice cream really worked well here. Superb.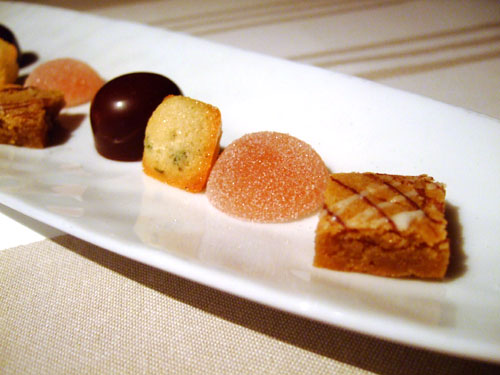 Mignardises
A few nice bites to close out the meal.
Fifth Floor was a good meal, but unexceptional. Though there were a few standout dishes, such as the tuna and the chocolate, the meal left me wanting a bit more boldness. A one-star Michelin rating is reasonable, but there was a world of difference in cooking between Fifth Floor and the two-star rated
Restaurant at Meadowood
, which I dined at the night earlier.