Providence (Los Angeles, CA) [2]
Providence
5955 Melrose Ave, Los Angeles, CA 90038
323.460.4170
www.providencela.com
Sun 08/24/2008, 06:40p-10:45p
This was my third visit to Providence. For my previous two meals, one of which was a 5x5 chef's collaborative dinner, see
here
and
here
.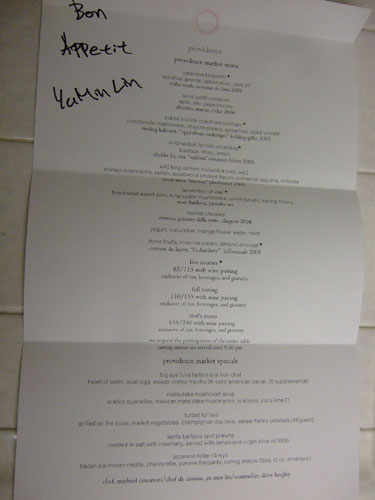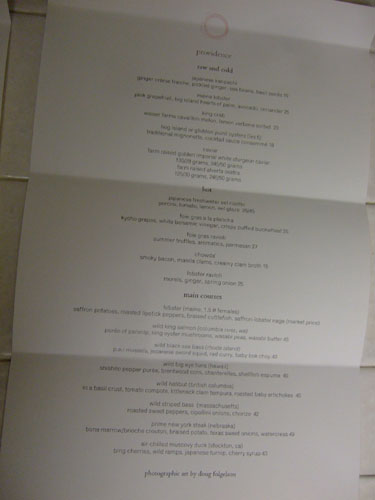 The menu is split into three tasting menus, market specials, and a selection of à la carte dishes. Unlike at previous visits, we decided to abstain from a set menu. Executive Chef Michael Cimarusti wasn't in, so the signature is of Yu Min Lin, his Chef de Cuisine. Click for larger versions.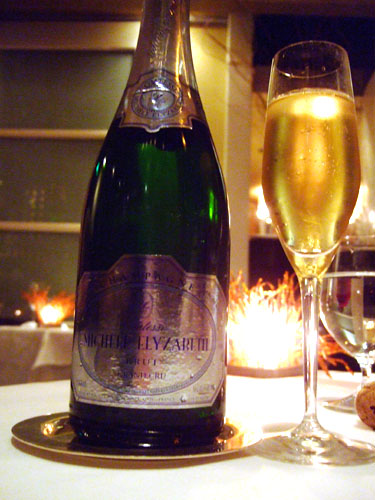 For drinks, we wanted to try something new and went with a bottle of Comtesse Michèle Elyzabeth Brut Grand Cru Champagne [$130.00], which I had never heard of before. Made from 100% Chardonnay, the wine had a light, creamy body with intense toasty notes. It's flavor reminded me of an old vintage Champagne such as the 1990 Krug Brut.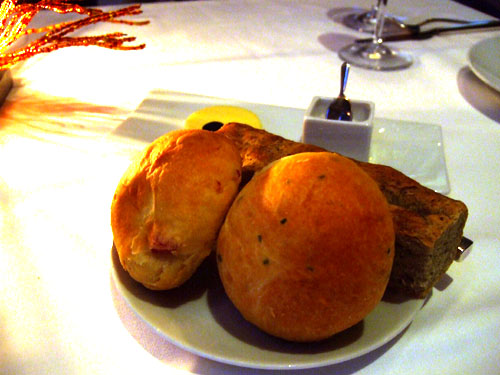 We had a choice of three types of bread: focaccia, bacon brioche, and chive brioche. My favorite was the bacon brioche, further bolstering my theory that bacon makes everything better. In addition to butter, salt was also provided for the bread.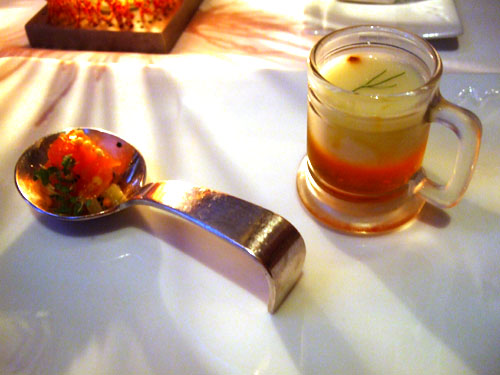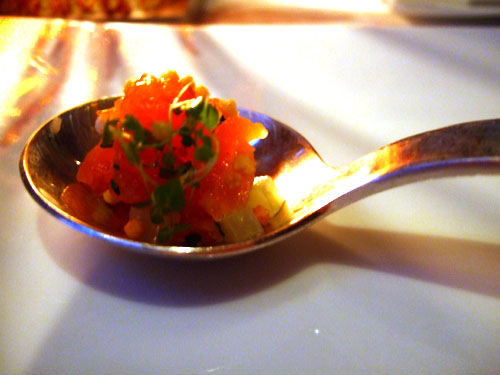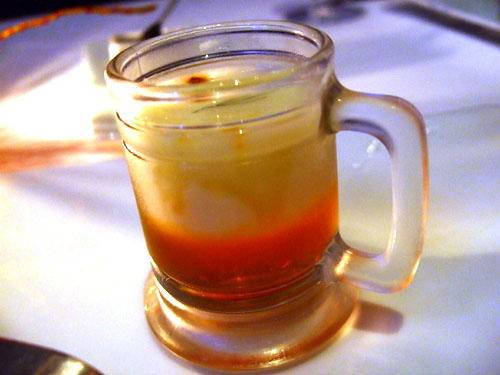 Amuse Bouche
Here, we had Tasmanian sea trout with puffed brown rice and a mini mug of fennel soup. The trout was a good imitation of a tuna tartare, and the rice added an excellent texture contrast to the fish. The soup, meanwhile, wasn't nearly as successful; I found its flavor rather strange.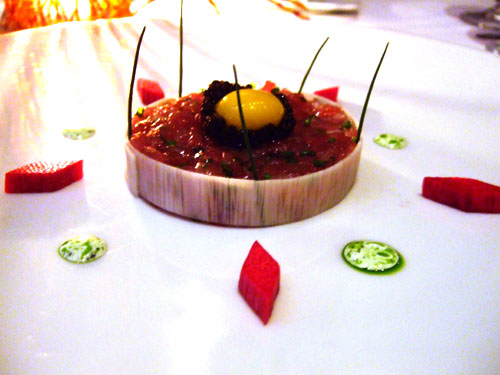 Big Eye Tuna Tartare à la Iron Chef [$46.00]
Red wine and beet marinated heart of palm, quail egg, wasabi crème fraîche, American caviar ($20 supplement). This was a tartare similar to the dish Cimarusti prepared on the television program Iron Chef (Cimarusti, aided by Yu Min Lin and Pastry Chef Adrian Vasquez, prevailed against Morimoto), except that tuna was substituted for blackfish. The tartare was as good as any I'd had before, with the tuna, mild and fresh, heightened by the salty tang of the caviar and richness of the egg yolk. The addition of heart of palm was unnecessary for me.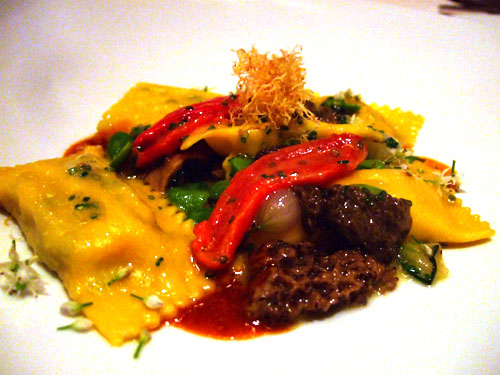 Lobster Ravioli [$25.00]
Morels, ginger, spring onion. The sweetness of the lobster was really brought to the fore here, while the combination of scallion and ginger resulted in a taste not dissimilar to a Chinese-style
jiaozi
dumpling. In the context of these lighter flavors, the morels were a bit heavy handed; perhaps shiitakes or shimejis would've been more to my liking.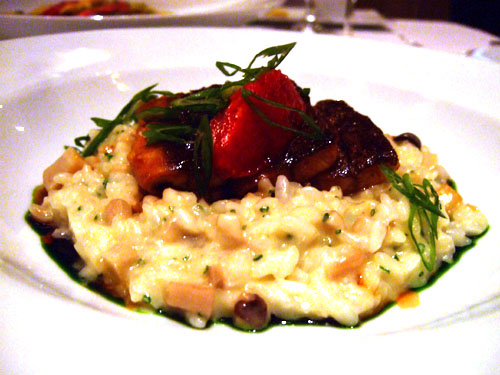 Japanese Freshwater Eel Risotto [$26.00]
Porcini, tomato, lemon, eel glaze. The eel here was basically akin to Japanese-style preparation of unagi kabayaki, so in a sense this was like a Western interpretation of the classic unadon (eel-topped rice bowl). The eel had its characteristic creamy texture and sweetness thanks to its soy glaze, but was actually overshadowed a bit by the risotto I thought.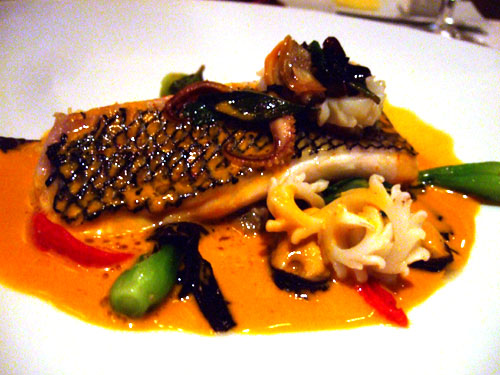 Wild Black Sea Bass (Rhode Island) [$40.00]
P.E.I. mussels, Japanese sword squid, red curry, baby bok choy. The sea bass had its distinctive "spongy" texture, which I'm generally not a huge fan of. I did enjoy the taste though, which, due to the red curry, took on an almost Thai-style flavor. The dish was elevated by the addition of mussels, squid, and bok choy, all of which were quite delicious on their own.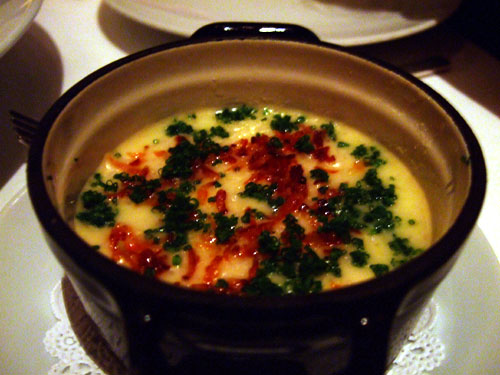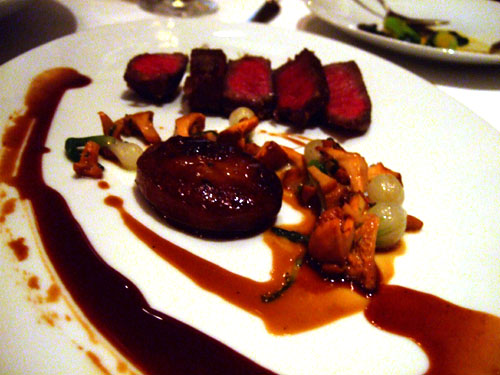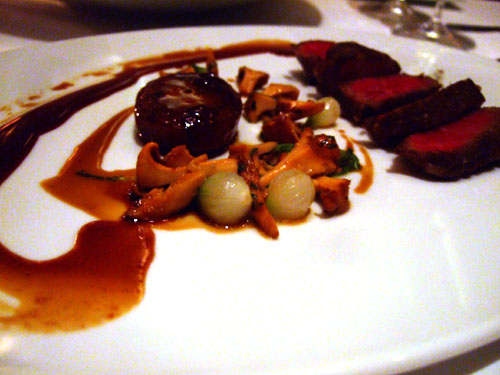 Japanese Kobe Rib-Eye [$50.00]
Bacon-parmesan risotto, chanterelle, pomme fondante, spring onions. After having
CUT
not too long before this meal, it was interesting to compare the steaks. Though the meat wasn't quite as heavily marbled, it was nevertheless very good on its own. The various accoutrements, the pommes fondante (potato cake, which was superb), mushrooms, and onions, managed to pair well with the beef while at the same time not distracting from it. The bacon risotto was excellent (again, bacon makes everything better), though it didn't really fit in with the rest of the course.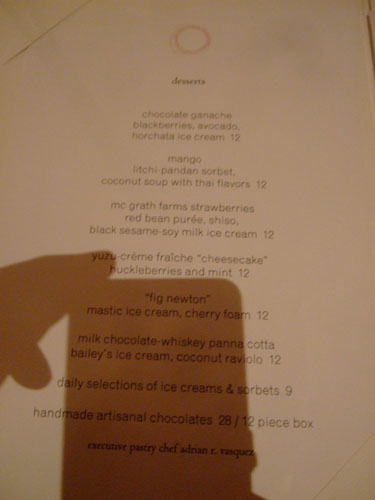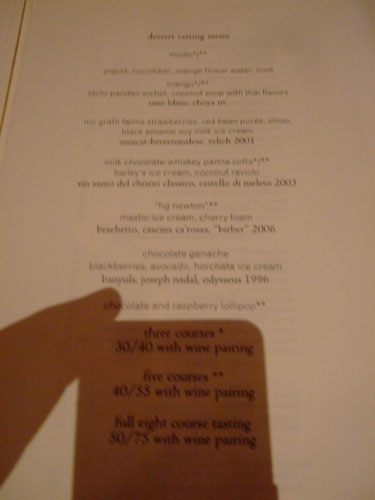 Adrian Vasquez's desserts almost always sound interesting. I could see myself coming in just for dessert; I guess that's why a tasting menu is offered (a rarity,
TRU
is the only other place where I've seen it). Click for larger versions.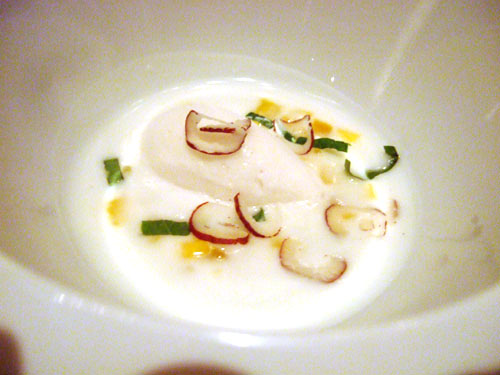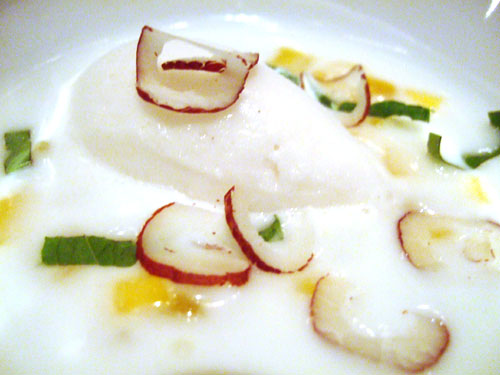 Mango [$12.00]
Litchi-pandan sorbet, coconut soup with Thai flavors. Another Thai-style dish, this was reminiscent of the Thai dessert
lod chong nam ka ti
, or pandan (a plant widely used in Southeast Asian cuisine) flavored rice flour noodles in coconut milk. The mango and litchi added a bit more sweetness, and overall the dish was light and refreshing.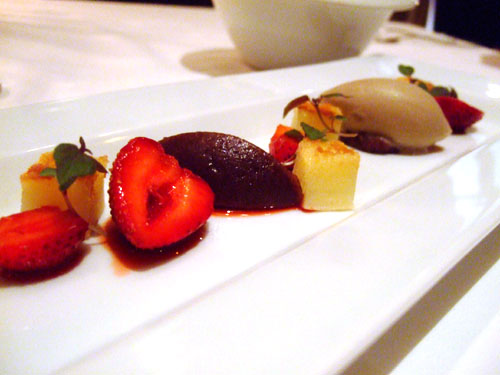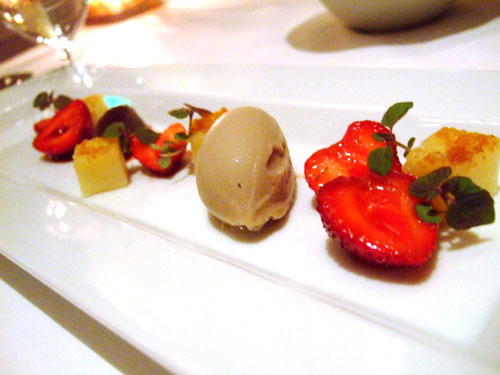 McGrath Family Farms Strawberries [$12.00]
Mochi, red bean purée, shiso, black sesame-soy milk ice cream. I had this same dessert at the
5x5 dinner
. Here, Vasquez turns to China and Japan for inspiration. The strawberries, which were quite sweet, would've been overwhelming by themselves. The various accompaniments are ordinary alone, but the interaction of strawberry, mochi, red bean, and sesame is what makes this dish unique.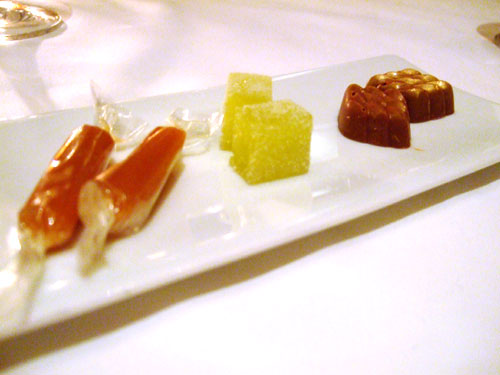 Mignardises
Caramel, olive oil gelées, and chocolate truffles closed out the meal. The olive oil gelée was especially interesting, as its sweetness was punctuated by the savory flavor of olive oil.
I wasn't terribly impressed on my first visit to Providence, but I was quite satisfied here. For the most part, the dishes were unique and creative in their own right, and showed the pedigree of chef Cimarusti. One thing was I noticed was his heavy incorporation of Asian ingredients and techniques, while not venturing into "fusion" territory. Nicely done. Hopefully on my next visit, I'll finally be able to try the vaunted 16-course Chef's Menu!