Jeon Ju (Los Angeles, CA)
Jeon Ju
2716 W Olympic Blvd, Los Angeles, CA 90006
213.386.5678
www.yelp.com/biz/jeon-ju-restaurant-los-angeles (Yelp, restaurant has no web site)
Sat 09/13/2008, 08:35p-09:45p
After having bibimbap for the first time in Japan, I desperately wanted to recreate the experience here in the States. While
early attempts
left me wanting, I'd since been convinced that comparable bibimbaps were indeed available stateside, but I still hadn't had it in Koreatown. That's where Jeon Ju comes in. The restaurant came highly recommended by a number of people, including a
commenter
on this very blog. Let's see how it stacked up.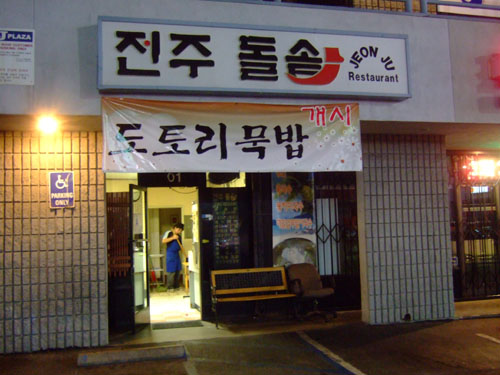 Jeon Ju is located on the first floor of a two-story strip mall. Parking is provided in a small lot, which I hear can become quite packed at peak hours.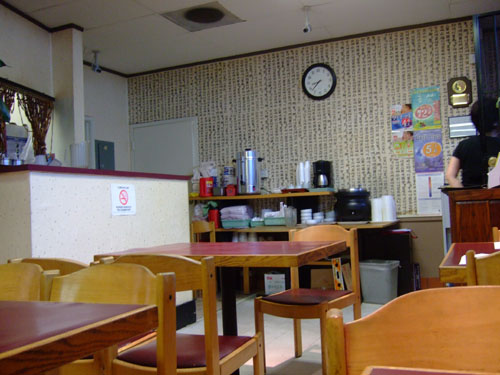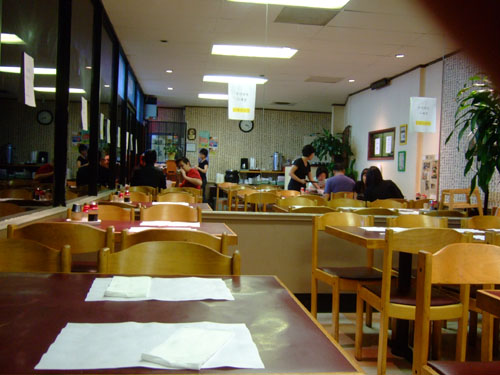 The interior is fairly small (though the mirrors make it seem bigger), with seating for about 50 people. There's not much decor to speak of, though the Korean script gracing the walls is somewhat unique.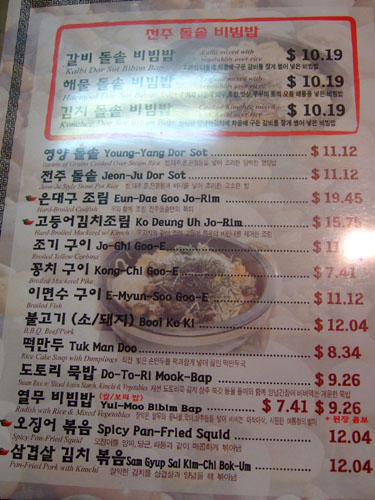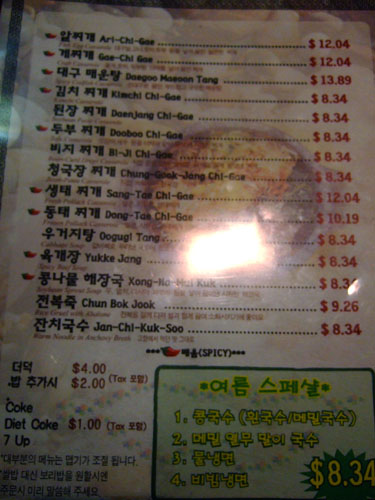 Jeon Ju can do much more than bibimbap, as evidenced by the fairly lengthy menu. Note however that the three preparations of bibimbap are highlighted right up top. Also note the odd pricing, as I encountered at
Young Dong Tofu
, presumably to simplify tax calculations. Click for larger versions.
We'll begin with a recounting of the various banchan that we were presented with.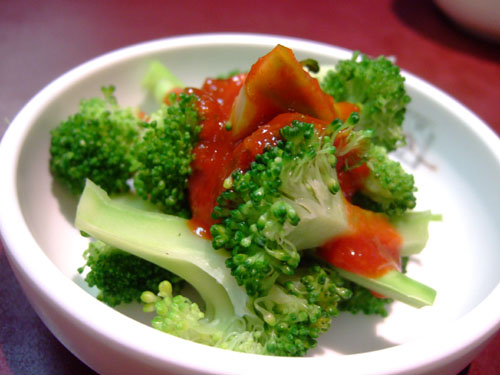 Broccoli with Gochujang
Raw broccoli goes quite well with a cool Ranch dressing. I found out that it also goes well with spicy
gochujang
, a Korean condiment made with chili powder, glutinous rice powder, fermented soybeans, and salt.
Gochujang
is also widely used as a flavoring for bibimbap, as we'll see below.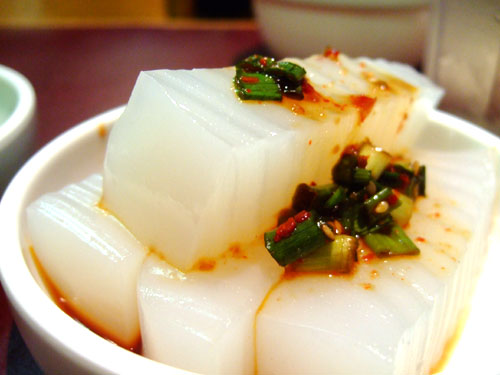 Cheongpomuk Muchim
Cheongpomuk
, also known as
nokdumuk
, is a Korean
muk
(jelly) made from mung bean starch. The jelly was well garnished with soy sauce and scallion, as the
cheongpomuk
had little flavor of its own. The consistency was dense, and slightly chewy, reminiscent of Japanese konnyaku jelly.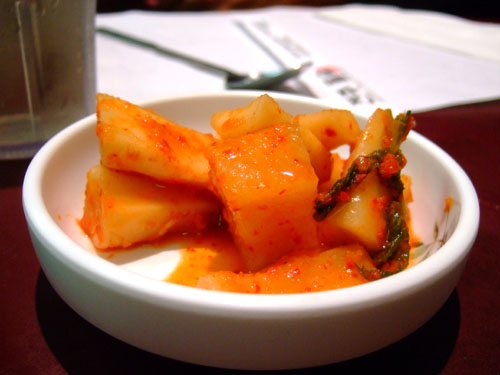 Ggakdugi
Ggakdugi
is a type of kimchi made from
mu
(daikon radish). The radish is cubed and typically flavored with salt, red chili powder, scallions, and ginger. I much enjoyed the
ggakdugi
's crispness and milder flavor.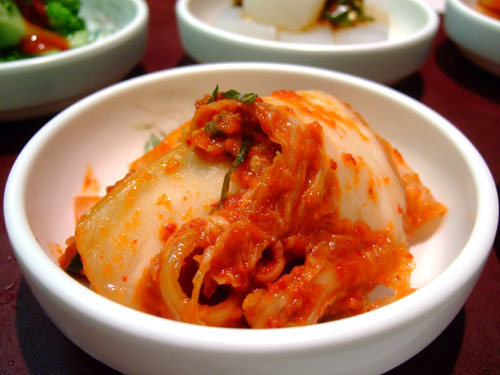 Baechu Kimchi
A meal just wouldn't seem complete without kimchi, specifically
baechu
kimchi, the most popular variety, made from napa cabbage. This was exactly what I expected from kimchi, and I found it to be spicier and saltier than the
ggakdugi
and water kimchi below.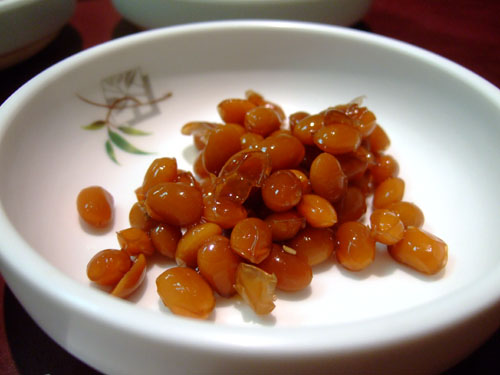 Kong Gan
I was informed by one of my dining companions that this was known as "white bean." I'm thinking these are azuki beans perhaps? Unfortunately, I forgot to sample them.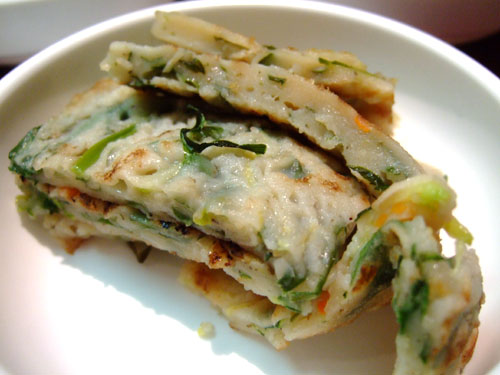 Pajeon
Pajeon
is a type of
jeon
, a pancake-esque dish made of eggs, flour, and green onion. It was soft in texture with a mild flavor, and was one of my favorite banchan.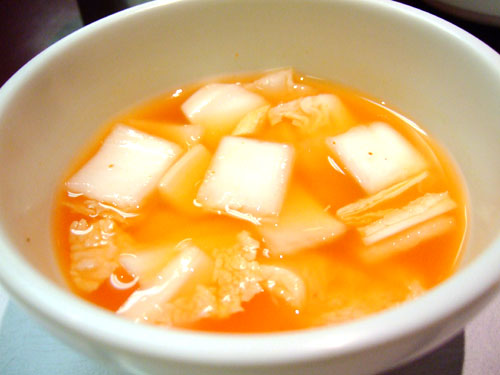 Mul Kimchi
Mul
means water, so this was basically kimchi in water. It had a much milder taste than normal kimchi, with less salt, but still packed a delightfully garlicky tangy. Very nice.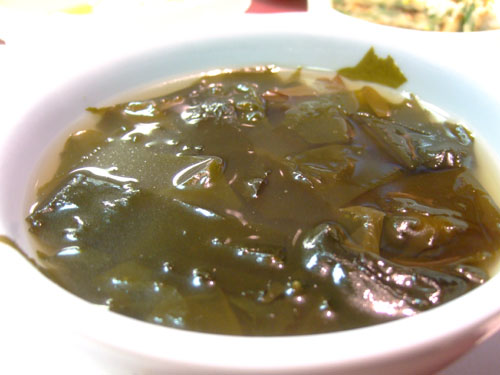 Miyeok Guk
Miyeok guk
is a soup made from wakame, a type of edible kelp commonly used in Japanese cookery.
As Jeon Ju is most well known for bibimbap, we decided to try all three varieties offered, all served
dolsot
style (in a stone pot).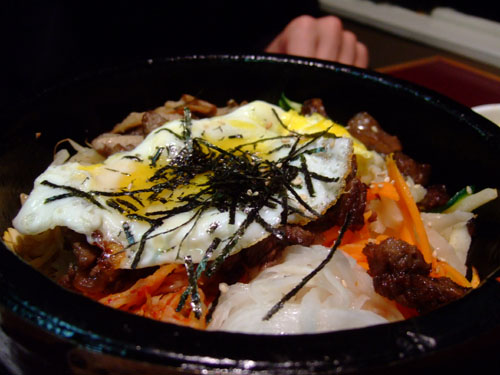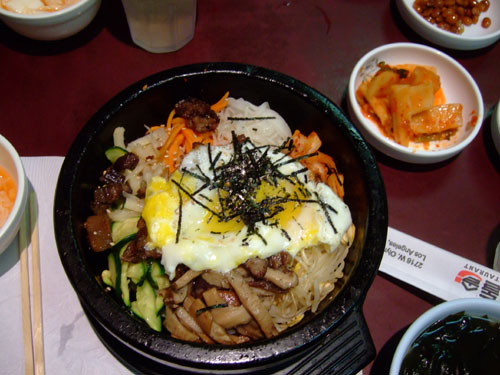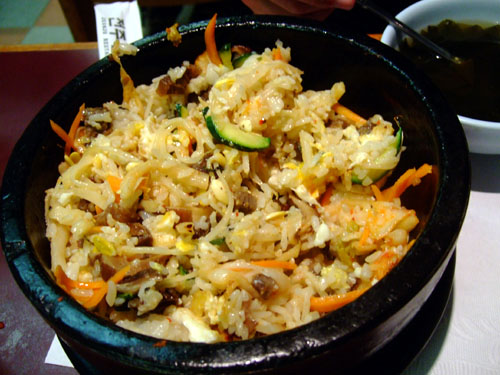 Kalbi Dor Sot Bibim Bap [$10.19]
Kalbi mixed with vegetables over rice. This is Jeon Ju's signature bibimbap. Apparently, its uniqueness is derived from the use of kalbi (marinated beef short ribs) as the meat component; otherwise, it's a pretty typical preparation. Ingredients included kalbi,
mu
(daikon), kimchi,
kongnamul
(bean sprouts), mushroom, cucumber,
doraji
(bellflower root), carrot, egg,
gim
(seaweed), and sesame. I thought it was delicious, with a harmonious mixture of ingredients and just the right amount of rice; everything simply flowed and melded together into a tasty amalgam. This compared very favorably to the bibimbap I had at
Young Dong
, though I can't say for certain that one was better than the other.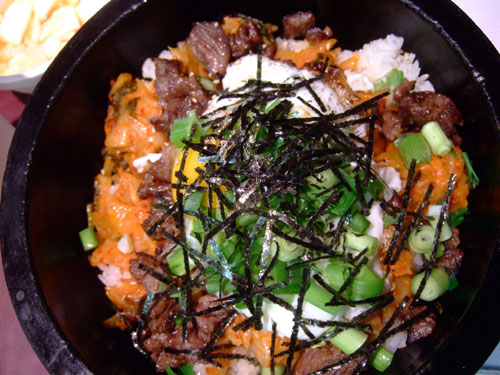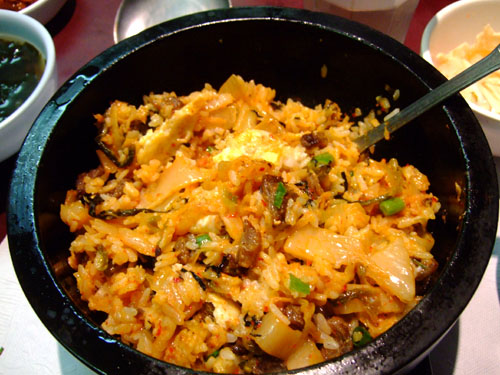 Kimchee Dor Sot Bibim Bap [$10.19]
Cooked kimchee mixed with kalbi over rice. This was my first time having bibimbap with kimchi as the dominant ingredient. In addition to kimchi, the dish included kalbi, egg, scallion, and
gim
(seaweed). The addition of vast amounts of kimchi to the bibimbap gave the dish a golden color as well as a unique, tangy flavor.
Gochujang
was actually not needed, as the kimchi provided sufficient spice. I can't say that I prefer this over a normal bibimbap, but it was nevertheless very good, and I would order it again to mix things up.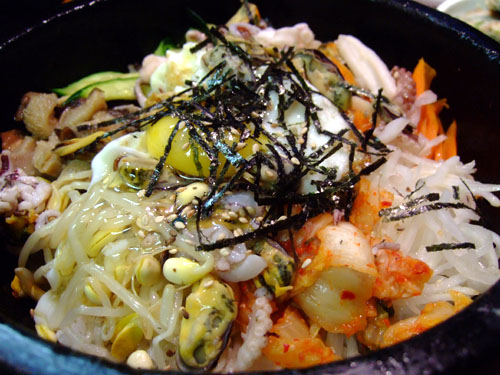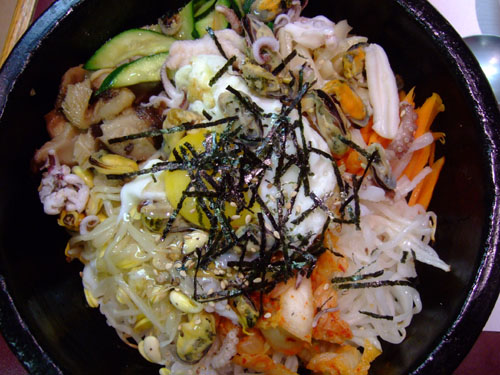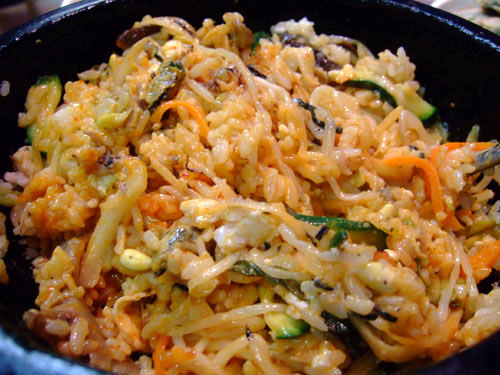 Haemool Dor Sot Bibim Bap [$10.19]
Seafood mixed with vegetables over rice. The ingredients here were kalbi,
nakji
(octopus), mussels, carrot,
mu
(daikon), kimchi,
kongnamul
(bean sprouts), mushroom, cucumber, imitation crab, shrimp, egg,
gim
(seaweed), and sesame. I'd never had a
haemool
(seafood) version of bibimbap before. When mixed together, the various individual seafood components didn't stand out on their own; rather, they presented a well integrated, unified flavor front, tied together by plenty of
gochujang
. A delectable, welcomed addition to my bibimbap repertoire.
For a place that's gotten so much hype for its bibimbap, Jeon Ju did not disappoint. The "standard" bibimbap was amongst the best I've had, and I much appreciated the additional kimchi and
haemool
varieties. Next time I'm back though, I do want to see if everything else on the menu is just as good!