Café Hiro (Cypress, CA)
Café Hiro
10509 Valley View St, Cypress, CA 90630
714.527.6090
www.cafehiro.com
Fri 08/29/2008, 07:50p-10:10p
I'd never been to a restaurant quite like Hiro Ohiwa's eponymous eatery, Café Hiro. Ohiwa's menu isn't Japanese; rather, it pays homage to the influx of foreign foods that have made their indelible mark on modern Japanese cuisine. At Café Hiro, diners will find a fanciful fusion of Japanese-, American-, Italian-, French-inspired dishes, which show the depth of Ohiwa's training both in Japan and France, where he worked at a number of Michelin-starred restaurants.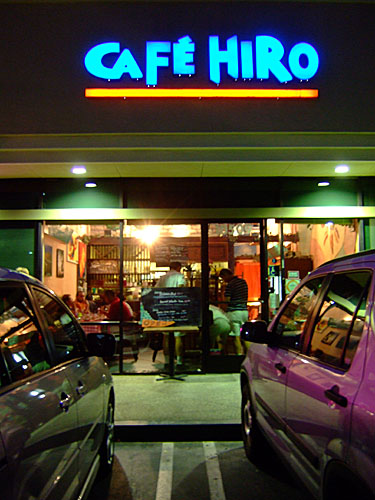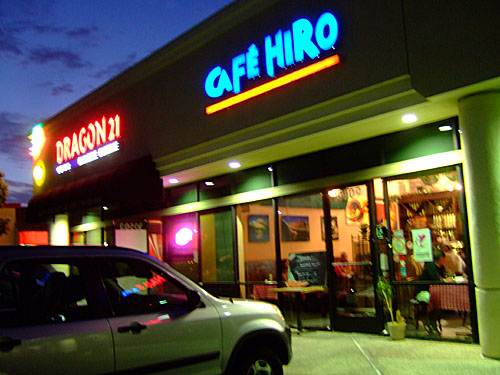 Café Hiro is located in a nondescript strip mall alongside numerous other eateries. Free parking is plentiful.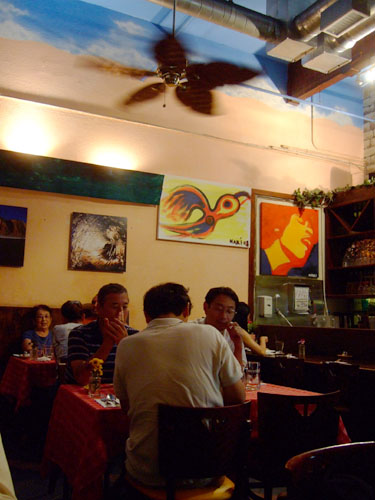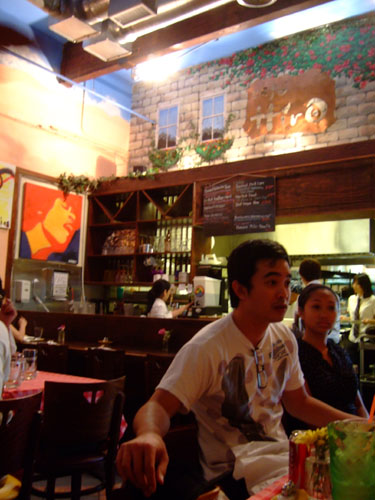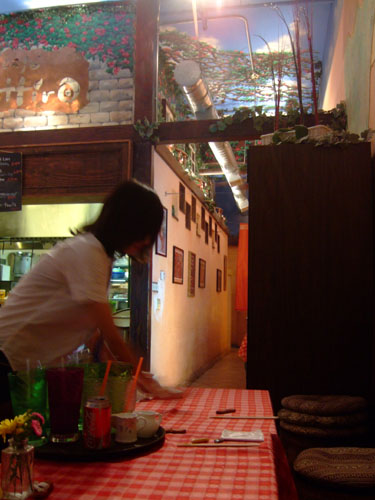 A mishmash of disparate pieces, the interior decor is eclectic to say the least.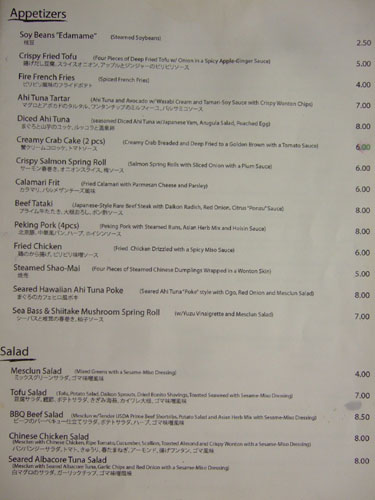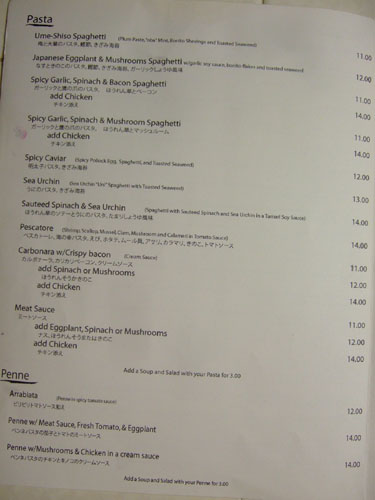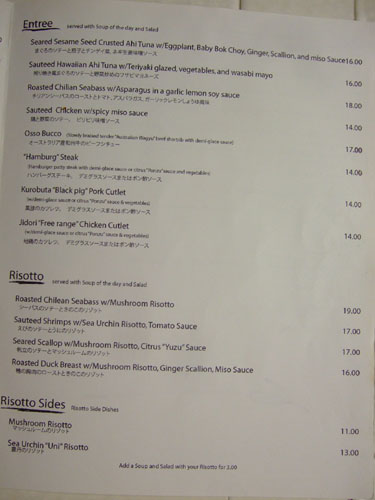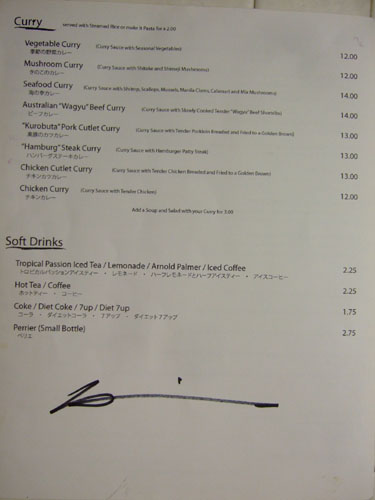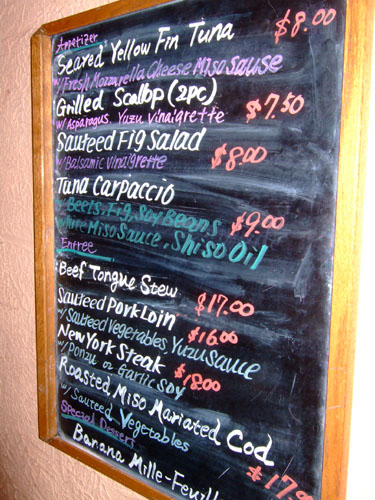 A wide range of dishes are available on the regular menu, which is augmented by a daily specials board. Note the signature of Chef Ohiwa. We ordered a six-course tasting menu for $50. Tasting menus are not normally offered, so it's best to call in advance if one is desired. Click for larger versions.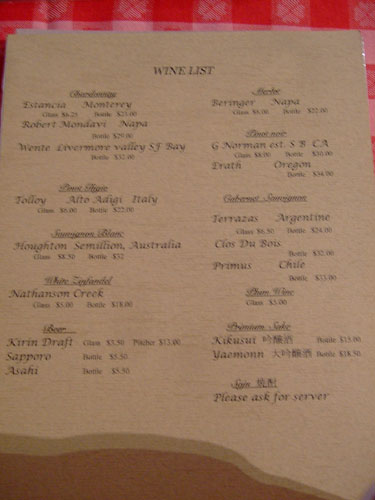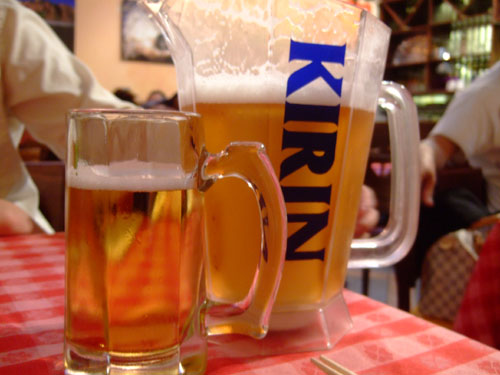 A small selection of wine, beer, and sake complements the food; we ended up going with a pitcher of Kirin Draft [$13.00]. Click for a larger version.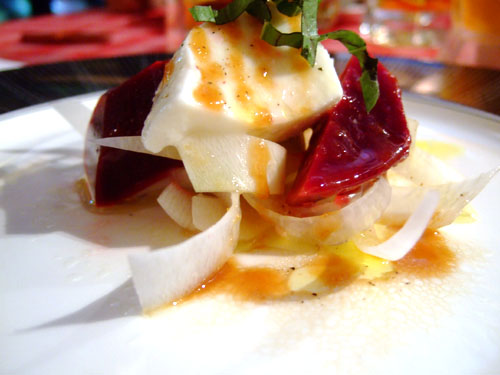 1: Buffalo Mozzarella and Beet Salad
The mozzarella had a light, creamy body and a slightly tangy flavor; its taste and texture reminded me of Burrata. Though I'm not a huge fan of beets, the use of beets here added a bit of sweetness to the salad, and the radish, while very mild by itself, contributed a satisfying crunchiness to the dish.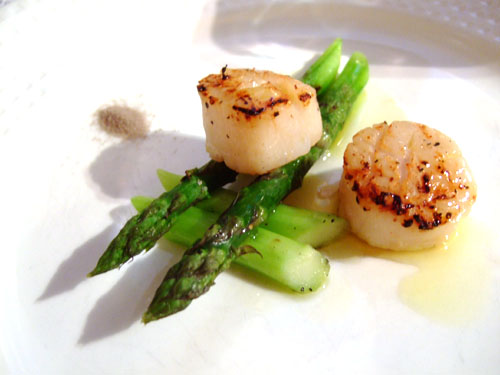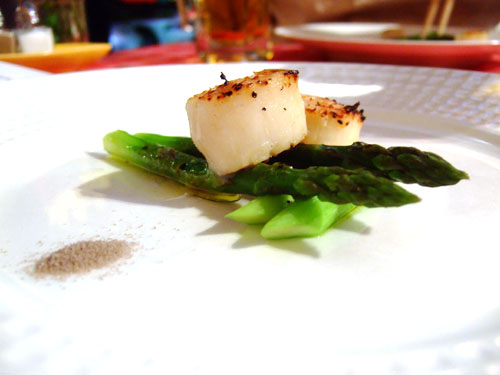 2: Grilled Scallops [$7.50]
Asparagus, Yuzu Vinaigrette, Kelp Salt. The scallops had a great texture, and their naturally mild flavor was set of deftly by the addition of yuzu. The asparagus, meanwhile, had a delectable smoky grilled flavor and was a great contrast to the scallop. The salt wasn't absolutely necessary, but when used sparingly, added a touch of saltiness to augment the flavor of the mollusk.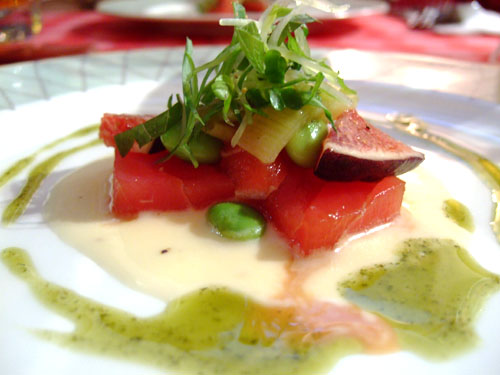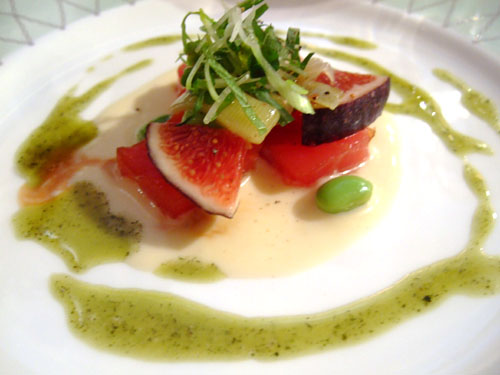 3: Tuna Carpaccio [$9.00]
Fig, Soy Beans, White Miso Sauce, Shiso Oil. I was afraid that the fish would be oversauced, but that simply wasn't the case. The tuna's flavor was indeed mild, but the fig, along with the miso and shiso, imparted their flavor while preserving the character of the fish. The soy beans were a great contrast in texture.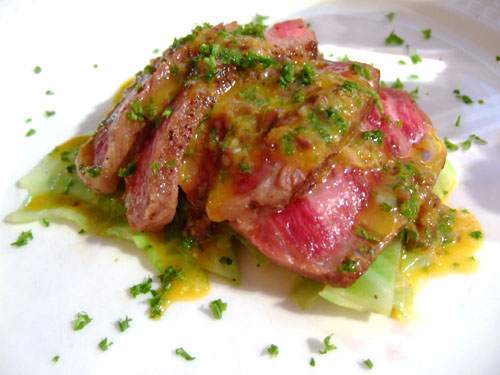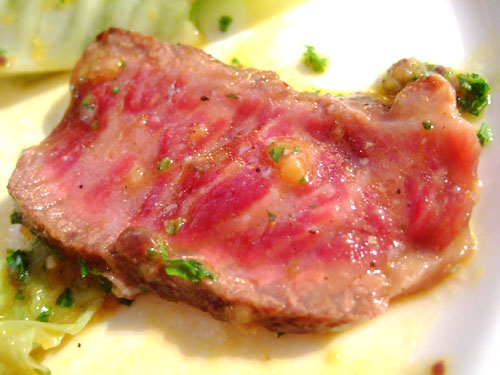 4: Beef Tataki
Australian Wagyu, Anchovy Sauce, Cabbage. Anchovy is a very strongly flavored fish, so the use of anchovy sauce here was a touch overwhelming; I liked the tanginess it added to the beef, but perhaps less would have been more in this case. Nicely seared on the outside but raw on the inside, the Wagyu beef was heavily marbled and thus quite tender, albeit a bit chewy. The cabbage tempered the anchovy flavor, and its crunch added a well placed contrast in consistency.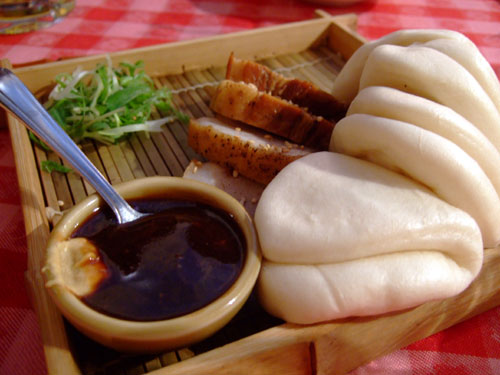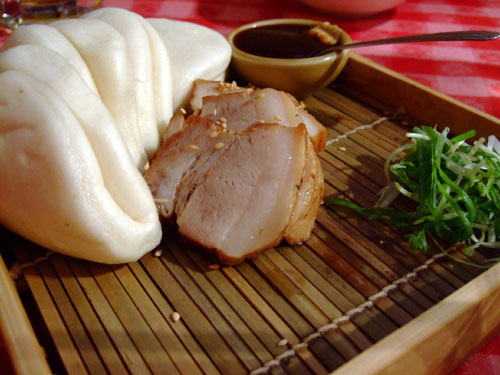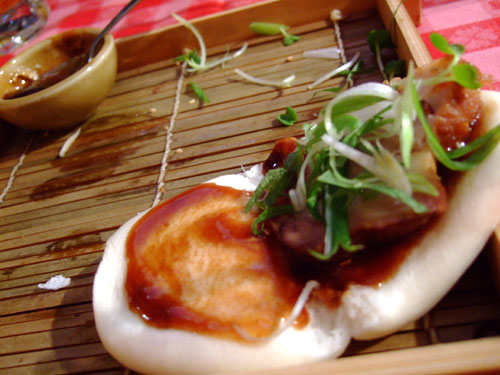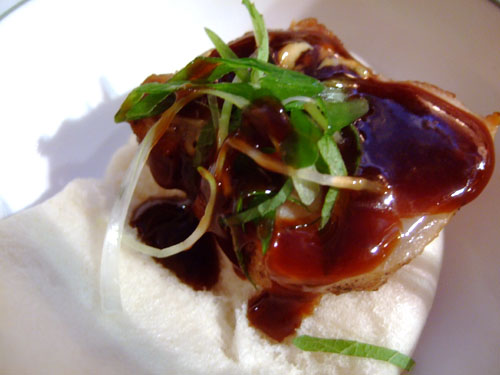 5: Peking Pork [$8.00]
Steamed Buns, Asian Herb Mix, Hoisin Sauce. Think Peking duck, but substitute pork for duck. The pork itself was ridiculously soft, rich, and quite fatty. Paired with the sweetness of the hoisin and bitterness of spring onion and wrapped in a steamed bun, the combination was superb. Upon biting into the wrapped buns, I had a hard time discerning the actual pork, as it was so tender. After eating this, I was left hankering for some actual Peking duck!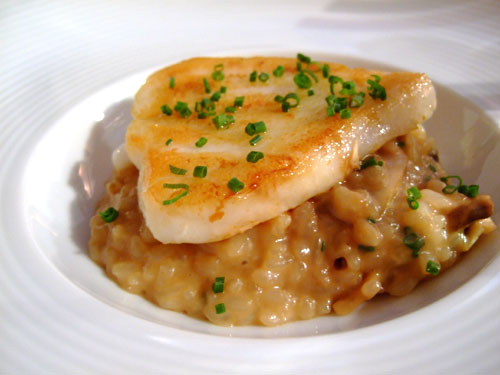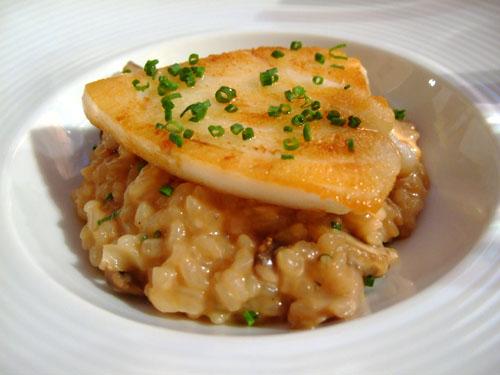 6: Roasted Chilean Sea Bass, Mushroom Risotto [$19.00]
The sea bass, much to my surprise, had a rather hard, flaky texture, and unfortunately, wasn't particularly juicy or flavorful. The risotto wasn't really risotto, but more like a thickened serving of sushi rice prepared in a similar manner; its texture was definitely much softer and stickier than a traditional risotto, which is fairly al dente. Nevertheless, infused with the aroma of mushroom, it was quite delicious.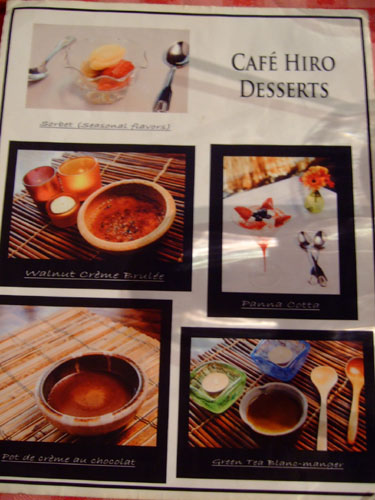 A picture menu lists the five desserts offered. From what I understand, these rarely, if ever, change. The Blanc-Manger sounded interesting, while the Banana Mille-Feuille was a daily special. Click for a larger version.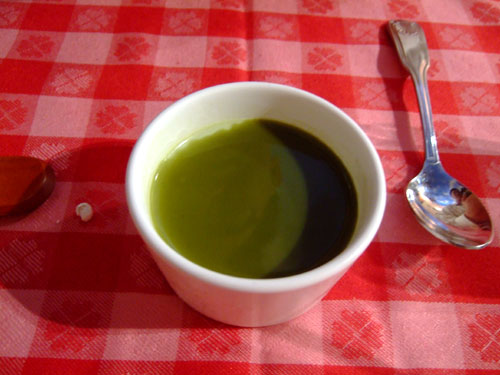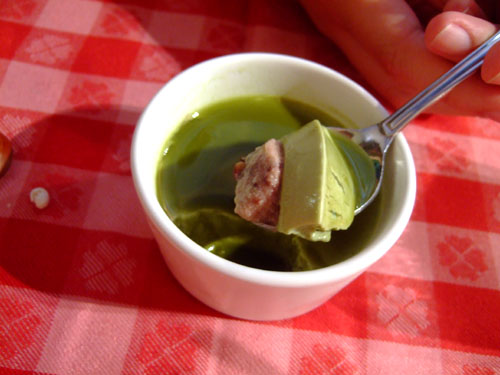 7a: Green Tea Blanc-Manger
A blanc-manger, or blancmange, is a sweet dessert made with cream and sugar thickened with gelatin or cornstarch. It can take on many flavors, in this case green tea. I liked how the custard layer actually tasted like matcha, and the layer of red bean on the bottom added some much needed sweetness.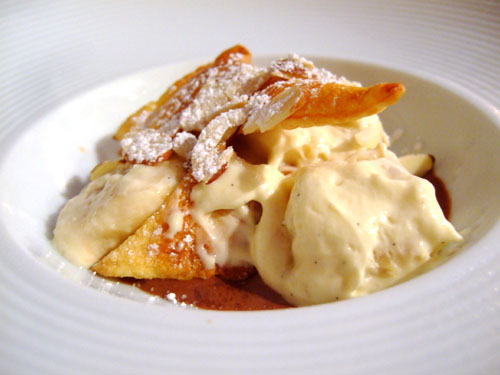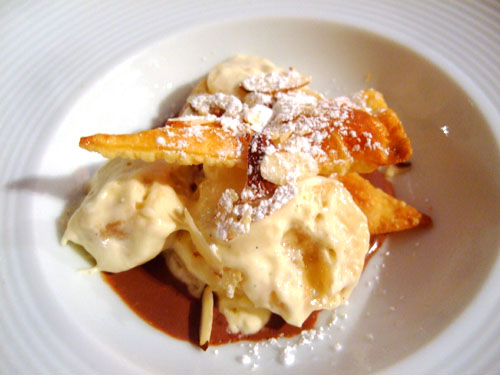 7b: Banana Mille-Feuille [$6.00]
A mille-feuille is a pastry made of layers of puff pastry and sweet custard filling. I didn't think the pastry was anything special, but I did quite enjoy the banana ice cream, with it subtle yet profound banana flavor. This was a great way to end the meal.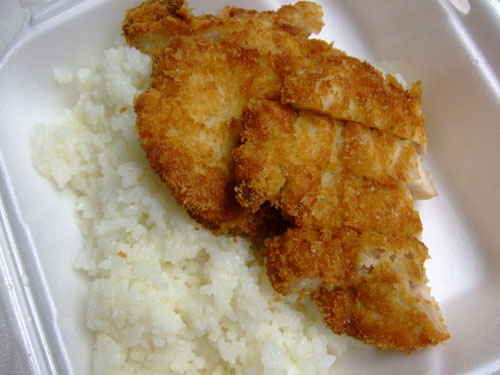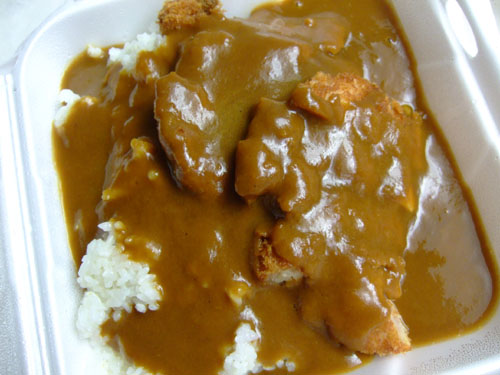 Take Out: Chicken Cutlet Curry [$13.00]
Curry Sauce with Tender Chicken Breaded and Fried to a Golden Brown. I wasn't quite full by the end of the tasting menu, so seeing as how I was in the mood for curry, I decided to order some chicken curry to go. Apparently, Hiro's curry sauce is made from scratch; I couldn't tell, but it was as good as any curry I'd had prior.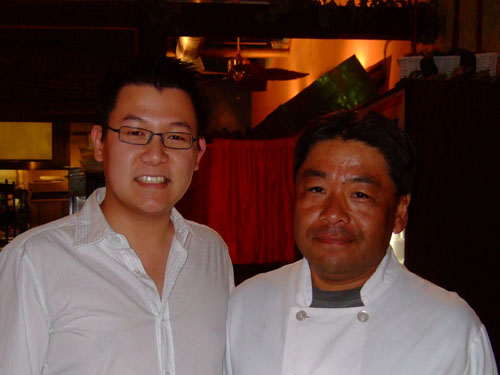 After our meal, Chef Ohiwa came out to speak with us and sign menus.
After hearing some glowing reviews of the place, I must say that Café Hiro delivers. The restaurant serves up great food in a somewhat unexpected setting, and to top things off, the menu represents a fantastic value as well. Will I be back? You can count on it.