Echigo (Los Angeles, CA)
Echigo
12217 Santa Monica Blvd, Los Angeles, CA 90025
310.820.9787
www.yelp.com/biz/echigo-los-angeles-2 (Yelp, restaurant has no web site)
Fri 09/05/2008, 07:40p-09:10p
Over the past couple of years, I had heard good things about Echigo, and always wanted to try it, but there was never really anything special about the place that would put it at the top of my "to-eat" list. So what brought me here? Simple: my dining companion wanted to go. The word on the street is that Chef Toshi used to work under Nobi Kusuhara (of
Sushi Sasabune
fame), so I was expecting a similar experience, warm rice and all.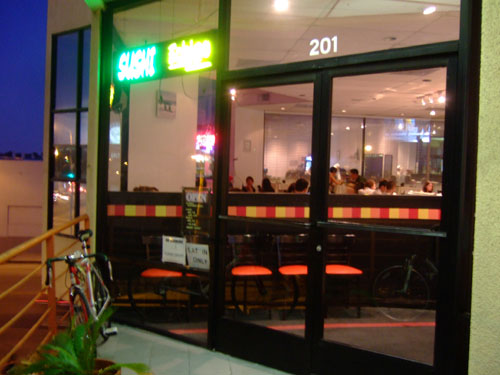 Echigo is located on the second floor of a strip mall. One big advantage: parking is free and plentiful.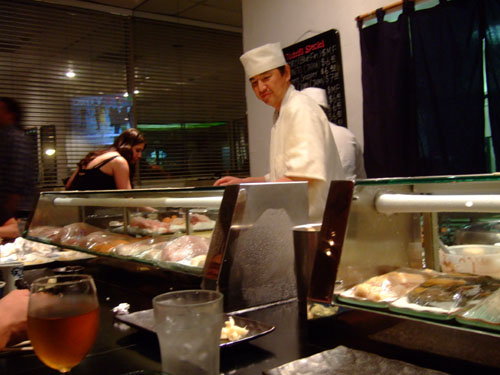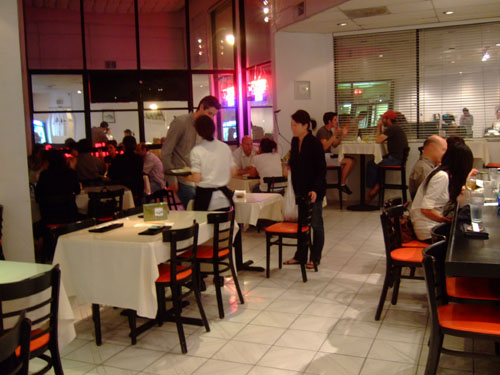 The bar seats about a dozen. High ceilings give the place an airy, spacious feel, which is atypical of most sushi joints. Decor is nondescript.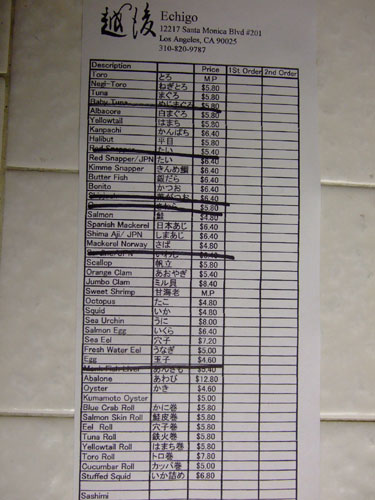 Echigo presents a good selection of sushi items, and as you can see, there are no fancy Super-Crunchy-Philly-Dragon-Fire rolls here. At the bar though, only omakase is available, at a cost of $44.10. Click for a larger version.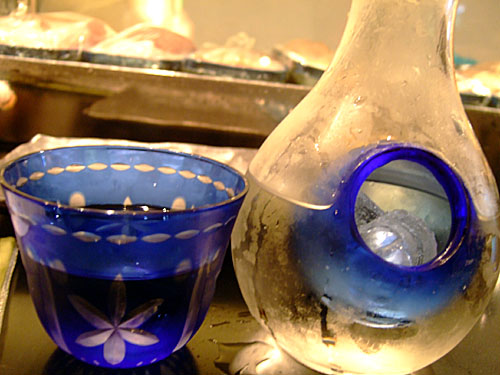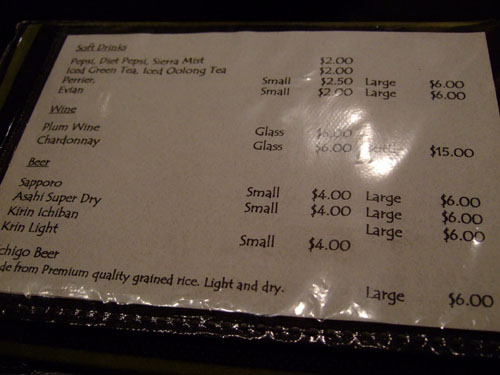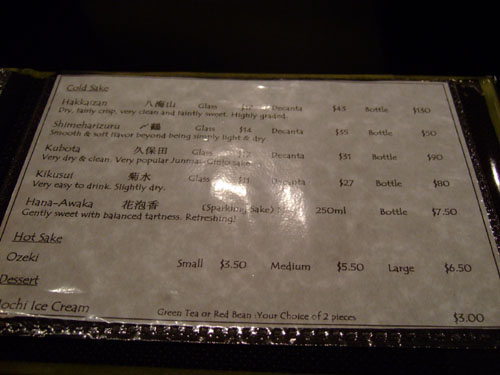 A small list of beer and sake is available. We ordered a decanter of Kubota [$31.00]; I'm not sure if it was Kubota Manjyu or the lower-end Kubota Hekijyu, but we liked its light, floral flavor. The plum wine [$6.00], however, was far too sweet, and my dining companion had to water it down. Click for larger versions.
The wasabi may have been the real deal, but was a bit creamier than I'm used to. The gari (ginger) was quite good, crisp and very natural tasting.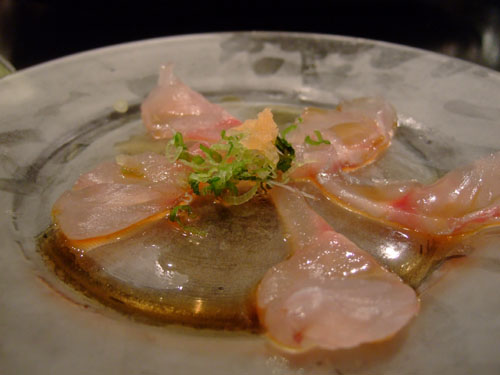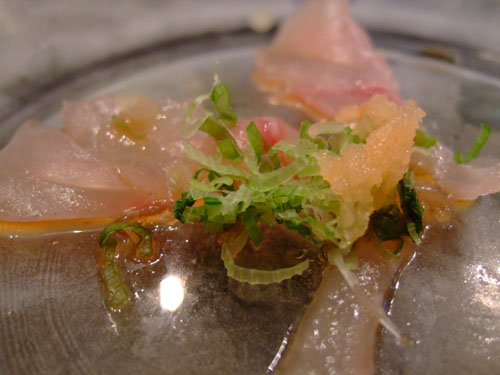 1: Tai/Red Snapper Sashimi
The tai was light, crisp, and overall quite tasty. The addition of ponzu, scallion, and daikon oroshi helped draw out the flavor of an otherwise very mild-tasting fish.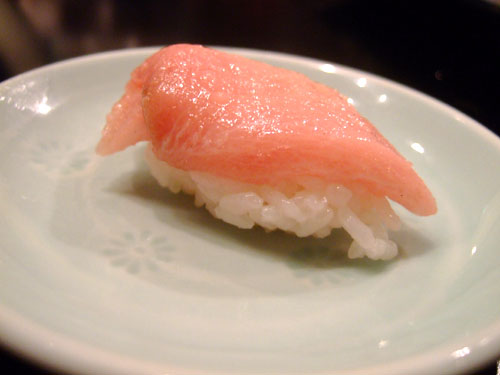 2: Toro/Fatty Tuna
When it comes to toro, I think I've been spoiled by
Urasawa
and
places in Japan
. The cut here was unimpressive, lacking the fattiness and melt-in-your-mouth characteristics that I cherish in toro.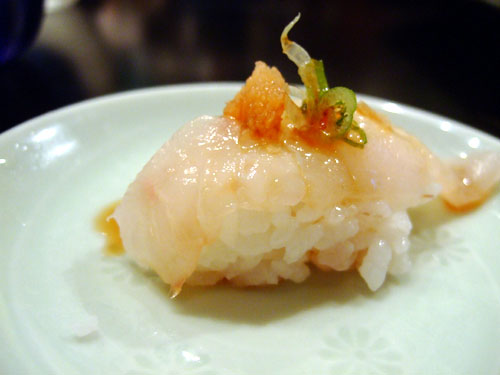 3: Hirame/Halibut
The fish by itself was good but a bit forgettable. However, topping the hirame with ponzu, scallion, and daikon oroshi definitely heightened my enjoyment of the dish.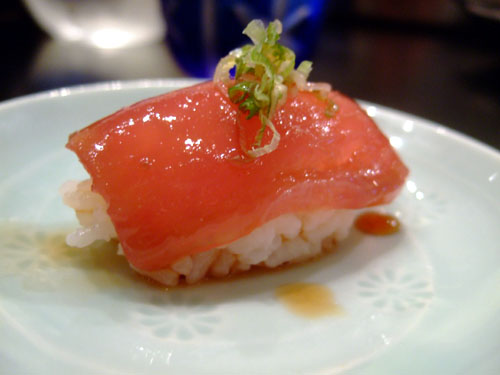 4: Katsuo/Skipjack Tuna
From Japan, topped with scallion. Katsuo is a relatively rare fish to get; I've only had it on my first visit to
Urasawa
and at
Kyubey
in Tokyo. That's a shame, because the bonito was arguably my favorite fish of the night. It was very soft and slick in consistency, with a more full-flavored, smokier taste compared to regular tuna.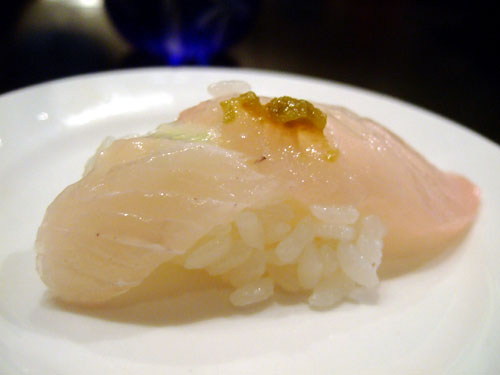 5: Kampachi/Greater Amberjack
The kampachi here reminded me of hamachi. It was served with yuzu kosho (a condiment made from yuzu, chili peppers, and salt), which added a bit of kick to an otherwise pleasant but pedestrian fish.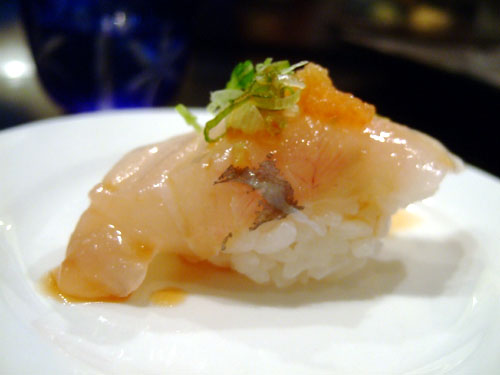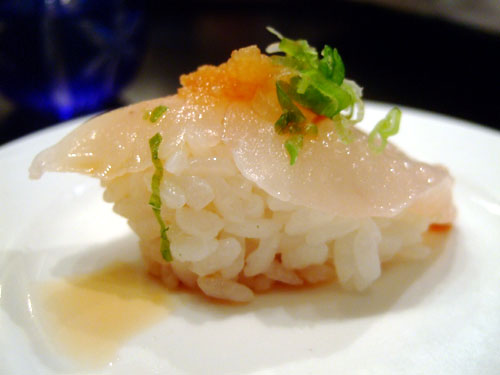 6: Shima Aji/Striped Jack
I loved the shima aji on my last visit to Urasawa, and once again the fish was one of the strongest of the night. In fact, I think it would've been fine without its various accoutrements, to let the fish's flavor really come to the fore.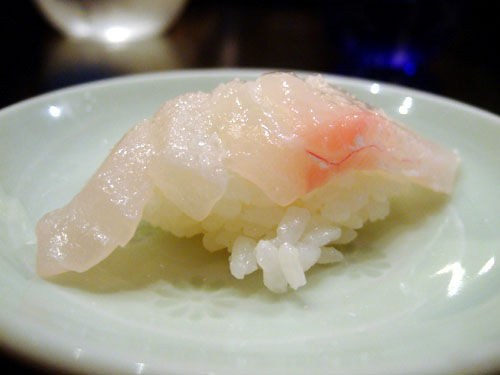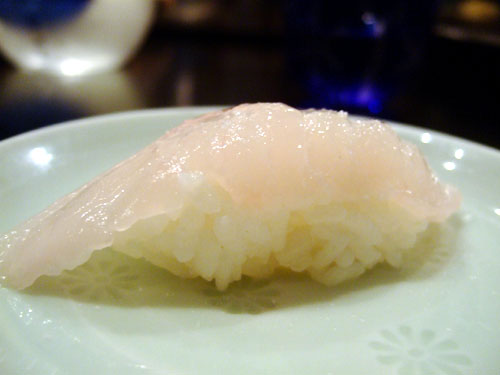 7: Tai/Red Snapper
Compared to the tai above, this version was from Japan (and thus a bit pricier on the menu). I didn't notice anything particularly special about the fish however. Perhaps some ponzu would better draw out the subtle flavors at play here?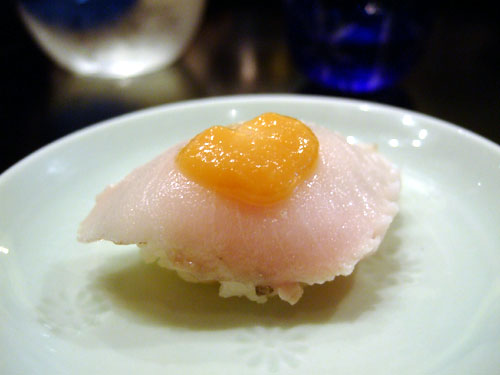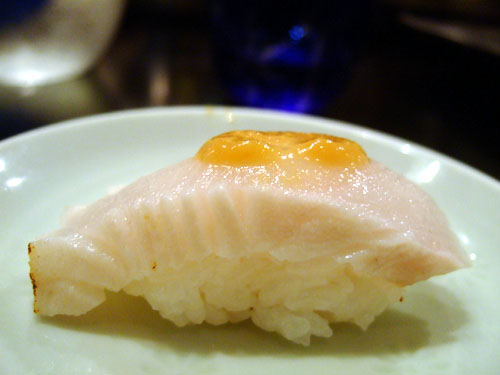 8: Butterfish
The term "butterfish" is often use to refer to many kinds of fish; here, I believe it was sablefish, or black cod. The fish had a very firm texture, a bit like albacore, while the taste was indistinctive. I'm not sure what the sauce on top was, but it had a slight citrusy note that helped offset the monolithic nature of the fish.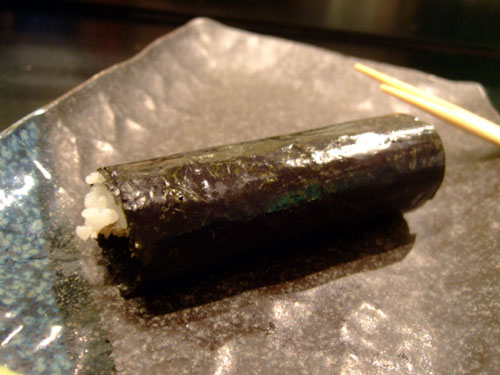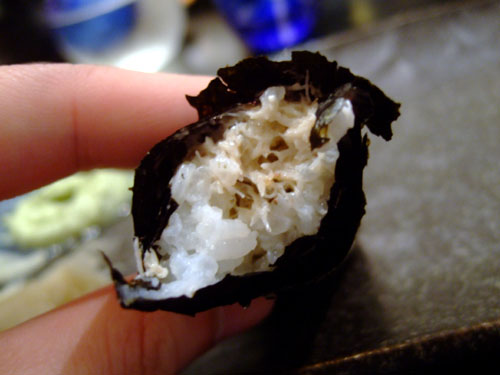 9: Blue Crab Hand Roll
This is just like the hand roll you can get at
Sushi Sasabune
or
Sushi Wasabi
(also run by an ex-Sasabune alum), though I would've liked more crab. Nevertheless, it was delicious, with the strong essence of crab meat buffered by the rice and nori wrapper.
Given the small cuts of fish and the relatively low number of courses, I was not close to being full. My dining companion was however, so we decided to order "only" four more supplemental courses.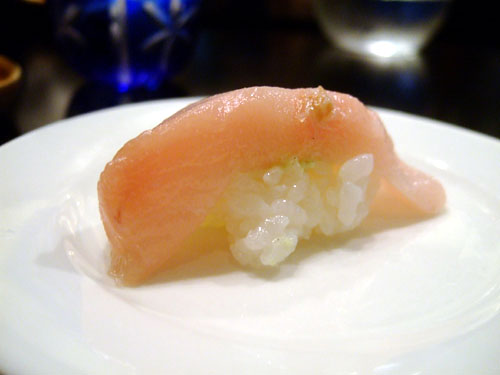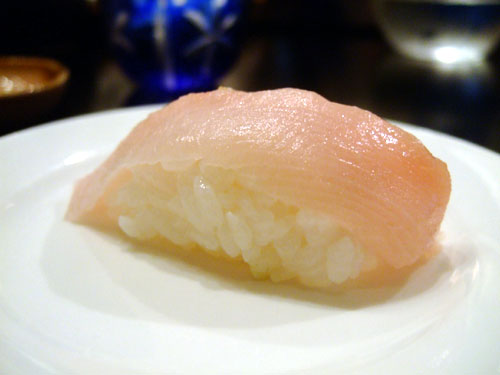 Supplement: Hamachi/Yellowtail [$2.90]
When I first started eating sushi, hamachi was arguably my favorite fish. As I became more accustomed to sushi however, yellowtail began to fall out of favor. This reminded of why I liked it in the first place. It was clean, mild, light, and as melt-in-your-mouth as hamachi can possibly be, without being too oily or heavy.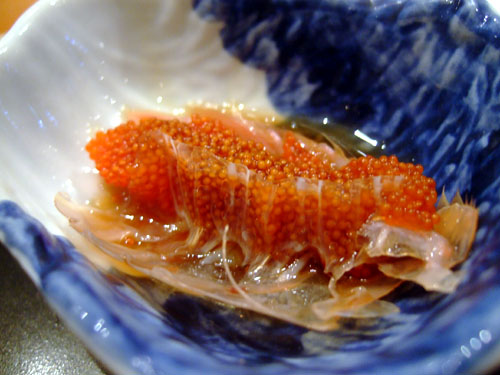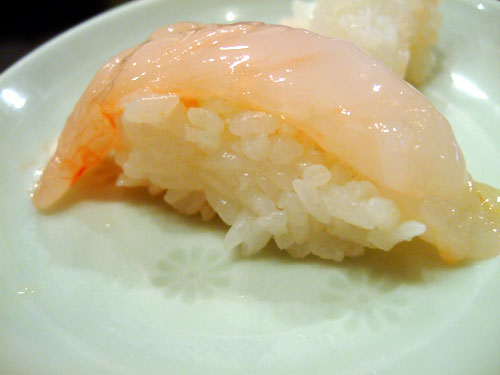 Supplement: Amaebi/Sweet Shrimp [$4.50]
Before the actual sushi came out, we were presented with the shrimp roe. I was disappointed that we weren't given the deep fried heads though. The shrimp itself was very rich and creamy, but lacked the crispness and snap that I like.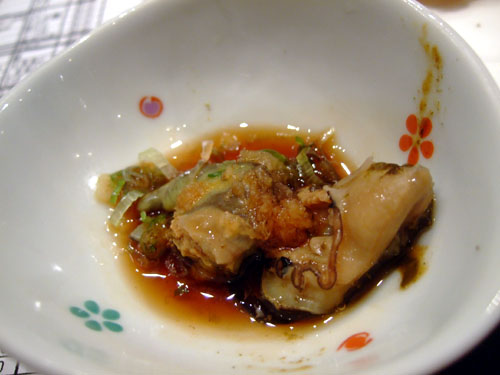 Supplement: Awabi/Abalone Sashimi [$12.80]
The awabi sashimi was one of the better versions I've had, as the flesh had just a hint of crunchiness to it (often times abalone is far too tough, like at
Sushi Wave
). The second photo shows what was described as "abalone belly." I can't seem to find any references to it, so I'm really not sure what it was. My dining companion did prefer it to the actual abalone itself though.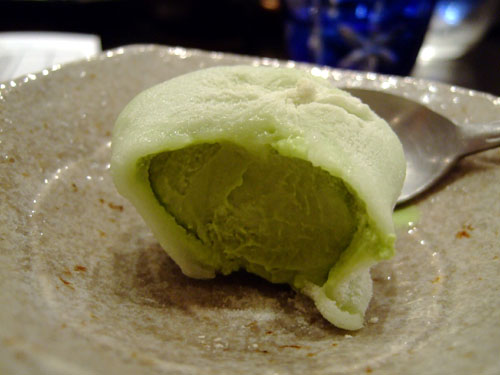 Supplement: Green Tea Mochi Ice Cream [$1.50]
This looked and tasted suspiciously like the mochi ice cream available at many grocery stores, manufactured by
Mikawaya
. Mikawaya was the first company to manufacture mochi ice cream in the US, starting in 1994. Given that a 6-pack retails for $6.00, $1.50 actually wasn't a bad price.
Echigo is often compared to Sasabune, and with good reason. Toshi has brought along his former employer's tricks, and has added a few flourishes of his own. The sushi is good, solid, and reasonable in price, but it's not mind-blowing. So come on over if you're seeking a Sasabune-esque experience at a more intimate location, and perhaps at a slightly lower price point. Do watch out for the so-called warm rice though, as here it gets downright hot!