Studio (Laguna Beach, CA)
Studio
30801 Coast Hwy, Laguna Beach, CA 92651
949.715.6420
www.studiolagunabeach.com
Fri 10/10/2008, 08:00p-11:30p
I'd been interested in trying out Studio for a number of years now. I was thus quite excited to find out that a few buddies of mine were taking me there for my birthday. Now mind you, my birthday was in June, so this was quite a bit belated, but it's the thought that counts right? In any case, a lot of people have stated that Studio is, in fact, the best restaurant in Orange County, a pretty lofty assertion to be sure. I was eager to test out that claim...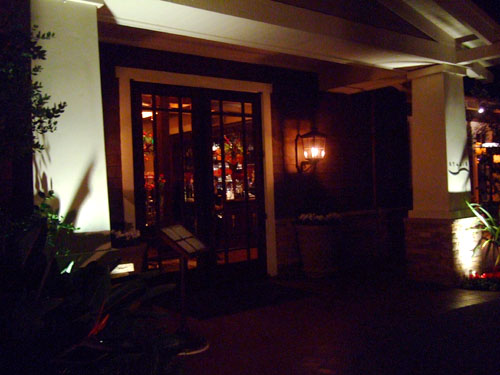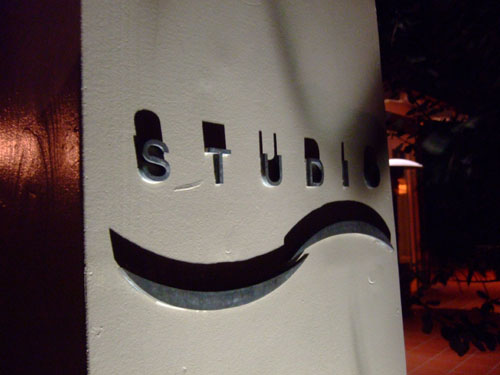 Located on the grounds of the Montage Resort & Spa, Studio is somewhat difficult to find (especially in the dark!), as we had to enlist the help of the staff. The restaurant is located on a bluff near the Pacific, and the spot affords diners a breathtaking view of the ocean, in the day time at least.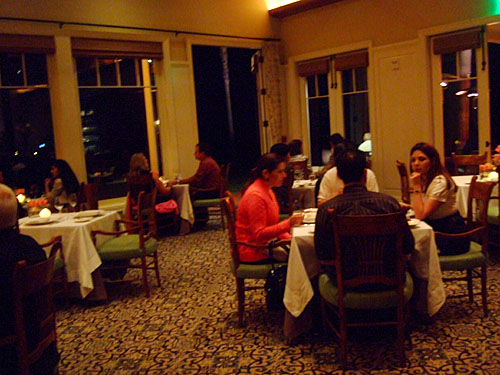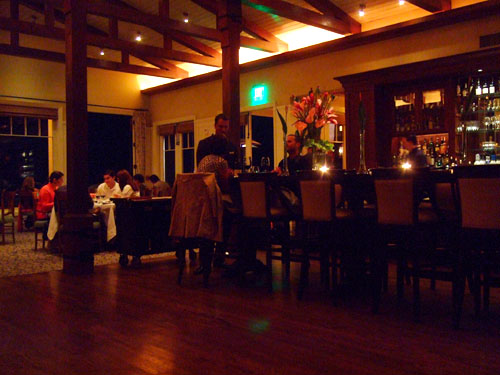 Studio's space is homey, rustic, yet refined, like a craftsman-style bungalow. Upon entering, you're greeted by the large wooden bar, which then spills into the main dining room. The result is seating for 80, while a private dining room accommodates 24. Past the gleaming kitchen, the Chef's Table seats an additional 12. Finally, outdoor tables can hold another 40 or so.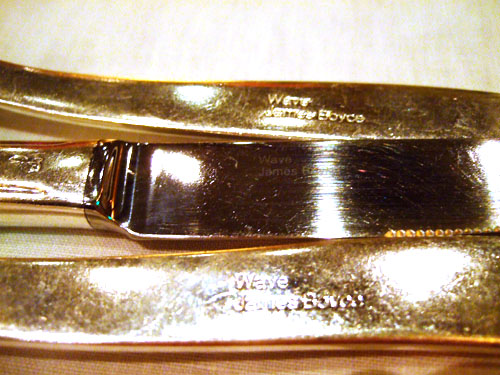 I think this is the first time I've seen the Executive Chef's name (James Boyce) emblazoned on the silverware.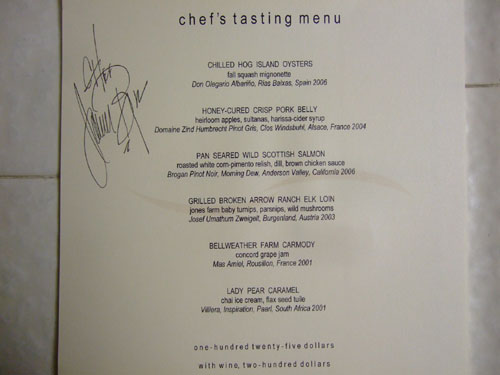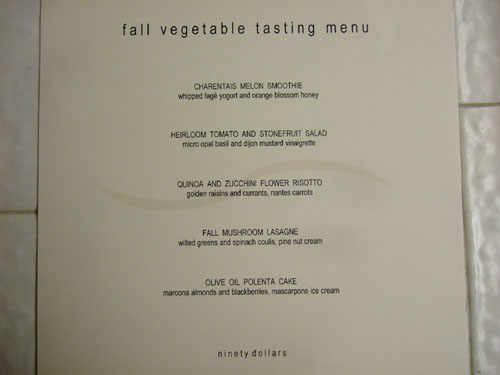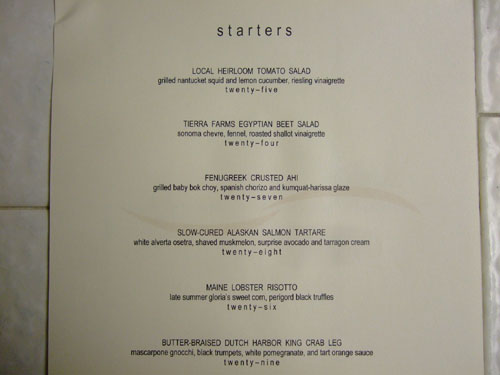 Since we were a party of four, two of us ordered the Chef's Tasting Menu at $125 plus $75 for wine, and two of us ordered the Fall Vegetable Tasting Menu at $90, also with a wine pairing. In addition, we decided to supplement our meal with two orders of the lobster risotto (I have trouble
not
getting the risotto if offered!). Note the signature of Chef Boyce. Click for larger versions.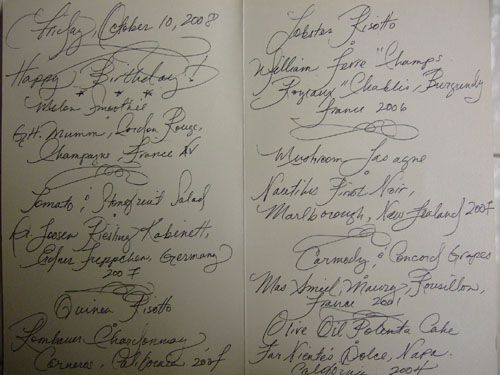 Since I asked for a listing of the wines paired with the Vegetable Menu, Sommelier Nina Elena Rosas was kind enough to hand-write a listing of all the courses. Click for a larger version.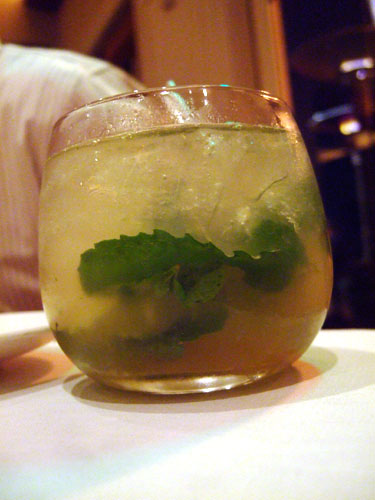 As usual, I started with a Mojito. The example here was not overly sweet for a change (see
Ciudad
), but actually quite strong, as was my dining companion's Cucumber Gimlet.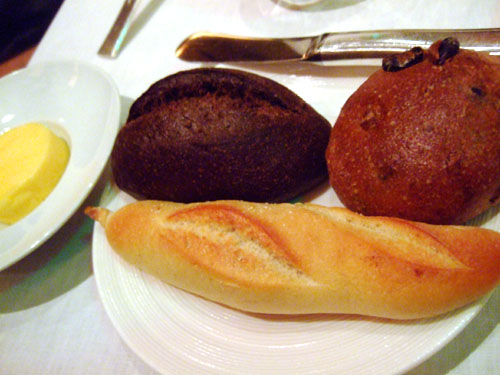 A trio of bread was available: French baguette, sweet anise, and cranberry walnut, with my favorite being the anise with its subtle flavor. They were served with an organic homemade cow's milk butter, produced just for the restaurant; I found it quite rich, with a strong tinge of sweetness.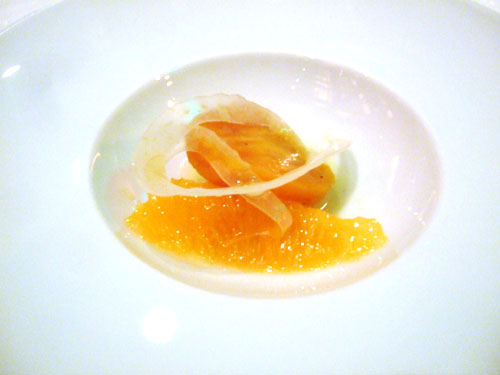 Amuse Bouche a: Baby Beets and Shaved Fennel
This was the amuse for the Vegetable Menu. The beet here was quite mild and served more as a canvas to the tang of the fennel and sweetness of the citrus.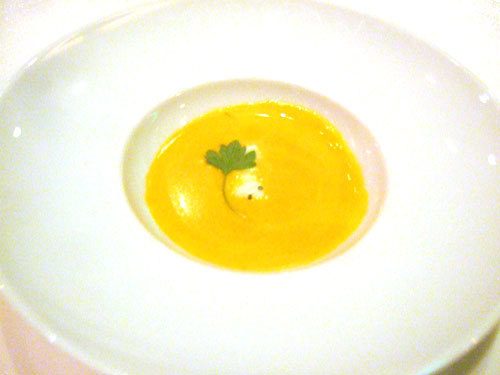 Amuse Bouche b: Butternut Squash Soup, Crème Fraîche, Apples
The butternut squash soup had a cool, creamy sweetness which was highlighted by the fresh crispness of apples. Most of us preferred this to the beet.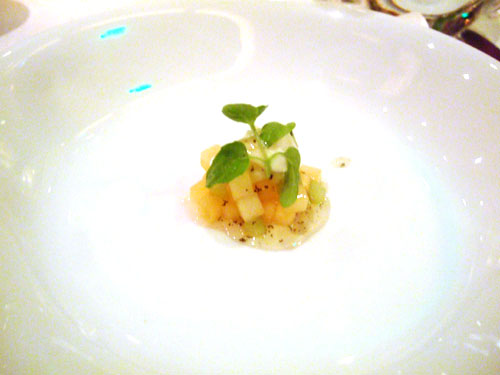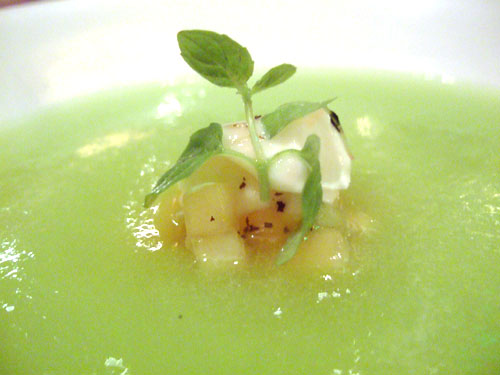 1a: Charentais Melon Smoothie
G.H. Mumm, Cordon Rouge, Champagne, France NV
Whipped fagé yogurt and orange blossom honey. Charentais is a type of cantaloupe cultivated in Europe. Made into a "smoothie" here, I found its sweetness a bit too dominant, as it tended to overwhelm the subtle sweetness of the bits of fruit in the middle. Those tiny cubes of pear and apple did add a great textural contrast however. Overall, the dish was extremely light, and thus Champagne was a good fit. I think this was my first time having Mumm's Cordon Rouge, which the sommelier compared to Moët et Chandon's White Star. Actually, I think it may have been better, as I found it very balanced and smooth, with subtle vanilla and floral notes.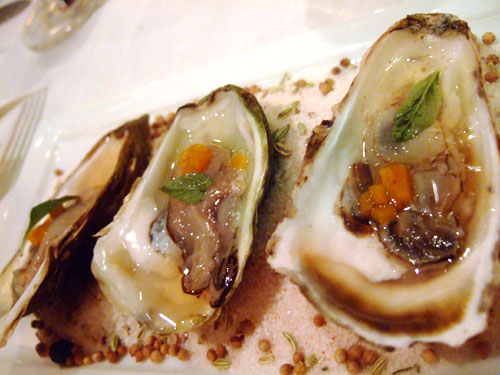 1b: Chilled Hog Island Oysters
Don Olegario Albariño, Rias Baixas, Spain 2006
Fall squash mignonette. Hog Island raises Pacific, Kumamoto, and Atlantic oysters, so I wonder which type these were. No matter, they were very good. The oysters had a delectable texture and bite to them, while the mignonette added a sweet tartness to offset oysters' brininess. I usually like to do Champagne with oysters, but the Albariño was a good match as well. It was an easy-drinking wine, with light acidity, hints of apple and honey, a mineral tinge, and a smooth, friendly finish.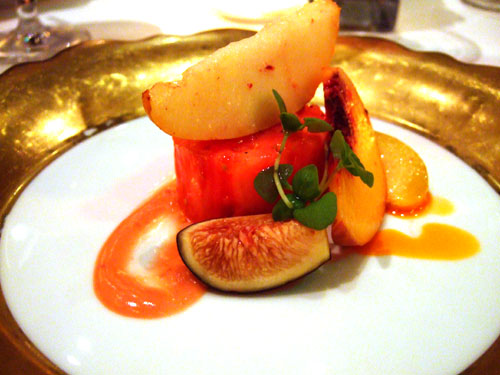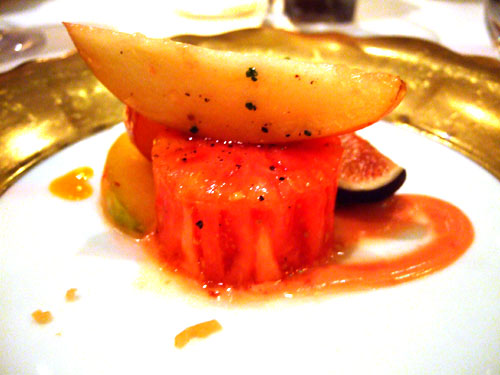 2a: Heirloom Tomato and Stonefruit Salad
Dr. Loosen Riesling Kabinett, Erdener Treppchen, Germany 2007
Micro opal basil and Dijon mustard vinaigrette. The tomato itself had a fantastic, hearty texture and a slight sweetness. However, it was outshone by the fruit, which added tons of sweetness, and the vinaigrette, which contributed a contrasting savoriness. Such a dish needed a wine with a similar flavor profile. Riesling was a wonderful choice, and Dr. Loosen didn't disappoint, showing citrus, stone fruit, and floral notes on the nose and palate, while remaining grounded by a bit of tart acidity.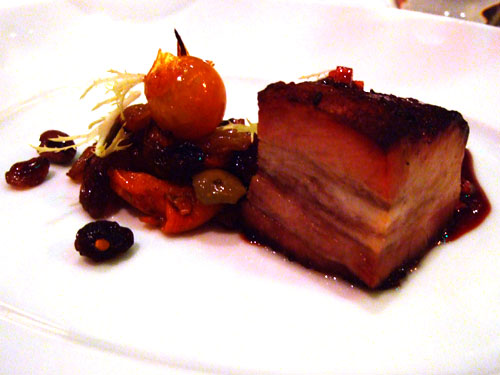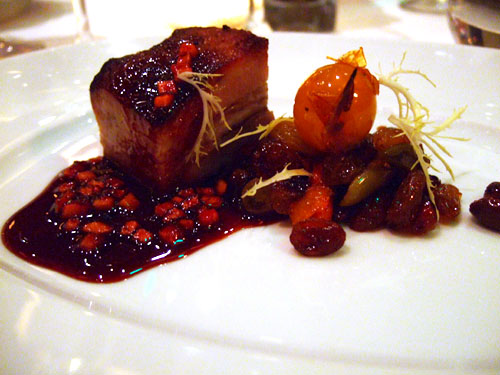 2b: Honey-Cured Crisp Pork Belly
Domaine Zind Humbrecht Pinot Gris, Clos Windsbuhl, Alsace, France 2004
Heirloom apples, sultanas, harissa-cider syrup. I really enjoyed the pork belly by itself, which I found very rich, juicy, and flavorful, one of the strongest I've had actually. Meanwhile, the sultanas (a type of raisin) and apples added a sweet bent to the dish (pork and apple is a classic combination), while the harissa went the course of salty/spicy. Unfortunately, the accoutrements didn't work out quite as nicely as would've liked. I think a red wine would've worked here, but the Pinot Gris held its own. It had a bit of sweetness to pair with the raisin/apple sauce, and was weighty enough to stand up to the pork belly.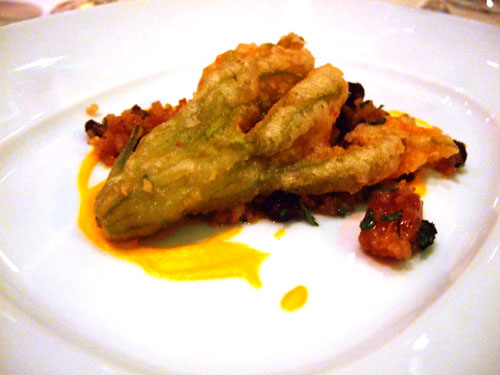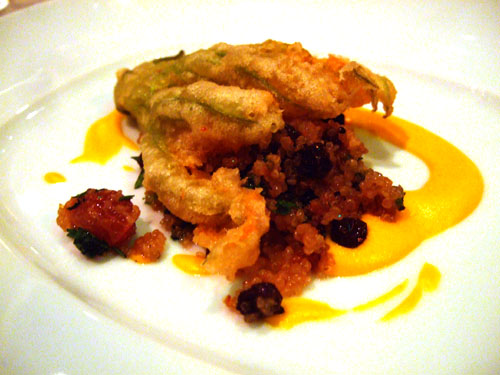 3a: Quinoa and Zucchini Flower Risotto
Rombauer Chardonnay, Carneros, California, 2007
Golden raisins and currants, Nantes carrots. A very interesting "risotto," as instead of rice, quinoa was used; it had a light, fluffy texture more reminiscent of couscous than rice. Mixed with the raisins and currants, the "risotto" had a marked sweetness that made me think of an Indian biryani. The fried zucchini flower, meanwhile, reminded me of an onion ring both in taste and texture! I'm not sure I was sold on the combination though. The paired Chard was quite buttery, as one would expect from Rombauer, but not overly so. It had medium body, flavors of honey and light fruit (that connected with the fruit in the dish), and a finish surprisingly well balanced by oak.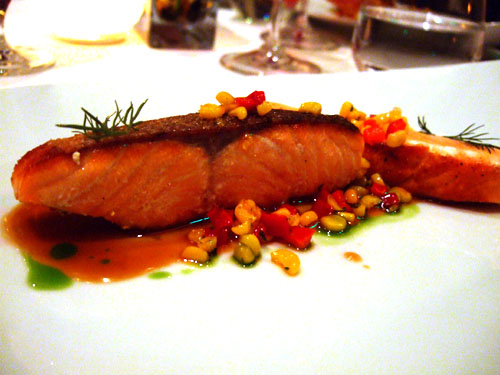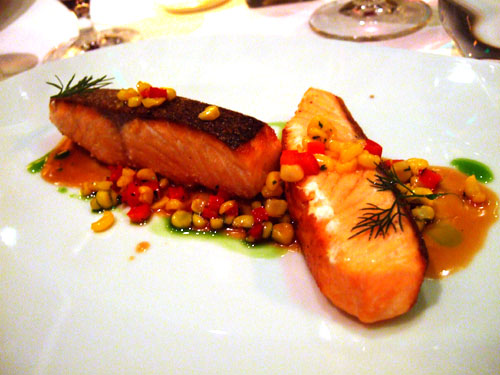 3b: Pan Seared Wild Scottish Salmon
Brogan Pinot Noir, Morning Dew, Anderson Valley, California 2006
Roasted white corn-pimento relish, dill, brown chicken sauce. This was my favorite dish of the night! I found the salmon extremely juicy, tender, flaky, and flavorful, among the best examples of cooked salmon I've had. The corn added a great contrast to the fish, though I've would liked the dill to be more apparent. In any case, the fish had enough depth and weight to stand up to the paired Pinot.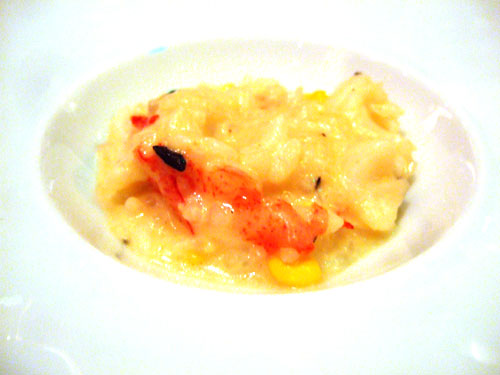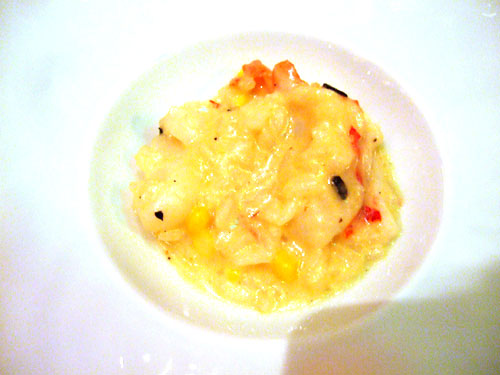 Supplement: Maine Lobster Risotto [$26.00]
William Fevre "Champs Royaux" Chablis, Burgundy, France 2006
Late summer Gloria's sweet corn, Perigord black truffles. As I mentioned before, if risotto is on the menu, I have a hard time not ordering it, hence this. We actually requested two servings for the four of us, so this half serving was rather miniscule as you can see. Nevertheless, the lobster was near perfect, with a subtle sweetness and a fantastic, crisp crunch. There was a faint aroma of truffle on the nose, but the actual taste was mild. The problem was that the dish needed more risotto. It must have had a 3:1 lobster:rice ratio; now I'm not saying give me less lobster, just more rice! The pairing of white Burgundy with lobster is a classic one, and the combination worked well here. The Chablis had just enough weight, with flavors of minerals and stone fruit leading to a firm finish.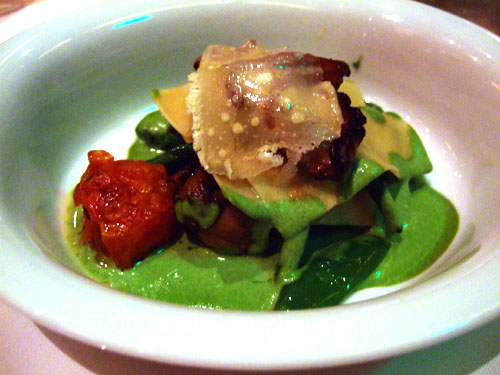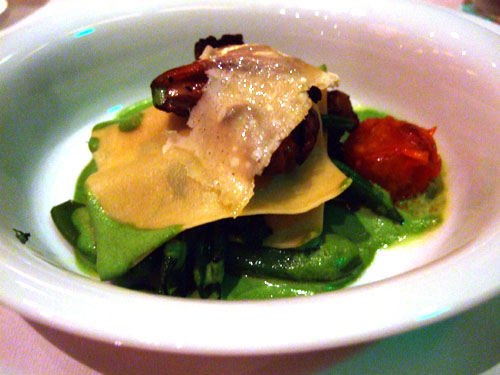 4a: Fall Mushroom Lasagna
Nautilus Pinot Noir, Marlborough, New Zealand 2007
Wilted greens and spinach coulis, pine nut cream. This reminded me more of an open faced ravioli than a lasagna. Fortunately, that detail didn't hamper my enjoyment of the dish. The woody flavor of mushroom formed a pleasing interplay with the subtle bitterness of the puréed spinach sauce. The pasta sheets then acted to tie all the various elements together, while the pine nut cream added richness and depth. Unfortunately, the matched Pinot was not particularly memorable.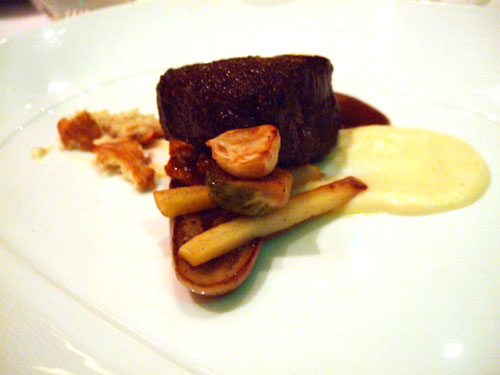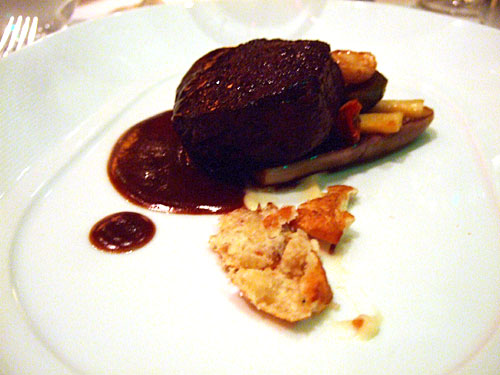 4b: Grilled Broken Arrow Ranch Elk Loin
Josef Umathum Zweigelt, Burgenland, Austria 2003
Jones Farm baby turnips, parsnips, wild mushrooms. I do believe this was my first time having elk, though one of my dining companions insisted that we had had it at the Bellagio buffet. In any case, I found the meat delicious. It was definitely leaner than beef, but richer than buffalo, like venison. It was also quite juicy and tender, with a toothsome flavor that easily stood on its own sans any sauces. The pairing of Zweigelt worked well enough.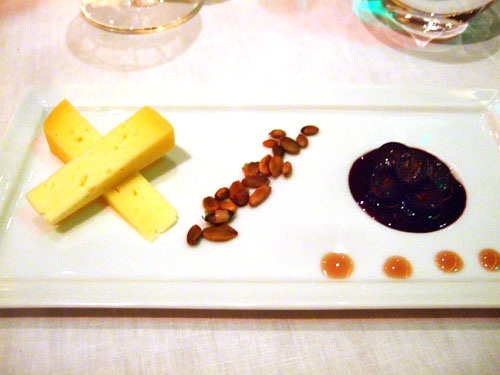 5: Bellwether Farm Carmody
Mas Amiel, Roussillon, France 2001
Concord grape jam. Carmody is a cow's milk cheese aged for six weeks. It had a semi-hard texture and a smooth consistency, while taste-wise, I found it quite mild. It was a fine canvas for the lovely toasted pepitas (squash seeds) and their smoky flavor, as well as the intense sweetness of the Concord jam. The wine was a sweet Grenache blend. Very fruity and jammy, it went quite nicely with the dish.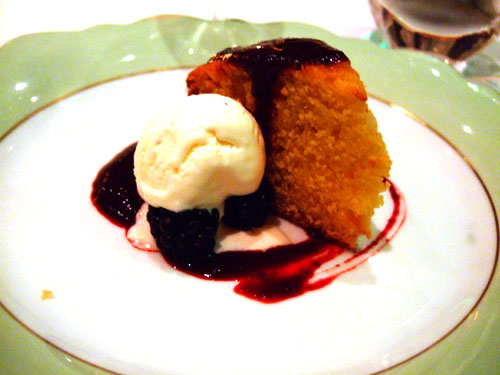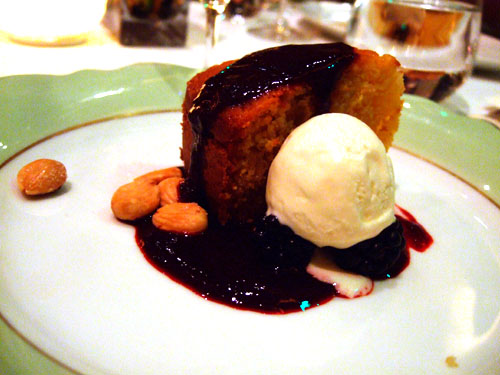 6a: Olive Oil Polenta Cake
Far Niente Dolce, Napa, California 2004
Marcona almonds and blackberries, mascarpone ice cream. I really enjoyed the mascarpone ice cream here, but unfortunately, I thought that the cake was too dry and thus a bit difficult to actually eat. The almonds seemed out of place, but the blackberries formed a wondrous match with the ice cream. As for the wine, Dolce is perhaps the most famous dessert wine in the US; surprisingly, this was my first time having it. A mix of Sémillon and Sauvignon Blanc, Dolce is made in a pseudo-Sauternes style, replete with botrytis. Its nose was rather mild, but the taste was explosive, with strong flavors of stone fruit, honey, and spice, tempered by a medium acidity.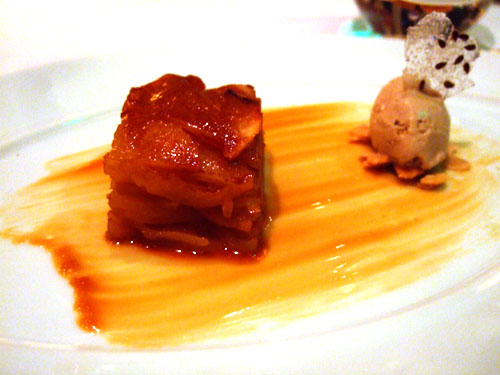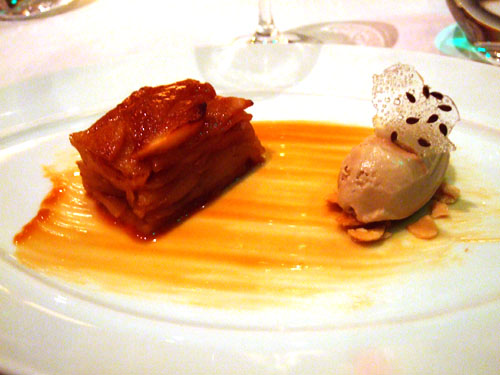 6b: Lady Pear Caramel
Villiera, Inspiration, Paarl, South Africa 2001
Chai ice cream, flax seed tuile. Again, the ice cream was the best part of this dessert, while the pear caramel reminded me of a warm apple tart. The temperature and texture contrast did work out pretty well though. It was interesting to compare this dessert wine with the Dolce. Made from Chenin Blanc, its nose was much more intense, with strong notes of orange, caramel, and spice. However, on the palate, the Villiera was
much
more restrained.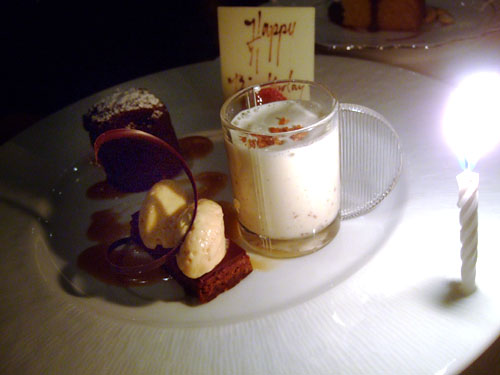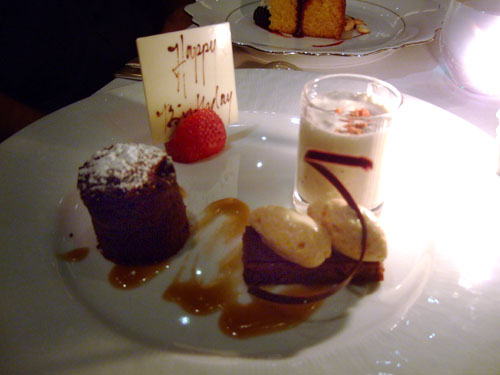 Complementary Dessert 1: Single Estate Chocolate and Toffee Trio [$15.00]
Caramel molten cake and praline crunch, toffee milkshake. This special birthday dessert turned out to be my favorite. The molten cake wasn't anything particularly special, but I quite enjoyed the praline crunch. The milkshake, meanwhile, was simply fantastic, with the rich taste of toffee backed by chocolate.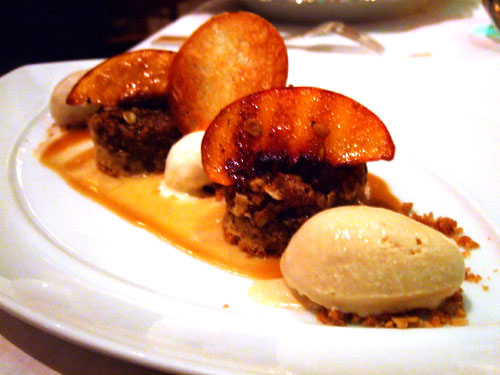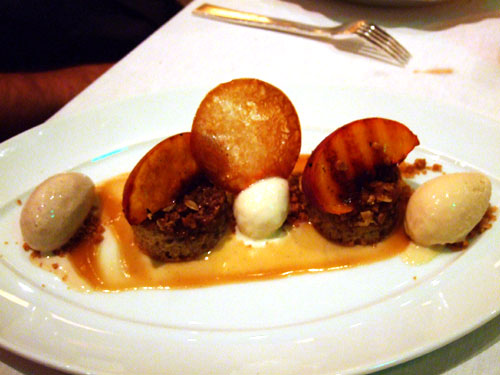 Complementary Dessert 2: Grilled Heirloom Peaches and Brown-Butter Cake [$15.00]
Trio of ice creams: Hawaiian ginger, Ceylon cinnamon and demerara brown sugar. Much to our surprise, the restaurant brought out
another
complementary dessert! All three quenelles of ice cream were phenomenal, with each having its own unique flavor and charm, while the cake and peaches served as fitting accompaniments.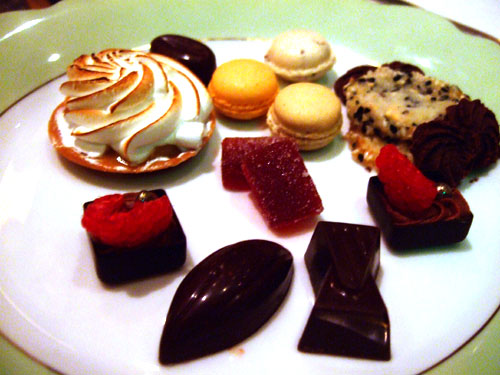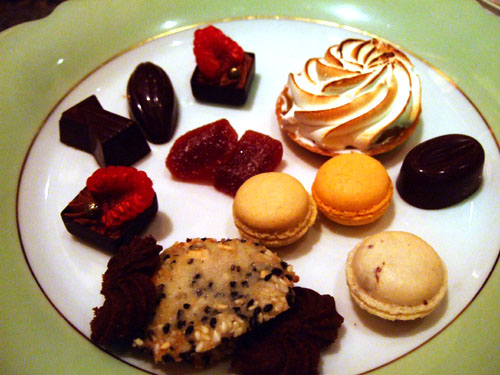 A hearty plate of mignardises to close out the meal.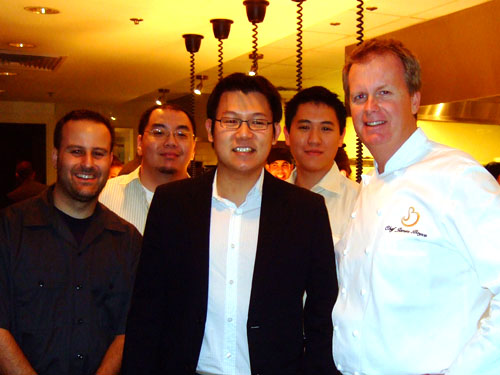 During the course of the meal, Chef Boyce invited us into the kitchen for a photo.
All in all, Studio was a very nice birthday present. Chef Boyce is obviously cooking at a level above most in the area, which makes Studio a very special restaurant indeed. Though at the same time, I must concede that his efforts did not always go over well with me, as sometimes I thought that he went a bit awry with his flavor pairings and that his efforts were too ambitious. But best in Orange County? Yeah, I could see it.