Original Tommy's (Los Angeles, CA)
Original Tommy's
2575 Beverly Blvd, Los Angeles, CA 90057
213.389.9060
www.originaltommys.com
Thu 12/11/2008, 12:45a-01:10a
In a sense, this meal was a continuation of the
FoodDigger
old red wine and sushi dinner at
Shibucho
. As I was driving home, trying to get on the 101, I received a call from Ryan of
Tangmeister
. He was in his car a ways in front of me, and excitedly told me that he just passed the
original
Original Tommy's. Known for its chili-cheeseburgers, Tommy's is one of those legendary LA eateries, and neither of us had been, so we decided to stop by for a midnight "snack."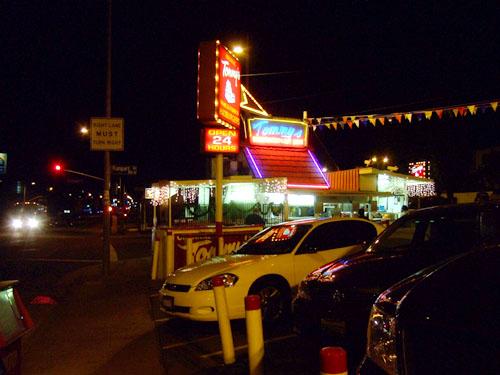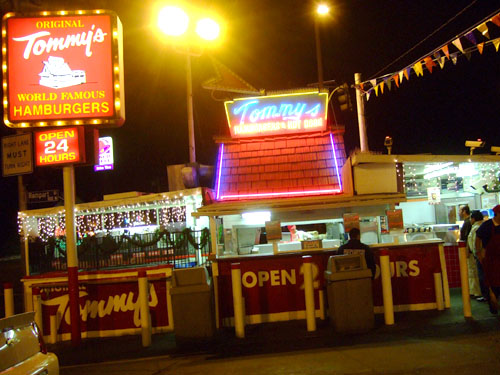 A bit of a history lesson is appropriate. This location was opened on May 15, 1946 by Tom Koulax, son of Greek immigrants. Tommy's began selling hamburgers and hot dogs topped with chili, and though business was slow initially, things started to pick up in the 1960's. The original shack is pictured above, but eventually Koulax bought out the entire surrounding lot. Starting in the 1970's, Tommy's began expanding throughout Southern California, and now has 30 locations in the region (and also one in Henderson, Nevada). Interestingly, none of the restaurants are franchised; all are company-owned (much like In-n-Out). I imagine this is to keep tighter control of the food and overall Tommy's experience.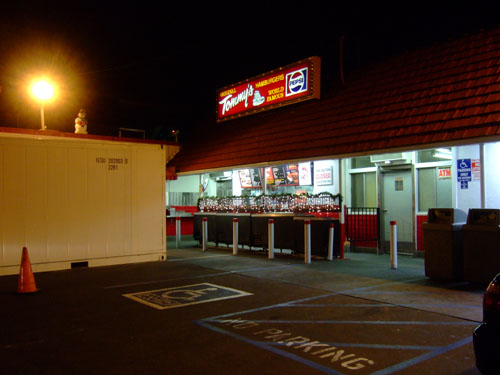 Eventually, a second service counter on the eastern side of the lot was set up to accommodate more customers. The food is largely the same, but the original shack tends to have longer lines, for purely nostalgic reasons I'm sure. The counter was closed on our visit, probably because it was late.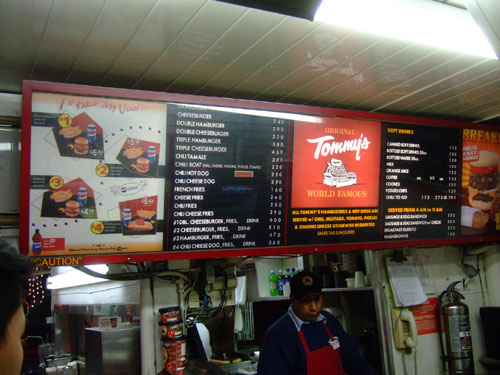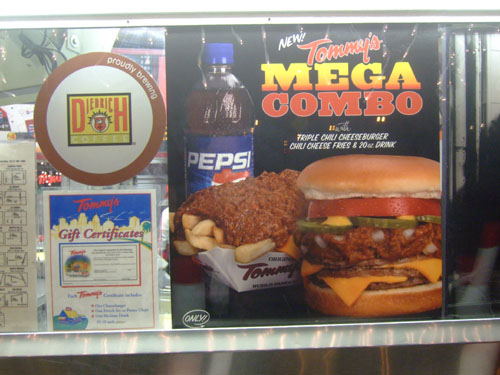 Here we see the menu board; I was actually reprimanded by a security guard for photographing it! Click for a larger version. Ryan decided to challenge me with the so-called Mega Combo [$9.00], which consists of a Triple Cheeseburger, Chili Cheese Fries, and a 20oz drink. If I finished it, he'd pay for the meal. Not one to back down from these sorts of things, I heartily accepted his dare. What surprised us was the sheer speed of the operation--I swear the food was ready before Ryan even got to put the change back in his wallet!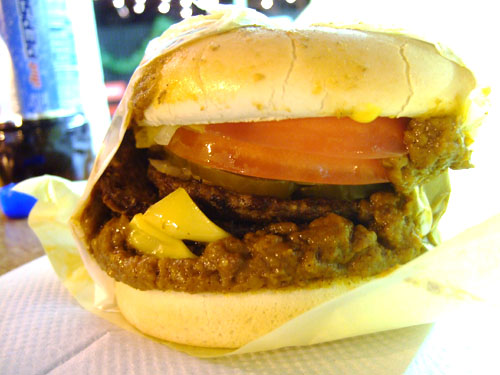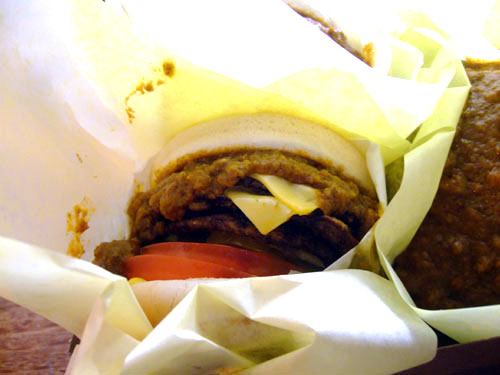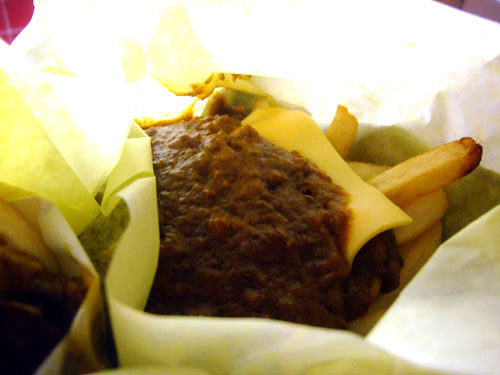 Not surprisingly, the food didn't come out looking quite as appetizing as pictured in the advertisement, smothered somewhat haphazardly in chili. About that signature chili, it comes with just about everything on the menu, even the breakfast Sausage & Egg Sandwich. According to the Tommy's web site, it's composed of an amalgam of an all beef chili con carne base, water, flour, and a special "secret" blend of spices. The result is a somewhat lean, watery, mild concoction that tends to congeal rather quickly.
The burger was a pretty standard one, consisting of three 100% beef patties and two slices of American cheese, topped with chili (of course), mustard, hand-sliced beef steak tomato, pickles, and chopped onions. It wasn't exactly a life-changing burger, but it was tasty. The chili actually took a back seat to the beef/cheese combination, which was by far the dominant taste component here. The pickles and mustard provided some tartness to liven things up, while the tomatoes added a refreshing textural contrast. Some of that old Bordeaux we had at
Shibucho
probably wouldn't have been bad here (in any case, certainly more interesting than my Diet Pepsi)!
The Chili Cheese Fries, meanwhile, comprised of an order of fries topped with a slice of cheese and plenty of that signature chili. It was about what you'd expect, though one problem I found was that the cheese didn't quite melt. That was my only real complaint, though I really think some onions would make this even better. Good, but I still do prefer the version at my old high school haunt,
Volcano Burger
.
In the end, I was able to rise to the occasion and finish the Mega Combo, which I must say was pretty impressive, given that I had a 17-course dinner earlier that night. Nevertheless, my gluttony wasn't really the point here; the point was to experience a giant of the LA restaurant scene. The food is tasty, but thoroughly uncomplicated. Certainly, most any competent chef could come close to duplicating the cuisine at Tommy's. But with a place like this, the experience really rises above just the food. The reason that Tommy's has been able to survive this long isn't merely the chili, it's the history, the custom, the folklore, it's how the restaurant has become part of LA's culinary landscape, a place for all Angelinos. Tommy's has been able to transcend the boundaries of old vs. young, rich vs. poor, foodie vs. casual eater. We saw teenagers there; we saw quinquagenarians. We saw people dressed as they could be migrant workers, and people dressed as captains of industry. And then you have us--two budding food bloggers with perhaps slightly inflated senses of self-importance. Truly then, this is a special place, one positively deserving of the moniker
iconic
.