Giang Nan (Monterey Park, CA)
Giang Nan
306 N Garfield Ave #12, Monterey Park, CA 91754
626.573.3421
www.fooddigger.com/RestaurantDetail.aspx?id=10 (FoodDigger, restaurant has no web site)
Wed 02/11/2009, 07:45p-10:30p
At
FoodDigger's
last event at
Shibucho
, I got to experience the seemingly unholy pairing of old red Bordeaux and sushi. Though not every wine was a hit, some of the pairings really did work wonders. The goal this time was only slightly less challenging: to pair Shanghainese cuisine with Spanish wines. The location was to be Giang Nan (it means land south of the lower Yangtze river--
Jiangnan
, which is
not
the Chinese name of the place), one restaurant of the myriad of Chinese eateries in the San Gabriel Valley, but one that specializes in Shanghainese food. Sugar is actually a relatively common ingredient in Shanghainese cuisine; when combined with soy, the overall effect is a sweet/savory interplay--a calling card of the region's food. It'd be interesting to see how this would stand up to the wine.
Representing FoodDigger were Brian, Eddie, Marshal, Thi, and Will. Bloggers included yours truly, Andrea of
TheFoodieTraveler
, H.C. of
L.A. and O.C. Foodventures
, Javier of
Teenage Glutster
, Josh of
Food GPS
, Mike of
Right Way to Eat
, and Ryan of
Only Eat What Feeds Your Soul
.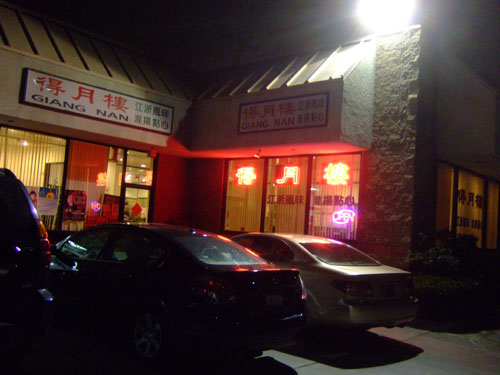 Located in the back of a strip mall, Giang Nan's exterior is rather nondescript and easy to miss.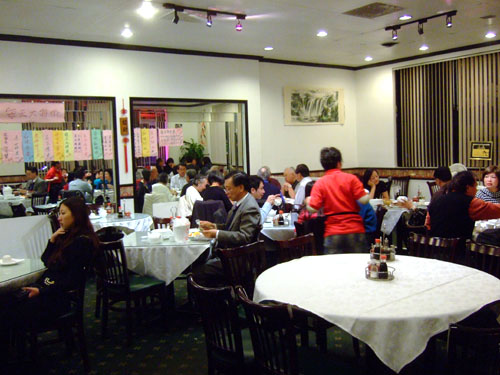 The theme continues inside. The interior is about what you'd expect, as Chinese restaurants aren't exactly known for stunning ambiance. Nevertheless, the surroundings were reasonably clean and comfortable.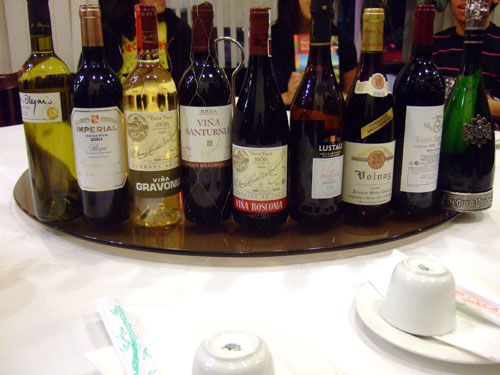 The night's wines were lined up on the requisite lazy Susan. Fortunately, the restaurant was able to provide wine glasses, so we weren't relegated to sipping out of tea cups. Said glasses, though, were covered in a thick layer of dust, looking as they hadn't been used since the Clinton administration. We ended up washing them out with tea.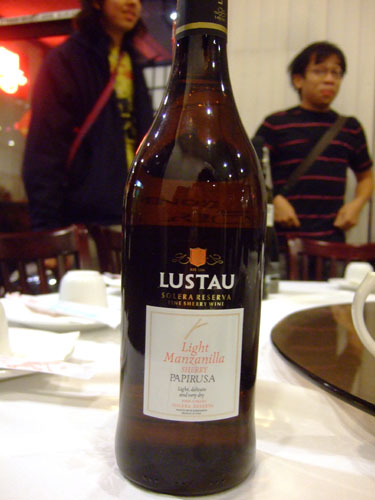 NV Emilio Lustau Manzanilla de Sanlúcar de Barrameda Lustau Solera Reserva Manzanilla Papirusa
I'm used to having Sherry to close out a meal, so I think this was the first time I've had it as an apéritif. It was light, dry, clean, and lip-puckering, with crisp notes of apple, salt, and alcohol. It was actually quite good with the Smoked Fish and Marinated Pork, as the flavors of sweet and salty seemed to complement and temper each other.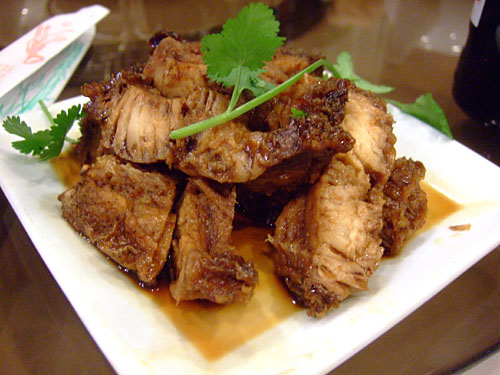 Smoked Fish
Before this dish came out, Brian mentioned that the fish was supposed to taste like it'd been smoked, even though it really wasn't. The taste was sort of an interplay between smoky and sweet, with lots of anise-like flavor backing it up. One of my dining companions even said that it had hints of unagi (Japanese freshwater eel). My enjoyment of this was really hampered by the large amount of bones, as well as the general sogginess of the flesh.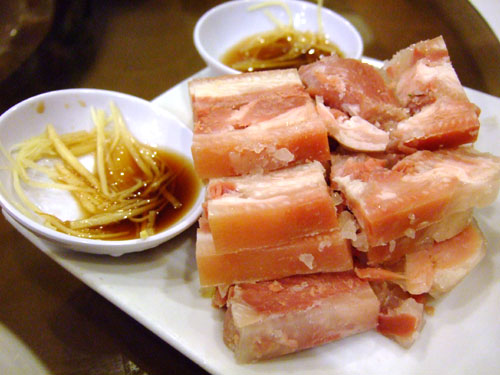 Marinated Jelly Pork Zhen Jiang Style [$4.95]
I was afraid that this was going to be overly fatty, but it actually had a great separation of fat and lean, with a pleasant, firm, texture. Quite good with the included vinegar-ginger sauce, which gave the dish a tartness that really worked with the Lustau.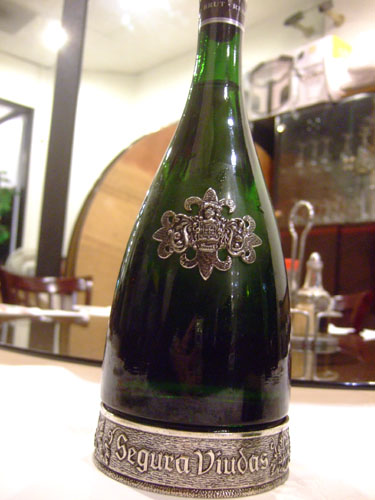 NV Segura Viudas Cava Brut Reserva Heredad
Cava is basically Spanish Champagne, and comes from the Catalonia region of Spain, Penedès mostly. Indeed, Cava is produced using the
méthode champenoise
, with permitted grape varietals Macabeo, Parellada, Xarel·lo--the major three--as well as Chardonnay, Pinot Noir, and Subirat. The Reserva Heredad here uses only Macabeo and Parellada. I quite enjoyed the wine, with its medium body, fruity-floral bouquet, and lemony, honeyed palate. Nicely balanced, with a smooth, yeasty, lingering finish.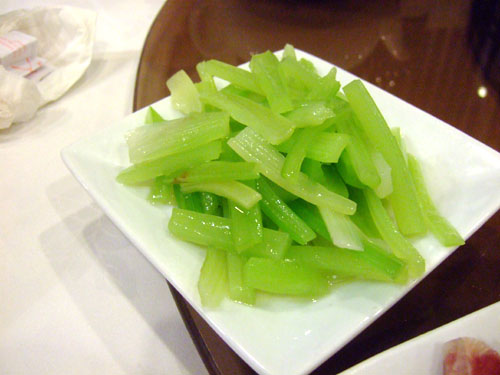 Jade Celery [$3.95]
I'm usually not a fan of celery, but even I must admit that this wasn't half bad. The celery's crisp texture was very pleasing, with a refreshing snap and subtly sweet and sour flavor to boot. Great, vibrant color as well.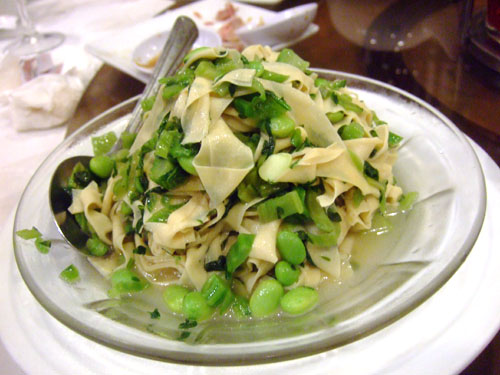 Bean Curd Sheet and Vegetables
I liked the soybeans here, but the flavor was dominated by the tofu. According to Brian, the dish wasn't meant to be eaten alone, but was supposed to serve as a foil to the Seaweed Fried Yellow Fish below.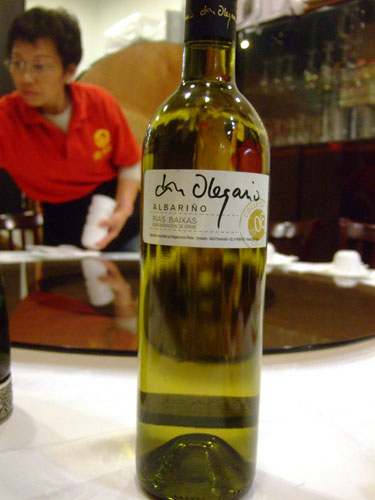 2006 Don Olegario Albariño Rías Baixas
I didn't expect much from this, but it turned out quite nicely. The Albariño had a fruity nose of stone fruit, which continued onto the palate, balanced by hints of apple and minerals, leading to a long, juicy finish. One of my dining companions compared this to Riesling, and in fact, Albariño has been thought to be an Alsatian Riesling clone.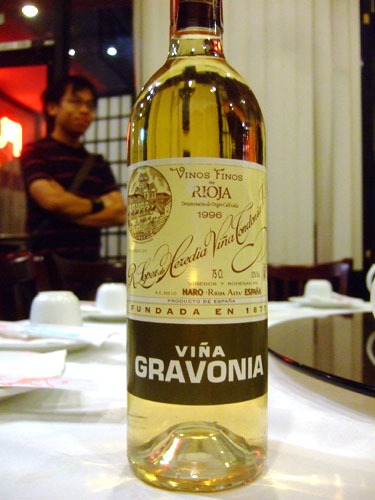 1996 R. López de Heredia Rioja Crianza Viña Gravonia
The varietal here was Viura, or Macabeo, the same grape used in the Cava above. However, this Gravonia was worlds apart in terms of taste. It had a funky, vegetal nose, but the bouquet belied the soft palate, loaded with minerals and a bit of honey and stone fruit. Very interesting, very unique, and very good with the yellow fish.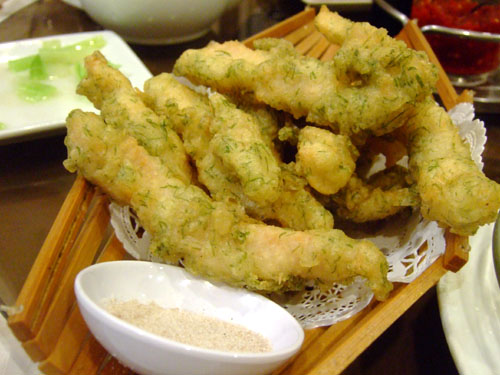 Seaweed Fried Yellow Fish
This was probably my favorite dish of the night. Much more than a mere fish 'n' chips, the fish was coated with a light layer of batter, and was cooked to a perfect, pliant, yet firm consistency. The fish had a light saltiness to it that was further accentuated by the small bits of seaweed impregnated into the coating, giving it a slightly briny, vegetal flavor. The included salt and pepper mixture further heightened the dish.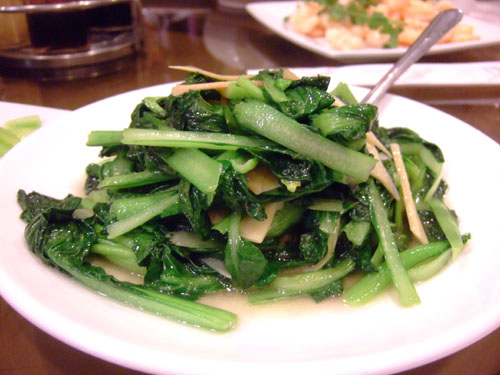 Stir Fried vegetable with Bamboo Shoots
This was advertised as a "special vegetable." I know I've had it before, but I can't put my finger on the name. According to a couple of my readers (see below), it might've been yu choy or bok choy. In any case, it was a simple preparation, good enough, but really nothing special. We were supposed to try this with the Gravonia, though I didn't think that the pairing was anything particularly appealing.
Tea Smoked shrimp [$9.95]
Though advertised as "tea smoked," the tea flavor in this dish was subtle, too subtle. This would've been fine, had the shrimp possessed flavor of their own. Unfortunately, they didn't, and the end result was a very bland presentation of shrimp. The white Rioja did work pretty well here though.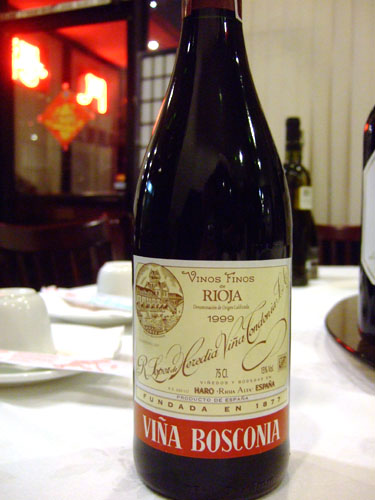 1999 R. López de Heredia Rioja Viña Bosconia
A Tempranillo-based wine, this demonstrated loads of light red berries, tobacco, and earth. Medium body, with a tart, acidic finish. This reminded me a bit of Pinot Noir, and stood up very well to the strong flavor of the tilapia.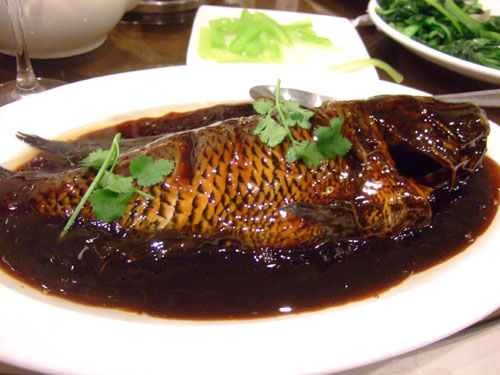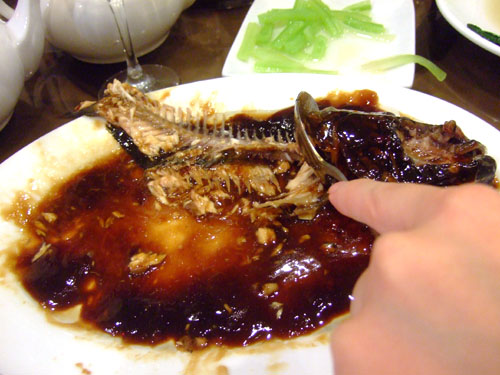 West Lake Fish with Vinegar Sauce [$9.95]
West Lake Fish is a popular dish named after a famous body of water in Hangzhou, a city 112 miles southwest of Shanghai. The fish is poached with a sweet vinegar sauce, giving it a mild sweetness to counteract the tartness of the vinegar. Not bad, though the fish was a bit too soft for my tastes.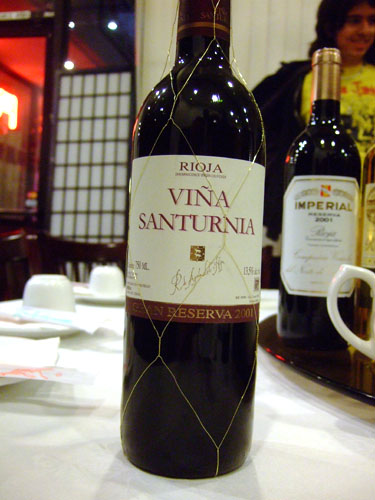 2001 Bodega R. de Ayala Lete e Hijos Rioja Vina Santurnia Gran Reserva
A classic Tempranillo--light, smoky, with loads of light fruit. A strong, lingering, spicy, somewhat tannic finish. It wasn't outstanding on its own, but was better with the meatballs.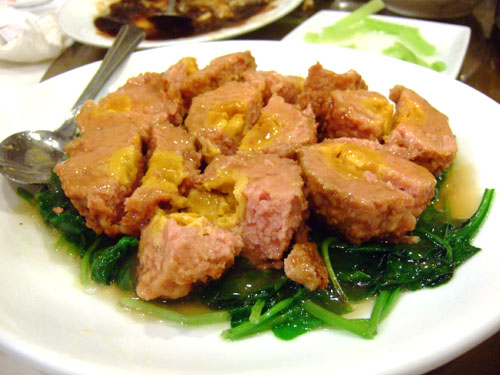 Meatball with Duck Egg Yolk [$3.50 each]
I believe this was a variation on the famous "lion's head" meatball. They were formed of a soft, fatty pork, topped with egg yolk (which we initially mistook for mustard), and garnished with spinach. The meatballs weren't particularly flavorful on their own, so the egg was instrumental in adding a sharp saltiness and even a bit of spice to the dish. My favorite part of the dish, though, was the spinach, which was cooked just about perfectly. The two preceding Riojas worked pretty well here.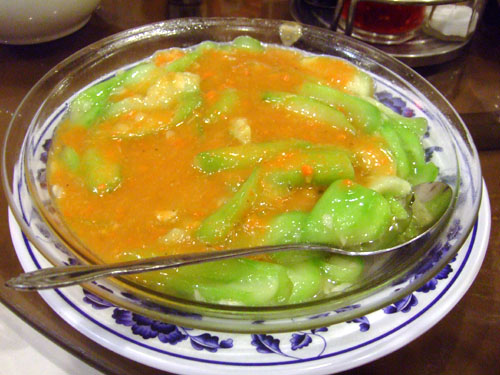 Squash with Crab
The "squash" here was actually luffa, yes the same "loofah" used for sponges. The fruit of the luffa vine can be eaten young, as was the case here, or can be left to mature, in order to make sponges. I really wasn't expecting much, but I was pleasantly surprised, as the luffa was tender, slightly sweet, and a good foil to the crab.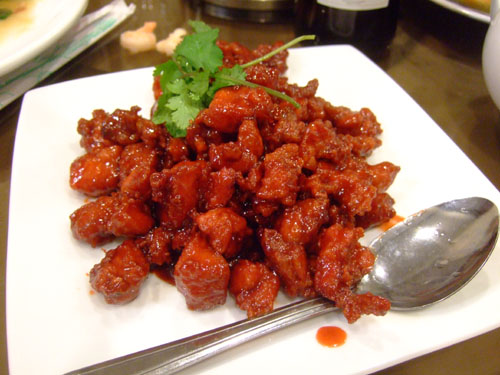 Shanghai Style Spare Ribs
Though this wasn't bad, I was expecting more. The ribs had a sweet, succulent tang, which was rather blunt, but still tasty. The texture was a bit chewy, and I could've used a higher meat-to-bone ratio as well. Nevertheless, I enjoyed this with the Santurnia.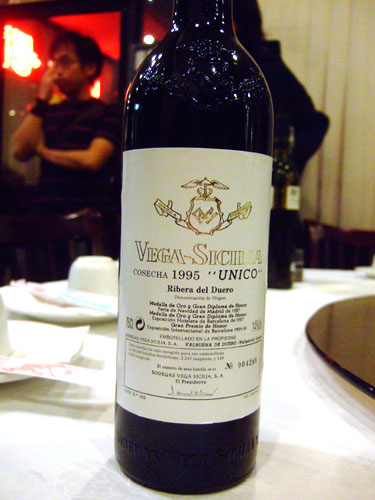 1995 Bodegas Vega-Sicilia Ribera del Duero Único
This was my second time tasting the '95 Único; the first was at
The Bazaar
. On that occasion, I wrote that the wine was tight, and less fruit-forward than expected. I'll reiterate those comments here as well, as I found the wine sharp, spicy, tart, and perhaps a bit too oaky. It was simply too young; I had the '96 at
Totoraku
and found it much more approachable. Passable with the pork knuckle, but we all preferred the Imperial.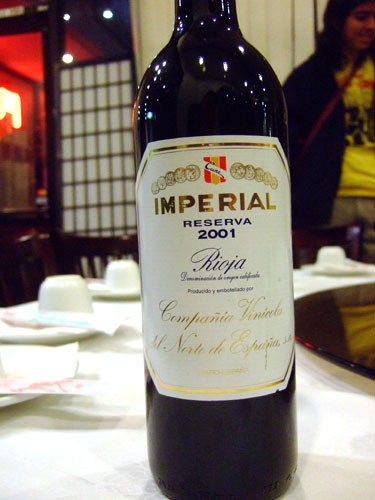 2001 C.V.N.E. (Compañía Vinícola del Norte de España) Rioja Imperial Reserva
This was quite a contrast compared to the Vega-Sicilia. It had a balanced mix of fruit and wood on the nose, leading to light fruit, spice, and chocolate on the palate. Smooth tannins and a slightly hot finish. Very good with the pork pump.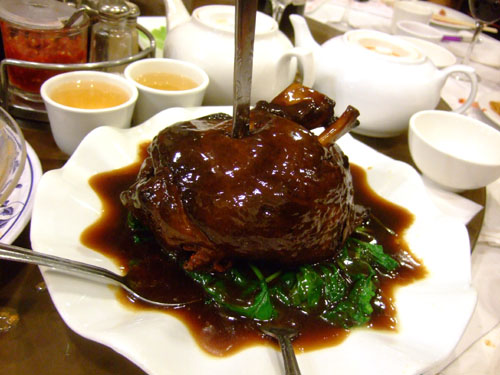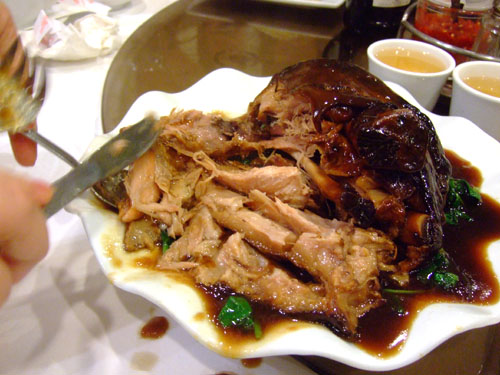 House Special De-Greased and Braised Pork Knuckle [$15.95]
Finally, this was supposed to be the house specialty, the
pièce de résistance
of the night. I believe it was prepared in a
hong shao
("red stewing") style, braised with a soy- and sugar-based sauce. I really enjoyed the inside portions of the pork. The super-rich, super-tender pieces of meat reminded me a bit of the pork confit at
Ford's Filling Station's
suckling pig dinner. The layer near the skin, however, was far too fatty for me. As was the case with the meatballs, the spinach here was superb.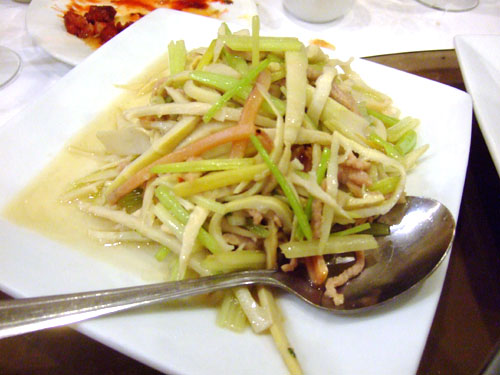 Shanghai Stir Fry of Shredded Pork, Celery and Squid
I really didn't taste much pork or squid here, but it was nice to have a light, refreshing dish like this as a follow up to the utter decadence of the pork.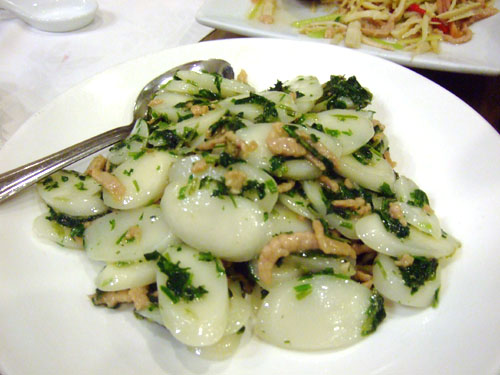 Shanghai White Rice Cake with Shredded Pork and Vegetable
Rice cake, or
nian gao
, is a staple of Shanghainese cuisine. The cakes were cooked to a chewy consistency, not hard, but with a bit of bite. Flavor-wise, there wasn't much there; rather, the dish was dominated by the slight tang of the veggies. Pretty good.
Meatball with Duck Egg Yolk [$3.50 each]
My dining companions liked the meatballs, so we ended up ordering another round.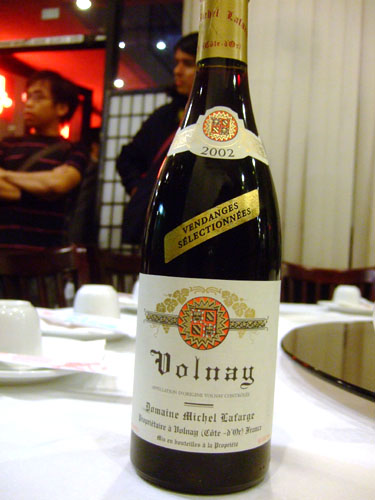 2002 Michel Lafarge Volnay Vendanges Sélectionnées
Bucking the trend of Spanish wine, we finished with a Bourgogne rouge. I wasn't too impressed here; not much fruit in the nose or the palate, but instead, we got spice and a good amount of tannin. I think this just needs a few more years.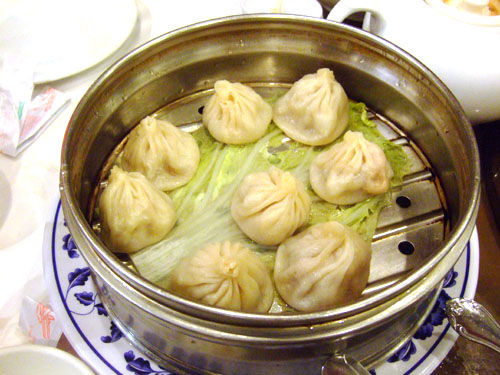 Xiaolongbao
Xiaolongbao
are one of the most ubiquitous culinary exports from Shanghai. Basically, they're flour buns filled with a mixture of meat and soup, and steamed. In terms of taste, I liked the flavorful, but not overwhelming nature of the pork, but the buns were a bit lacking in terms of the heady juice, and the skins were a bit tough. They were served here with a vinegar/ginger sauce, which complemented the buns nicely.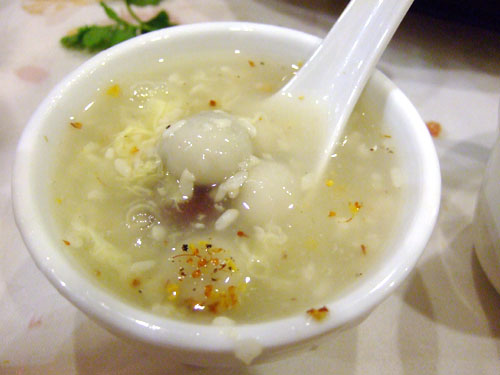 Sesame Mochi Balls in Soup
I believe these were basically
tangyuan
, or glutinous rice flour balls filled with black sesame. I'm used to eating them alone, but here they were accompanied by rice, egg, and Chinese dates. The overall effect was a sweet, floral background for the
tangyuan
. Better that I thought it'd be.
This was literally the first time I've tried to pair Chinese food with wine, and I must say that the results were encouraging, getting me to think about pairing wine with other "ethnic" cuisines. The food itself wasn't anything to write home about, but the addition of some great wine and great company made the meal special in its own right. Thanks again to
FoodDigger
!
---
Now, after the last FoodDigger event at
Shibucho
, Ryan and I weren't quite full, and thus decided to hit up
Tommy's
afterwards, where I polished off a Mega Combo--a Triple Cheeseburger, Chili Cheese Fries, and a 20oz drink. So how would I top that this time?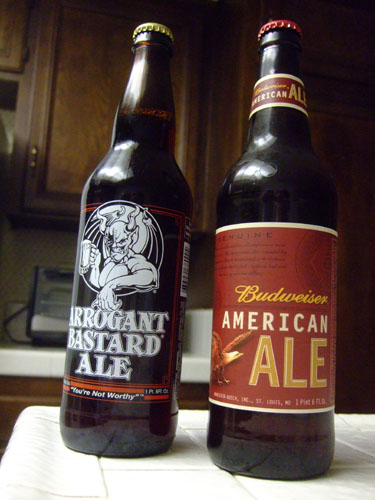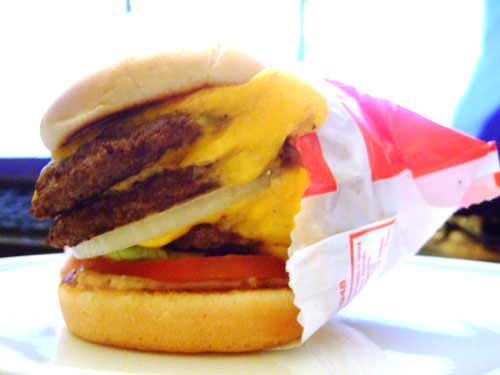 We ended up stopping by In-N-Out, and ordered up a couple of 4x4s--that's four beef patties and four slices of cheese, the largest burger that the chain will make (officially at least). To wash them down, we stopped by 7-Eleven for beer. First was the Arrogant Bastard Ale from Stone Brewing Company. Everybody raves about this beer, and while I thought it was good, it wasn't
that
good. I got a lot of hoppy bitterness, counterbalanced by a subtle malty sweetness and a bit of citrus. We also tried Budweiser's American Ale, which I gather is supposed to be the company's "premium" beer. Bud's other beers are lagers, so having an ale is a bit of a departure. Not a superstar, but much better than the swill Anheuser-Busch normally sells.