Sona (Los Angeles, CA) [2]
Sona
401 N La Cienega Blvd, Los Angeles, CA 90048
310.659.7708
www.sonarestaurant.com
Fri 01/30/2009, 08:45p-02:00a
This is my second post about Sona, the brainchild and flagship restaurant of Executive Chef/Owner David Myers. Myers was only 28 when he opened Sona in 2002. Though light on years, he was heavy on experience, having worked previous at Charlie Trotter, Gerard Boyer's Les Crayeres, Daniel, Patina, and most recently at JAAN at the Raffles L'Ermitage. At Sona, Myers presents a contemporary French menu, emphasizing fresh, seasonal ingredients intertwined with a dose of spontaneity and improvisation.
Since my
first visit
, it seems that Myers has lessened his role in the kitchen, instead focusing on restaurant management through his
Food Art Group
. Myers has expanded his burgeoning empire via the opening of Comme Ça, his take on the French brasserie, and Pizza Ortica, his Mozza-esque pizzeria concept. At Sona, day-to-day operations are largely handled by his Japanese-born Chef de Cuisine, Kuniko Yagi, who was promoted to the position in late 2007. How would Sona hold up without Myers at the helm?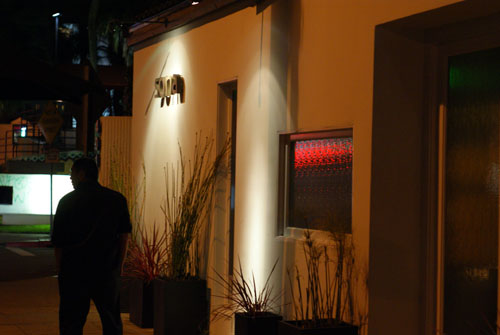 Sona is situated in a simple, white, one-story building on the northwest corner of La Cienega and Westmount, on the northern end of the so-called Restaurant Row, home to such famous eateries as
The Bazaar
,
Fogo de Chão
, Gyu-Kaku,
Lawry's The Prime Rib
, Matsuhisa, and The Stinking Rose.
Ortolan
and the now-departed
Bastide
aren't far away, either. A valet is available directly in front of the restaurant for $8, or you can try your luck at street parking.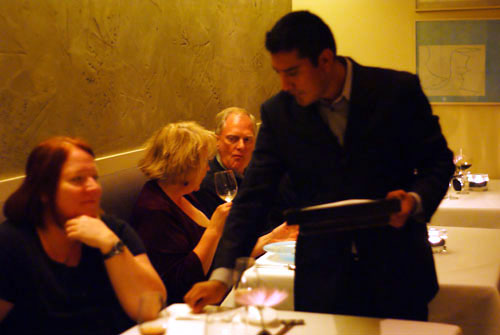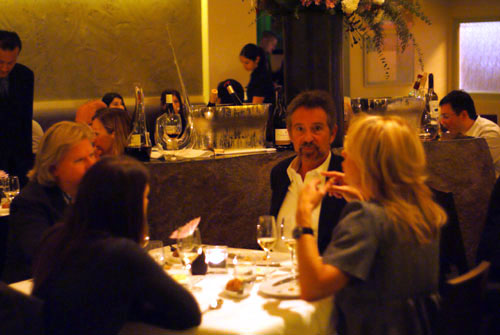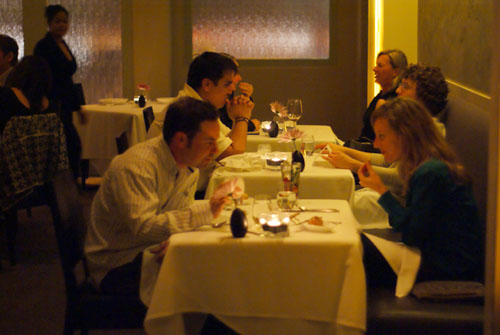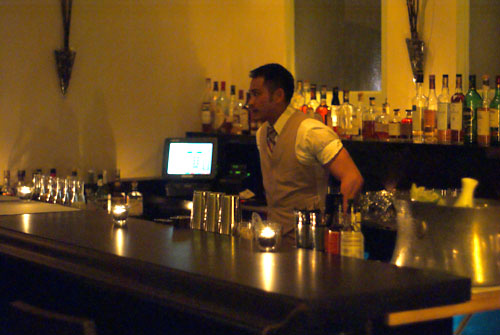 The dining room is minimalist, chic, abound in swatches of white and gray, stone and earth. A small bar sits near the entrance, and connects to the Cava Room. Sona accommodates 90 guests in total.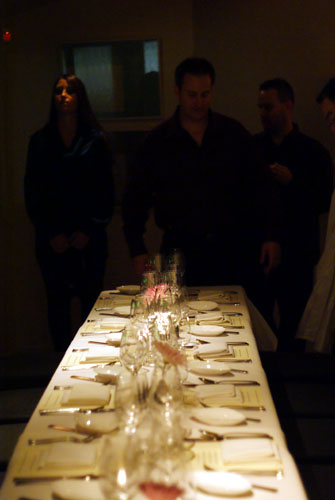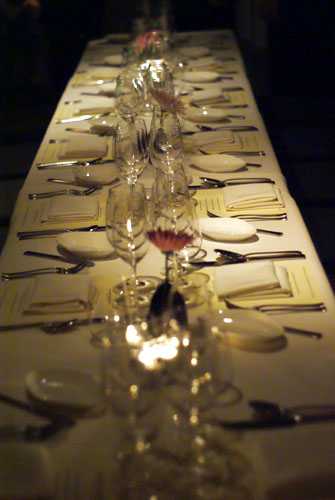 The Cava Room is Sona's private dining room, adjacent to the main room. It seats from eight to 25 guests, and easily fit our party of 13, though I imagine things might get a bit cramped at full capacity.
Sona's menu offers à la carte selections, but the best way to go is with the six-course Découverte [$95] or nine-course Sponantée [$145] menus, described not as tasting menus but as "omakase," a nod to Yagi's Japanese roots I'm sure. We ordered the longer of the two, supplemented by three additional courses (the risotto, Wagyu, and cheese). The resultant menu is shown above; click for a larger version. Myers and Yagi were out on this particular night (at some sort of conference I believe), thus the menu was signed by Executive Pastry Chef Ramon Perez, who I believe was running the kitchen. Wine pairings were another $145 per person for the effectively 12-course menu. Unfortunately, our server failed to capture a list of the wines presented--a major service faux pas--so I am unable to provide the names of the libations.
If you're wondering about the title ("Eric's Heart Surgery Dinner"), my friend Eric was facing an aortic valve replacement surgery, and thus decided to treat us to this experience, facetiously referred to as a sort of "last meal." Fortunately, the operation was a success and he is currently recovering. Thanks again Eric!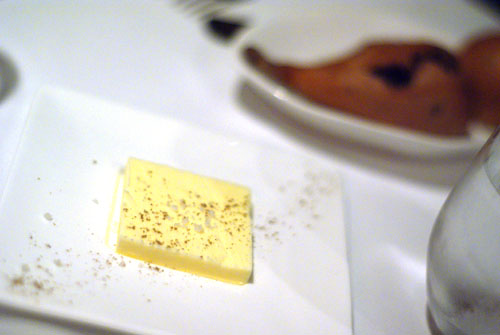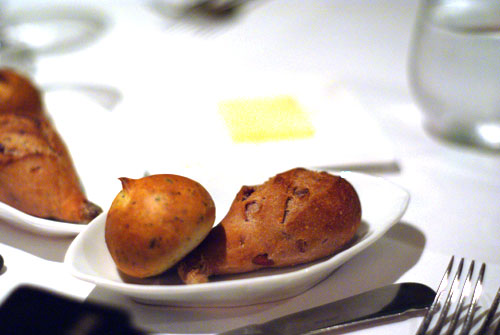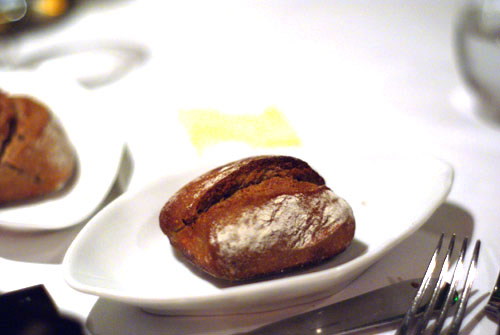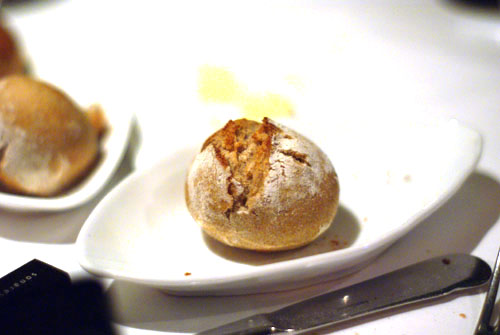 Interesting, the bread was not presented at once, but rather, came in rounds. First up were the black tea and red wine breads. The black tea had a fascinating, soft, aromatic nose of tea, while cranberries added a tart sweetness to the red wine bread. Next was chestnut, which I wasn't a fan of, and finally, a bitter, but tasty wheat bread.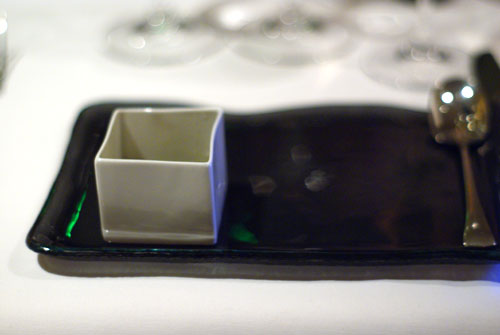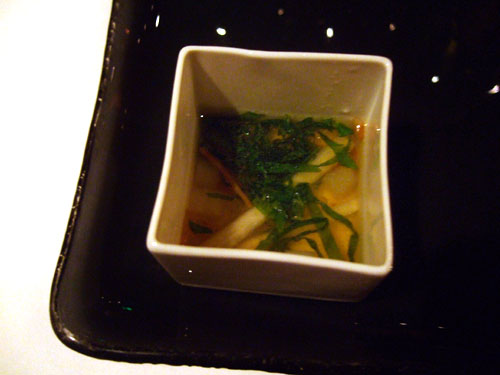 Amuse Bouche: Dashi Broth, Watermelon Radish, Chiffonade of Shiso
Yagi's influences are seen in the very first course. I noted strong, minty flavors of shiso, balanced by the subtle sourness and fishiness of the dashi, while the radish added some textural contrast. It was an unexpected dish, one that was certainly effective in awakening the palate. The soup was paired with a rosé Champagne, which was loaded with strawberry and citrus, yet dry and light, thus allowing the flavors of the amuse to come through.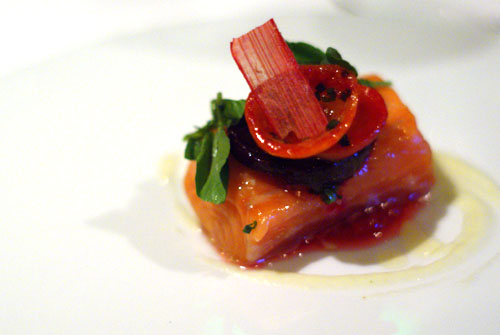 1: Poached Salmon, Roasted Beets, Kumquat
Eating this, the thing that came to mind immediately was smoked salmon. The flavor was light, pure, and clean, while the fish's accompaniments of beet and kumquat added the requisite sweet and sour contrasts. The texture was lovely, barely cooked, and reminded me of the salmon at
Le Bernardin
. The fish was paired with a Riesling. I rather enjoyed the wine's light effervescence, and juicy, lip-smacking flavors of pear, peach, and apple. Overall, a great way to start things off.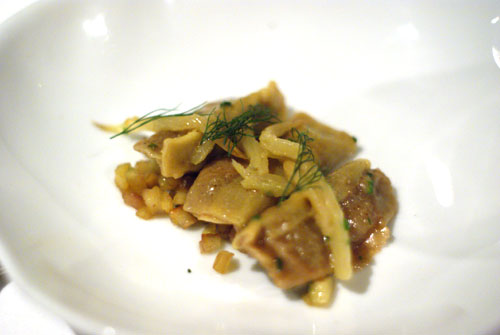 2: Chestnut Agnolotti, Fennel Confit, Roasted Chestnut
I was not a fan of this, which wasn't surprising given that I don't care for chestnuts and their sweet nuttiness. Here, the agnolotti were filled with a dense, heavy, soft chestnut paste that simply overwhelmed my palate. One of my dining companions thought that they'd be better at half the size, while another thought that the dish "tasted like autumn." Meanwhile, I thought the course was reminiscent of the chestnut/sweetbreads/truffle dish I had recently at
Jean Georges
. The wine pairing here was a tasty Tokaj, notable for its Chardonnay-esque nose, lingering sweetness, and spicy finish. This was a full-bodied wine that stood up well to the rich flavor of the agnolotti.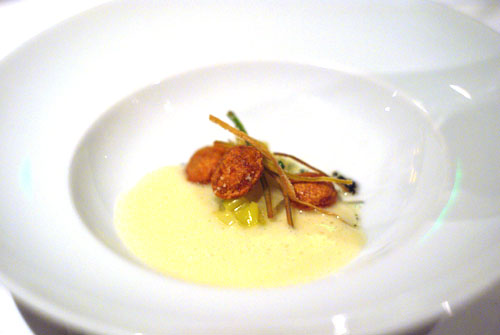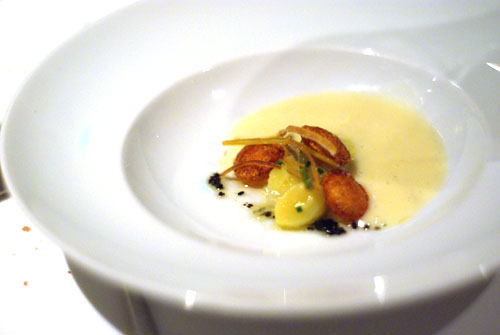 3: Parmentier Soup, Pomme Soufflé, Leek Soubise
The "Parmentier" here refers to Antoine-Augustin Parmentier, an early promoter of the potato as a food source; appropriately, one of my fellow diners called this a "study in potatoes." The pomme soufflées were crunchy, flavorful, and fantastic, reminding us of Tater Tots(!), while the whole dish had a warm, hearty, lingering richness. Given the potato focus here, I'm surprised the kitchen didn't try to do some sort of Vichyssoise, but the leek and béchamel-based Soubise sauce was just about the perfect complement. Pinot Gris was the wine here--steely, minerally, spicy, and dry, it went well with the austere tone of the dish.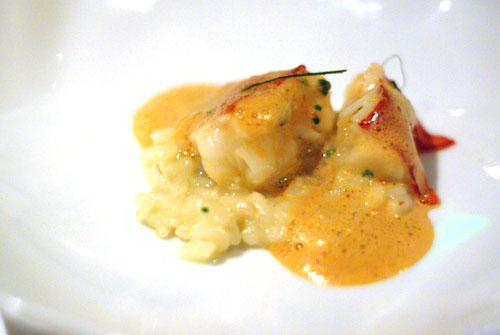 4: Maine Lobster Risotto, Shellfish Emulsion, Kaffir Lime [$10.00 supplement]
Lobster? Risotto? How could this possibly turn out bad? Well, it certainly wasn't bad, but it also wasn't as great as it could've been. While I greatly enjoyed the lobster's firm, yet pliant consistency, I also felt that the crustacean was cooked a bit too buttery sweet, thus distracting from its natural flavor. Perhaps some more of the kaffir lime would've helped temper this. Meanwhile, some thought that the risotto was undercooked, but I enjoyed its al dente texture. The natural wine pairing with lobster is Chardonnay, as was the case here. Though I'm not huge on Chard, I liked what I tasted. The wine's butteriness complemented that of the lobster, and I also noted plenty of stone fruit, straw, honey, minerals, with a bit of heat on the finish.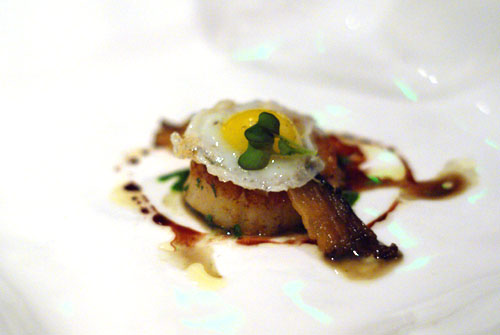 5: Seared Scallop, Lamb Bacon, Quail Egg
In effect, this was basically a gussied up version of the standard bacon-wrapped scallop. Sounds like a winning combination right? Well...the whole amalgam was rather salty. The scallop itself was salty enough alone, and the bacon didn't help in that regard; the natural flavor of the mollusk was almost completely lost. However, I did appreciate the use of quail egg here; its runny yolk helped temper the somewhat overwhelming savoriness of the dish. To go along with this, the sommelier paired a red Burgundy, a rather prototypical example--heavy on the cherry, wood, and smoke, with a bit of heat on the finish. It didn't quite stand up to the course.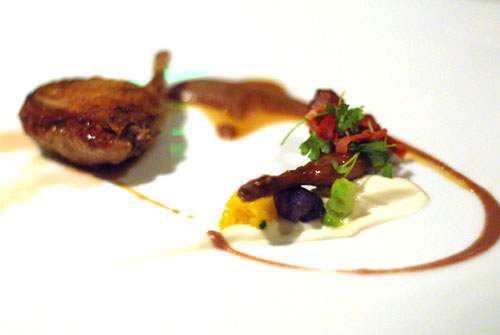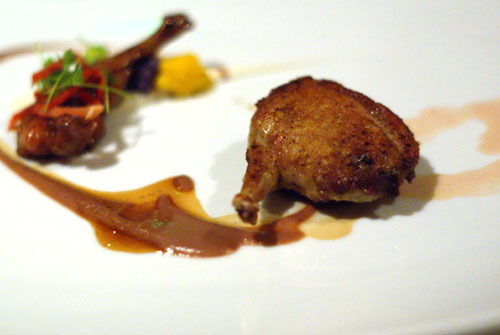 6: Roasted Quail, Cauliflower Purée, Chorizo, Date
The only thing wrong with this was the accompanying brown sauce, which was obscenely sweet and cinnamon-y; I took a small taste and avoided it completely. Other than that, the bird was wonderfully flavorful, juicy, and tender. The cauliflower purée was useful in taming the essence of the quail, which, by itself, was truly one of the better preparations I've had. I preferred the larger portion, which I found moister (some said "spongy"), but most of my dining companions like the smaller, denser piece better. The wine was Paris Hilton. That's according to our server, who compared it (a Pinot Noir) to the preceding Bourgogne, which he likened to Audrey Hepburn. Interesting analogy to be sure, but I get what he was saying. This wine was darker, fruitier, jammier, more in-your-face, blunt even, almost Cab-like in some respects--not as subtle, nor as good (sorry Paris!).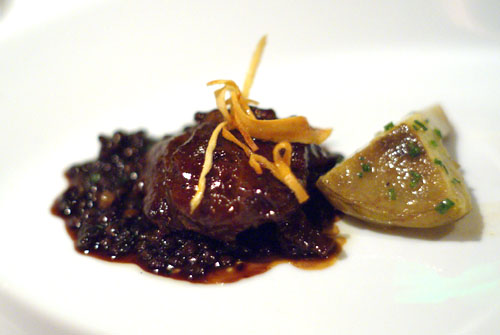 7: Veal Cheek, Lentil, Artichoke Barigoule
This reminded me a bit of the braised veal cheeks at
XIV
. There was a sort of sweet/sour interplay going on, all over an intensely savory backdrop--it almost had a "hamminess" to it. Not bad, but it would've been too much had it not been for the moderating effect of the artichoke and lentils especially. The legumes also served as a textural contrast, providing a bit of bite to counter the softness of the meat. Tempranillo was the wine of choice for this course. Typical of the varietal, it demonstrated plenty of tartness and spice, intermingled with peat and heat; the wine's zest actually proved to be a nice linkage with the tang of the veal.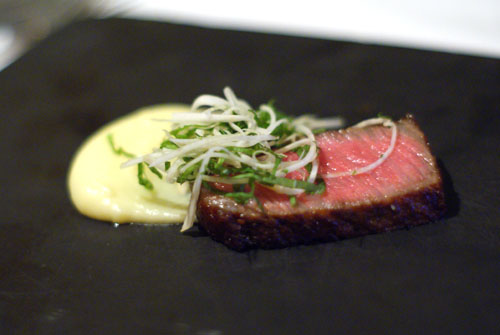 8: Wagyu, Pomme Purée, Celery Root, Shiso Salad [$25.00 supplement]
The Wagyu supplement was $25 per ounce, and everybody got exactly one ounce. It was sourced from Gunma, a prefecture northwest of Tokyo where Chef Yagi hails from. Though it was advertised as "A5" quality, the beef wasn't quite as fatty as I expected, though it was still very flavorful, with a nice oiliness. I've had better at
CUT
. As for the accoutrements, the fancy mashed potatoes actually tended to overpower the beef, so it was best taken in small quantities; the shiso salad, however, contributed some well-placed mintiness and crunch. As expected, a Cabernet Sauvignon was paired with the steak. As expected, the wine showed dark fruit, smoke, caramel, and chocolate notes. As expected, the pairing worked. I would've liked something more unexpected!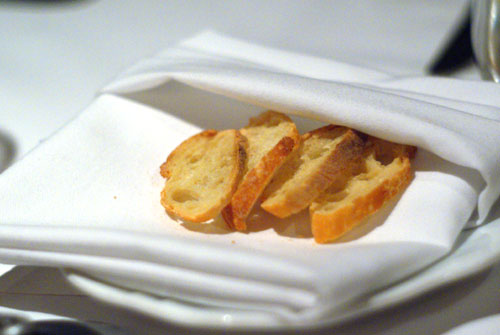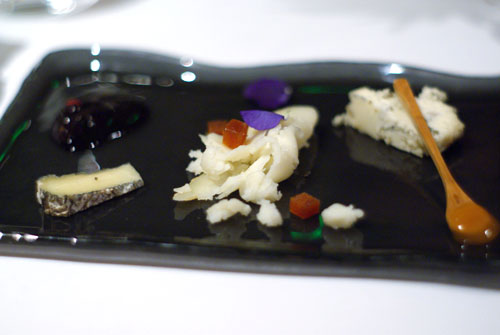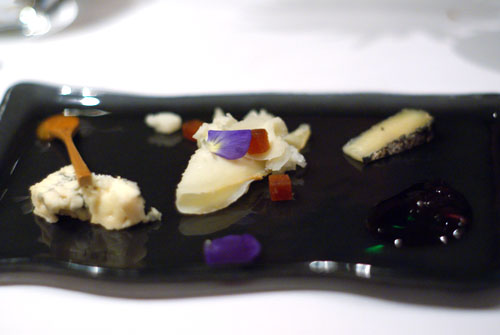 9: Selection of Cheeses [$15.00 supplement]
Starting from the left, the first cheese was Selle sur Cher, a pasteurized goat cheese from the Loire; it was tart and tangy, almost blue-like actually, with a flavor that was effectively cut by the paired Concord grape reduction. Now I'm not sure what the second was. The name was something like "Argui" and it was a pasteurized sheep's milk cheese from the Basque region of Spain. It was my favorite of the trio, with a light, moist consistency and delicate, salty-nutty flavor. Finally, we have the Blue de Bufala, a buffalo milk cheese from Italy, served with Italian honey. I thought it was fairly typical for a blue cheese, tasty but nothing special. The wine was a Chinon, from the Loire Valley. It was a rustic wine--vegetal, spicy, with lots of straw--and actually complemented the cheese quite nicely.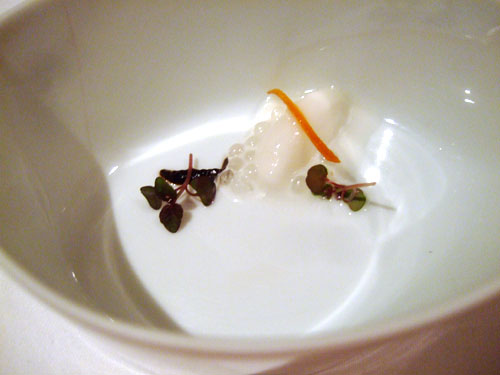 10: Ginger Sorbet, Hijiki Gelée, Coconut Pearl Tapioca
This seems like something that would come out of
Providence's
kitchen. It definitely had a distinctly "Thai"-style flavor to it. I got a flat, overarching sweetness due to the coconut, which was then punctuated by ginger on a spicy finish. It was a nice intermezzo, but I would've liked something more substantial.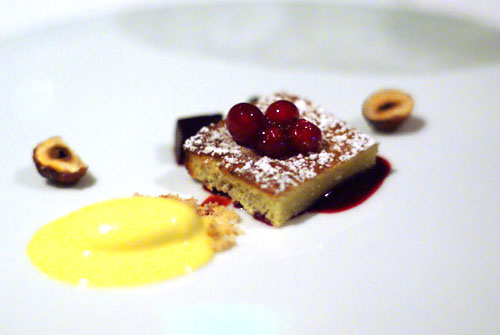 11: Clafoutis, Currants, Salted Hazelnut, Saffron Ice Cream
A clafoutis is a French dessert constructed from baking fruit in a batter. The traditional fruit of choice is cherry, but currant was used here. Amazingly, when I ate the clafoutis together with the ice cream, I got a foie gras-like flavor, which was rather disconcerting (sort of like the foie gras parfait at
Per Se
). Both the cake and ice cream were quite good on their own, however. The pairing here was a late harvest wine. I don't recall the exact varietal, but I do remember it had an intensely rich, honeyed nose, with plenty of apricot, but all that was balanced with a crisp acidity, so that the end result was silky and not overly sweet.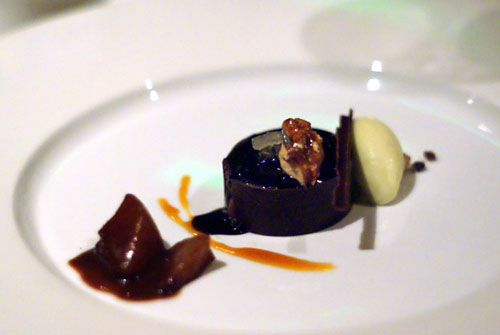 12: Guanaja Mousse, Confit Japanese Pear, Roquefort Ice Cream
Guanaja is an island off the coast of Honduras, and Valrhona uses cacao beans from the island to create bitter, yet fruity dark chocolate. The mousse's sweetness was subsequently moderated by the ice cream, which had subtle, yet very noticeable notes of Roquefort cheese. The interplay between its slight savoriness and the Guanaja kept things interesting. I could've done without the walnut though. Unfortunately I don't recall the wine here, though it was almost sherry-like in nature, with medicinal, raisin-y, and Port flavors as well--not entirely enjoyable on its own, but good with the dessert.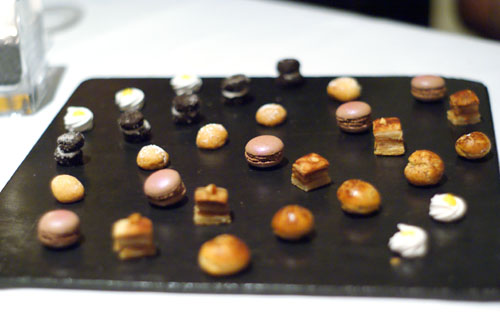 Mignardises
An impressive plate of mignardises was brought out at the end of the meal. We had: lemon meringues, mini Oreos, powdered sugar-covered almond sandies, chocolate cherry macarons, apple "lasagnas," puff pastries, and caramel/cocoa "pat de jeis" (not sure about the spelling here for this last one).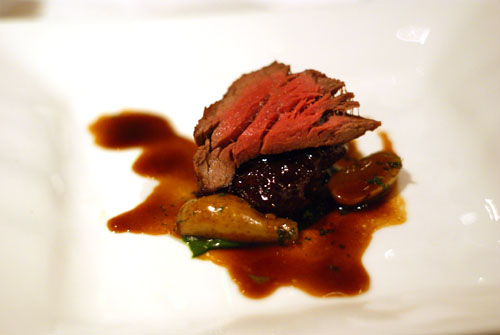 13: Braised Short Ribs, Nebraska Beef Tenderloin, Fingerlings
After the mignardises were cleared, our server asked us if we were full. When we said that we weren't, he proceeded to have the kitchen whip up an extra, complementary dish. The short ribs were super tender and richly flavored, as one would expect; most of my dining companions preferred it to the veal cheek above. Meanwhile, its tenderloin topping was also a deftly prepared piece of meat. Both were quite tasty, but this beef-on-beef action was almost too much, resulting in an overly heavy end to the meal.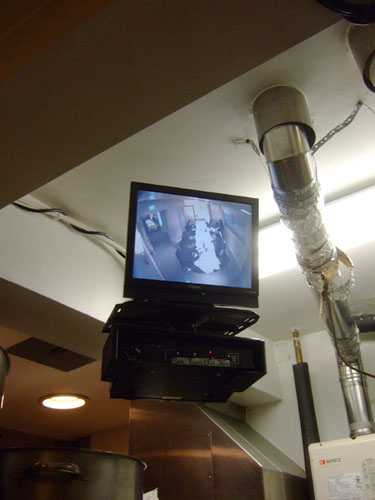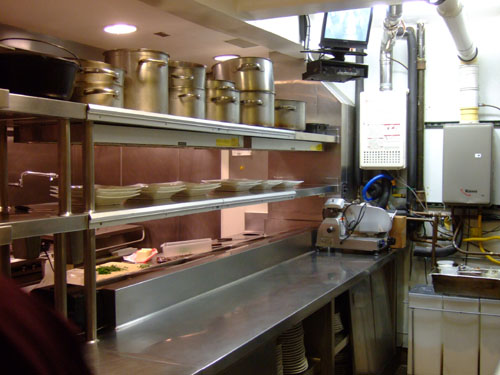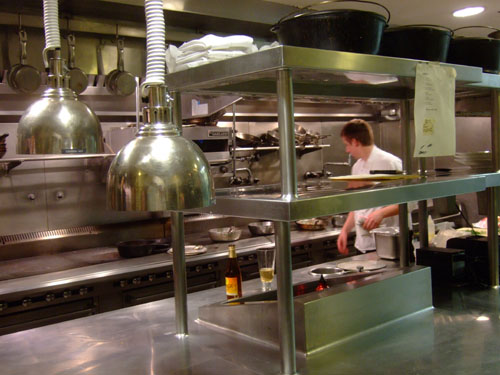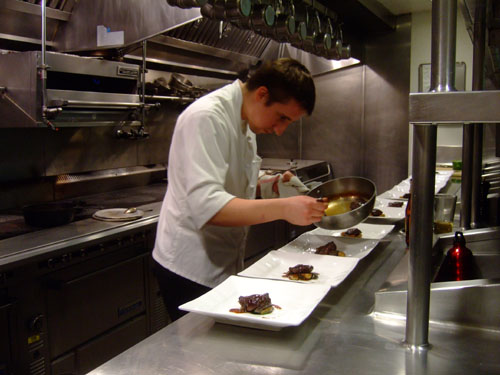 Before the extra course came out, we were invited back into the kitchen. The kitchen staff had already left, and the only person left was Pastry Chef Ramon Perez. Above, we see him plating the short ribs and tenderloin. We also see that the kitchen has a video feed from the private dining room!
Those of us who'd been to Sona before felt that this dinner wasn't quite up to snuff to our first experience here. Though I still enjoyed the meal, I didn't think that the food was quite as sharp or as focused as before; it also seemed a bit more "conventional." Now, I don't know if that's because Myers (or even Yagi, for that matter) wasn't in the kitchen this time, or if it's simply that I
expect
more now. Unfortunately, it's impossible to disentangle those two effects, so for the time being, I'll have to conclude that it was a combination of the two factors.