Brodard (Garden Grove, CA)
Brodard
9892 Westminster Ave, Garden Grove, CA 92844
714.530.1744
www.brodard.net
Sat 04/25/2009, 07:25p-09:00p
If there is any dining establishment in Little Saigon that deserves to be christened iconic, Brodard would be it. The restaurant's legendary reputation was build almost solely on the back of its
nem nuong cuon
, or grilled pork spring rolls, and it's these rolls that customers flock to the restaurant for, time and time again. Brodard was started many years ago in South Central Vietnam (near Ninh Hoa, where
nem nuong
was created), not as a restaurant, but as a French bakery. The owners moved Brodard to Little Saigon eventually, where it was transformed into the mainstream Vietnamese restaurant it is today.
I've been going to Brodard for years, yet this is the first time I've blogged about it (though I have written about its higher-end sister restaurant,
Brodard Chateau
). After
Wandering Chopsticks'
Foodbuzz 24, 24, 24 dinner at
Binh Dan
, we were all feeling a bit unsated, and decided to hit up Brodard. Joining WC and I were Aaron of
Food Destination
, Danny of
Kung Food Panda
, and Mike of
Right Way to Eat
.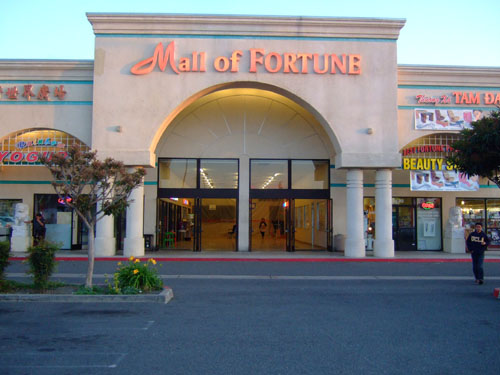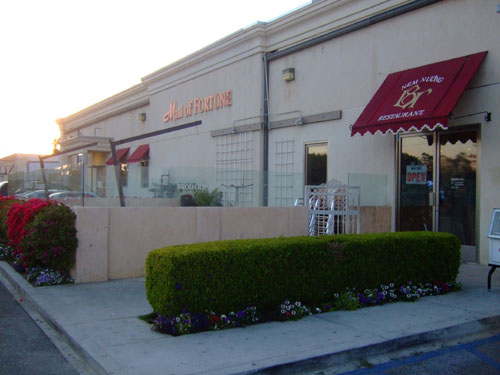 Brodard is situated in the Mall of Fortune. In the first photo, we see the mall's front entrance; enter here, and you'll have navigate yourself toward the rear of the structure to find Brodard. The preferred mode of entry, thus, is to go around the mall and enter through the rear (second photo).
Interestingly, this is actually Brodard's second location in Little Saigon. It was previously housed in Frank Jao's $3 million New Saigon Mall, an enclosed single-story bazaar situated at the rear of Asian Village Mall. Constructed in 1997, the mall was meant to draw in young, savvy shoppers but failed miserably; its location, set far back from Bolsa behind a 99 Ranch supermarket, didn't help either. The mall was subsequently demolished, and by 2002, new tract homes had been built on its former site. The only thing that remains of New Saigon is the Cultural Court and its lonesome white statues.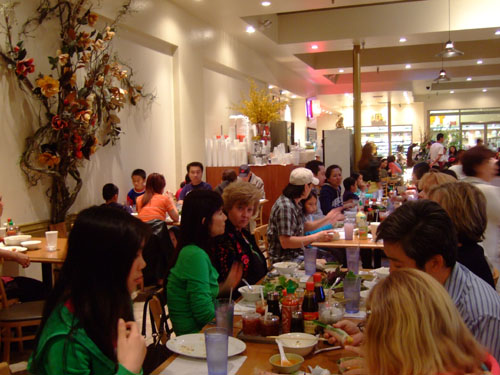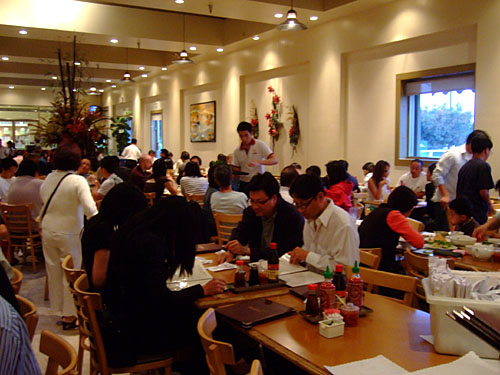 The interior is comprised of one large dining room, typically brimming with energy. It's a light, fun space filled with people from all walks of life.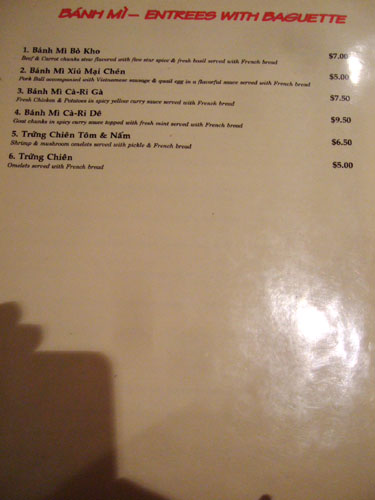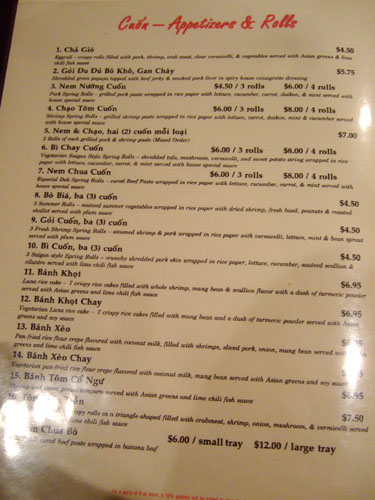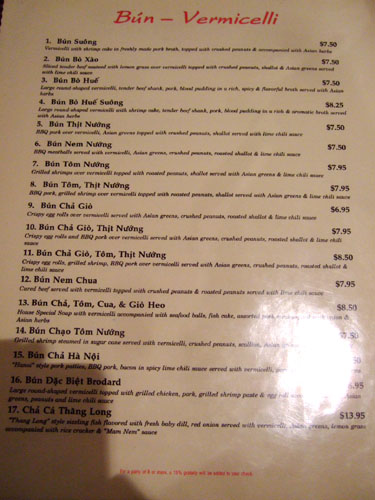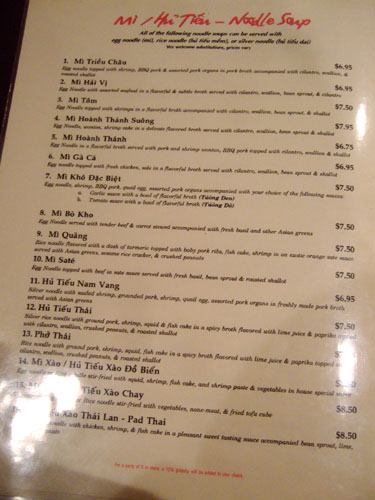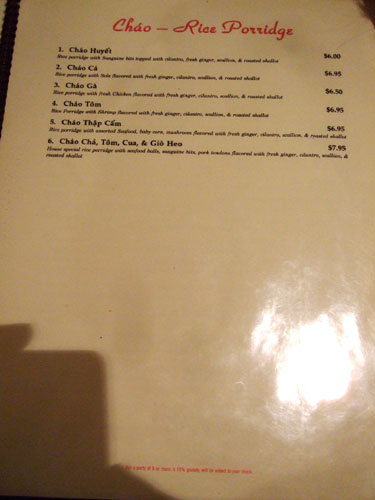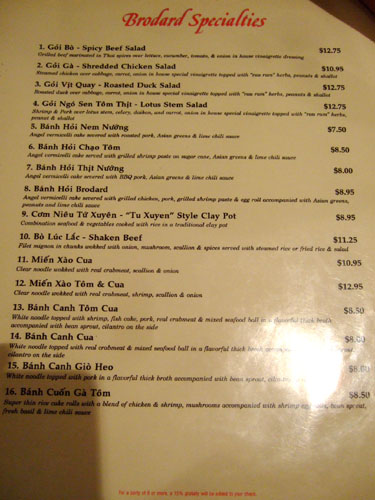 The menu is large, but most every table will start off with at least one order of the signature
nem nuong cuon
. The rest of the menu can be hit-or-miss. Click for larger versions.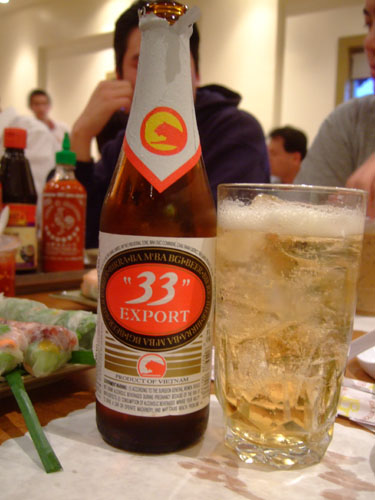 Ah, "33" beer, otherwise known as
Ba Moui Ba
. Though regarded as a Vietnamese beer, "33" was actually created by the French, for use in their colonial markets. "33" is now brewed by Heineken in France and under license by BGI Tien Giang/Fosters in Vietnam. And as for the name "33," it apparently comes from the beer having been available in 330mL bottles at a time when the 650mL format was prevalent. Flavor-wise, it's typical of the style--light, subtly ricey and floral, refreshing, and quite good with Vietnamese fare.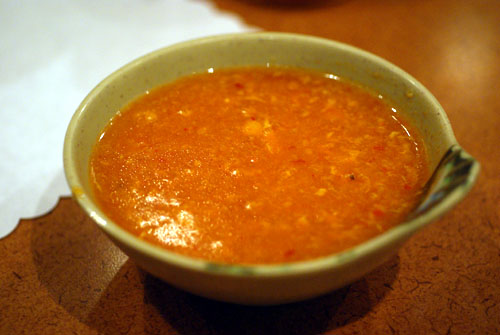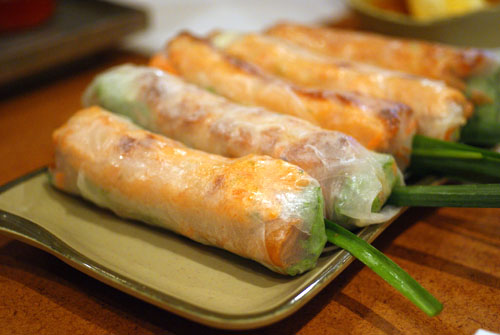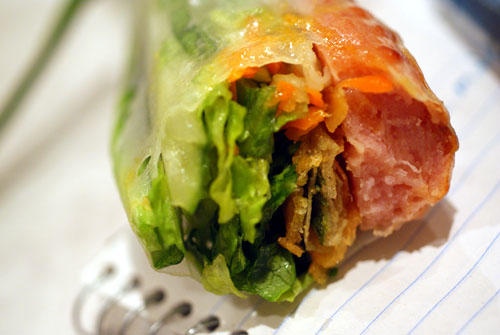 Nem Nuong Cuon [$7.50 for 5]
Pork Spring Rolls - grilled pork paste wrapped in rice paper with lettuce, cucumber, carrot, daikon and mint served with house special sauce. I've had the
nem nuong cuon
on every visit to Brodard, and they never fail to deliver. The marinated pork provides most of the flavor base for the roll, but it's perfectly accented by the various veggies involved, the mint especially; the end result is a sweet/savory contrast, leading to a slightly sweet finish. Texturally, the crisp cucumber, carrot, and daikon give the rolls a delightful crunch, a fantastic snap that is heightened even further with the addition of a crispy egg roll shell wrapper (a South Central Vietnamese touch). However,
nem nuong cuon
are as much about the roll as they are about the dipping sauce. The sauce is really an integral part of the whole experience, providing contrasting, complex flavors of sweet, sour, and savory, simultaneously. The sauce is light, yet meaty, pungent, yet delicate; it integrates, and punctuates the rolls. I'm a bit surprised that no one's been able to duplicate it yet.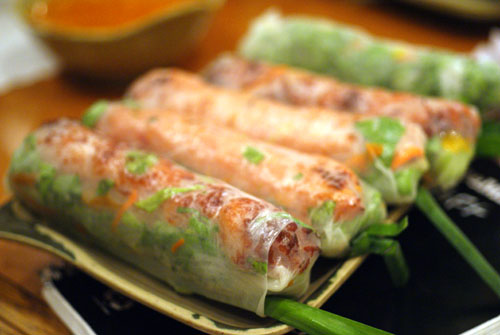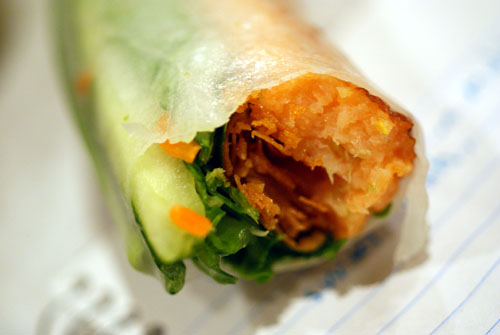 Chao Tom Cuon [$10.00 for 5]
Shrimp Spring Rolls - grilled shrimp paste wrapped in rice paper with lettuce, carrot, daikon, mint and cucumber served with house special sauce. Besides, the
nem nuong cuon
, I usually order the
chao tom cuon
as well. Basically, it's the former with the substitution of shrimp paste for pork. This results in a similar, though subtly different experience. I find that the shrimp is slightly sweeter in flavor, and also has a crunchier consistency. They're delicious, and just as satisfying.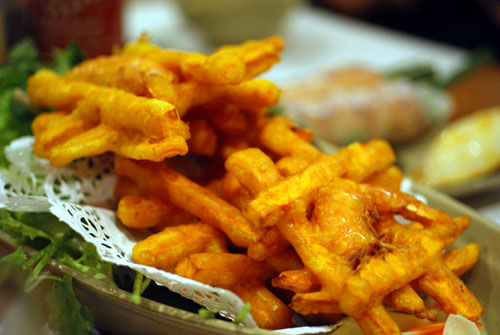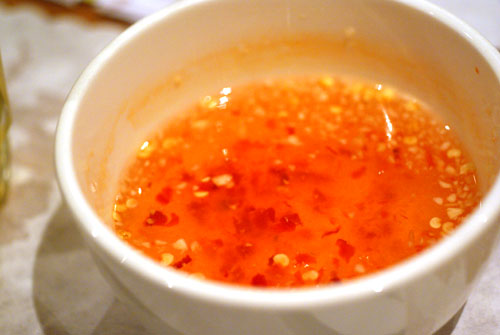 Binh Tom Co Ngu [$6.95]
Shrimp and sweet potato tempura served with Asian greens and lime chili fish sauce. A Northern Vietnamese dish, the way to eat this is to break off pieces of the shrimp and potato, wrap them in lettuce and herbs, and apply fish sauce. Both major elements here, the potato and the shrimp, had sweet undertones, so the tangy sauce was an excellent complement, as was the addition of turmeric spice. Furthermore, the veggies were absolutely instrumental in balancing the weight of the dish. And though I'm not usually a fan of sweet potato fries, the preparation here was much to my liking, better than any version I've had at places such as
The Counter
.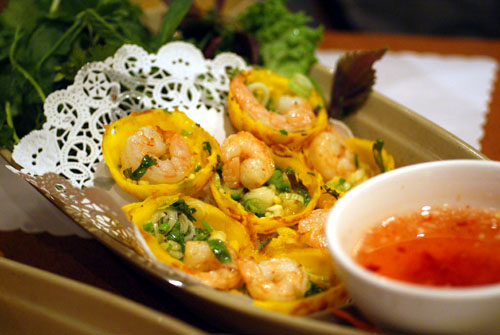 Banh Khot [$6.95]
Luna rice cake - seven crispy rice cakes filled with whole shrimp, mung bean and scallion flavor with a dash of turmeric powder served with Asian greens and lime chili fish sauce. A Southern specialty, these had an intensely coconut attack, one that was emphasized by the included fish sauce. It was actually too sweet for me initially. However, the sweetness was tempered significiantly when eaten with the included vegetables and tangy, crunchy pickles. Not bad.
About all I can say is that, if you're in the area and haven't experienced Brodard's
nem nuong cuon
, please, go ahead and give it a try; it'll be part of your foodie cred, and you probably won't be disappointed!